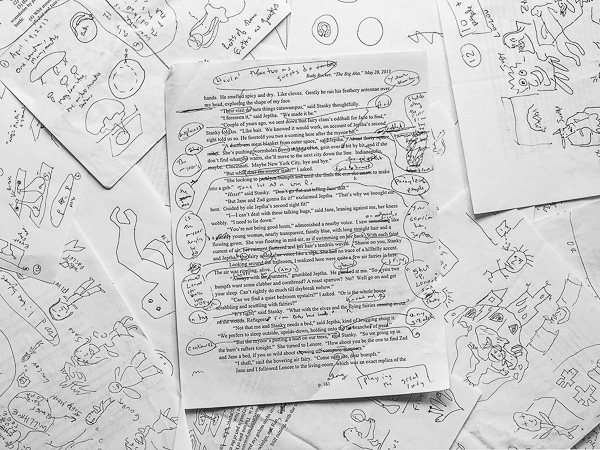 The big news today is that I've launched a Kickstarter project to fund the publication of The Big Aha, the novel I've been working on for roughly a year. I'm already getting a good response—and thank you for that, dear backers—so I'm optimistic that the project will be funded. Thanks also to Mark Frauenfelder for mentioning the project on BoingBoing, which is a huge help.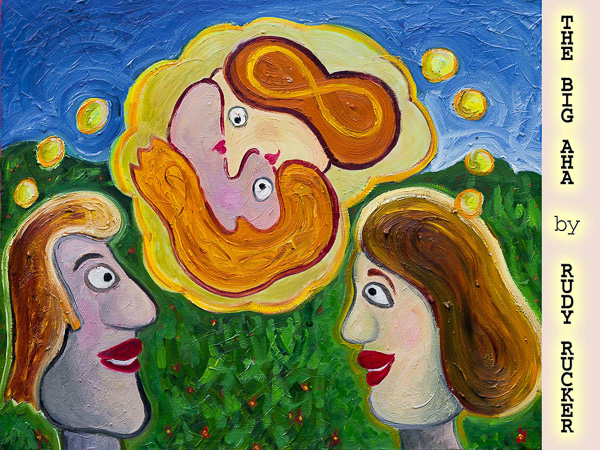 I plan to publish The Big Aha with my own Transreal Books. I'll probably use one of my paintings on the cover, maybe the one above, which I call The Lovers, and which depicts the notion of telepathy. I'm still doing some more paintings relating to the book, so it's not certain I'll use this one.
Now, I probably could have placed The Big Aha with a commercial publisher—but that's been getting harder over the last few years, with longer waits, more anxiety, less promotion, less actual editing, less proofreading and smaller advances. Less fun. We're in a phase shift time, a transition from one era to another. From thuddy dinosaurs to nibbling mammals, maybe.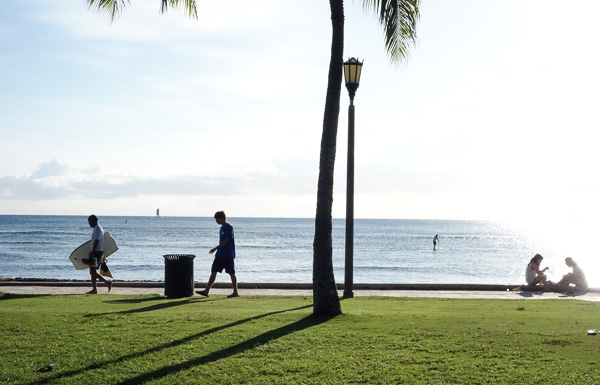 Going totally indie like this, I feel like I'm escaping into a promised land. Doing the Kickstarter move gives me renewed enthusiasm about making a final push to finish The Big Aha. I've been working on it off and on for over a year. I wrote the first two chapters early in 2012, and then spent seven months learning how to self-publish, then I got back into The Big Aha in the fall of 2012. And now I'm pretty near the end. I've been really pushing on the book all spring, and it's been a little draining.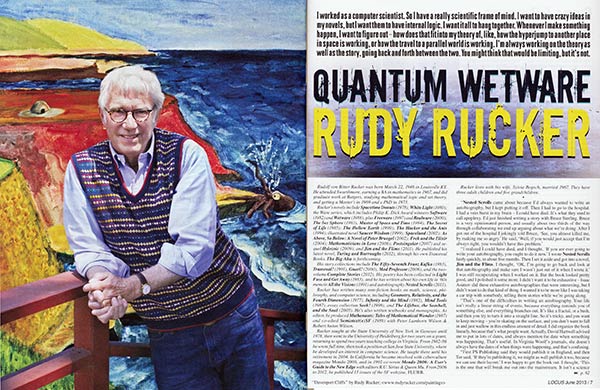 Something else I want to mention today is that I had a big interview in this month's issue of Locus, the magazine of the SF & fantasy field. I've reprinted the story's lead pages above, and you can read some excerpts free online. As it happens, some of the things I talked about in the interview were The Big Aha , self-publishing, and the option of using Kickstarter to raise funds for a book launch.
The interview is by Liza Groen Trombi, who also took the photo of me. Francesca Myman designed the illo, putting one of my paintings in the background. Thanks, guys! And thanks to the younger writer Tim Pratt, also of Locus, who gave me some much-needed encouragement about attempting a Kickstarter.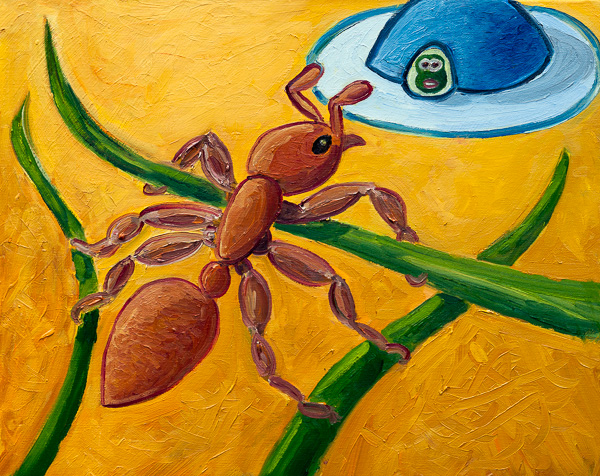 "Ant and UFO," oil on canvas, May, 2013, 20" x 16". Click for a larger version of the image.
One last thing. Near the end of May, I took a couple of days off from the writing and did a quick little painting Ant and UFO—the usual suspects. To start with, I searched the web for good images of ants and I found a nice clear drawing in an exterminator's ad. After I'd painted the ant, I wasn't sure at first about what else to put in, and then I had the idea of having a tiny UFO—I love paintings UFOs, they're easy to paint, and they carry a lot of symbolic weight. The ant's body was at an odd angle, and I had the idea of having her standing on three blades of grass, which made for a nice composition.
The last few weeks I've been planning the final chapters of The Big Aha, and gearing up for the Kickstarter launch. Feeling like a chicken with his head cut off, a little bit. Maybe I'll take a break and do another painting today. I've got these meddling semi-divine beings called "gubs" in The Big Aha, and I'd like to paint one of them who's sitting on a bed in the apartment of my characters Zad and Jane's apartment, and they kind of wish he'd leave, as he's a fairly grungy gub, a little like a dappled Gloucestershire pig with a pointed anteater nose.