I have a couple of upcoming readings on Feb 7 and Feb 11, but first I want to tell you about my new painting , Loulou and Skungy.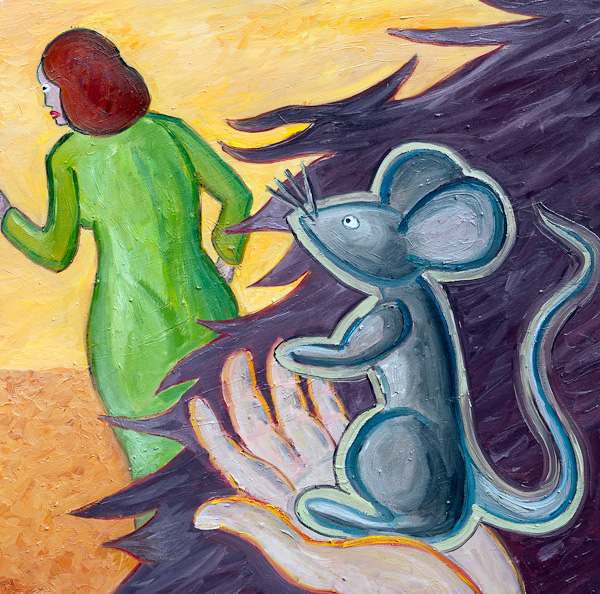 "Loulou and Skungy," oil on canvas, February, 2012, 30" x 30". Click for a larger version of the image.
Loulou is the somewhat mysterious woman in green, Skungy is the rat, and the guy holding the rat is named Morton Plant. At present this is like an illustration of an unknown proverb or a forgotten fable. I don't entirely know what's going on. But I do have some ideas, as this is meant to be a previsualization of a scene in my next novel, The Big Aha. Loulou is luring Morton and his helper-rat Skungy to follow her.
The composition was inspired by a Joan Brown painting The End of the Affair, which I just saw in an exhibit that's at the San Jose Museum of Art till March 11. And I used a thick medium to build up an impasto finish with kind of a van Gogh look on the left. As always, originals and prints of my paintings are for sale on my Paintings page.
I have a small new book out, it's called Surfing the Gnarl, and it's from the "PM Outspoken Authors" series at PM Press in Oakland.
The book has two of my more outrageous short stories, a new essay of mine about science and literature called "Surfing the Gnarl," and an interview conducted by Terry Bisson, the series editor.
I'll be having a launch party for this slim volume at the funky Green Arcade bookstore near Gough and Market Street in San Francisco, 7 PM, Tuesday, February 7.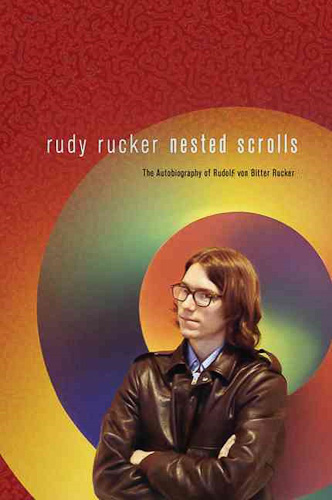 Looking a little further ahead, I'll be reading from Surfing the Gnarl or perhaps my autobiography Nested Scrolls or possibly my recently completed Turing & Burroughs at an SF in SF gathering at 7 PM on Saturday, February 11. I'll be joined on the podium by the eminent SF writers K. W. Jeter and Jay Lake, also reading from their work.