I've been away from my regular blog posts for awhile.
I had that thing with the art show and the talk at Borderlands. I made a nice video of the "art tour" part of my talk¬—I figured out how to use this free Microsoft Windows tool called "Movie Maker" to cut still photo in with a video I'd made, and I overlaid a good audio tape that I made while I was talking. I filmed the video itself via a camera hanging around my neck so it's kind of random cinema verité. Check it out.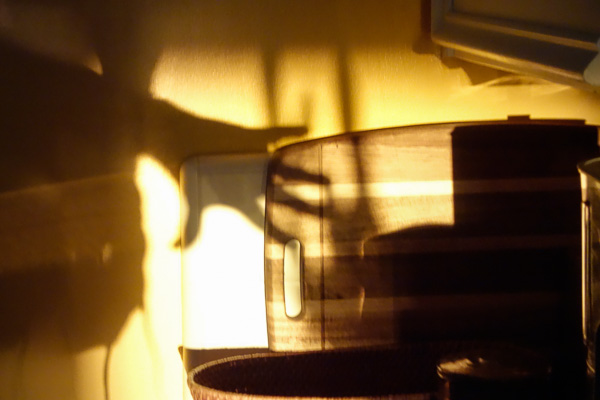 Then I got into a bloodlust hacking frenzy creating a full-on podcast station for myself, Rudy Rucker Podcasts. Googling for advice, but, when it gets really specific and weird, you don't always find anyone who is talking to your precise situation. The process morphed into a nightmare of addiction, me compulsively standing in front of my computer from dawn till ten at night a couple of days. But now it's kind of over. Maybe. For a little while.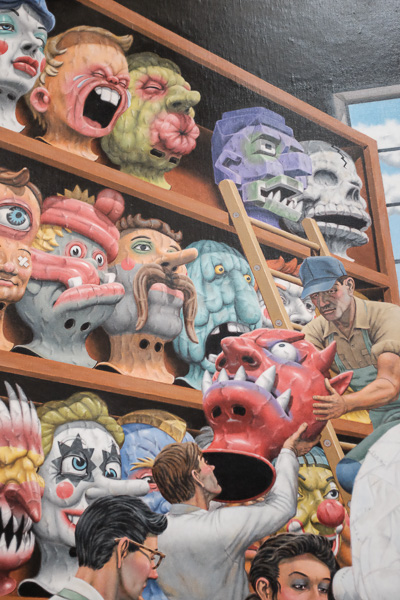 Painting by Robert Williams.
I got a ticket to go see the Grateful Dead concert at Levi's Stadium on Sunday. Last night I dreamed about almost setting up a deal to buy four ounces of pot. Talking to the dealers, debating the price, them giving me a free sample pack to slip into my jeans pocket. I didn't get around to smoking it. And then I was lost in a museum.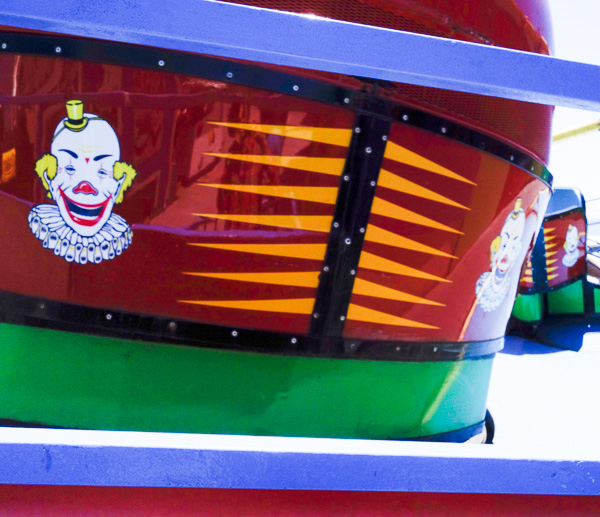 And we had two of our grandchildren here for two nights, the twin girls, almost eight. We took them down to the Boardwalk in Santa Cruz and I went on this ride that I went on when I was their age, 61 years ago, still the same ride, it has the special chaotic quality. Called the Tilt-A-Whirl, although in Cruz the call it Rip Tide. Same sinister clown painted on the Tilt-A-Whirl chairs, amazing. Just about killed me to ride in it.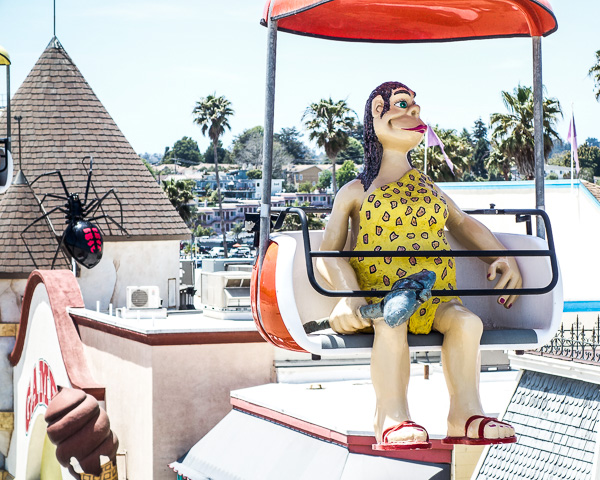 We rode on this chairlift that coast along above the rides. A statue of a cavewoman and a caveman in two of the chairs, like live cartoons.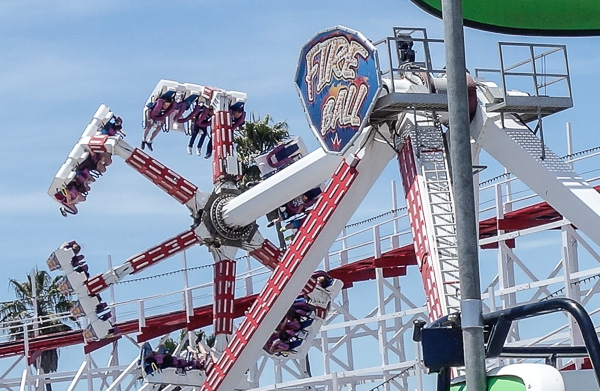 Some of the rides are insane torture. On the third day our three-year-old grandson showed up as well, and we had a big cookout in our back yard with Rudy Jr. and his wife.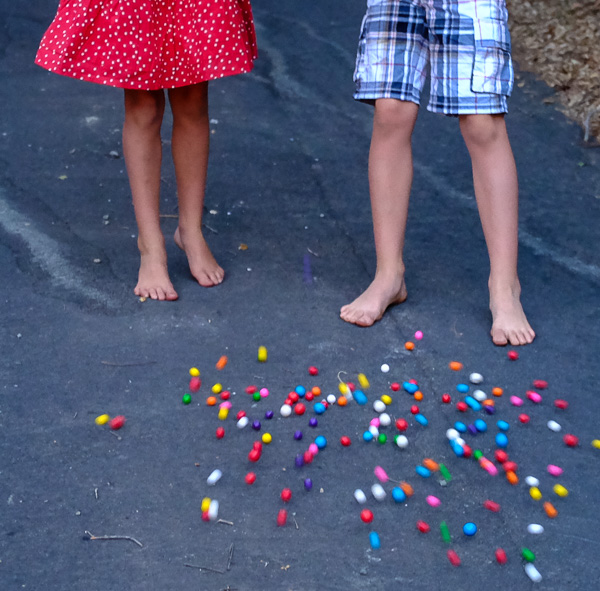 The girls found about a hundred varicolored gumballs in the town park, along with two transparent miniature plastic baseball bats that the gumballs had been inside of. The bats' handles pulled off, they were like tapered plastic jars. The size of billy-clubs. And the girls gathered the balls and put them into the clubs and marched back and forth on our porch pretending they were police. And then I hid the clubs, as I worried the girls would spill the dirty gumballs all over the house or the yard. And then eventually Rudy let them dump the gumballs on the street to watch them roll downhill.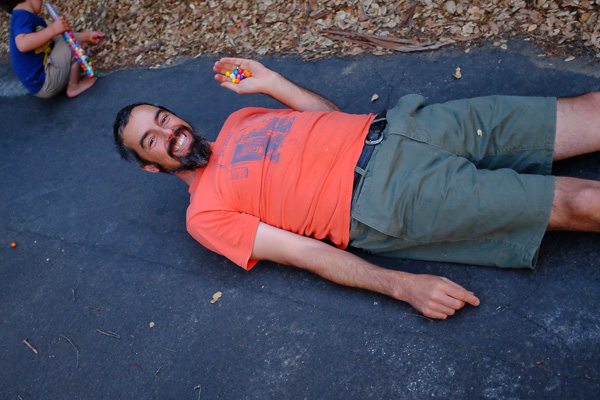 Rudy and I were into it, especially Rudy, lying on his back in the street being hyper. A good time. The three-year-old was excited about the bats, and it was a fresh feeling to be seeing them through his eyes, they looked magical, totemic, glinting in the yellow light from our kitchen door. The little boy like an urgent dwarf in a fairytale. I pick up on the mythic, magic feeling of childhood. Everything in rich color, in depth. Profound, incomprehensible, magical.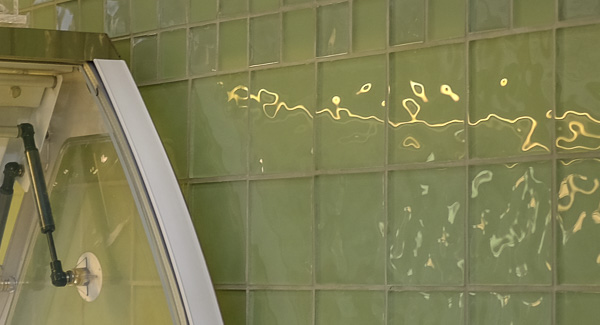 Dig these reflections of fluorescent lights on the tiles at Xanath ice cream on Valencia Street. The squiggles look like Arabic script.
I like to play with the grandchildren, grubbing with our stash of random old toys. They're so at ease, so cuddly, sturdy, in the moment. And I'm lying on the floor, playing along, and looking at at the little kids, and I get the dizzy time-tunnel feeling that I'm peering back to 1949, looking at three-year-old Rudy. Me. A smart little boy who doesn't yet know he's smart. Unworried. Playing. Back into the land of magic. The peaceable kingdom. I might work some of these feelings into Million Mile Roadtrip.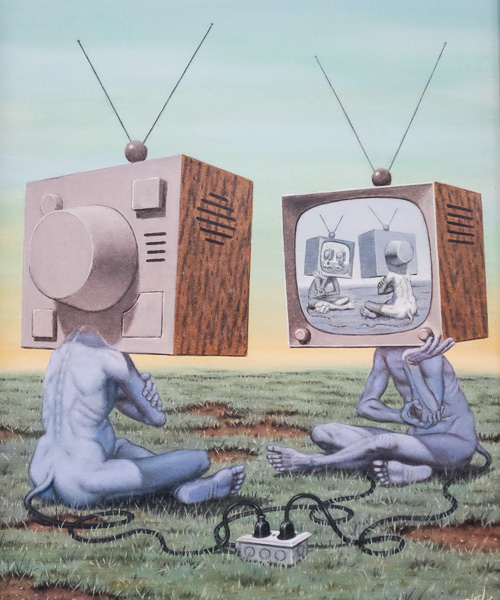 Robert Williams Painting.
I haven't really written much about going the Robert Williams art show in Santa Rosa, but oh well. Fun to talk to Williams, even if he is kind of brusque. Has this great hick accent, and is fairly intimidating—I think these feelings of mine are a carryover from studying his cartoons back in the 70s. "Rude Chuckles With A Negative Charge." I managed to give him a copy of my art book, Better Worlds, and he said he'd look through it, "Lookin' for stuff to steal."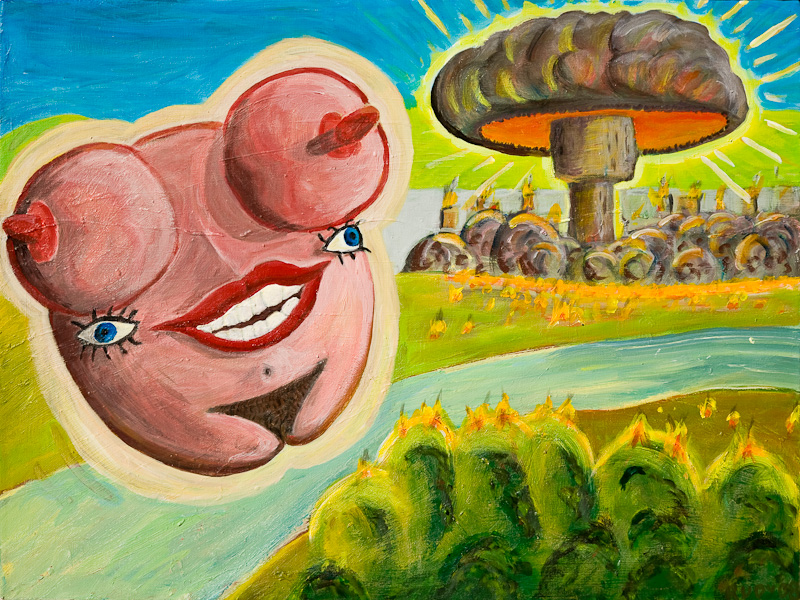 In fact he was flipping through my book in the gallery real fast, and he came to my painting "The Sex Sphere," it's of a giant ass with boobs on it, with an A-bomb explosion in the background, and this was very much to the Master's taste. "Now you're cuttin' to the chase," he says.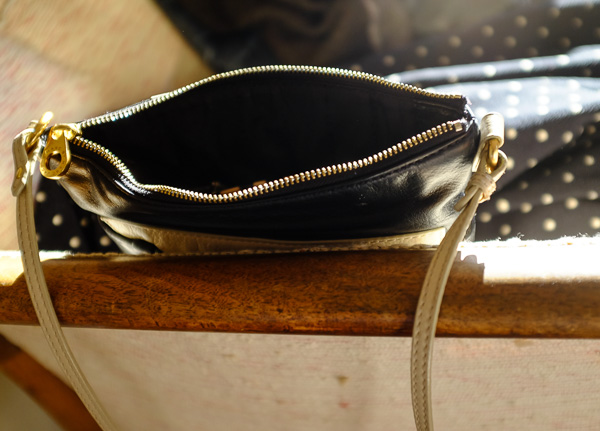 Purses are a lot like vaginas, you know? I think that might have something to do with why women like to carry big fancy purses around. Like a man carrying a bat or a billy club.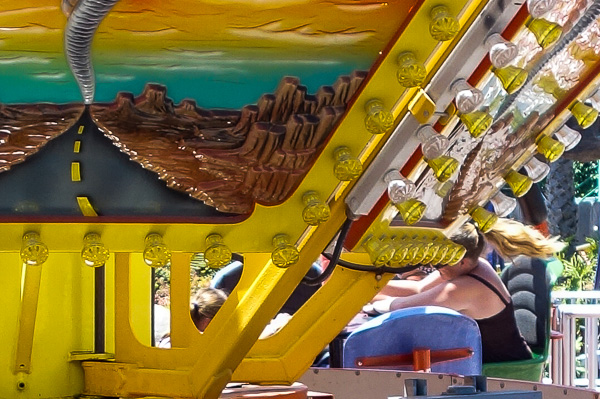 Wild ponytail on the Tornado ride at the Santa Cruz Boardwalk.
Anyway, I have a couple more things to mention. I'm going to appear for fifteen minutes at the tail end of V. Vale and Marian Wallace's presentation on William Burroughs at a conference called Beatnik Shindig (ow!) at Fort Mason tomorrow at 4. I'll be talking (briefly) about my novel Turing & Burroughs: A Beatnik SF Novel. I don't know that Burroughsians are really aware of my book. Why would they be? No matter how tiny a splinter group I join, I'm always the outsider, the one who's beyond the pale.
Sure, sure, wheenk, wheenk, wheenk. Anyway, I had two tough tasks in writing this novel: (1) To get my head into a place where I could believably describe a gay love affair. (2) Come to terms with the lingering tensions around Burroughs shooting his wife. (She comes back to life and shoots him .)

[Rbt. Williams cowhand lassos empty space. I used this fine, vintage move in Spaceland and in Realware, but never thought to try painting it. The Master at work.]
Also there's a big feature article about my Journals in this week's Metro Silicon Valley newspaper. Article by Dan Pulcrano.

Audience at my Journals event at Borderlands, June 13, 2015. Click for a larger version of the photo.
And, finally, here's a zoomable photo of those loyal fans who showed up at my Borderlands talk. There's a link for the talk in a previous post.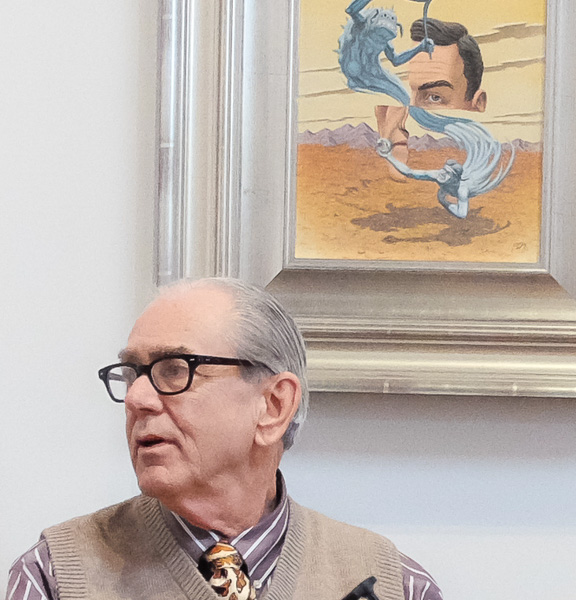 And here's my portrait of the Master, yeah. Outta here now…