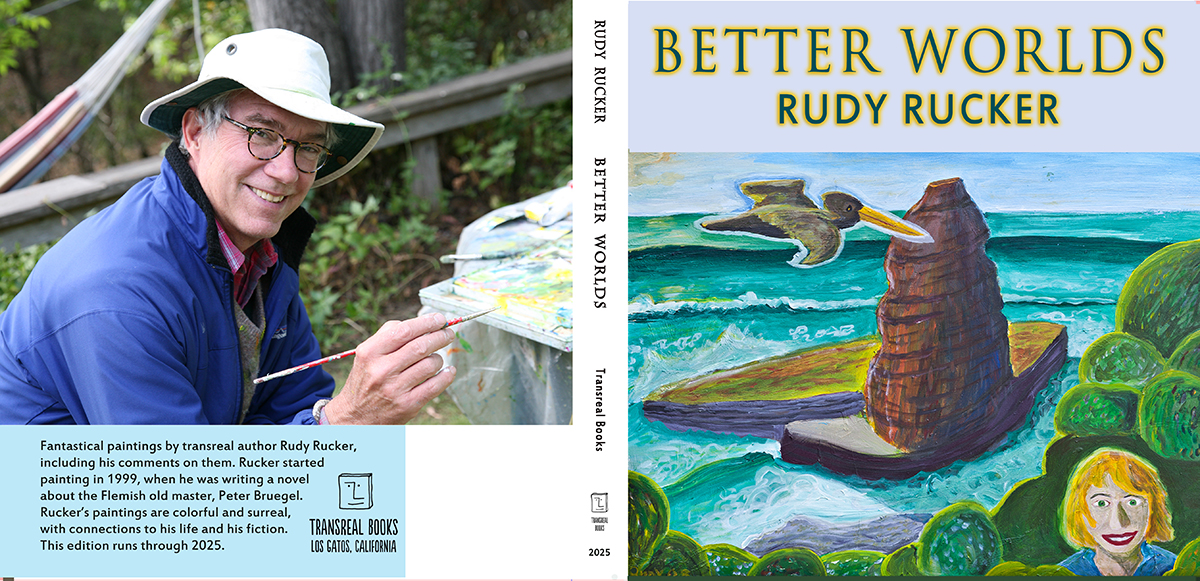 ---
Print Paperback
Better Worlds: Paintings by Rudy Rucker
Color Paperback, 341 pages. July, 2023 edition.
Buy from Amazon
256 bright, fantastical paintings by science fiction master Rudy Rucker, some realistic, and some abstract. Includes his commentaries on the individual works. Rucker took up painting in 1999, when he was writing a novel about the old master, Peter Bruegel. The paintings draw on Rudy's deepest thoughts, although, in transreal style, many of them connect to his SF novels. This is the July, 2023, edition of Better Worlds. It replaces all earlier editions.
---
Online Version
Free online PDF version of the 2023 edition of the entire book Better Worlds, with illos, and with notes at the back. Althouth this sample version is low resolution, it's still about 50 Meg, and it takes a minute to appear on your screen. (Note that the high resoulition version that I used for the print book is 500 Meg.)
Read the Catalog notes from the book online on the Rudy's Paintings page, which also has info on purchasing the paintings..