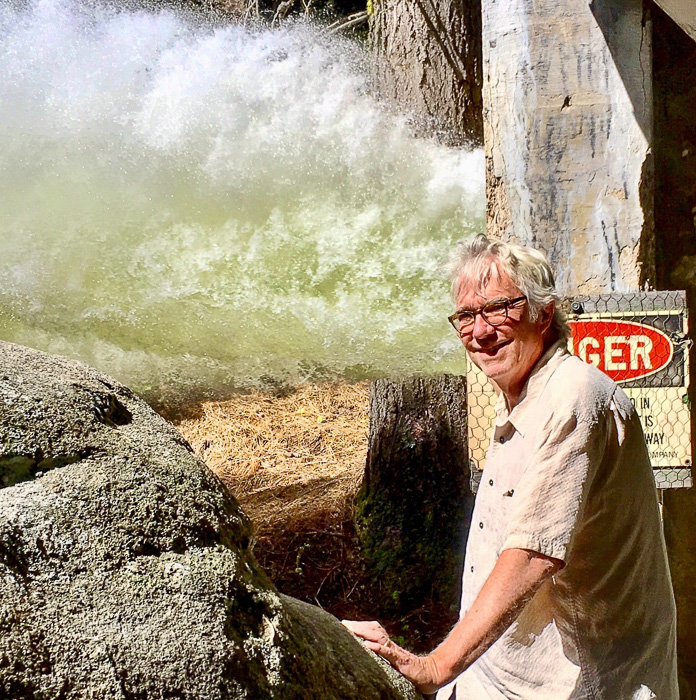 I've been in high gear this month. Here's a picture of me with my head exploding. Or the man standing next to me, as in Dylan's "Day of the Locusts." Or something. More details toward the end of this post.
Let's start with my latest painting.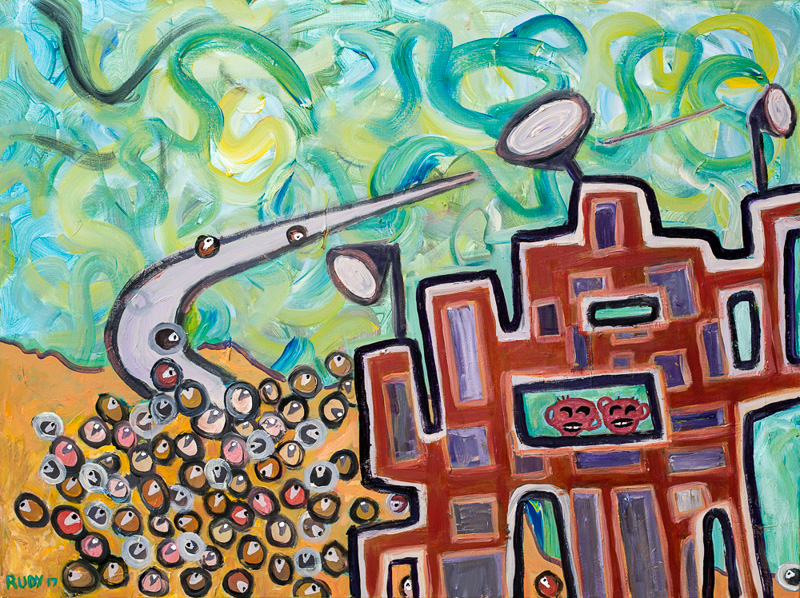 "MonkeyBrains ISP" acrylic, July, 2017, 40" x 30". Click for a larger version of the painting.
These days I often start a painting by making spontaneous squiggles, using the paint left over from the previous painting. My initial goals are (a) to cover every bit of the canvas with paint, including the edges of the canvas, (b) to craft an engaging dance of stroke and hue, and (c) stop daubing before the patterns get overly smooth—it takes some restraint to quit in time.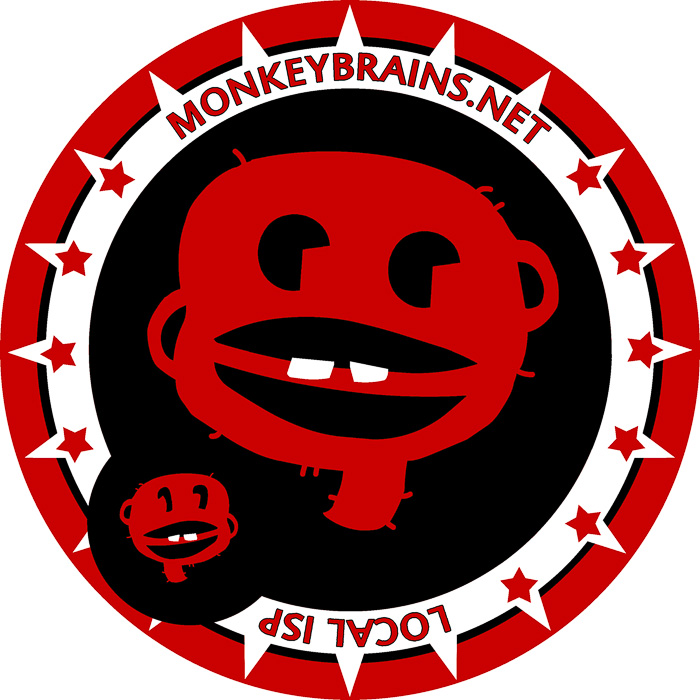 And then I paint something on top of the background. And then it reminds me of something, and I tweak the painting to make it look like whatever I have in mind. For "MonkeyBrains ISP" I was thinking of my son Rudy Jr. and his Internet Service Provider company, Monkeybrains.net, run by Rudy and his business partner Alex. They have a logo that looks like a monkey. And they have about 5,000 wireless dish antennas scattered around multi-culti San Francisco. And from the window of my son's house, I can see some Wayne-Thiebaud-style loops and ramps of the freeways 280 and 101.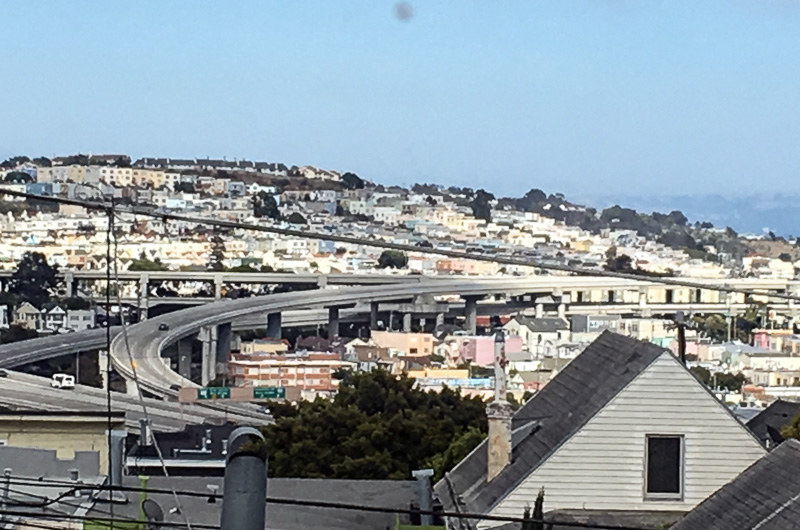 So I made a big, reddish, living, walking building like a giant King Kong ape—with dish antennas, and with the two boss monkeys inside it, and with the diverse heads of their customers outside, and a freeway arcing upwards in back.
What else have I been doing?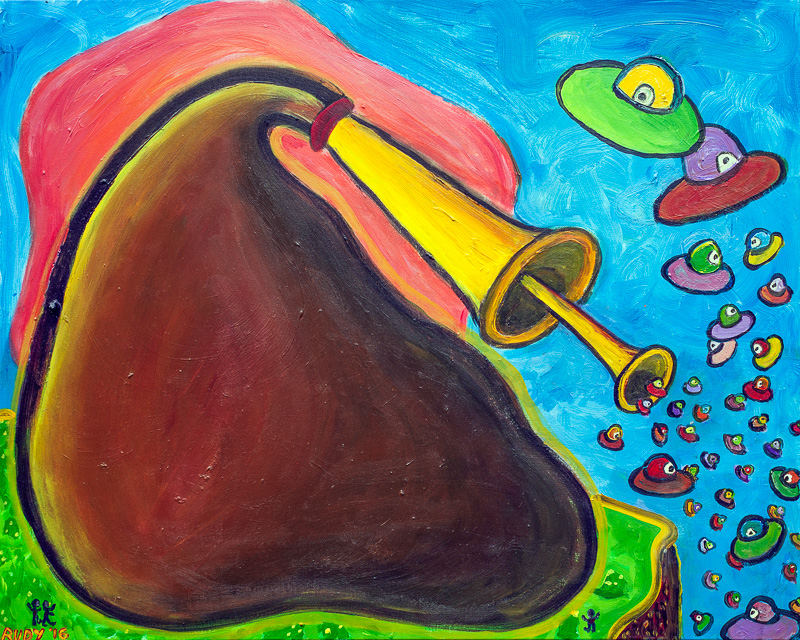 Well, I'm all signed on with Skyhorse Publications / Night Shade Books. I sold them nine of my backlist novels plus the legendary and fabled Million Mile Road Trip . Their plan is to release a backlist title in fall 2018, then do one every two to four months and to publish Million Mile Road Trip after about three of the backlist titles, hopefully having stirred up a some interest on the part of new readers with the initial backlist publications.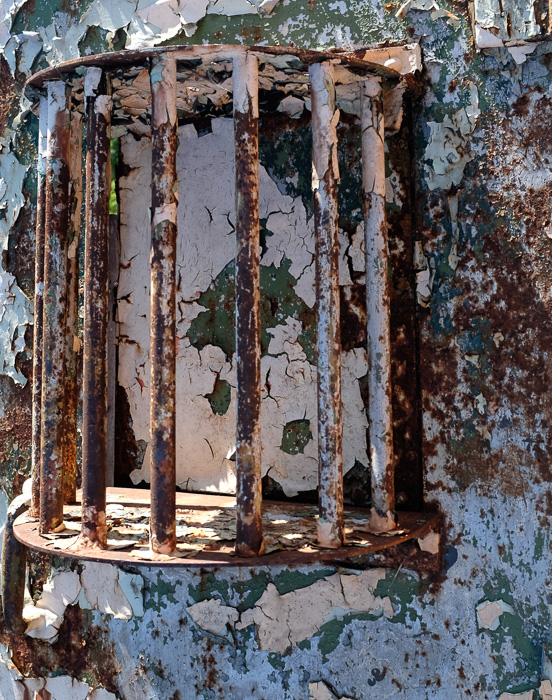 So we're looking at my novel coming out in summer or fall of 2019, that is, two years from now. Long wait. But, what the hey, it's been two and a half years since I started work on MMRT in January, 2015, and now it's done and it'll be another two years till it comes out. At least Night Shade has a master plan! And my novel will quietly age for two more years. A fragrant cask of Amontillado.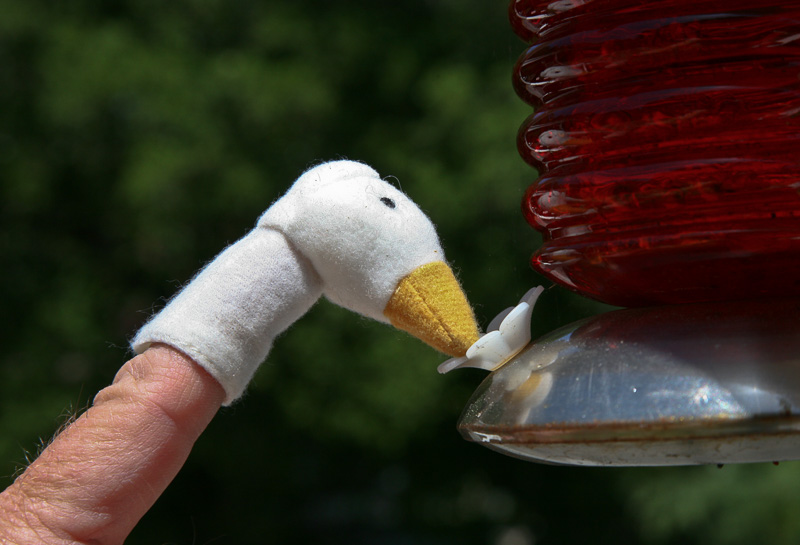 I spent the whole of June, 2017, and the first part of July, doing final revisions on Million Mile Road Trip before sending it to Cory Allyn and Jeremy Lassen at Night Shade. To start with, I read it, and marked it up, and typed in the changes—to the tune of about fifteen changes per page. And then I worked my way through my accumulated To Do list for the novel, doing global fixes on various plot points. I was working very intensely, like ten hours a day for thirty days in a row.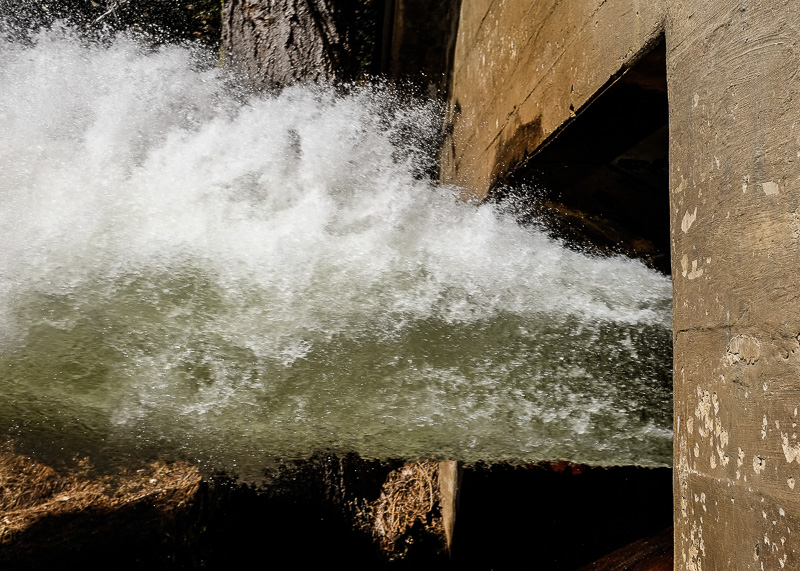 It always surprises me how few actual deletions and new sentences or phrases it can take to finish off a To Do. It's like finding pressure points. You find them and do few a light touches, and the problem is healed. Like acupressure. Acuedits. But it takes a while to figure them out. Takes more time than the actual typing involved.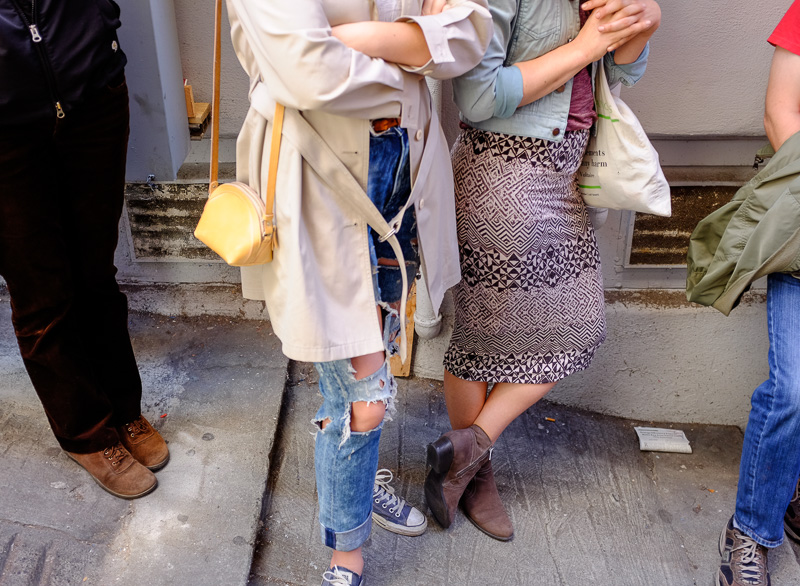 During the week or two while I was doing my acuedit fixes of the To Dos, I felt more intelligent than usual. For that period of time, I had the whole entire 117,000 word novel simultaneously imaged in my brain—and that's a much larger mental pattern than I can normally keep active at once. Like balancing a tower of plates on sticks on plates, or juggling a whole lot of things at once. Mental exercise at a very high level.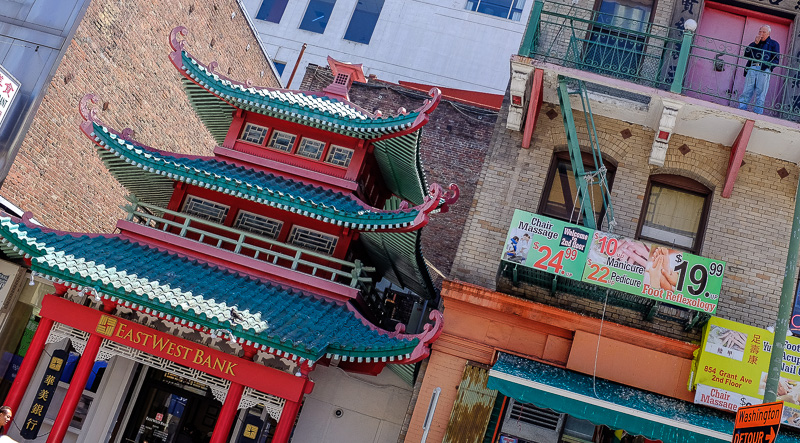 That's the novel on the left, and me on the high balcony on the right. And I'm the only one who sees that the finished temple is there.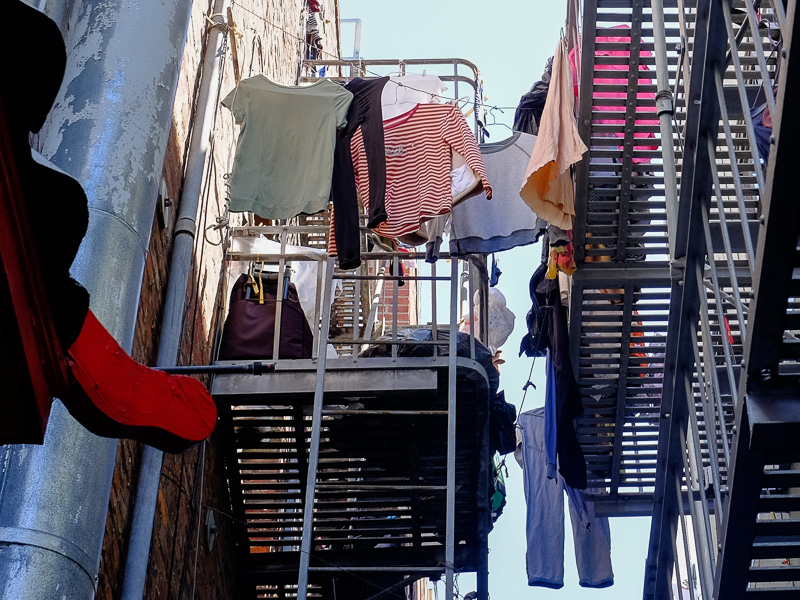 At one point during this process, Sylvia and I were bumming around San Francisco, spending the nights in Rudy Jr.'s temporarily unoccupied house. And we took two free San Francisco City Guides tours, one of Chinatown and one of lower Market Street.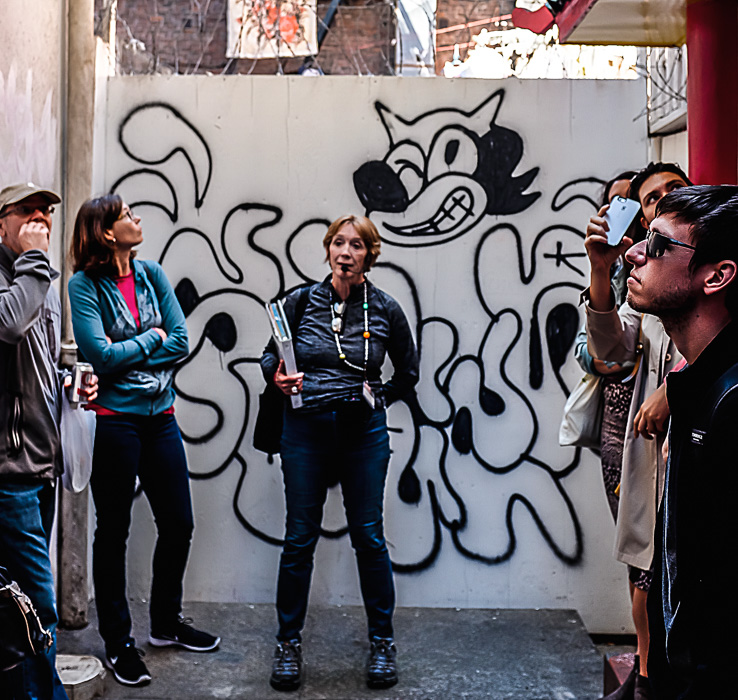 Our guide was a nice woman with a slight New York accent, very hip, but I forget her name, maybe it started with an E. Here she's showing us a Chinatown alley where the tongs had a brothel and an early 1900s lady called Donaldina Cameron helped the indentured women escape down the fire escape.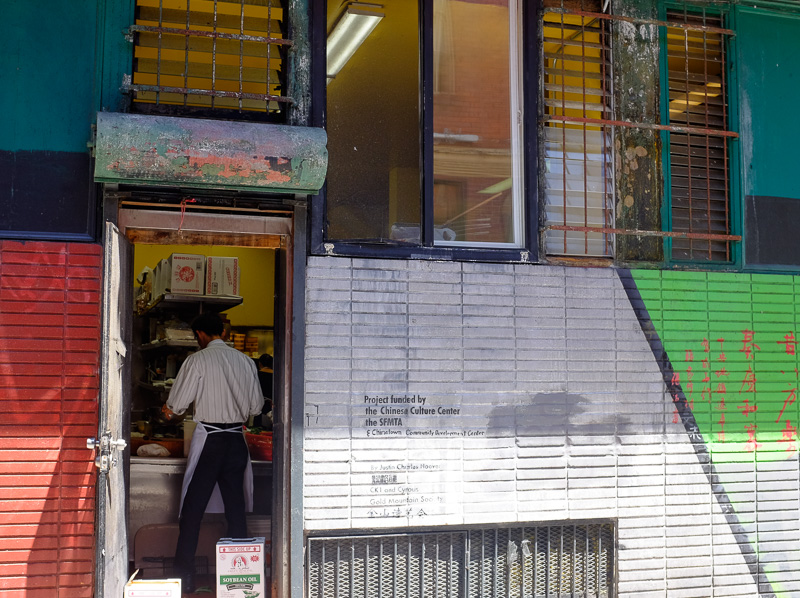 At a cafe or on a bench, if there was a lull, I'd get out my traditional pocket-folded scrap of paper and be marking down some ideas about the To Dos and the fixes. At one point Sylvia looks over at me at says, "I can never believe how you can instantly start working at any time." And it's because that stuff is flowing along like an underground river in my head the whole time.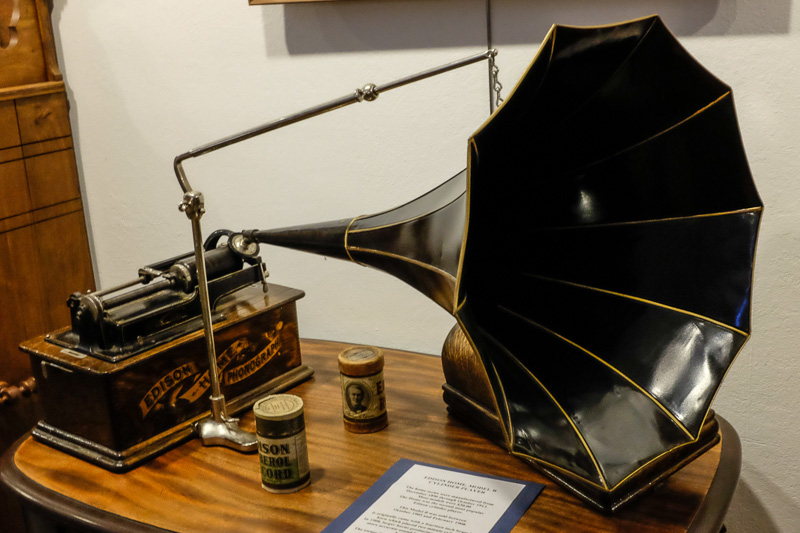 I sort of worry about something that can happen with older writers is that, in their later works, they get into what you might perhaps call a Mannerist phase where they are aping and replaying their best bits, riffs they love to do, themes they can't let go of, reworking them into scenes of unnatural elegance and intellectual sophistication. And wonder if I'm in that mode in my recent books like The Big Aha and now Million Mile Road Trip. I'm working with a high-craft Salvador Dali type polish. Although perhaps Mannerist and even decadent—in the literal sense of being the products of a dying or decaying organism (me)—my current novels seem to me to be of value. Like the fragrant ambergris drawn from a diseased whale.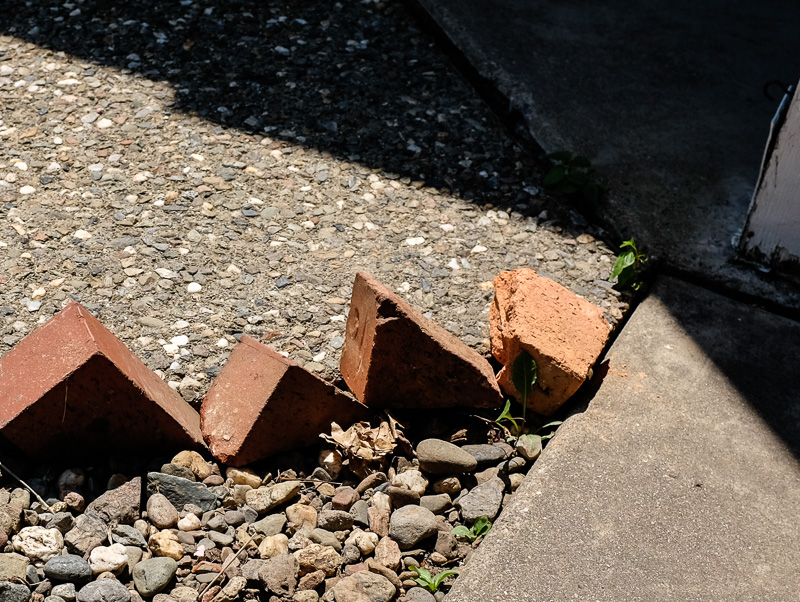 Well, going a little overboard there. I'm still making great efforts to have my characters be rounded, human, quirky, and empathetic. So maybe I'm beyond Mannerist. I'm Baroque. A.k.a. gnarly.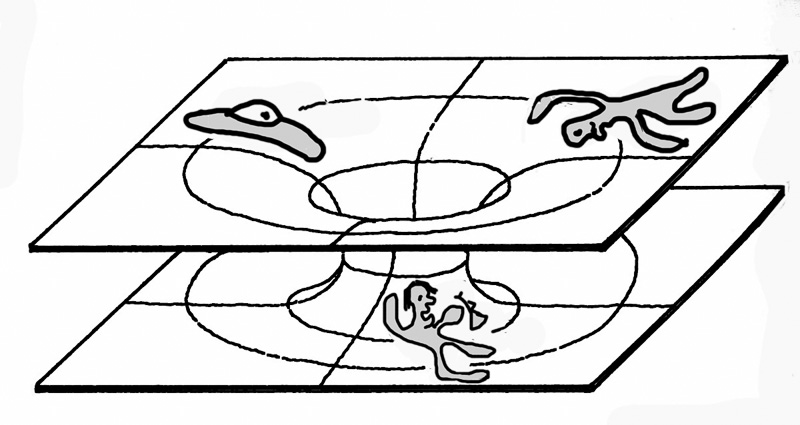 In the full Salvador Dali Mannerist-Baroque-gnarly mode, I kicked in some new four-dimensional twists for Million Mile Road Trip, and spent a couple of days drawing intricate illos. Like there's a wormhole or so-called Einstein-Rosen bridge, or "unny tunnel" that connects our normal universe to the alternate universe where most of the book is set. And in this illo shown above you can see heroine Zoe with her trumpet, sliding up from our world to the other one, and a possibly evil saucer and a friendly alien named Yampa sliding down.
Eventually an evil alien bagpipe named Groon wants to slide through the wormhole between worlds. Groon, by the way, is the creature shown further up this page, he's a giant bagpipe who blats flying saucers from his horn. What, I ask you, can be more evil than a bagpipe?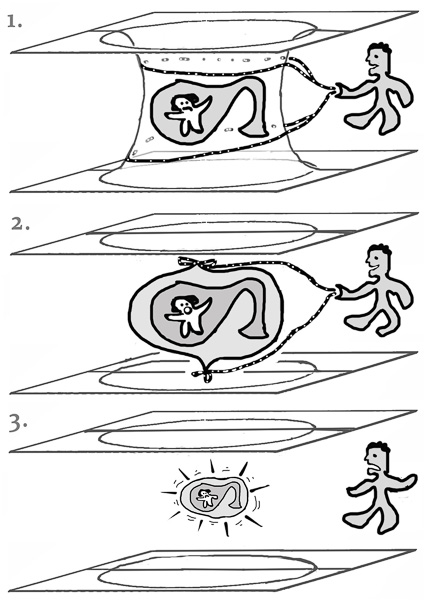 And this illo shows geeky Scud's plan for his brother Villy to trap and kill Groon while he's midway in that tunnel. Villy will be in 4D space with something like a pair of lassos. Zoe will, unfortunately, be trapped in Groon's stomach at this time.
Explanation by Scud:
"We've got Groon embedded in the surface of the tunnel. So the first step is when Groon slides in there and Villy lassoes the two ends. Second step is when Villy tightens up the two ends of the tunnel. And then Groon is—trapped on the hypersurface of a pocket universe. And, ta da, for step three, the pocket universe shrinks on its own. No more Groon!"

My character Zoe is worried about the pictures:
"What's that woman doing in there?" asks Zoe, an edge in her voice. "Trapped inside Groon's stomach. Is that supposed to be me? Do you think that's funny?"

"Well, I mean, these pictures are hypothetical," says Scud. "The sequence I drew is strictly a worst-case analysis. Consider the pictures a cautionary warning."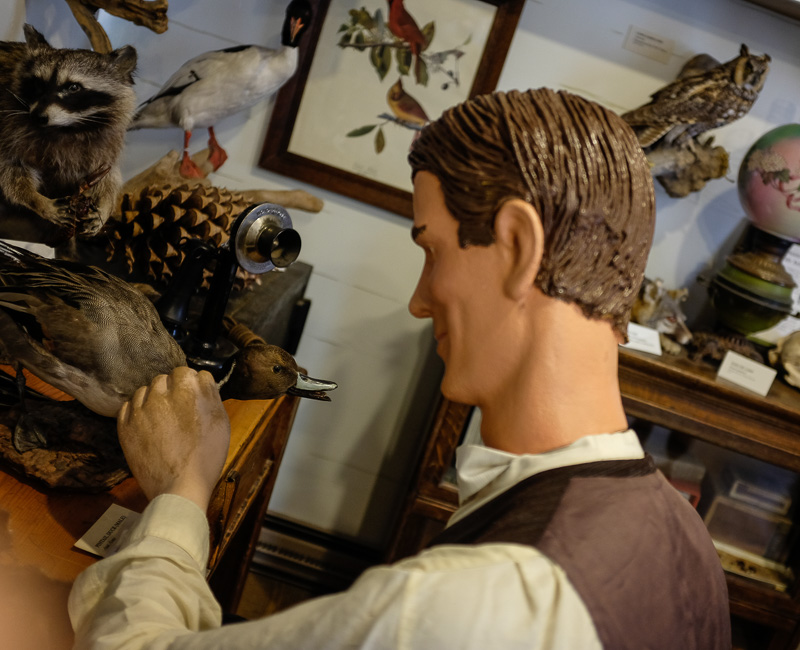 Very meta: A plastic model of a taxidermist in the Qunicy Museum. Taxidermist taxidermy.
Sylvia and I were up Quincy, CA, near the Feather River canyon last weekend for a wedding, a big event, lots of fun, Our humble $90-a-night motel literally had a babbling brook outside the window, We went swimming at a deserted swimming hole under a country bridge, along with our friend Jon Pearce and his wife Debra, it was quite awesome, Birds flying, ripples, marshy plant stalks, lion scat, currents. This is how things should be, is what I think at my rare moments fully in nature like this.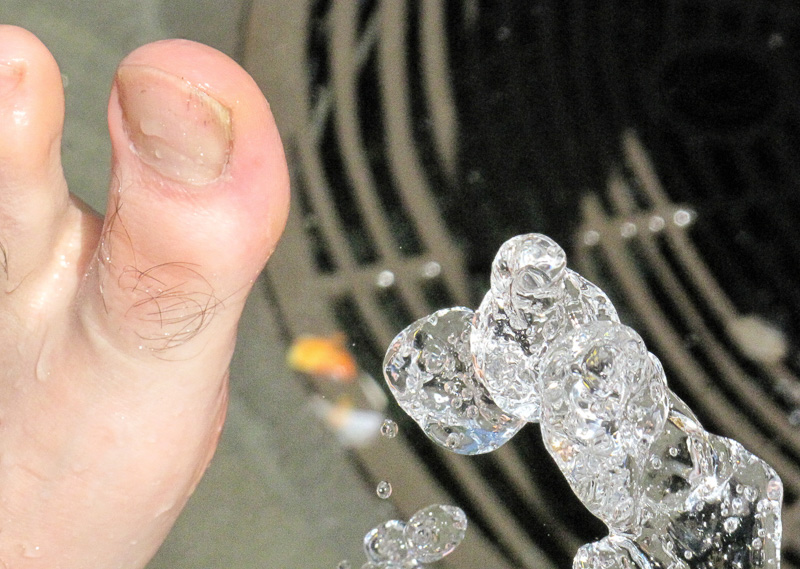 It reminded me an experience I had standing chest deep in the Big Sur river a few years ago, when I was working on my tome, The Lifebox, the Seashell, and the Soul and writing the final ""The Answers" section, which you can click here to read online.
I'd been arguing that "everything is a computation." And, standing in the river, I realized I was wrong. This voice in my head was saying: "This is WATER, Rudy. WATER." Which is what the blind and deaf Helen Keller's teacher signed onto her palm while holding Helen's arm in the rushing gush from a pump. Not a computation. WATER.
Speaking of water, on the last day in Quincy, after the wedding, Sylvia and I stayed on for an empty day, and ended up driving to the nearby Bucks Lake—we were searching for cool weather there at 5,000 feet, but even so it was 90 degrees. Anyway, we rented a little motorboat and putted over to some empty shore and went swimming, which was great.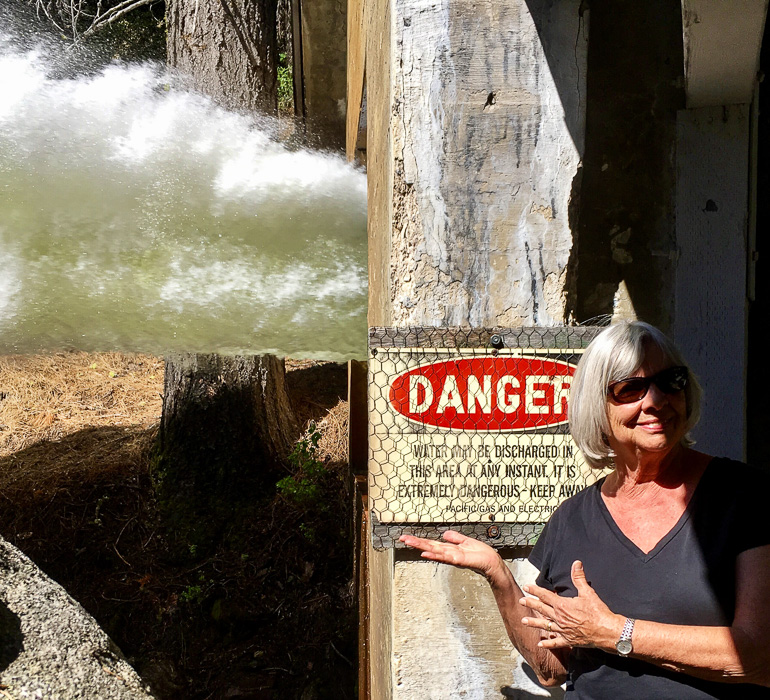 And then we drove around the lake and, at the base of the Bucks Lake dam, I came across a drain at the base of the dam, with water shooting out in a staggeringly intense jet. I love it when I see such incredibly rich and gnarly examples of physical computation. Note that I'm not saying the water is, in its deepest essence, a computation. I'm saying it can be viewed as encoding or carrying out a computation–it it stimulates you to look at the world that way. But, again, mainly it's being water. Presented by the mysterious Lady S.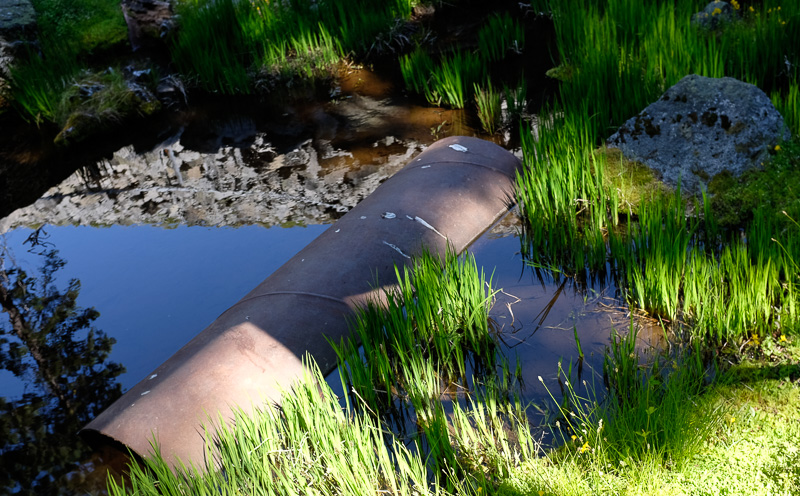 With the sweetest little pool of mountain irises next to the jet, such clear water, such green leaves. Life is beautiful.