Today I signed a contract selling the print rights for ten of my novels to Skyhorse Publishing, the books to appear under the Night Shade Books imprint, edited by Jeremy Lassen, with the deal negotiated by my agent John Silbersack.
I have some other things to be glad about this week, and I just finished a painting that sums up my feelings. The painting is called Hooray!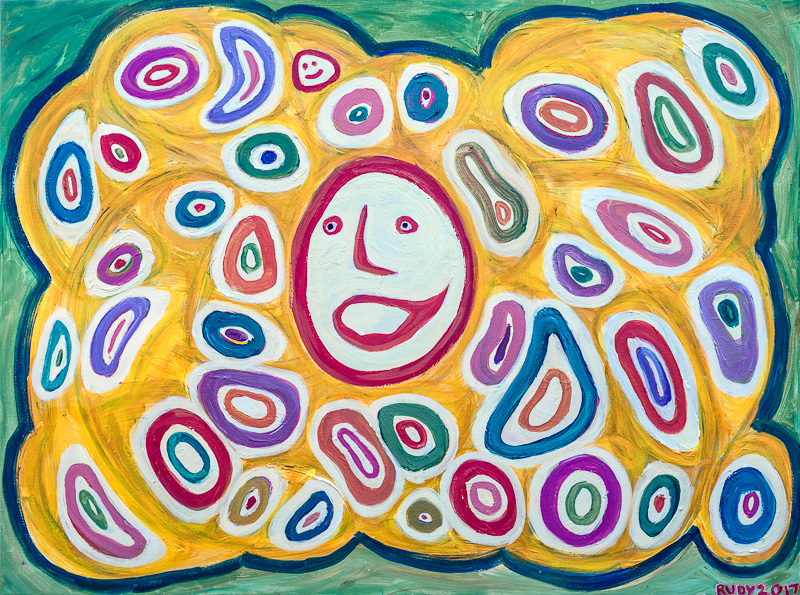 "Hooray!" acrylic, June, 2017, Each canvas 40" x 30". Click for a larger version of the painting.
I'll say more in a minute about my painting process for Hooray! . But let me tell you about the book deal first. It's for my new novel Million Mile Road Trip, which I finished a year ago but hadn't sold yet. At the Locus Christmas party at Ysabeau Wilce's house in December, 2016, I ran into my old pal Jeremy Lassen, who'd published my novel Jim and the Flims as a hardback at Night Shade Books back in 2011. Since then Night Shade went through reorganization, being bought out by Skyhorse Publishing, and Jeremy is still working there. During the transition I'd reverted Jim and the Flims and published it in paperback and ebooks via my own Transreal Books.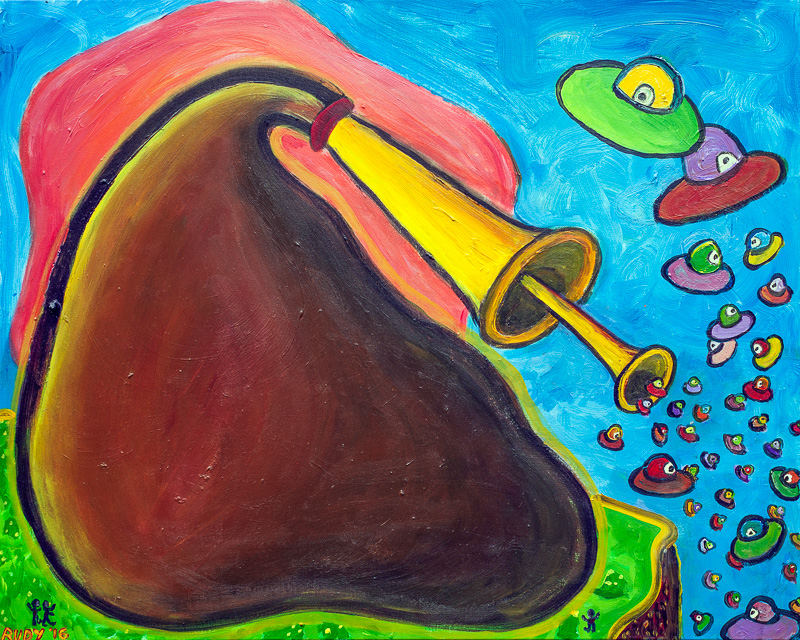 ["Saucer Bagpipe," the chief villain of "Million Mile Road Trip."]
Anyway, when I talked to Jeremy in December he liked the sound of Million Mile Road Trip, and he then came up with the audacious plan to publish that novel and, while he was at it, "Get Skyhorse on the Rucker train," and publish nine of my backlist books (including Jim and the Flims)—the idea being to publish some of the old ones to create a little interest, then come out with Million Mile Road Trip, and then do the rest of those nine back list books. This is to happen during the time frame 2018-2020, roughly speaking.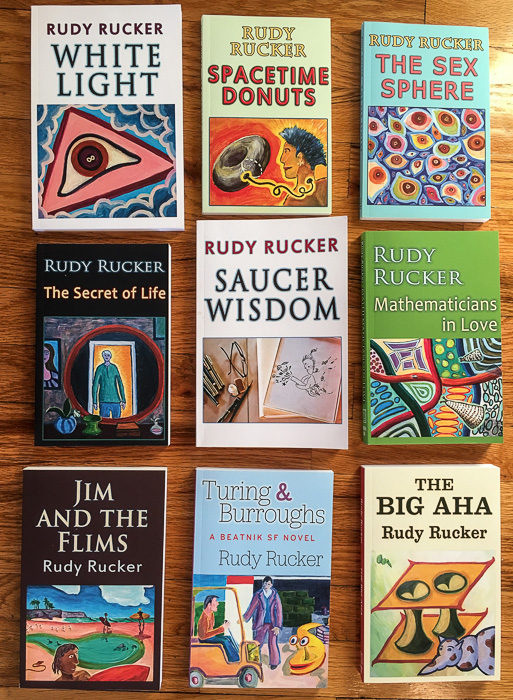 l
As I mentioned in a recent post, the backlist books are novels that I've been publishing via Transreal Books. The Night Shade editions will have new designs and new covers. I'll no longer be distributing the Transreal editions in print although—and this is a nice thing about the new Night Shade deal—I still own the ebook rights to these books and will continue publishing them in Kindle, EPUB, and other ebook formats.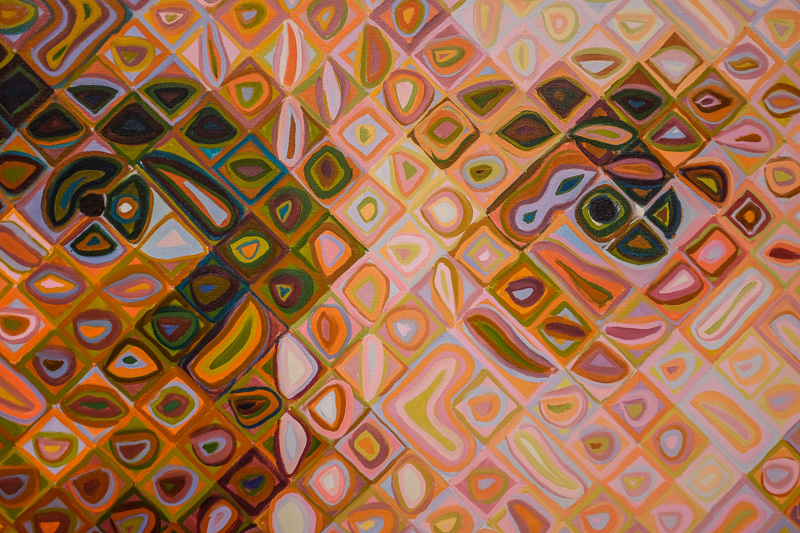 [Detail of a painting by Chuck Close at SFMOMA.]
Another piece of good news is that a production or metaproduction outfit called GoodWizard has paid me handsomely to renew their option my Ware Tetralogy until December, 2018. I don't quite get what GoodWizard's plan is, but if the Wares end up as a movie or a long-form video series, so much the better. My agent for this deal is Marty Shapiro.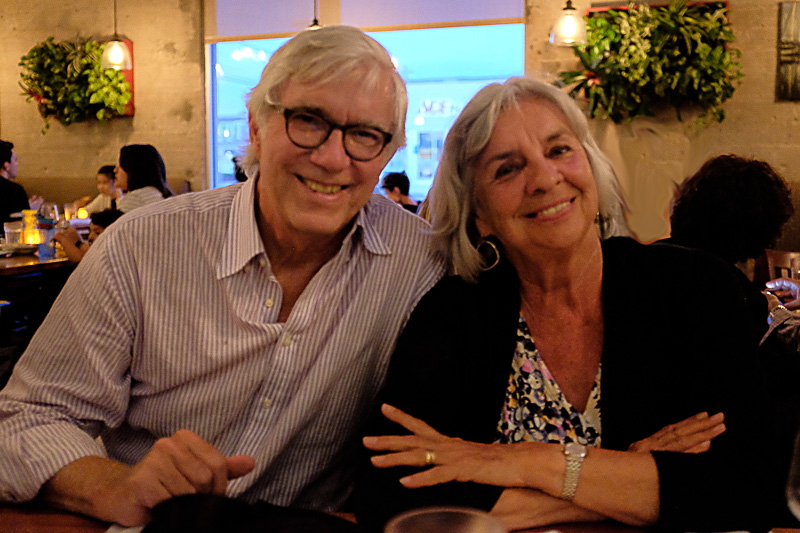 More good news is that my wife Sylvia and I just celebrated our 50th wedding anniversary. Incredible how the time has accumulated. We're still having fun. I'm glad we're together.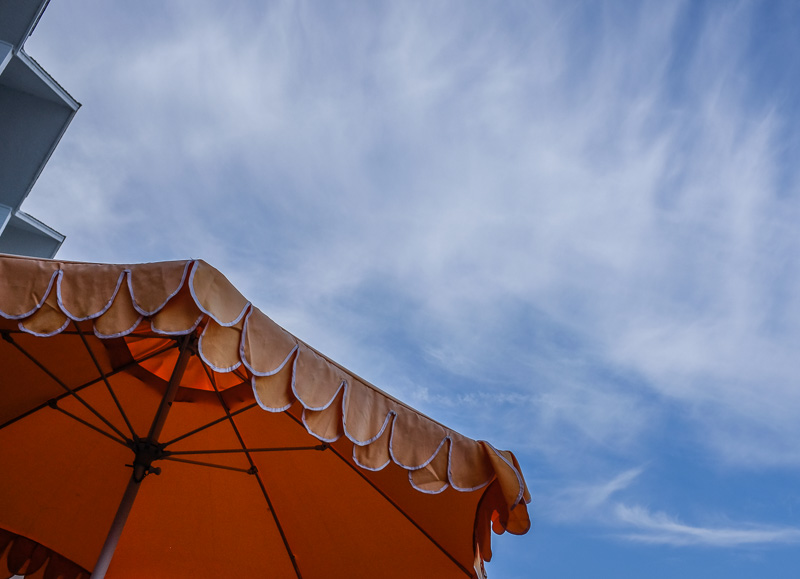 We went and spent a couple of nights at the Dream Inn in Santa Cruz. They've really fixed the place up since the last time I stayed there, which was some 25 years ago. Very surfistic.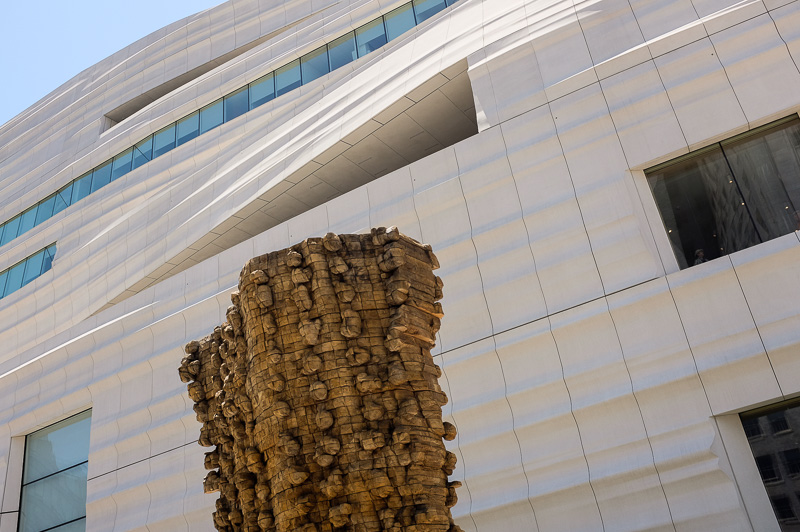 [The new SFMOMA]
Anyway, in case you're interested, I'll get back to how I painted Hooray! I started it a couple of weeks ago by laying a big canvas on the ground, and covering it with whitish paint, and then glopping on some big gouts of various shades of cadmium yellow with a lot of liquid medium and gel medium (liquid for smoothness and gel for an impasto look in the strokes), and then I leaned over it and did full-arm swirls and scribbles with a fat brush until I had a nice complicated knot of yellow lines. Put a little blue in there for some green threads too.
When I do this kind of "finger painting" type thing I need to make myself stop sooner rather than later. It's fun to do it, so I don't want to stop, but if I do it for too long, the brush strokes get too smeared out and the colors get too homogeneous.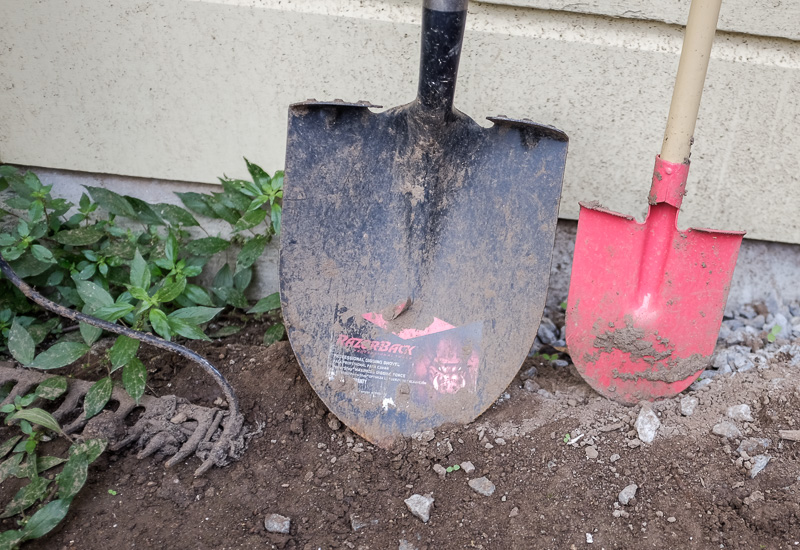 I let the painting dry for half an hour, and then I put in white patches at the more off-road parts of the scribble…the spots that weren't directly painted over with a big stroke. And I felt it needed a focus so I put a big white patch in the middle. I was thinking at first that I might paint an image of a person or a monster into each oval. Maybe all the faces would be aspects me, or images of the voices in my head. I was in fact feeling kind of down two weeks ago, and I was thinking of the umpteen faces of Rudy as selfish and unpleasant.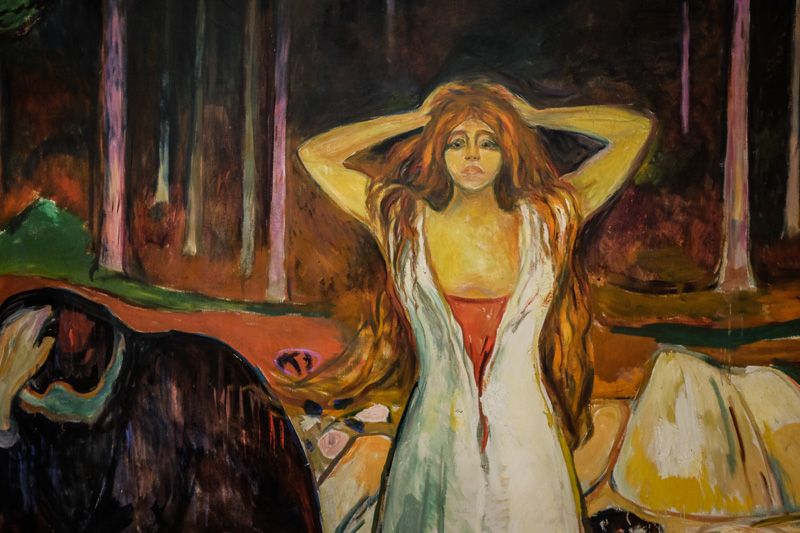 [Speaking of unhappy artists, we saw the recent Edvard Munch show at the SFMOMA the other day. This one is called "Ashes." The artist and his lover.]
Back to Hooray!, three of my grandchildren came over to spend two nights, and I gave each of them a small canvas and I let them use the acrylics off my palette to make pictures of their own. I'd thought I'd work on my painting while doing this, but I couldn't focus on it, and I ended up offhandedly drawing a kind of big crooked smiley face, but maybe not an entirely happy face. A troubled happy face. I put two expressions onto the mouth.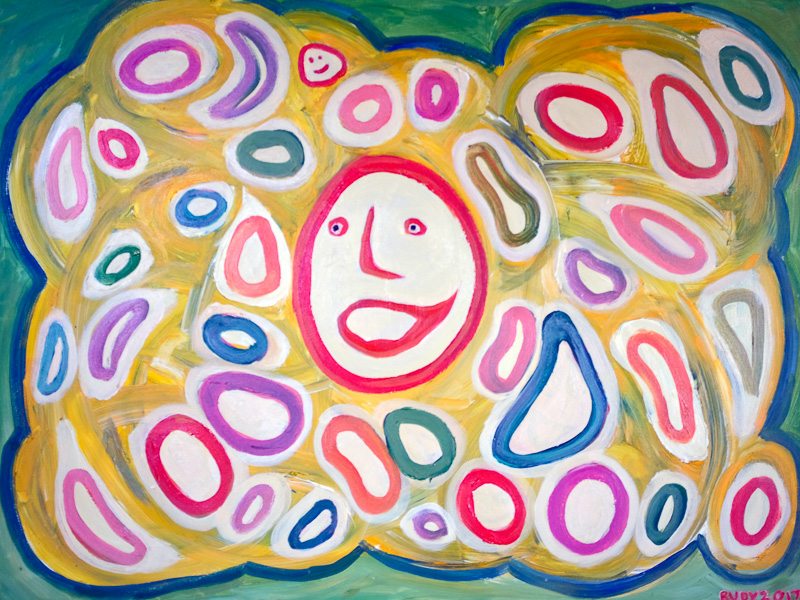 [First draft of "Hooray!"]
And I didn't know what to put in the other white patches. But then, as I say, I started getting good news about my publishing, and I got into a good place with Sylvia, what with the anniversary coming, and our daughter Isabel visited. And our daughter Georgia and her family are about to move back to the US after two years in Budapest.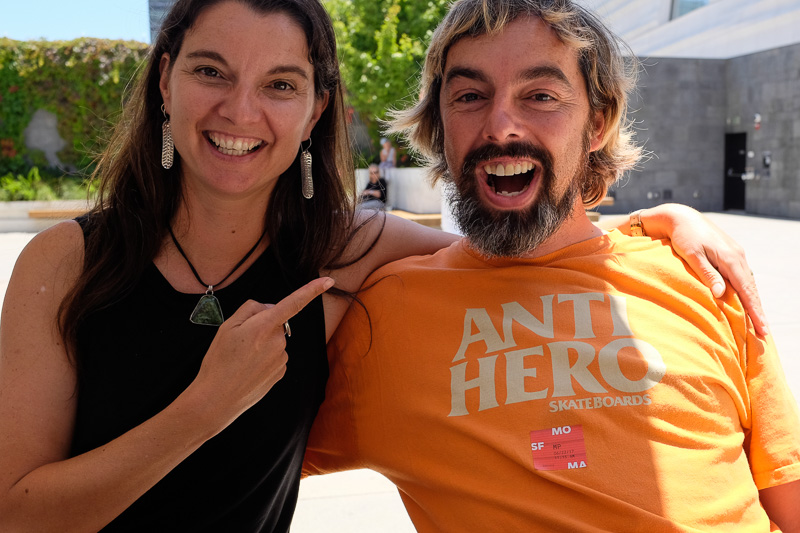 [Isabel and Rudy Jr. at the 5th floor cafe as SFMOMA.]
So by then I was like, yeah, make this a happy painting, with, like, party balloons and confetti and lots of bright yellow.
So that's what I did…it turned into an abstract art color balancing exercise, juggling the colors of the disks, and layering on more and more and more coats of different shades of yellow for a rich background. The paint store was out of titanium white, and I got an off-white called titan buff instead, and that was a good thing.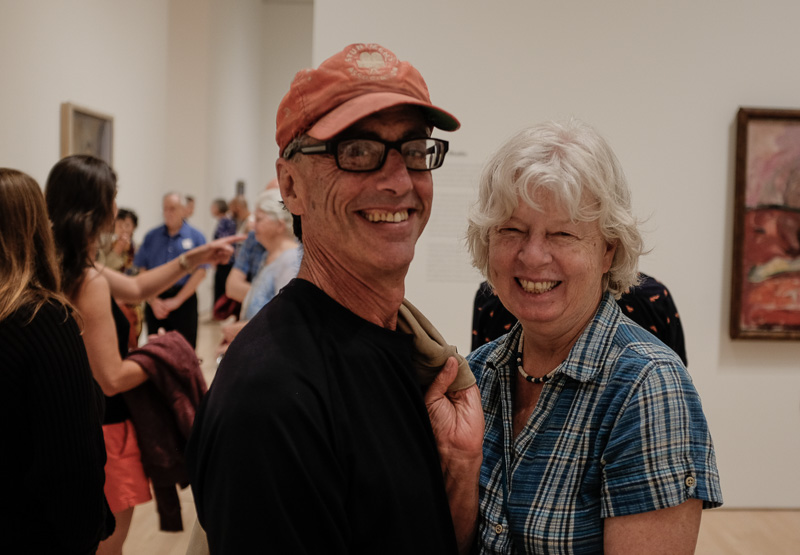 One last hooray-type thing to throw in is that I saw our dear friend Michael Blumlein the other day with his wife Hilary, and they're in a good place. Happy about their grand daughter. Somebody, I don't remember who, said, "My grandchildren are the one part of the 21st century that I thoroughly approve of." Life rolls on.