My son Rudy and I both did presentations at the Dorkbot San Francisco meeting. Dorkbot has groups in cities around the world. Their motto: "People Doing Strange Things With Electricity."
The Dorkbot people managed to to a live streaming video of the show, and the stream is preserved online at ustream.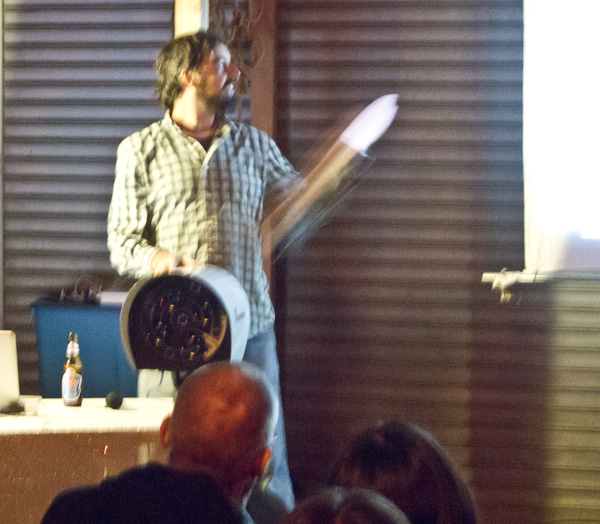 Rudy the younger started his routine about 30 minutes into the stream, and I came at the end. Rudy younger was talking about his punk-ethic wireless company, www.monkeybrains.net. They've put maybe a thousand small parabolic antennas up around the Mission district and beyond, using a surplus Jordanian military infrared laser for their long-haul connection. He unbolted his giant laser from its building-top mount and brought it in to point at the audience, you can see it here. People were flinching. Since it's infrared, nobody was sure if it was on. A gig per second of unseeable data.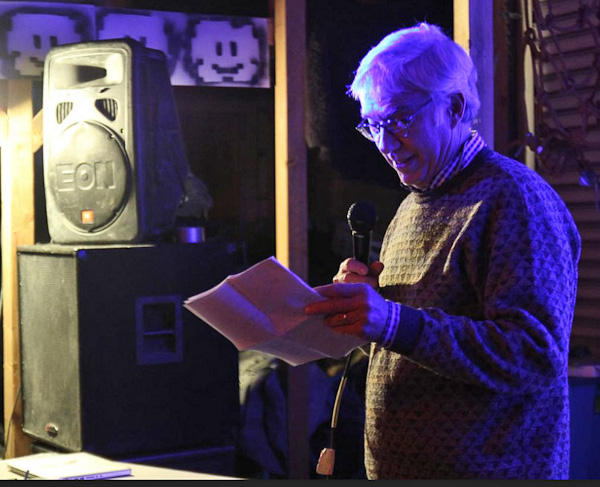 [Photo by Karen Marcelo.]
I taped and made a podcast of my part of show. I was reading a chapter called "Jane and Me" from my novel-in-progress, which has the working title The Big Aha. It's about the advent of some serious biotech in Louisville, Kentucky, and it's kind of darkly funny.

You can click on the icon above to access the podcast via Rudy Rucker Podcasts.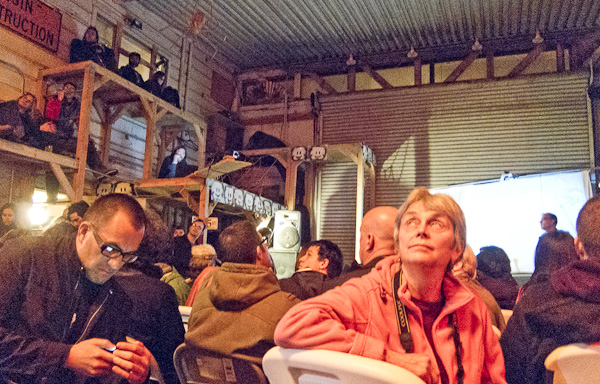 The space where we had the event was like a ground-level loft, totally full of Bay Area hipsters. The residents of the space had built these weird benches up on the walls. It felt like a Russian Revolutionary meeting of kulaks. Planning our digital revolution. None of the speakers really mentioned politics, though. At this point all that goes without saying. Internally, we've already seceded.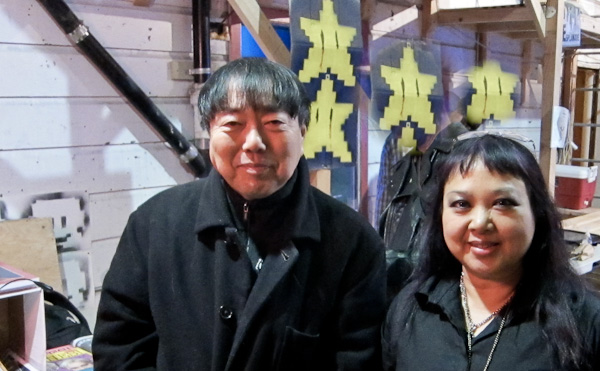 The Dorkbot SF organizer has been Karen Marcelo, a key scene-jammer who describes herself as a "bandwidth waster." I snapped a picture of Karen with the Mondo-era SF superfreak V. Vale, famed for his RE/Search publications. I was reminiscing with Vale about the shock value of his 1989 Modern Primitives which was the first place where many of us saw photos of people with incredibly gnarly piercings and tattoos. Who can forget Sailor Sid's highly decorated penis? Of course now the modern primatives are baristas in your local café, but Vale led them out of the darkness.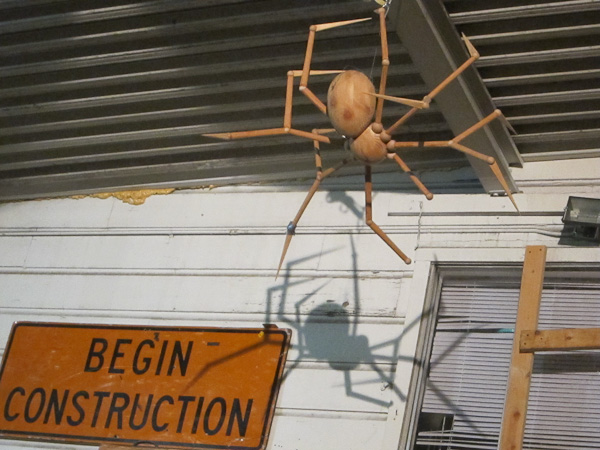 The other speakers besides the two Rudys were the post-art artist Mike Estee, who talked about his cardboard robots, and the post-science scientist Liam Holt who helped build a Syneseizure device that converts images into vibrations in speakers held against your face by a bondage mask. Somehow all the talks fit together.
An epic evening!