A new painting today. Four-dimensional Ducks. I started with an abstract painting with seven globs. I made efforts to make the globs look different from each other, and to have intricate, three-dimensional forms.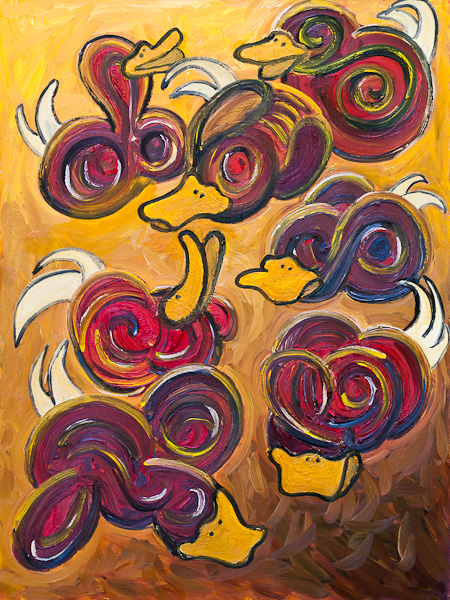 "Four-dimensional Ducks," by Rudy Rucker, 30 x 40 inches, October, 2011, Oil on canvas. Click for a larger version of the picture.
And then I started thinking of the globs as cross-sections of four-dimensional creatures. And then I realized they should be Carl Barks ducks, rotating in and out of our space. Four-dimensional ducks. I may yet tweak this painting a bit more.
As always, you can find more info on my art at my Paintings page.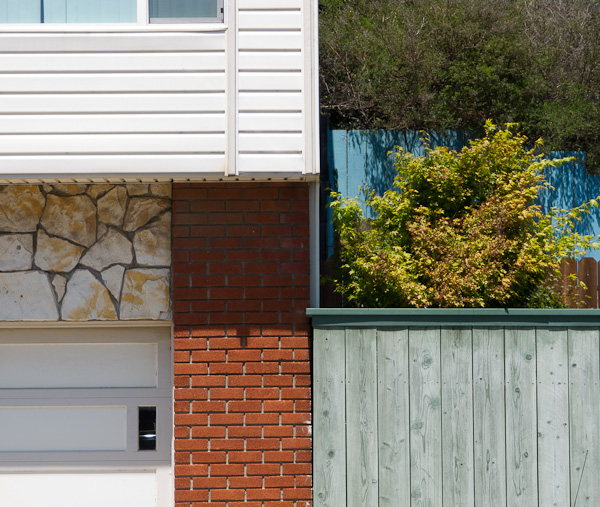 I've been editing a volume of my electronic journals that runs from 1990 – 2002. Interest-ing and nostalgic. So many things have sunk into my deep memory, but, now, when jogged, they come back up. Nice to be editing these hundreds of thousands of words, and in some sense improving my past. Eventually I'll publish some volumes of journals in small press and/or as ebook.
Here's six game ideas from 2001 I came across today, some a bit stale, some still unused…
(1) Cellular automata. A surfing game with non-linear continuous-valued cellular automata to emulate the waves. Stanislaw Ulam worked on continuous-valued CAs for simulating partial differential equations. See my CAPOW program for surfable CAs.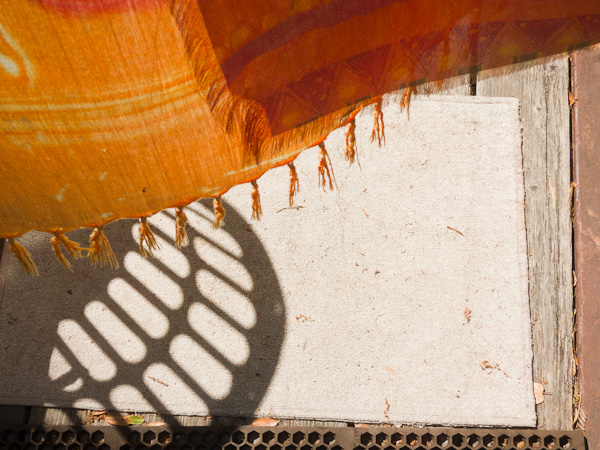 (2) Artificial life. We haven't pushed hard enough on having the phenome, or body shape, mirror the genome, or parameter strings. That is, the appearance the creature should directly emerge from the parameter-string "genes" that your program is evolving. I was trying to do this with my old Boppers program.
(3) Chaos. Chaotic motion is the most beautiful. You can easily get it by hav-ing a few counter-acting forces, such as 3D pendulum with a few virtual magnets. Forget about pre-programmed motion paths and let your game characters move chaotically. Trust the gnarl. See for instance, the Magnets module of the Autodesk Chaos program.
(4) The Fourth Dimension. It's time for more four-dimensional games. After all, Doom was like a 3D version of the old 2D game Pac-man. Let's go up another level. A 4D maze of tunnels. And the lovely, higher-dimensional polyhedra—and the globby cross-sections of hyperspace beings.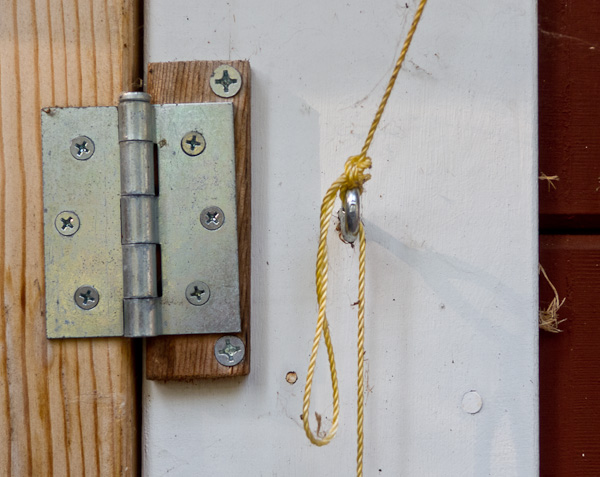 (5) Fractals. Simple idea: hide a gem in the Mandelbrot set let the game player look for it. Zoom into the right spot—are you hot or cold. Interesting scenery on the way. Would be even more interesting to work with a 3D version of the Mandelbrot set, with the 4D Cubic Connectedness Map, or with other far-out variations. Way gnarly.
(6) Space curves. I once spent some time working on smooth and twisty "kappa-tau" space curves defined in terms of smoothly varying curvature and torsion parameters. The goal is to have virtual reality with real-feeling flight. This hasn't been nailed yet. I want to fly, and I've never been able to do it except in dreams. The right way to fly might be to use curvature and torsion. Your controls adjust these parameters, rather than the mere direction of flight. That could be how actual birds do it. Also consider Craig Reynolds's still-unsurpassed Boids as an approach to flight simulation. Swooping in a wheeling flock.