[ The following is another installment from my travel journals, written during a recent trip to Norway.]
June 26-27. 2009.
This morning we took a boat from Flåm to Balestrand, a slightly larger resort spot. The boat left at 6 a.m., but, in a way, this didn't feel that early, as by then the sun had been up for hours and hours.
Riding the boat up the Sognefjord, I was sitting in a plastic chair on the back deck, still sleepy, and I closed my eyes to rest. I became aware of all the air currents around me—flapping my trouser legs, waving my several tufts of hair, buffeting my cheek, the whole atmosphere alive with currents and waves, the ocean of air all around me.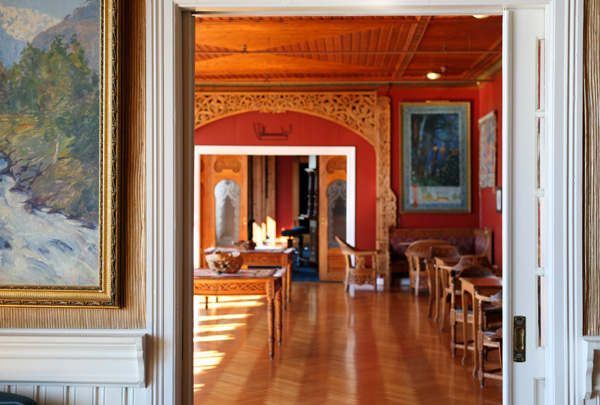 Now it's about 9 a.m. We're on the front porch of Kviknes Hotel, a grand old place, all wood, with endless lobbies and parlors full of vintage furniture and Norwegian impressionist paintings. Wood floors and ceilings. No cruise boats here, the nearest highway is hidden in a tunnel under the mountain behind the town, it's utterly still.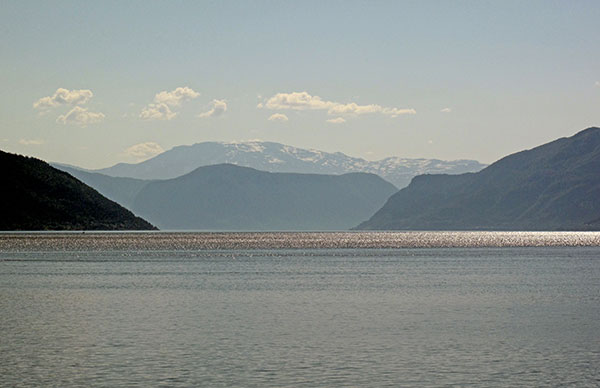 The mountains across the fjord stand in layers, like a theater's curtains, framing the onward path.


[Click the panoramic image of the view in photos and drawing at Balestrand to see a bigger version.]
A panoramic view of this might be easier to paint than to photograph. I'd love to have my paint kit here. Well, I'll make a sketch. David Hockney took his watercolor kit to Norway, I just remembered, and there's some nice fjord images in his book (and website), Hockney's Pictures .
I can hardly believe we made it here. Living the dream.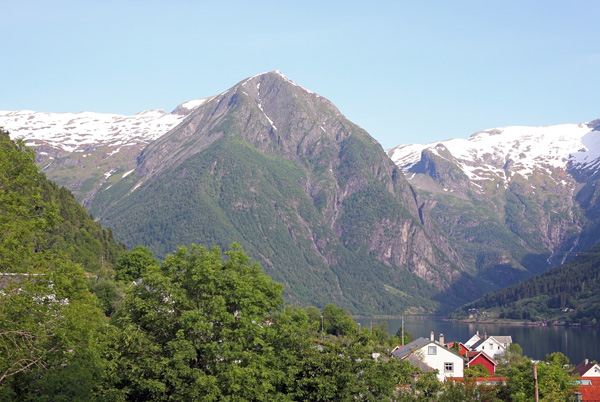 It's the next day, 7:40 a.m., I'm sitting on our balcony at Kviknes Hotel. As I mentioned, painters came here in the late 1800s, and a lot of their pictures are in the hotel lobbies.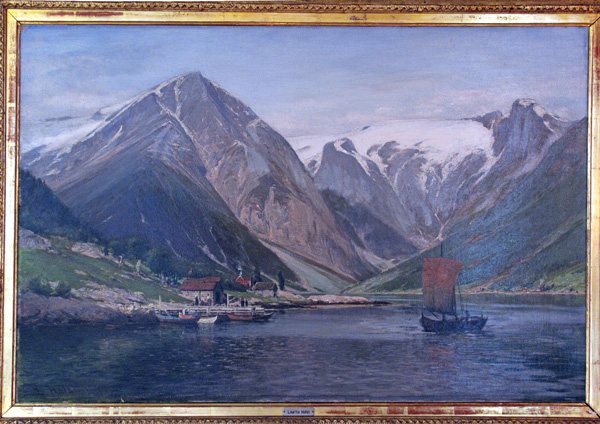 There's one mountain in particular near the hotel which appears very often. A dumpling of a mountain, a pudding with a curly top. I'm looking at it right now.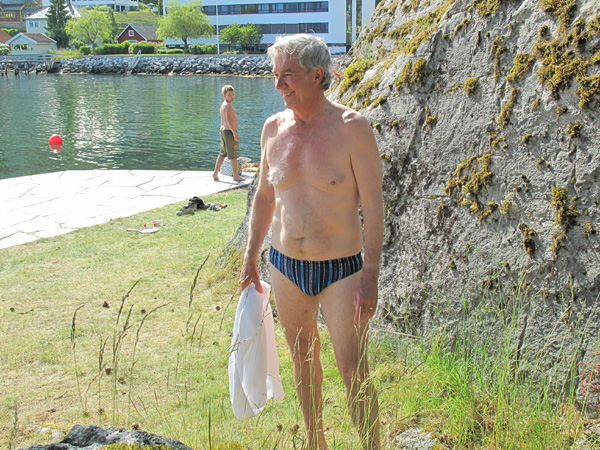 I bought a cheap bathing suit at the COOP supermarket and went swimming for a fairly long time off the steps in front of the hotel, the fjord is wide here, and much warmer than at Gudvangen. My bathing garb is one of those nasty tight little suits that you see on old men in Europe. It's always great to be in the living water. It tastes only slightly salty, due to all the streams flowing into what is, by rights, a 150 mile long estuary of the sea. Brackish.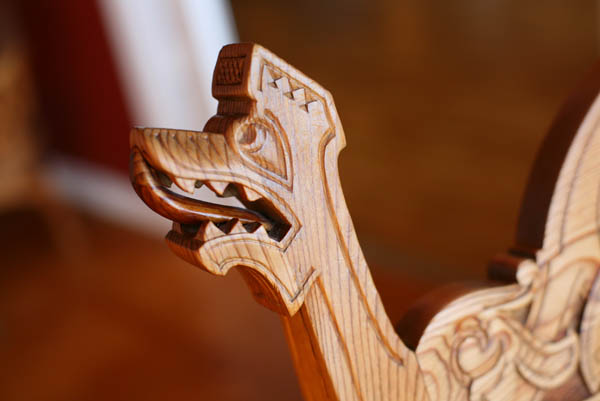 For the last two nights we've had these enormous hotel buffet dinners with, like, two dozen kinds of cured fish and dried meat as appetizers, not to mention the hot roasted or friend meats and fish—and the formidable array of puddings. Everything is yummy, but it's binge eating—you feel stunned when you're done. I guess this is how you eat on a cruise ship. Indeed, the Kviknes dining room feels like a ship, we sit by the window with the fjord twenty feet below.
Very quiet in this town. Two or three seagulls circle nearby squawking, just as they've squawked for thousands of years. Nice to think I'm hearing the same sounds as the ancients. Nobody analyzes a seagull squawk, and I don't suppose the bird premeditates it.
"Squawk." The critic: "But what does this squawk mean?"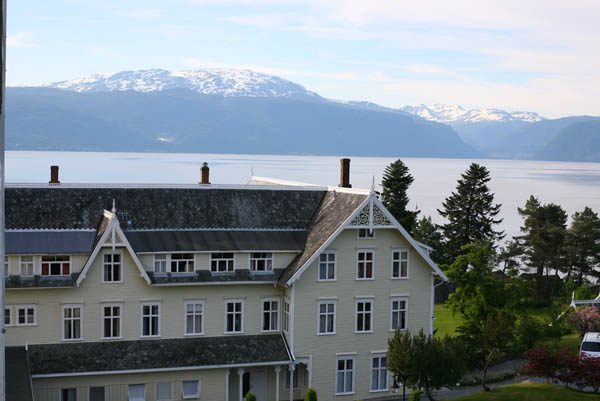 [This is how the Kviknes Hotel looks from the back…at midnight. It's never really dark at all.]
It's good being on vacation, away from my usual concerns about my writing career. My attention is either in the ongoing Now or in the What Next, that is, in the plans for our free-form itinerary—boat to Fjaerland tomorrow, then bus to Hellesylt, boat to Geiranger and boat to Ålesund.
We're running out of days—we've spent ten nights in Scandinavia, with six more to come. Precious treasure, these slow days. Each vacation day dilates, filled with new sights and experiences. At home, a week can go by before I've noticed. "What? It's Sunday again?" Or even a year: "I can't believe it's time for Christmas."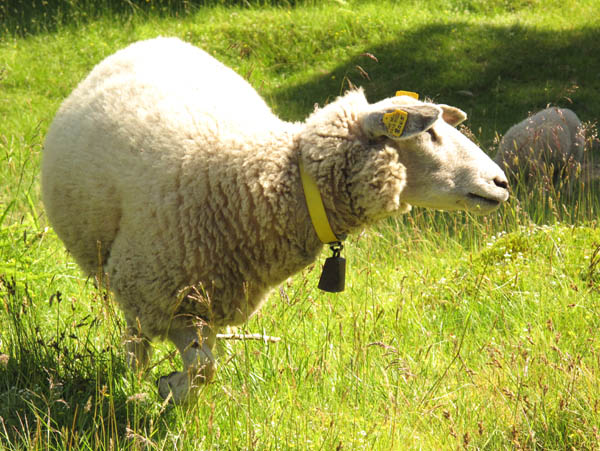 My left hip is hurting a lot—it's wise to walk slowly and sit down a lot and take elevators when I can. Last year a doctor said my hip joint is deteriorating and eventually I might have it replaced. Maybe next spring? I'll try taking the debatably efficacious glucosamine supplement pills first. In any case, the hip hurts somewhat all the time, and more if I walk all day. So I don't feel as able to go on long hikes or on scrambles up the mountains—like I used to do. We rented a canoe yesterday, and I've been biking.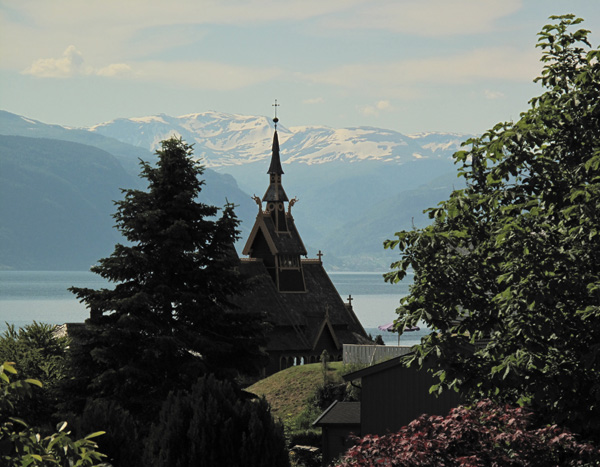 But today we went for it and managed a three mile walk—lovely to be up in those trees and meadows with the village and the fjord below.
On the way back from our hike, Sylvia and I happened to be walking by the tiny Balestrand harbor just at the right time to see a new ship, Stril Challenger, being christened—funny that we use so liturgical a word in this context. Apparently the ship belongs to the Havyard company, an oil-drilling outfit, and is designed for emplacing anchors for the immense off-shore oil-rigs of Norway.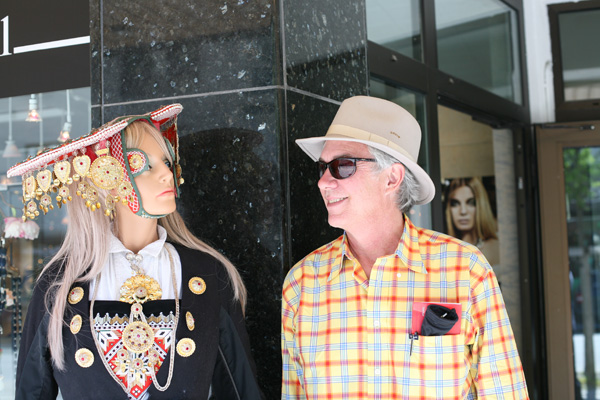 [Mannequin in folk garb.]
The high-school brass band played a few numbers, including the Norwegian national anthem and Happy Birthday—the musician kids all pale-skinned blondes and redheads. An official made a short speech, a woman in a Norwegian folk dress broke a bottle of champagne against the hull, and we joined a stream of locals filing up the gangplank to look around the huge Stril Challenger. And then the ship took off for a little cruise across the fjord and back, although Sylvia and I had gotten off by then—I was unsure about how long the cruise might be.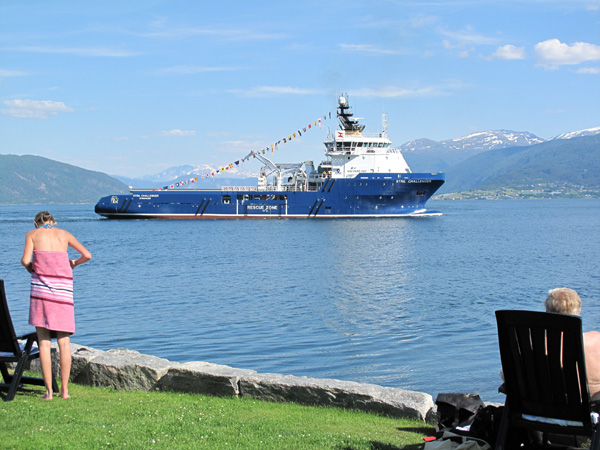 Later, after the passengers came back, we watched as the ship cavorted around the fjord, with smaller launches buzzing around it—I think of the word, "lighter," used to mean a smaller boat that you use to unload a barge. I like that ships use smaller boats as extensions of themselves. Imagine still smaller shuttle pods emerging from the lighters. A fractal regress of ships.
This set me to thinking about a starship launch ceremony. I imagined a great mothership ship with smaller ships circling it—the lighters. And one of the lighters darts down to a boy's house, the lighter appears in the room of our young hero, Gunnar, to take him on a trip. As the lighter carries him off, Gunnar cries out for some precious object that he forgot—and a lower-level lighter the size of a basketball goes back to his room to scoop up the pet soft plastic robot that Gunnar calls a "shoon."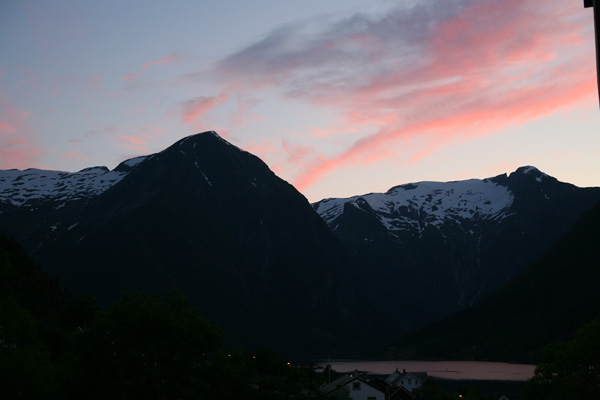 [Sunrise at 1 a.m.]
Sitting by the fjord at the edge of the grand hotel's green lawn. I could stay here for months. It feels like the afterlife, like heaven. The air is slightly hazy, drenched in light. The flat water, the mountain ranges doubled as reflections. We're so lucky to be here