The fifth issue of my webzine Flurb goes online today.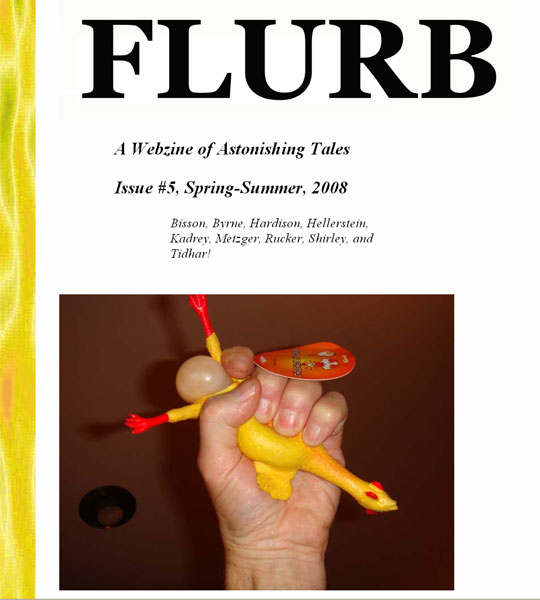 Once again, FLURB squeezes the rubber chicken of SF to produce the golden egg of ART!
This issue features a Beat SF story of mine in the form of letters from William Burroughs in Tangiers, excerpts of John Shirley's lost cyberpunk novel Black Glass, Terry Bisson's hilarious anti-mundane story "Captain Ordinary," a Lovecraftian novella by Lavie Tidhar, a mystic travel guide to Upstate New York by Thom Metzger, and amazing pieces by new SF writers Alex Hardison, Brendan Byrne, and Nathaniel Hellerstein.
If you have comments on the issue, please add them to this post. Pleasant comments are especially appreciated, as we do this for no money and only in hopes of making the world a more interesting place, groping for beauty in the dark.
PS, First day out (March 31, 2008) we got boinged and io9ed, with 3,000 visitors.
I added one last tale, a short ghost story by Richard Kadrey, on April 1.