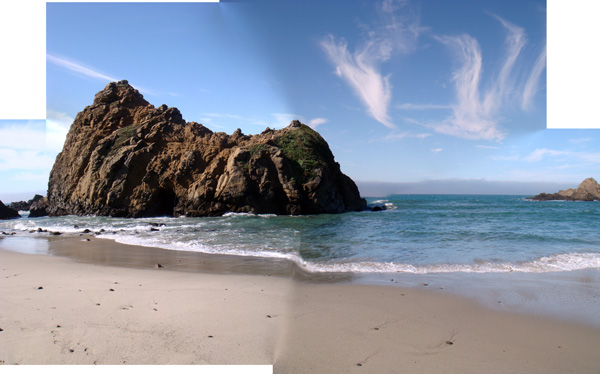 My wife and I were in Big Sur for a few nights this week. First we went to good old Esalen and took a course on mindfulness meditation with a great Bay Area teacher called James Baraz, who often teaches classes in Berkeley.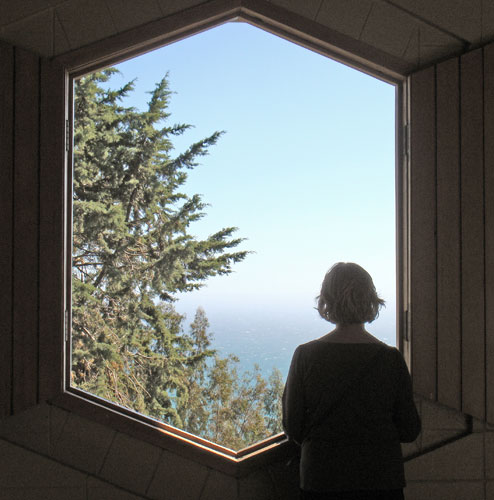 There's a zillion of James's talks online, like a talk on mindfulness.
I might also mention the books and talks of Thich Nhat Hanh.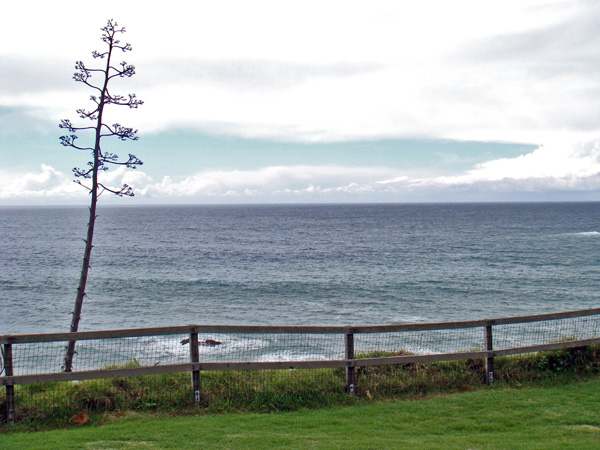 I really enjoyed the class meetings. All my life I've wanted to meditate — for a variety of reasons: to damp down my worry loops, to experience mental ecstasy, and to be more compassionate and balanced. I've tried to learn it from books, but it made a difference to be in a group, and to be able to ask the teacher a question like, "What if it gets boring?"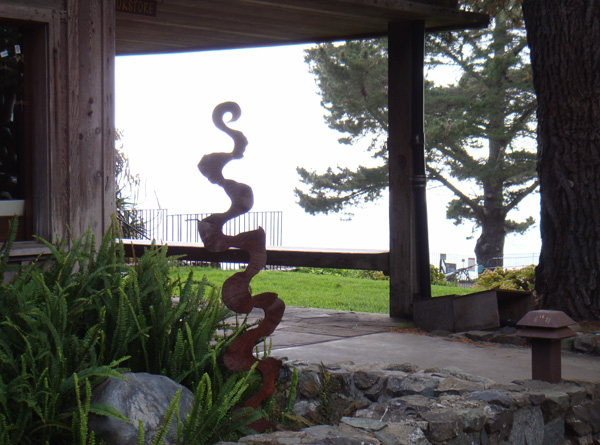 To this question, James said, "You can focus on the boredom and analyze what underlies it. A feeling of wanting more, anxiety of missing something, desire to be working. Stay with it."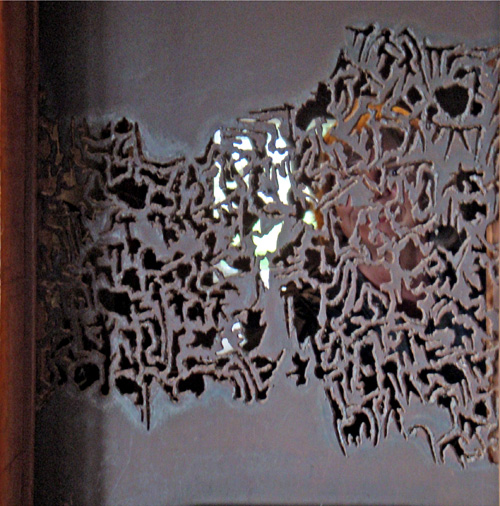 As I understood the talks, you want to stop getting caught up in passing thoughts and instead focus on something immediate, such as your breath or (variations) on the sounds around you, or the feelings in your body or even (in my case) a wind-rocking branch.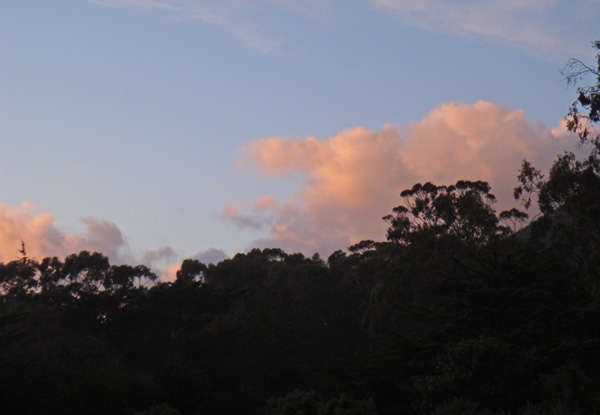 James suggested that, as a part of doing this:
(1) Notice what's actually going on inside you,
(2) Stay in the present,
(3) Be aware that this moment will pass,
(4) Don't judge your thoughts or the things you see and if you (inevitably) do judge something, don't burden yourself with another layer by judging yourself for judging.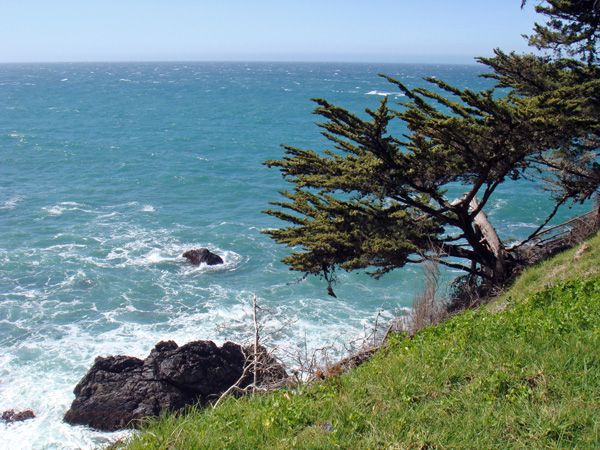 And, he added, when your mind (inevitably) wanders, don't scold yourself, just bring the mind back, lovingly, like bringing back a puppy to his or her spot. And, at the end of a session, resist the temptation to think "that was a good one," or "that was a bad one."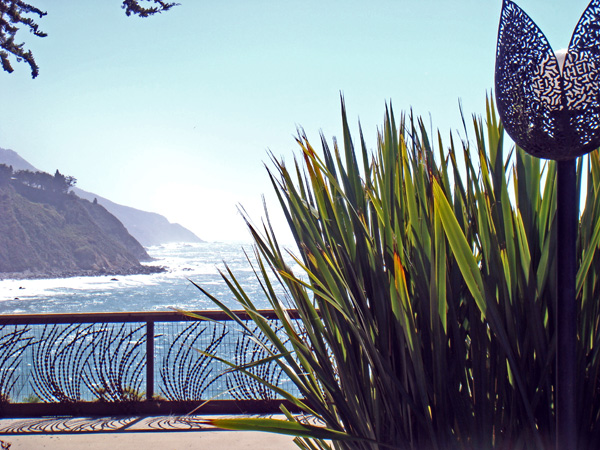 Esalen—what a place. It's so outrageously pleasant. Makes me frikkin' proud to be a Californian. The hot mineral baths make your skin all smooth. I always think of Terence McKenna here because we taught an Esalen seminar together once. Life goes on and on.
We'll see if I can keep up the meditation back home. I often do yoga in the morning, and maybe I can manage to tack on some meditation. I was in fact trying that today, but I was tempted to move and stretch instead of just watching my breath. And then when I'm moving my mind drifts off. That's okay.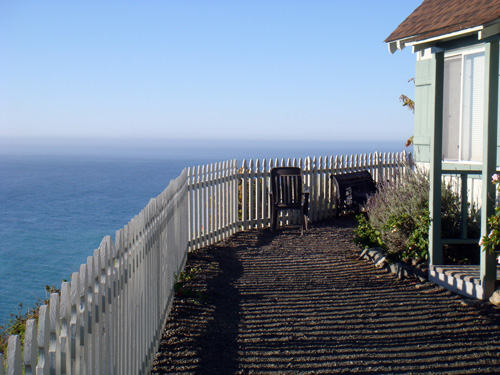 After Esalen we went further south to Lucia Lodge, a place I've always wondered about—it's these old, like 1930s, cabins right on the edge of a cliff. Very comfortable, and nice to be so totally at the ass end of nowhere. "The end of the continent," Sylvia kept saying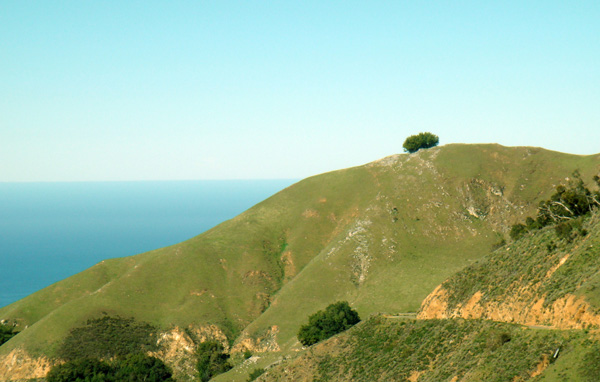 We drove up the obscure Nacimiento Road just after the Kirk Flats Campground, amazing views of the big elephant-like Sur hills.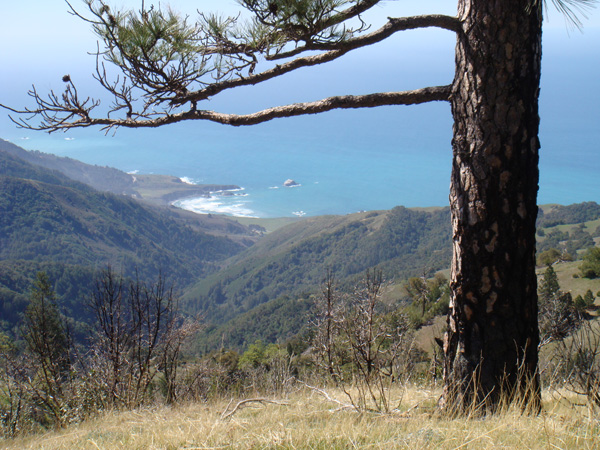 Pushing it even further we drove five miles along the super-obscure, dirt South Coast Ridge Road and picknickicked it on a knoll, high pelikaans eyeing the wrinkled sea.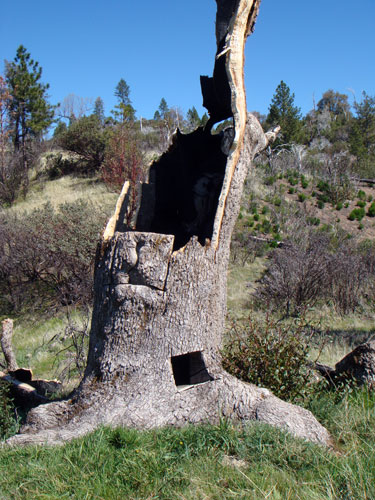 Some guy with a chain saw had cut a square out of a hollow tree. Kind of interesting looking. Like one of my characters Frek Huggins or Gibby the Grulloo lives in this tree.
Reminds me of the house in The Little Fur Family, published 1946.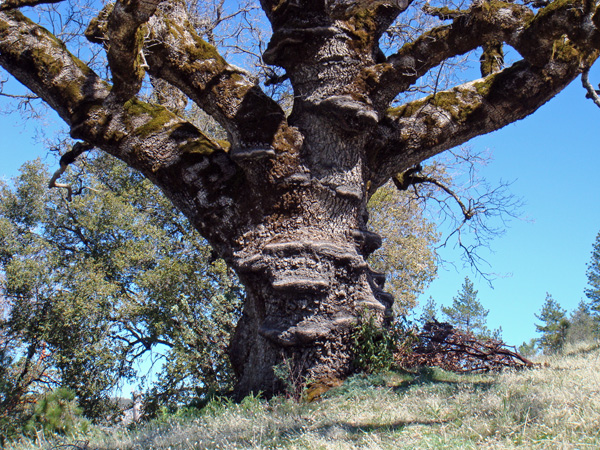 We saw an oak tree from Mars as well. And then I encountered a guy with a backpack. "You camping here?" I asked him. "No, I live on that side of the ridge, and I'm hiking over to visit a friend on the other side. You'd best go back out of here the way you came."
Then back to at Lucia Lodge, incredible to be so near the ocean. I'm hardly ever at Big Sur at night.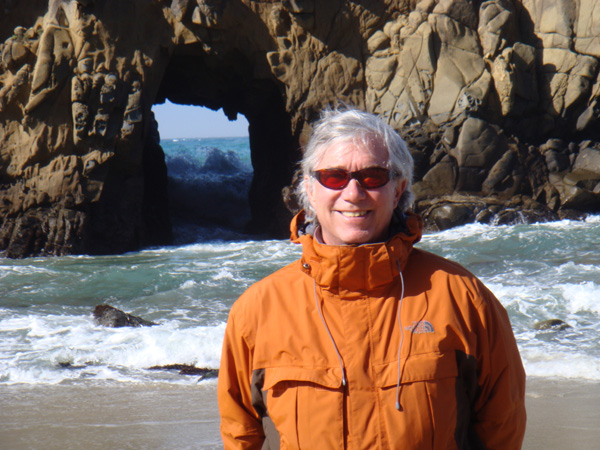 On the way home we stopped by the classic "dimensional gate" at Pfeiffer Beach—I've blogged about this place several times, for instance it was a big inspiration for Mathematicians in Love.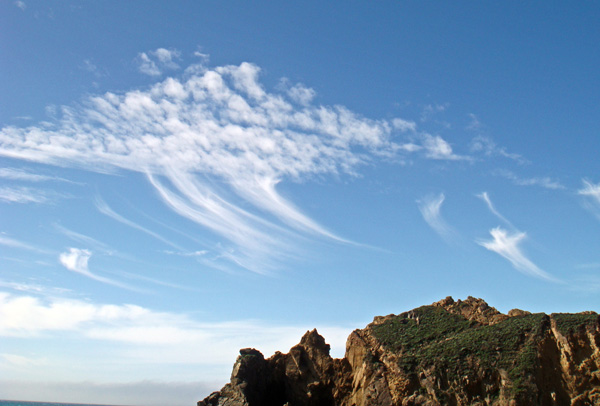 The clouds were interesting, with dangling wisps. Here we see a jellyfish on the left, and flying ghost on the right.
All the while, we kept remembering, off and on, to be mindful. When you remember that time is really passing, you have all the more impetus to experience the now. "You must be present to win," says James Baraz, quoting a sign seen in a Vegas casino…