I gave two talks this week. Wednesday I was at the Cyclecide Swearhouse in San Francisco, reading from The Big Aha for a Dorkbot event. I didn't tape it, but some video may appear on the dorkbot archive page for this event in a week or so.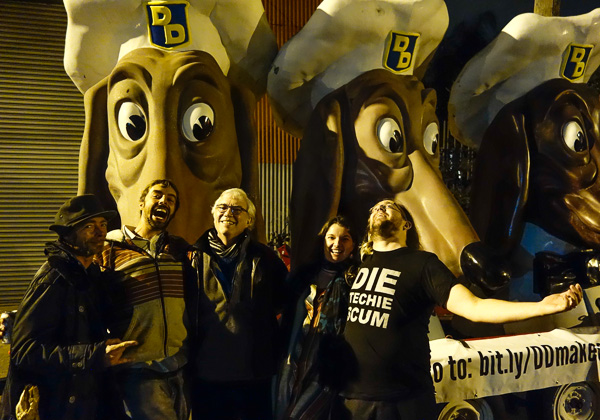 Photo above shows Jericho Reese, Rudy Jr., me, Isabel R., and techie Mark Powell in his anti-tech T-shit. In the background we have John Law's Doggie Diner icons.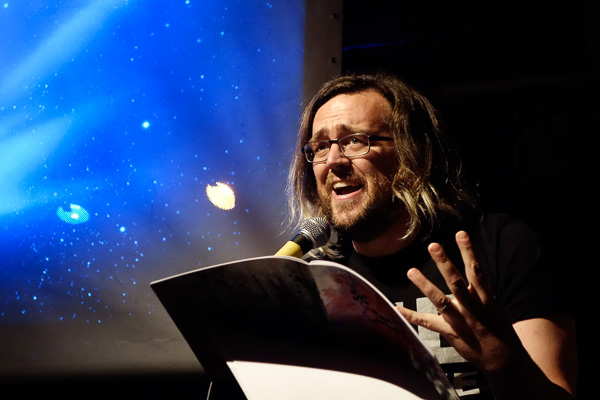 Another picture of Mark Powell…reading a poem "I'm on TV!" Love how fervent he looks. It was a great evening for me, hanging out with the cool Dorkbot crowd.
===
Today I was at the Transhuman Visions conference at Fort Mason in San Francisco and gave a talk called "The Big Aha: Cosmic and Robotic Consciousness." It went over well, got some big laughs. You can click on the icon below to access the podcast via Rudy Rucker Podcasts.

And you can view my slides online as a PDF file.
After my Transhuman talk, some nice people talked to me for awhile, and I took a picture of them shown below. Didn't get all their names but starting second from the left, that's David Dye, Jr. and Sr., Dan Dye, and a guy called Scott. These four forward-thinking men bought copies of my books.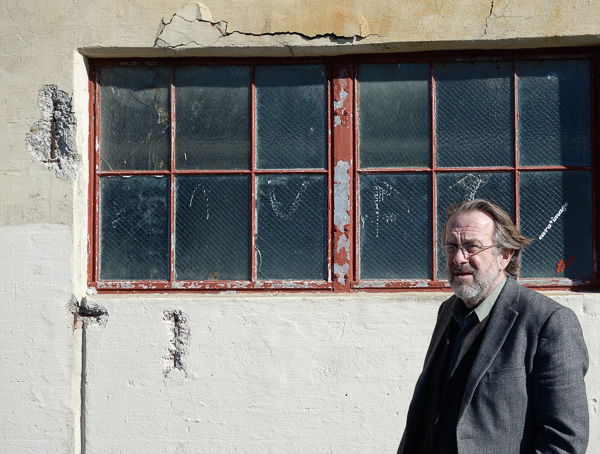 One other event worth noting. I happened to mention one Frank Shook in my Transhumans talk, and incredibly, I ran into this man soon thereafter, the hero of Saucer Wisdom. Frank has resurfaced in the persona of an antiquarian bookseller Gregory Gibson, running a front organization called Ten Pound Island Books. His cover story was that he was at Fort Mason for the Antiquarian Book Fair.
Frank, who tends to disorder and undermine any and all aspects of consensus reality insisted I was talking about "transhumance," instead of "transhumans." And, now that Frank has said this, there is indeed a Wikipedia word "transhumance," applying to nomadic people. A strange and powerful entity is Mr. Shook. I believe he's re-manifesting himself because I am making some plans to republish my long-suppressed Saucer Wisdom exposé.