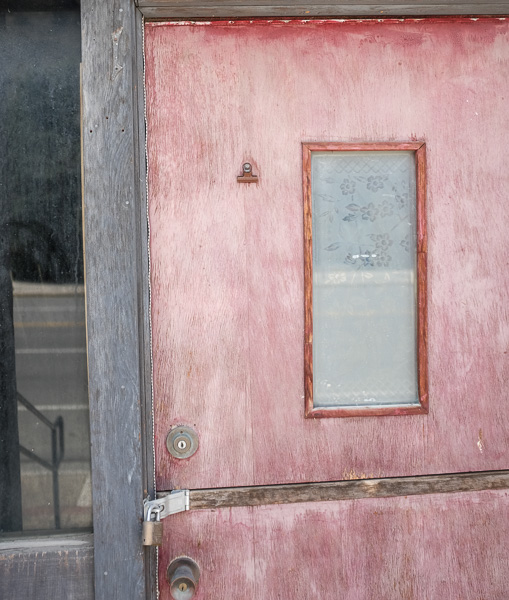 Three quick plugs.
(1) My new, never-before-published augmented hipster reality story "Fat Stream" came out in the reborn Mondo 2000 online. I wrote it in December of 2016, and five of my usual SF magazine outlets turned it down. Too cool for the room? Or drooling senility? You decide. Read it online. Or listen to me read it to you.
(2) My 1981 hardcore cyberpunk story "Buzz" was reprinted in the Summer, 2017, issue of the far-out Big Echo semi-samizdat lit-crit zine. Issue includes a great piece by Brendan C. Byrne, plus other goodies still to be delved into.
(3) Podcast of me talking to Wilson Walker for KPIX. "If Chatbots Talk, Where Will AI Go?" Fun rap, casual, with wild ideas.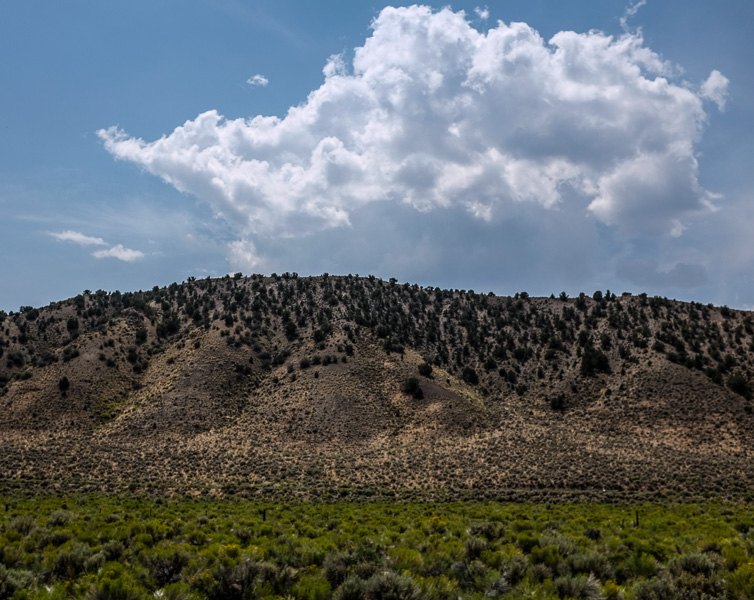 My wife and I went on a two week road trip to our daughter's town Pinedale, Wyoming. All our kids and grandkids got together by Fremont lake there for a reunion. It was great. About four days in I realized I wasn't thinking about politics, or about my books, I was just smiling and looking at nature, and at my loved ones and relaxing. A good trip. Here's my pix.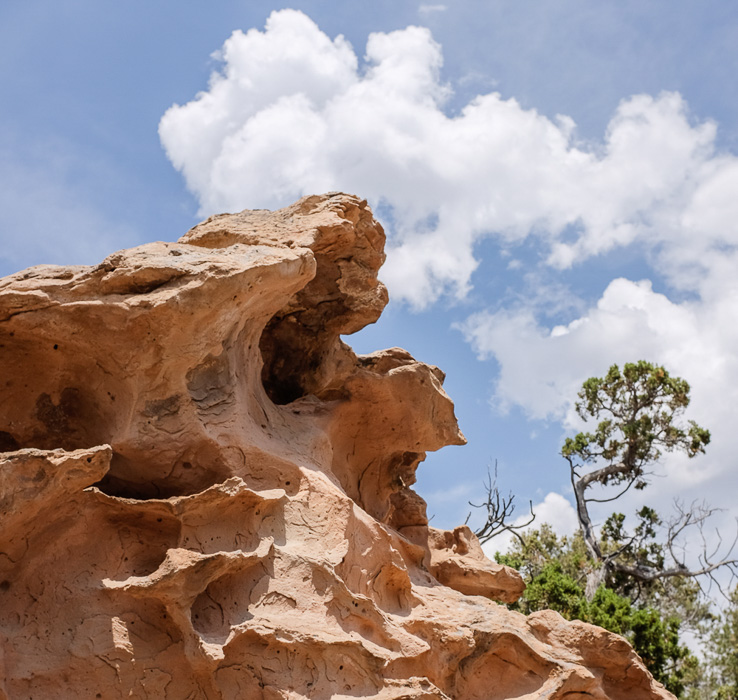 If possible, I like to avoid driving on Interstate highways. Thing is, these roads are crowded with trucks and cars and you have to think about them. And the edges of the highways are cleared out in band of about a hundred feet wide on either side, so you're never very close to undisturbed nature. And you don't actually save that much time. If you drive on a back road, like Route 50 through Nevada, you can go 70 or 80 most of the way anyway.
I like this photo as it has three natural fractals that mirror or emulate each other. The cloud the rock, and the plant, all doing their things, but on different time scales. Cloud fast, plant slower, eroded rock really slow. This was in a little roadside park in Nevada desert. I had a real sense that it would be possible to die of the heat.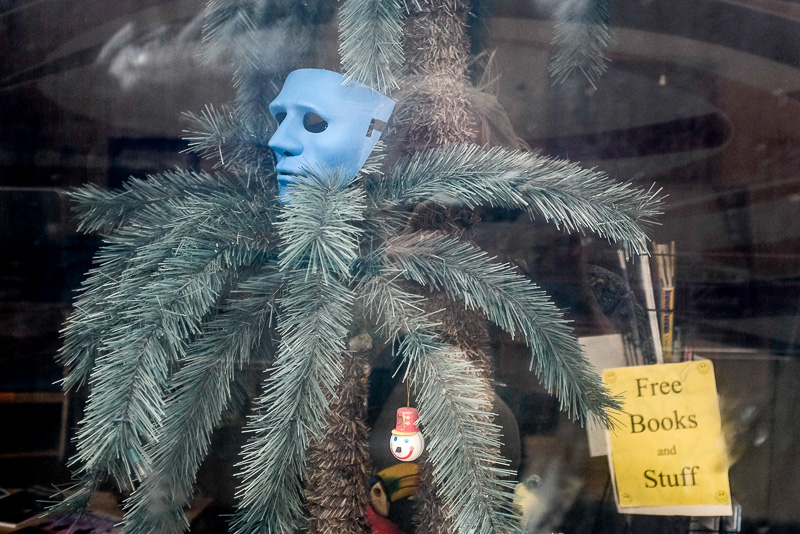 Off the interstates, you end up staying in weird small towns like Fallon, Nevada. Found a Motel Six here, it was okay, once we got a ground floor room instead of a secondfloor 110 degree room. The shop windows in towns like this are kind of heartbreaking. Or, looked at a different way, wonderful and surreal. I always say to Sylvia, "We should move here," and she always says no.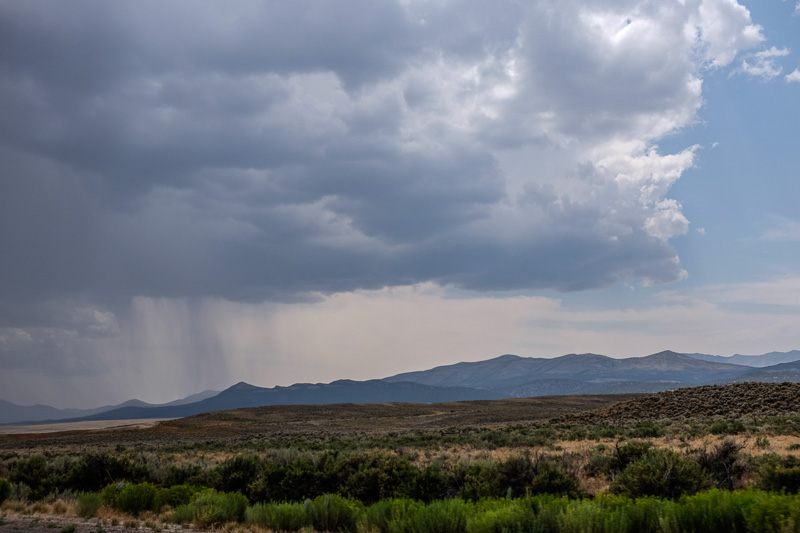 Love the big clouds in the big sky. Dig how this guy is raining.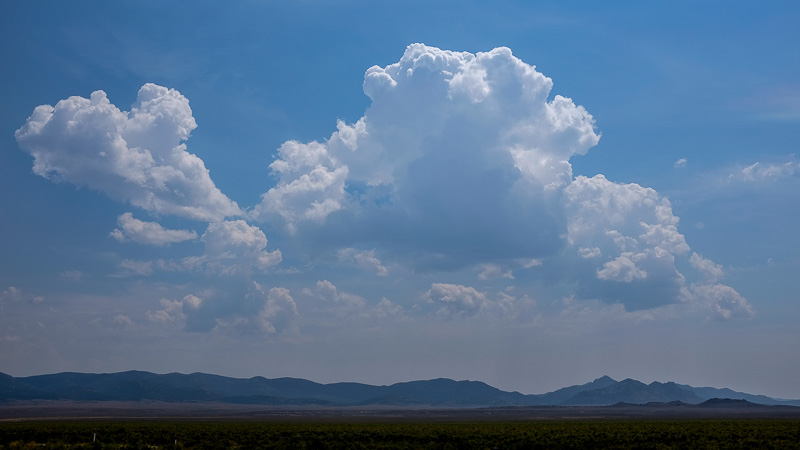 And another cloud. Beautiful shape. The things nature just does automatically and for free. Runs these wonderful emergent computations that, so very often, end up with self similar fractal forms in which the details resemble the whole.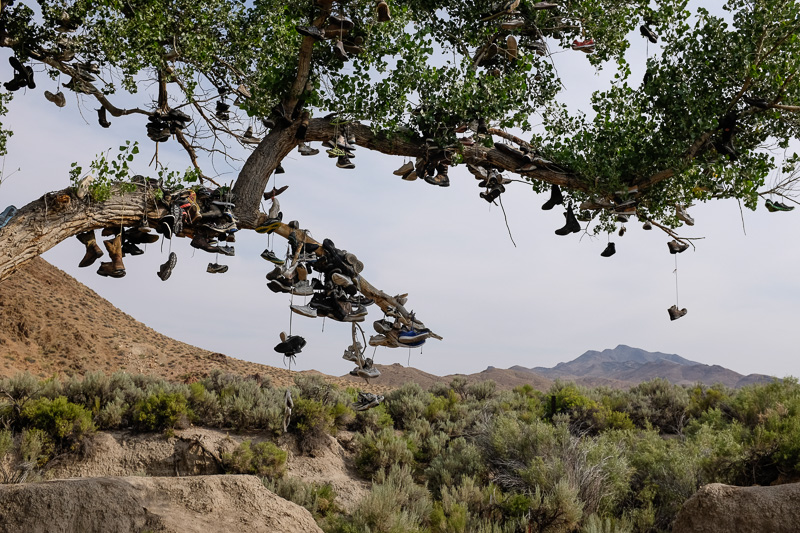 There used to be a "shoe tree," that is, a tree covered with shoes—who knows how or why—on Route 50, and some jackass cut it down, and now there's a new one. Like the only big tree by the road within a hundred miles. An unexplained mystery cult, the resurgence of the shoe tree. As a parent, of course, one feels angered at the sight of children's new and expensive shoes hanging high on a tree or, in a city, on power lines. Why do they do it? No need to know. Just admire.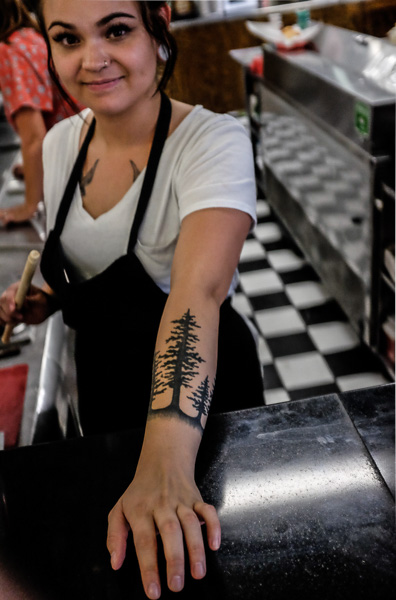 We stopped to rest in Ely, Nevada. They pronounce it like Eely, in the sense of eel-like. Not like Eli in the sense of Elijah. This store had "a real soda fountain," and I was in there to get a root beer float. A summum bonum of road food. One of the young women behind the counter had a cool tattoo.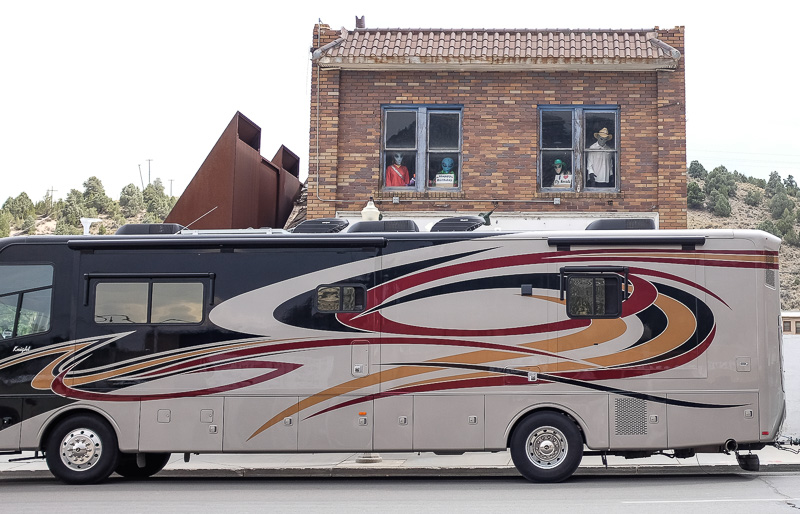 This old man at the counter, I mean like eighty, not a spritely 71 like me, he started talking about cars, and then it came out that he and his tuned-out wife were the proud owner of this camper van across the street that I'd mistaken for a band's tour bus. When I showed this to my friend Marc Laidlaw later, Marc said, "For every year that he lives, his van grows a foot longer."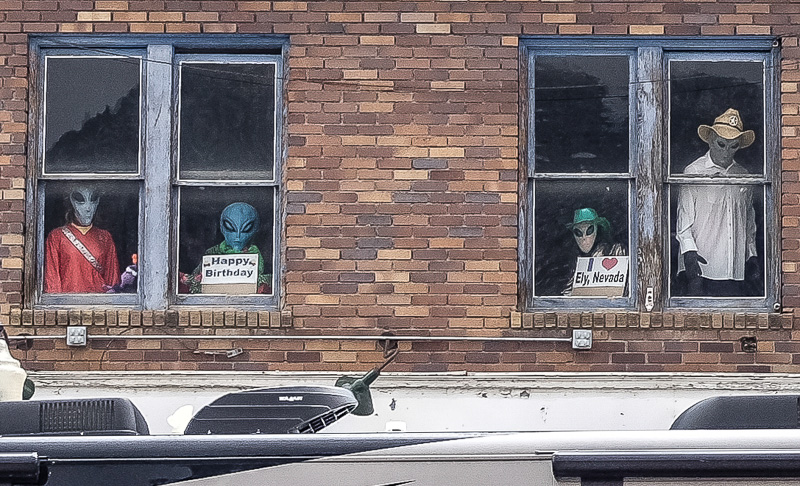 For the only-in-a-small-town bizarre touch, the windows in the empty building behind the creepazoid camper were filled with mannequins of aliens. I love these scenes that look as if they carry a message, but the message is so obscure and veiled that you never find out what it is.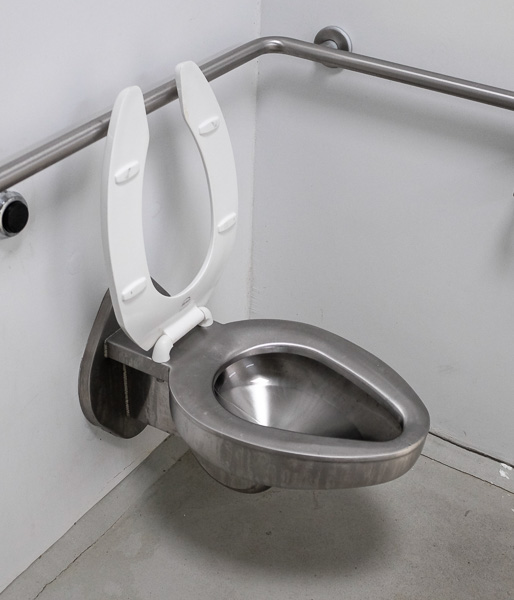 In my weariness and Red Bull vibration, it seemed to me that this stainless steel public toiled looked like a rabbit. See the ears? One of my Twitter followers suggested that it was a Jeff Koons rabbit.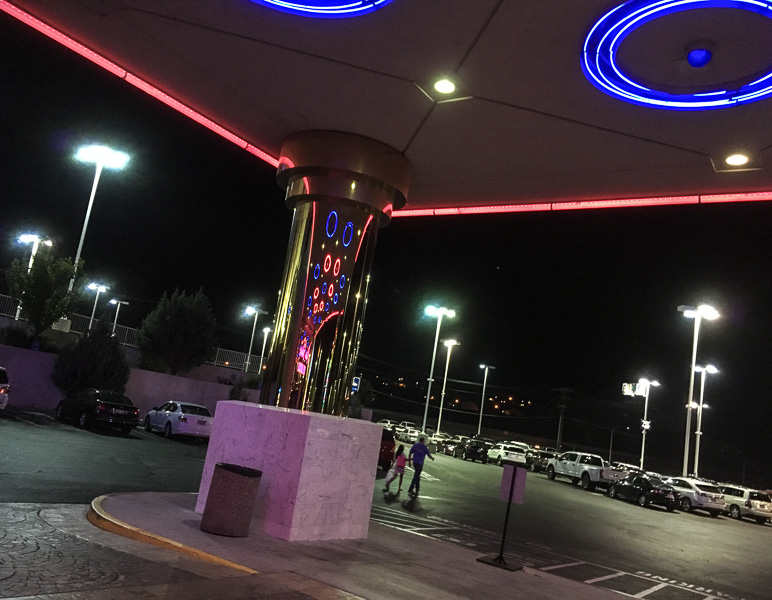 We spent the night in ghastly Wendover, which straddles the Nevada / Utah border. Massive casinos on the Nevada side. Did get a good meal in there. Slept in another Motel 6 in the Utah side, only this room was, oddly, under an outdoor staircase, and had intense signs of wear. A notch below from what you'd expect from even a rehab halfway house. I don't mind these things really when I'm on the road. Part of the trip.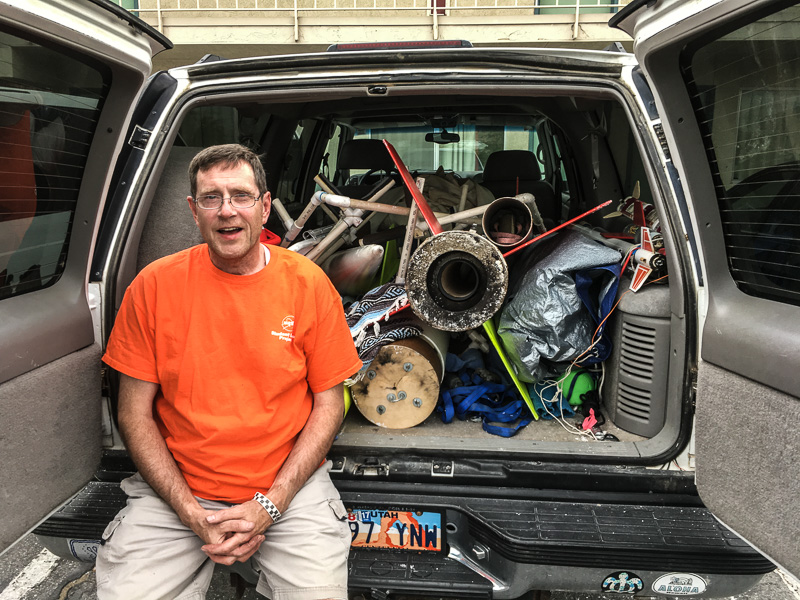 To my joy, I found a guy staying a few pods down from us…and the back of his station wagon was stuffed with huge amateur rockets. He was a member of the Utah Rocket Club.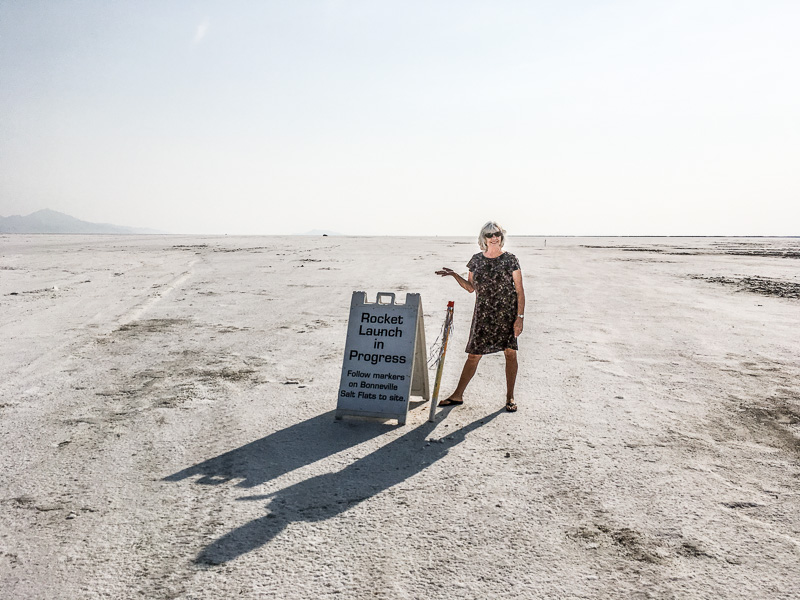 Turned out there was an event called Hellfire 22 at the nearby Bonneville Salt Flats, wherein amateur and semi-pro rocketeers from far and wide would be grouping in the morn to blast their rockets up to two miles into the air. A three-day permission had been obtained from the FAA.
So in the morning Sylvia and I drove down there to check it out.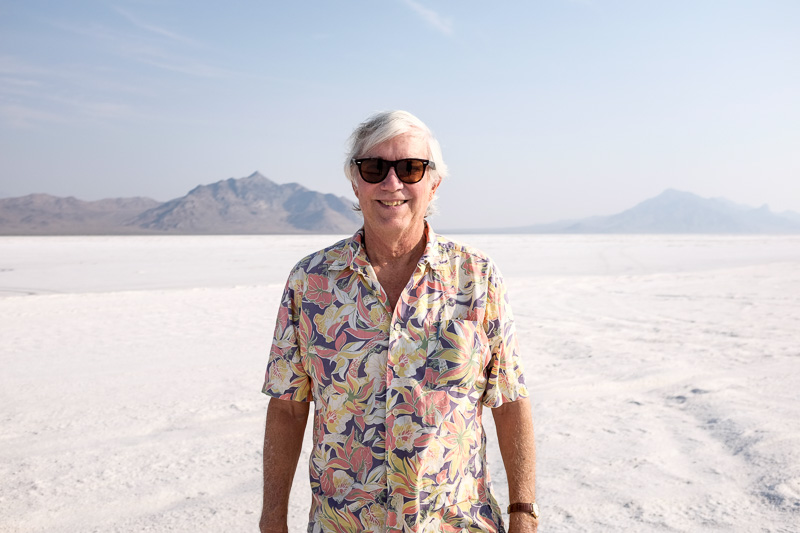 I hadn't realized you could just drive any old car out on the fifty-mile-wide and perfectly flat salt flats…but, yeah, you can…although you might not want to crank it up to 120 mph just anywhere, as there are little…flaws…in the surface here and there. So wild to be standing out there. Almost as much fun as being dead, I figured. I mean this is often how the afterlife is depicted. Wham! It's all white!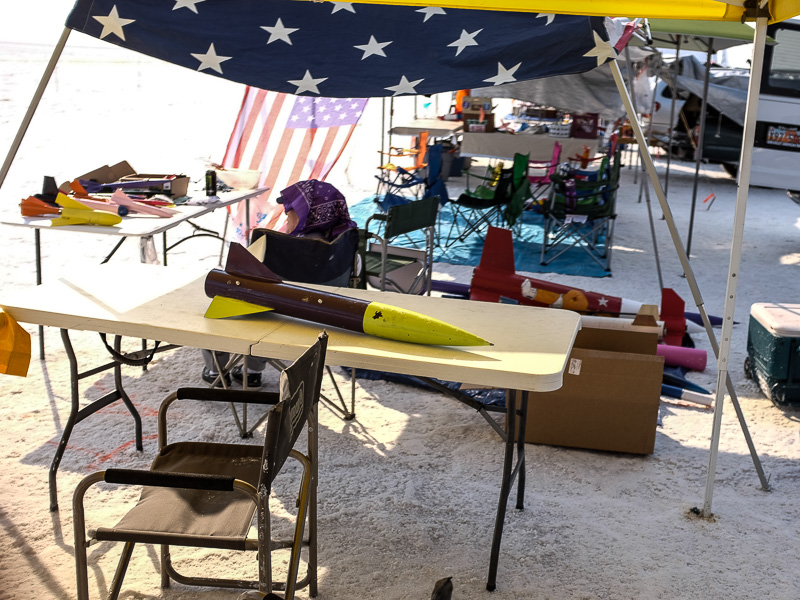 We drove in about five miles and found the rocketeers doing their thing. Paradise. I used to worship this stuff as a boy, and then as a father, loved to help Rudy Jr. launch rockets.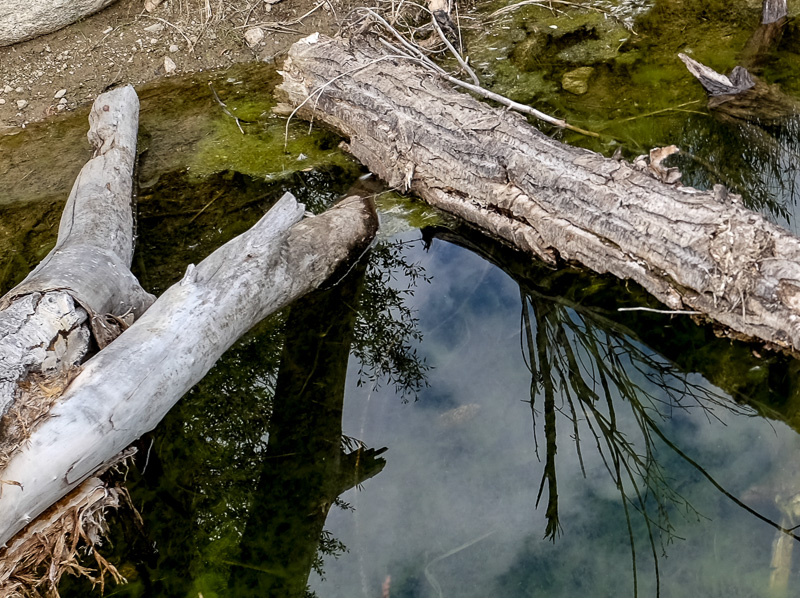 And then we made it to Wyoming. Water. Green stuff. Wonderful.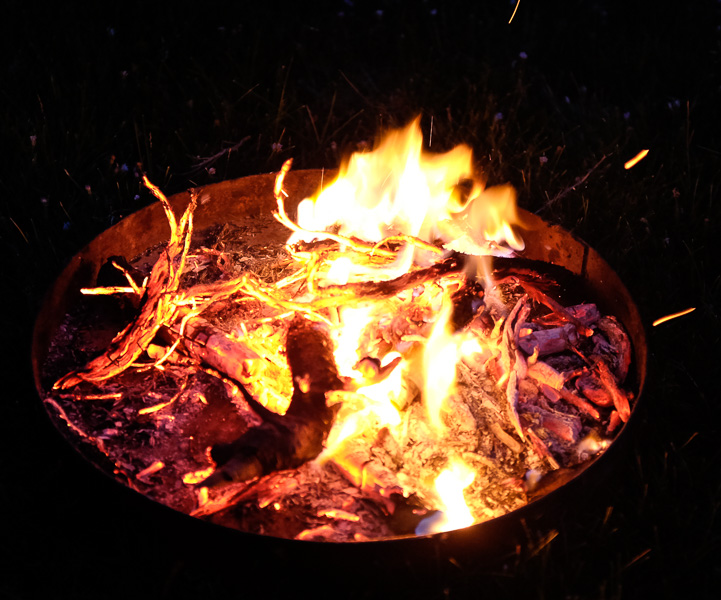 We had campfires and cook fires nearly every night. So fascinating to stare at a fire. It's that chaos thing again…never exactly repeating, but by no means random. Certain familiar forms…the strange attractors…recurring over and over. Like life itself. Easy to wax philosophical, staring into the flames.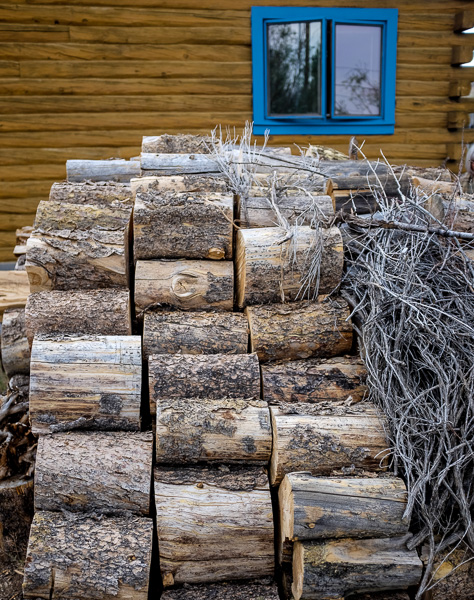 And a really good supply of wood on hand in daughter Isabel's back yard. She and her husband used to go cut, and then split, the wood, but as middle age draws on they're dialing that back and…actually buying the wood.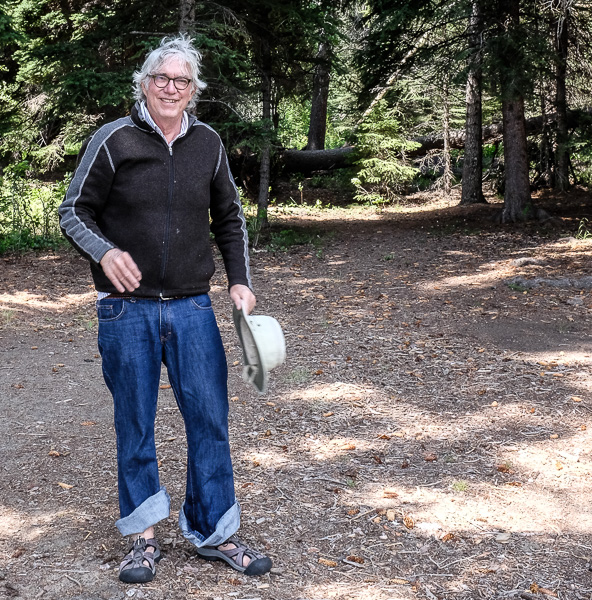 One day we rented a big party boat, the thirteen of us, and cruised around on Fremont lake, which is about twelve miles long. There's this one spot there I really love, all green, and kind of a campground, but always empty. I was wearing giant "elephant" bell bottoms in this photo, easy to roll up. I got the bell bottoms for a "Summer of Love" dinner we had, celebrating the year 1967. But here I'm in sailor mode, or hermit is what it looks like.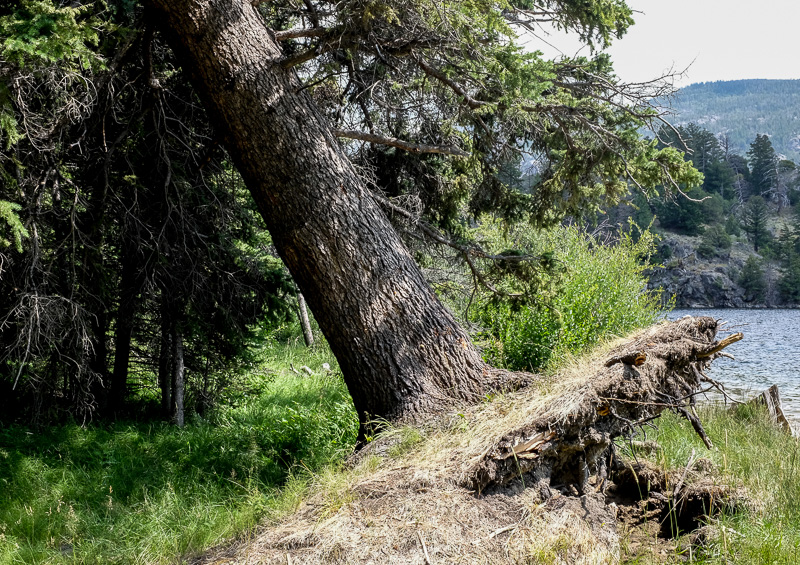 This spot had a tree that was kind of partway into tipping over, but, at least for now, leaning on his/her buddies. Nature just does this stuff and it all works out. Eventually when you really fall down you rot, and that's cool too.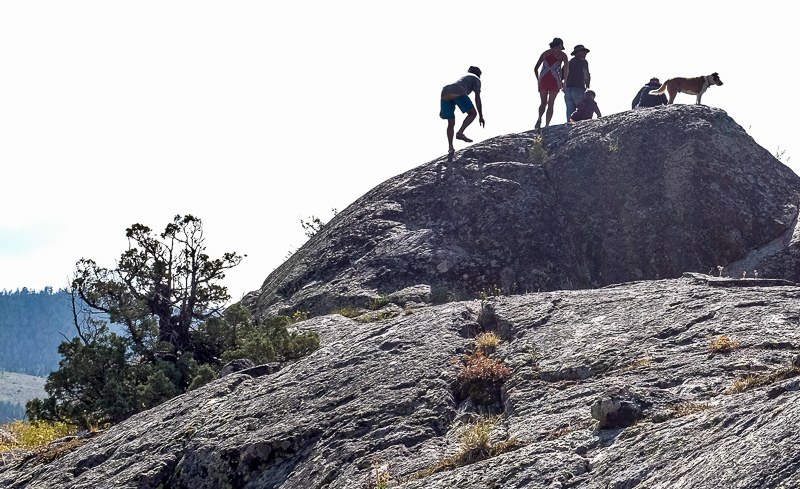 We stopped in a little cove with a high bulbous rock, and there was a groundswell of support for the notion of mounting the rock. Isabel's dog Rivers looks especially fine here. Love silhouettes. The 3D / 2D thing.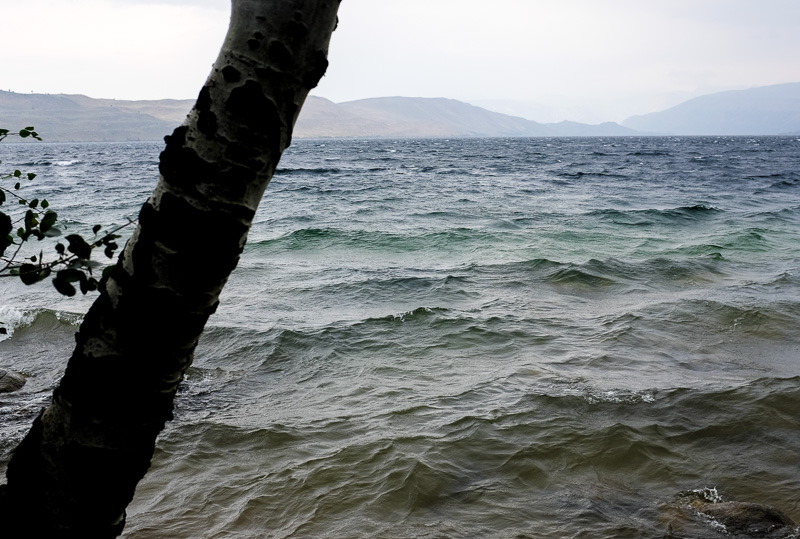 Our room was at the edge of the lake, and it was fun to look at in its various moods. The lake like the mind, whipped up by the winds of change and maya, right?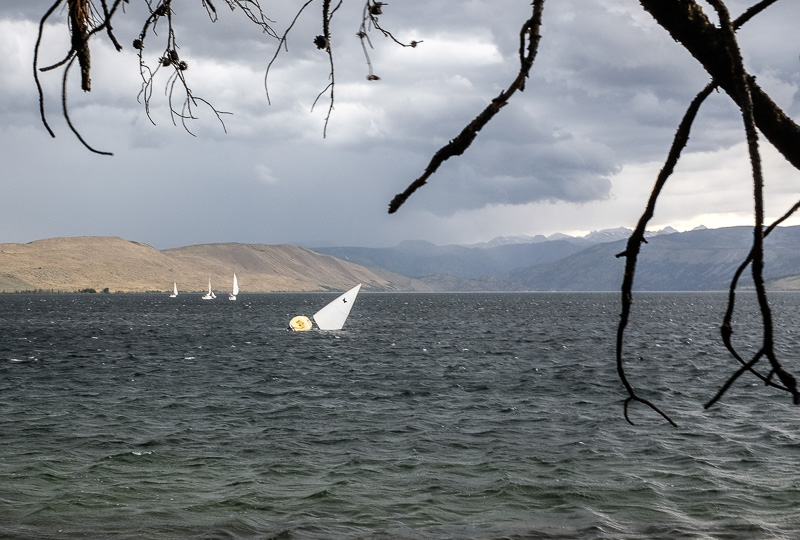 On our last days, these people where having a little regatta on the lake…they hauled their boats in…and there were these really savage gusts of wind from the Wind River Mountains and a couple of boats fell over.
I liked being out there, and I was thinking off and on about Return to the Hollow Earth, this novel I'm getting started on just now. I'm not exactly sure how my guys are going to get back inside the Hollow Earth. Probably a maelstrom at the North Pole is the way to go. I found a 2008 blog post about me writing the original Hollow Earth. At the end of that post, I found a funny riff about the Hollow Sun.
There was an article about my novel in the paper in San Jose, and a young but weathered homeless guy came by my office to tell me this news: "The sun is cold and hollow. That light you see overhead is just the interaction of some special rays from the sun with our upper atmosphere. I used to be a very famous surfer, you know. Look." He pulled out a page torn from an encyclopedia with a grainy picture of someone on a wave. "That's me. Inside the Hollow Sun."
Well…maybe that guy was the muse, helping me in advance. Like seedy Mercury, messenger of the gods. Need to think it over. On the trip, at the motels, Sylvia kept telling me I looked seedy. But in a freindly way. Like I'm from the Hollow Sun. Trying to fit in. Hmmm.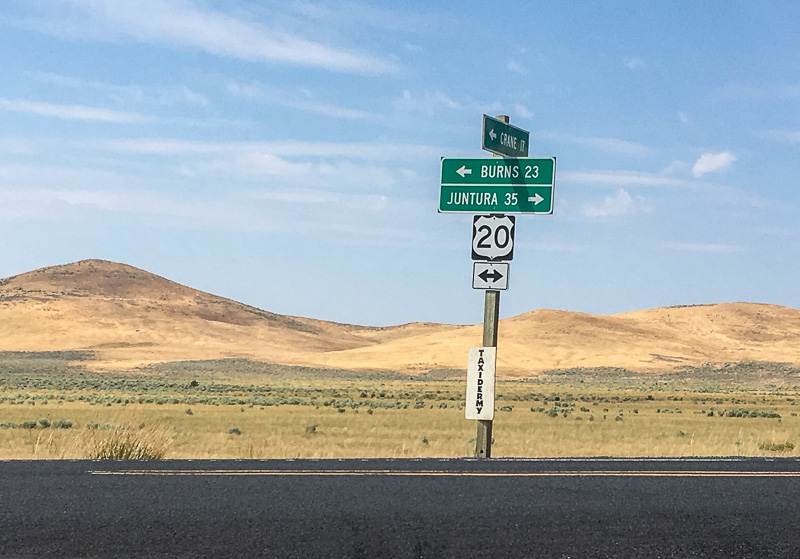 Driving home from Pinedale, we took a northern route, mostly along Route 20 through Idaho and Oregon. I love that road.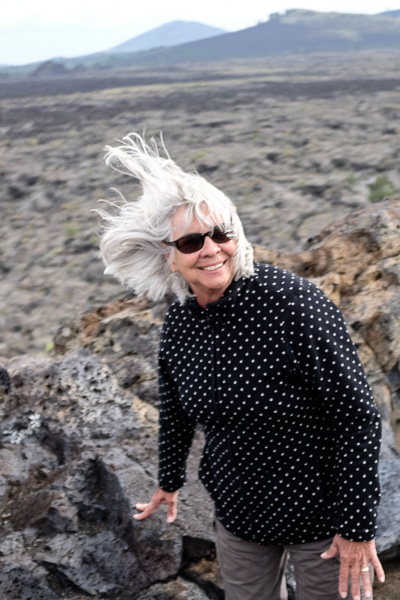 Passing across Idaho, we went by Craters of the Moon national park, all lava, very fierce and strange. It was super windy…look at Sylvia's hair.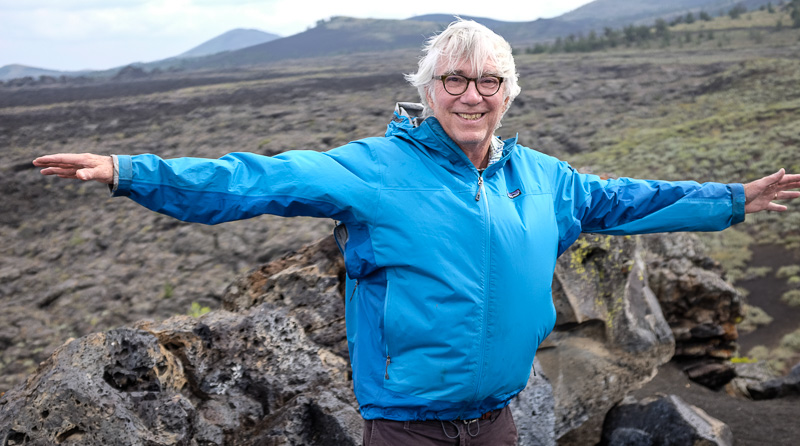 And my windbreaker like a balloon. So exhilarating whenever you get out of the car on a road trip.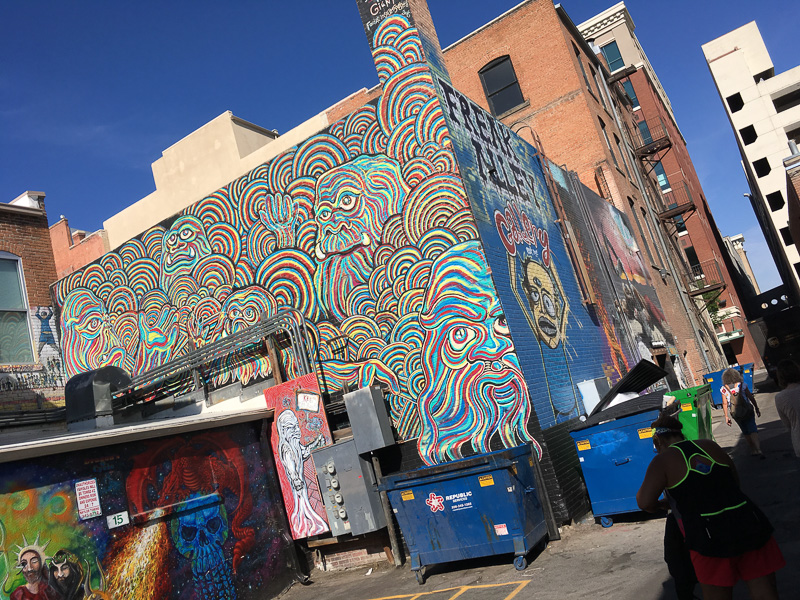 We ended up spending a night in Boise, Idaho. "We should move here." "No." They had a kind of hip couple of blocks around 8th and Idaho streets. Ate two great meals, at Fork and at Wild Root. Plus they had a Mission-style alley with street graffiti art, they called it Freak Alley.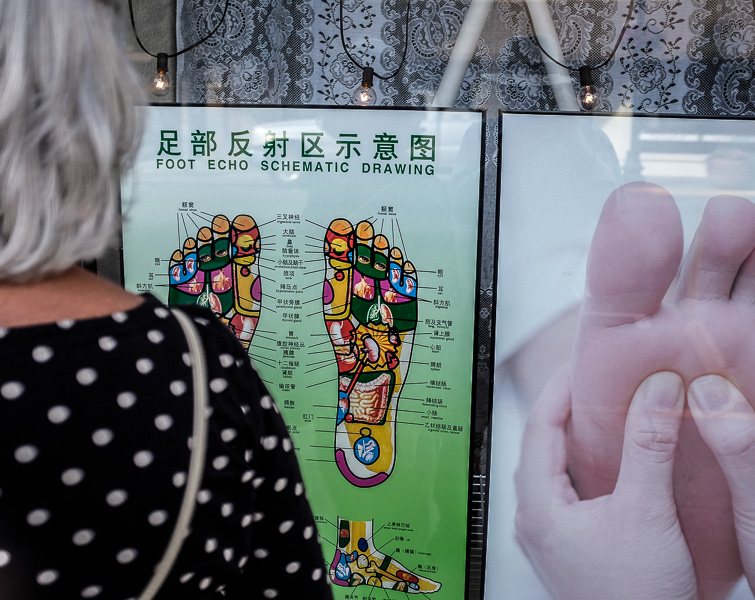 We passed through Klamath Falls, which has one of those deserted and kind of heartbreaking downtowns. Nice stone buildings but not much going on.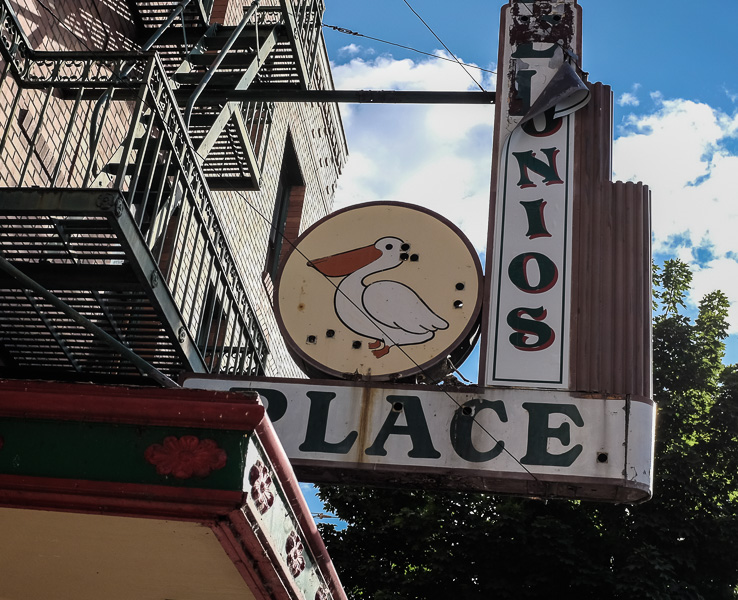 Klamath Lake has white pelicans on it. I always think of my high-school friend Michael Dorris here. His father was, I think, a Klamath Indian, and there's even a town called Dorris nearby. Poor Dorris, he died…it's been twenty years now. Funny that we both turned out to be novelists. I wish he'd come back. Death is so final, and by now I have half a dozen or morr friends my age who are gone for good. My old pals Michael Dorris, Jim Carrig, Niles Schoening, Kathleen Hall, David Hartwell…where are they? Nowhere. It's crazy. I'm glad for the time I still have.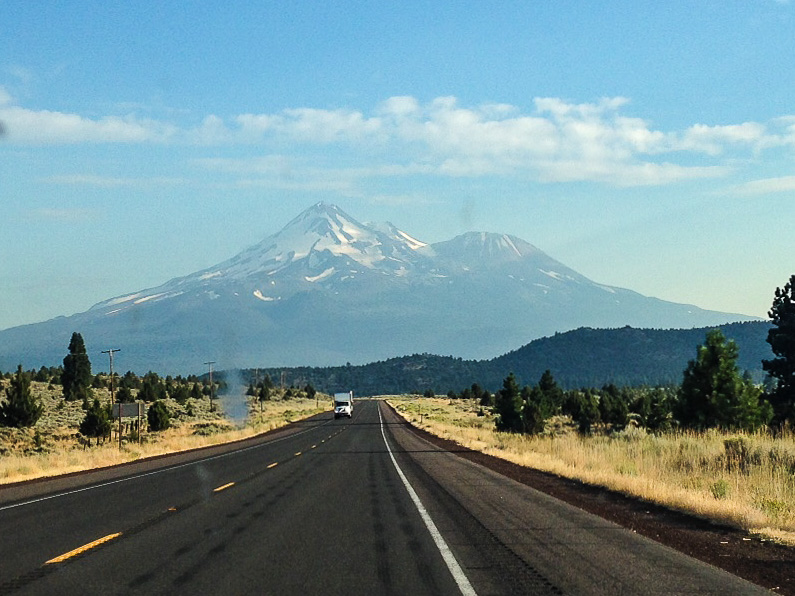 Finally we were cruising across the fruited plain to Mount Shasta with the rough but lovable burg of Weed, California, at its base.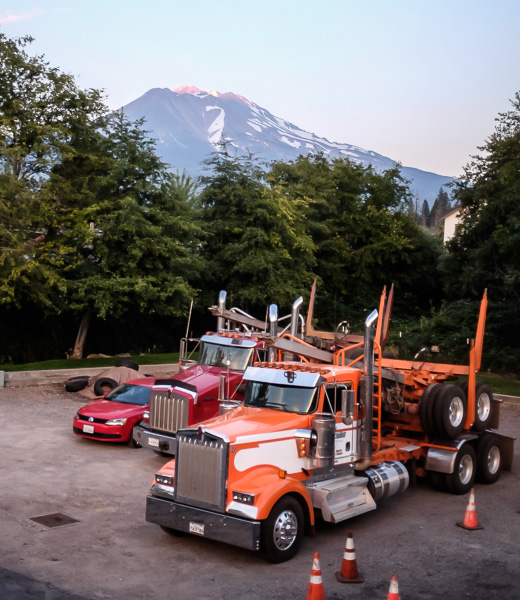 We stayed at this motel/café that I kind of like, it's called the Hi-Lo. So vintage, so classic. Is the food good? Are the rooms comfortable? Those questions are, somehow, irrelevant if you can look out your window and see two bright-colored tractor-trailer trucks…with sacred Mount Shasta behind them.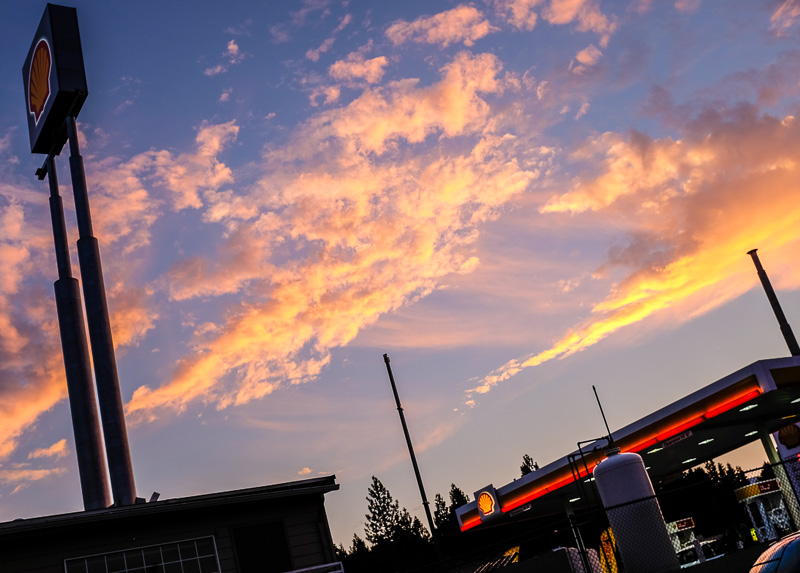 And, ah, that iconic roadside neon with the vibrant evening sky. A good trip. And now I'm home and back to Return to the Hollow Earth.
Sneak in a Hollow Sun? Kind of tempting. but…it's a lot of trouble to get from Earth up to the Sun. Of course there could be a shortcut trapdoor at the center of the Hollow Earth. Yes!
Or maybe, if I want to go somewhere new, it might be better for the novel to hop to Earth in 2150. What with the time shift from crossing the Hollow Earth's central anomaly. Be writing some 22nd Century SF, then.
Or all of the above. Keep it bouncing, right? We'll see.