My latest painting is a copy.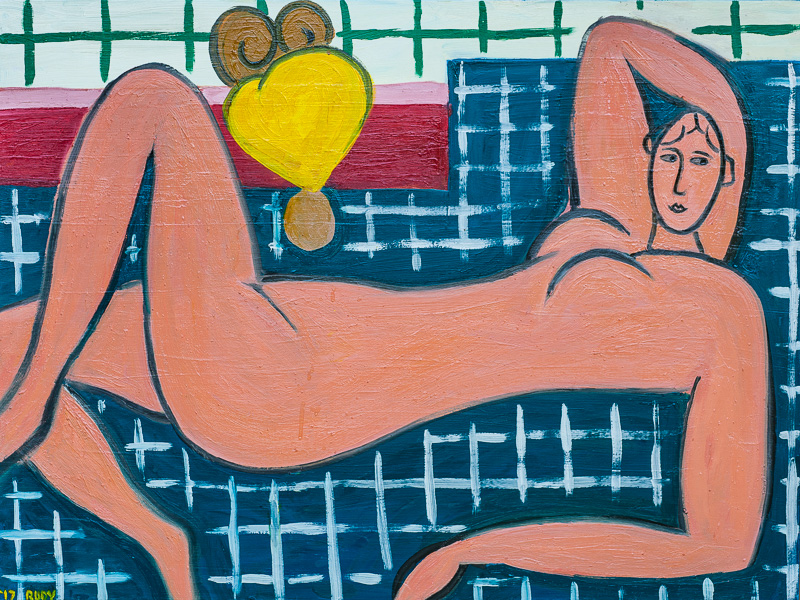 "Matisse Nude" oil on canvas, September, 2017, 40" x 30". Click for a larger version of the painting.
I've always loved Matisse's painting, Large Reclining Nude of 1935. That rectangular blue patch between her body and the arm along the right side. And the joyful curve of her bottom. The painting is in the Baltimore Museum, purchased by the Cone sisters, years ago. Matisse did six preliminary versions of the painting, getting more abstract and calligraphic as he went along, and those are in Baltimore too, you can view them here.
Over the last week I copied the main one. Took four or five sessions. I wasn't sure it would be possible to get even this close—not that it's all that close. The thing about painting is that you can home in on what you want…rubbing off and overpainting. I switched to oils for this one, and oils are especially easy to rub off. On the other hand with acrylics, it's easier to paint over as they dry so fast.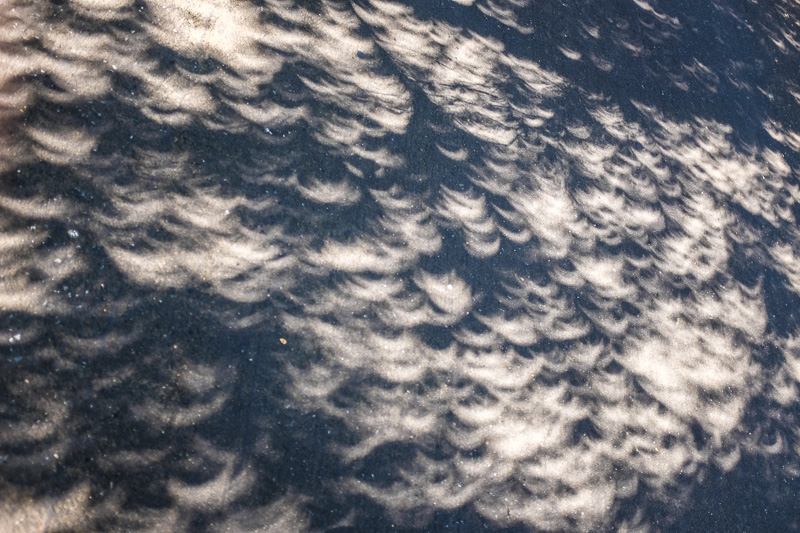 We had the eclipse here awhile back. I'll quote something I wrote in my anything-but-best-selling Journals when I saw a partial eclipse at home on May 22, 2012.
There was a cool partial annular eclipse of the sun in the San Francisco Bay Area last week. It was about 6:30 pm, and the sun was going behind the hill that we live on. So I walked up the street to get a better view.
I'd been using the safe method of studying tiny crescents via a pin-hole-punched sheet of paper, projecting the crescents onto the black back of a book. Wearing shades and walking up our tree-crowned hill, I noticed that the patches of shadow-light cast by the trees and bushes were strangely warped as well, with each dapple-blob molded into a crescent. A sun dapple is in fact a "pinhole camera" image of the current state of the sun!
I looked up and I saw the eclipsed sun directly with my eyes.
And, yes, I know you're not supposed to stare at the sun, and I didn't. But I could see it, via quick, raking side-long glances. The suddenly huge-seeming sun was a strange crescent, just above the horizon, filtered through the scrim of oak trees, archaic and mythical. The horned sun.
It felt like a weird sign, a signal from on high.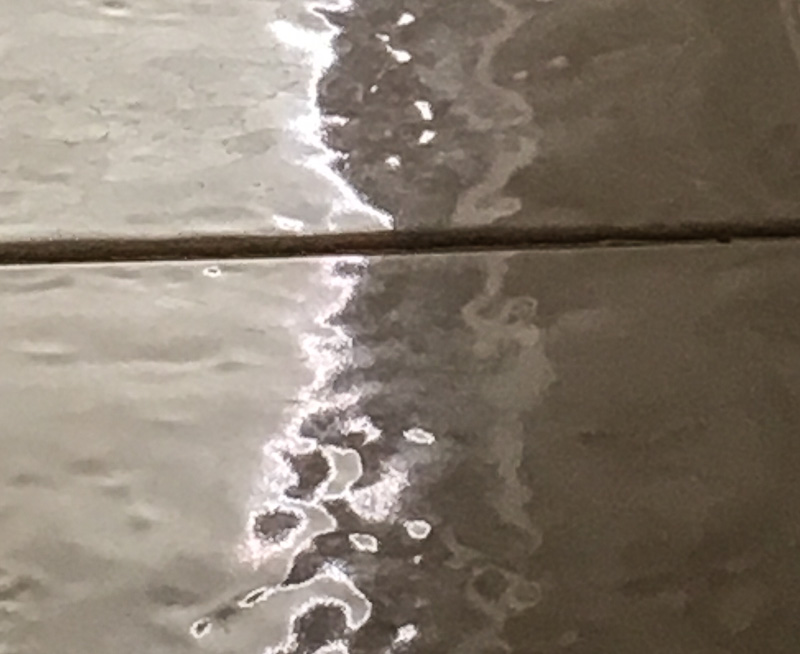 I'm always looking for chaos in my surroundings. Dig the window light reflecting off some bathroom tiles. Like water, almost.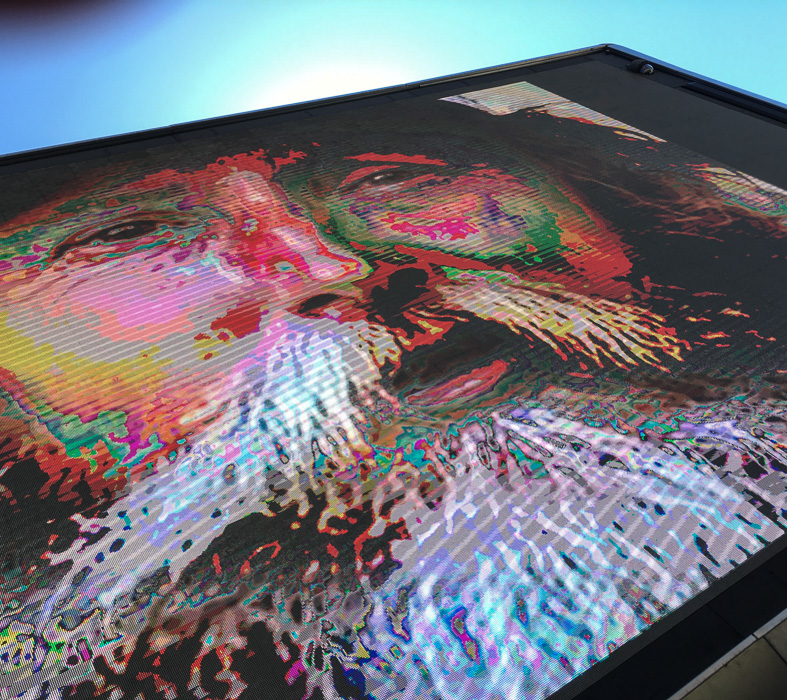 Sylvia and I were up in Berkeley and we went to the newish BAMPFA, that is, Berkeley Art Museum & Pacific Film Archive. On the wall outside, they were showing a documentary on a famous Berkeley street person who called himself "Hate Man." He was on the streets back when my son Rudy Jr. went to UC. Hate Man's doctrine was that if you started every conversation with, "I hate you," then you would defuse it in advance. It's a touching and funny film. The Hate Man was more together than I ever realized. His banter with religious evangelists is particularly rich. I can't find, however, a link to the full documentary online.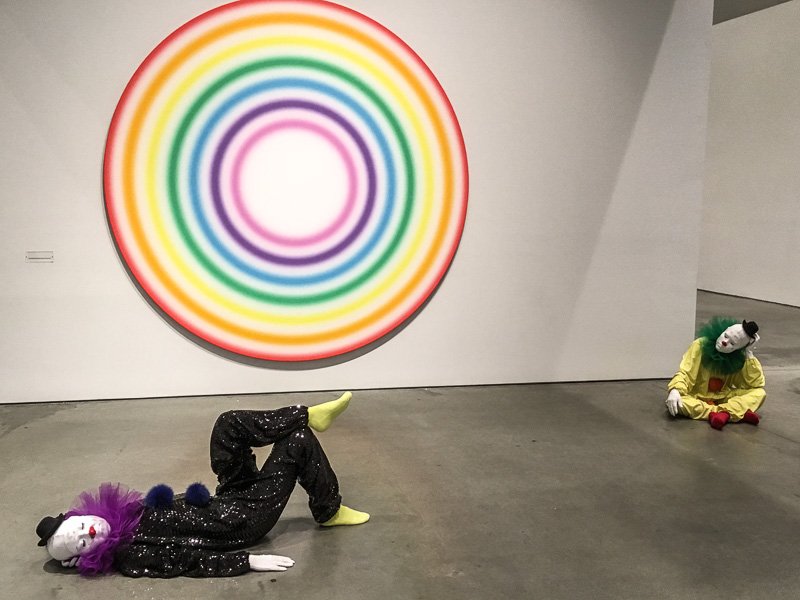 Inside BAMFA they had a good show by Ugo Rondinone, "The World Just Makes Me Laugh." A zillion clown mannequins, each dressed slightly differently, and big bullseye paintings in circus colors.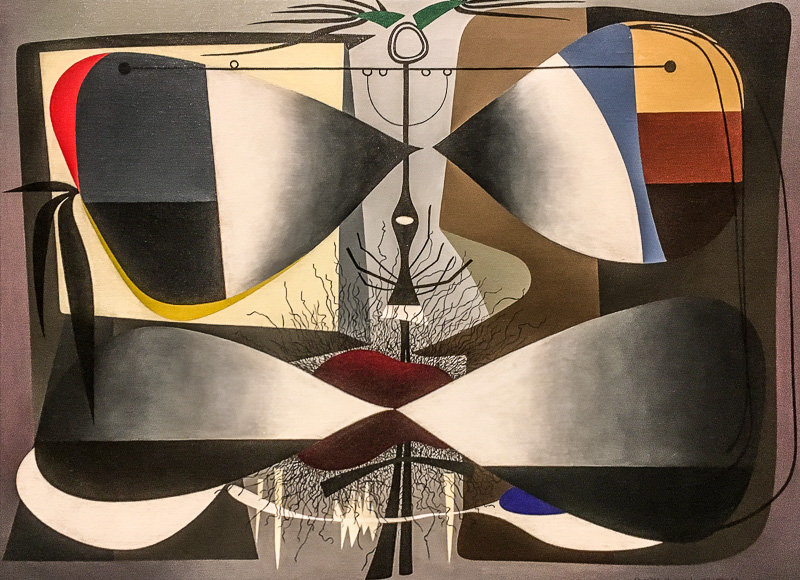 Also a show by Charles Howard who was active in the 1940s. I kind of like this vintage "modern" style. Those crinkly lines…are they pubic hairs? Phew! Miro used them too.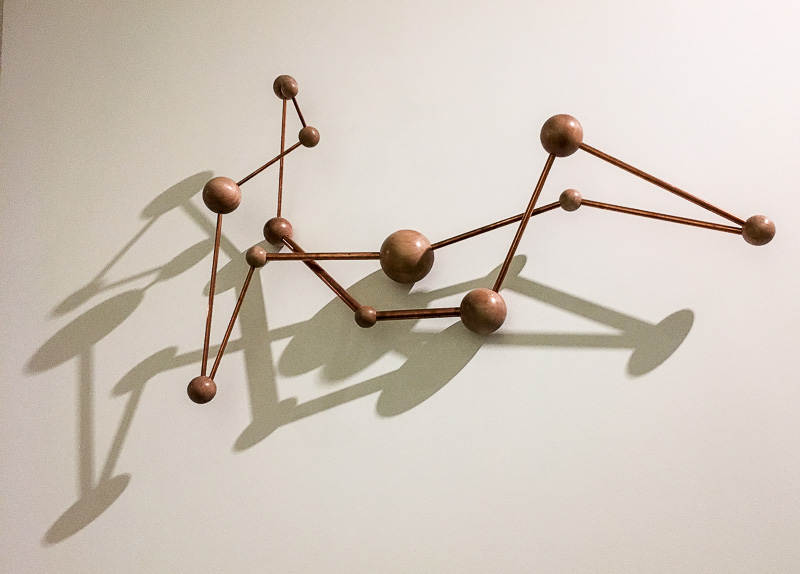 Reclining Molecule" by Phyllis Koshland, on a wall at new BAMPFA museum in Berkeley. DNA lounging? No, abstraction of a figure. Someone asked me, what kind of a wall does a molecule recline against? Well, the wall is made of second-order, really small molecules, of course. In the molecule's little house in Moleculeville. I'd like to visit there.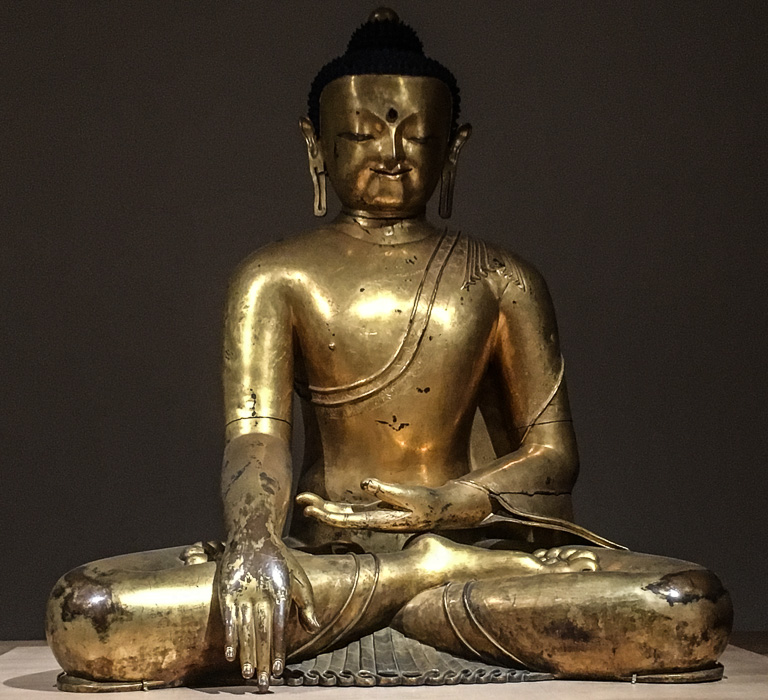 Of all the zillion Buddhas I've seen this one is…the most recent. I like the face.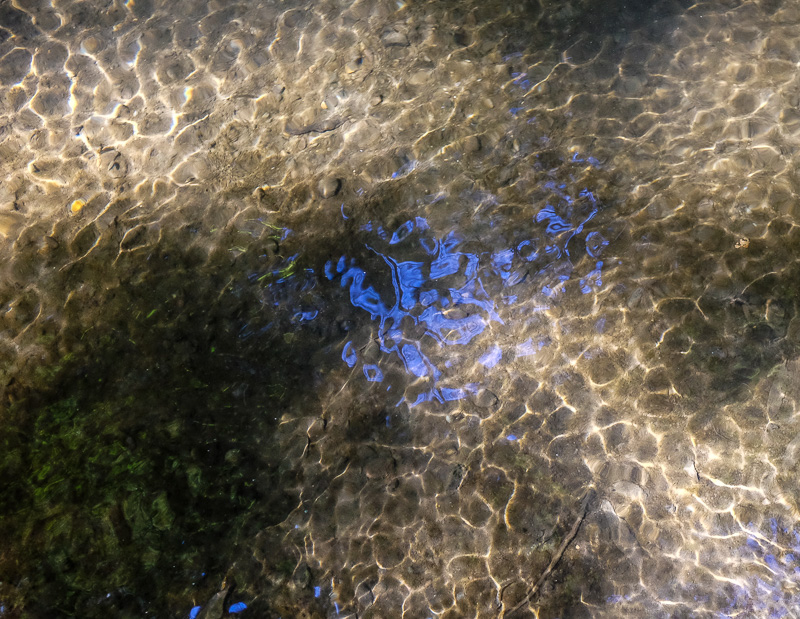 I've been hiking in the backwaters of the Los Gatos Creek above Lexington Reservoir lately. Getting some good strong wilderness hits. As reader of this blog will know, I'm crazy about ripples. Analog computation. Chaos in action. Always different, always the same. Mind made manifest.
I found this metal pipe (a surveyor's marker?) sledge-hammered into the ground with it's top split like a flower. A metaphor for a metaphor.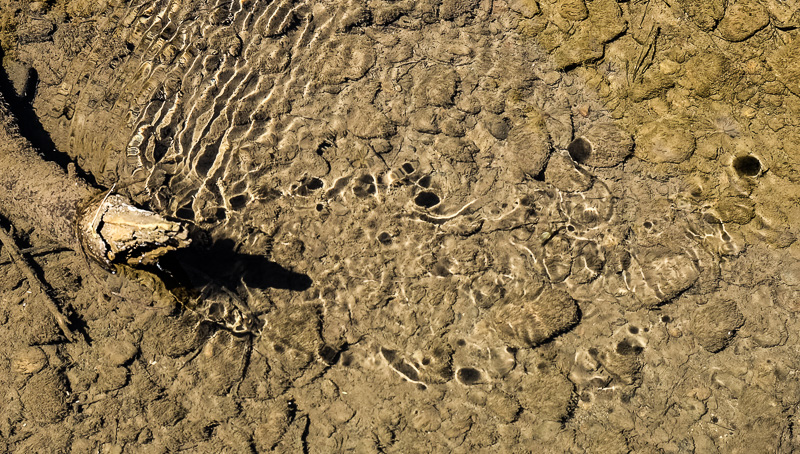 There's this phenomenon I love called a von Karman Vortex Street. It's when you have a smooth flow of fluid that passes an obstacle, such as this up-poking stick in the stream. The "laminar" flow of fluid is disturbed and that wonderful, yummy thing called "turbulence" sets in. The turbulence takes the forms of eddies, or whirlpools, or vortices, and they line up like wobbly pedestrians on a street, and they shed off smaller eddies, or split in two, and eventually dissipate into a tiny bit of added heat. They show up well here because of the bright sun casing their shadows. "Where you live, man?" "Von Karman Vortex Street." "Gnarly."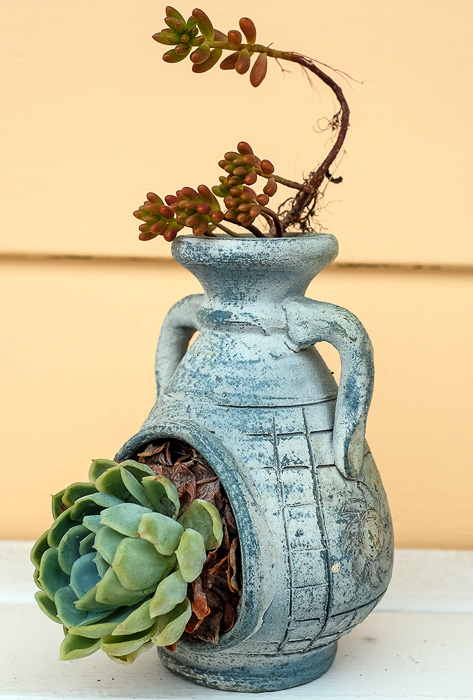 I like this thing, I bought it from a homeless woman at a special art show at St. Luke's Church in Los Gatos a year ago. Kind of Boschian. A little like a woman with her arms akimbo, and a sprout of jade plant for her her head, and a hen-and-chicks cactus pup emerging from her fertile belly.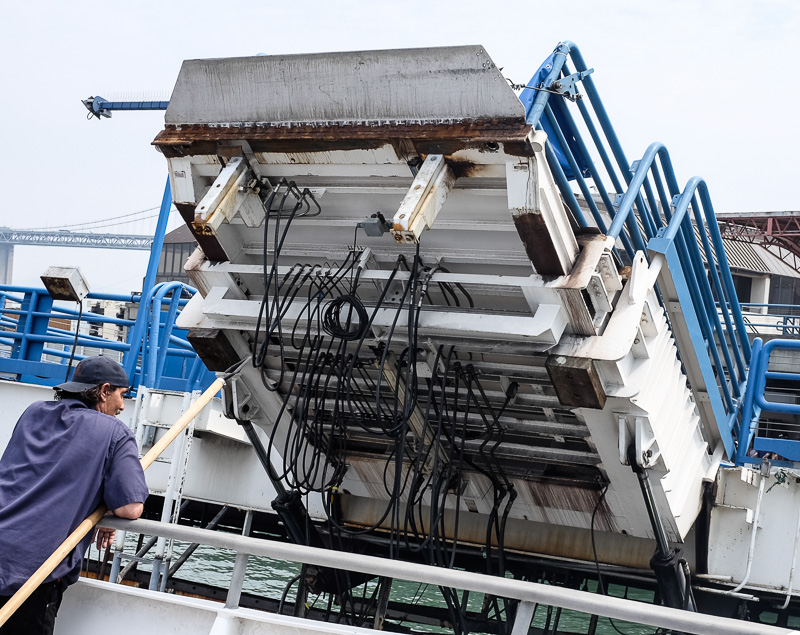 Sylvia and I rode the ferry from SF to Sausalito the other day. Great ride, with the mysterious mechanical gate to the ferry. Cheap, but lots of pushing and sweating to get aboard. And Sausalito itself is kinda…yeccch. Tourist zone! But you hop back on the ferry and get another ride back. The open Bay, ahh.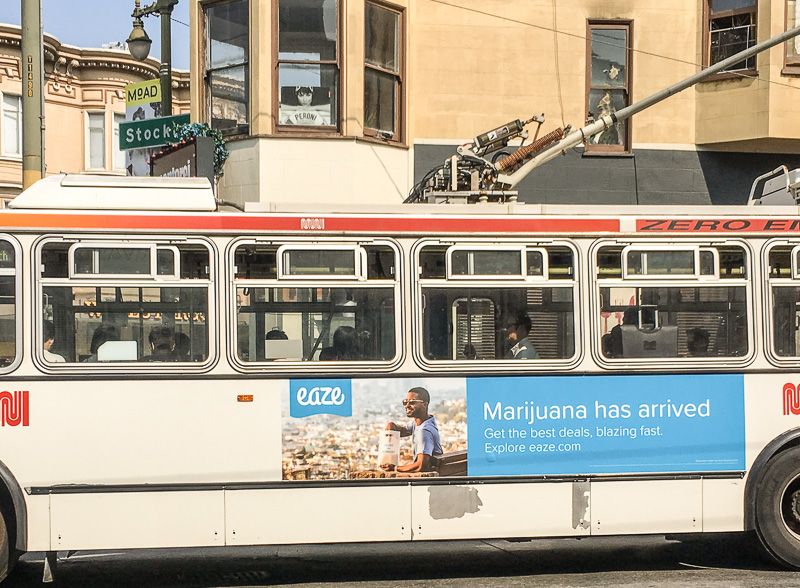 Pot ads on the sides of buses in SF. I guess it really is the twenty-first century now. And this Sunday they had a whole magazine section on "gourmet pot" in the SF Chronicle. In my day it was more like prison food: "Take it or leave it, this is the one and only kind we got."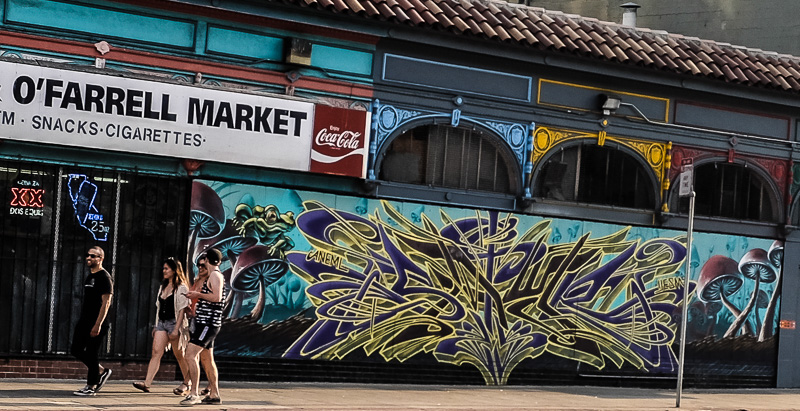 There's an amazing graffito that I always see by a corner store at Hyde St. & O'Farrel St., a downbeat neighborhood, yeah, but this artist renews his work every year or two, and it's always just wonderful. Like the Big Bang. No idea if there's letters in here.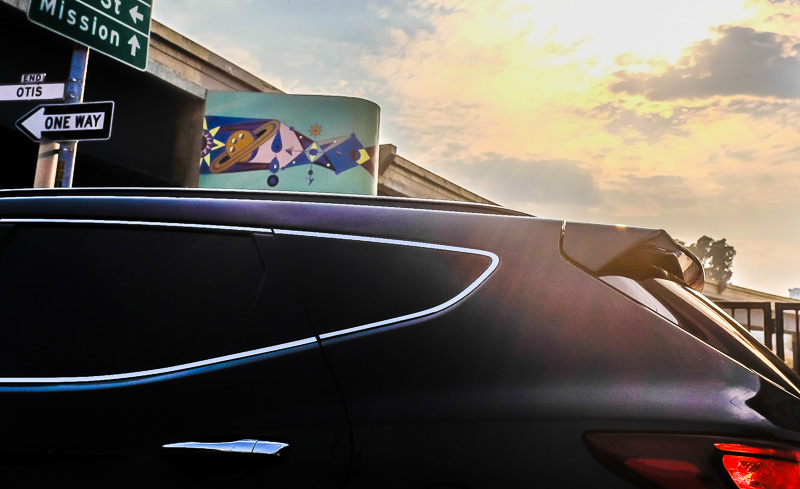 Driving across San Francisco, there's this like knee, where all the streets bend, passing under 101, as you transition from downtown into the Mission. I always get confused when I'm driving here, but this time I was in an Uber and staring, what joy, out the window. That's a graffito on the bridge up top. And really oddly modern-modern window shape on the landwhale next to us.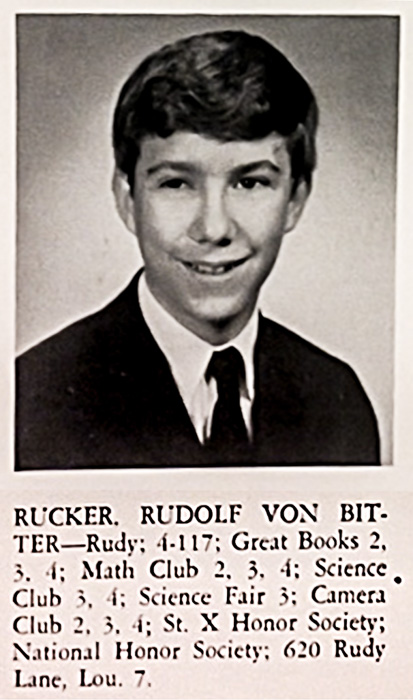 Came across my St. Xavier Tiger Yearbook from Louisville 1963. Touching young Rudy, so tentative, so unsure, not even knowing what to hope for. Don't worry, little dude, it'll all work out! And then you'll die. But not for a long time!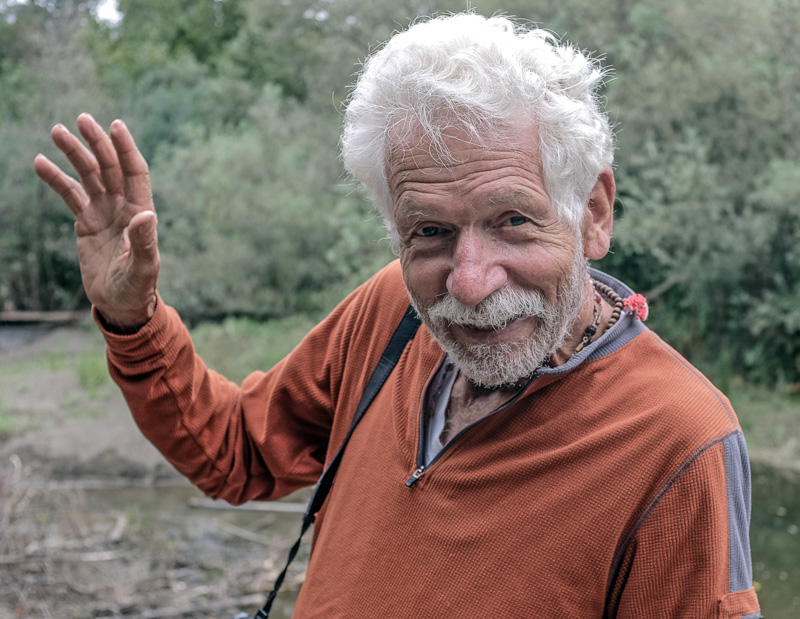 I took my Norwegian neighbor pal Gunnar up into that creek spot I like. His English is quite poor, even though he's lived here about fifty years. But he's been meditating his whole life, even living in ashrams at times, and he does in fact say wise and heavy things. Sample: "I am always in the now. And there is no now." And he says this like it confuses him, and he wants advice.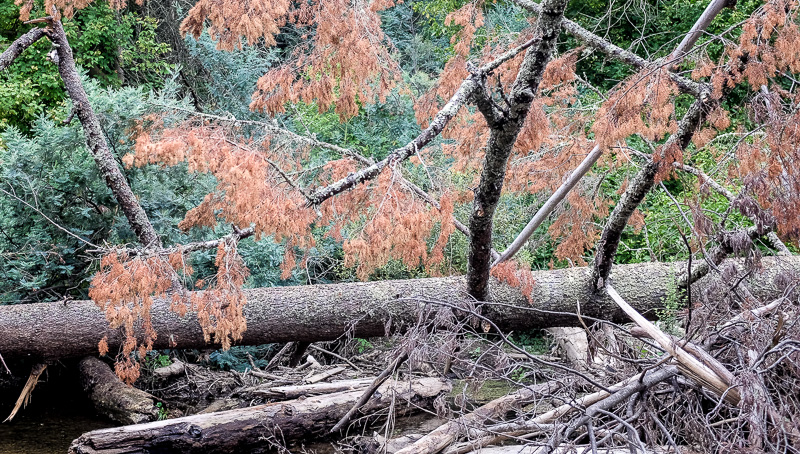 Gunnar likes to talk about beavers. The Norwegian word for them is bever, pronounced "bay-var." He used to say it that way, and I would tease him about it, but he's stopped. "So now that's fixed," he says with a chuckle if I remind him. "Something for once."
We found what could be a beaver lodge in the creek. The tangled part on the right. I think the way a lodge works is that it's a tangle of branches with dirt packed on top as a kind of roof, and there's a bit of space between the water and the top of the lodge so that the air gets in. The beavers are safe from wildcats etc. in the lodge.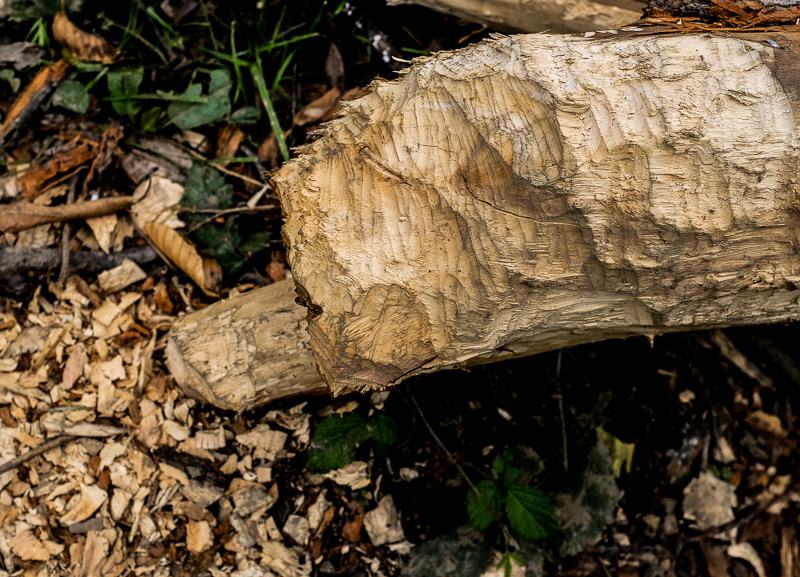 Beavers at work! When I was a kid, Ipana toothpaste had this logo/mascot in their TV cartoon ads. Bucky Beaver. At the climax of each ad, Bucky Beaver would bite something in half. Really hard. Like, CHOMP! I loved it. And their jingle. "Brusha, brusha, brusha, get the new Ipana…" The warm sea of senility laps at my knees. What if I lie down in it and fill my lungs?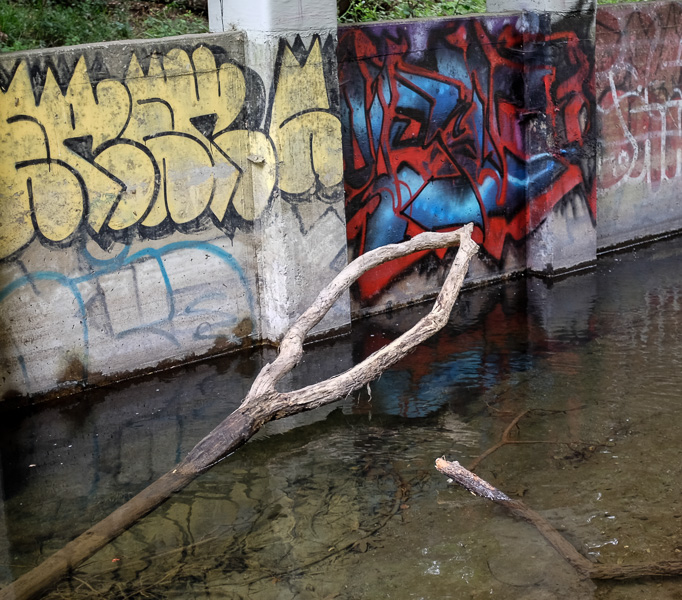 Graffiti aren't always necessarily a bad thing. Dig these on the abutments of the bridge over the creek. And check out that ring-like branch formation. Subtle alien biotech engine to power the magic door teleportation aspect of this gate.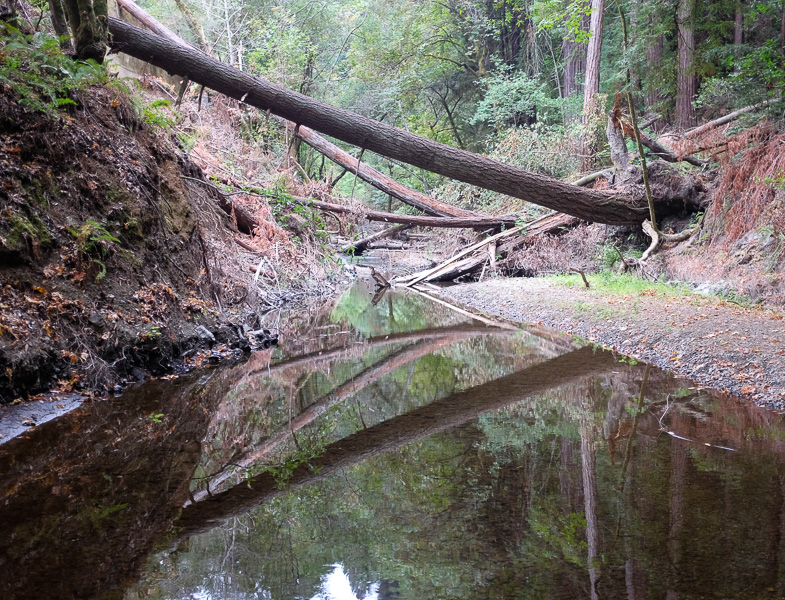 I never get enough of seeing branches reflected in water. The theme of the double. These days I'm working on my twenty-third novel, my Return to the Hollow Earth, a sequel to my 1987 opus, The Hollow Earth. Has it really been thirty years since I wrote about these characters? I'm happy to be back with them. A high point of the first one, HE1, was when Edgar Allan Poe meets up with his double (thanks to passing through a tunnel between worlds). My climax was modeled on Poe's climax to his own double story "William Wilson."
Synchronistically enough, the characters Mason and Eddie Poe in my novel-in-progress just won $3,000 by betting the number 23 in roulette. They get paid off with 15 ounces of gold dust…it's in San Francisco, 1850, and gold goes for $20 an ounce. So they split it, and they each have a little pouch of gold, and they're getting out of the Eldorado casino as quickly as possible, and this woman barmaid Persephone follows them, wanting to accompany them on their expected spree.
"Guard your pocket," I warned Eddie, and he shook Persephone away.
"You're mistaking me for an entirely different class of person," Eddie told her, always glad for a chance to tell some thumpers. "My cousin Mason and I are tending to his wife and their newborn baby. We only came out for diapers and clabber. We entered the Eldorado in error—Mason here thought it was a church. As for the roulette, well, twenty-three was Grandmother's birthday. We're grateful for her holy blessing. And we have no lust for low jinks. Do mark that I already tipped you. Sojourn on, fair maid, and may the Light be with you."
"You sober up fast, don't you?" said Persephone with disgust. She turned on her heel and flounced back into the Eldorado. Eddie pulled out his poke of gold, loosed the rawhide around the pouch, and stared in, as if wanting to confirm it was real.
Yeah, baby!