Added Feb 12, 2014: I made a YouTube video of the art on the walls at the Borderlands Cafe show:
Added Jan 19, 2014: I made a podcast audio of my talk on The Big Aha and of my "art tour" at Borderlands. Visit Rudy Rucker Podcasts here:
Original post, Jan 6, 2014. I have an art show coming up, running from Jan 17 to March 15, 2014. A lot of the paintings were done for my new SF novel The Big Aha.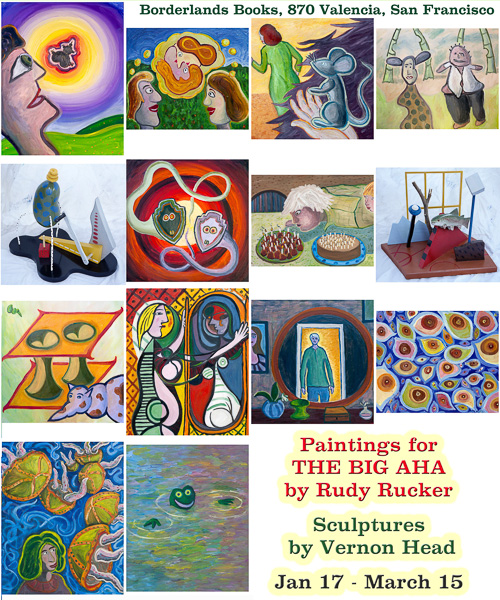 Poster for our show. These are the paintings I plan to hang. Click for a larger version of the image.
The show will also include four of Vernon Head's table-top deco-style assemblagist California Funk sculptures.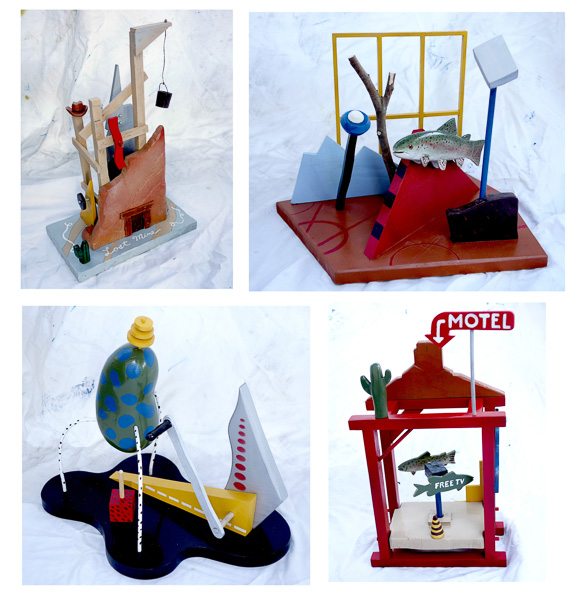 Vernon Head's "Constructions & Contraptions" for our show. Clockwise from top left: "Lost Mine," "The Trout's Dilemma," "Mesa Motel," "The Machinist." 12 to 15 inches high. Click for a larger version of the image.
We'll have an opening reception, reading, and guided tour of the exhibition from 5:30 until 7:30 or so. This will be on Friday, January 17, at Borderlands Books Cafe on 870 Valencia Street in the Mission district of San Francisco.
Free pastries! This party is for the public, and it's a thank you reception for my Big Aha Kickstarter supporters.
We'll mingle, and around 6 or 6:30, I'll do a short reading from the novel, then give the "guided tour" of the paintings, explaining their roles in the book, and then hang out some more. We'll be selling hardback and paperback copies of The Big Aha, plus paintings, prints, and the latest edition of my art book, Better Worlds.
For more about my paintings, see my paintings page. I'm maintaining a public Facebook event page for the show as well. And you can find the event on the SF Chronicle's SFGate listings as well.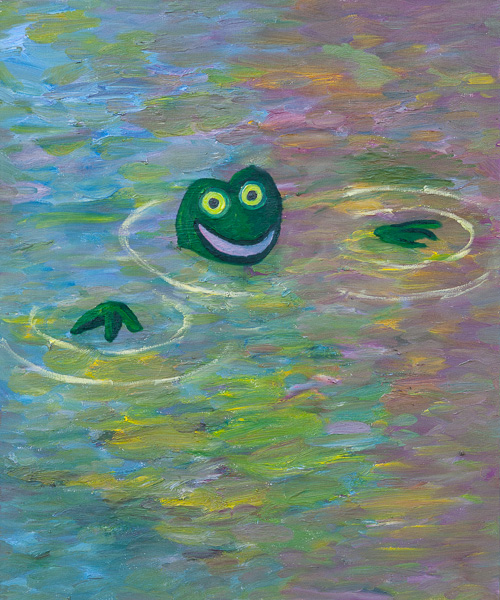 "Frog Man," oil on canvas, January, 2014, 20" x 24". Click for a larger version of the painting.
By way of getting my final prep done, I just finished one more painting. This particular painting started out as a horizontal "landscape mode" canvas of a Monet-style scene with trees and cliff or a sky…made up of vertical daubs of paint left over from my painting before this one, "Woman With Jellyfish". I let the landscape dry for two weeks, then had the idea of turning the picture to a vertical "portrait mode" orientation, and now the horizontal daubs were water. On a quick inspiration, I painted in the head and webbed hands of a "frog man." He looks friendly, but I don't think I'd jump into the water with him.
I also made some high-quality prints to sell at the opening. Ten-color giclee print on achival museum etching paper, with the prints mounted on acid-free mat board, individually signed, reasonably priced.


Prints of Rudy's Paintings Click for a larger version of the image.