I've been busy with various things the last few months. I ran a Kickstarter campaign for Million Mile Road Trip, did some promo for the Night Shade edition, gave a talk at a cryptocurrency conference in Miami Beach, wrote a story, and did a couple of paintings. Let's start with the latest painting.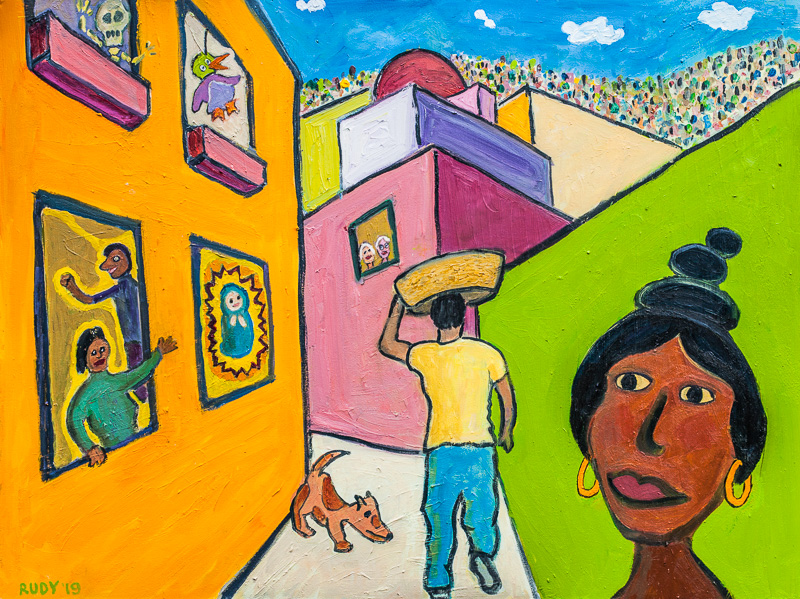 "Mexico" oil on canvas, May, 2019, 40" x 30". Click for a larger version of the painting.
This Mexico painting could more accurately be called Guanajuato. As I've mentioned, Sylvia and I went there in March, and were blown away by the small mountain town's beauty. My most recent blog post has photos, and there's another post, too.
I collaged together some of my mental and photo images for the composition, also some fantasias. To start with, I did the one-point perspective thing, picking a vanishing point and drawing lines. I have a rushed tendency to think I don't need to do perspective lines, but the result is better if I do. Perspective is oddly counterintuitive, but it works.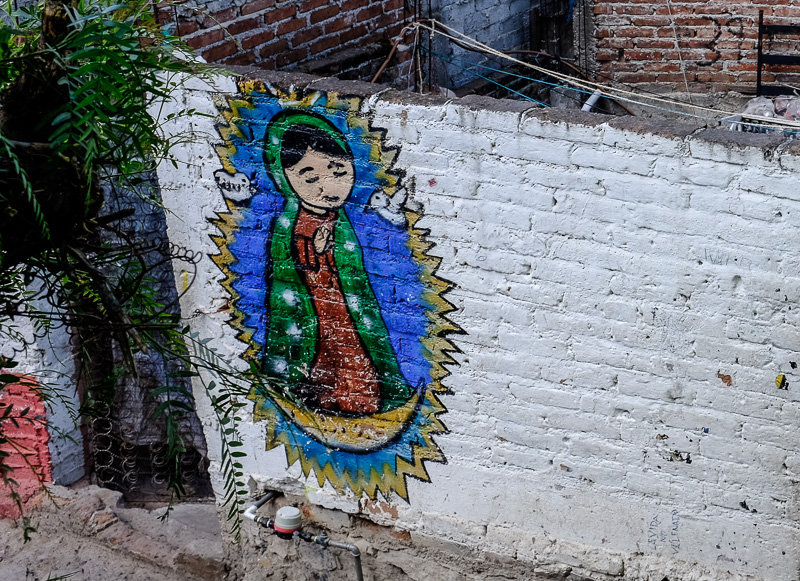 The colors are all-out, as they are in Guanajuato. In the yellow wall on the left, I wanted to put scenes in the windows. At one point I had the tall guy holding a knife, but that grabbed the eye to hard, and was too harsh. I ended up with a skull, a piñata, the old couple, and the Virgin of Guadalupe, who was in fact an occasional graffito on the walls of Guanajuato. On the street: a dog, a guy carrying a bread basket and an alluring woman. In the window on the pink wall, two white-haired tourists from the north—that's me and Sylvia.
How to the characters all fit together? What's the story? I don't know. As I always say, I like the stories in my paintings to be obscure. Like illustrations of forgotten proverbs or unknown folk tales.
As always, you can get more info on my Paintings page.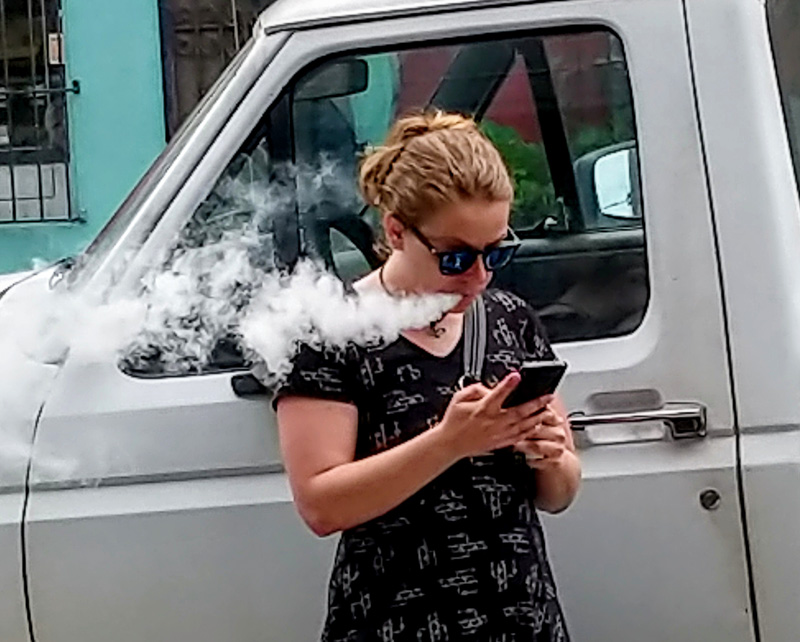 And, speaking of stories about Guanajuato, I just read Lewis Shiner's excellent, page-turning novel Outside the Gates of Eden, and it has a bunch of scenes in Guanajuato. That's a picture of me in the Mission, vaping and reading Shiner's ebook on my smart phone. Well, okay, that's not me, but I did carry my Kindle around a lot while whizzing through the intricate narrative. Couldn't stop. For some reason it reminded me of James Baldwin's Another Country, I guess because of the tangled cast of characters, and the sense of reportage. But this time, the reportage was on an era that I myself lived. Witty and worldly wise, a massive read with epic sweep, a secret history of our times.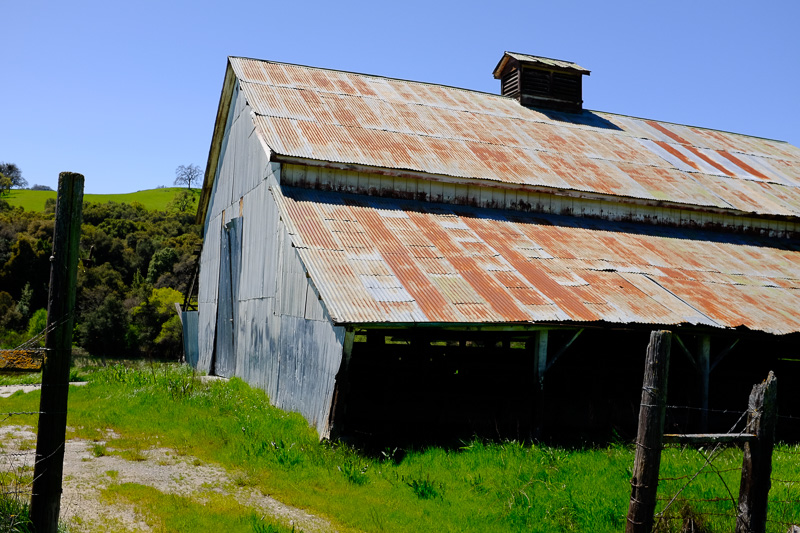 I also found myself looking up various bands that Lew mentioned on my music service…got into Commander Cody and the Lost Planet Airmen the other day, for instance. Such a great band. Ah, Texas.
.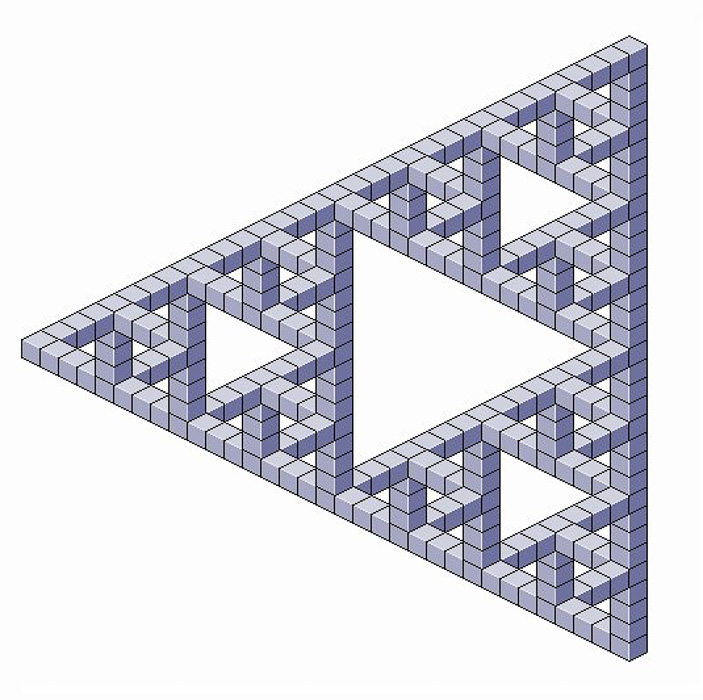 Hopping back to the theme of visual perspective kicks, here's a cool drawing that Bruce Sterling found online. It combines two things: a Maurits Escher-style impossible figure, and a Waclaw Sierpinski fractal gasket.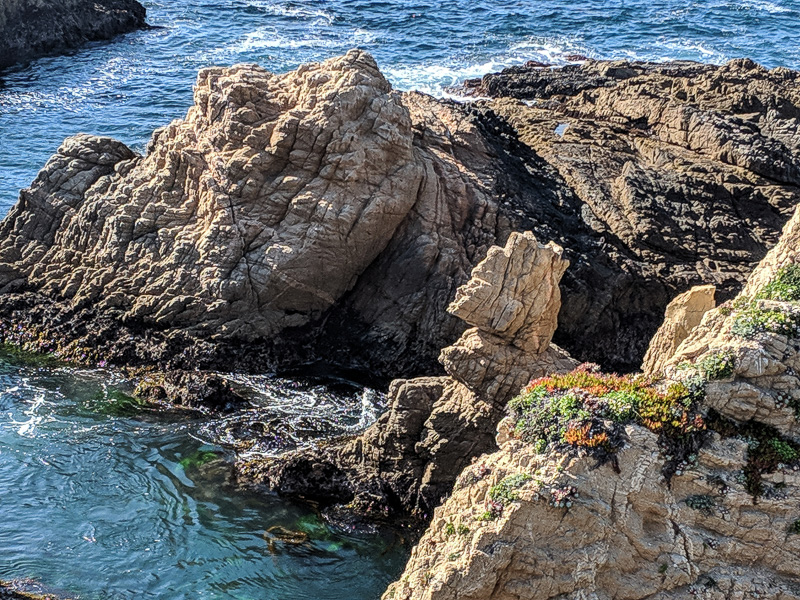 Sylvia and I drove down to Big Sur on a recent sunny day. Big Sur never disappoints. We found this great, level path leading from Rt. 1 out to a promontory, which ended in a clutter of sheer cliffs, outcrops, and blue, blue water. This rock here looks kind of like a tomahawk. Marvelous how nature crafts such things. What's the point? God is inside everything, like the light in a stained glass window.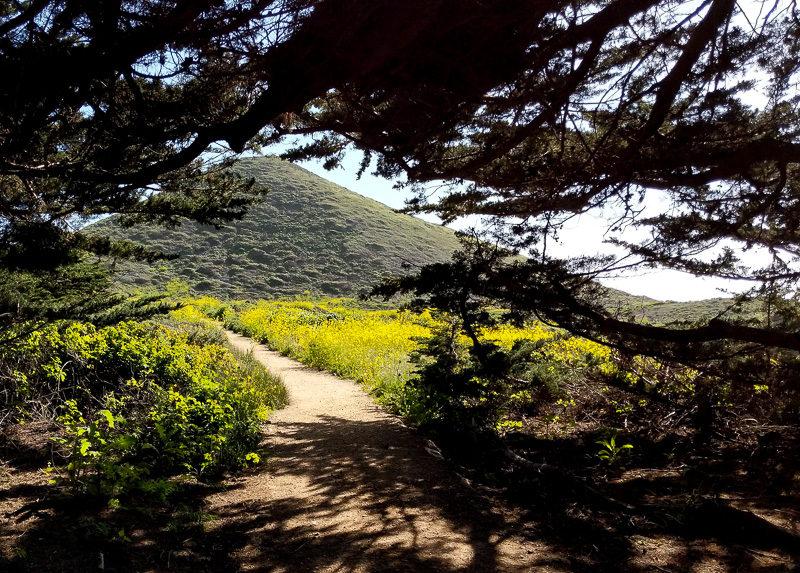 Our path tunneled through a grove of Monterey pines and emerged into the sun.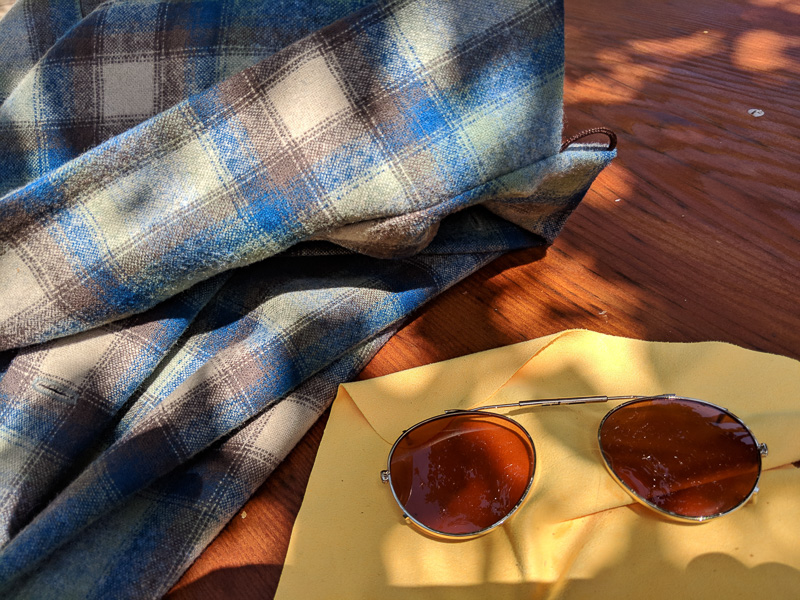 I got some nice clip-on shades online. I love amber shades. As good as being high. Much cheaper than buying new prescription sunglasses. My vision gets worse all the time. Eventually I'll *ugh* have to get my eye's natural lenses replaced by plastic lenses. Not yet. Relax and enjoy Big Sur.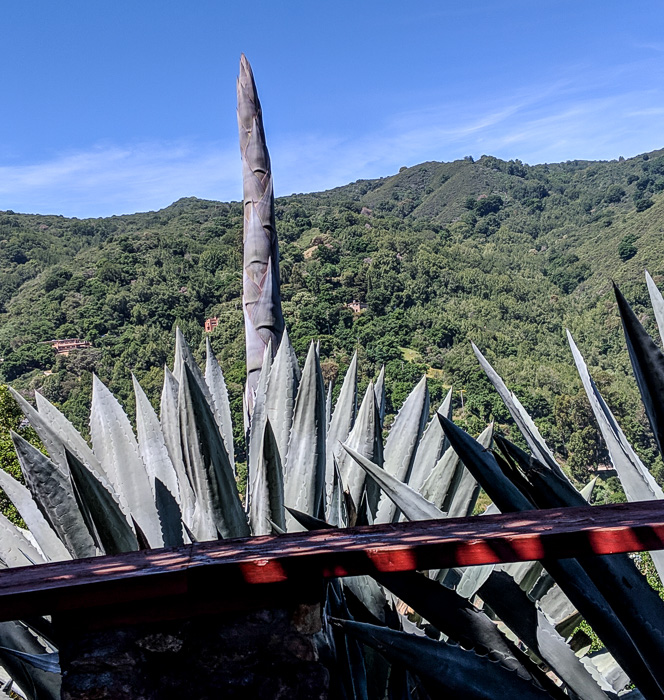 An awesome dick-like (can I say that?), century plant flower on a hill near our house. Bloom, my friend, spread your seed!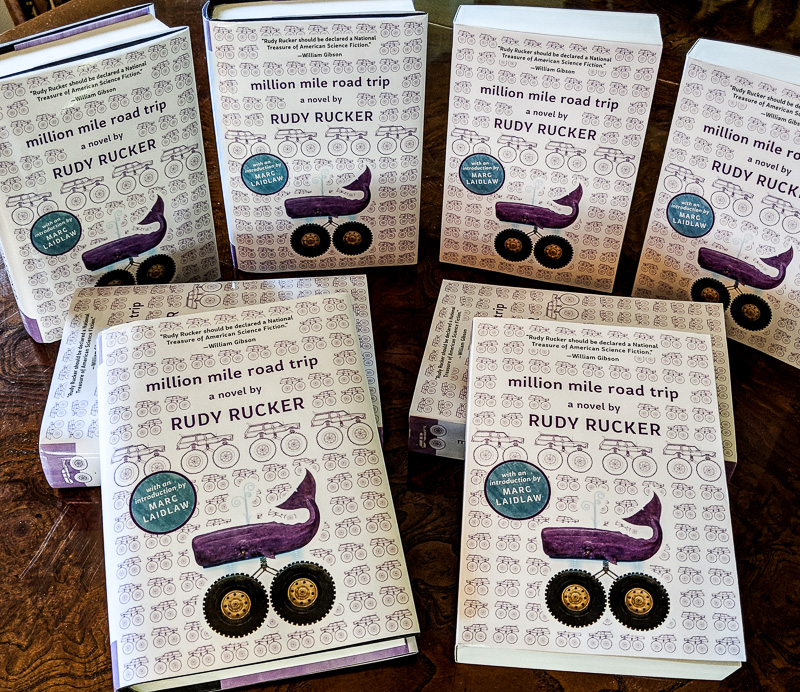 I'm really happy with the finished Night Shade editions of Million Mile Road Trip. And the book's getting good early reviews. More info on my page for the book.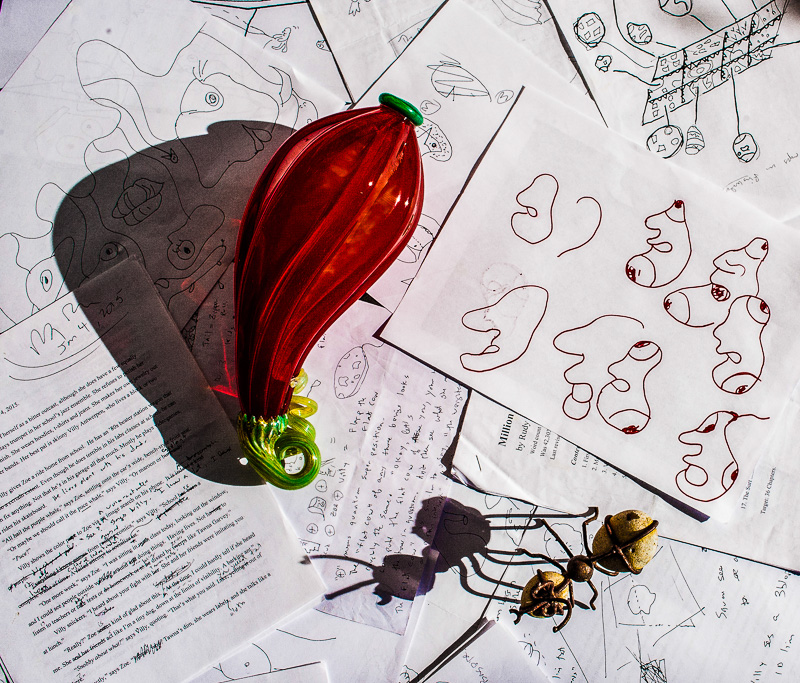 I published a companion volume Notes for Million Mile Road Trip as well. Why? It's not like I'll sell many of them. Well, as I said, somewhat jokingly, in an interview by Jeff Somers on the B&N Sci-Fi & Fantasy Blog,
"Long-term, the Notes will be fodder for the locust swarm of devoted Rucker scholars who are due to emerge any time now from their curiously long gestation in the soil."
Curiously long, indeed!
Word from your sponsor again. I know I linked to this in my previous blog post…but oh well! This is my killer book trailer; I got it down to three minutes long. It took days, using a reasonably good and inexpensive commercial video editing program called Pinnacle Studio 21. I only use this program about once a year, like for a Kickstarter or a book launch, and I always forget how to use it, but each time it's pretty easy to figure out. Equal time: Here's a nice two minute book trailer for Lewis Shiner's Outside the Gates of Eden.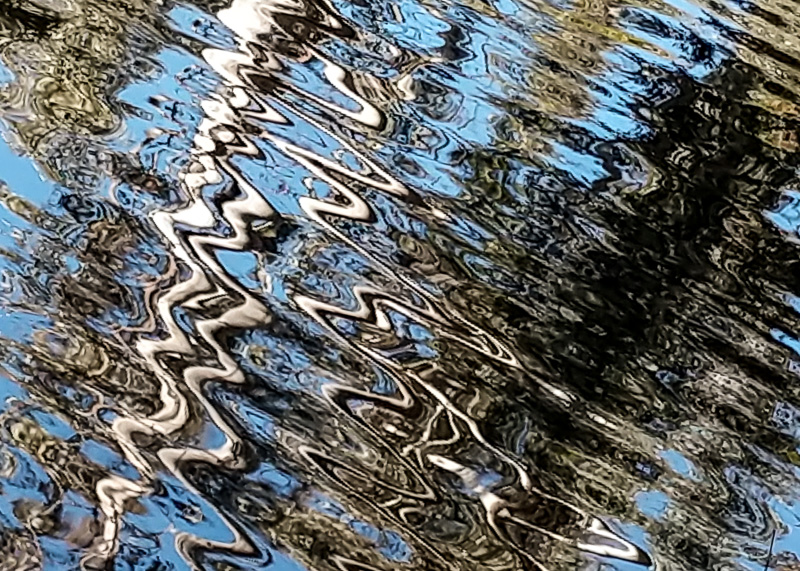 I'm enjoying having ambient water in its liquid form. There's this one pond I like to hike too. And, ah, the patterns on gently rippling water. I might paint this one.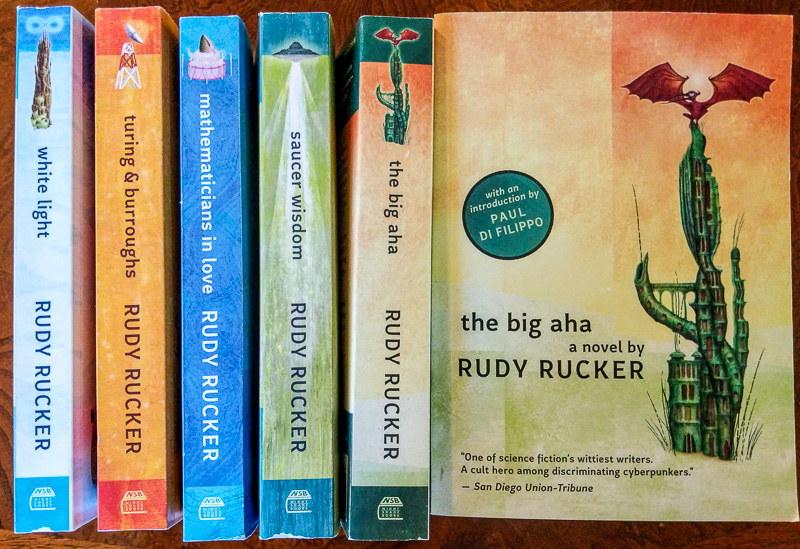 The whole Night Shade series of my novels is looking good. They're doing nine back-list novels as well as the new one, Million Mile Road Trip. It's been a life-long dream of mine to have a uniform edition like this. Hard to believe it's actually come true.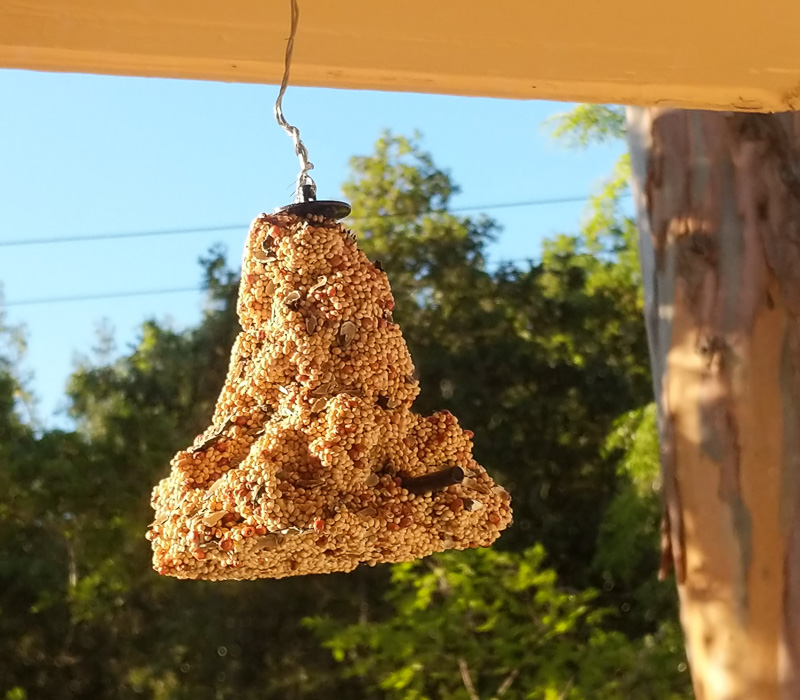 We got this bird-feeding-type object called a Treat Bell. Seeds stuck together with honey. We see nuthatches and chickadees. So cute. Lots of little fledglings around the house this spring. They scuttle across the carport floor when I'm in there, a bit unsettling, like mice or other vermin.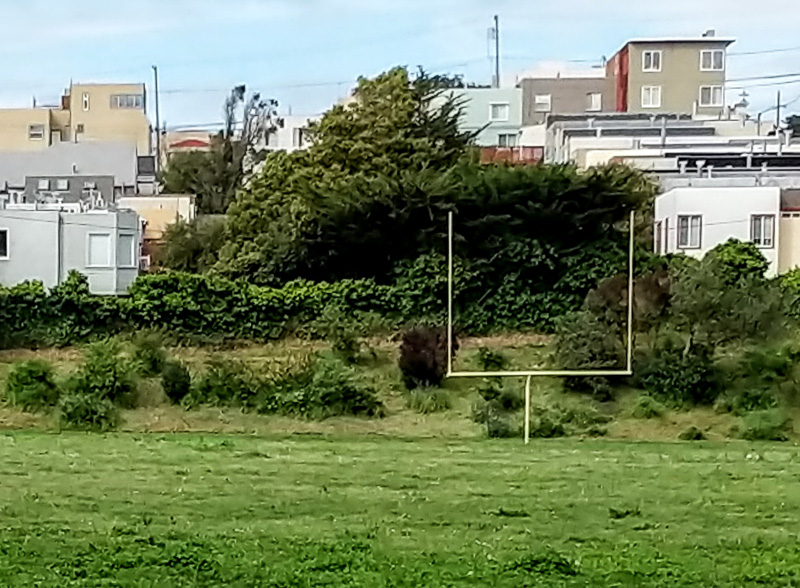 Dig this goal post. Like a really big tuning-fork. I wonder how it sounds in the wind.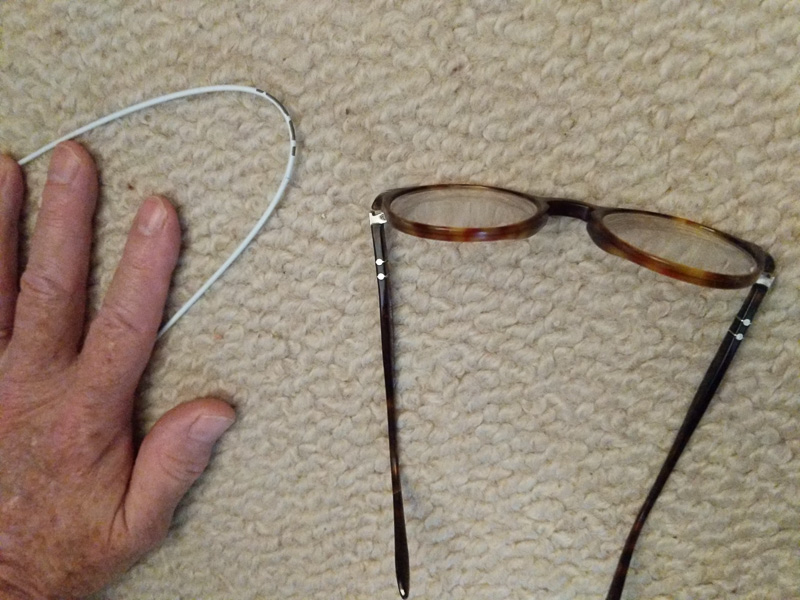 The other day my glasses fell behind my bed, and I had to crawl on the floor to haul them out with a coat hanger. The non-stop excitement of a writer's life.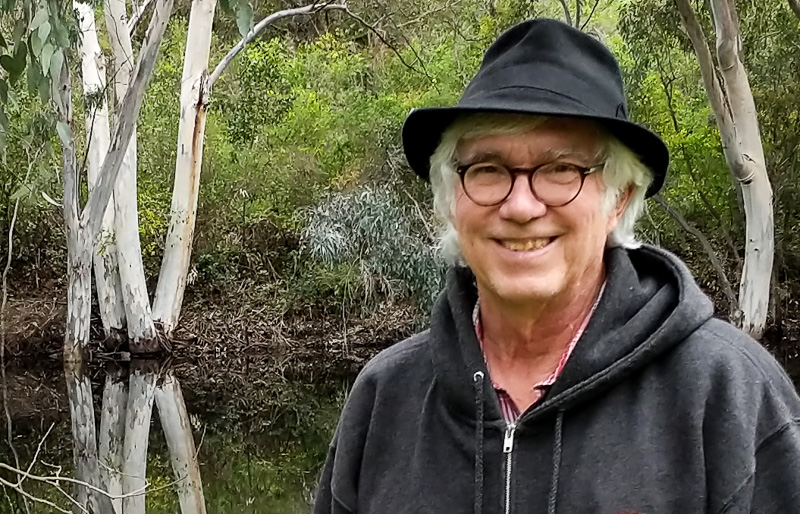 This is me up by that pond I like; I was up there with my friend Emilio. The day before I got my spring haircut.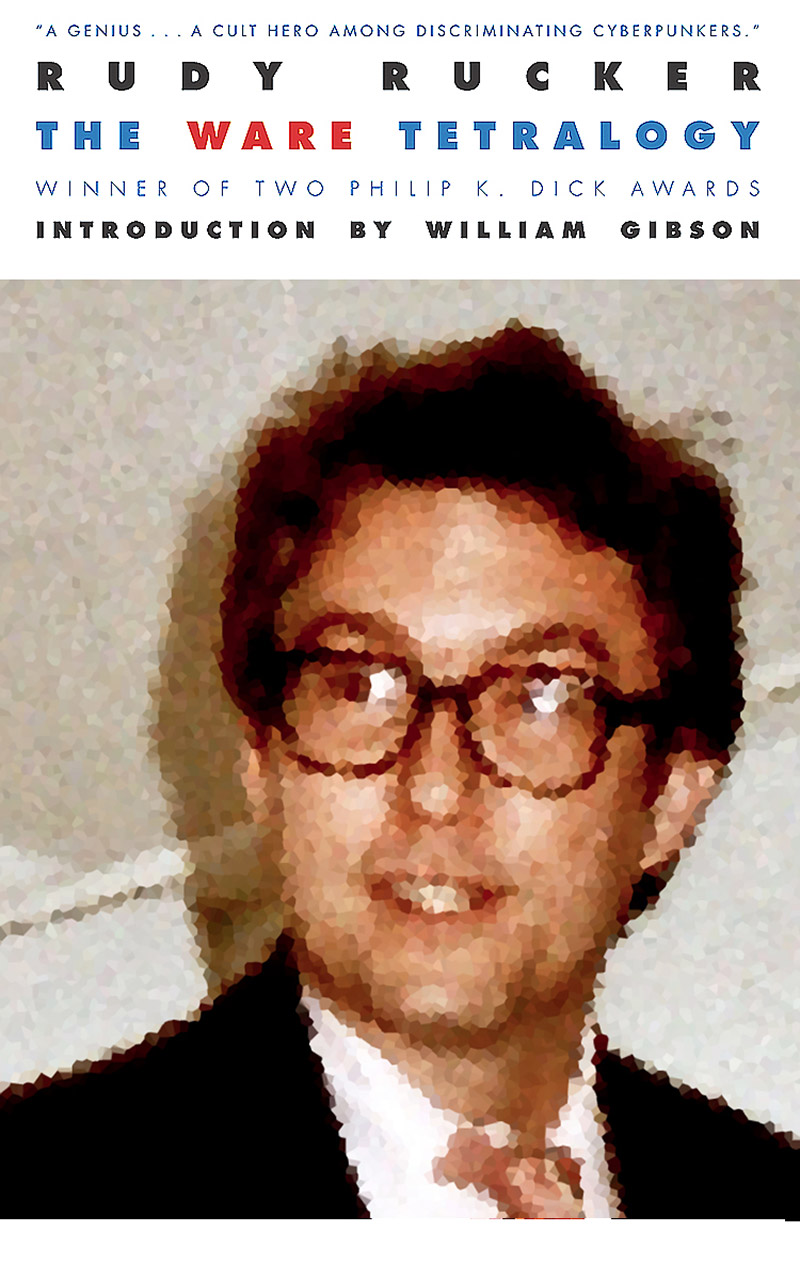 Prime Books has had my Ware Tetralogy in print as a paperback for years, but now I agreed with them that I'd be in charge of the ebook. With Prime's permission I used their cover design, but I changed the art. It's a crystallized image of me making my acceptance speech in Manhattan, when I got the first P. K. Dick Award ever for Software.
In 2010, intoxicated by the heady rhetoric of Cory Doctorow, I released a free Creative Commons edition of the Ware Tetralogy. It's still out there, too. But at this point I'd rather you bought the ebook from me!
As it happened, getting my new commercial edition on Amazon was a little hard, as it turned out some scumbag pirate was selling my CC edition online. But I wheenked and wheenked till Amazon got the picture. Dog eat dog.
While I was doing my marketplace thing, I put a wide range of my ebook editions onto Kindle, B&N, Apple iBook, and Google Play. I post most of these by directly uploading my EPUB ebook files to the various online retailers, that way I get the best royalty. As it's hard to put a title on Apple Books if you're not Mac user, I use the excellent Draft2Digital site as a middle-man for that. If you're just starting out with ebook publishing, you might want to keep it simple and use Draft2Digital to put your books online at all the sites (except for Google Play Books, whom you have to approach directly.)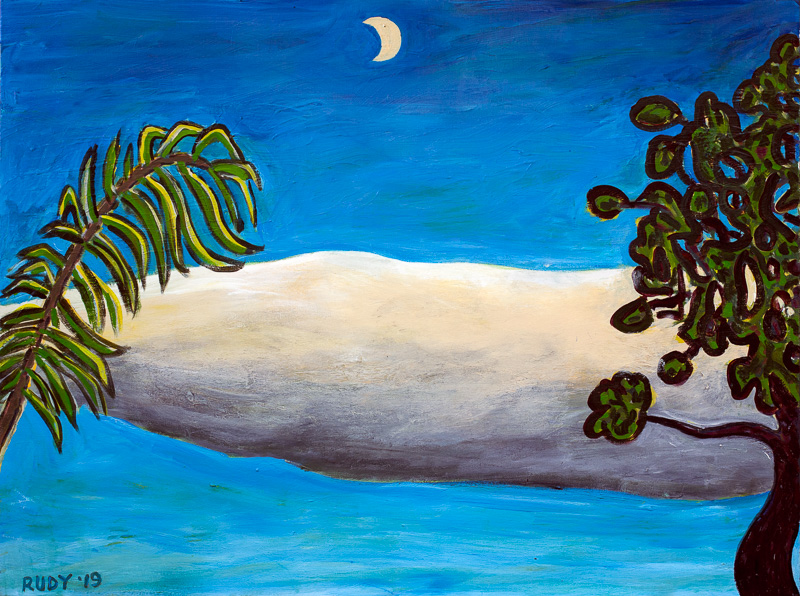 "Moonrise" acrylic on canvas, March, 2019, 40" x 30". Click for a larger version of the painting.
This painting, "Moonrise," is based on a photo that I took back in February, 2019, shown below.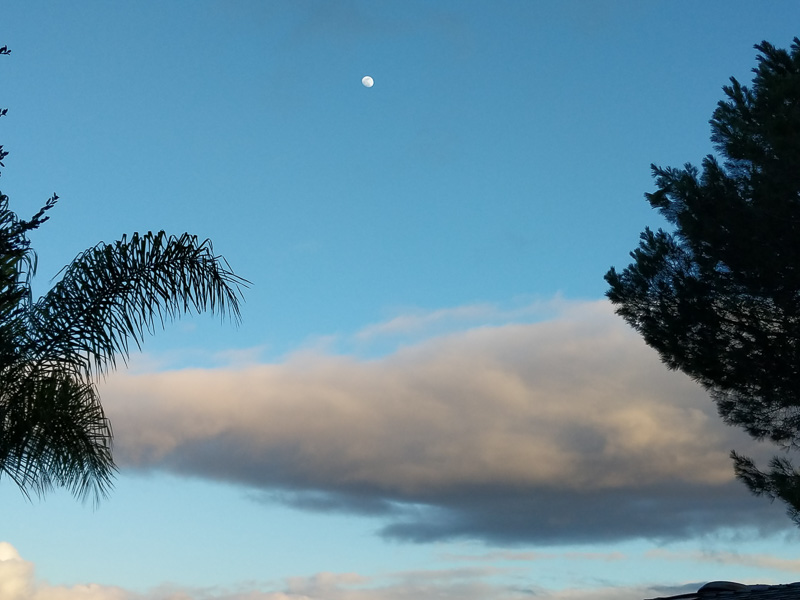 The cloud made me think of an arm. And I liked the shapes of the palm leaves and the pine tree. I did a lot of layers on the painting, trying to get some of the luminous coloring that the photo had.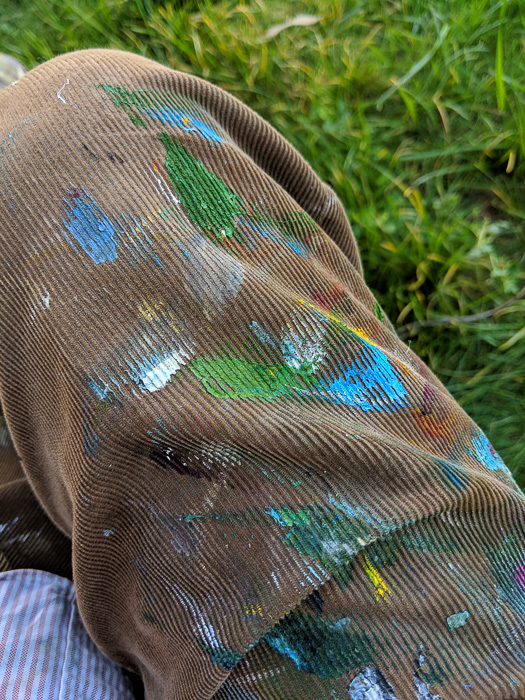 Got a lot of paint on my corduroys.  Sometimes people want to buy authentic art-paint-spotted clothes. A step up from jeans with holes…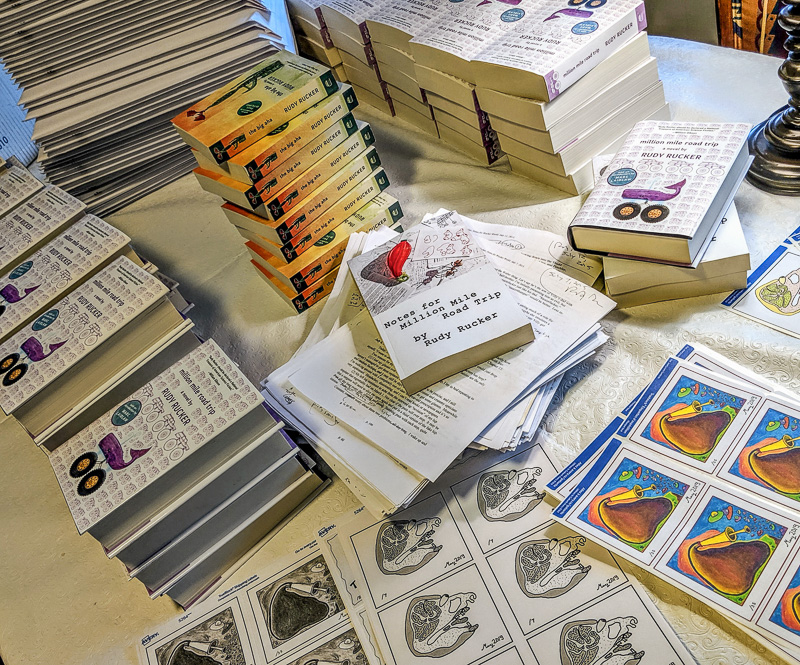 And right now I'm busy mailing out the rewards for the Million Mile Road Trip Kickstarter campaign.
Many thanks to my supporters and, what the heck, I might as well list their illustrious names here, as well as listing them on the Million Mile Road Trip book page.
AgentKaz, Alan Robson, Albert Henry Tyson, Alex Baxter, Andrew Baker, Andrew Ward, Andy Agnew, Aris Alissandrakis, Arthur Murphy, Beat Suter, Benet Devereux, Benjamin H Henry, Bob Hearn, Bob Vernon, Brian Dysart, Bruce Evans, Carl Z, Chad Bowden, chris cavanagh, Chris Day, Chris Lindsay, Chris McLaren, Chris van Gorder, Cliff Winnig, Colin Alevras, Daniel Monson, Dannen Harris, Darwin Engwer, Dave Holets, David A Bouvier, David Good, David H. Adler, David Kirkpatrick, David Rains, David Schutt, Derek Bosch, Don Tardiff, Doug Bissell, Doug Churchman, Dr. Ralph J. Garono, Eddie Churchill, Edward Winston Bear, Edwin Metselaar, Emilio Rojas, Erik Biever, Erik Sowa, ewelina feinberg, Fraser Lovatt, Gabriel McCann, Gary Dean Bunker, George & Hedvig in Budapest, Greg Deocampo, Greg Goddard, Gregory J Scheckler, Ian Chung, Jaap van Poelgeest, James Ramsay, Jeff Aldrich, Jeffrey T. Palmer, Jim Anderson, Jim Cavera, Joe Sislow, John Monroe, John Paul Spain, John W. Fenner, John Winkelman, Jonas Karlsson, Jonathan Hamlow, Jonathan Korman, K. Clark, Karen Marcelo, Karl Reinsch, Karl-Arthur Arlamovsky, Ken Nickerson, Kevin Maroney, Larry Roberts, Leah A. Fenner, Lee Fisher, Lorenzo Cipparrone, M. Cox, Madeleine Shepherd, Mark Anderson, Mark Martinez, Massimiliano Maffini, Michael Becker, Michael Weiss, M-Jo Baker, None, Patricia Miller, Patrick Edmondson, pete23, Peter Yeates, Petri Kanerva, Philip Rubin, Rafael Laguna de la Vera, Raja, Julie, and Jason, Ramon Cahenzli, Ray Cornwall, Raymond MacCauley, Richard Ohnemus, Rick Floyd, Robert Messick, Roderick Bartlett, Ronald Pottol, Scott G Lewis, Scott Jon Siegel, Simon Travis, Space Captain Hellers, The Hackers Conference, Thomas Lockney, Tim Conkling, Timothy M. Maroney, Timothy Wyitt Carlile, Todd Fincannon, Vasyl, Walter Croft, Wayne Sumter, WhatBear, William Harris, and Yoshio Kobayashi.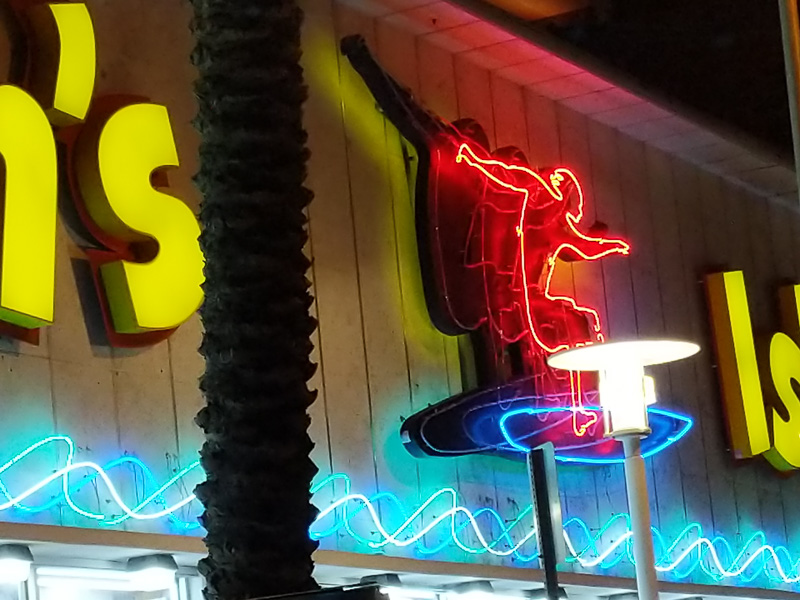 Thanks, all, and may ye hang ten forevermore.