All in print. Click covers for individual book pages.

Turing & Burroughs — Intro by Eileen Gunn
Mathematicians in Love — Intro by Gregory Benford
Saucer Wisdom — Intro by Bruce Sterling
White Light — Intro by John Shirley
Million Mile Road Trip — Intro by Marc Laidlaw
The Big Aha — Intro by Paul Di Filippo
Spacetime Donuts — Intro by Richard Kadrey
Jim and the Flims — Intro by Cory Doctorow
The Sex Sphere — Intro by Annalee Newitz
The Secret of Life — Intro by Kim Stanley Robinson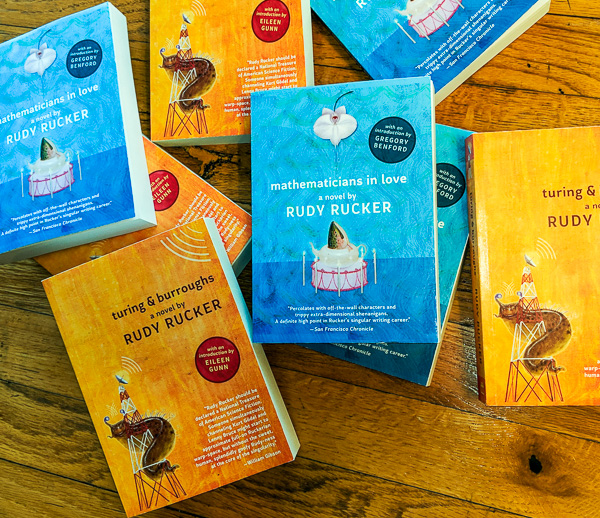 These are beautifully made matching editions, in a convenient handheld format.
All new covers by Bill Carman, with new introductions, and afterwords by the author!
Night Shade Launch Announcement
Here's some exciting news: we have a ten-book deal with the incomparable SF legend Rudy Rucker! We'll be reissuing a number of novels from years past, publishing a few novels that had only been available through Rucker' Transreal Books, and—for the cherry on top—releasing a brand new novel, Million Mile Road Trip.
Rucker is an award-winning writer and a mathematician known for a unique take on science fiction, especially bio-technology and the possibilities that developing software and wetware hold for the future. His writing, including more than twenty novels, frequently highlights a quirky sense of humor and penchant for the unusual (Turing & Burroughs, a novel that fictionalizes a relationship between Alan Turing and William S. Burroughs, turns both into giant slugs; his new novel, Million Mile Road Trip, is an On The Road-esque science fiction take on counterculture featuring a flying station wagon with monster truck tires and electric guitars that grow on vines).
Rucker was a pivotal figure in the early cyberpunk scene alongside John Shirley, Bruce Sterling, and William Gibson. That group carved out a influential and unique take on science fiction that drew comparisons to Beat Generation writers like Allen Ginsberg, William S. Burroughs, and Jack Kerouac (Rucker himself has pointed out strong similarities between the two groups, penning an essay in which he suggests his own analog from the beat writers would be Burroughs, who shares his "scientific streak and an antic sense of humor").
Rucker also coined the term "transrealism" to describe science fiction writing that incorporates autobiographical elements into the storytelling. Much of Rudy's writing qualifies; several novels go so far as to include the author himself as a main character, and some of his work was originally marketed as non-fiction in a tongue-and-cheek nod to the grey line between fact and fiction.
Initiated by Jeremy Lassen. Acquired, edited, and produced by Cory Allyn with Oren Eades.
Cover Art by Bill Carman, Cover Design by Claudia Noble.
Page last updated Dec29, 2019.