I haven't been blogging much lately. I've been pouring most of my energy into my novel Return to the Hollow Earth, which is a sequel to my 1990 The Hollow Earth. Really rockin' on the book these days, and I think I see the ending now. Might finish this summer. At that time I might Kickstart/self-pub it, just for the joy of seeing it out there…or I'll suffer through that tired old hat-in-hand begging-publishers thing, followed by, if someone goes for it, a two or three year wait for the book to come out.
I have ten books in the pipeline at Night Shade just now, nine reprints plus my most recent novel Million Mile Road Trip, which I finished writing in July, 2017—it's likely to come out in late 2018 or early 2019.
Anyway, let's get into the photos! As I mentioned, I'm doing a lot of my shooting with my Pixel 2 camera these days. Having less glass in the lens, it's inevitably inferior to the Fujifilm X100T digital that I used for the last few years but, as they say, the "best" camera is the one you have with you.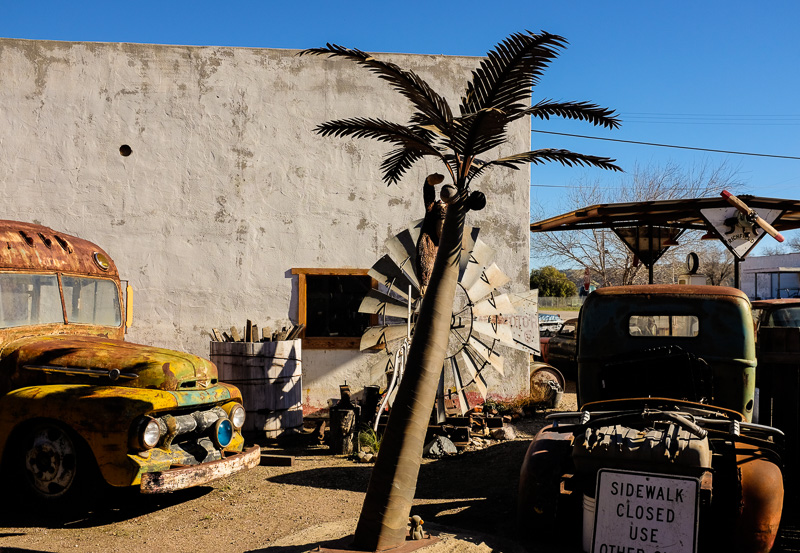 We were down in Santa Barbara for a family gathering last week, and one of the guys, my nephew-in-law, I guess you'd call him, Scott Bates, urged us to stop in Bradley, California, just off Rt. 101 between Paso Robles and King City. The old two-lane 101 went through Bradley, and it had about seven gas stations, but now that the town has been by-passed for years, it's kind of dead. Like a diorama of the 1940s.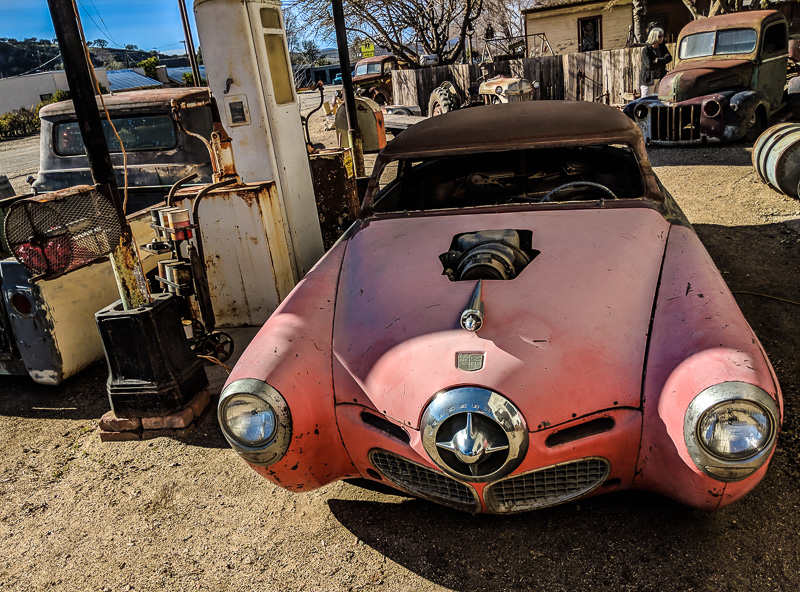 But! We found this amazing enterprise called Rader Rods Garage, or Rustamongus, run by Jimmy Rader. He drifted out of the garage after Sylvia and I had been poking around for about ten minutes. One of his pet projects is a Studebaker…it's actually assembled from three different Studebakers, and has the loveliest pink color on the front half.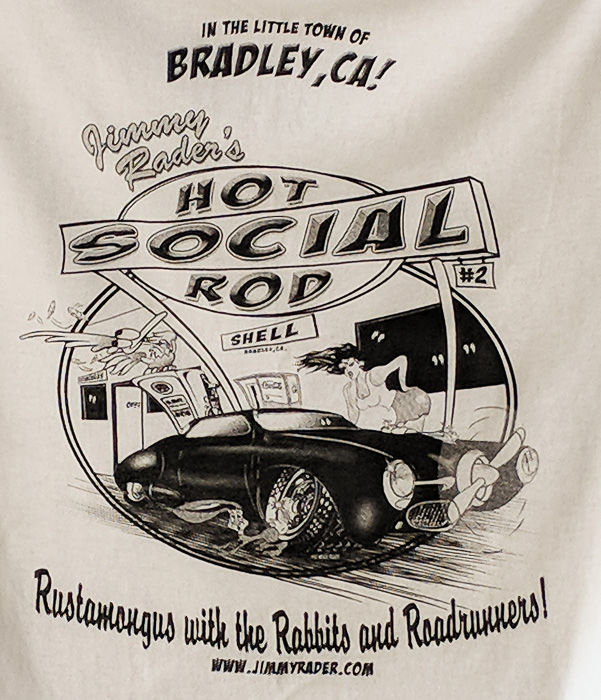 You can see Jimmy's transcendent vision for the Studebaker's apotheosis on a T-shirt that he sells a his annual "Hot Rod Social" in late September. Note the propeller on the front of the Studie. He has the propeller all set. Along with the motorcycle that has wooden Model T wheels.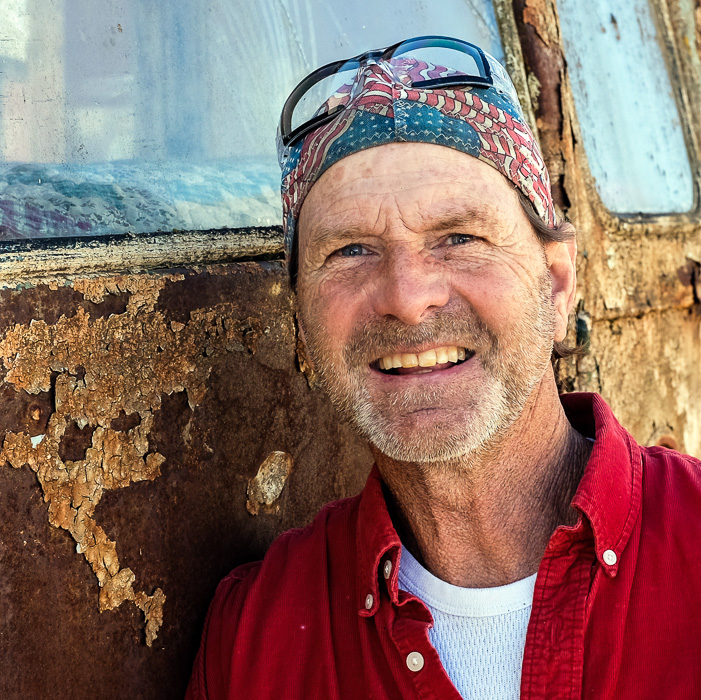 Jimmy is working on all kinds of projects, but I assured him that, as far as I was concerned, his work is already at a very high peak of perfection.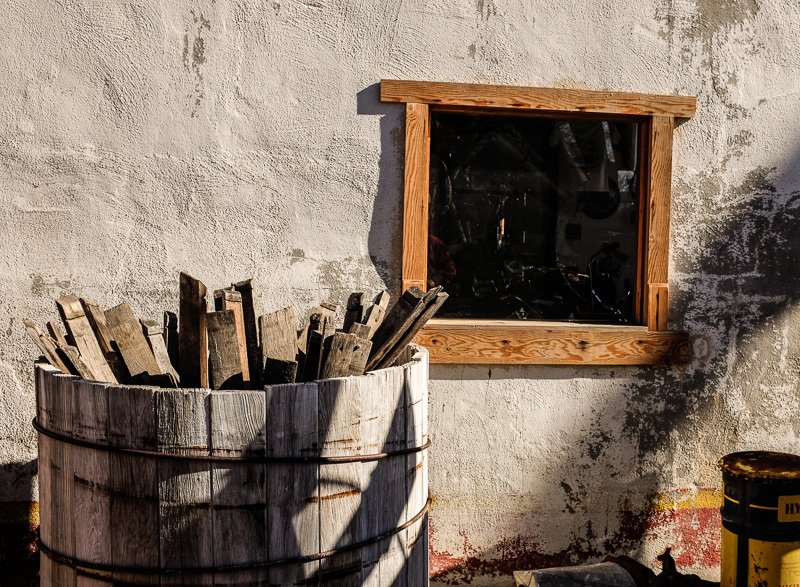 Great light out there in the flat red land, heavily yellow sun.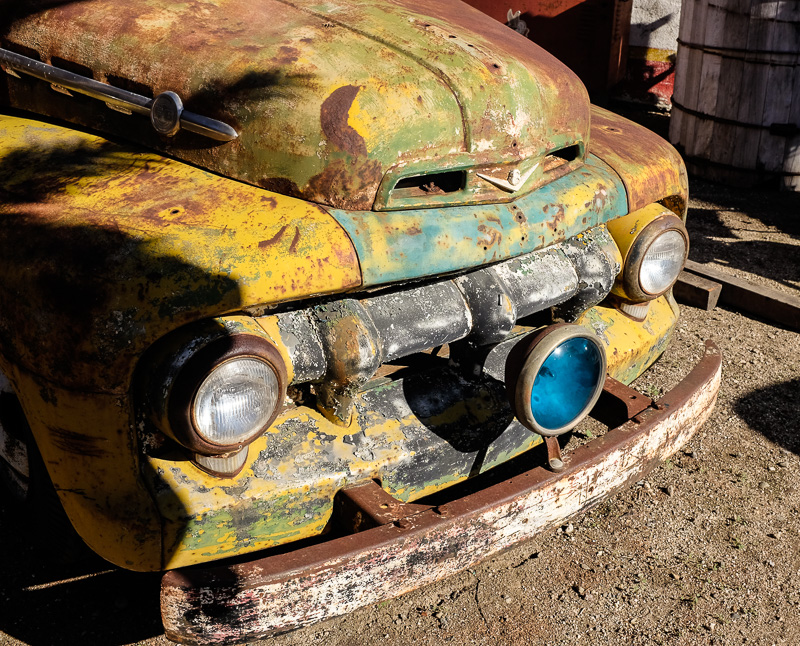 Dig the teeth on this old bus. I've always been crazy about flaking paint. Such fabu gnarl. All the things that Nature gives us, just for free, with no extra effort needed.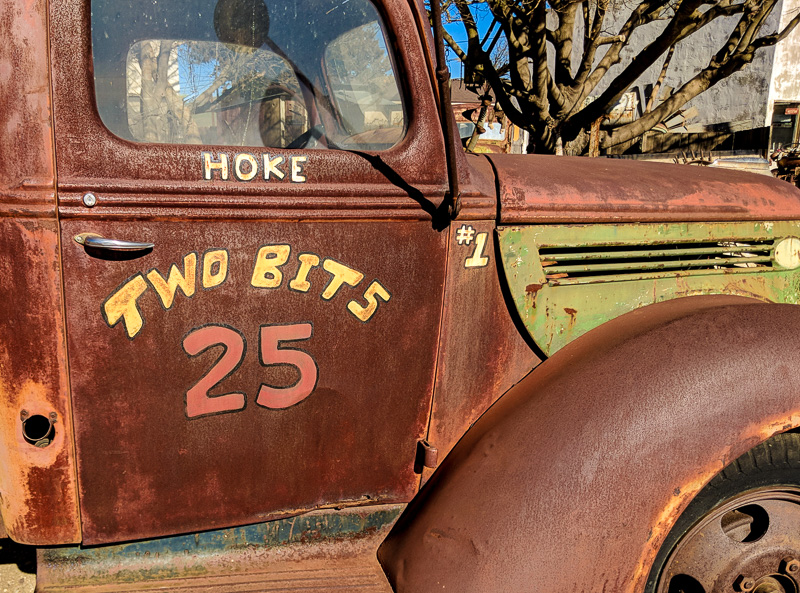 And this rod, too much. I bet Hoke is a driver. Perfect name. My big brother was into hot-rods, he subscribed to car magazines, and fixed up two Model As and a Model T while we were kids. I'd thought Jimmy Rader might know about Robert Williams and his hot rod art, but he hadn't heard of him. A natural-born hot-rodder in the purest form.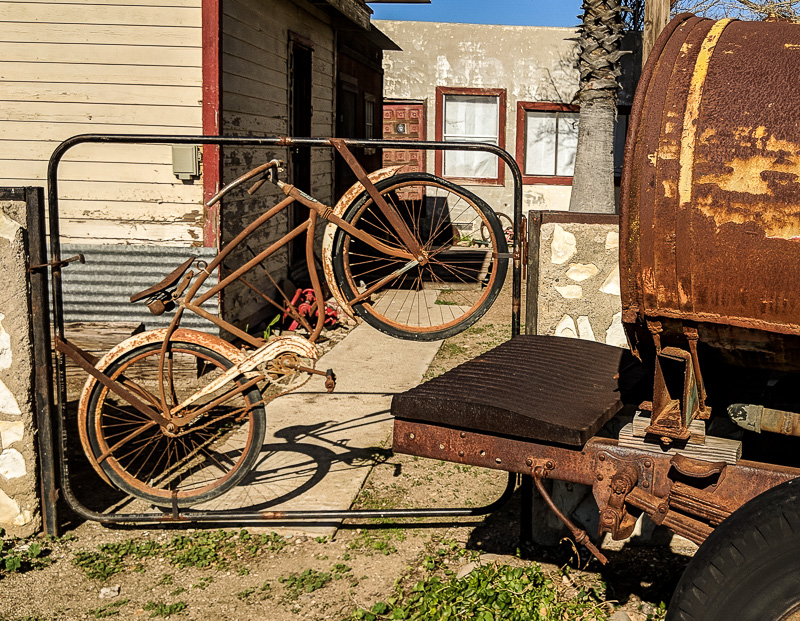 Jimmy said he grew up in Alviso on the north side of San Jose, at the end of 1st Street, at the bottom of the San Francisco Bay. Even now Alviso is somewhat Bradley-like. Empty and quiet. A holy blank space in the heart of Silicon Valley.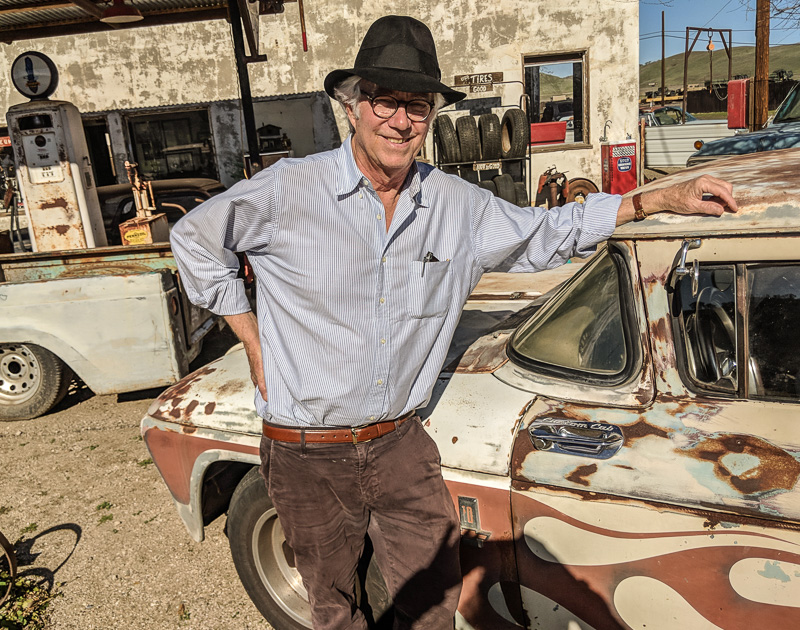 Back in 1972, I flamed our Ford, and was reminded of it by the flames on this, Jimmy's regular driving rig.

The train track runs by the edge of town, and for whatever reason a long freight train with National Guard gear was taking a break. Enlightenment at the ass-end of nowhere. (My theme today?)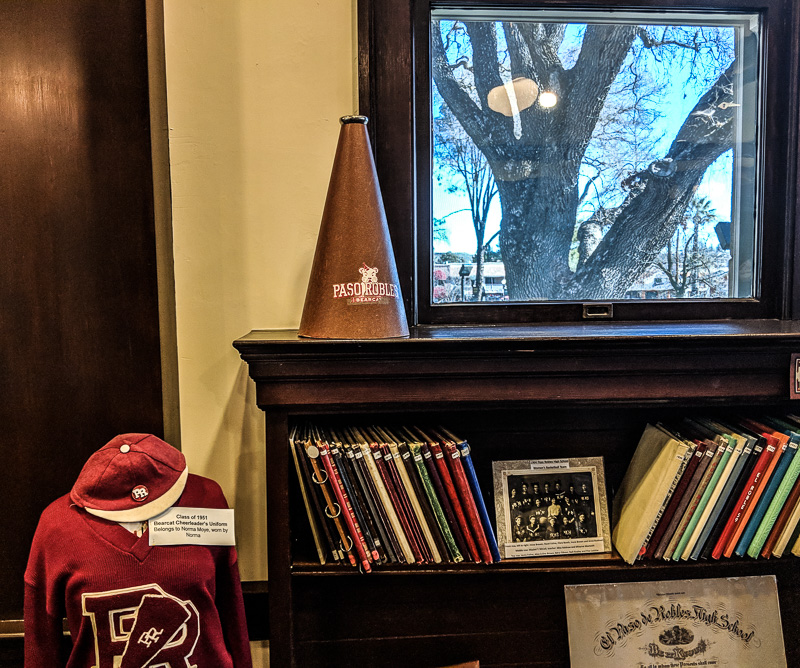 We stopped in Paso Robles, too—they have a nice old town square on the west side of 101. "Pass of the Oaks." A tiny historical museum is in an old building in the square, and one of the displays was memorabilia of Paso Robles High School, including cheerleading uniforms. I dig this, with the timeless duds and the oak in the window outside.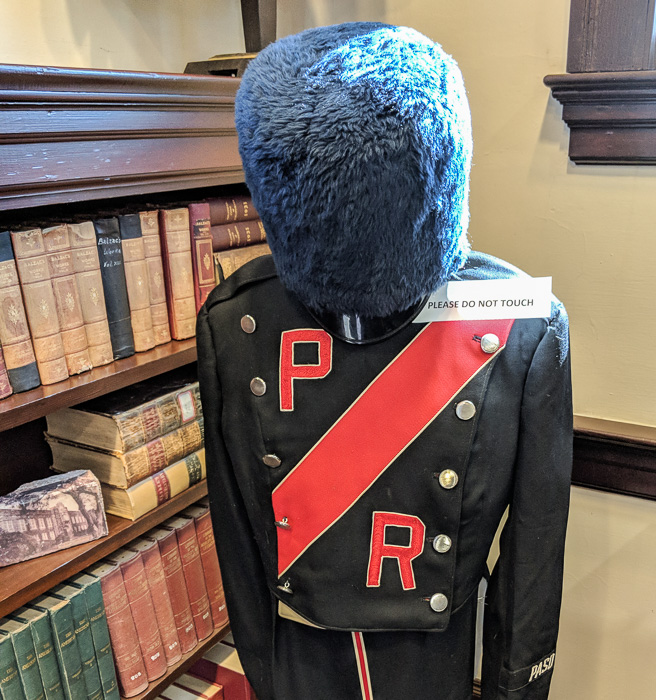 It's always a little cheap to hook a photo onto some printed words, but what the heck. And imagine that the furry "shako" hat is this being's head.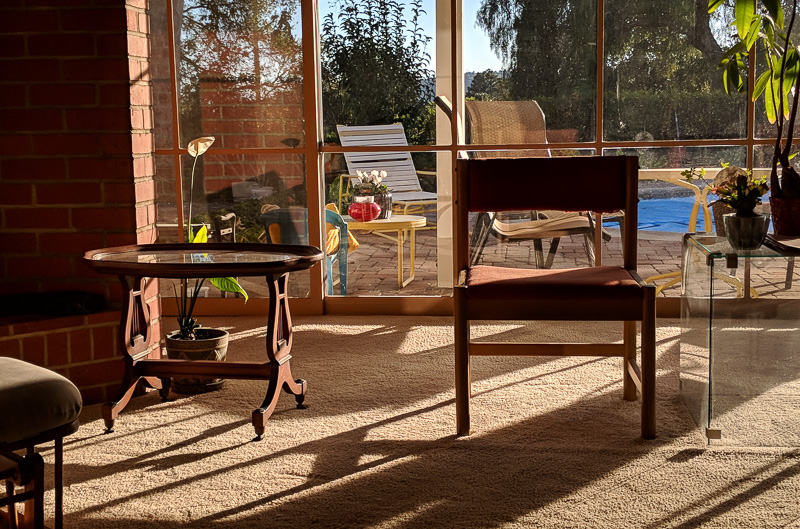 Santa Barbara is, like, really California. Compared to them, the SF Bay Area is in the northeast. Classic scene in Sylvia's aunt's house here, that saturated morning light, the pool outside, the Scandinavian furniture, the leafy plant. Like a David Hockney painting.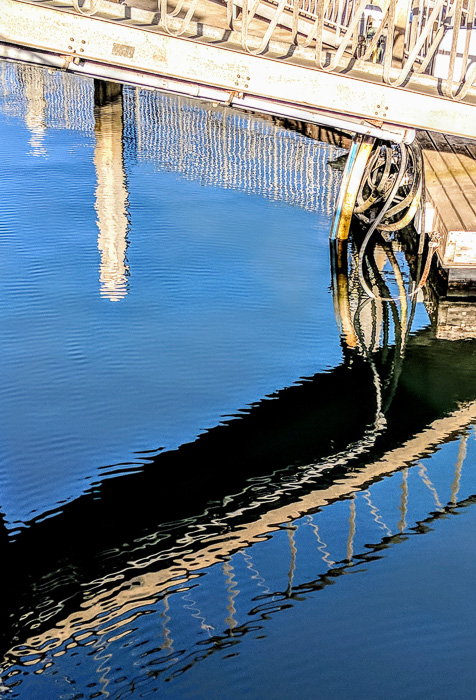 The Santa Barbara harbor is really packed. And you know I went for the ripple jitter in that dark green water.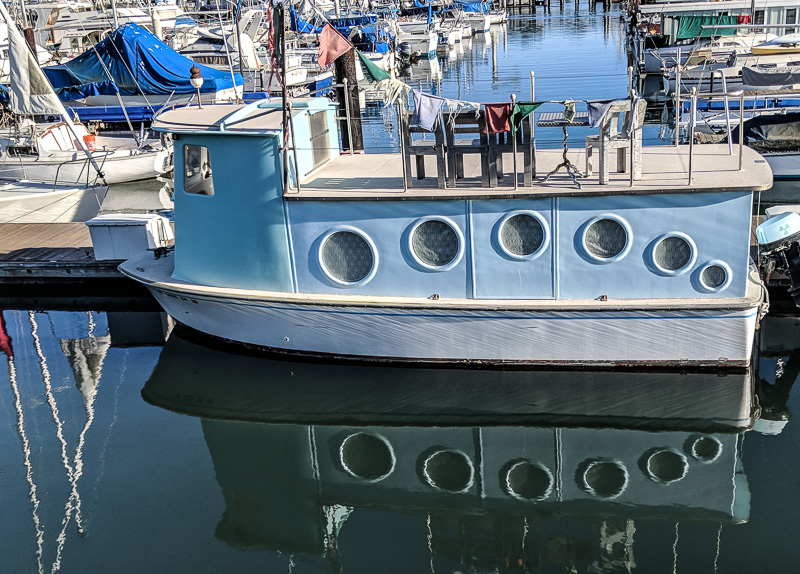 I always wonder if I could find a way to live in a house boat. With bubble portholes in ascending sizes, yeah. The damp could be too much.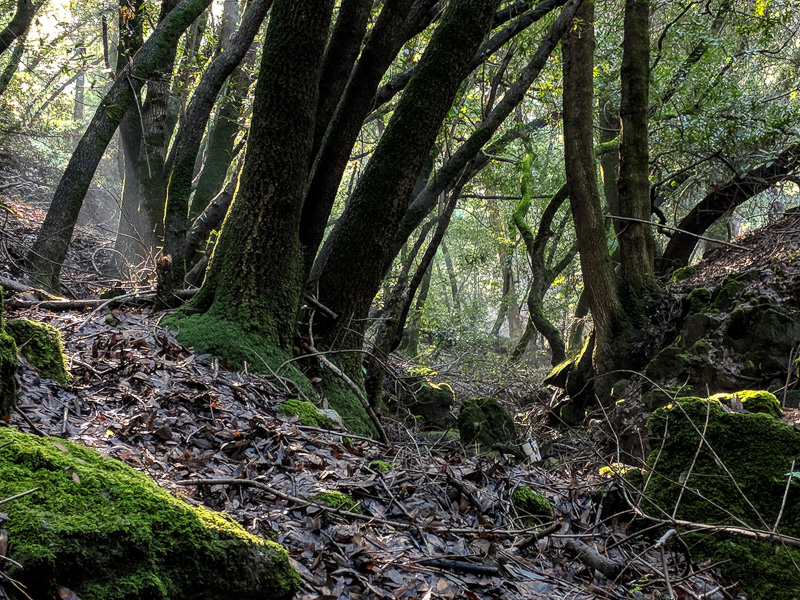 I took a great hike in the woods a couple of weeks ago, hiked up along the bed of a dry (well, damp) stream not far from our house. If I stay in for too many weeks, I worry I might never hike again. These days I like to use two hiking sticks, whether in the mountaineer or the geezer sense.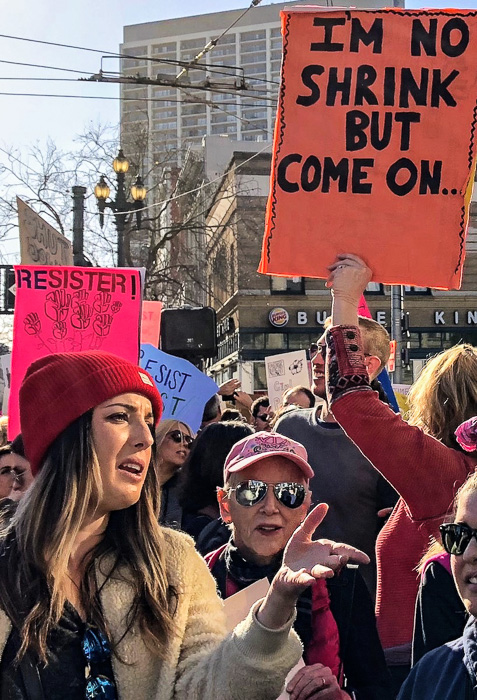 Sylvia and I went out for the San Francisco Women's March with our daughter-in-law and granddaughter. The signs were great, as in the photo above, taken by Sylvia. It was nice to be with all the women…they seemed happy, confident, and energized by each other's presence. It felt…safe.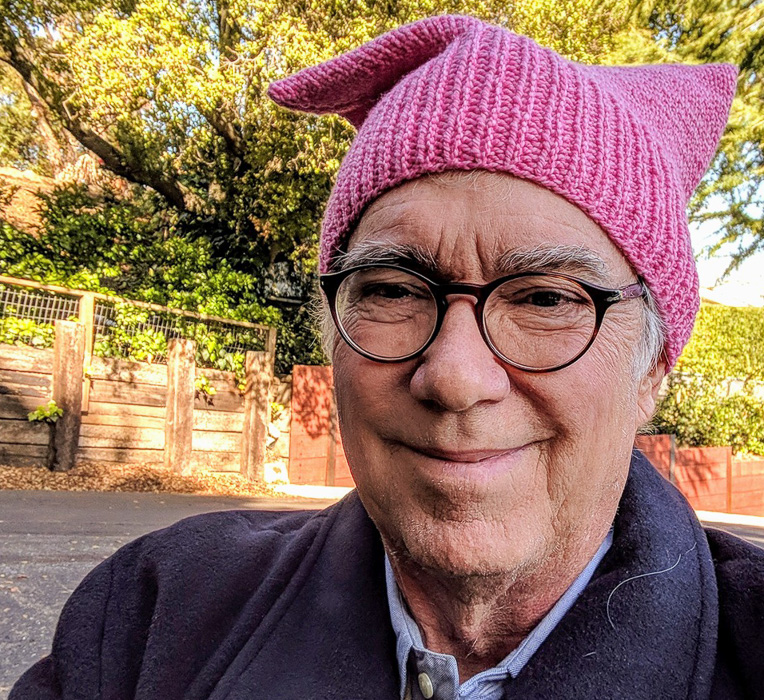 Sylvia had knit an extra pussy hat, so I got to wear it. As a fashion accent, I kept one ear flipped down, in the style of the cartoon pigs I like to draw.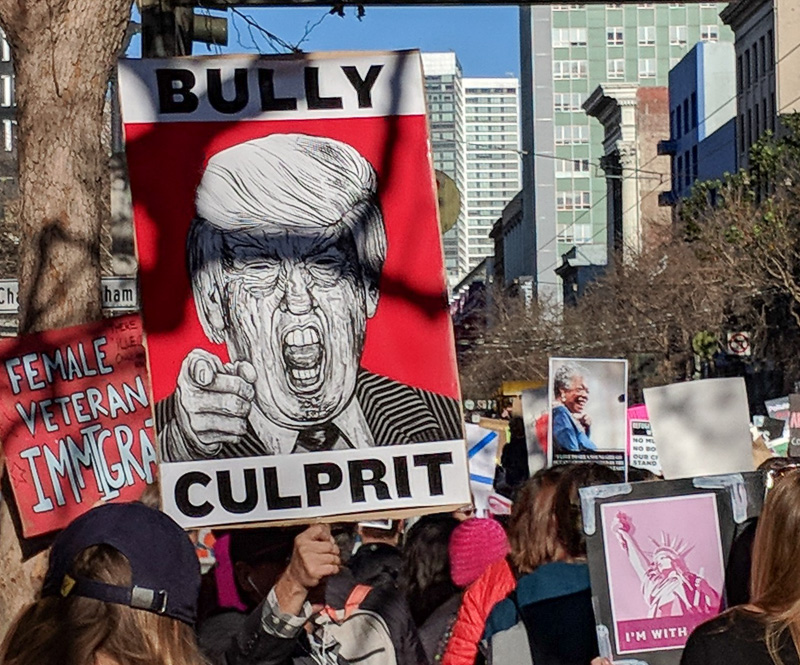 Such a wonderfully ugly/scary drawing of that man.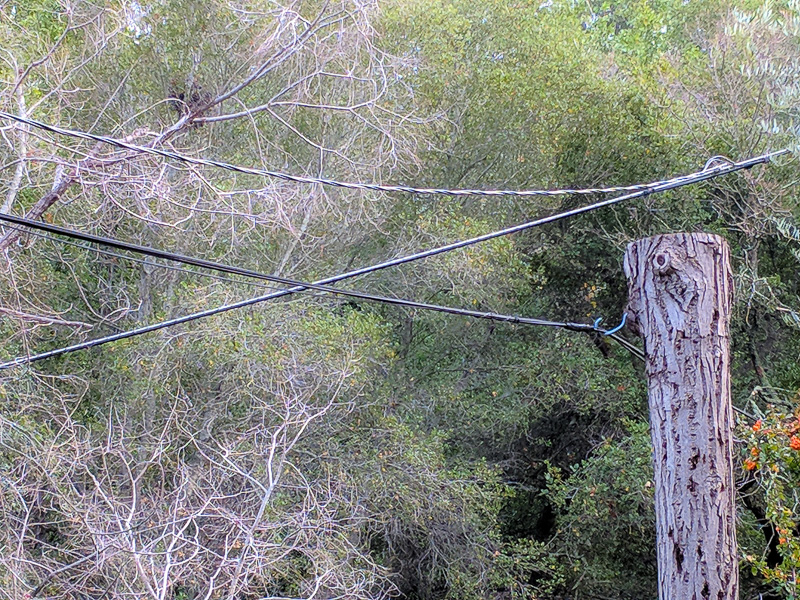 Stepping out the back door one evening, lovely mist against a ganzfeld pattern of twigs. Good to have that pocket phone camera, times like this.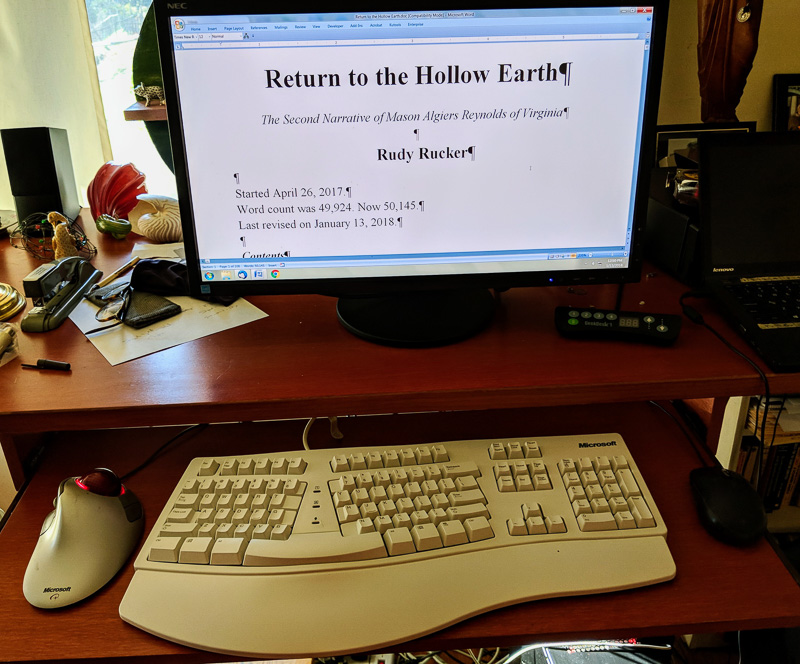 I've used the same kind of keyboard for about 25 years, it's the Microsoft Natural Elite Ergonomic. You used to get them free when you bought a computer, and I always had an extra. But this fall my last one started skipping certain key presses, so I took apart to clean it…and was really bewildered by what I found inside…a floppy mat of translucent plastic, like a flat alien jellyfish, and I didn't put it back right, and then, for awhile I settled for a newer Microsoft keyboard, but the keys weren't clicky enough for me and not in the right spots, and already I'm putting up with an unpleasantly modern keyboard on my Thinkpad, so I went online to eBay and found this beauty at some shop in New Hampshire that was primarily devoted to selling "Scandinavian Housewares." Nearly $100, but it was in-the-box new. And I'm so glad to have it…with that straight no-mind channel from my brain through my millions-of-words-trained fingers to the screen.
Note cover page of Return to the Hollow Earth. Yeah, baby!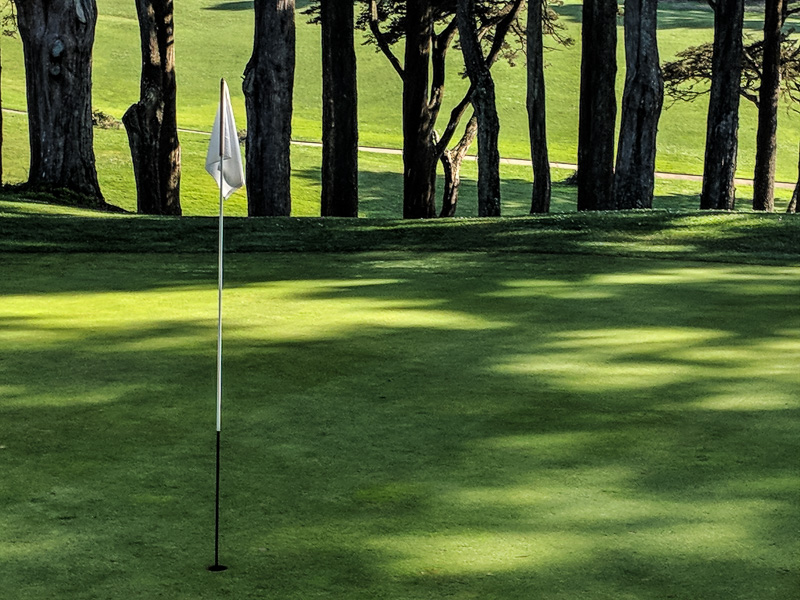 One day Sylvia and I went up to the Legion of Honor art museum in SF, saw some decent Klimts, not his very best, but even so…and walked across the street on a fairly deserted golf course with its awesome view down off the cliffs to the waters of the Golden Gate. Spring's here.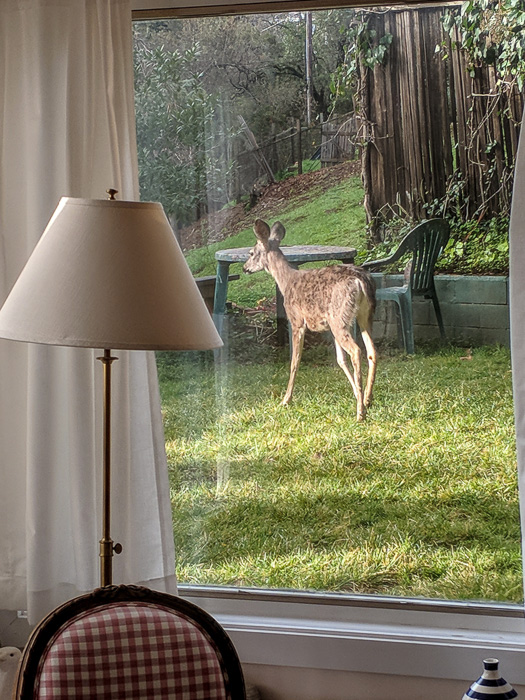 Saw a deer out my bedroom window the other day. They eat our flowers, but it's nice having animals around. Once our friend Leon Marvell was visiting from Australia, and he was very excited about seeing deer on the hoof, mirroring our excitement about seeing loose kangaroos down there. I never did see enough kangaroos, though. Need to go back.
"Ratfink Pollock" acrylic on canvas, January, 2018, 24" x 18". Click for a larger version of the painting.
I started this painting by dripping paint that I had left over from Shrig and Krakens. Then I started thinking about Jackson Pollock and I wanted to see if I could start to emulate his effects. I watched some videos of him for help. It's hard to get just the right thickness to the paint so that it dribbles off a brush or a stick or a rag in an interesting way. Eventually I had some white spaces left over among the thicket of drips, so I made those into eyes. And then I noticed two eyes together that had a space under them like a mouth. So I made that a mouth and went for the Big Daddy Roth cartoon hotrod-art Ratfink look. To tie it together, I added one more thick black drippy line. And to liven up the black line, I flipped yellow droplets all along it.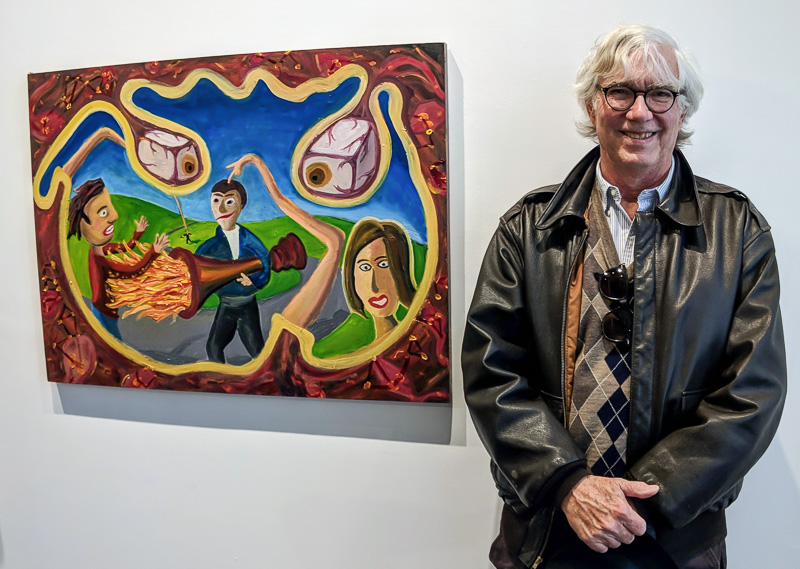 I went by the Luggage Store gallery in SF to pick up my painting A Skugger's Point of View, where it had been in a show. As always you can find out more about my art on my Paintings page.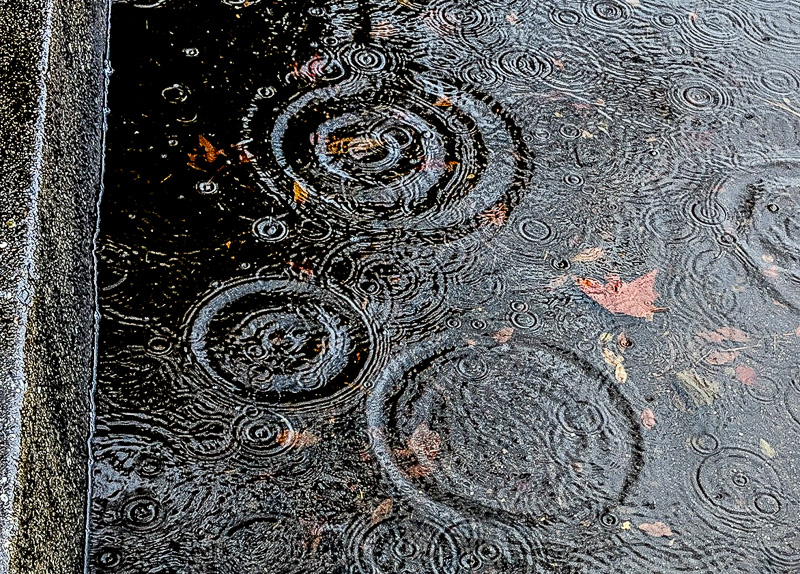 Was great to have one or two days of heavy rain in early January. I'm wild about the circles that rain drops make. So perfect, so quick. Nature's analog computation, eternally doing it. People who imagine successfully "emulating" all of Nature inside some kind of manmade computer are so totally missing the point. It's here, it's done, it's working—relax and enjoy. And abandon all hope of control.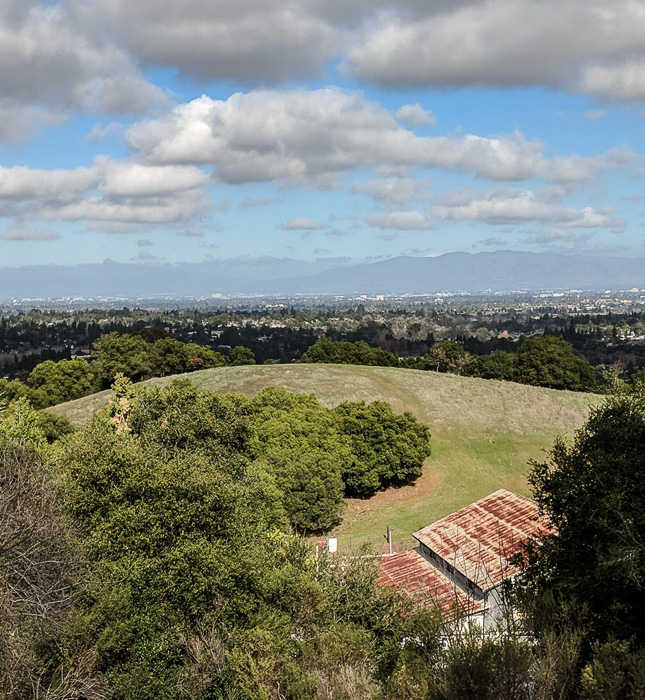 We call this the "Donkey Hill," it's near where we live. For the last thirty or forty years, there were always two donkeys here, a new pair every few years, walking around cropping the vegetation, and then somebody complained about the donkeys, said they weren't being properly cared for, just hee-hawing in rolling fields like that, and the landowners were cowed into sending the donkeys to a farm. No comment.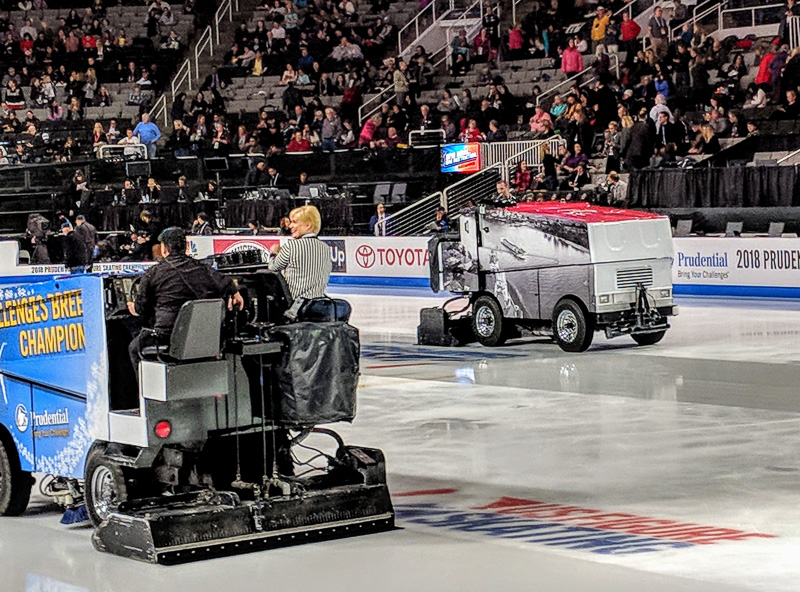 After we saw the movie I, Tonya, I got all interested in figure-skating, from watching news footage of the actual Tonya in the credits, and when I heard the US Figure Skating Championships would be right here at the Sharks arena in San Jose, I went online and got a couple of tickets, fairly pricey, but in the first few rows, and we watched, it was cool, especially the five top-seeded contenders. I was surprised that nearly every single one of the ten lower-seeded contenders fell down on at least one jump. And that's all they ever do, is to practice those jumps. Just shows you how hard it is.
After the show we went and saw the Benton St. Blues Band at the Po' Boy's Bistro nearby. Great band, and the food was okay.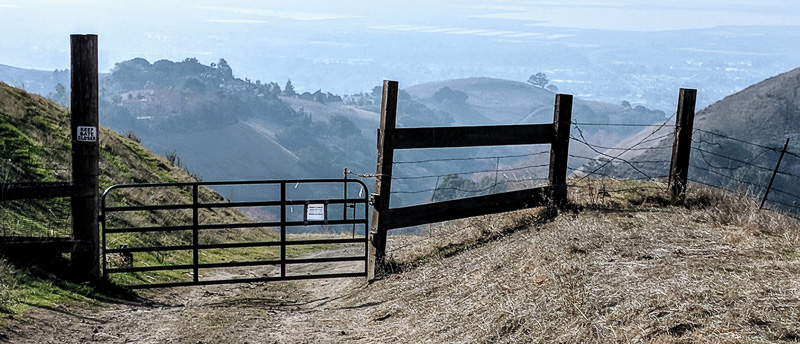 Hiking in the Diablo Mountains near San Jose, the Levin park, plenty of cows around, dig this long gate panorama, such nice rhythm.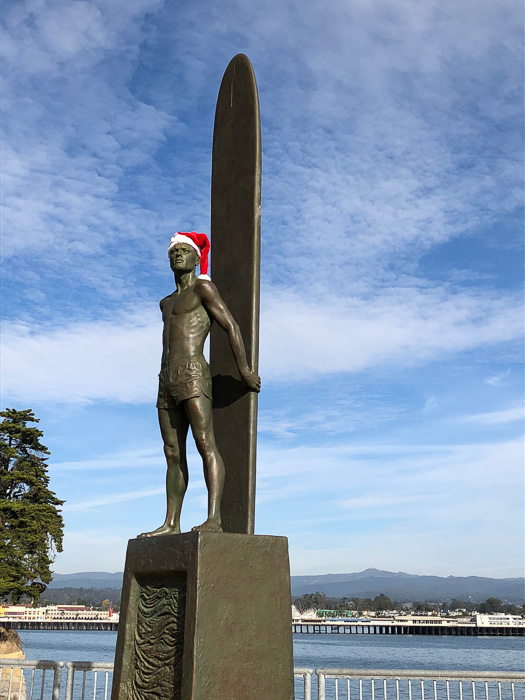 Before Christmas, Sylvia got this shot of the Santa Cruz surfer statue with a Santa hat.
Did I post this image yet? It's the "Old Fire God" from an archeological site in Mexico. Saw other sculptures of this guy, and he always looks the same. I guess that's a fire pit on his back.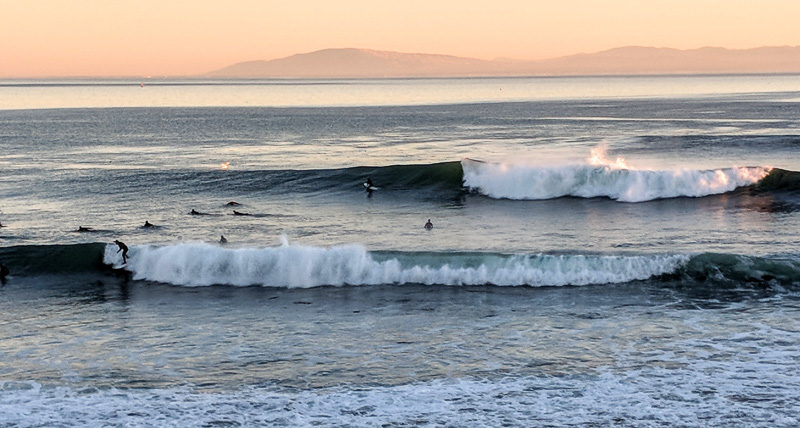 Another day in Cruz…near dusk, near Steamer's Lane, so perfect, the tubes. As the slogan read on the Last Whole Earth Catalog: "We don't have to get it together. It is together."
Sylvia and daughter Isabel near a good "healthy food" snack shack across the street from Steamer's Lane. Dig the gnarly stump, and the mist on the field.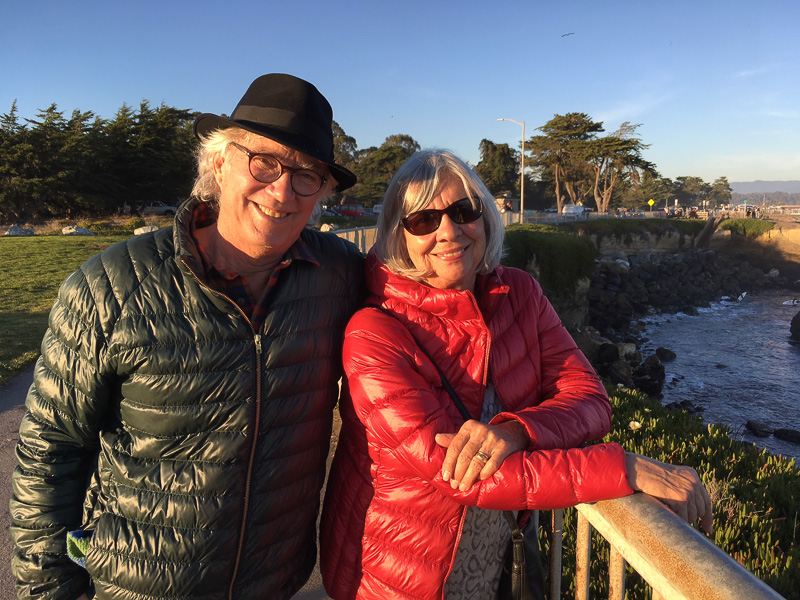 And a shot of Sylvia and me taken by Isabel. The golden hour of light.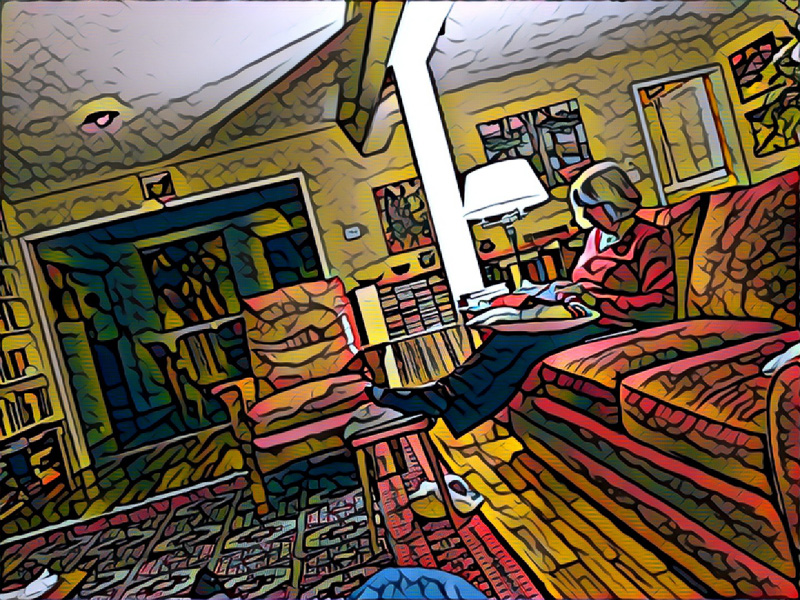 Shot of our cozy home, processed by the Pixma "cartoon" filter. See you later!