The Hollow Earth & Return to the Hollow Earth
by Rudy Rucker
2021 Edition
Two novels in one volume. 568 pages.
Paperback, Hardback, Kindle. Other Ebook Formats.
The 2021 omnibus edition supersedes all previous editions of the Hollow Earth novels.
We also have new 2021 editions of
The Hollow Earth and Return to the Hollow Earth.
And we have: Notes for Return to the Hollow Earth. 357 pages.
Paperback. Hardback. Kindle. Other Ebook Formats.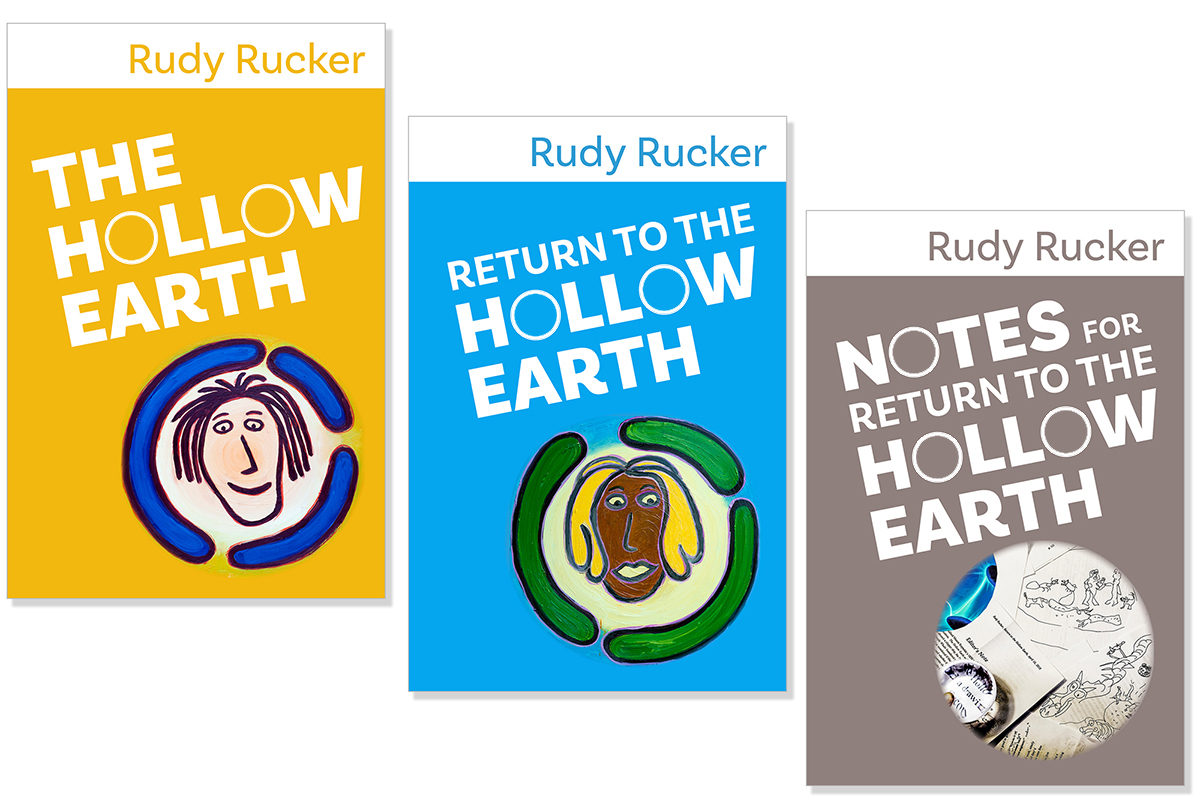 Video
Rudy pitches The Hollow Earth & Return to the Hollow Earth.
Reviews
Rucker never wants for new inventions... Irresistible.
— Washington Post Book World.
Jam-packed with Rucker's dada-gaga, aurora-borealism, and gargantuan playfulness. Rucker is one of my all-time favorite writers. He warms the cockles of my heart and fires up the little gray cells.
— Philip Jose Farmer.
Terrific... A thrilling-wonder sci-fi novel... Rucker's Poe is the most endearingly repulsive character I can recall having met in fiction.
— Fantasy & Science Fiction.
Edgar Allan Poe would have loved this book — and so will you!
— Robert Bloch, author of Psycho.
A craftily conceived adventure story, full of wonder, beauty and humor ... Goofily outlandish ... The Hollow Earth is a treat.
— San Francisco Chronicle.
I never doubted that Mr. Rucker knew the way, and I never lost interest in the plucky young Mason and the redoubtable if reprehensible Eddie Poe, who encounters in real life every one of the nightmares he has so memorably to paper.
— The New York Times Book Review.
It's more fun than anything I've read in I don't know how long, and it's certainly the reigning king of the 'hollow Earth' novels. Rucker has an enviable imagination, an astonishing ear for language, and a rare sense of proportion and humor. I wish books like this would come along more often.
— James P. Blaylock, author of The Digging Leviathan.
Rudy has written the Great American Science Fiction Novel.
— Marc Laidlaw, author of Kalifornia.
Rudy Rucker seldom repeats himself. Consequently, when Rucker does venture back to previously explored territory, you can be fairly confident that there's good reason. This is certainly true in the current case, as he returns, after nearly thirty years, to the steampunk milieu of his 1990 novel The Hollow Earth. … The two books co-exist quite harmoniously, despite the large gap of years twixt their composition. The blending of typical Ruckerian cosmological insanity with 19th-century mindsets proves to be a stimulating concoction. Toss in some time-travel frissons at the end, when some metafictional stagecraft happens, and you have a book that is dense with the kind of intellectual "eyeball kicks" for which Rucker is justly famous. It's a tribute to the wild-eyed tales of Poe and his peers that is also an up-to-the-minute 21st-century SF production.
— Paul Di Filippo in Locus
Summary of The Hollow Earth & Return to the Hollow Earth
Suppose Earth is hollow, like a tennis ball. And you're weightless in there! The wondrous Hollow Earth holds jungles, seas, native tribes, flying pigs, killer nautiluses, giant ants, and live flying saucers. Godlike sea cucumbers at the Hollow Earth's core illuminate the great spherical space with branching rays of pink light.
In The Hollow Earth, our young narrator Mason Reynolds leaves his farm, accomanied by Black Otha. He befriends the dissolute Edgar Allan Poe, and falls through a thousand-mile hole in the ice of Antarctica with Otha. Astounding adventures in the Hollow Earth ensue. Mason finds Seela, the love of his life. Mason, Seela and Poe make their way back to surface, but now Mason is Black. And then they encounter Poe's double.
Return to the Hollow Earth is also in the steampunk mode. Starging in Gold Rush San Francisco, Mason and his pregnant wife Seela embark on a return voyage to the Hollow Earth with Edgar Allan Poe, traversing a great maelstrom at the North Pole. The god-like sea cucumbers at the Earth's core have a startling plan. When Mason and Seela return to the Earth's surface, they're in modern day Santa Cruz, California.
For the 2021 edition I removed a few offensive racial epithets that were in the original version of The Hollow Earth.
Notes on Return to the Hollow Earth
Notes for Return to the Hollow Earth is the length of a novel, and includes about 40 illos, many in color, plus my writing notes over the year it took to write Return to the Hollow Earth. I'll print a limited edition of twenty-five color-illustrated hardbacks of the the Notes. I'll also print a black-and-white paperback edition, and maybe distribute an ebook version as well. And I have an online webpage version of Notes for Return to the Hollow Earth right here for you to browse, with color illos and working links.
Images
Shown below are some of my Hollow-Earth-related images that are discussed and reproduced in the Notes for Return to the Hollow Earth.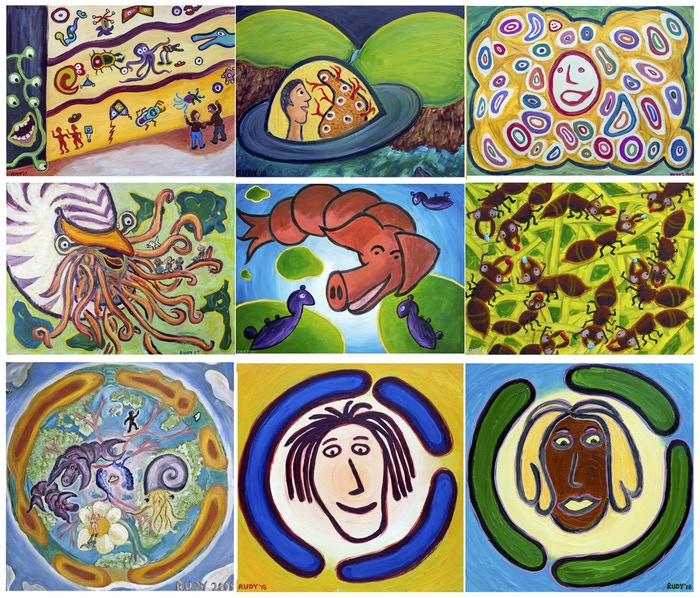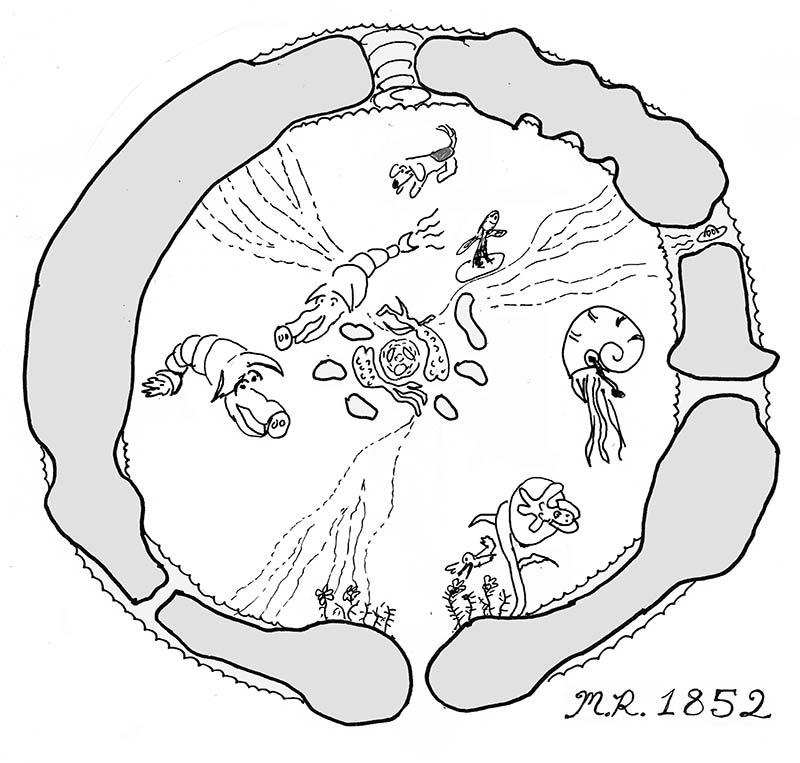 Mason Reynolds's map of the Hollow Earth.
Backstory
Here's three covers from earlier editons of The Hollow Earth.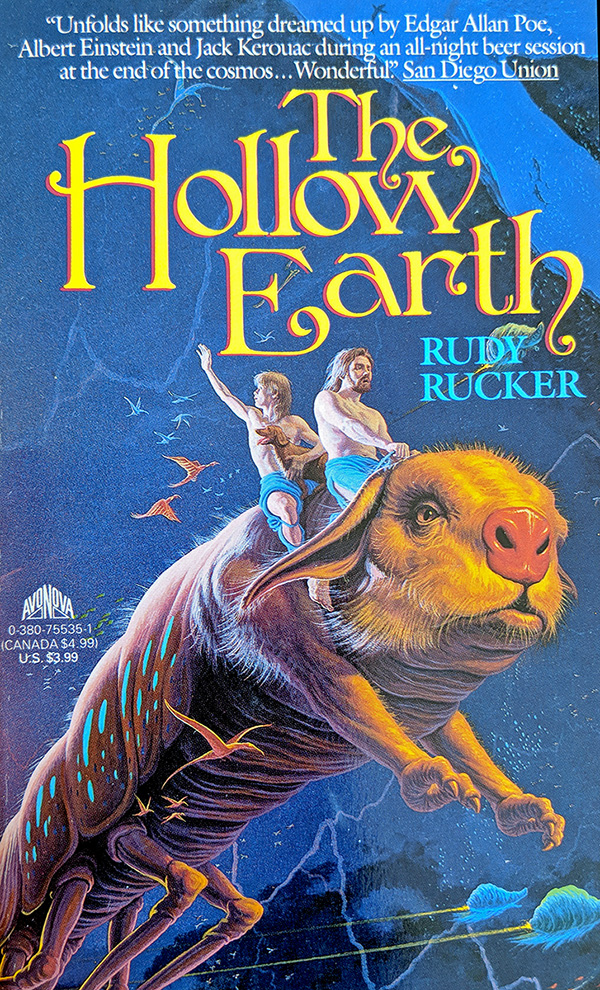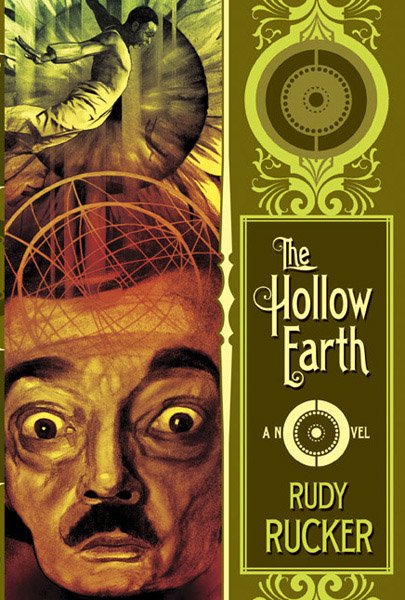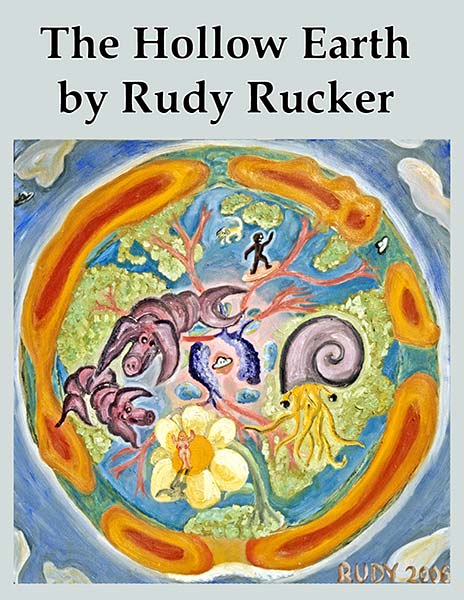 Morrow/Avon cover by Romas. Monkeybrain Books cover by John Picacio. Transreal Books cover by Rudy Rucker.
1st Edition, Hardback & Paperback, Avon Books, 1990. Out of print.
2nd Edition, Paperback, Monkeybrain Books, 2006. Out of print.
3nd Edition, Ebook, Transreal Books, 2013. Out of print.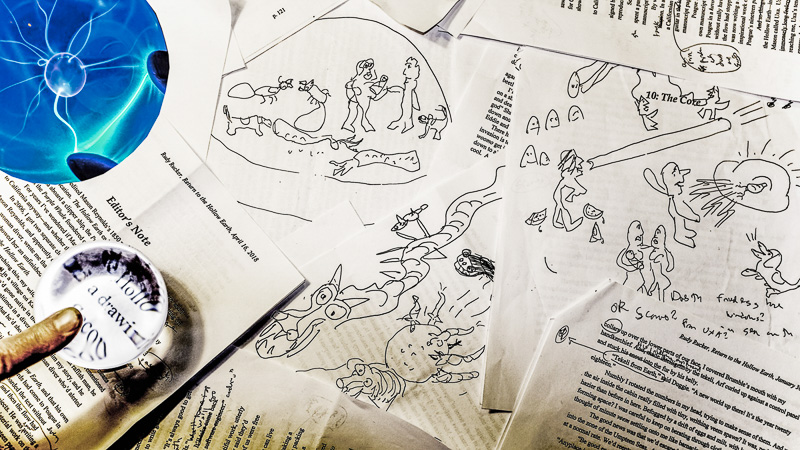 And for an account of how I came to write two Hollow Earth novels, see my blog post, "Writing Return to the Hollow Earth"
The new Hollow Earth covers designed by Georgia Rucker. Page last updated June 3, 2021.