[Updated June 25, 2017: The new publisher for the nine backlist novels mentioned in this post will be the Night Shade imprint of Skyhorse Books. Starting this week, print copies of these titles will no longer be produced or sold by Transreal Books. Transreal Books will continue to sell the ebook editions. The new Night Shade print editions will be appearing during the time frame 2018-2019.]
I found a publisher (name soon to be announced) for my latest novel, Million Mile Road Trip. The new publisher is acquiring the print rights for ten of my books in all, that is, rights for Million Mile Road Trip plus rights for nine of my backlist novels, all of which are presently in print via my Transreal Books imprint.
Transreal Books will still be handling the ebook editions for these books, by the way, but my print editions will be redesigned with new covers by the new publisher. And the print Transreal Books editions will no longer be produced.
Sooo, for a short time, that is, about a week, you can still buy the Transreal Books print editions of those nine backlist paperbacks, with designs and covers by Rudy Rucker. And then begins a differently awesome era—with new designs, larger production runs, and more visibility. An exciting change.
But the uniquely styled old Transreal Books print editions of those nine books will be out-of-print collectibles. Get 'em while you can. The clock is running out.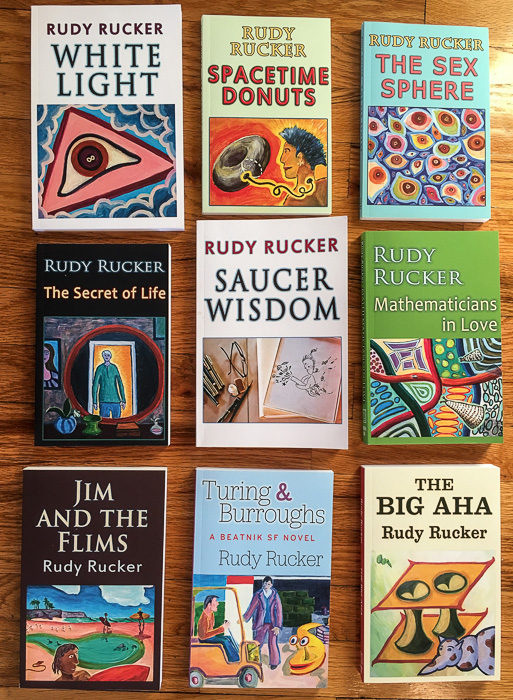 *White Light
*Spacetime Donuts
*The Sex Sphere
*The Secret of Life
*Saucer Wisdom
*Mathematicians in Love
*Jim and the Flims
*Turing & Burroughs
*The Big Aha