I've been working on my novel Million Mile Road Trip pre-visualizing some of the chapters with drawings and paintings. This might be my last novel. When I told this to Bob Silverberg last year, he said, "Make sure it's a good one. If you write a bad last novel, then everyone will say, 'Aw, he was bad all along.' Your last one has to be a killer."
I have a lot of wild, funny things going on in the book, and I feel like it's going to be one of my best. After some of my writing days, my heart is pounding with excitement about the book. And when I think about some of the scenes I start laughing. Getting near the home stretch, I might be done by July, 2016, at which time I'll try a few of the commercial publishers, and if that doesn't work out—as was case for my most recent two novels—well, then I'll do a Kickstarter for it and publish it myself via Transreal Books. What-effin-ever, it's gonna be a masterpiece.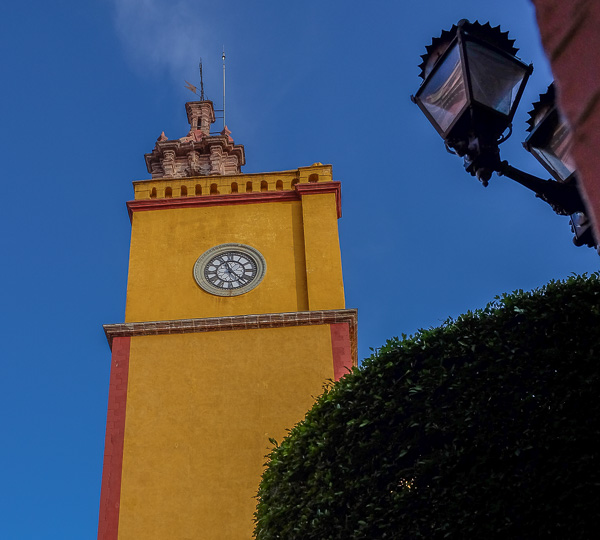 I'm bursting to share some of Million Mile Road Trip . So I'm posting three scenes today, along with some of the visual art I'm doing as part of my writing process. As these are excerpts, some things might be a little unclear, but the flow should work for you in any case. And the paintings are getting pretty gnarly too. More info on these on my paintings page by the way.I just started a spring sale on the paintings.
I: The Royal Pupa
To Scud's undeluded eyes, the Lady's room is a low, littered den—and his companions are eating garbage. The room is lit by some glowing knobs of fungus on the walls. He sees the reality this thanks to his wand, and he also sees the Lady for what she is: a leathery, boneless form on a heap of rags. A meaty yam, wide in the middle and pointed at both ends. She has about three dozen eyes, and a slit mouth at one end. Just now she's lapping at a cracked bowl of water. An Aristo. In no way is she like a Szep.
Flipsydaisy walks over at Scud and makes a languid, knowing gesture. She offers Scud an arch smile. "Can you find it in your heart to see Lady Filippa as she wishes to be seen?"
"Never mind that," hisses Scud. His heart is pounding from his near escape. "There's a monster outside, the thing that was wailing in the high tower, it's like a giant dog. I zapped it into dust, but it's not dead."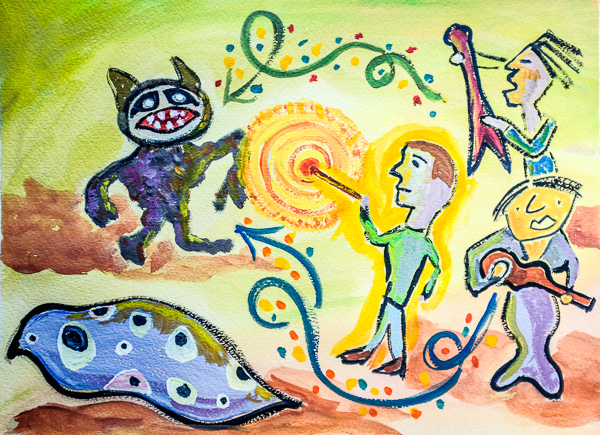 Tollah Dog attacks the Pupa, Scud, Villy, and Zoe. Watercolor, March, 2016.

"Groon spawns those things just as he spawns the saucers," says Flipsydaisy, speaking too quietly for Zoe and Villy to hear. "We call them Tollah dogs. Tollahs eat Szep and I believe they eat humans as well. And, yes, he'll soon regain his vim. The Lady and I mean to open the hatch and let him come in. You are the bait. And handling him will be a test for you three. An entrance exam. But meanwhile, Scud, can you be a gentleman as I asked?" With another of her odd smiles, Flipsydaisy raises her left hand—as if proposing a toast.
The Tollah-dog flings himself at the Lady Filippa pod with his slavering jaws wide open. As soon as he touches the pod, it goes doink, like an error-sound in a videogame but with a sting attached, and the Tollah yelps like a hyena and runs all around the room breaking things, as if that matters, given what a total shit-hole the Lady's lair is.
Scud's waves his baton-wand in rapid figure-eights and gestures for more volume. Zoe follows his lead. She gets into a riff that circles back on itself, a little higher and louder each time. It's the old stairway to heaven routine, and Villy's adds accents to the riff, like spikes sticking out of the stairs, or like a rain of razorblades. And—here's the wand coming into full effect—Villy's spikes form thicker threads than before. They radiate out from his Flying Vee guitar like glowing spaghetti. And Zoe's chords are cords.
At first it seems like the sound-threads will stay trapped inside the gold igloo with them—the strings are feeling around like worms looking for a hole. They're not fading away, but they're piling up around their feet, which isn't going to be much use.
"Get Lady Filippa to help," yells Villy over the guitars.
"She's won't," shouts Scud. "She and Flipsydaisy and Pinchley just want to watch."
"Like this is a test?" says Zoe.
"Your college admission application," says Villy, weirdly amused, never truly afraid. "Time to kick up your game, Z-bomb."
"Yah mon," she says, heartened by his voice. "I'll bring it."
So Zoe adds funk to her riffs, bending the notes and smearing them like you do with a dirty blues, and the spaghetti and the zig-zags get that much hairier, and now, thank you, the strings of sound are radiating out from the gold igloo like the spines of a sea urchin.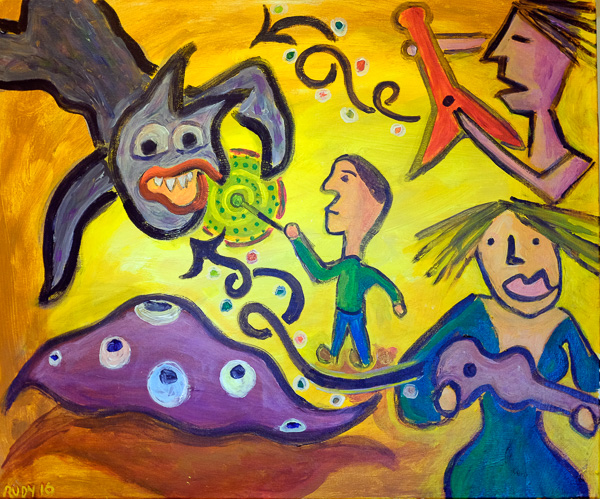 "Defending the Royal Pupa" (not that they're defending her in the story. Oil "24 x 20", March, 2016
Somehow this pisses off the Tollah dog, or scares him, and he charges toward them like he's going to pop the igloo and tear the humans to bits. He leaps. It's like a scene in a horror movie—with a giant tweaked-out wolf coming at Zoe in slow motion, trailing rabid slobber from his mouth. Zoe and Villy bear down, stratocast style, Scud sends extra energy through his wand, and—the strands wrap all around the Tollah dog, layer after layer, tighter and tighter, until he's lying motionless on the ground, like a fly that a spider's cocooned up for a later meal.
Moment of silence.
The gold igloo and the yam's pod fade away, and here's the six of them. The captive Tollah. The three humans. The two Szep: Pinchley and Flipsydaisy. Plus Lady Pinchley, the Aristo.
She's not a Szep, that's for sure. She has about thirty eyes on her body and she's dragging herself across the filthy floor. No arms or legs, but very dynamic.. She gets right up on top of the shrouded Tollah dog, and she looks over at Zoe with a twinkle in her eyes. Pinchley and Flipsydaisy have their arms across each other's shoulders, watching the show with big smiles. Like they know what's coming next.
"Be so good as to sprinkle on your caraway seeds," says Lady Filippa. Her voice flutes out of the little mouth slit at one end. "A nice fresh Tollah is the special food I require."
Scud hesitates. "Go on," says Villy. "This is what we came for, seems like."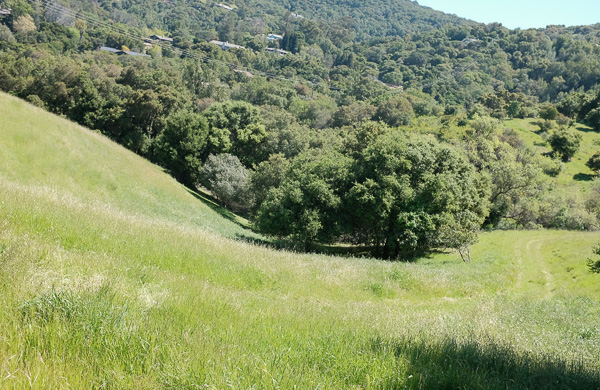 So okay, Scud pours all the remaining caraway seeds across the music-thread-wrapped Tollah. Zoe can hear the threads a little bit, humming and reverberating. They're pretty colors, and the caraway seeds stick to them like sprinkles on a frosted cake.
And then Lady Filippa digs in. She opens up her mouth slit, and she's got this nasty translucent squid beak inside. With a twitch of her body, she flips her other end up in the air so that she's balancing on top of the laid-out Tollah. She's nearly as tall as a person, a bumpy column of eyes, with her open mouth at her lower end, already munching on her prey. She starts at one end of the Tollah and eats him up entirely, working from one end to the other.
Right when Lady Filippa begins chowing down, the tight-wrapped Tollah is still alive. So there's anguished pathetic dog howls that Zoe would rather not have heard, plus a puddle of sick juice like yellow blood, but Lady F gets down the whole entire meal. And then she flops over to one side and lets out this huge fart. Then closes all her eyes and falls asleep.
"Lifestyles of the Szep City Aristos," goes Villy, and Scud cracks up, with all the crazy tension of the last hour jittering out into his voice.
II. Villy in the Jet Stream.
The great Aristo zeppelin-creature is on the ground next to Scud, fluttering his comically small bat-wings and gesturing with his tentacles. Talking with Scud. The zeppelin has eyes scattered across his body like polka-dots—just like on Lady Filippa's pupa. The eyes are big, with black pupils and yellow irises. For sure he sees Villy and Zoe.
"Feeling uneasy," says Zoe, fully grasping the size of the Aristo. Although Stolo is nothing like the size of a classic Hindenburg-style zeppelin, but he's still half a football field in length, kind of pointed on one end, and blunt on the back. With tentacles.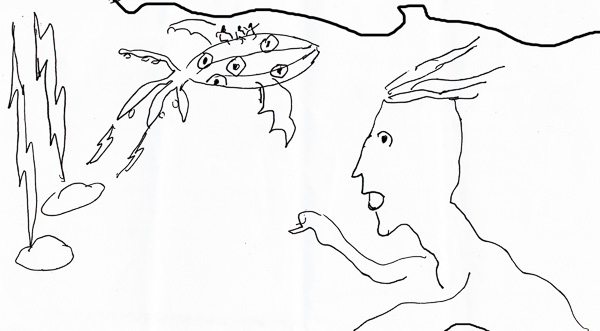 "Aristo vs. Saucers," Pen and ink drawing. Previsualization for this chapter.
The creature's body is translucent, ribbed, and filled with gas. Villy can see twisty intestines within, plus feathery gills, plus all the other lobed, rounded organs that animals have. The innards look almost weightless, bobbling around inside Stolo's outer skin.
"What's the word?" says Villy. He's having trouble with his train of thought. Very strange teep emanating from Stolo, completely alien, a collage of colors and smells highlighting a scary image of flying saucers blasting them while they're still on the ground.
"His tentacles are what have my attention," says Zoe. If our new pal Stolo is like his pupal relative Lady Filippa, there's gonna be a nasty-ass killer beak in the middle of that squid-bunch bouquet."
"We won't go near that spot," says Villy very quickly. "We'll ride on top"
They're close enough to smell Stolo now, kind of a fishy odor, mixed in with lavender and wax and latex rubber. The giant Aristo makes a wet blatting noise.
"His voice," says Scud. "He says he's glad to meet you. And he'll fold a special wrinkle for us on his back. For our seat. He says we should hurry. He doesn't want them to catch us on the ground."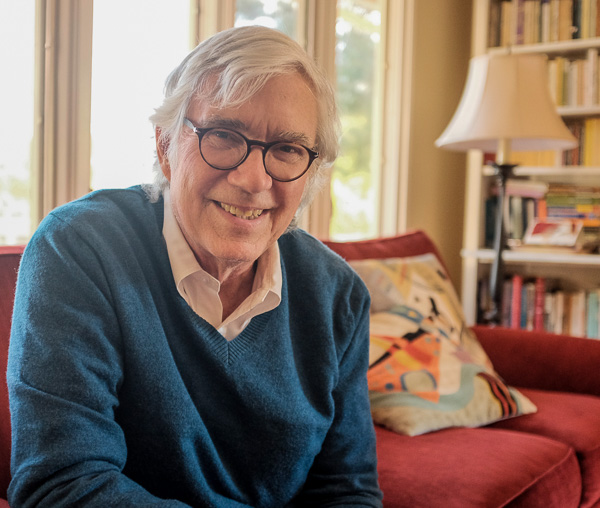 "Them?" goes Zoe.
"Don't ask."
"Where's he gonna take us?".
"To Goob-goob," says Scud. "The god who lives above Szep City in the Sky Castle cloud."
Villy hears a sharp crack and a bullet tears past, ripping at the air. Shit. It's that saucer-worshipping faction of the Szep locals again—boiling out of the tunnel into the stack, twenty or thirty of them, armed with rifles and heavy rayguns.
Stolo says something, that is, he makes another fart-like noise, and then, faster than it takes to say it, he wraps three tentacles around the kids, one tentacle each, and tucks them into a crease on his back. They rise like a helium balloon.
The belligerent saucerians keep shooting at them, but Stolo's leathery underside is quite impervious to their bullets and rays. And then Stolo and his riders are halfway up the immense stack. Stolo isn't exactly using his little wings to fly—it's more like he's levitating, and the wings angle against the air to steer him. They're rising so fast that Villy has to yawn and waggle his jaw to equalize the pressure in his ears. Scud's exultant, and Zoe's laughing with relief.
The air cools as they continue climbing. There's an odd, wavering tone sounding from the top of the insanely tall stack. Like a giant blowing across a bottle. And when they drift out, the encounter a howling, gale-force wind. It's a broad river of air, separating them from the vast, intricate cloud they call Sky Castle—five hundred feet above them, with its underside ruffled and torn by the frigid gale.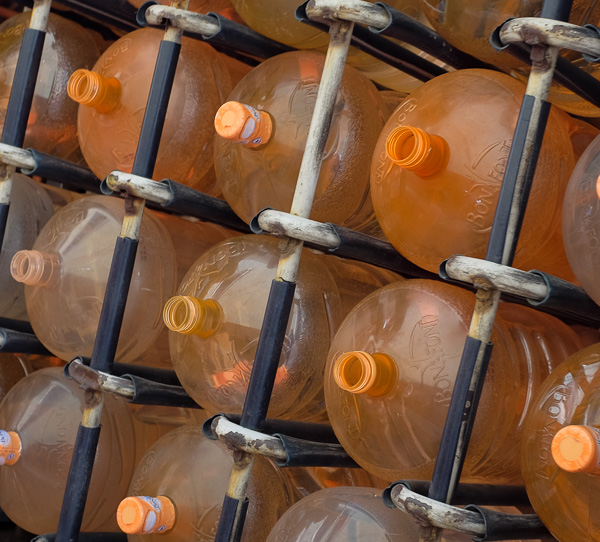 Stolo bucks and shudders, on the point of tumbling out of control, but he doesn't seem worried. He's used to this difficult crossing. Borne by the wild wind, they fly along the bottom of the Sky Castle cloud at several hundred miles per hour. Stolo's little bat-wings flap like rags on a laundry line. Flexing his bulky body, he maneuvers himself back and forth, working his way higher. He flies with his pointed end in front and his tentacles end in the rear. Meanwhile Villy, Zoe and Scud keep their legs tucked under a crease in Stolo's skin—it's almost like they're sitting in a bed, or perhaps in a kangaroo's pouch. It feels secure. For now.
A particularly strong gust flips Stolo to a vertical position. If he were a boat you'd say he was pitchpoling—with his bow digging into the waves. That is, his pointy front end is down, and his tentacled back end is up. The Aristo blimp stays cool. Villy senses that he's worrying about something, but it's not the wind. Not that Villy has much time to think about this just now. Zoe is screaming that they're about to die, and Scud has gone catatonic with fear.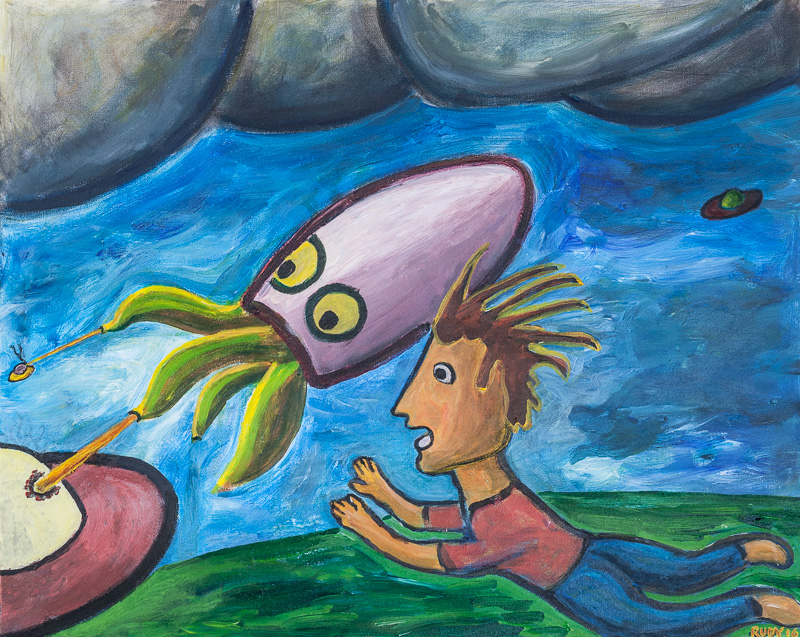 "Sky Skirmish," Acrylic 30" x 24," April, 2016. Inspired this passage, but with the zeppelin changed into a squid.
Meanwhile Stolo allows himself to tumble further. He executes a full flip, and then another and another, somersaulting and rolling. Scud and Zoe are hanging on tight, but Villy loses his grip and—oh no!—he jolts out of his seat, bumps along Stolo's ridged hide, skims across the bulging cornea of one of the creature's great eyes, fails to catch hold of the monster's ragged wing—and goes into free-fall.
Villy's several thousand feet above Szep City, which stretches out beneath him as far as he can see. His one bit of luck: the wind is so insanely strong that he's not so much falling as he is skimming along horizontally, bowling along like windblown trash, moving in parallel with Stolo. Gathering his wits, Villy surfs the wind instead of fighting it, yes, he's riding the gale, stabilizing himself with graceful bends of his body, keeping his arms at his sides, controlling his motion with slight twitches of his hands. It's working, but the air is so brutally cold that he's going to be dead pretty soon. Villy teeps a desperate S.O.S. rescue-me message to Solo.
And that's when the three flying saucers attack. Stolo sends out a warning, and, yes, Villy sees the evil trio rising up from the Saucer Temple far below. They're moving at a several hundred miles per hour, homing in on Stolo, Villy, Zoe, and Scud.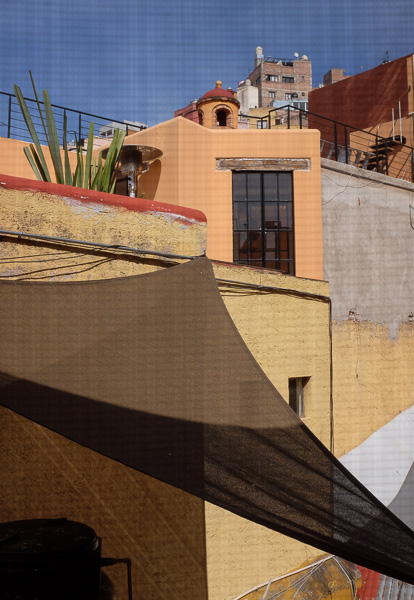 Villy remembers that Flipsydaisy said the saucers have little hope against an adult Aristo. Evidently their attackers are willing to risk all. Villy has the feeling the saucers would do virtually anything to prevent his party from returning to Van Cott with an Aristo wand. They're like suicide-bombers. The fanatical saucers are firing pale-yellow zap beams as they come.
Zoe and Scud are in teep contact with Villy, and all three of them are imploring Stolo to pick up Villy before the saucers blast him out of the air. Like a duck in a shooting gallery. But Stolo has his own agenda. The alien zeppelin holds himself still, riding the wind like Villy had been doing. Deeply focused, in a state of Zen-like calm, Stolo aims his tentacles. A fusillade of quick, efficient rays rains down from the tentacle tips and—thank you—the three kamikaze saucers are dead, charred meat.
With a startling burst of speed, Stolo pounces on the saucers before they can drop from the sky. The Aristo seizes the dead saucers with his tentacles and—how gnarly—devours them one by one with the great, curved beak that lies at the center of the tentacle-bunch. It's just like the the way that the pupal Aristo Lady Filippo ate the dead Tollah dog.
III. Three-Dimensional Moiré
Zoe's always been fascinated by moiré patterns—the strange visual effects she sees when, say, two window screens or two chain-link fences overlap, slightly out of kilter. A fluid series of lobed patterns erupts, changing with Zoe's slightest motions. And there's chic fabrics with mashed-in grooves to give a watery moiré effect as well—quite a craze for these during Zoe's junior year, matter of fact.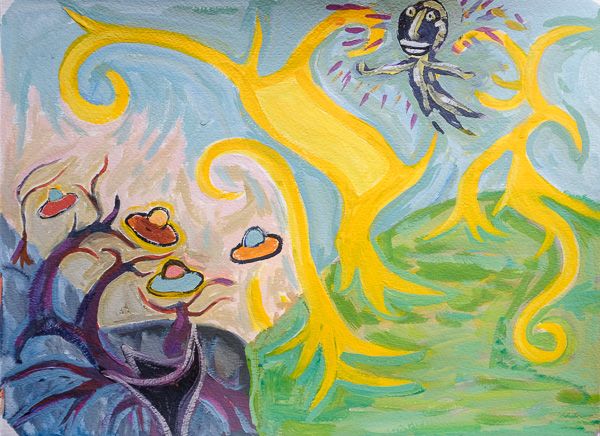 Pre-visualization of the Sky Castle chapter where the 3D moiré will appear. Watercolor, Feb, 2016.
And—here's the new part—Zoe has found that, once in a while, under certain conditions, her perceptual system can create moirés on its own. Like one time, while she was zoning out in her bedroom, her retinal cells and her brain's neurons got a smidgen out of synch with each other—or something like that—and, whoah, she sees three-dimensional moirés rippling around her. Faint pale purple or maybe even ultraviolet patterns, lively and improbable as air currents.
The underling grids that create the 3D moirés aren't just sheets, you understand, they're solids filling the whole frikkin room. The 3D moiré is generated by a pair of patterns like gelatinous, transparent, 3D blueprints for billion-room apartment buildings—two patterns like virtual-reality honeycombs, or like rubbery jungle-gyms. These two underlying cell structures are ever so slightly, and ever so deliciously, out of phase with each other—and the interfering overlap engenders glorious, tasty shapes that caper around Zoe's room like dreamtigers.
For a minute she imagines that she herself is a moiré dreamtiger. No realer, and no unrealer. A sum of aethereal grids, why not. And in her ears she hears a symphony of wavering interference beats, emerging from a stereo pair of orchestras, each of them ever so a tiny bit out of tune with the other. Vive la différence, baby. Long story short—Goob-goob looks like a dreamtiger.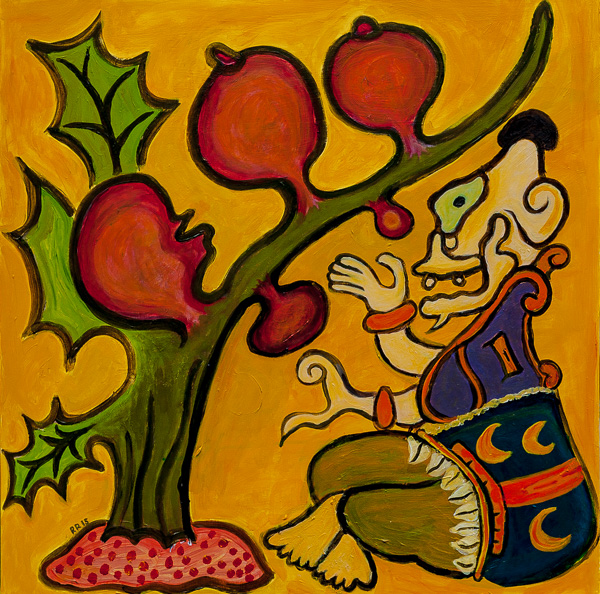 "Diego's God Hunhunahpu," Acrylic, 36 x 36 , November, 2015. Based on a sketch I saw in Guanajuato, MX.
A Mayan dreamtiger… some of the time.