David Hartwell lived from 1941 to 2016. He was involved in books and publishing for most of his life. I was fortunate enough to work with him for the past eighteen years. Here are some of my memories of him. I've drawn some of these from old journal entries, so there's not a completely uniform tone. And a short rough draft of this  remembrance appeared in Locus. And, as is my usual custom, I've illustrated the post with semi-random images from my files.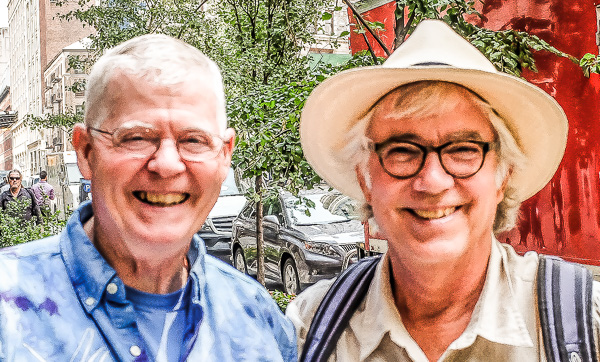 [Dave & Rudy, August, 2015, NYC.]
It's hard to believe David Hartwell is gone. In his offhand, energetic way, he seemed like he'd last forever.
For an unconventional author, there are times when only one person stands between you and complete commercial unpublishability. For many years, David was that person for a number of us—he saw eight of my books into print. And, always, he was a trusted friend and advisor. An intelligent, courtly man, slightly shy, never vulgar, full of tales, never a loss for an opinion, perpetually able to keep himself amused.
Our author-editor relationship started in March 1998, when Dave bought my off-beat novel Saucer Wisdom for Tor Books. I'd made some illos for the book, drawings supposedly by my saucer abductee character Frank Shook. And I myself was a character in the novel too. There had been some talk of getting the images redrawn by a pro artist, but Dave said something like, "If these images were drawn by a nut in a UFO, how polished do they have to be?" His call gave the book an interesting look—and it saved Tor some money on expenses.
Dave was frugal. At times I had issues with the sizes of the advances he'd offer—but I was always grateful that he was going to the mat for me—and getting my books published.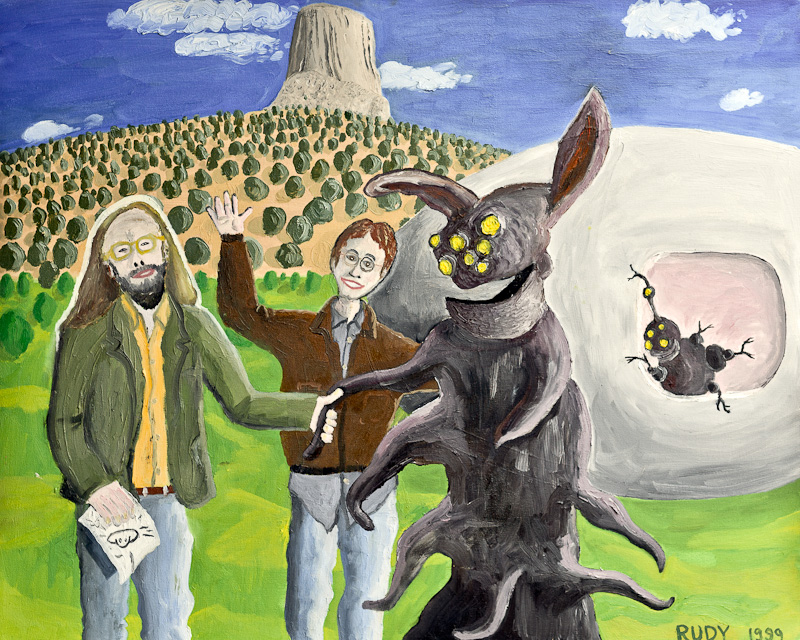 [My painting "Saucer Wisdom," showing Frank Shook and Rudy with aliens.]
After Saucer Wisdom—which bombed, possibly because we marketed it as nonfiction—I wanted Dave to offer me a deal for two additional books. One was a historical novel on the life of the artist Peter Bruegel, the other was Spaceland, a Silicon Valley version of Edwin Abbott's Flatland.
David loved my idea for a Bruegel novel—he said he'd majored in Medieval studies and couldn't wait to read my draft. And he liked the straight-on hard-SF nature of Spaceland, which featured scenes in 4D space. In January, 2001, Dave invited me to visit him and his wife Kathryn Cramer at their house in Pleasantville, NY. I was hoping we'd discuss a deal.
Kathryn, by the way, had done much of the editing on Saucer Wisdom, making good suggestions. David wasn't always the most involved of editors–—he'd talk about the idea for the book and weigh in early with thoughts about the plot, but it wasn't his usual practice to do really detailed edits. His edits came in a higher-level form: remarks about the tone of the book, or about the motivations of the chracters, or about the pace.
Dave took on more projects than most editors—and this was a good thing for us writers. He enjoyed acquiring and conceptualizing novels. And more Dave Hartwell titles meant more slots for unconventional SF. But he could be maddeningly slow. He was out of the office a lot—going to con after con, and this made him even slower. But, again, this, too, was a good thing, in that it meant that authors had more opportunities to meet him and to pitch ideas.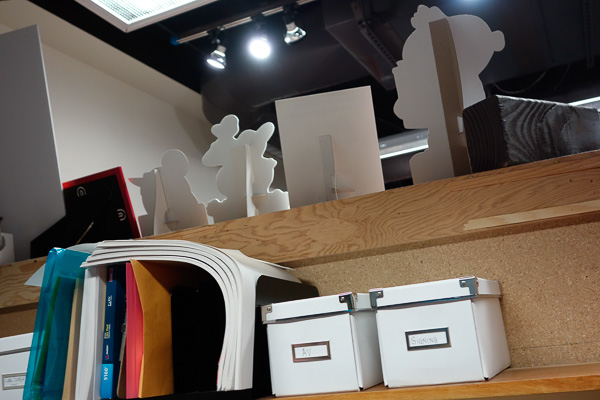 [Random bookstore clutter.]
Getting back to my visit to Dave's and Kathryn's house—the editorial board of New York Review of Science Fiction were there putting the new issue together. Tru fans, including Kevin Maroney and Arthur Hlavaty—who was an upperclassman at Swarthmore College when I went there in 1963. Arthur, being twenty-one at the time, would go to the state store for us and buy liquor. It was touching see him so many years later, white-haired, witty, and as pleasantly degenerate as ever.
I waited all that day at Dave's house to corner Dave and talk about what was uppermost in my mind, "Are you going to buy Spaceland and my Bruegel novel or not?" I felt like little of Bruegel himself—courting a likely patron.
Hartwell got a Ph.D. in English, and his thesis was an edition of a Beowulf-like work about, I think, Sir Gawain. That afternoon, he quoted the opening lines of Beowulf to me in middle English. I had mixed feelings. Math majors vs. English majors. But at the same time I was really glad to be with a literate editor. And then he did make me the offer. Summing up the day to myself, I thought: "This man is my friend."
My Bruegel novel, titled As Above, So Below, was one of the times when Dave did in fact edit a book of mine very closely. He put his finger on every short-cut I took, ferreting out every weak spot, and peeling away each loose fleck of paint. The very last change request was that I deepen one of my characters—who was doing little more than happily waving a beer mug. So I gave the character cirrhosis of the liver.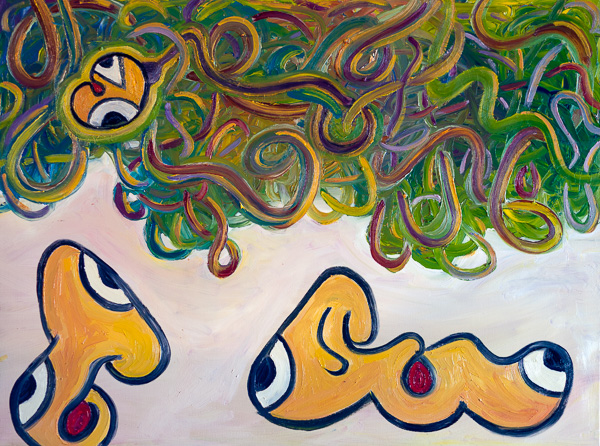 ["Tree of Life," a painting of mine for Million Mile Road Trip.]
By 2003, I was working on another book for Dave at Tor, Frek and the Elixir, featuring a twelve-year-old boy in the year 3003. I had hoped Tor would market it as a YA book, Harry Potter style, but Dave and my agent didn't want to. The book ended up much longer than my previous titles, and Dave fought to make sure it came out in a large enough trim size so that we didn't have to use a Bible-type font.
In 2005, Dave got me invited to give the keynote talk at ICFA, the International Conference for the Fantastic in the Arts, held in a brutally cold motel Florida. One of the organizers quipped, "We don't come here for the sun, we come here for the air-conditioning."
Dave told me that a member of the committee had said, "We can't invite Rucker, he's a difficult drunk," and Dave told him, "Not any more." By then I'd been sober for nearly ten years. I said to Dave, "I wonder if my drinking years had a bad effect on my career." Dave said, "I don't think so. Even now, I still talk to people who are very disappointed when they see you at a con and you aren't swinging from the chandeliers."
David really wanted to publish my next novel, Mathematicians in Love. I was pushing hard for a better than usual advance. My then-agent Susan Protter told me Dave went to Tom Doherty, owner of Tor, and begged for more money for me as if he needed a kidney transplant for his dying mother (as Susan put it) and Doherty was like, "Oh, all right, offer Rudy a little more." So we inched up to where I was comfortable.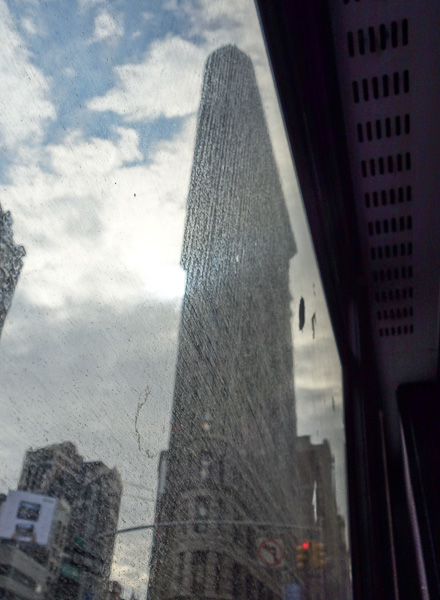 [View of the Flatiron building, home of Tor Books, seen from a NYC bus on a rainy day.]
Over the years I lunch with Dave in the restaurants around Madison Square about twenty times. I like visiting Manhattan, and part of the tradition was to come to Dave's more-than-overcrowded office at Tor in the fabulous old Flatiron Building. Captain Nemo elevators. Manuscripts and piles of books on every horizontal surface. At lunch Dave would reminisce and talk about the current state of publishing—always worse than the year before. But always with rays of hope and possible opportunities. He was glad to speculate with me about future book projects—although he was categorically unwilling to talk about hoped-for (and evanescent) movie deals. He shared my view of a career as a long pipeline. And he liked to reminisce about having edited some novels for Philip K. Dick. Dave liked to tell a story about going to Phil's apartment, and, over the course of many hours, Phil gave him a detailed, scene by scene description of a novel he was planning to write. Phil had the whole book in his head.
At one point I considered writing a sequel to Frek and the Elixir. I wanted to advance Frek's romance with his girlfriend to a sexual level, but Dave was against this. His opinion was that that among young adolescents, perhaps half are uncomfortable with sex, and half do want to hear about it==—but the ones who read fantasy and SF are all from the "uncomfortable with sex" camp. Possibly a dated view.
Around 2006 and 2007, I sold Dave a linked pair of cyperunkish hard-SF books: Postsingular and Hylozoic. I might have tried to sell a third book in this series, but at this point my support at Tor Books was beginning to erode. Wanting to enhance my visibility, I talked Dave into letting me do a free CC ebook edition of Postsingular—following Cory Doctorow's advice. Dave didn't like it, but he let me do it.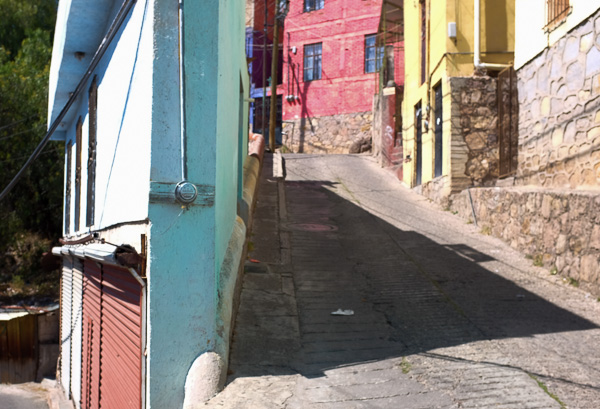 [A Mexican "Flatiron building" in Guanajuato near the Mummy Museum.]
"Hylozoism" is an actual dictionary word, it means "the philosophical doctrine that every object is alive." It was an SF-like notion I'd always wanted to write about, and now I found a way to make it scientifically logical.
Hartwell said he liked the book title Hylozoic as it was so "stefnal." And I was like, "What is stefnal"? So I went on Google and unearthed a definition in the context of a post in a Night Shade Books discussion, this info from no less a man than Paul Di Filippo:
"Historically, within the genre, stef has been another long-standing term for science fiction. The derivation comes from the old scientifiction, which was always abbreviated stf. The vowel was interpolated so that one could actually pronounce the term. Stefnal has three fewer syllables than science-fictional, always a plus for economical writing. Additionally, it functions as a totally baffling shibboleth."
In 2009, I nearly died, and I decided to write my memoir, Nested Scrolls. Dave was unwilling to give me a thumbs up or thumbs down on the project—over the years he'd gotten ever-slower about deciding on my projects. Probably because my sales weren't that great, and he didn't really like to say no to me. So my agent and I took the book to PS Publishing in England for a limited hardback edition and a short-run trade edition.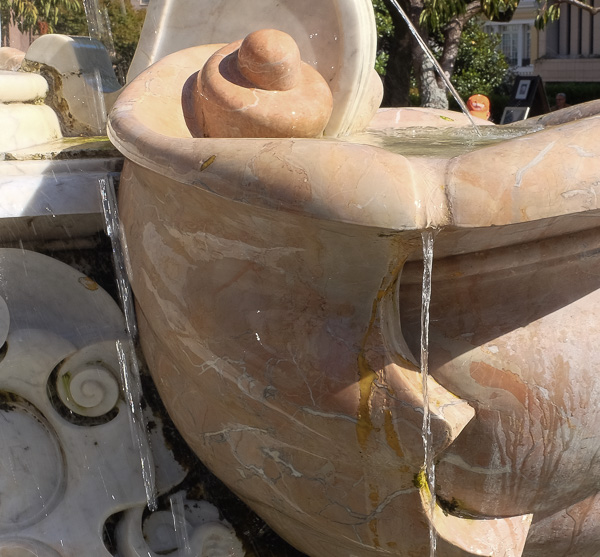 [Fountain near Grace Cathedral in San Francisco, note parallel streams.]
And then Dave changed his mind. He managed to get Tor to make an offer for Nested Scrolls. His cost-cutting angle (other than paying me a very small advance) was that Tor would use the PS design and layout for the book. Dave also got involved with the editing before the PS edition, which was welcome. He had me put in the dates of events—more reader-friendly—and then to move the material around to get a more uniform temporal flow.
Dave was taken by my remark that, once you're in your forties, Jack Kerouac and Edgar Allen Poe no longer work as viable role models. He suggested that I should put more scenes involving my former alcohol problems into Nested Scrolls so as to dramatize the significance of my getting sober in 1996.
So I did some of that, but maybe not as much as Dave wanted. I found I didn't want to structure my autobiography as a standard "descent into hell followed by redemption." That's not really how my life was. So Dave finally said, okay, it's your autobio, and it's up to you to write it the way you want.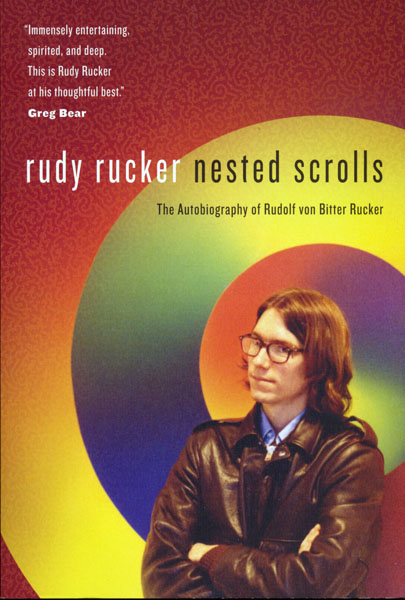 [Tor cover with 1969 photo. The PS edition has the subtitle: "A Writer's Life."]
Dave had asked that the memoir include a fun anecdote about a Mondo 2000 magazine party, so I reworked a party scene from Saucer Wisdom. It was a type of inverse transrealism, where I started with my memory of an actual party, transrealized it into a fictional scene in Saucer Wisdom, and then I used the scene in my memoir as a supposedly real account of the actual event.
So Nested Scrolls came out, first from PS and from Tor, in hardback, paperback, and ebook. Dave picked a great photo for the cover of the Tor edition, and the book was beautiful. I'll always be grateful to him for getting my autobiography published by a big New York house. For me this was a very big deal. A parting gift. He was always doing everything he could for my cause.
We had of Nested Scrolls rising up into the mainstream and saving my balance-sheet bacon at Tor Books. But that didn't happen. The numbers weren't there. I'd run out my string at Tor, at least for the time being. I published my next novel with Jeremy Lassen at Night Shade Books, their business collapsed, and I self-published my next two novels via via my own outfit, Transreal Books.
In any case, I continued visiting Tor Books and having lunch with Dave whenever I passed through Manhattan. I remember a question he asked at our very last meeting, in August, 2015. I was describing my current novel project, Million Mile Road Trip. "Why flying saucers in the book?" Dave asked. I must have looked miffed, so he amplified: "That's a plot question." Thereby giving me an insight about what I now needed to do. I couldn't just put in saucers because I like them. I needed to give them a crucial role in the plot. Without an editor like Dave I can forget the simplest things.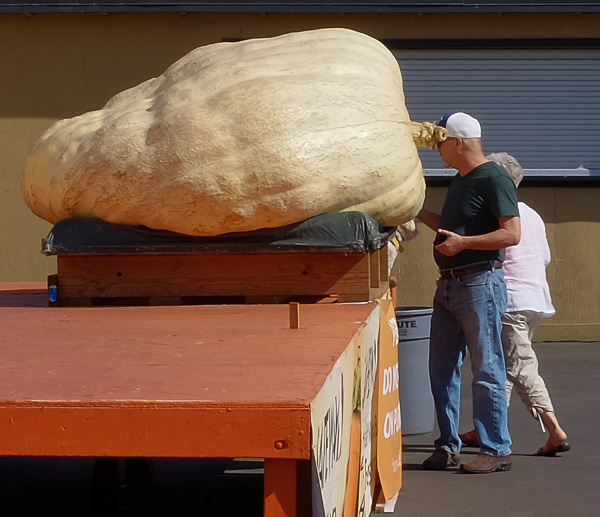 [A pair with a prize-winning large pumpkin at Half Moon Bay, CA. Author and editor with a manuscript?]
It always seemed at least remotely possible that Dave and I might get together on a book project once more. The field is always changing. You never know. Authors' careers rise and fall. Dave and I were only separated—not divorced. But now he's dead.
One more memory. In the summer of 2009, I was the instructor for the last week of the six-week Clarion West F&SF writing workshop in Seattle. And Dave had been the instructor the week before me. So my wife Sylvia and I met Dave for dinner up there.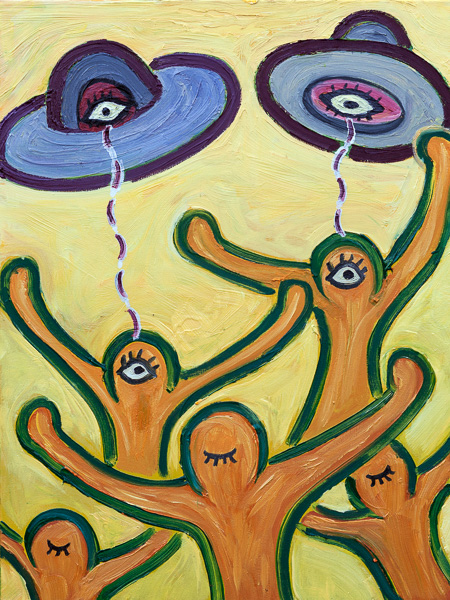 [My UFO painting, "I Once Was Blind But Now I See," inspired by Keith Haring.]
After the meal, we walked along the edge of the water, looking at the Seattle skyline. Dave was lively, taking photos for his beloved New York Review of SF, chattering about science-fiction, colorfully dressed as always, encouraging but realistic about my current projects, and conspicuously enjoying himself. Like a big kid, almost. Forever young. I sang him a chant I'd been working on for my students. He liked it.
Time, saucers, sex and goo
Elves, mutants, robots too
Muse of strangeness old and new
My blank pages call to you.
Peace, Dave. I'll miss you.