I have a lot of old photos that I never got around to putting into a post. So I thought I'd reduce my inventory in a few long Photo Bin posts.
But first a word from your sponsor.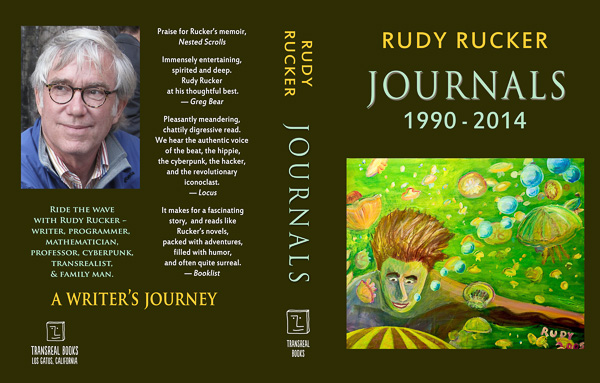 Click for a larger version of the book cover.
Nice blurbs for my Journals from two of my friends.
"The publication of Rudy Rucker's Journals beautifully supplements his astonishing autobiography, Nested Scrolls. For anyone who has marveled at Rucker's gonzo, idea-rich fiction, this behind-the-scene account of his daily inspirations, brainstorms, detours and dead ends will be essential reading. But far more than that, it shows us the essential man behind the keyboard, so to speak: father, husband, citizen of the galaxy."
—Paul Di Filippo, author of The Steampunk Trilogy.
"Rucker's Journals are great. I fear he will be famous, long after he's gone, for providing the best picture of late American society. Out peeps Pepys."
—Terry Bisson, author of Any Day Now .
Two days ago at midnight I learned how to use the pan function of my Fuji X100S. I like seeing my foot at ease there.
The next five or six photos are lo-fi iPhone 5 photos from yesterday. As they say, the best camera is the one that you have with you that day. But I do feel regret when I'm somewhere interesting with only the iPHone.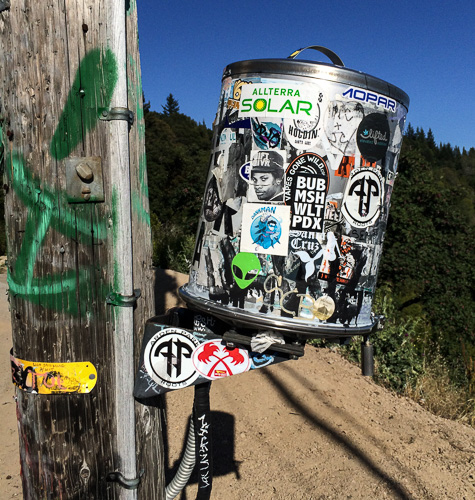 A passel of punk stickers on…some technical object. Along Bear Creek Road between Boulder Creek and Los Gatos, where there's this one pull-out and you can look out across the big basin and see all the way to the open waters of the sea.
A skull in the Boulder Creek sage/hermit cabin of Nick Herbert, a.k.a. Frank Shook.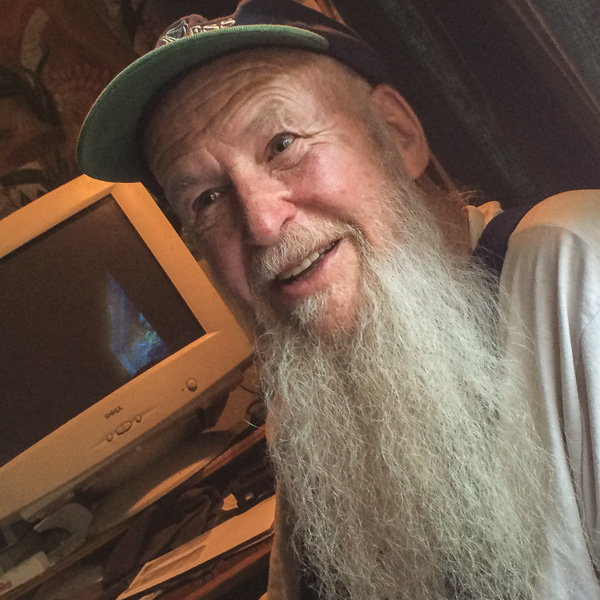 Saint Nick himself. Nick wrote a brilliant popularization of quantum mechanics: Quantum Reality. And his profound paper, "Holistic Physics: An Introduction to Quantum Tantra" is so important a key to my work that I keep it handily available online on my site.
My novels Frek and the Elixir, Postsingular, Hylozoic and The Big Aha were all profoundly influenced by this epochal paper.
Why isn't Nick better known? Jorge Luis Borges put it in his essay on Herman Melville: "'Vast populations, towering cities, erroneous and clamorous publicity have conspired to make unknown great men one of America's traditions."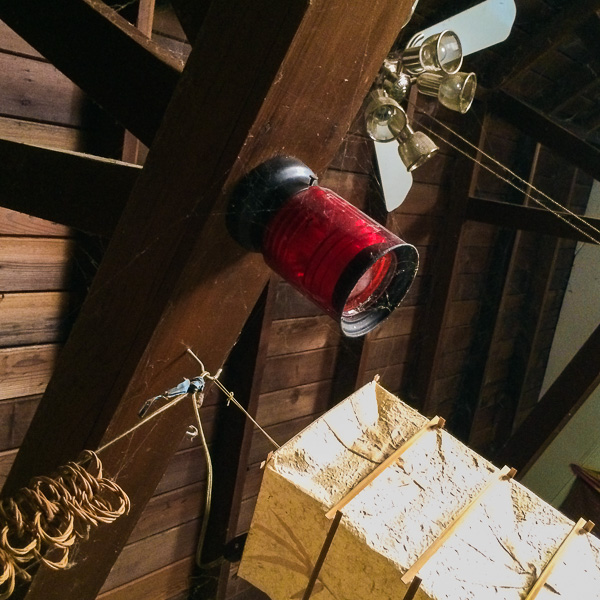 A superheterodyne laser collimation unit on Nick's ceiling.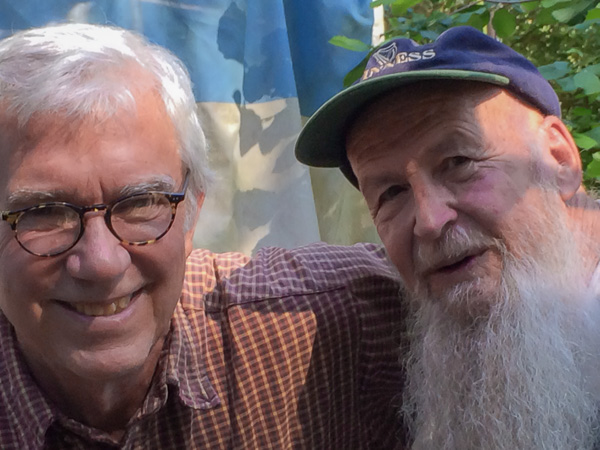 Two nuts.
And now back to the Fuji x100T.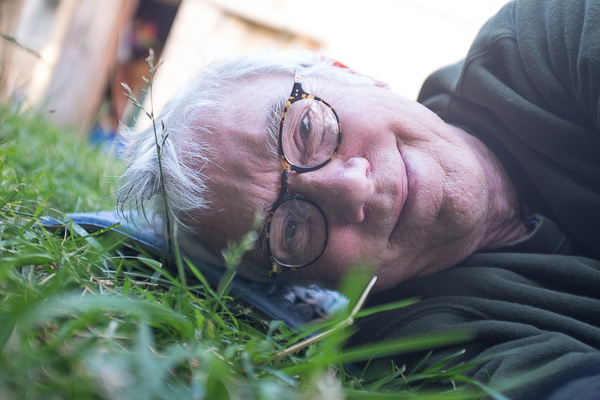 Me lying on the grass staring lovingly into the lens of the new toy. Like a high-school swain on his first picnic date.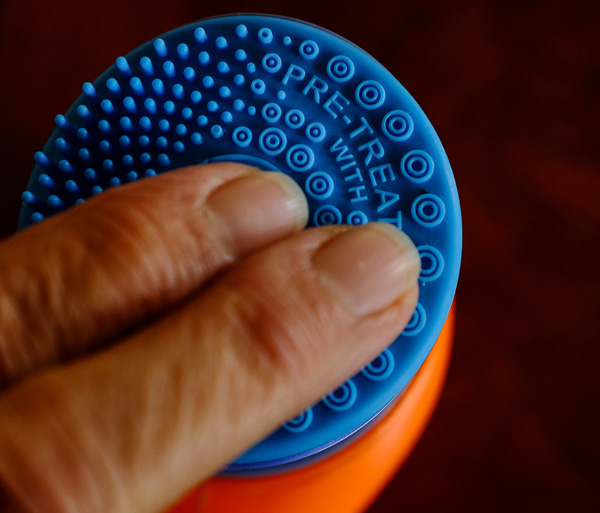 A bottle of Tide with someone's fingers.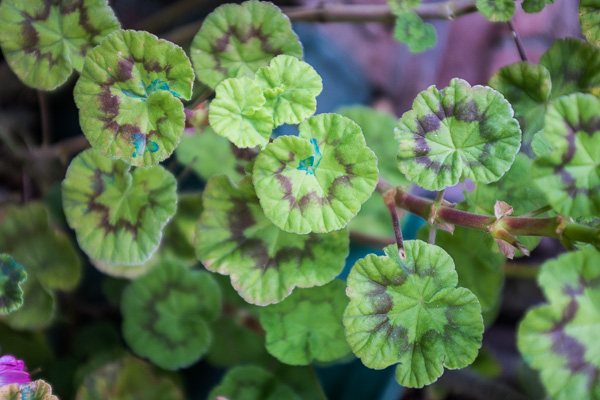 Mandatory calibration shot of Zhabotinsky geranium leaves.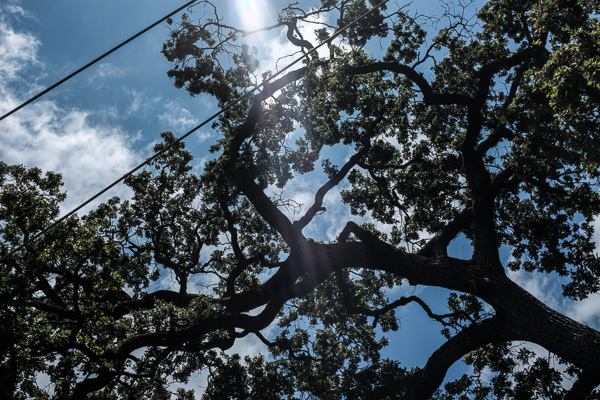 Fuji-seen light through a towering oak.
The rest of the shots in today's post are from my old Sony RX100, presently laid low by zoom-barrel jam.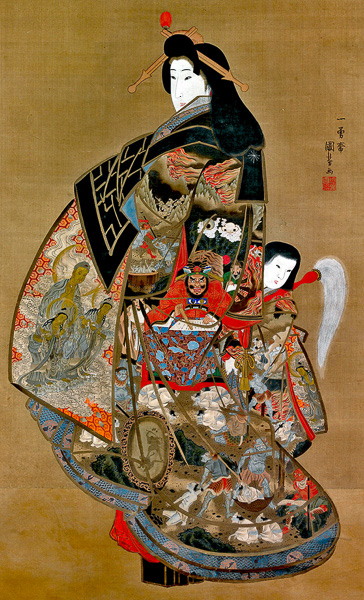 "Hell Courtesan" scroll, ~1850, by Utagawa Kuniyoshi ( Click for a larger version of the painting.
Saw this at the Asian Art museum show "Seduction" in SF. Utagawa Kuniyoshi is awesome. He did about six paintings of the "Hell Courtesan," a legendary geisha who was converted to a higher way by a Zen monk. Here's a diffuse but interesting post about zen monks and prostitutes. I saw a post somewhere with a giant tattoo of the monk and the courtesan, but I can't find it now.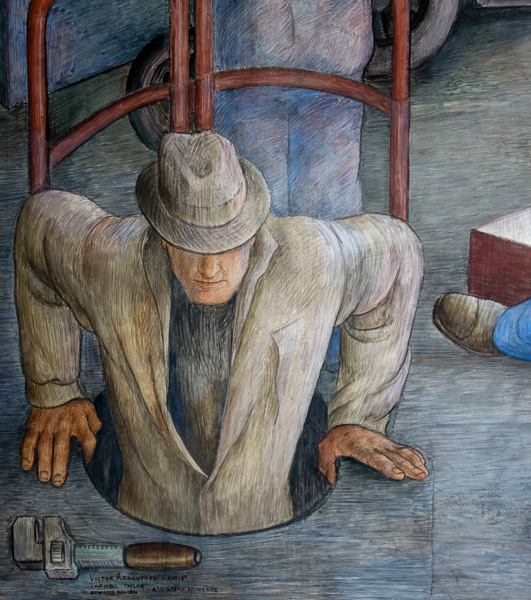 Manhole mural inside the Coit Tower.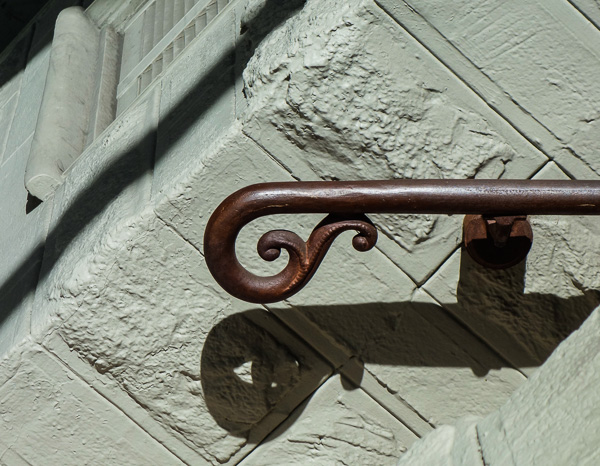 SF is full of nice ironwork.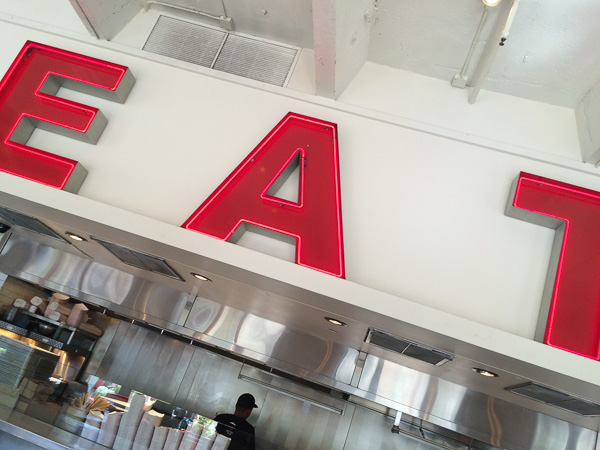 Classic EAT sign at Gott diner at the Ferry Building in SF.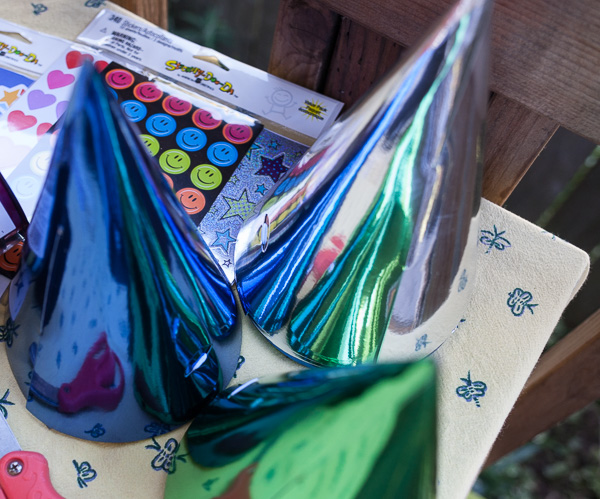 Children's birthday-party hats. Wee wizardry. I always love the reflections of curved surfaces.
Ah, the heart's nostalgic clutch at the sight of long grass and a motorcycle-tire swing.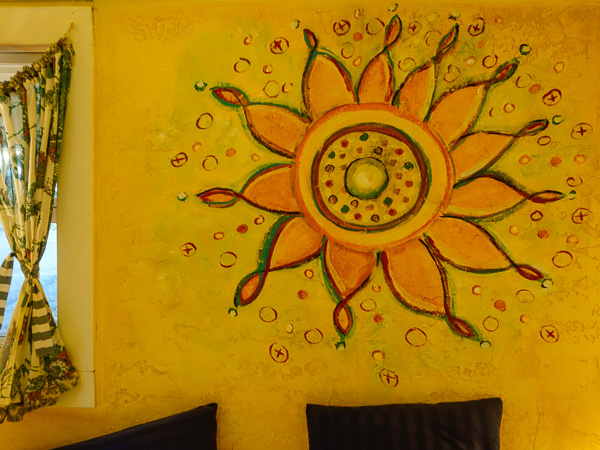 This was in the nice AirBnB cottage where Sylvia and I stayed near Occidental, CA. The lady of the estate, Marylu Downing free-hand painted this great star on the wall. Her husband, Roger House, did great proofing work on my Journals.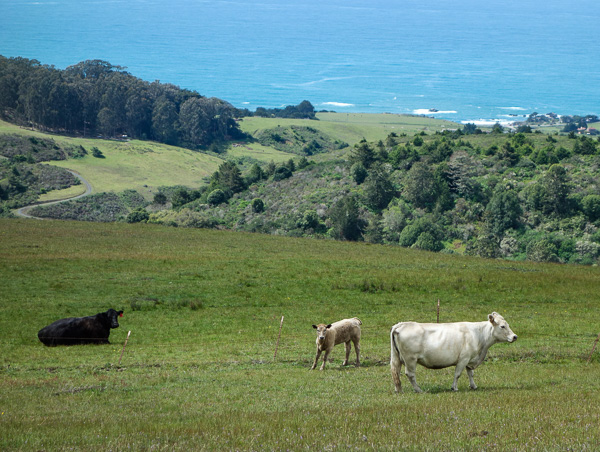 Heaven for cows around here. I always tell the kids that after I die, I'd like to be reincarnated as a cow on a slope above the Pacific. In Big Sur maybe, or maybe above Bolinas here. That cow is me in twenty years. Another good reincarnation option would be as a pelican. Pelicans as the Hells Angels of the sky. Trundling past in a flying V. Vooden vooden.
Panorama, seen from the road to Bolinas from Occidental, Coleman Valley Road. Cosmic, uplifting, beyond the beyond. And really only a couple of hours from our house.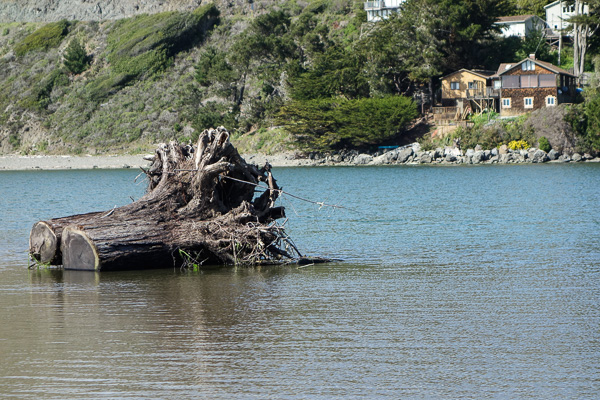 Big stump at the mouth of the Russian River, where it hits a sandbar island and trickles into the sea.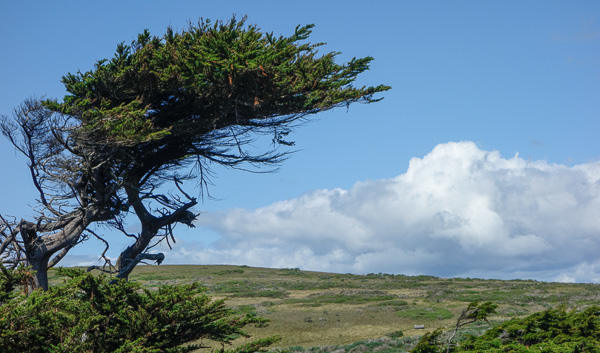 Lone windblown Monterey pine near Bolinas Head.
Photogenic sail off the cliff of the Bolinas Head. So heart lifting to stand there in the wind. We have lots of room, lots of room.