My art show at Borderlands opened this week. It'll run through July 6. We'll have a reception part on Saturday, June 13, at 3 in the afternoon. We'll hang out, I'll do a reading from Journals 1990-2014, and give a little tour of the paintings.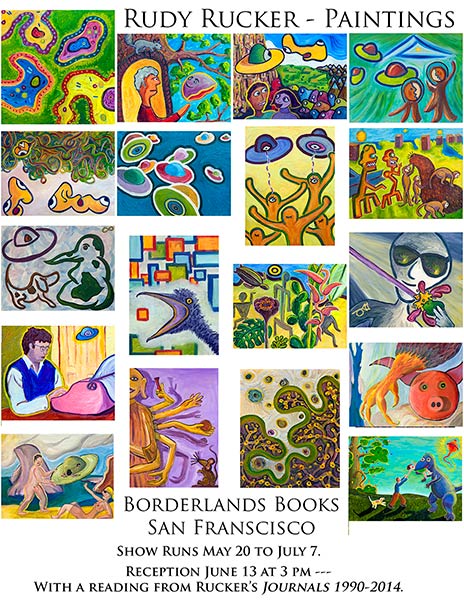 Click for a larger version of the poster.
And here's a panorama shot of one of the walls in the Borderlands cafe.


Click for a larger version of the pan shot.
Many thanks to Rudy, Jr. and fellow Monkeybrainer Devin for helping me set up. No way could I hang all these paintings alone. You can find prices on my Paintings page.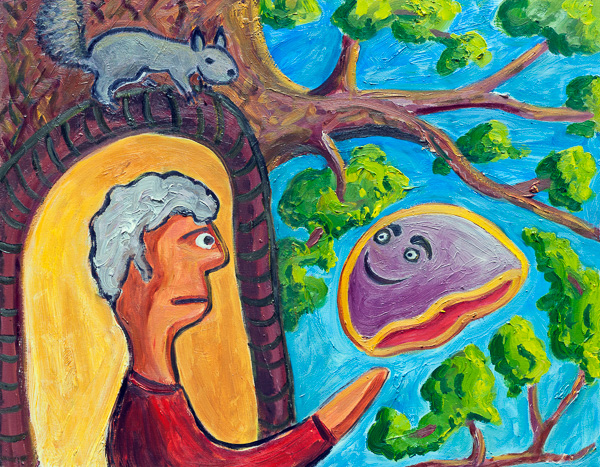 "The Sage and the Messenger" oil on canvas, May, 2015, 28" x 22". Click for a larger version of the painting.
Over the last couple of weeks, I finished two new paintings for the show. The Sage and the Messenger relates to a short story I'm working on with Bruce Sterling. One of the characters is sage or hermit who lives inside in a hollowed out spot high up in the trunk of a sequoia tree. And a artificial biotweaked organism comes to bring a message to him. Wanting to lure him into a wild and hare-brained adventure. The messenger iss a thing like biological drone, or like a flying jellyfish. I like the interplay of the expressions among the sage, the jellyfish and the squirrel.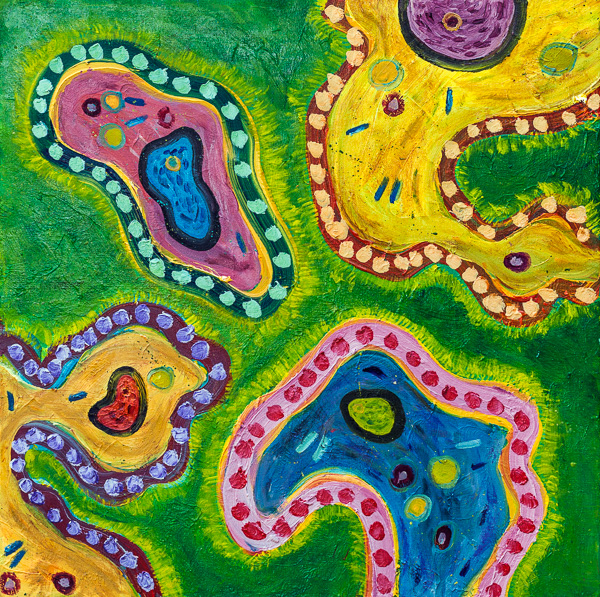 "Cells" oil on canvas, May, 2015, 24" x 24". Click for a larger version of the painting.
About four days before the show I dove into Cells. I had no real idea what I'd paint when I started. First I did an underpainting in acrylic with a heavy gel medium to get some texture, and to have some extra color glowing through. But I don't like how flat acrylic looks, so I layered an oil painting on top of that. I outlined some blobs in my original painting, and then filled them in to look like living cells. I used a fan brush for the halo effect, and I flicked the bristles of the fan brush to add some life with splattered dots.

A big push.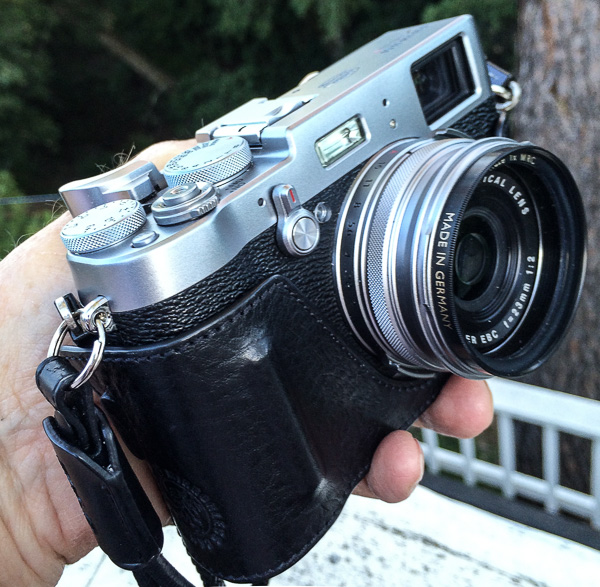 My old Sony RX100 camera died this month. The telescoping zoom lens seized up and won't properly go in and out. I've had thee or four pocket digital cameras die in this same way. The lens is a definite weak point. When it breaks, it costs almost $200 to fix, so it's questionable if that's worth doing. So I decided to get a small "prime lens" camera, that is, a camera with a non-zooming lens. So there's not the telescoping crap to break.
I sold a couple of paintings this month, so I splurged and went for a Fujifilm X100T. It's a compact digital camera (despite being called Fujifilm), solid, great lens, solid metal frame, and with a nice old-school look, kind of like a vintage Leica M-Series camera, but at relatively reasonable price. Not a pocket camera, but it's small and light.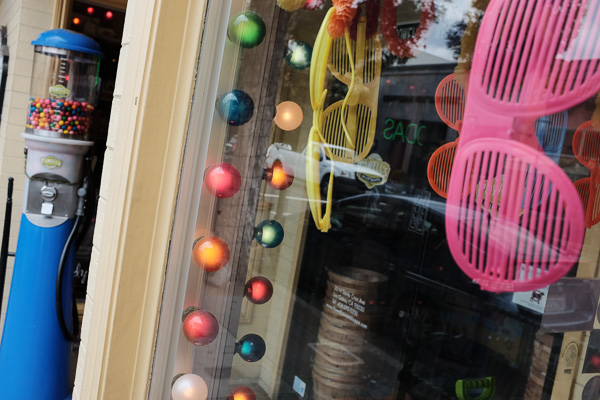 So I'm going around taking lots of pictures. Some reviewers like to gush that the camera is so good that they use the X100T images just as they came out of the camera. Me, I pretty much run every single shot though Lightroom and/or Photoshop. That's my work flow. That way I can crop, possibly lighten the shadows, maybe sharpen the image or warm the tone. But this particular shot is right out of the camera. A sweet shop.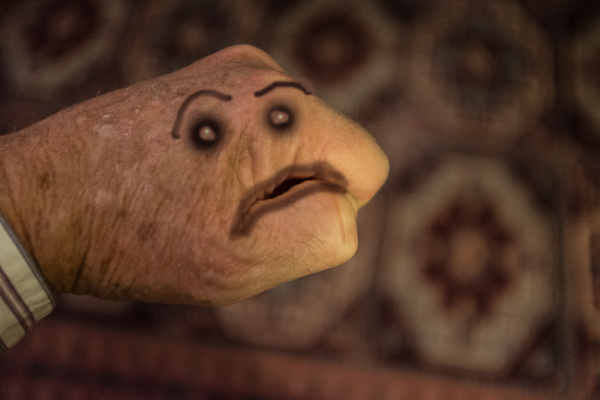 I call this terrifying "hand puppet" Cousin Millie. I've been showing her to my kids and the grandkids for years.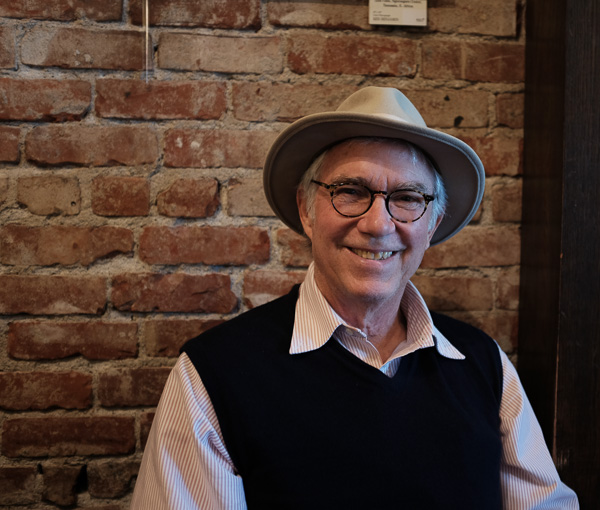 And the camera is automatic enough that you can hand it to someone that the shot comes out good. I'm till learning the ins and outs of fine points of the controls. The (online PDF) manual is well over two hundred pages long.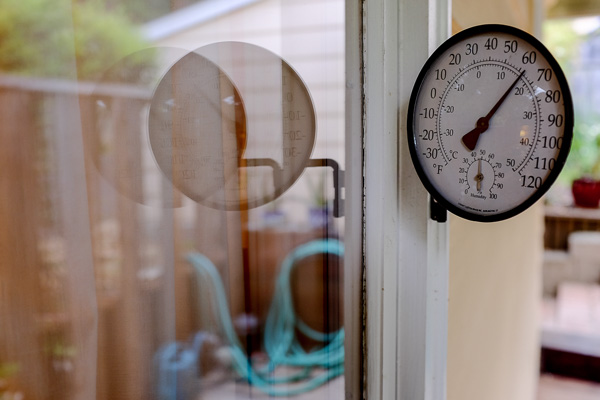 The thing about walking around looking for shots is that I dig below the smooth familiar reality to find little bits of oddness. A dial with numbers. What might this mean?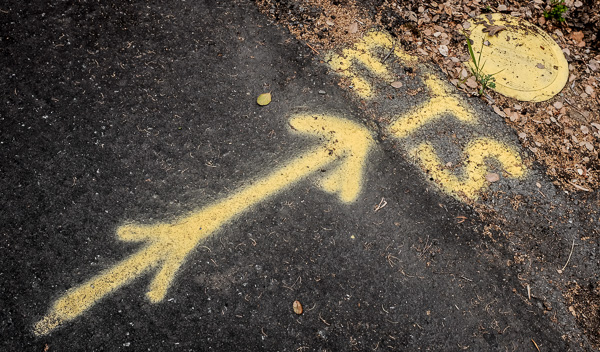 You can never go wrong photographing street-workers' markings on the asphalt.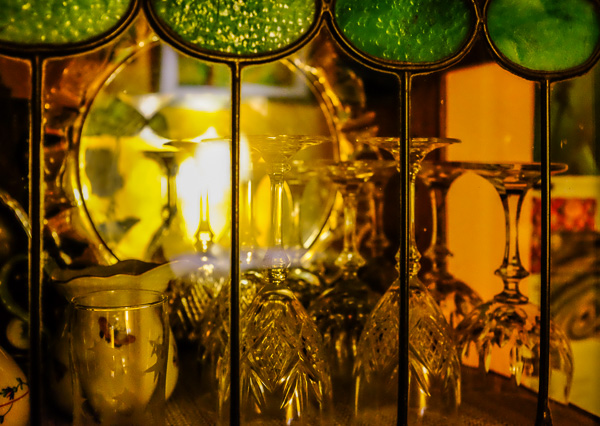 Midnight in the china closet. The X100T really fills out the three-dimensional space.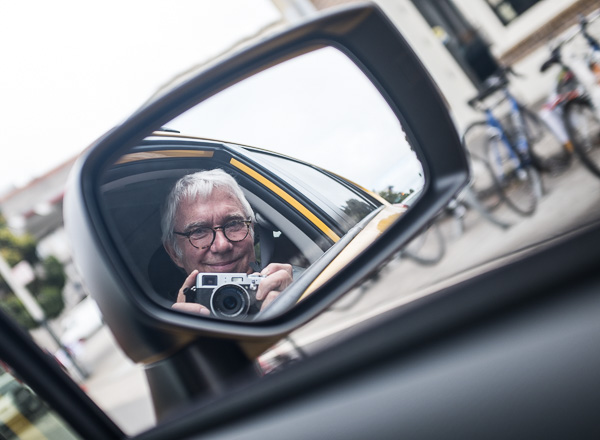 Exultant in son Rudy's car, riding through the Mission after my paintings…with my new shooter in hand.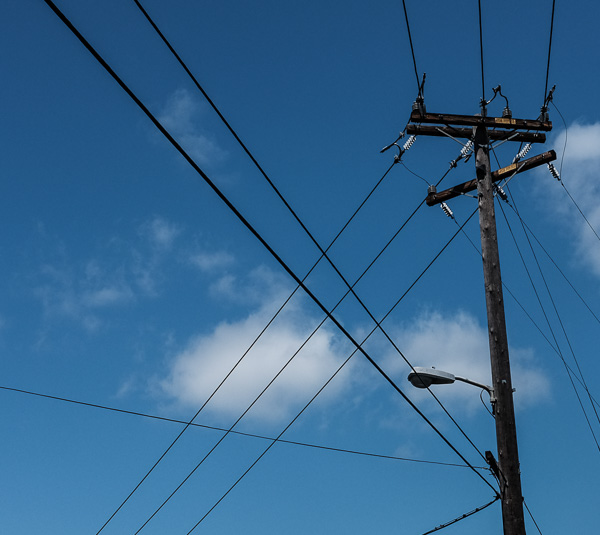 I've photographed these phone/electric/cable lines a dozen or more times over the years. I think this one is better than usual. Thank you Fujifilm!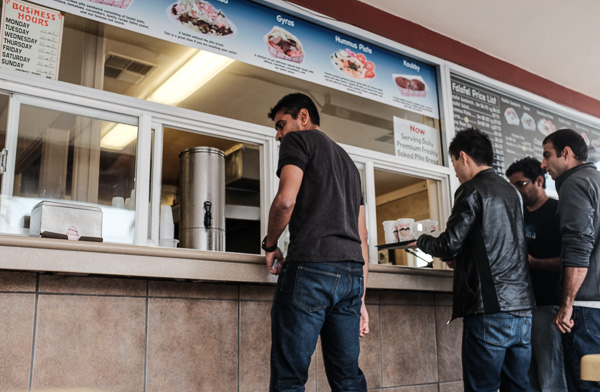 My grad-school friend Jim Carrig's son Eamon showed up the other day. I took him to San Jose's finest fast food stand, named simply Falafel. It's on Stevens Creek Blvd near Bascom Ave. They've been there since 1966. Wonderful, wonderful falafel. Green inside, freshly cooked and mashed beans, crisp on the outside, hot.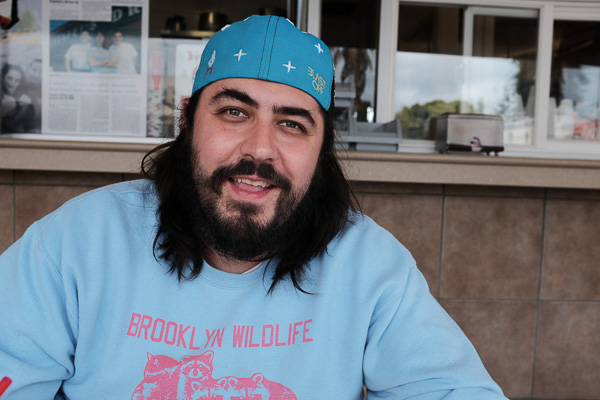 Eamon Carrig himself. He's started a company that's designing small robotic sail boats. Sailing drones for the high seas.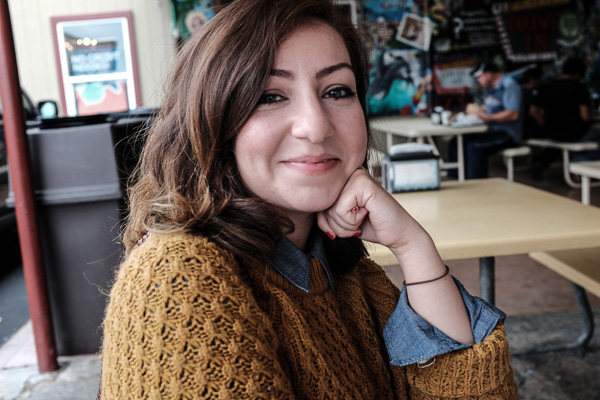 Weirdly enough a woman reporter named Leona was at Falafel. She's from LA, but is writing an article on falafel restaurants in California for Brownbook magazine, published in Dubai! Once the sheiks hear about Falafal of San Jose they'll be jetting in no doubt.