Later this week, I'll put up more photos of Paris. But right now I've got something else in mind. My 2006 Tor Books novel Mathematicians in Love had gone out of print, so today I'm publishing a second edition of it, in paperback and as an inexpensive ebook. More info in on the book's home page.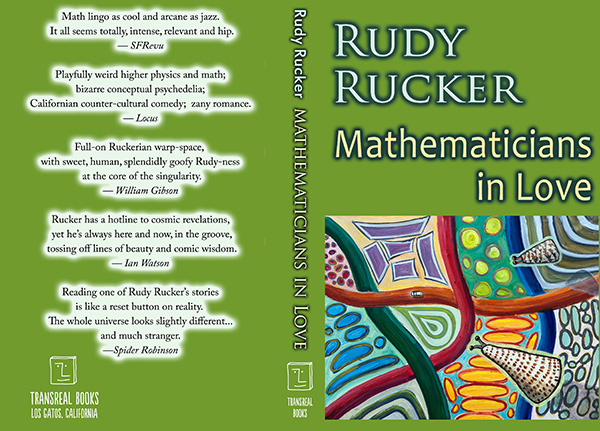 I'm slowly learning something about book production. I use the InDesign typesetting software for the interiors, and I make multilayered Photoshop images for my covers. Thankfully you can export a decent ebook file directly from InDesign and then tweak it into an EPUB with Sigil and into a Kindle MOBI with Calibre. There's ten or twenty or maybe it's fifty or a hundred or even two hundred gotchas involved. Making books is like a hobby of mine by now. Like crossword puzzles or knitting, maybe, or like building model zeppelins out of balsa wood and silken cloth. I think a lot about fonts—these days I'm fond of the Janson font I bought from Linotype.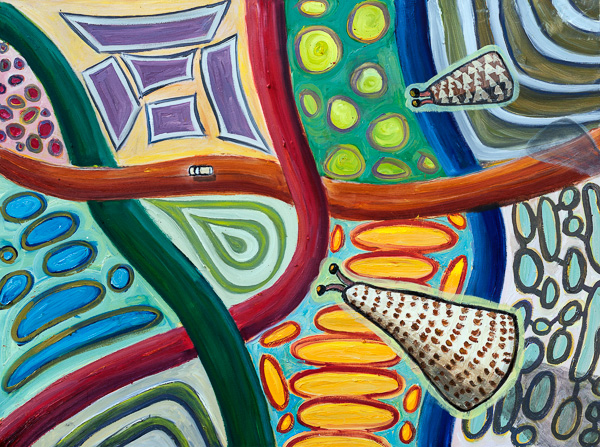 "Flying Cone Shells" oil on canvas, November, 2014, 40" x 30". Click for a larger version of the painting. And see my Paintings page for more info.
I made a new painting for the cover of Mathematicians in Love. At first I didn't realize that's what the painting was for. I started out with those three fat lines that weave over and under each other. And then I wanted to decorate the sectors of the canvas that the lines made. I was thinking of an Aboriginal painting, or of an aerial view of crop fields, like Wayne Thiebaud's paintings of the California Delta region that lies northeast of the Bay area.
For the longest time, my painting reminded me of the works you see hanging on the walls in art schools. Unfinished, harsh, dissonant, the paint colors right out of the tubes. I kept at it, layering on the tints and shades, blending, toning, and glazing. Finally the painting seemed warm and harmonious to me. And right about then, I was like, "What painting can I use for the cover of Mathematicians in Love?"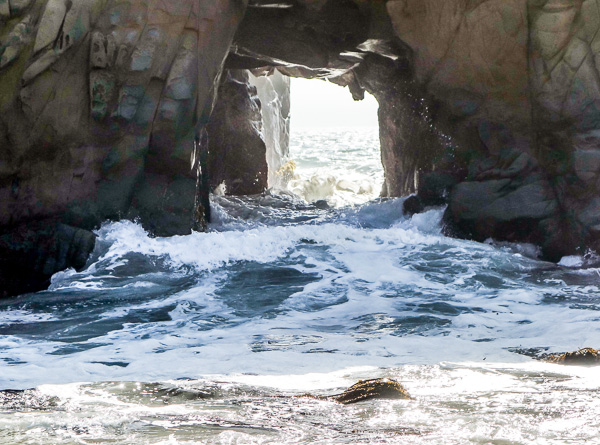 There's a scene in the novel when my character Bela and his pal Paul and his lover Cammy are driving along the coast of Big Sur, looking to surf over into a parallel universe through a natural doorway in one of the big rocks at Pfieffer Beach. And this giant flying cone shell is following them—I think her name is Rowena. So I added Rowena and one of her smaller friends to the painting, also a tiny image of Bela's car. Yeah, baby.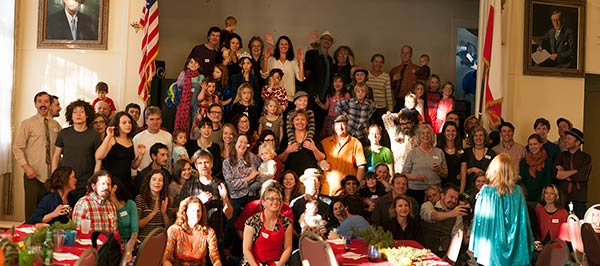 On the local scene, we went to a giant potluck Thanksgiving in the Mission district of SF, organized by our son Rudy and his friends. It was a blast. Our daughters Georgia and Isabel were there with their families as well—adding up to thirteen of us in all.
At one point during the visit we thirteen were relaxing under a cypress tree in the SF Botanical Garden in Golden Gate Park. I felt the atavistic joy of being in a tribe. A golden oasis encountered along my life's long journey, a moment to mentally revisit over the years. Thank you, world.