After Ottawa, we went back and spent two nights in Vancouver. We stayed at a century-old, not-too-expensive place called the Sylvia Hotel, next to the water at English Bay Beach.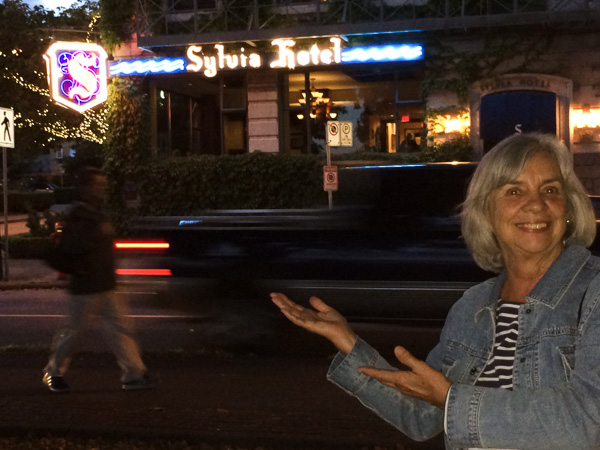 I'd been planning to meet up with my writer friend Bill Gibson, but as it happened, the page proofs for his next novel arrived at the same day we did, and he only had about three days to fix them, so we couldn't connect. His two recommendations: Japadogs and the Douglas Coupland show at the VAG (Vancouver Art Gallery).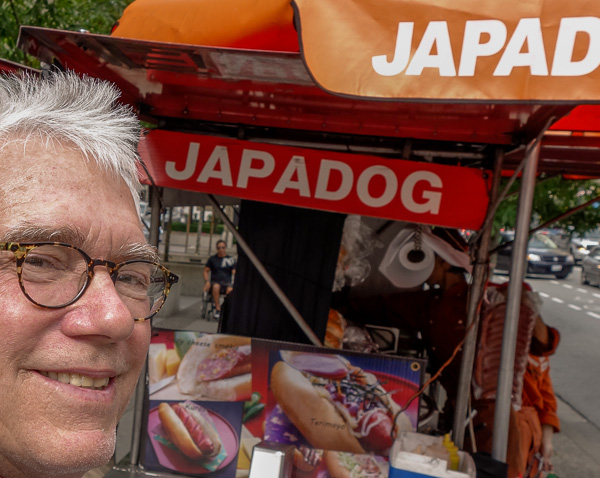 I had some doubts, but I did get a Japadog on the street—these are gourmet Japanese sausages, many levels above what you expect from street food. Bill loves Japanese things anyway, you might say it's a cyberpunk country, with the Uniqlo clothes and the Muji housewares. While in Vancouver, Sylvia and I went to one of the best sushi restaurants ever, a place called Tojo's.
The VAG museum is really a nice place, so European-feeling and civilized. A huge gray stone Victorian pile with a lovely patio cafe, no dirt, no Muzak, pleasant staffers, good food. Sometimes in Canada I'd get the feeling that in the US we're living like wild animals.
Douglas Coupland lives in Vancouver, the author of Generation X and numerous other novels. One of an aging author's last resorts is to become a visual artist—like Henry Miller or Lawrence Ferlinghetti, for that matter, me. (Yesterday I revamped my paintings site, making it mobile friendly! Coupland is taking this route with characteristic éclat and élan. I'd had some doubts about his very large show—as well as about the Japadogs—but it's great. It consists of various rooms filled with riffs he'd done on one art historical theme or another. The one shown above it kind of a masterpiece, a Cubist composition including Twitter icons and such.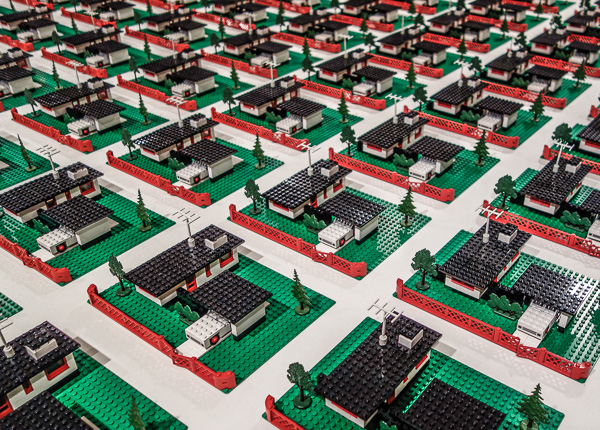 Coupland also had a couple of rooms of Lego constructions. This one kind of nails the uniformity of life in a suburban development. Sure this is a stale, whipping-a-dead-horse kind of theme, but the realization of it as identical Lego houses with identical Lego cars is kind of perfect.
And there's a very funny room of repurposed objects expressing "Canadianness." Like a locked freezer with a pool of blood on the floor under it, or couches with Hudson's Bay plaid coverings.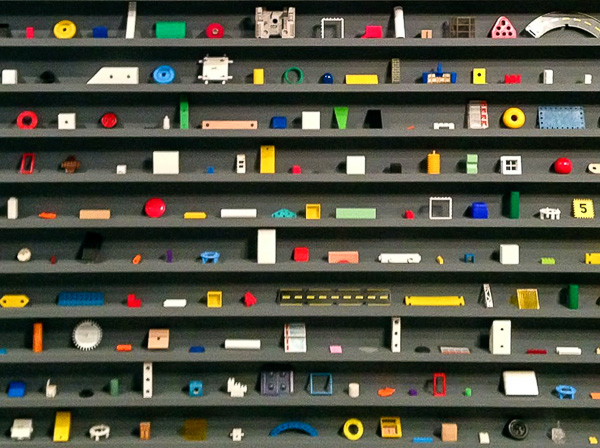 And a really wonderful display, right in the first room, the walls lined with thin gray shelves, and lined up on the shelves are a zillion little bright bits of … plastic crap … that Coupland's amassed, like parts of toys, or packaging, or game pieces, or wrappers, each of them just so, just sitting there, not attached, they drifted in and landed here, like debris on a beach by the ocean of the Real, and who's to stop the work's owner from nudging them or rearranging them, the road goes on forever and the party never ends. (I'm only showing a detail of the work here.)
And a room of Mondrian-like works with those 2D postal barcode thingies in the corners, I think they're called QR codes. Not all of Coupland's pastiches work—for instance, his two or three attempts to mimic Roy Lichtenstein's Ben Day dot mirrors are weak. At times you get a sense that he just put in every single thing he's ever done into the show. (Clearly any snarkiness on my part is authorial envy.) The overall impact of the show is massive, and I think it'll get big play when it travels from Vancouver down into the US.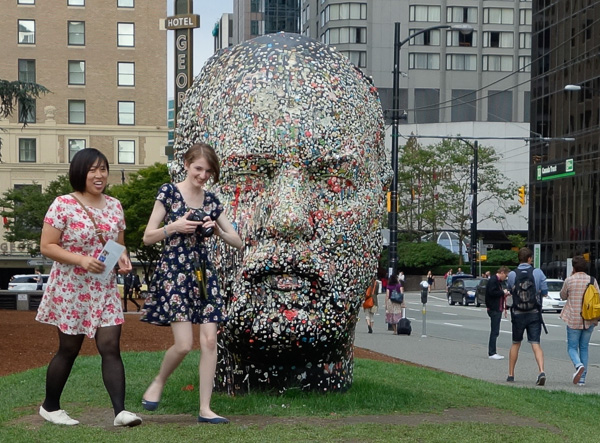 Coupland included a large outdoor sculpture of his head, called "Gumhead," and people were encouraged to stick wads of chewed gum onto it. Kind of great. So interactive. Andy Warhol would have liked the show, and in fact Coupland speaks of himself as a Pop artist, and he even had a piece consisting of abbot a dozen of blond wigs sandwiched between two sheets of glass—wigs like our man Andy wore. I can't resist mentioning that Marc Laidlaw and I wrote a story about Andy online, it's called "The Andy Warhol Sand Candle."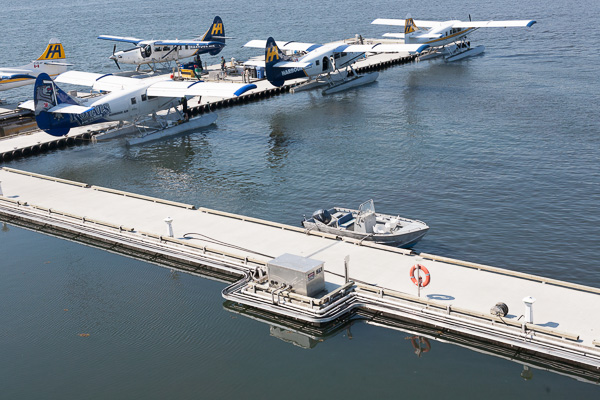 Wandering around Vancouver we came across what you might call a "floatplane airport" in the harbor, with planes buzzing off every few minutes. Fun to watch from the grassy, civilized waterfront park nearby.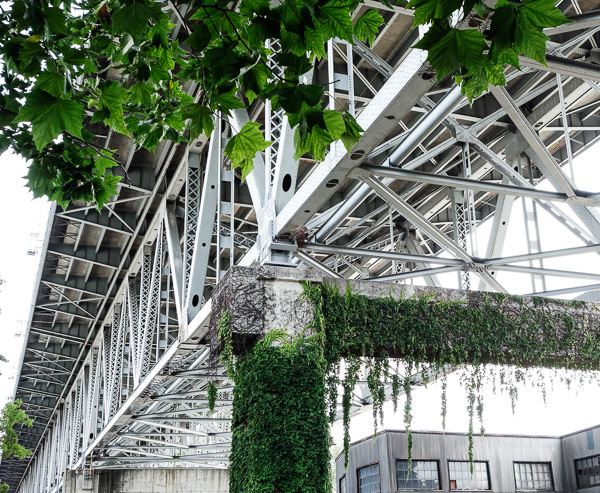 We also hit a tourist-attraction spot called Granville Island, really not that great, and without many locals around, but I got a few photos, like these vines dangling from the roaring overhead Granville bridge. And there was a great food market.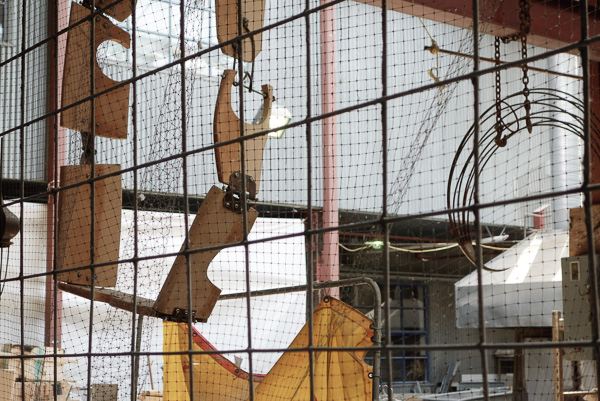 Mysterious art project seen through a window of the Emily Carr University of Art at one end of the island.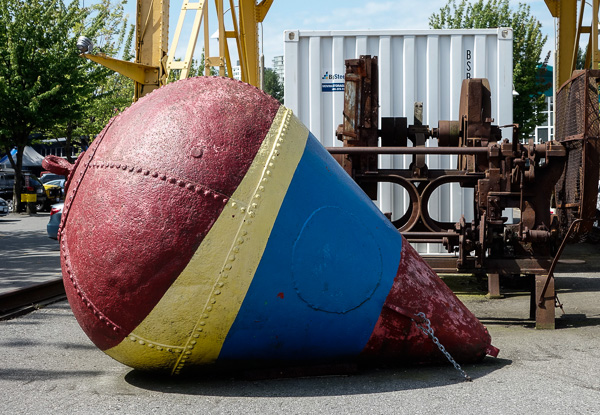 And a big buoy or float hauled up from the sea to be an art object.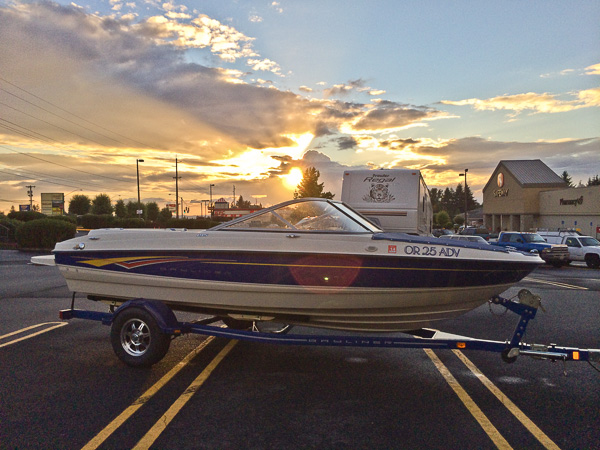 Heading south from Vancouver on I-5, pounding the Red Bull, we nearly got killed in the insane rainy-day traffic in unbelievably congested Seattle. Switched over to a mellower back road Route 9, leading to a little town called Sandy. I had this moment of Coupland-initiated Pop Art ecstasy walking around the mall parking lot at sunset by our motel. Seen through art-eyes, there's great beauty and semiotic fun in the so-familiar iconography of the North American sprawl. A motor boat on a trailer with the low golden clouds! Photo taken with an iPhone, yes! Thank you, Doug, for opening my eyes, to this flash of ecstasy.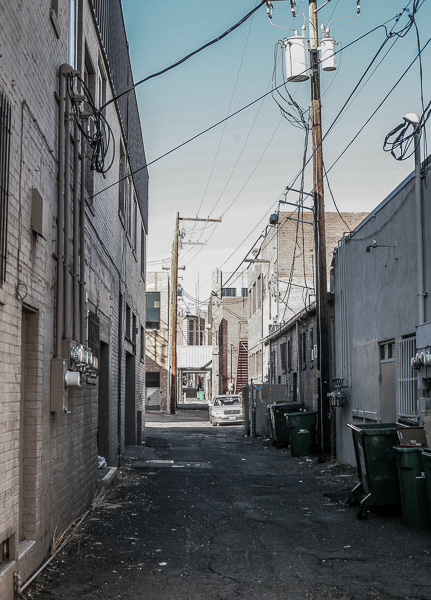 Then on to Bend, Oregon, which has become something of an outdoor mall, and down into the sparsely populated Klamath Falls, , one of those lifeless, emptied out country towns. This is a Klamath Falls alley. My Louisville high-school pal, Mike Dorris, who later became a famous author, had some Native American ancestors that hailed from the Klamath area. Modocs. There's even a town called Dorris nearby I'm always a little mournful when I think of Dorris, as he's not alive anymore. I wish he was still here. By now he's missed out on a lot.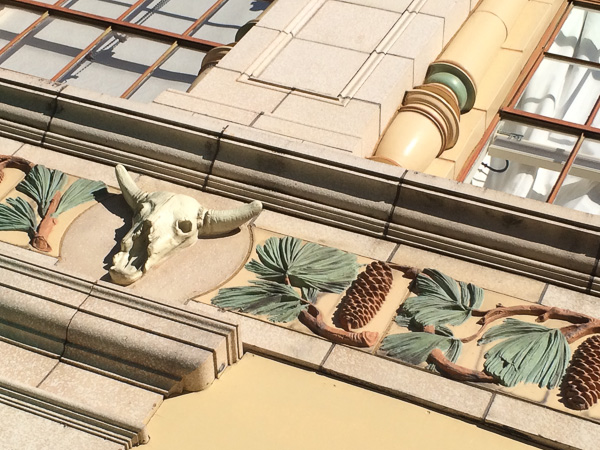 The streets of Klamath Falls were empty, with some cool old Art Deco buildings, like this one, the Wilson Building, with pine cones and cow skulls. I always tell Sylvia I want to resettle into a town like this, and she shudders, and I think of Wm. Burroughs's phrase about his travels through South America in Yage Letters, "nightmare fear of stasis."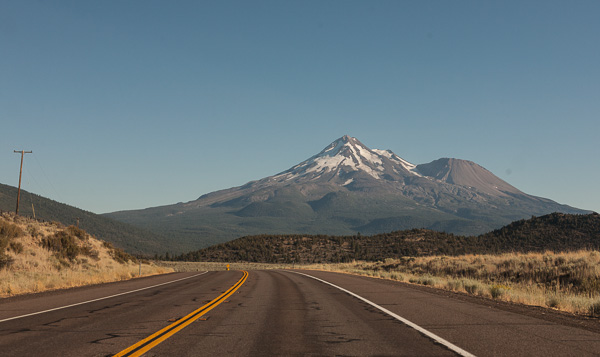 And then we got into a lovely drive across high desert fruited plains towards Mt. Shasta in the golden late afternoon light, staring at that mountain for 60 miles driving towards it, feeling like Neal Cassady and Luanne Henderson, bombing along the two-laner, road trip paradise, what a thing to see a mountain from 60 miles away. I'm so happy/lucky to still be around, running one more trip like this. At the end of the day we reached for good old Weed, California, home of the vintage Hi-Lo Motel and Diner. Fabulous Weed. I always try to stay there, the town name tickles my fancy, and it's right near the base of sacred Shasta.

And now back to the Los Gatos library. Home, sweet home.