Last week I did a reading at this cool café / laundromat near 7th and Folsom St. in San Francisco. The Brainwash. And here's a podcast of my reading, which was about twenty minutes long, including some brief Q&A.

I read the ending of the new edition of my Kerouac-style scroll novel, All the Visions. In May I'll be planning to run a Kickstarter for a Transreal Trilogy + All the Visions project. The trilogy will contain reprints of The Secret of Life, White Light, and Saucer Wisdom.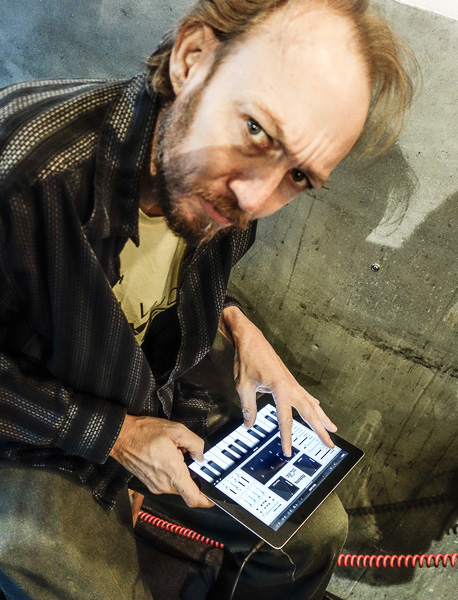 The event was organized by David Gill, who teaches at San Francisco State, and who runs a small SF magazine called Pravic. He's shown here playing SF-style boop-whoop music on his computer. He doesn't always look like this—I asked him to look like a sinister mad scientist, a request to which he responded with a perhaps disconcerting alacrity.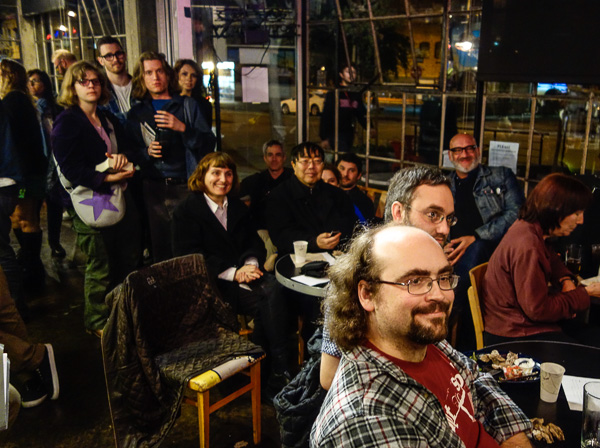 We had a decent crowd, including such luminaries as V. Vale, Marian Wallace, Ted Hand, and Dave Pescovitz.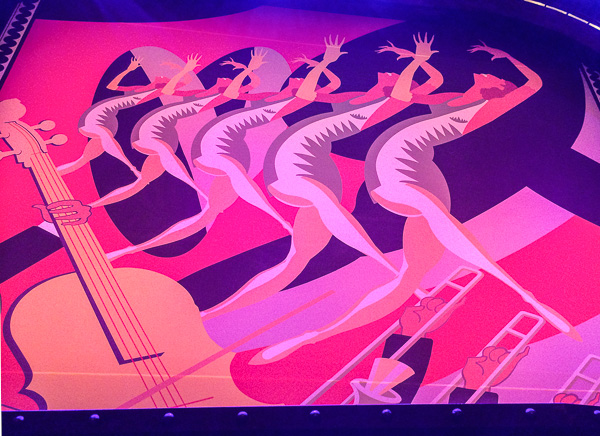 So now let's jump back to NYC. This is the foreshortened curtain at the new Woody Allen musical version of Bullets Over Broadway (seen from below). When the curtain came up some flapper-type dancers were in that same pose. Best musical show I've ever seen. Great to forget yourself in the laughter of a crowd.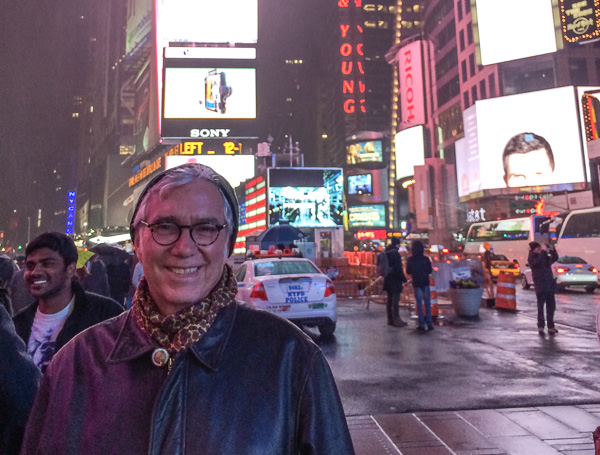 Times Square is so freaking chaotic. Especially when, as I already mentioned, you don't know which direction is which when you come up from the subway. Times like this, Google Maps on your cellphone isn't all that helpful—the currents are too strong to let you figure it out, and maybe it's not a great idea to be blindly waving around your phone in a crowd of a twenty thousand louche strangers. So you bumble along like an molecule in a rushing river.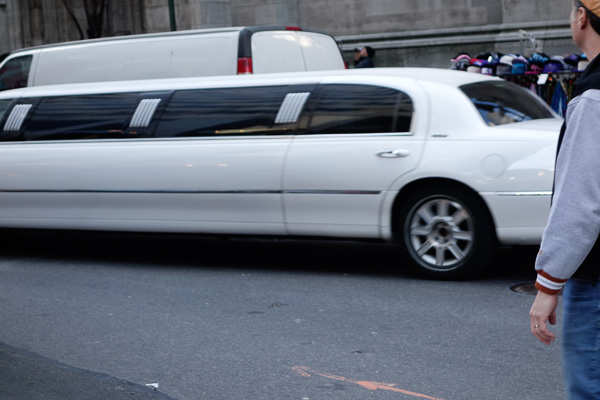 Huge limos ply the streets.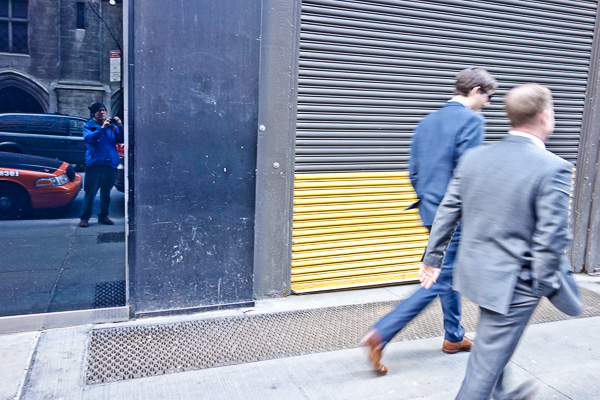 People hurrying past. Such an anthill. And you're one with the ants.
Buskers all over the place, good music. Classy Bethany (?) fountain area in Central Park, string quartet, kind of. The walls are, like, Renaissance.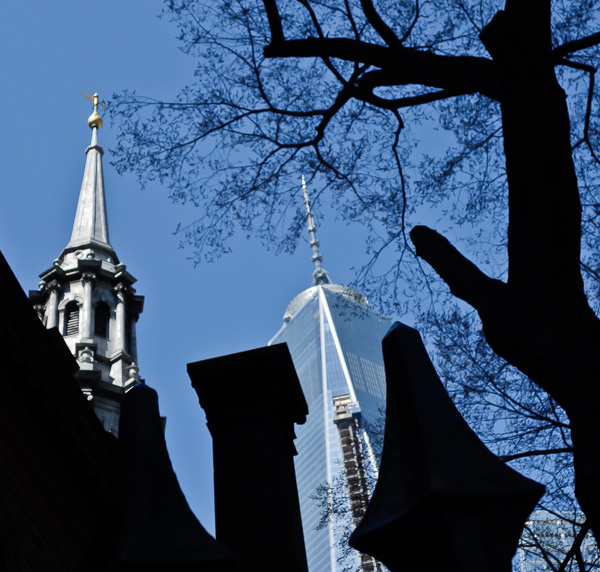 The new World Trade Center tower is almost done. With the antenna it's supposed to be 1776 fee tall. A fairly simple design, but strong, iconic. Takes awhile to get onto the grounds, like with airport-style searches and all that, although eventually I guess it'll have to be wide open so people can actually be using the place.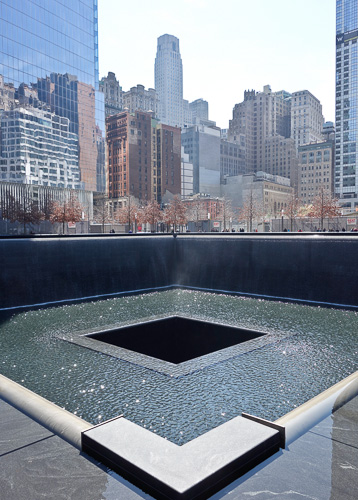 Those big memorial holes are still there, they give me a lump in my throat, unexpectedly. Such a graphic image of death…you flow down in the sparkling waterfall, your life's course runs in maturity along that calm plat area, and then it's down into the deep dark hole of death.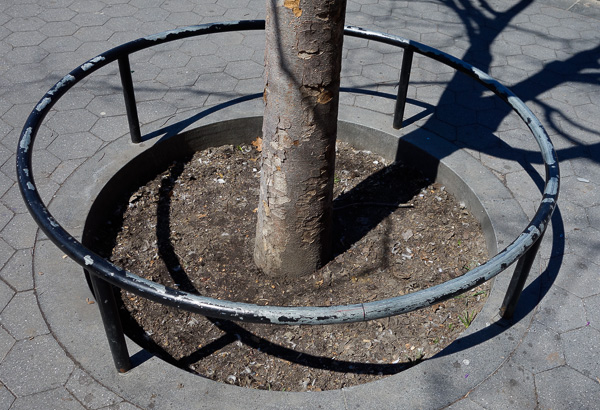 We hit Washington Square Park just for old time's sake. Like this tree. You do get hungry for plants in Manhattan.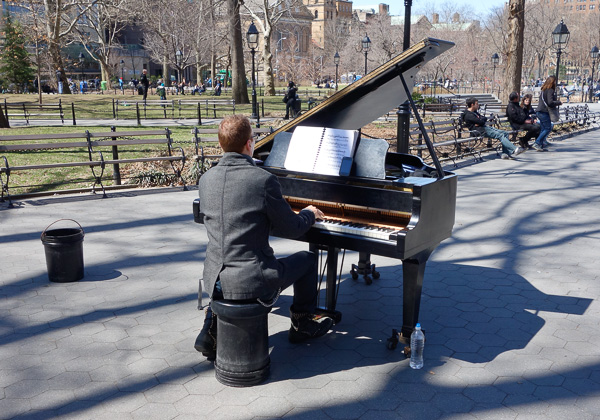 Busker with a grand piano at Washington square. Playing good stuff.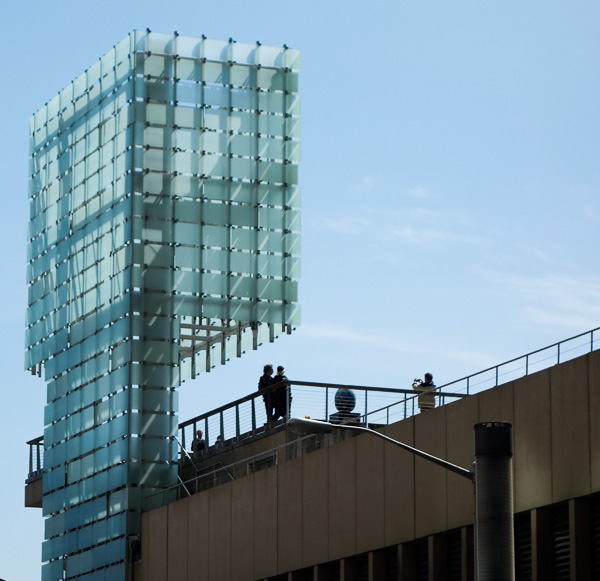 I always like looking at Wall Street and Lower Manhattan too. No idea what this structure is, but it looks nice with the people. Kind of a Federico Fellini vibe.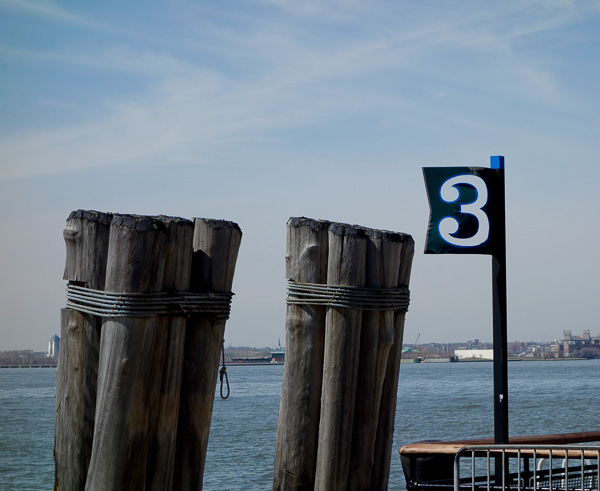 All the way down at Battery Park where you can get the ferries, I saw an easy photo, wharf pilings and a number.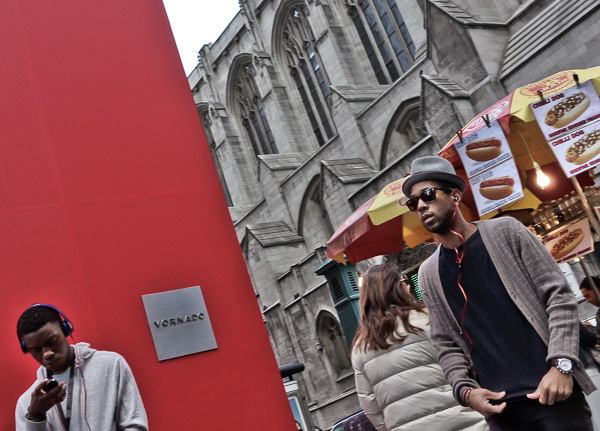 And then back uptown.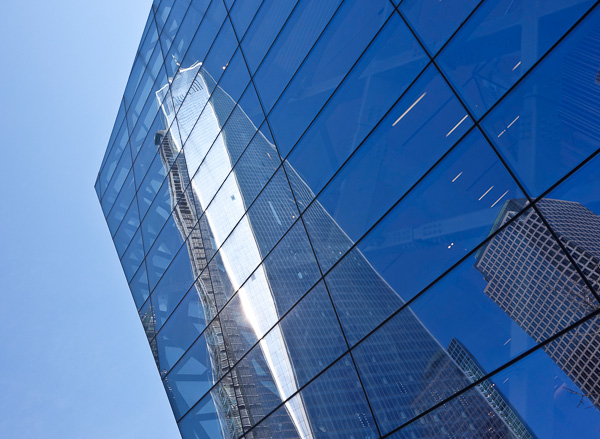 I like the buildings reflected in each other. It's the One World Trade Center again here.
A slanted bottom façade on the building on the left.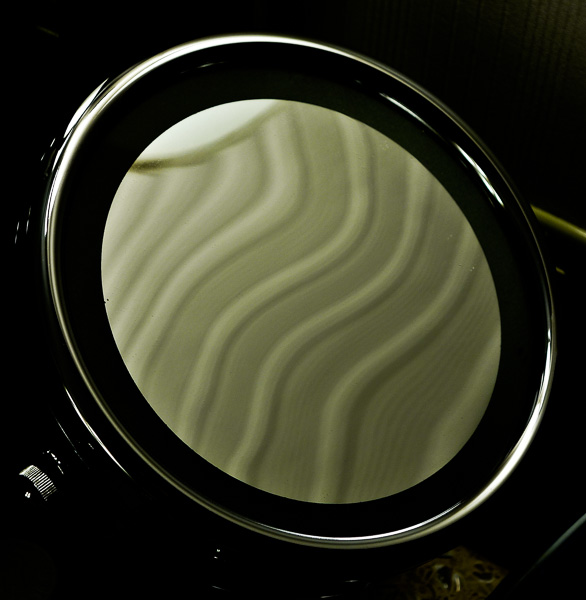 And the makeup mirror in our bathroom…