(Post updated on February 23, 2011)
I was in Basque country from Feb 14 – 22, 2011, giving a talk at Garum Day on Feb 16, 2011, in Bilbao.
My talk was called (with slight irony) "Selling Yourself," and it had to do with various ways in which we try to make money by selling information, culiminating in the notion of creating software replicas of yourself—and then going on to "sell" interactions with your personality model online.
I posted a PDF of my "Selling Yourself" powerpoint slides online, and a draft of the full 'Selling Yourself" essay.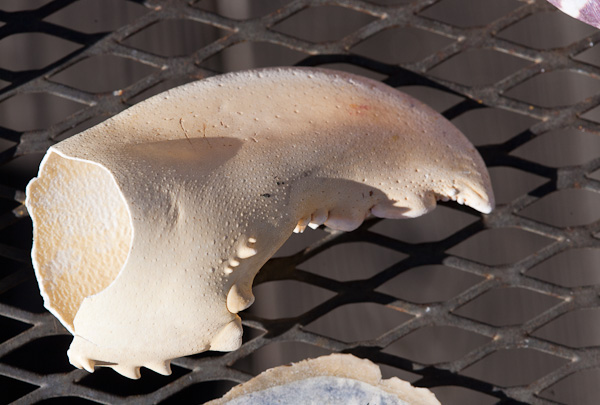 The Garum Foundation, by the way, takes their name from a type of Roman fish sauce; part of the idea is that, at their meetings, they mix together an interesting stew of ideas, another part of the idea is that a recipe for a traditional recipe is kept alive by communication and interaction.
The Garum Foundation organizer is an idealistic banker, Jose Ignacio Goirigolzarri. The conference was fun, and I had some extremely good meals.
Garum Day brought in a really big crowd, many of them were faculty or students with the Universidad de Deusto, and a number were execs for Spanish industries and banks. I took a photo of them at the end of my talk, which was more or less as outlined in the online PowerPoint and essay, although I threw in quite a bit of autobiographical material. Here's the photo of the crowd.


The audience at Garum Day, Feb 15, 2011. If you want to find yourself, click for larger version!
As of February, 23, 2011, a videotape of my talk became available online.
At the end of my talk, one person asked if I had advice for entrepreneurs in our age of the internet revolution. I didn't give a great answer at the time, but here's a three things I might have said.
(1) Chatbot or lifebox emulations of humans will be a huge online industry, see my post on "Digital Immortality Again."
(2) Any interesting online program should have a quality of unpredictability or gnarliness so as to appear lifelike and engaging. See my essay "Seek the Gnarl" or my Surrealist video, "What Is Gnarl?"
(3) Online sites are most interesting if you put a full personality into them, and have them be "transreal," that is, in some sense autobiographical, but with a layer of elaboration atop that. For some discussion of transrealism see my post "Unpredictability and Plotting a Novel." You can also listen to a podcast of my recent talk, "The Birth of Transrealism."
And, yes, my advice isn't what you'll normally hear in business school but…when has past knowledge ever been right about the future? Odd paths and new recipes are worth a try.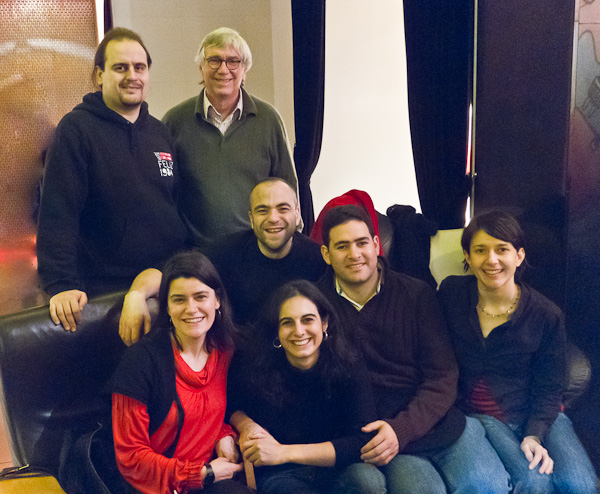 Another fact about Garum Day—the conference's techs and organizers were largely drawn from a cooperative group known as Las Indias, who say they were originally inspired by concepts of cyberpunk! Here's a picture of me with them.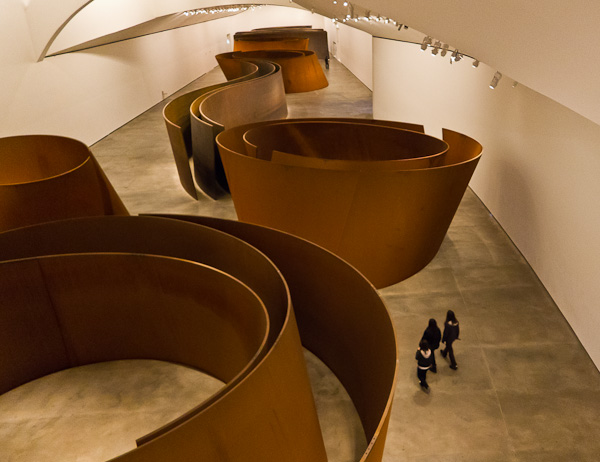 Finally, for non-natives of Bilbao, I've placed a photo above that shows the awesome hall of Richard Serra sculptures in the Guggenheim Museum here. Serra says his suite is about time. I guess the future is at the far end…