On Friday we had the opening of my art show at the Borderlands Café on Valencia Street in San Francisco. We got about 20 guests for the opening, and the place was full in any case, with a steady flow of hipsters. My artist friends Paul Mavrides and Hal Robbins showed up with some of Hal's fractal-freak friends from NYC, R. U. Sirius was there with a "blotter artist," my son Rudy Jr. was there with his family, fellow Flurb writer Charlie Jane Anders of io9 (and frequent contributor to Flurb) showed up, and my freestyle SF-writer pal Michael Blumlein appeared with his wife and we had dinner together. I shot a video right after hanging the pictures, for what it's worth, here it is.
Borderlands has a pretty good supply of signed prints of my paintings right now, with more coming into stock later this week. I've been making them at home on highest quality Museum Etching paper, 19 x 13 inches, using a Canon Pro9500 inkjet printer with ten colors of ink. Just the paper and ink cost me about $10 per print, and right now we're selling them at Borderlands for, I think, $35 each. You can also buy unsigned prints of my paintings online for a comparable price at rudy.imagekind.com, where you can select various sizes, paper grades and possible frames.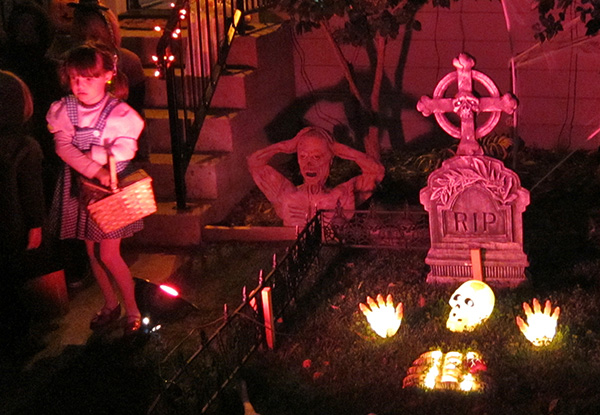 On Halloween, Sylvia and I went walking on Tate Avenue in Los Gatos, which has come, over the years, to be a really popular holiday street. The people who live there go all out with the decorations, and ton of trick-or-treaters turn up. Dig this light-up zombie rising from the grave as a little girl darts past.
Halloween is an odd holiday, kind of unique to the US—it's not exactly like All Saints Day or the Day of the Dead. It's more about facing your most horrible fears and somehow finding them funny, or at least thrilling. And getting candy.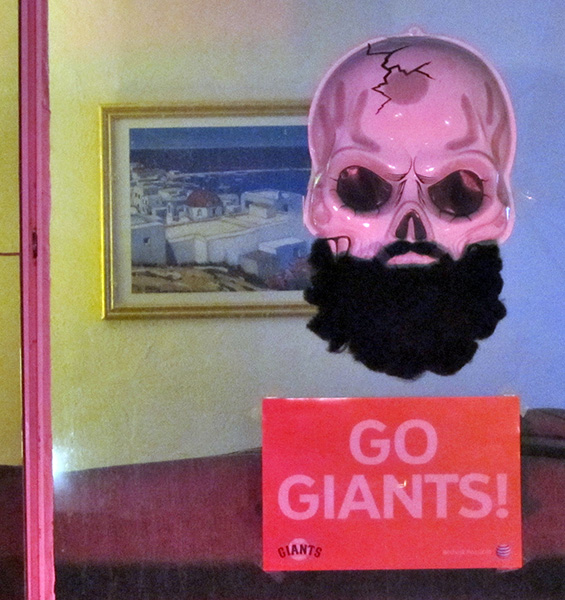 I liked this topical icon of Brian "The Beard" Wilson, the SF Giants' closer pitcher. Though we rarely watch sports, we got into viewing the whole Series. It's surprising how many really close and somewhat arbitrary calls the umps have to make, and interesting that there seems to be no movement towards using instant replays to check the calls on the field. Maybe that would slow things down too much. As it stands, there's an element of "psych" in the calls. It also surprised me how often there are tiny little-known sub-codicils of the rules that come into sway.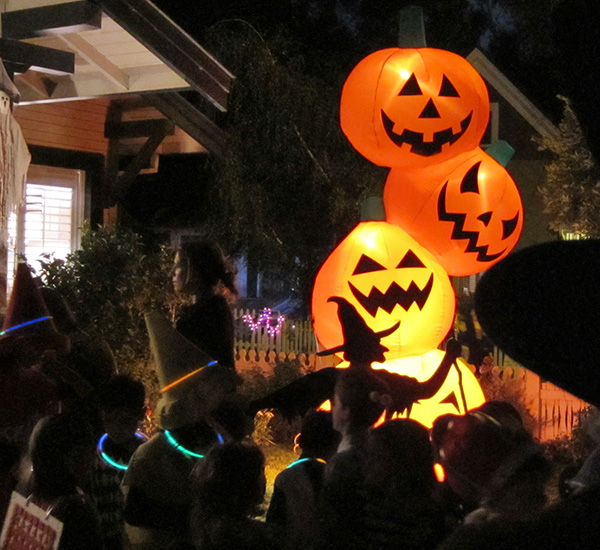 After California beat Texas in the series, I was hoping it would be a good omen for the congressional elections. Oh well!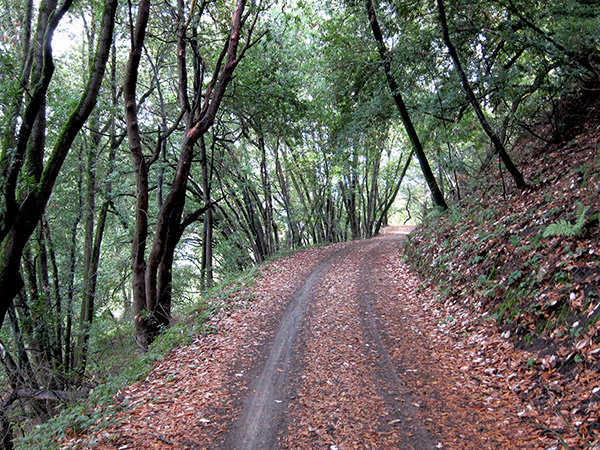 When all else fails, I always like to take a walk in the woods. I'm making good progress on on Turing & Burroughs, I have Alan Turing at the Burroughs family house in Palm Beach right now. Shapeshifter that he is, he's wearing Bill Burroughs's body-form and is trying to tell the Burroughs parents that he's not really Bill, and of course they think he's insane. I think he'll have to bail from there quite soon.