A couple of posts ago, I was writing about "Virtualization." And my attention was called to "True Names," a 2008 novella by Benjamin Rosenbaum and Cory Doctorow, about competing layers of VR. You can find "True Names" either online or in print in Lou Anders' Fast Forward 2 anthology—I don't like reading long thing on the computer screen, so I actually got a used copy of Fast Forward 2 for about $3. And I read "True Names" this week. And it sets off all kinds of thoughts, as did a comment that Benjamin Rosenbaum made on my initial post.
Spoiler alert—I want to discuss the idea behind the novelette in some detail here, and what I say will give away some of the tale's surprises. (On the other hand, if you do read this post before the story, you'll understand the story better.)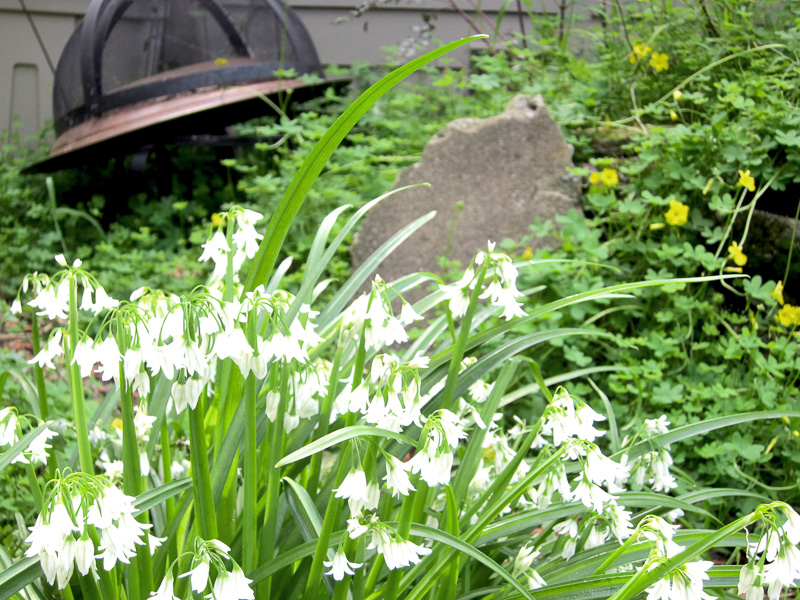 The set-up in "True Names" is that we have three competing reality systems: Beebe, Demiurge, and Brobdignag.
(1) Beebe is a videogame-style VR world, where competing agents live inside a computationally generated reality that uses repurposed ordinary matter as its underlying computational engine. To give it a computer sheen, Doctorow and Rosenbaum cast the characters into the form of Unix-style entities called "strategies" and "filters," and when they split in two they're said to "fork" (Unix-style). But most of the time the chracters take on a colorful appearance.
(2) The nature of Demiurge was a bit hazier to me—my sense of it was the Demiurge was devoted to preserving, park-like, as much of ordinary reality as possible, although I wasn't quite clear what computational substrate the Demiurge creature(s) run(s) on. One might suppose that the Demiurge is, as the name suggests, the universal consciousness that exists Hylozoic-style within ordinary reality. The "divinity" that underlies the natural world.
(3) Brobdignag is an omnivorous gray-goo kind of reality that's eating up all matter and space, converting it into a uniform, distributed computation that I would think of as being a cellular automaton—or CA. A CA, by the way, is a computation arrived at by dividing space up into tiny "cells" and having each cell run exactly the same computation, over and over, in parallel. As computer scientists learned in the 1980s and 1990s, (see the images on my CAPOW page) you can in fact get lovely, emergent patterns in a CA, so the restriction to "simple repeated programs in cells" is in fact no more limiting than are the laws of physics which are, after all, "simple repeated rules at points of space." Brobdignag is an off-stage menace till the very end of the tale.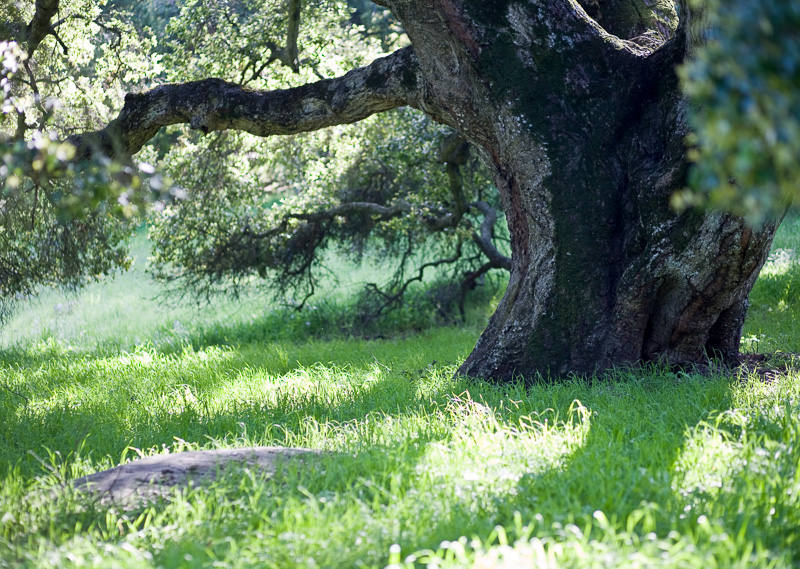 The kicker in the story is that the Beebe and Demiurge characters keep discovering that their Beebe or Demiurge "realities" are in fact simulations being run by an opposing camp.
It's not always easy to discover whether your "reality" is a simulation, and initially the characters believe that, "No inhabitant of an emulation could ever discern the unreality of their simulated universe." But then the character Paquette finds a rather simple mathematical proof for the so-called Solipsist's Lemma.
"An emulated being can detect its existence in emulation, and there is a way to find the signature of the emulator in the fabric of the emulation. Specifically, in certain chaotic transformations, a particular set of statistical anomalies indicates the hand of Beebe—another, that of Demiurge."

But… "The numbers seemed to imply that we were in emulation . . . but not in Beebe, nor in Demiurge. In something else, with characteristics that were exceedingly odd."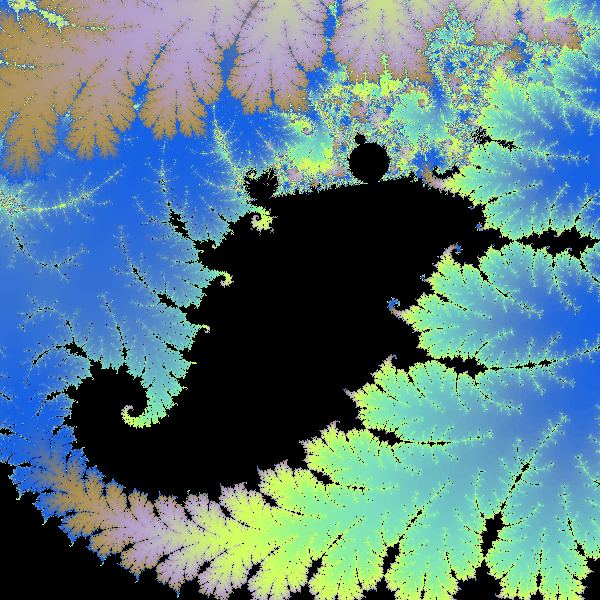 [I haven't done jack in terms of photography lately, so I'll be using some images and a video of fnoor-like fractals, for an explanation of them, see my post , "Cubic Mandelbrots and the Rudy Sets"]
And at the story's end, the competing Beebe and Demiurge characters learn that the great competition is long over, they've been simulations living in Brobdignag all along.
Hegelian that I am, I sense a dialectic triad here. Demiurge, or plain old godly Nature, is the thesis. The antithesis is Beebe, the by-now-ubiquitous-in-SF artificial VR that I railed against in my post, "Fundamental Limits to Virtual Reality" and its follow-up post, "Limits to VR #2: Answers to Comments." So then, if "True Names" is indeed in dialectic form, the synthesis should be Brobdignag.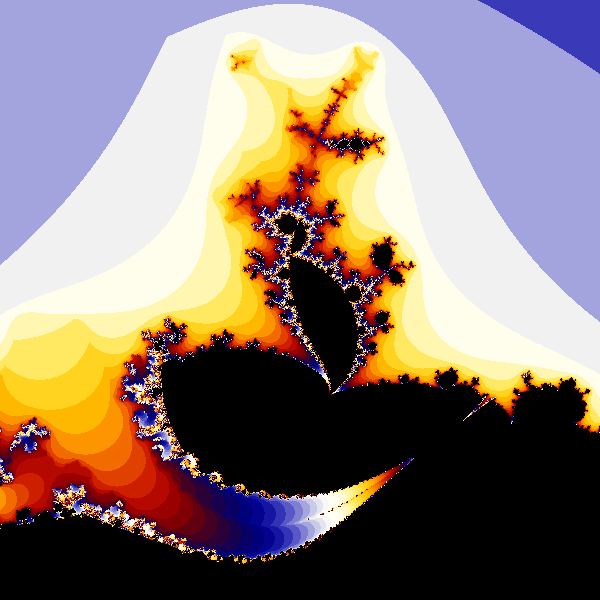 How so? We can regard Brobdignag as being the two opposing things at the same time: "natural reality" and "computed reality." And to some extent this seems to be what Doctorow and Rosenbaum have in mind in their closing pages where we hear a voice from Brobdignag.
"Those little engines—void-eating, gravity-spinning, durable, expanding through the territory of known space—those aren't us. They're just what we're made of. That's right: we arise in all that complex flocking logic. … We are lucky: we have the gifts of abundance, invulnerability, and effortless cooperation. Let us enjoy them. Let us revel. Let us partake. Let's get this party started."
It's a nice twist although, philosophically speaking, I don't really see a need for Brobdignag. As I'm always saying, the natural world already is incalculably rich. But my personal opinions are kind of irrelevant here, as we're talking about an SF story, and about the moves that the authors took to make it work. "True Names" is a good story.
I'm especially intrigued by the Solipsist's Lemma. When I was working with the Cyberspace project at Autodesk in the 1990s, I used to talk about this notion with John Walker. We were noticing that certain kinds of computational round-off errors would, in time, degrade a virtual physics simulation. Planets, for instance, would move out of their proper orbits. And Walker was saying that maybe there were some weird things in particle physics that indicated that our reality was in fact a slightly shoddy simulation.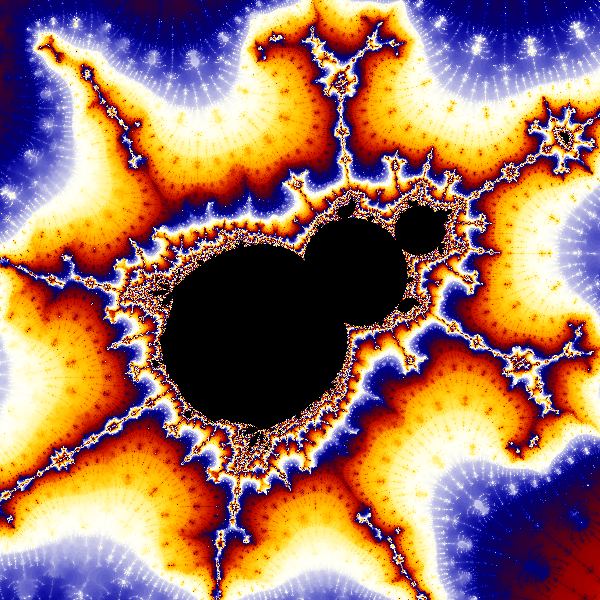 I used a variation of Walker's notion in my transreal, VR, artificial life novel that emerged from my time at Autodesk, The Hacker and the Ants. In my novel, I had the idea of making these simulation errors take on the form of odd-looking inconsistent computer graphical objects that I dubbed fnoor.
Somehow "fnoor" seemed like just the kind of word that my new code-hacker friends like Bill Gosper would come up with. And, God knows, I was seeing plenty of fnoor coming out my initially ineffective attempts to program such simple shapes as dodecahedra. So in The Hacker and the Ants, there's cracks where some of the "walls" of the VR join up, and inside the cracks are bits of…fnoor. A race of voracious artificially-alive VR ants are hiding inside the fnoor.
The cyberspace crack I found myself in held an odd, drifting piece of geometry, an "impossible" self-reversing figure of the type that graphics hackers call fnoor.

The piece of fnoor was of wildly ambiguous size. Relative to my tiny dimensions, the fnoor first seemed to be the size of my car, but a moment later it loomed as large as the pyramidal Transamerica building… The fnoor was a clump of one-sided plane faces that seemed haphazardly to pop in and out of existence as the clump rotated. The fnoor's vertices and edges were indexed in such a way that the faces failed to join up in a coherent way. There was no consistent distinction between inside and outside, leading to a complete failure of the conventional cyberspace illusion that you are looking at a perspective view of an object in three-dimensional space.

The rotating fnoor changed size irregularly; at a moment when it looked much bigger than me, I sprang forward and landed on it. I ran across the faces, which flipped out under me. I still had seen no ants. Finally I came to a crazy funhouse-door in the fnoor in the dense angles of the fnoor; I squeezed through it and the fnoor turned into a solid model that lay all around me.
Just recently, before reading "True Names," I was thinking about revisiting this notion, in fact I'd made an outline for a short story called "Fnoor." And now "True Names" energizes me, I like how the explicitly worked out the "Solipsist's Lemma." Hopefully I'll get around to writing a longer form of my own story in the next month or two, but for now, here it is in outline form.
"Fnoor"
Point of View: a more or less normal woman who has a crazy mathematician friend.

Setup: The mathenaut zooms in and finds an scary apparition in a high-degree computer graphic, it's some new kind of fractal that he's investigating as a kind of retro move. He calls these weird little shapes fnoor.

Twist: He finds the same kind of fnoor in a scanning-tunneling-microscope image.

Flash: He concludes the natural world is generated by an algorithm.

Task: What does the world's computation run on? His woman friend, the narrator, says that consciousness is the substrate. The mind is the "metal" of the "machine. The mathenaut is okay with this idea, but then he begins wondering what the underlying the consciousness is running on. Are we in a strange loop or in a tower of virtual machines.

Action: So our hero seeks out fnoor in our consciousness—perhaps he starts with the phosphenes you see when you press your closed eyes. And now the mathenaut begins changing the world by changing the operating system of his mind. And thanks to entanglement, everyone else's world changes too. It's for real, at one point the mathenaut conjures up a ragged hole in space, a hole the size of a knapsack, and he pushes his hand into it.

Finale: By now his woman friend has left the mathenaut, and he's trying to get her back. She takes action to stamp out the fnoor. And…[wait for the zinger.]