"Unfurling" is a graphic novel drawn on a scroll of paper by my daughter, Isabel Rucker, going on display from November 5-27, at the SOMArts gallery in San Francisco.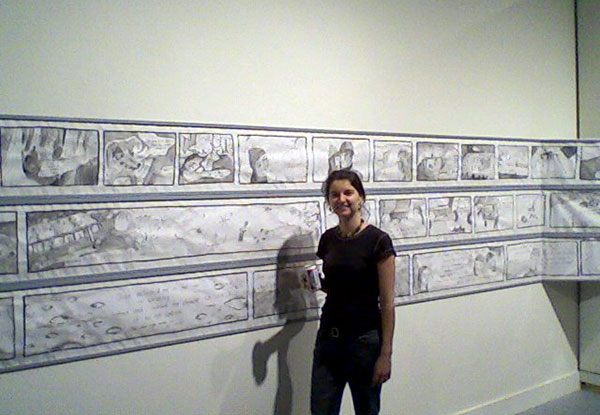 [Tuesday night: A weary Isabel finishes mounting the show. The scroll is in three 150 foot rolls, mounted one above the other, held in place by wood stripping and protected by Mylar plastic.]
"Unfurling" stretches over 400 feet long, is a foot high, and is drawn in black ink pen with watery washes. The comic panels vary in length (up to ten feet long) to mirror pauses, vast scenery, or thought patterns.
Most of the panels are too long to fit into the narrow column of this blog, so I'll just post a few details clipped from the panels so you can at least have an idea of the art.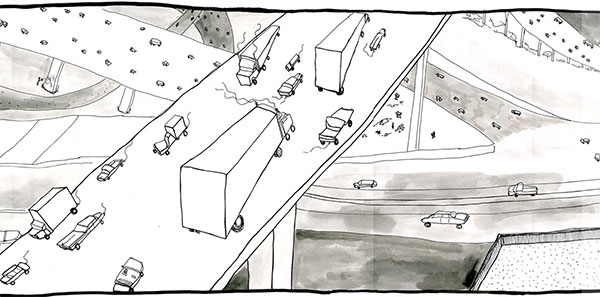 The seven-year project began in 2002, when Isabel decided to free herself from the size of regular pieces of paper, canvas or sketchpad. She was living in a warehouse full of artists near the intersection of Cesar Chavez Street and Third Street in San Francisco at the time.

She fell in love with a young man in Pinedale, Wyoming, and moved out there to live on a ranch with him—and a few years later they married. Pinedale is definitely off the grid, but filled with natural beauty.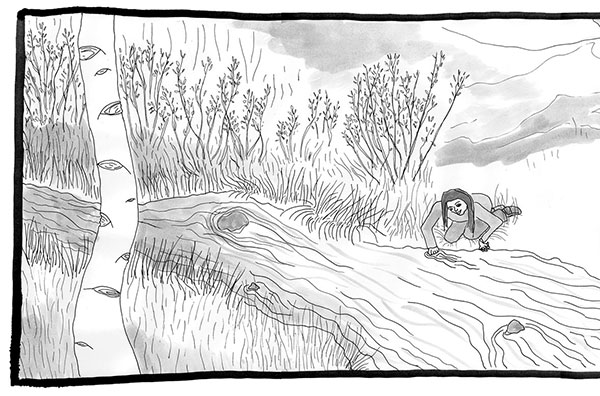 "Every day there was something new to see," as it says on the full-length version of the panel above. Briefly put, "Unfurling" describes Isabel's journey from San Francisco to Wyoming.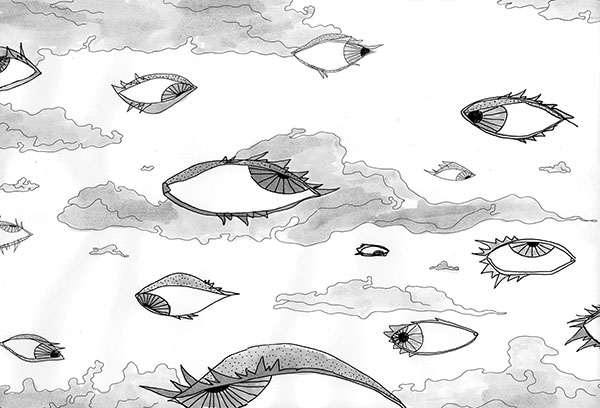 Living in Wyoming seems to have brought her to a level of visionary peace.
The opening party for the Unfurling : This Land show is Thursday, November 5, 2009, 6 p.m.-11 p.m. at SOMArts, 934 Brannan Street, in San Francisco, CA 94103.
The show also includes new pencil drawings by cartoonist Mark Bode for the graphic novel Cobalt 60, and Mike Dingle's I See the Future, a massive collage work consisting of found objects combined into the general shape of the United States. This opening should draw an interesting crowd.
Directions: SOMArts is near Eighth Street and Brannan, near Trader Joe's, not far from the the Sixth Street exit from Route 80. Here's a link to a map.
I hope to see some of you there!
Added November 8…

Here's a pasted-together and way-too-small photo of the left end of Unfurling as it's hung. You read the whole top row, then the next row, and then the third row. Awesome. Mabye later we'll post a big image of the whole thing. Or make it into a book…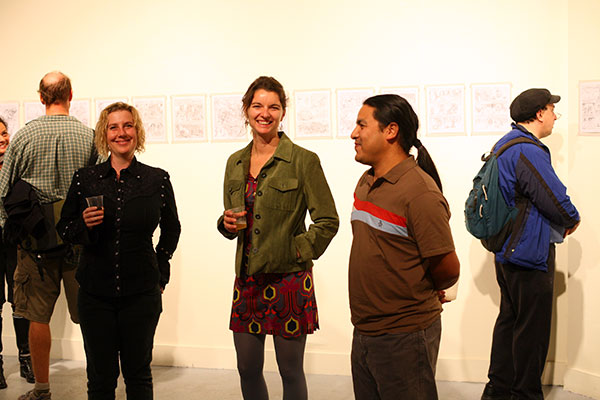 This is Isabel at the opening, in the center, with some friends and viewers, standing in front of some of Marc Bode's comic art.