This week I read he 1912 Tarzan of the Apes by Edgar Rice Bourroughs. The 1990 Penguin paperback edition has a great cover by Frank Frazetta.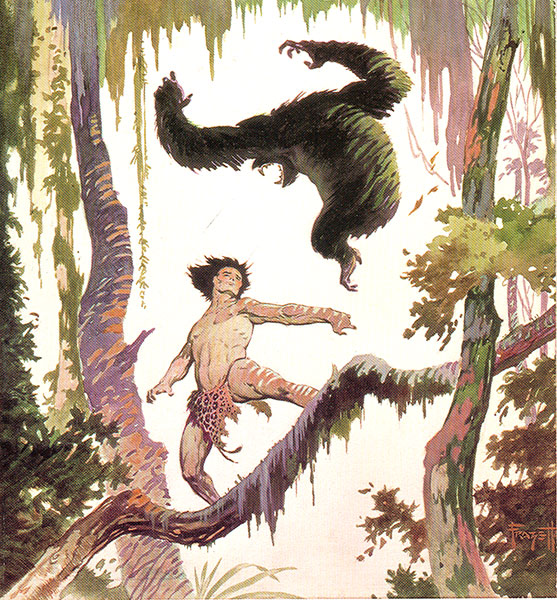 [Copyright (C) Frank Frazetta]
I enjoyed the book a lot, and now I have to get hold of the first of the many sequels, the 1913 The Return of Tarzan , to see if Tarzan manages to hook up with Jane—who slips through his noble fingers in the final scene of Tarzan of the Apes.
I'm curious about Philp Jose Farmer's Burroughs/Burroughs pastiche, "The Jungle Rot Kid on the Nod," but I can't find it online. Maybe I'll have to buy a Farmer anthology for this one.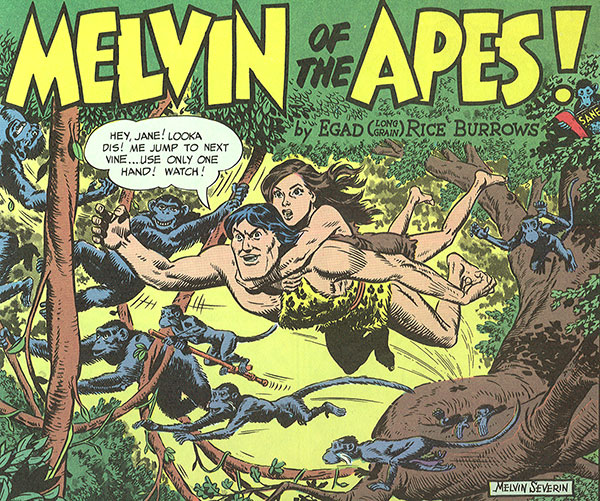 [Copyright (C) E. C. Publications, Inc.]
I also dug out my old Mad magazine parody, "Melvin of the Apes," every frame of which is eiditcally etched into my brain tissues from my first exposure back in the early 1950s.
On an unrelated front, I've been thinking about biotech, genomics, bioengineering, bioinformation—whatever you want to call it. I'm thinking there's a rich vein of SF story material here that's ripe for more mining.
Of course Paul Di Filippo suggested this years ago in his Ribofunk Manifesto, and his story collection, Ribofunk. And we can't forget Greg Bear's classic Blood Music.
I'd be curious to hear suggestions about existing SF along these lines and, above all, I'd like some recommendations for readable popular science books on the subject. I'm not so interested in worries about new plagues, I'm more intrigued about how we might tweak living orgainsms.