I started a new painting today. I'm sort of copying Georgia O'Keeffe's The Lawrence Tree. She painted this around 1929, while visiting the former ranch of author D. H. Lawrence near Taos, New Mexico.
"There was a long weathered carpenter's bench under the tall tree in front of the little old house that Lawrence had lived in there. I often lay on that bench looking up into the tree…past the trunk and up into the branches. It was particularly fine at night with the stars above the tree."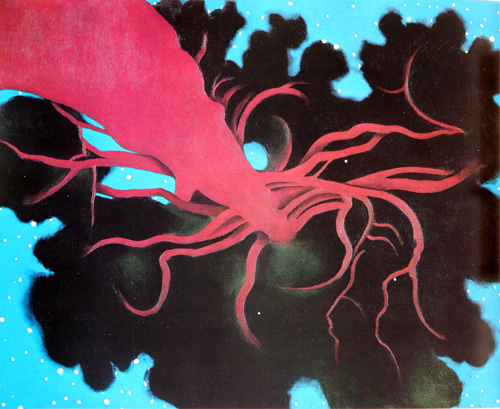 I like the way the trunk and branches in Georgia's painting look like…the body and tentacles of a giant squid. She boldly abstracts away from the texture of the trunk, rendering it as flat. She also has some really nice fuzzy edges on the foliage. I like the way a few stars peep through the needles of the tree, which is said to be a ponderosa pine. I have a somewhat similar tree in my yard.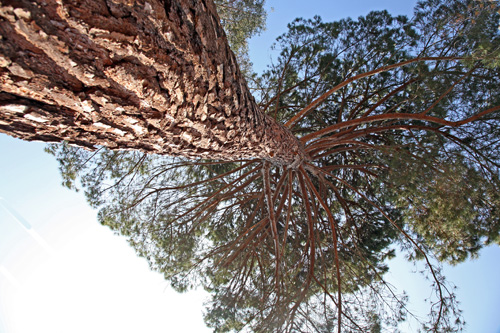 In some books and prints, The Lawrence Tree is shown with the trunk at the lower right, but a number of scholars feel that Georgia wanted the trunk to be at the upper left, with the tree disconcertingly growing down (into the Hollow Earth?). Larry Clark makes the point that if you lie on your back at the base of a tree with your head near the trunk, you will indeed see the trunk at the top of your visual field, as shown below.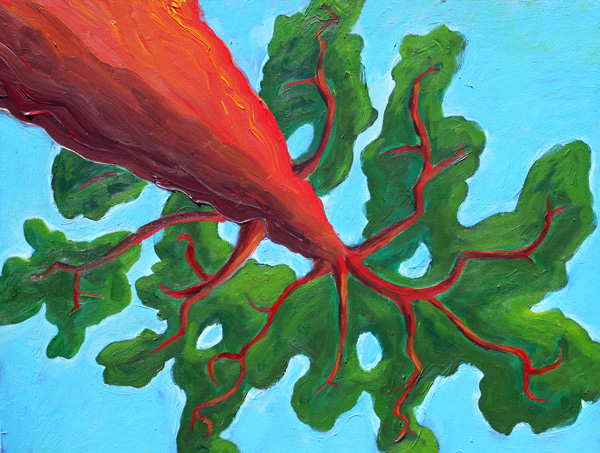 I'm calling my version Georgia's Tree, and I'm not precisely copying it, it's more that I'm using it as a composition. I don't look at the original too much, as it's so dauntingly great.
I'm leaning towards having shades of green in the foliage instead of black like Georgia, and towards having some light on the trunk…maybe it's moonlight. And I want to put in the stars, even though my picture sort of looks like daytime, well I can darken everything down a little. And I think I need to increase the contrast between the branches and the foliage and maybe add more branches. Possibly I put in an alien aircraft with running lights—maybe Georgia wouldn't mind.
And here, for a change of pace, is a grafitti mural from CELLSpace in San Francisco!