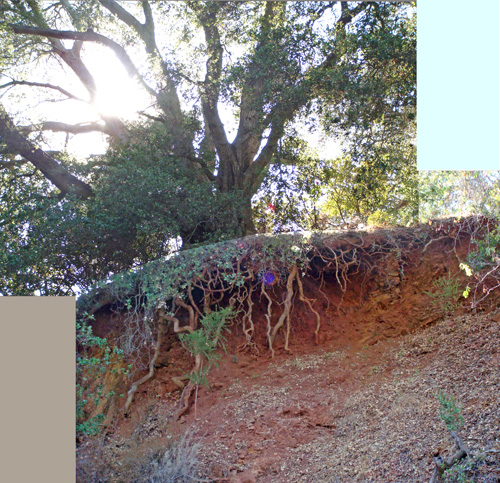 I've been working on the second panel of my Postsingular triptych. My new picture is based on a particular oak tree that I've been looking at for twenty years. It's on the edge of a gully on St. Joseph's hill. I used to think it was about to fall down, but it seems pretty stable. This is a photo patched together from two shots, but there's nothing fake about it.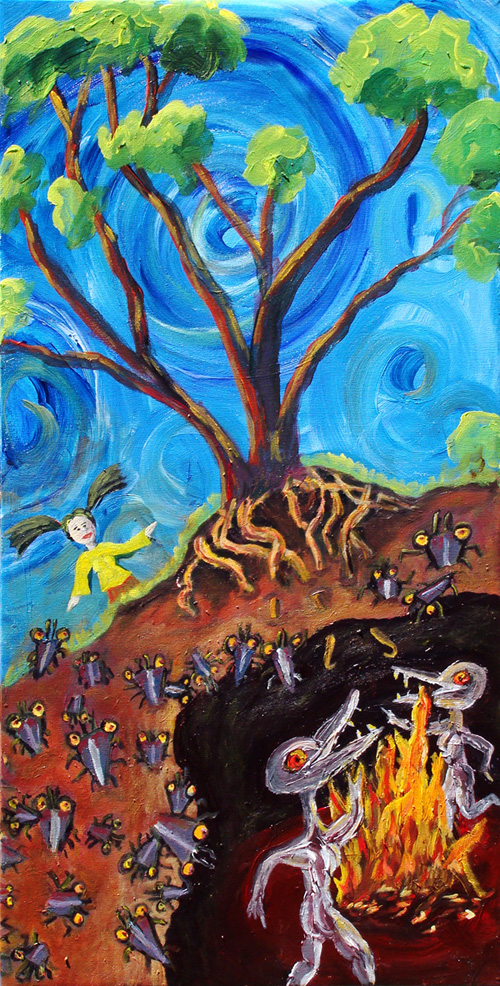 Here's the current state of the painting I came up with; it's called Postsingular. That's my character Thuy Nguyen there with the pigtails, looking down off the cliff at the nanomachines and at some demonic dancing subdimensional subbies. Need I say that I've been studying my Hieronymus Bosch of late?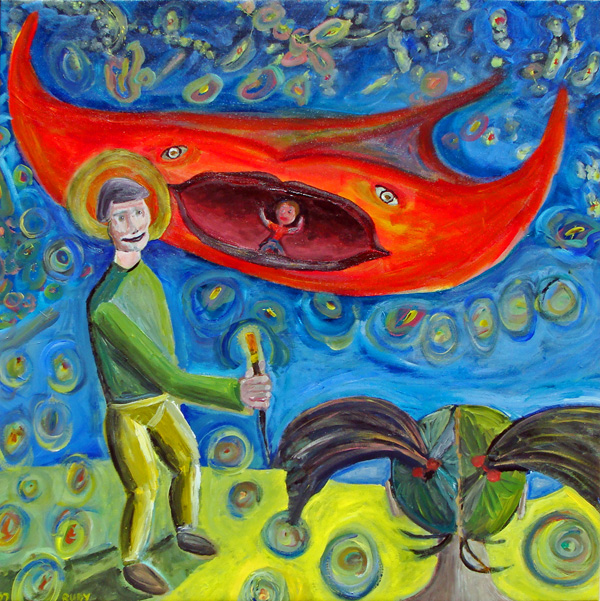 The central painting of the triptych is Hylozoic, I did that one at the painting workshop in France. When I stretched it, I lost a little of Thuy's neck, but I've gotten used to that. She's looking at a Hrull flying manta ray with Chu riding inside the ray. I'm not sure who the artist is. Either Bosch, the character Jayjay, or me.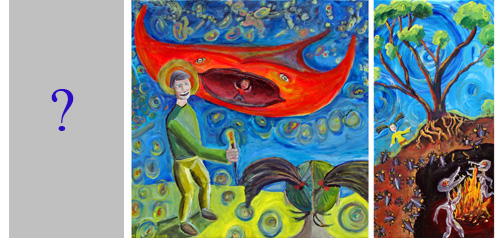 Although the book Postsingular is volume one of my trilogy in progress, and the book Hylozoic is volume two, I'm going to hang the "earlier" one on the right of the "later" one because the patterns match better that way. So you read it right to left, fine. And what goes on the left? That's gonna be a painting called Transfinite, which will be based on my plans for volume three.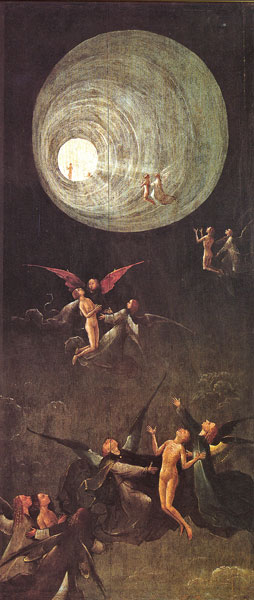 I'll probably base the third one on this painting by Hieronymus Bosch, The Ascent of the Blessed.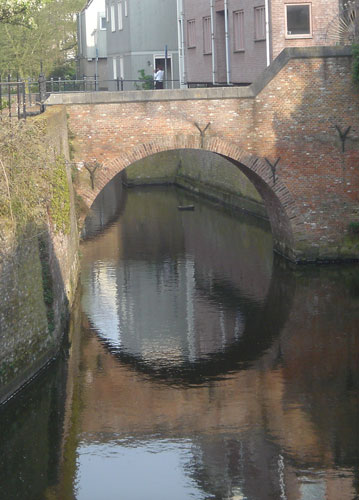 Most scholars think Bosch modeled his image of Heaven's gate on the reflection of one of the numerous arches on the Binnendieze river in s'Hertogenbosch — which did double duty as a sewer in our man's heyday, right around 1492 or 1505.
I'm painting these days as I'm hung-up figuring out the rest of the plot of my novel Hylozoic. I have the upcoming Bosch chapter pretty well sketched out. But that damned pitchfork—it's got me confused. What's it up to?
I'm thinking maybe it's not so evil. It's pals with the harp. But why are these higher beings screwing with our world? I'm looking ahead at the story, figuring out what I'm gonna need to jettison to pull it together.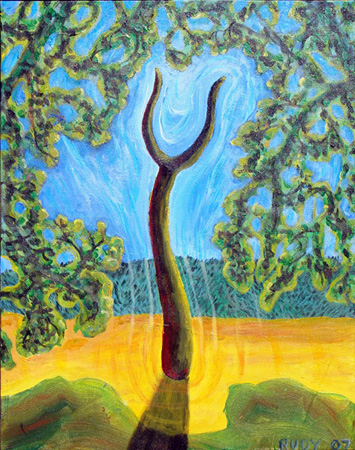 Zonnnnnngggggg.
I'm at that frightening black point that I always reach in the middle of a novel. Confusion and despair. I fantasize that I can stave this off by outlining, but the black point crops up anyway, heedless as a meteorite. It's where reality meets dream, where the rubber hits the road.
As Dante puts it in La Commedia Divina,
Nel mezzo del cammin di nostra vita
mi retrovai per una selva oscura,
che la diritta via era smarrita.
I found an interesting web page exploring lots of ways to translate this. One version reads as follows:
Midway in life's journey
I found myself in a dark wood,
and the straight way was lost.
Another translation might be:
Halfway through my novel
I know I don't know
What the hell I'm doing.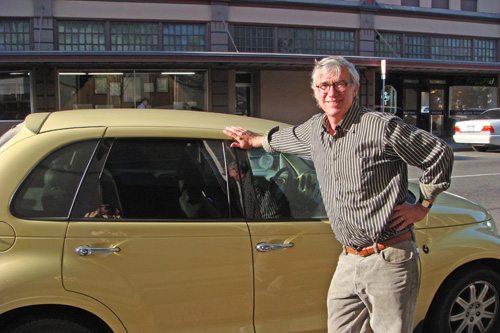 What the hey, I'm going to the beach. Sooner or later, the Muse is bound to show up and extricate me. She always does. It's probably just a matter of dropping a few of the candies I'm holding in my greedy monkey-fist.