Stoner humor is a way of giving the finger to consensus reality. That's what I always liked in Burroughs's Yage Letters or in Phil Dick's Scanner Darkly, or William J. Craddock's Be Not Content. Turning your back on received ideas. Participatory surrealism.
Looking ahead, in I'm proud to announce that June 15, 2012, my Transreal Books publishing company  scored the coup of bringing William J. Craddock's classic psychedelic novel back into availability. I reached an agreement with Craddock's widow, Theresa, and Be Not Content became available both as an ebook and as a quality paperback, via my Transreal Books page.
Go here to read my intro to my print  edition. Many thanks to all the readers of this blog for your support and encouragement.
Sadly, as of June, 2020, my contract to publish the novel expired.  Happily, as of June, 2021, the book is back in print from Jay Shore of Backtrack Publishing.
Back to the memories—here's two old journal excerpts of mine about the book.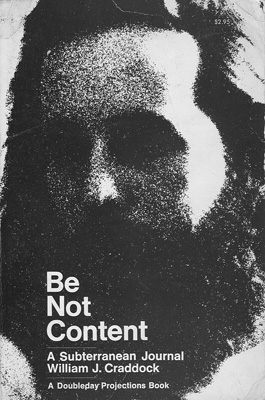 (1) Oct 5, 2003. I bought a used book on the web, William J. Craddock, Be Not Content, a book I worshipped in the 1970s, and then lost. I paid too much for this used copy, $140, and it's not in very good shape, but I just had to own it again. It was pure joy rereading it, I recognized so very many bits that I've totally integrated into my worldview, so many kicks and tricks that I used in my own transreal work. What I hadn't remembered/understood in reading the book in the Seventies is that it's set in San Jose. It's a Bildungsroman transreal novel about Craddock's experiences as an acid-head while a student at San Jose State, 1963-1967.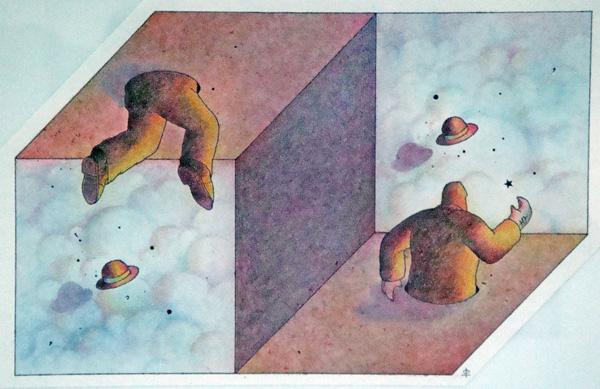 [4D Painting by David Povilaitis.]
He was born in 1946 like me, and went to college the same years! I wish I could find him and give him a copy of my mirror-world right-coast work in the same vein, on the same period, The Secret of Life. Looking for him on the web reveals only one hit, a reprint of something he had in one of those Authors Lives reference sets back when Be Not Content came out. [Note, I can't find this link anymore.] He was born in Los Gatos. Was living in the Santa Cruz mountains. Right when I moved here in 1986, I remember seeing a column by him the Santa Cruz free newspaper Good Times. I hope he's still alive. Maybe I could help get Be Not Content back into print.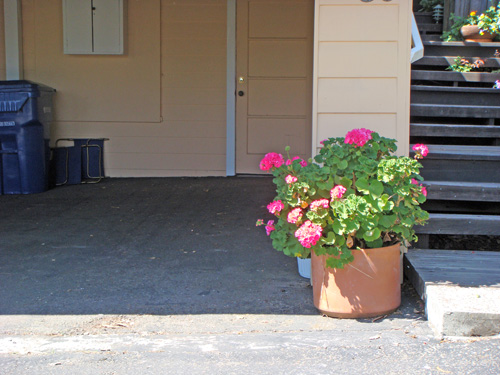 I'm always worrying about wasting time, right, and I saw a great line in Be Not Content, the author-narrator Abel Egregore expresses this fear to one of his stoner friends, who guffaws, "Time? How can you waste time?" And I get a little enlightenment there. Time and space, the all-pervasive ineluctable modalities. What's to waste? You use one second per second no matter what you're doing. A wonderful teaching.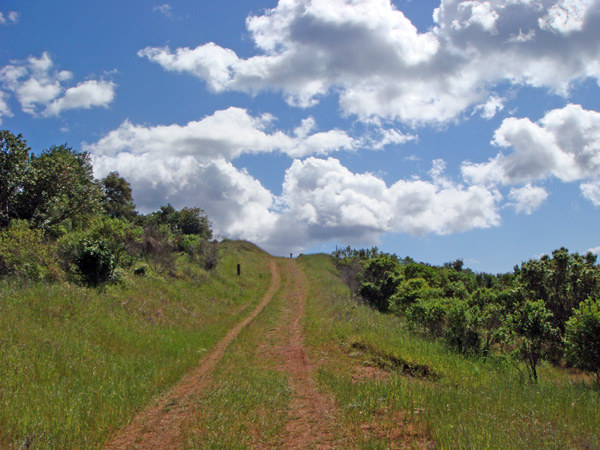 (2) September 25, 2005. A fan emailed me that Craddock is dead, so today I went to the SJSU library to look up Craddock's obit. It was on microfilm, San Jose Mercury News, March 20, 2004, a tiny obit written by, I think, his wife Teresa. How little recognition he died with. It was eerie, the microfilms are down in the basement in this new and graphically uncluttered room with an art piece that makes the room look like a mausoleum — the two facing side walls are covered with mirrors set into tiny arched openings like the doors to crypt boxes. Like being in Citizen Kane. I pull open the huge flat metal drawer with ranks and ranks of microfilm boxes, my hand reaches in, plucks out the box with Billy's obit. Go to the microfilm reader, the same old big clunky kind of machine as ever, grind forward to his the obits on 3/20/04, I'm looking for a big article, but it's just a little tiny thing, with a picture him looking tired and sad, his eyes hidden in dark sockets.

How bum, how alien, how weird it would be for him to see this microfilm room in a flash-forward, him walking careless and high around the campus forty years ago and suddenly, whoah, he sees the hand pulling out the box of microfilm with its image of his weary, suffering face.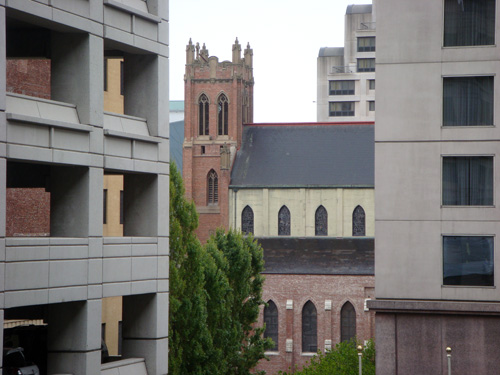 When I go outside, the bell on Tower Hall is ringing an hour, tolling deep and reverberant, the sounds overlapping and forming beats. "It tolls for thee." I really am going to die, and someone will walk around this campus marveling that Rudy Rucker once trod here, and now is no more, that really and truly is gonna happen. Nobody escapes. William Craddock knew this his whole life long, I think he wrote something like "there is only the one trip, the true trip of life itself."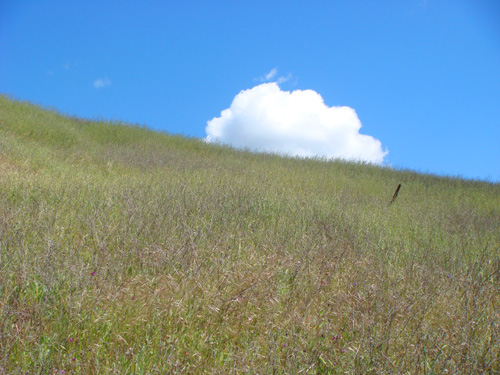 It's not quite accurate to call the book "stoner humor," by the way. Better to post what Billy said about it on the back cover of his book: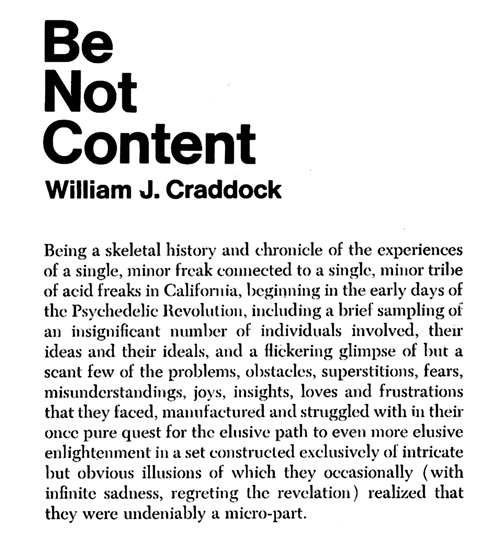 See also his entry in Gale Contemporary Authors in one of the comments below…
In 2009, my friend Nick H., who lives near Boulder Creek, came across Billy's grave in Soquel and sent me two pictures.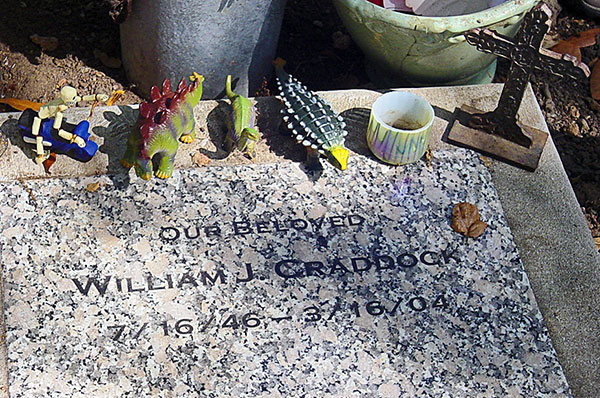 RIP, man.