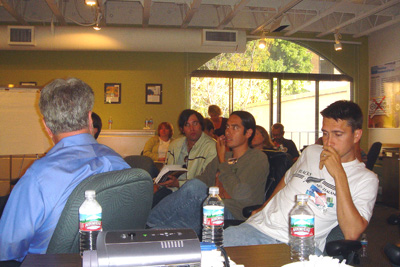 I gave a talk at a think-tank called the Institute for the Future in Palo Alto yesterday, for a group called the FutureCommons that meets there once a month. It was a nice alert audience; I felt happy to be among tech dreamers. Michael Liebhold introduced me. He's into this cool new thing called "locative media", which involves computer realities that are pegged via GPS to realworld locations.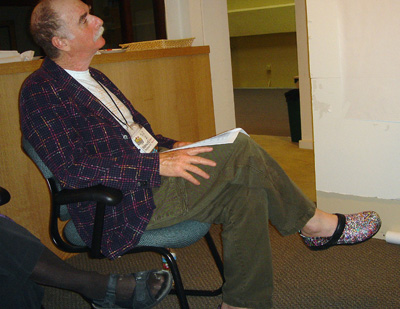 My fellow author Howard Rheingold was there. He decorates his own shoes with spatters of acrylic paint. He says he used to draw patterns, but with splatters, you don't notice when bits chip off. Before my talk, the group of maybe fifty people stood in a circle and played an encounter-group game. Good old California.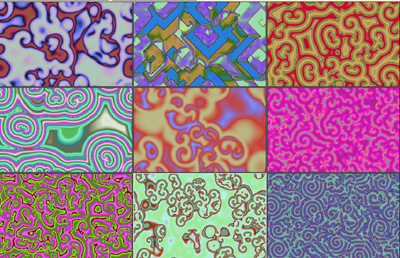 I was promoting my Lifebox book as usual these days. Sell it, Ru! You, too, can experience the multimedia wonder of my talk two ways.
(1) Read the Talk Slides, saved in the friendly PDF form rather than the demanding PowerPoint format.
(2) Listen to a 40 Meg MP3 of my talk on "Gnarly Computation". This is better quality than the last MP3 I tried to post. Click the link above or click on the icon below to access the podcast via , which mirrors my Gigadial feed.

It's thanks to a tip from reader Lisa Williams that I've made Rudy Rucker Podcasts called "Rudy Rucker" on Gigadial.net, which will place poddy wrapper tags around the mp3 for those interested. Geekin' out!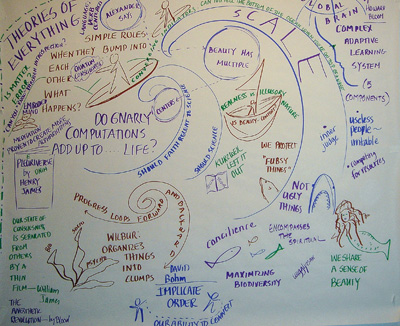 After my talk, the ultrageek (and very nice guy) Jerry Michalski led a discussion about theories about the ultimate nature of reality other than my "universal automatist" thesis that everything is a gnarly computation. As the discussion rambled along, a charming woman named Eileen Clegg made a realtime visual representation of what people were saying. She does this for a living! This photo I took is not, she protested, the final form of the image that she'll produce.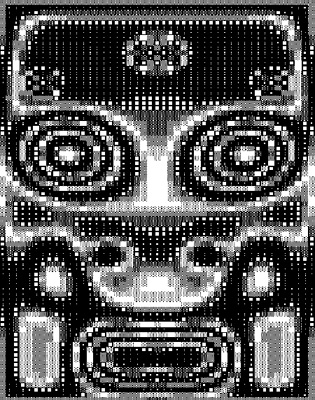 After the talk we had dinner in an Indian restaurant with suitably gnarly food. Jerry Michalski told me about some software called "The Brain" that he has been using for years to maintain and every ramifying computer model of his mind. He codes in every link between new ideas that occurs to him. Information about Michalski's brain is available online at his website. This guy is Lifebox-ready! One minor problem is that, just today of course, the link to his brain gives an error message…