I'm getting a wave of Russian bots posting links in the comment sections. I've edited the blog code so you can't post full web addresses anymore. If you're a non-bot and want to share a web address, you'll need to use a bit of circumlocution or your comment will bounce.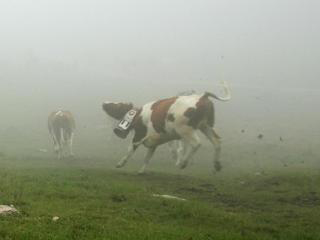 [Riled cow shakes off pesky bots!]
This reminds me somehow of this great new Charlie Stross book I started reading today, Accelerando. I bought it at Borders for $25 yesterday. The clerk was surprised I wasn't getting Harry Potter And The Large Royalty Check instead! Stross is also (with his editors' blessing) giving the book away on line, like Cory Doctorow likes to do with his books.
Has anyone out there ever read a whole book in electronic form? If you comment, remember not to put full web addresses in your answer.