So I joined Netflix and so far it seems pretty cool. I never have enjoyed physically visiting the video store, with the monitors playing it's always hard to remember what I wanted to see. With Netflix you can compose your Want Queue at leisure. And at least on paper, it looks like the one-disk-at-a-time plan isn't going to cost more than renting, say, three disks a month.
The first movie came yesterday: Fellini's great early (1953) film I Vitelloni. The word means veal-calf, and was used in F's time to mean — slacker. Fellini left his home town of Rimini on the right-hand coast of Italy in about 1941 when he was 19, but as a boy he'd been interested in the vitelloni, who were late-twenties or even thirtyish guys who still lived with their families, didn't have jobs, spent all their time just kickin' it, like in caffes or pool-halls.
Really worth seeing, even better than I'd hoped.
When the movie came out it was a hit, Fellini's first (the earlier Variety Lights and The White Shiek didn't do well). And Fellini came up with a philosophy-of-life he called Vitellonismo. What a great word. Even though he himself had never actually gotten to be a vitelloni, he had the philosophy figured out. To play and screw around and be light-hearted and perhaps to perceive a small truth in your activities. Vealness = Slackerdom. What is Veality?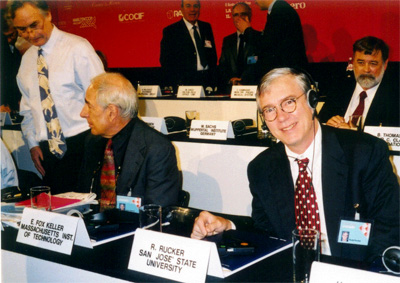 I was in Rimini in 2001 to get an award honoring my novels, of all things, from the Pio Manzu think-tank. Not the reception I'm accustomed to. That's Richard Dawkins and John Searle there next to me. High-class. We stayed at the Grand Hotel, which also features in Fellini's Amarcord. Here's some journal notes I made about Rimini then.
I walked down to the beach with its colorfully painted concrete cabanas, all closed for the winter. There were a fair number of people strolling it. To the left I found a canal leading into town, lined with fishing-boats at anchor. A good sign, gastronomically. Great to see the classic Italian fisherman doing things along the stone wharf edging the canal. Pescatores. Since we're in Italy, they're not even "Italian," they're the standard, they're the fish of the water. Like in China, the word for "Chinese" is "person," is what I'm getting at.
It was good to finally be out seeing stuff. The Mars Rover's excitement to finally be shooting pictures, sniffing soil, tasting the air — after all those long hours in the shuttle rocket.
A billboard for what might be a store like a Wal-Mart, it's name listed in "all" the languages, that is, English, French, German, Italian, Spanish. Ipermarket and Ipermarkt were two of the names. I guess they mean hypermarket. Superman/Hyperman. Superspace/Hyperspace. Supermarket/Hypermarket.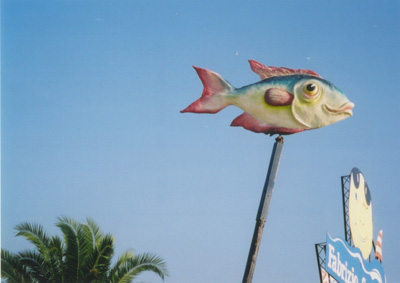 I turn at the bridge and walk into the old-town district of Rimini, a pedestrian zone, it's a little past noon. I sit down on a bench in Piazza Ferrari, keep hearing someone playing a trumpet, at first I assume it's, like, a school-boy band member grab-assing on his lunch hour. But then it's playing "Taps," and I see that it's a real ceremony, a line of boy soldiers with semi-automatic rifles, a man with a banner, another man with a wreath saying, like, "For Our Fallen Brother Soldiers," setting the wreath on a Futurist-style or, like, Fascist-style war memorial dated 1911. It's great to see a real, local thing happening here, the town like a living cell I've insinuated myself into, and here's a mitochondrion busying itself, the pulse of civic life. Two different ladies come up to me and ask me what's going on, I'm dressed Italian style in black pants, dress shirt, vest and suit-jacket.
Fellini's Rimini, I think, and think about him being dead, and how my remembering his Amarcord is a nostalgia for a nostalgia.
And now, resurrecting this old journal entry, we can be nostalgic at third hand. "The tears of things," as Vergil says.