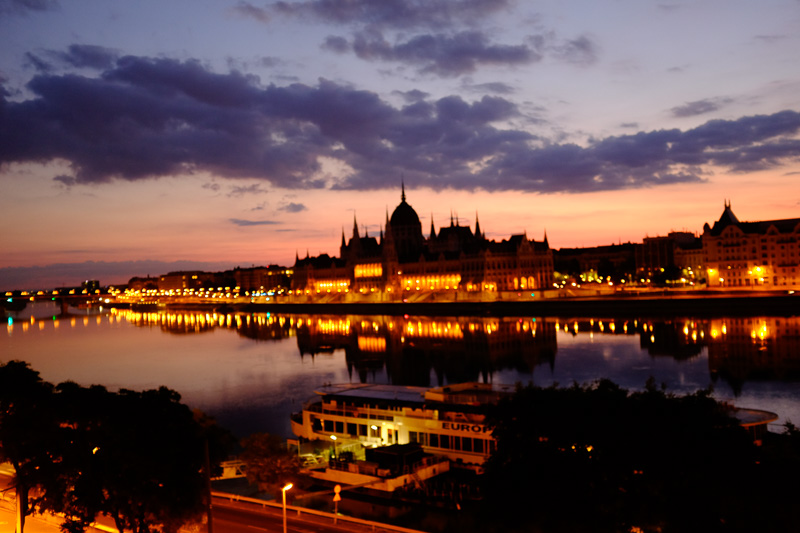 Sylvia and I took a trip to Budapest to visit our daughter Georgia, who's living there for two years with her husband Courtney and their two kids. Courtney is teaching English there, and Georgia's still running her graphic design biz from afar. Sylvia's family comes from Hungary, and I've been there two or three times before, but not for about ten years. It was fun to go back there. Such a different part of the world. We stayed in a nice hotel, the Art'otel, with a room overloking the fabled Danube. The first day I had jetlag, and woke up to this view outiside my window. Those are the Hungarian Parliament buildings. Kind of shading into the East a little bit here. I didn't even tweak those colors, believe it or not. That's how they came up.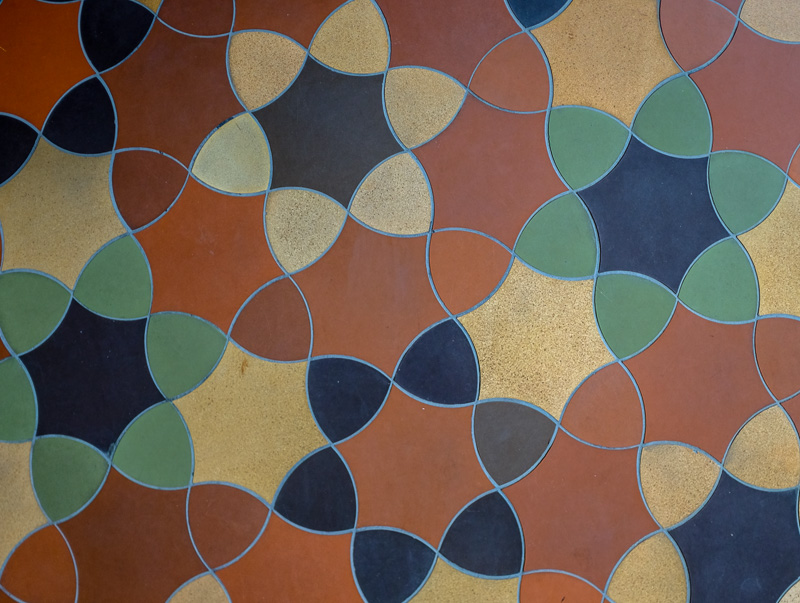 Budapest is, in a way, two cities: Buda and Pest. Buda is the more residential side. Our hotel was there, and above it is a hill with the old "var" or castle. Hungarian words aren't at all like any romance language words you know. Near the Var is an incredibly deocorated church of St. Matthias. This is the tile floor. Very Escher.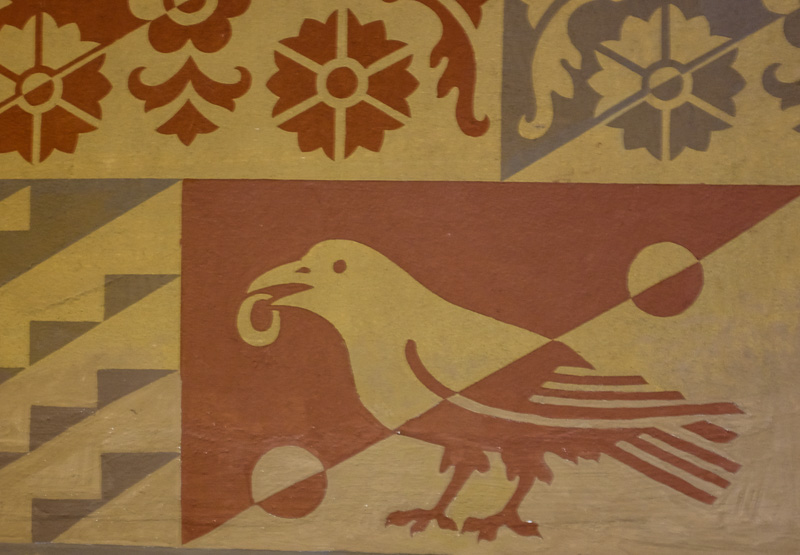 The church was rebuilt/redecorated after the war, and there's a bit of a modernist feel. I dig this crow with a ring. Has a real fairy tale feel to it. I want to write a story involving this crow.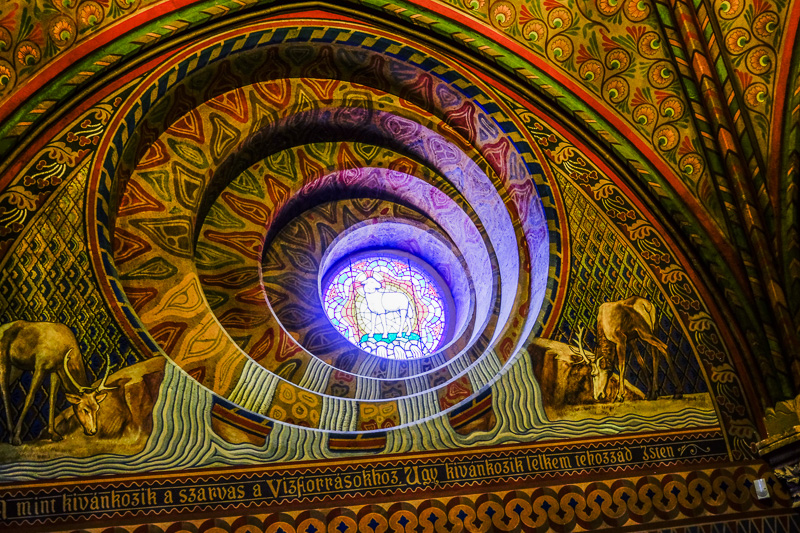 In one corner the church has an odd, off-center oculus window, with seething decoration all around. Like a math construction in the non-Euclidean plane. Hungarians are known for their mathematical abilities, you understand.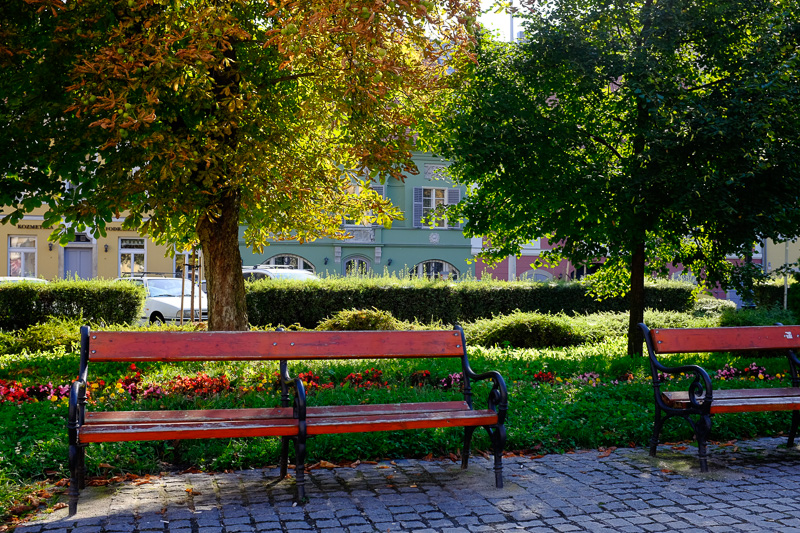 Out with Georgia and the two grandkids, we had hot dogs in this very peaceful little square called, I think, Corvina Ter. Thick green grass. A resident bum who was there every day, smoking cigarettes, his skin a dark rich shade, not unhappy looking.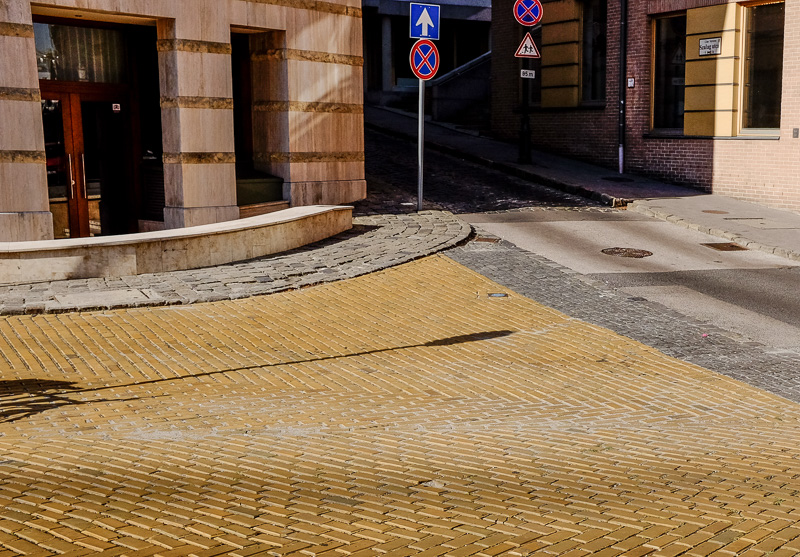 The street near the Corvina Ter was paved with yellow bricks. Awesome plays of light and pastels on the Budapest buildings' walls.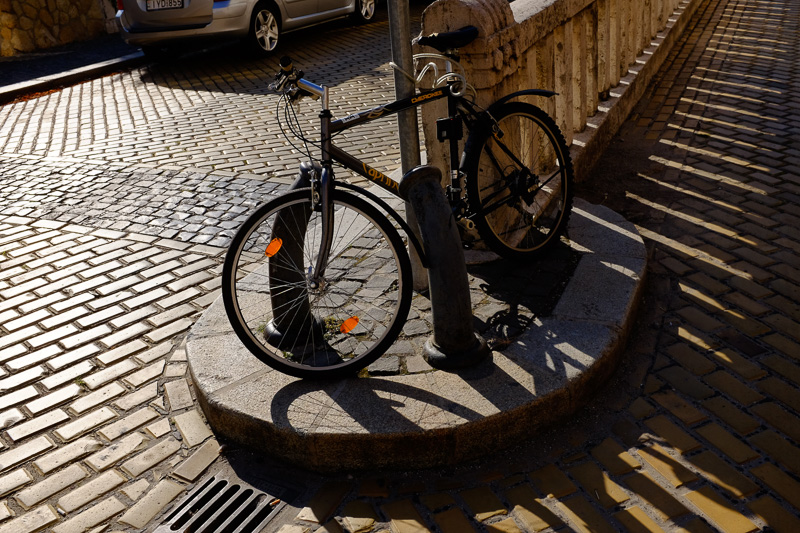 A lone bicycle chained up. I thought of Atget or Brassai. That European shadow-play photo thing.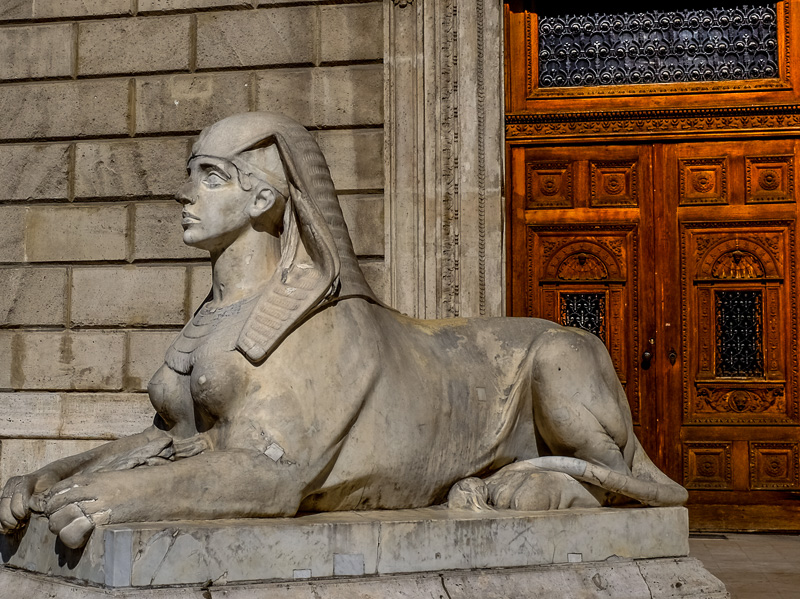 A sphinx by the square, she looks kind of modern, like maybe a social worker of some kind. "Please answer these questions or I'll kill you."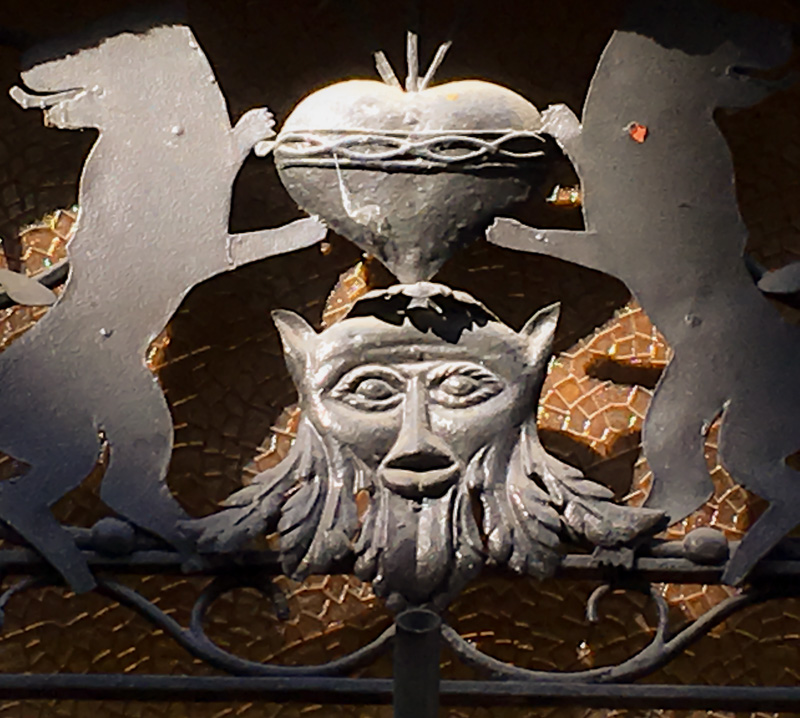 When I get into it with my camera and I'm in an interesting new place like this little square, I can find dozens of things to shoot. Here's a homemade bit of heraldry, like a coat of arms, over the door of a massivley baroque house. If this photo doesn't quite have the presence of some of the others, it's because I shot it with an iPhone 6 instead of my preferred Fujifilm X 100T…which, however, I don't always have on me.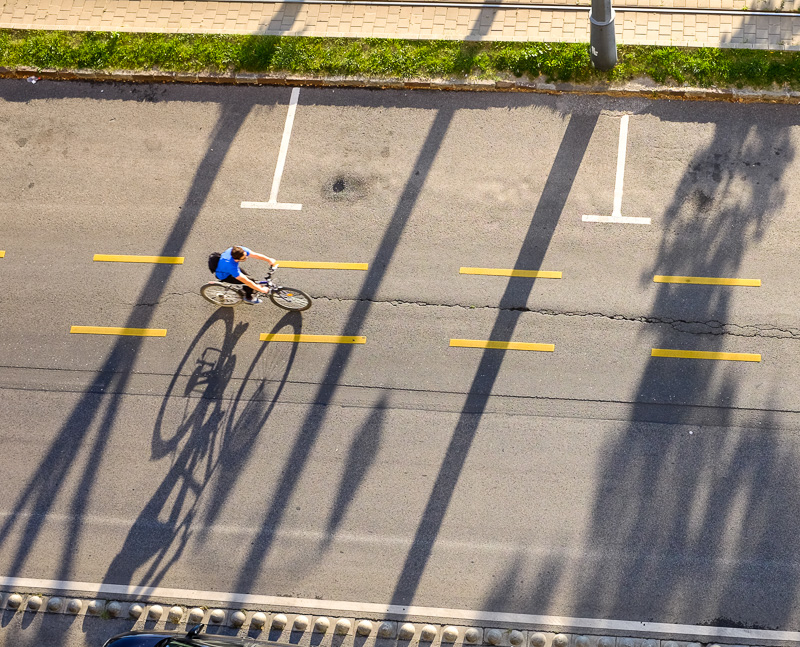 Always great to get a clear shot of bicycle shadows on the road near dawn.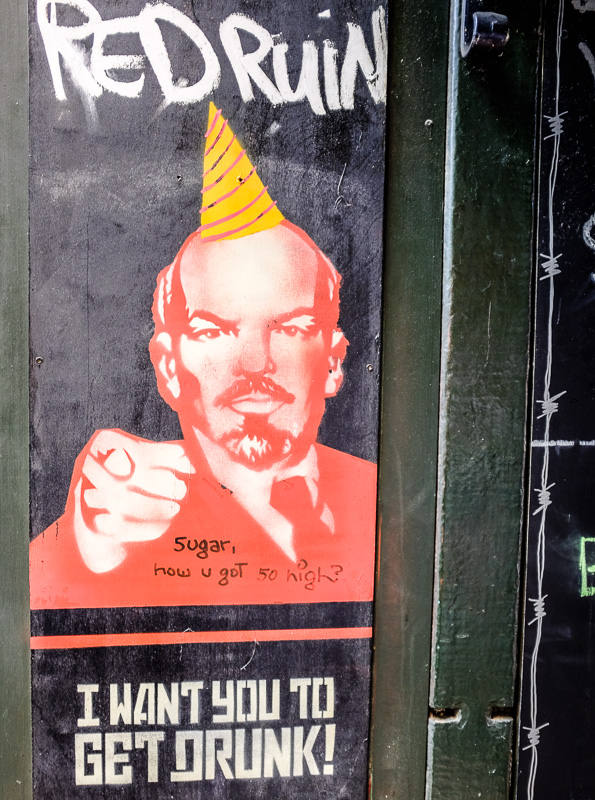 Going into town on the Pest side, we passed a night club that seemed to be devoted to mocking, or being nostalgic for, the old Red days.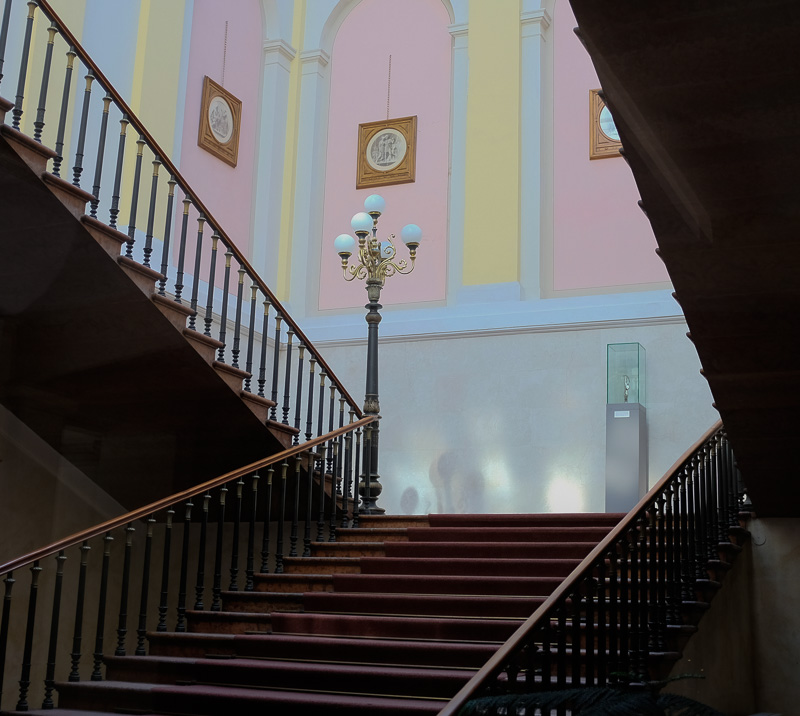 Came across a museum about writers, they had a show on a Hungarian writer I hadn't heard of. We didn't go in, although I like the idea of there being such museums, and I loved the pink and yellow colors on the walls.
I'm always interested in the concept of those evil pigs who turn against their fellows and work as pork butchers. A very sinister examplar here. The food in the place looked delicious. I'm a pig chef myself, I guess, since I think of my totem animal as the pig, and I do like to eat pig meat. I wrote a story "The Men in the Back Room at the Country Club" a few years ago that includes a pig chef type character—only he's cooking humans for alien invaders. You can read it online. Really this story should be made into a movie along the lines of American Graffiti—it's about a last night of high-school.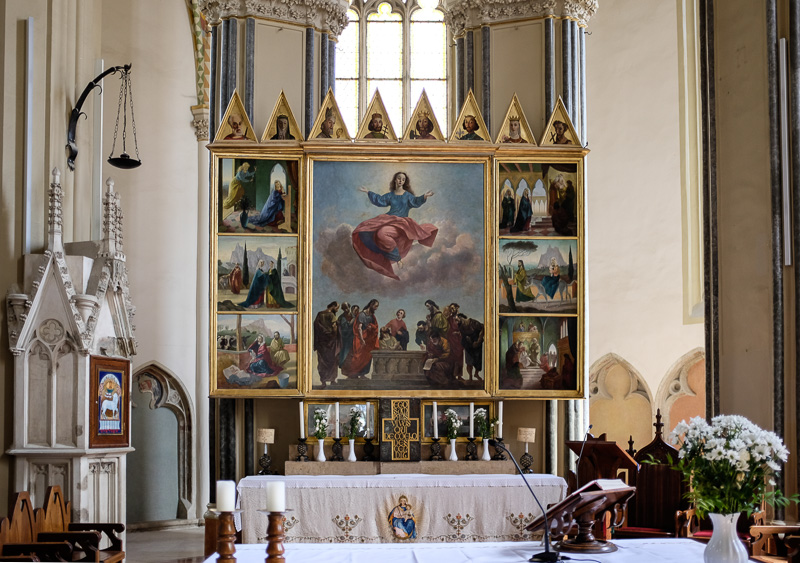 We passed through the church where my wife's parents were married. So calm in there, a Lutheran church, less decorated than the Catholic ones, but with quite an intricate altar painting. Touring Europe I always like going into a church and sitting in a pew. Good way to rest, and to tune in on the Cosmic Vibe, and to see ineresting architecture and art.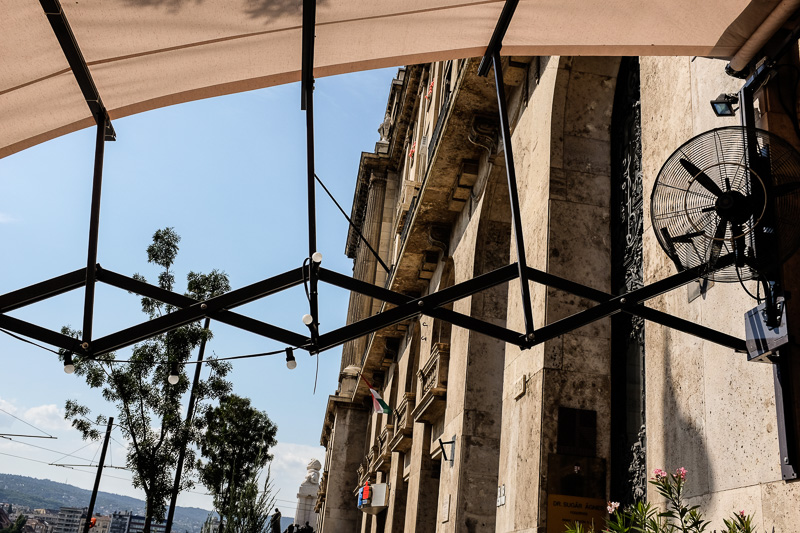 We had lunch one day in a cafe on the enormous square in front of the Parliament building. I dug the lazy-tongs contraption holding up the awning. Exceedingly hot day. Not much air-conditioning in Hungary, which is kind of relaxing, once you accept the fact.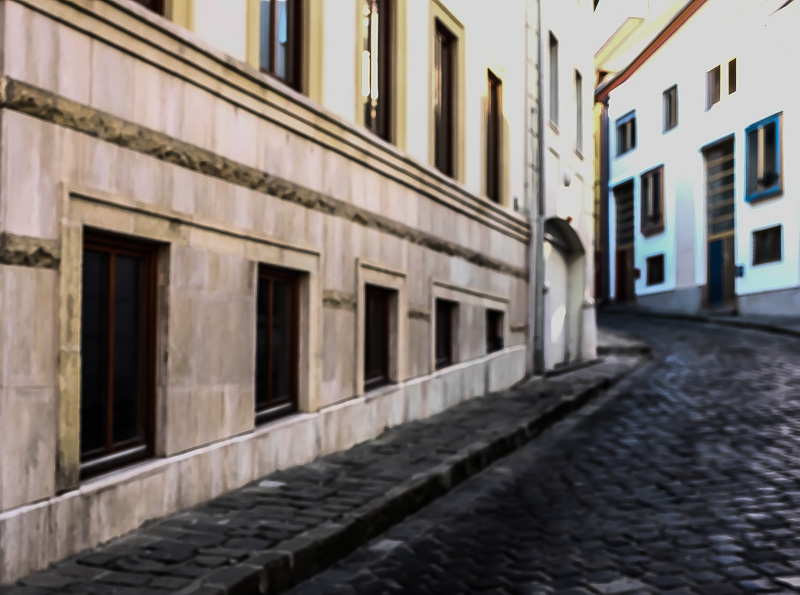 Another shot from near the Corvina Ter behind our hotel. I was waking up very early, due to jet lag, and I'd take a little walk in the morning. The windows here are sized in such a way as to give a "forced persepctive" effect like on a stage set. Sorry about it being out of focus, I guess I rushed the shot. If a photo is far enough out of focus, you can't fix that in Photoshop or in (my usual editor) Lightroom. So then you say the photo is atomspheric…or like an antique postcard.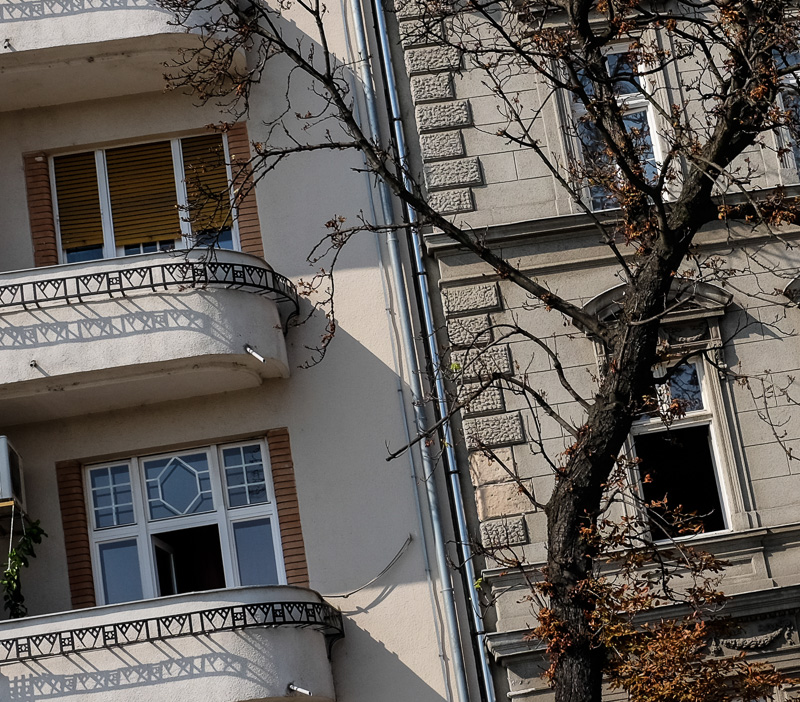 Our tram stop had a view of a great Art Deco building with a vivacious tree. I liked the pattern of the balcony railing supports in particular. More to come…