Today's eye candy, my latest painting. This one took me about thirty hours, a lot of layers and detail.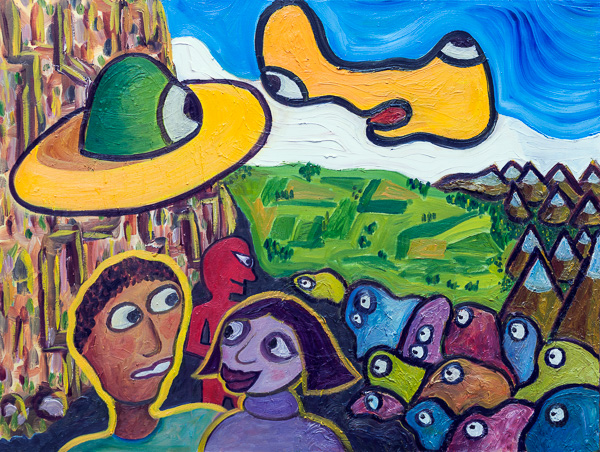 "Dangerous Pass" oil and acrylic on canvas, April, 2015, 40" x 30". Click for a larger version of the painting.
I painted Dangerous Pass to help previsualize a scene in my novel Million Mile Roadtrip. My chracters are on an endless world, and they're migrating from one Earth-sized basin to the next. They have two flying mascots, one is a UFO named Nunu, the other is a blobby creature who calls herself Meatball. My party includes Villy and Zoe in front, being lovers, with Villy just a bit uneasy, and Villy's younger brother Scud is in back. The cadmium-red Scud is on the alert, and he's noticing that the stones in this mountain pass are…alive. The composition and vibe of this painting were inspired by Peter Bruegel's Conversion of St. Paul.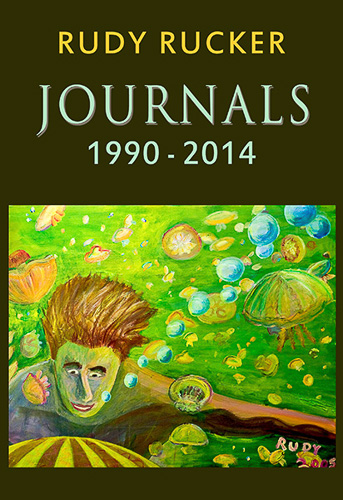 My 828 page book, Journals 1990-2014 is on sale now
* Paperback ($24.95) Amazon.
* (Kindle) ($4.95) Amazon.
* (Kindle and EPUB) ($4.95) via Transreal Books
And you can read a hefty free sample of the Journals as an online webpage.
I'll be giving a one or two hour talk on the Journals at the so-called "College of Santa Cruz" group on the 3rd floor of the Logos Books building on Pacific Ave in Santa Cruz at 7:15 on Friday, May 1. The door is in the back of the building. Talk title, "Rewriting My Past."
Oh, and another upcoming event, on Friday, April 24, I'll be on a Cyberpunk Panel at the University of Southern California in LA. Bruce Sterling, Marc Pauline, and other fellow droids will be there too.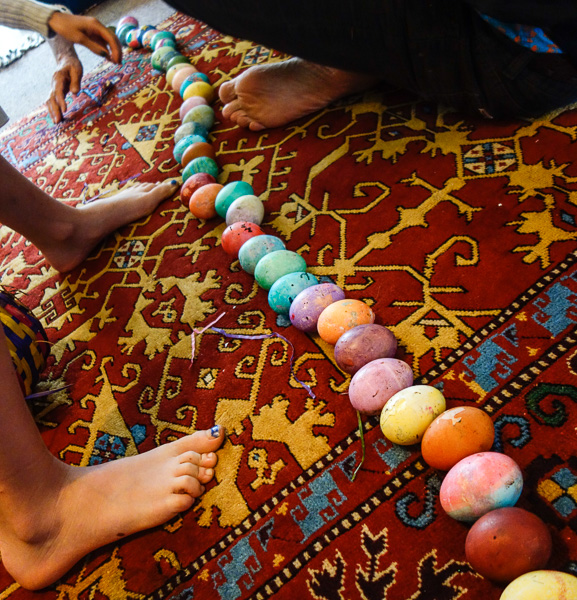 We spent Easter with our son Rudy Jr. and his family. Got a nice big collection of eggs. And endless line. Love the bare feet in this photo, so human.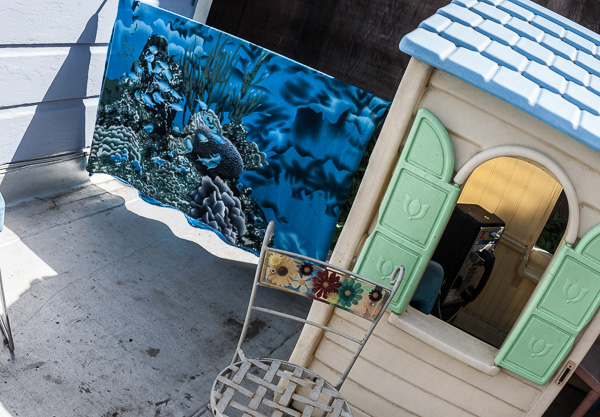 We also went to our grandson's third birthday party at Rudy's house. They have a toy plastic play house and they put up a towel so the kids could "fish" by holding a line over the towel and getting, maybe, a kid-drawn paper fish in the clothespin at the end of the line. This image is like a Fairyland tollbooth.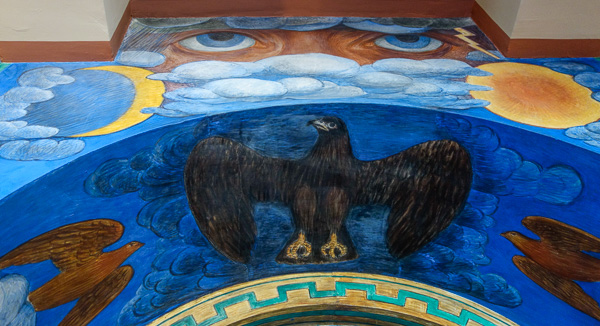 Sylvia and I stayed in downtown SF for two nights for my 69th (!) birthday. At the cute Hotel Boheme in North Beach. We hit the recently refurbished Coit Tower. This mural is bird related.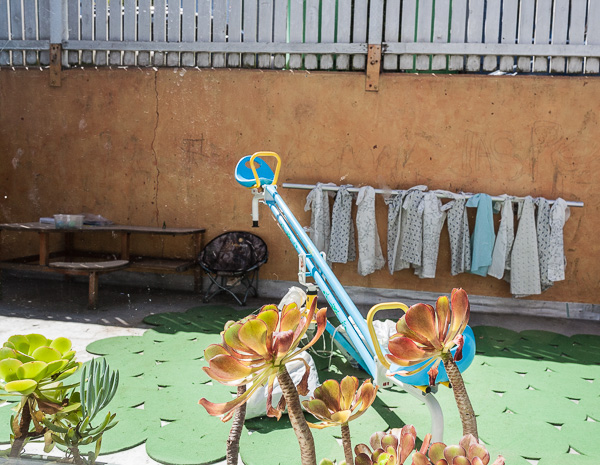 Another shot of son Rudy's patio. I like the plants and the toys. It's like a diorama of life in the early 21st century. All the picture needs is people.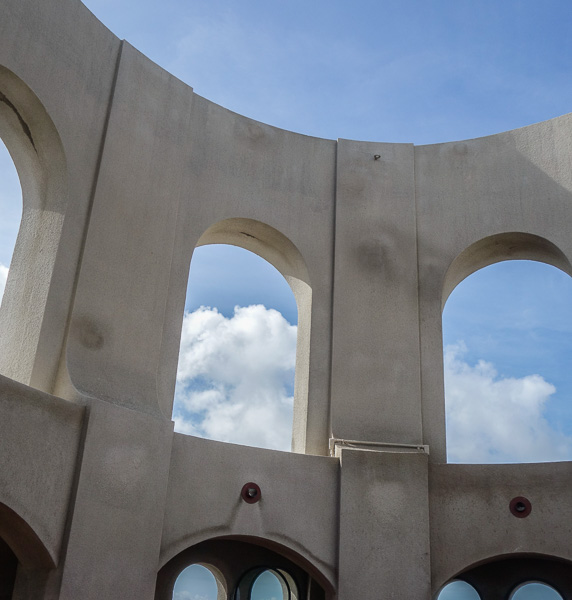 The top of Coit tower has a nice open feel, with high arches and the open sky. Some of the little windows around the bottom open up and you can breathe in that high ocean-scented air.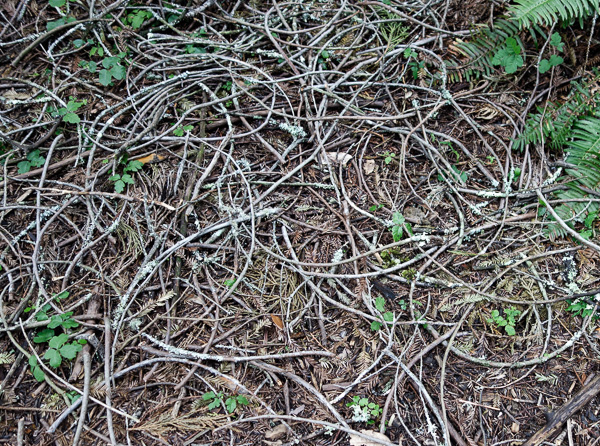 Branches on the floor of an old growth redwood grove. Like calligraphy.
We saw this on another trip, this one up to Occidental, CA—a spot I'd never visited, between Sebastopol and Bodega Bay. A friend of mine, Roger House, and his wife Marylu Downing let us use their AirBnb cabin for two nights. (More photos of this trip in a later post.) I got to know Roger as he proofread the Journals. He has a great eye for typos. And another of my friends, Michael Troutman did copy-editing and fact-checking, helping to get the proper names spelled right, as well as picking up the remaining typos.


View from Coit Tower. Click for a larger version of the panorama.
SF really isn't a very large city, but it's a gem.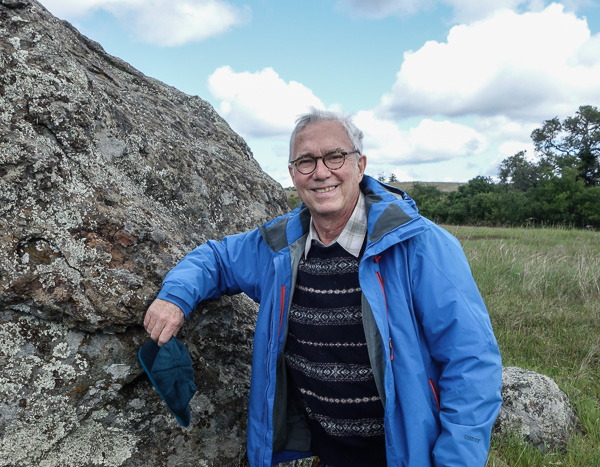 I always like getting out of the house.
It's good to finally have the Journals done.