My wife Sylvia and I are back from a week in Manhattan. I saw my agent and some editors, bought books at the awesome Strand, saw Woody's great new musical, "Bullets Over Broadway," hit the museums, ate well, enjoyed the crowds—all the wonderful old and new buildings, all the amazing faces. I shot a bunch of photos, and I'll be blogging them in the next few posts.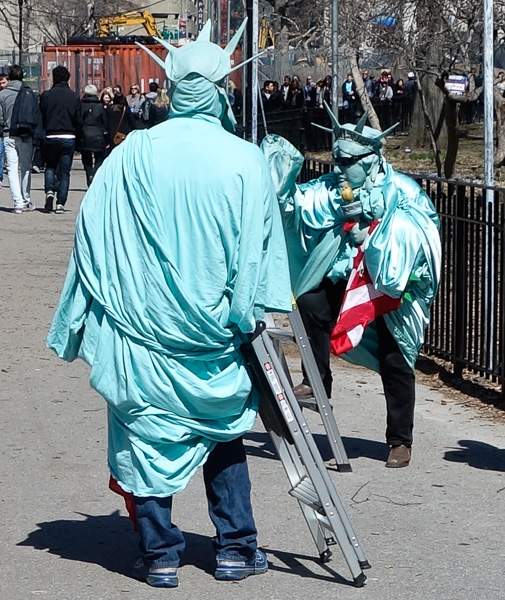 This is in Battery Park, at the bottom of Manhattan where you get the ferry to Staten Island or to the Statue of Liberty. Street performers stand on little ladders, swathed in bronze-looking robes, with Statue of Liberty masks. Here's two of them going off duty, hiking up their skirts. One of them was a five-foot-tall Puerto Rican lady.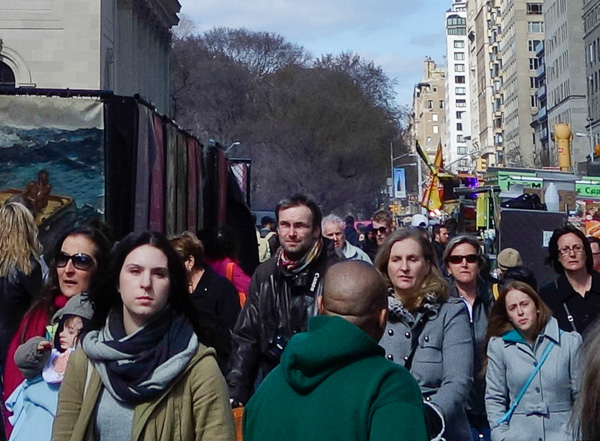 Huge crowds in front of the Metropolitan museum, like the crowd in, say, Bosch's painting of Jesus on the way to the cross. So much life, so much consciousness. Even now that everyone has a camera, people might kind of glare at you when you photograph them…that can make the picture better.


Click for a larger version of this photo.
One day we rode the subway to Brooklyn Heights, found this little area by the Brooklyn Bridge called DUMBO (a deliberately off-putting acronym for Down Under the Manhattan Bridge Overpass), and got the city ferry up to 34th St. in midtown Manhattan. Beautiful long ride, only $6. I merged two shots of lower Manhattan for the image above. You can see the new World Trade Center building, they also call it One World Trade Center. I put all that stuff in the sky as a way of merging the different colors of sky that were in the two photos I used.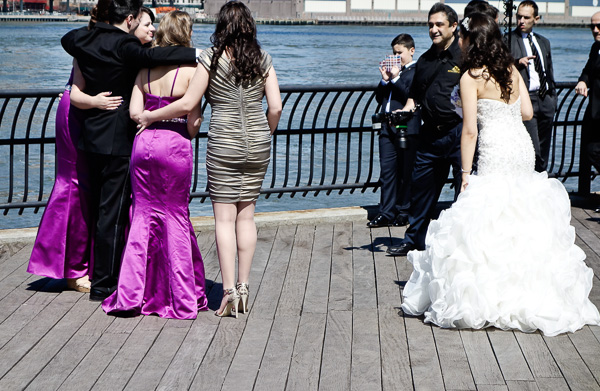 A wedding party was shooting group pictures there under the Brooklyn Bridge. Love that gold ruching in the one dress. A lot of the New Yorkers have these great old-school accents, it's a joy to listen to them, it feels as linguistically off-beat as being in, like, Scotland.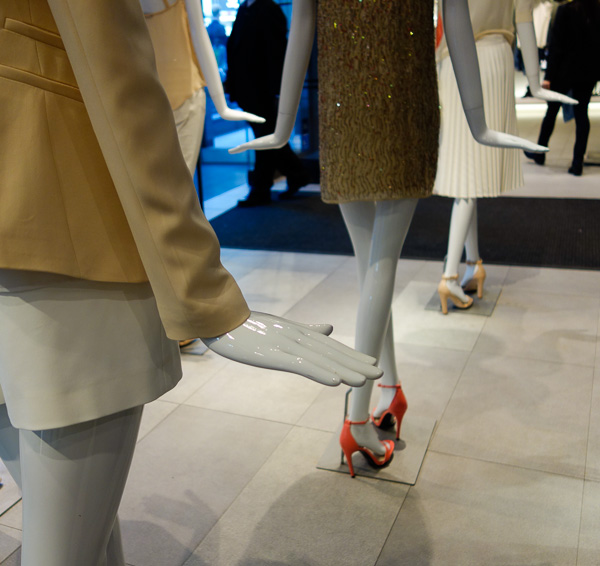 We did some time in the shopping areas of course, both Fifth Avenue and down on Broadway in SOHO. This shot is in the downtown Bloomingdales. I dig those horizontal fashionista hands, just so.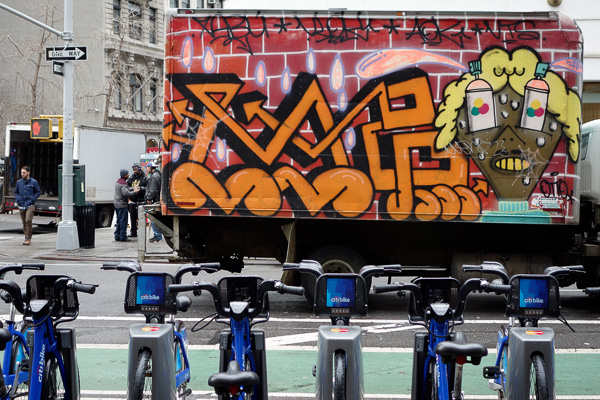 A richly graffiticized truck; with a portrait of a graffitist who has spray-cans for his/her eyes. I never actually saw anyone using one of the new public rental bikes.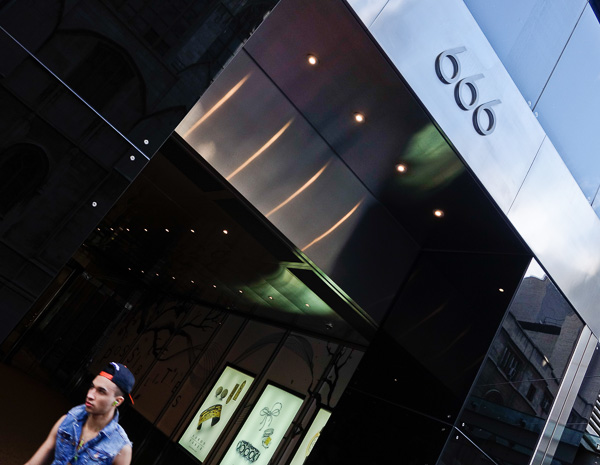 Dig this sinister subway entrance near the MOMA on 53rd St. With 666 for the address. The guy is kind of mysterious and glamorous.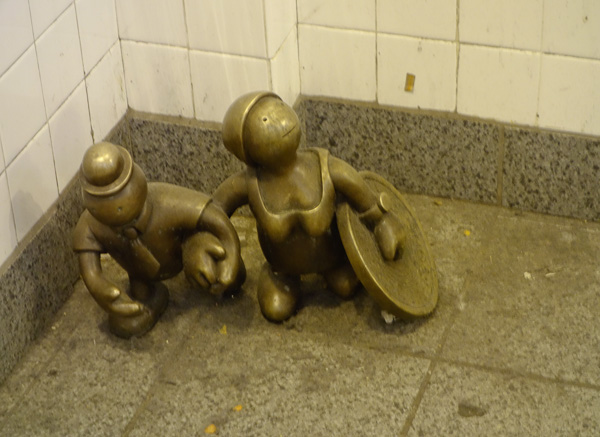 Public art sculptures by Tom Otterness.
One of the subway stops downtown had this little bronze statue of a tiny, wondering, uncertain couple, they're about three inches tall. Me and my wife feeling this way at times. Like when you come up out of a subway and can't decide which way is uptown or downtown, and the sky's so gray you can't find east and west.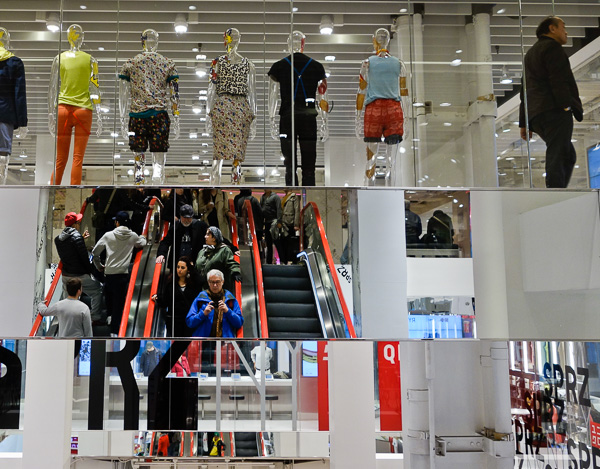 This is in the 5th Ave Uniqlo store. I dig what a fractured, collage-looking grid the scene was. You can see me in the middle, reflected in a mirror…I'm riding down an escalator. Such a mental charge to be in these wild scenes all day.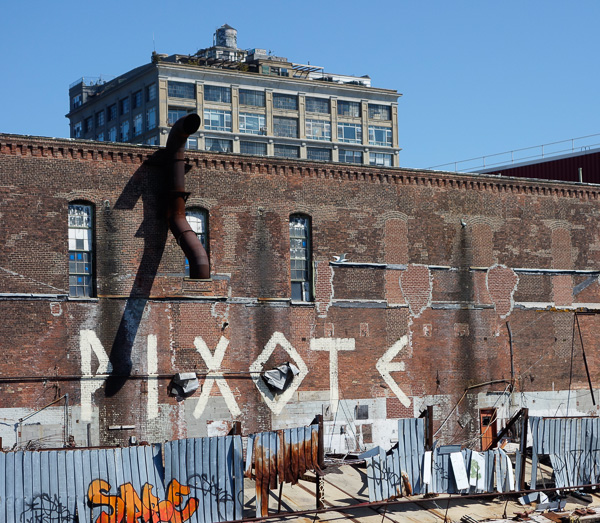 On that ferry ride, we saw some great crumbly Bladerunner-type scenes. New York is always falling down, always being built back up. Like a human body.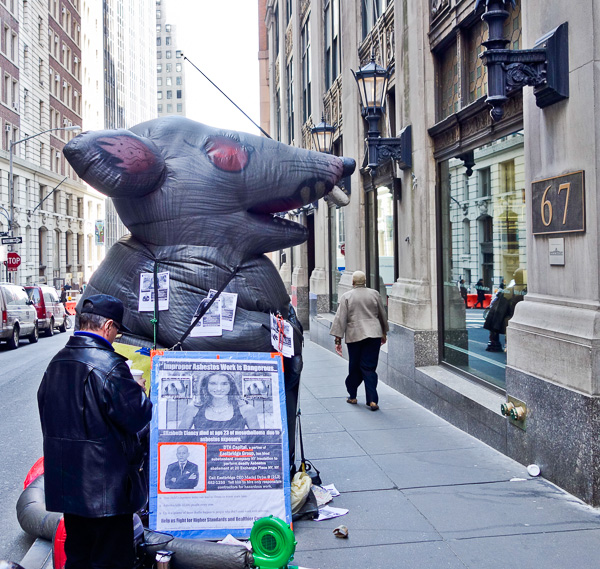 Saw this guy on Wall Street, right outside a huge brokerage house. The giant blow-up rat had only the most tenuous connection with the issue that he was protesting about. It wasn't like he was saying brokers or rats, no, he was exercised about some fine point about methods of asbestos removal, like maybe he hadn't been able to get the contract to do it. But if you've got a giant blow-up rat, why not use it?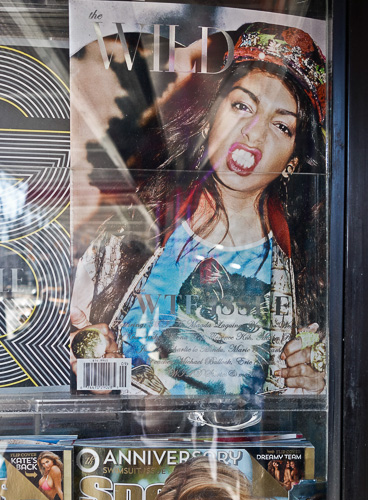 Kept seeing this image of the singer M.I.A on the cover of Wild magazine on news-stands. My kids use the word "ferosh" (short for ferocious), for this kind of expression. Photos of newsstand offerings is time-honored tradition among city street photographers, you understand.