I haven't done a regular blog post in awhile—in the first part of January, I was busy promoting The Big Aha and my art show. And in the latter part of December, my wife and I were on a trip to Wisconsin and Wyoming, visiting our daughters and their families.
So I'll mention some upcoming events, and then I'll run some of my snowy trip-to-the-midwest photos.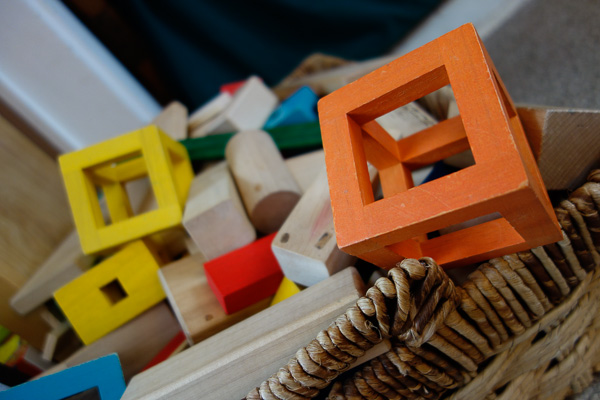 Next Wednesday, Jan 29, I'm part of a wild line-up of Dorkbot entertainment in SF. "People doing weird things with electricity." I'll be talking about how to get high off quantum mechanics—which is a theme of The Big Aha. I'll probably run a slideshow of some of my paintings as well.
A couple of days later, Saturday, Feb 1, I'll be part of an equally louche speaker-list at Transhuman Visions, a con at Fort Mason.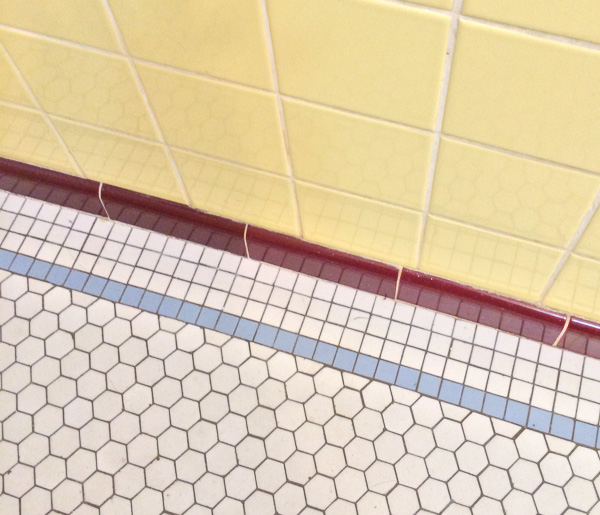 I'll try and podcast one or both of these talks. I finally got a decent pocket voice recorder (it's a solid little SONY digital recorder…I hated that piece-of-crap Zoom I was trying to use, the one with the inscrutable controls and a display as unreadable as a new San Francisco parking-meter's).

Speaking of this, see a click-link for Rudy Rucker Podcasts just above. You can find the podcast of my Big Aha talk, reading, Q&A, and art tour there already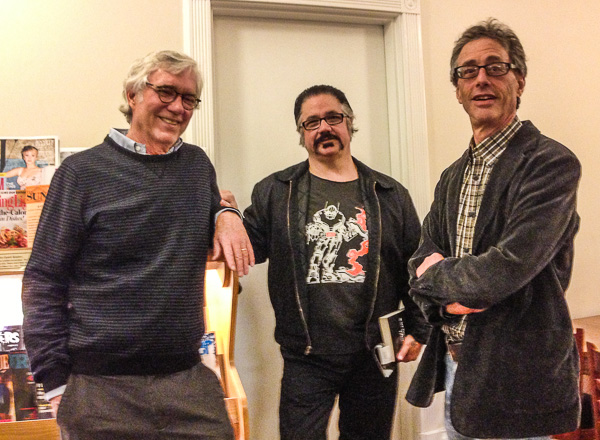 The Big Aha reading at Borderlands was good. Some of my artist/author pals showed up, including Paul Mavrides and John Shirley, also Richard Kadrey and Michael Blumlein, these two guys shown above. I wish I got to spend more of my time talking to writers.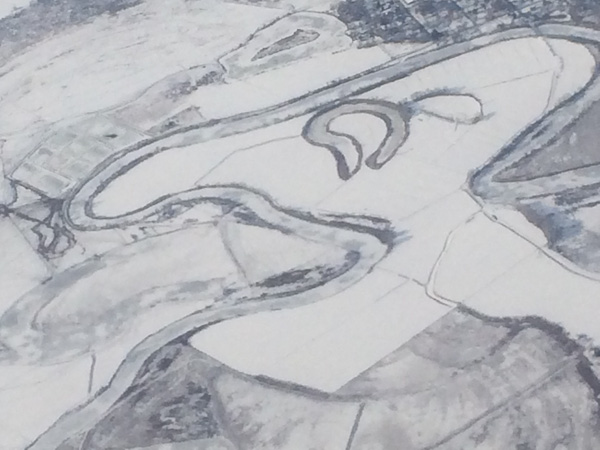 So now wah-wah-wah back to December 22, 2013. Flying from Sunny Californee to Salt Lake City and on to Madison. I just love the views you get when a plane's about to land. Especially cool with snow on the ground. I view that image above as Gilbert Shelton's cartoon character Philbert Desannex, implemented as vast grayscale Mormon-land earthwork. Philbert's big wobbly nose is pointing to the left.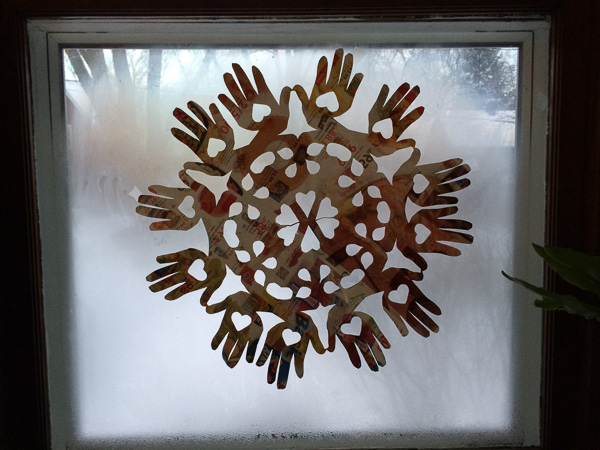 Fun with daughter Georgia in Madison. Her husband Courtney made these amazing cut-out snowflakes with the grandchildren…he'd researched the web about cool ones to make. This awesome young woman YouTuber Vi Hart has a great video on topic.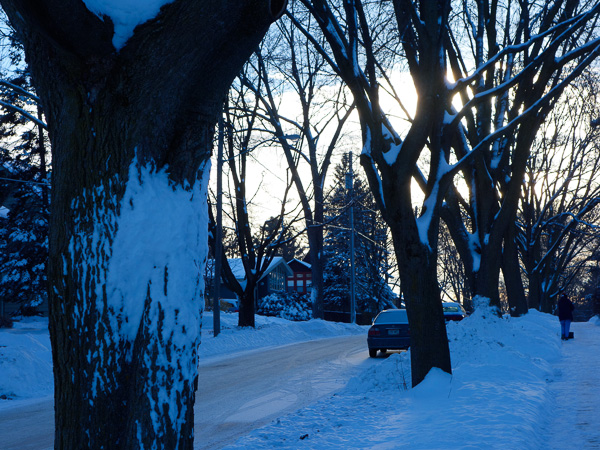 Nice and nostalgic to be out there in winterland, a part of my early past. Xmas-tide sundown in winterland, wow.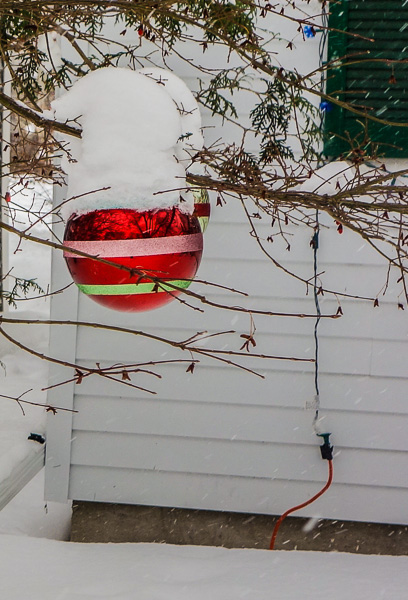 Sylvia and I stayed in a hotel with, of all people, the Harlem Globetrotters, out on some intense performing tour. I saw them in the Kentucky State Fairgrounds in 1956. They didn't look much older. Goose Gossage! One morning it had snowed still more and we walked around the Madison capitol building. Snow always very nice on heavy-duty Beaux-arts-type architecture.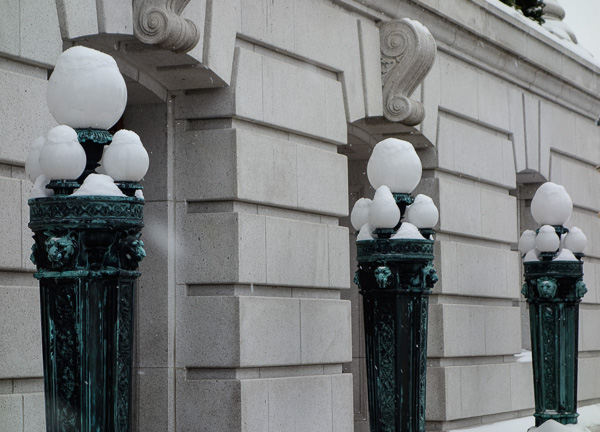 A beautiful Christmas together.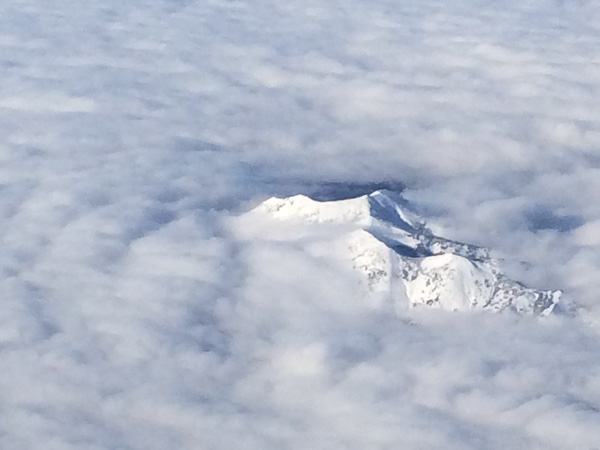 Caught the plane to Jackson, Wyoming, to visit Isabel and her husband for New Years Eve. Flew over a Magic Mountain.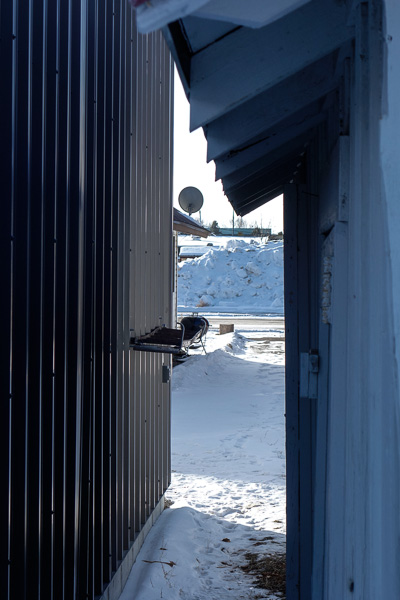 Isabel and Gus live in Pinedale, a little wilder than Jackson.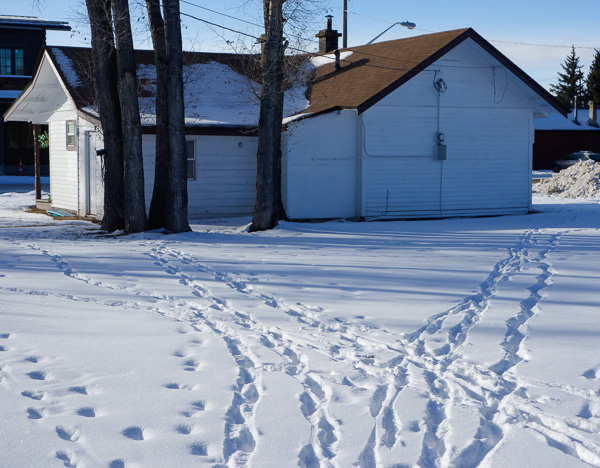 We were staying in an inexpensive motel a few blocks from Isabel's house. It enjoyed walking the half mile to her house and taking pictures along the way. I do my best photos when I'm alone and I'm, like, having a conversation with the camera.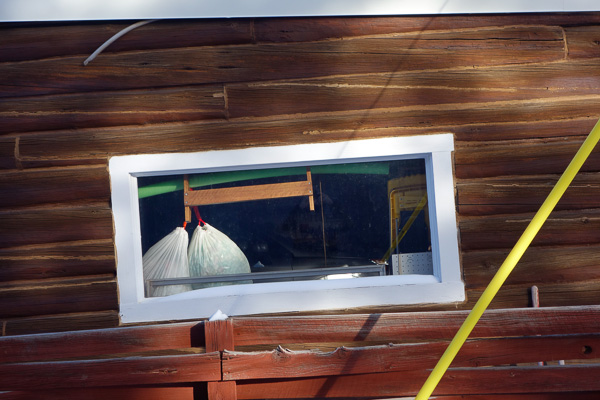 The patent mysteries of solid, well-used sheds.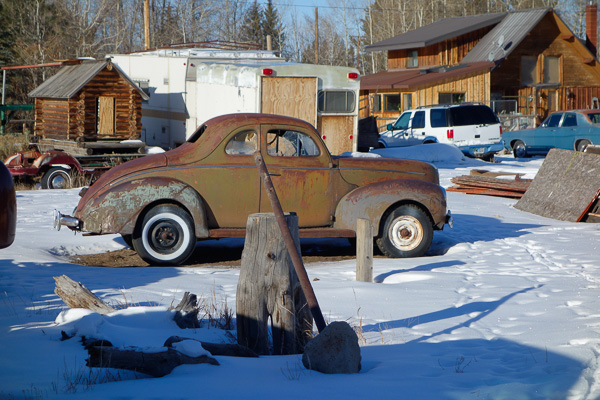 There's the one house where the guy keeps an endless amount of junk in his yard. He's just ouside the town line, so he can do as he pleases. I'm inordinatley fond of this one particular rusted old car. I think of it as "the R. Crumb car," because it looks like one of Crumb's drawings, maybe like the car on the cover of Zap Comix #0, or was it #1.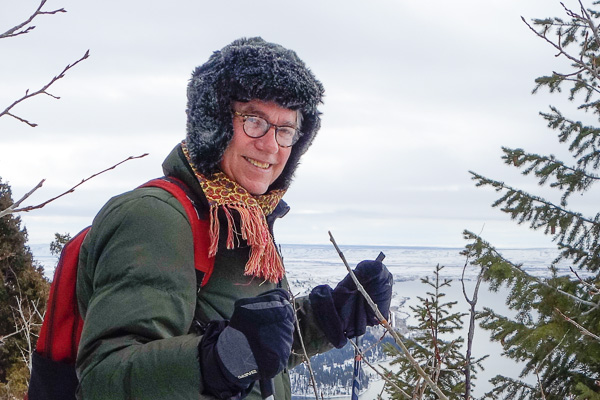 For me, a big highlight of the trip was that I got to go cross-country skiing with Georgia in Madison, and then again with Isabel in Wyoming. This picture shows me at the start of a blizzard off-trail on the edge of a huge canyon holding Fremont Lake, at the tip-ass-end Wyomingwhere. I was really proud and happy that I was able to get out on the trail one more time. Yeah, baby!
I've still got more trip pix, but I'll save them for a later post.