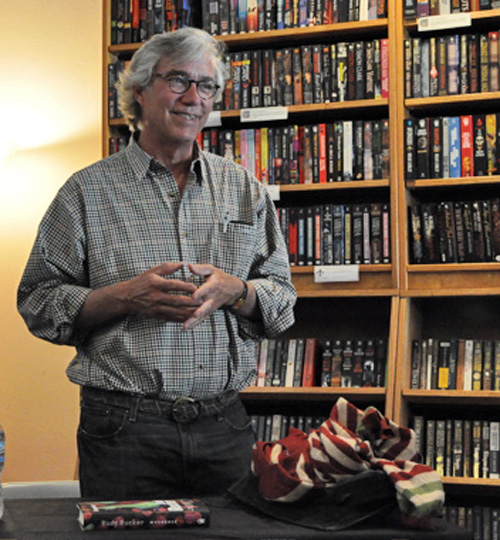 I did three readings from Hylozoic over the last few days. The picture above shows me at Borderlands Books in San Francisco, photo courtesy of Bogeon Kim.
At Books, Inc., in Mountain View, I recorded a podcast of me reading the first part of Chapter Two of Hylozoic, along with about a half hour of questions-and-answers with the friendly crowd. You can click on the icon below to access the podcast via Rudy Rucker Podcasts.
When I went to Berkeley to read at Moe's Books, I got together with four of my SF writer friends: Kim Stanley Robinson, Terry Bisson, Carter Scholz, and Michael Blumlein. It's good to have Terry in the Bay Area, he's very dynamic about organizing get-togethers. I really enjoy talking to other writers about the craft and the biz—being a writer can feel like a rather lonely life.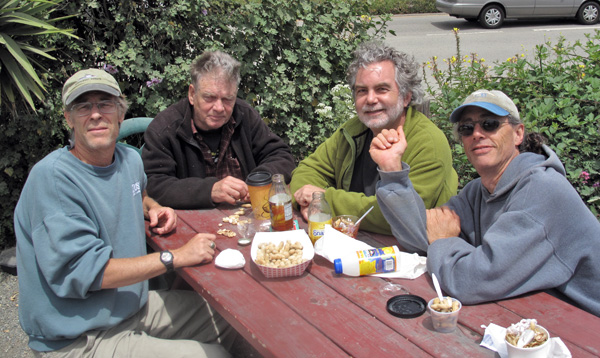 In Berkeley, I went into Amoeba Records. There's so few places to buy CDs anymore, it seems like. The Borders store in my home town stopped selling music and the Wherehouse music store left…and the big Virgin music store at Powell and Market in downtown San Francisco is gone.
But good old Berkeley—they've got Rasputin Music and Amoeba Music side by side. Looking through the Ramones holdings at Amoeba, I found an interesting little book mixed in with the CDs, shrink-wrapped and everything. Talk about targeted book marketing!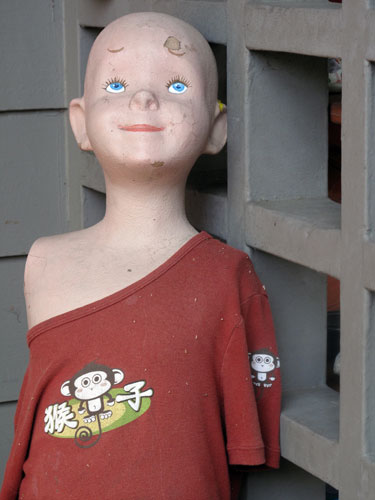 The book was Ramones, by Nicholas Rombes from the 33 1/3 line of books from Continuum Publishing, and it's mainly an analysis of the first album by our boys, an album called Ramones. Rombes makes the point that one aspect of punk was a quality of self-awareness and irony about the media we work with. He says Ramones was "…one of the first pop albums to recognize the artifice of pop culture while simultaneously glorying in it."
To me, that's a good description of the attitude I've had about writing my SF novels, ever since I started in 1978.
One more good line from the book: "In [a] sense, the Ramones' career is about creating the conditions under which their music would be retrospectively accepted."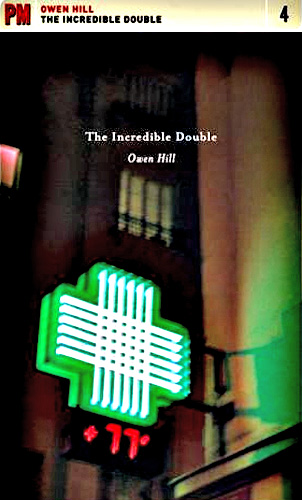 Speaking of books, Owen Hill, a writer who works at Moe's, gave me a copy of his great short novel, The Incredible Double. It's a fast-paced, wonderfully written noir novel, very much in the style of Raymond Chandler, but retooled for 21st C Berkeley. It's full of tasty little local touches about the town and its denizens. And it has a wild SF-like ending—and a touch of poetry: "Oddly green haloes surround summer love, my skeleton has gone on vacation."
Fast, short and tight. And now for a word from our sponsors.
Jackie is a punk, Judy is a runt
They both went down to Berlin, joined the ice capades
And oh, I dont know why, oh, I dont know why
Perhaps they'll die, oh yeah, perhaps they'll die, oh yeah
Perhaps they'll die, oh yeah, perhaps they'll die, oh yeah

Second verse, same as the first — Jackie is a punk, Judy is a runt
They both went down to Berlin, joined the ice capades
And oh, I dont know why, oh, I dont know why
Perhaps they'll die, oh yeah, perhaps they'll die, oh yeah
Perhaps they'll die, oh yeah, perhaps they'll die, oh yeah

Third verse, different from the first — Jackie is a punk, Judy is a runt
They both went down to Frisco, joined the SLA
And oh, I dont know why, oh, I dont know why
Perhaps they'll die, oh yeah, perhaps they'll die, oh yeah
Perhaps they'll die, oh yeah, perhaps they'll die, oh yeah