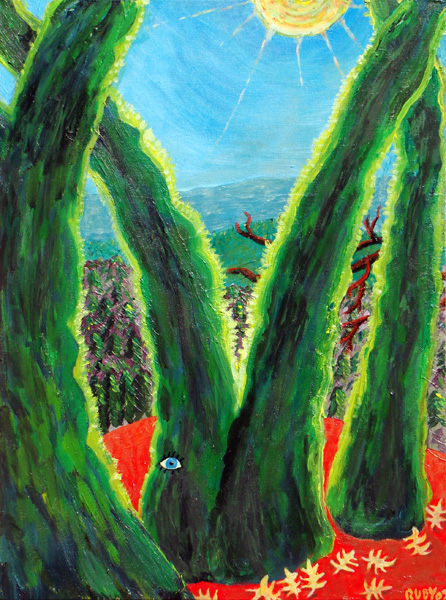 Yesterday I finished my painting, "Mossy Trees," that I started last week in Castle Rock park.
I spiced it up with an eyeball in one of the trees. I was thinking a little of Magritte, the way he'd slip fantastic details into so many of his more-or-less realistic paintings. Also it's a way of making manifest the hylozoic notion that the trees are conscious.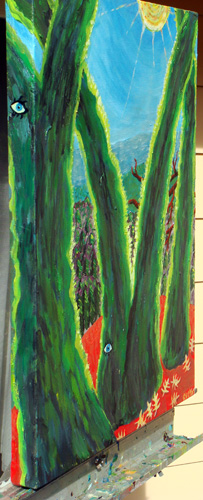 And I put another eyeball in a part of a trunk that's painted on the canvas edge. I'm into painting all around the edges, I like the effect, and it means you don't have to worry about framing. The canvas becomes a sculptural object in itself.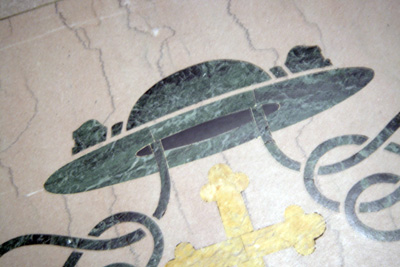 Today's egoboo: Matt Groening reads my books! I saw this in a Wired article about the return of Futurama. (Thanks to Paul DiFilippo for the heads-up.)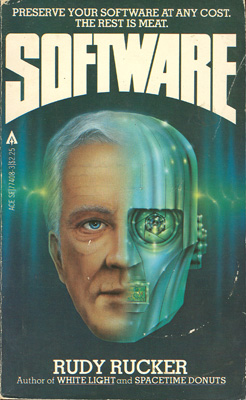 This explains why I felt such a shock of recognition when I saw one of the early Futurama episodes, and the robots were getting stoned and selling replacement human organs out of back alleys. That's totally the world of my Ware series: Software, Wetware, Freeware, Realware. By the way, I'm making slow progress on getting the Wares back into print—more on this in a couple of months.