I'm almost done with the ICFA con, it's a fantasy and SF convention where practically everyone has a Ph. D. in literature. I did my second presentation today, I put links up for them the other day.
A theme of the con was Transrealism, which was nice. Here's a picture of me with Damien Broderick and Brian Aldiss.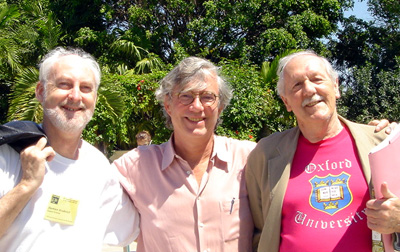 The hotel is ruthlessly air-conditioned, and the hotel staff claims it would be illegal in Florida to have rooms with windows that open. Could that possibly be true? It'll be good to get out on the road for a few days; we'll look around FLA a little.
I heard a lot of great praise for my work here. Very touching. And it's been wonderful to meet or re-encounter some writers, including Brian Aldiss, John Kessel, Albert Goldbarth the poet, John Crowley, Peter Straub, Kelly Link, Larissa Lau, John Clute. How really similar our modes of thought are, we writers, despite the subgenre distinctions that we dream up.
I probably won't be blogging much this week. I still have some more Micronesia posts waiting, but there's no rush.
Later.