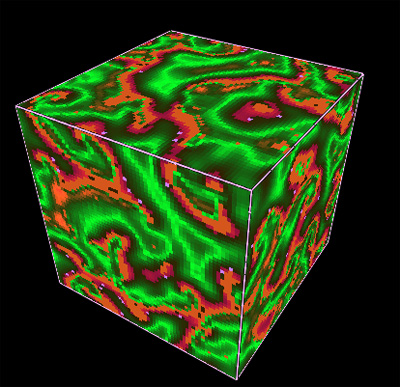 Today's big news is that my San Jose State University computer science student Harry Fu has gotten three-dimensional Belousov-Zhabotinsky-scroll cellular automata (3D BZ CAs for short) working for his Master's degree writing project.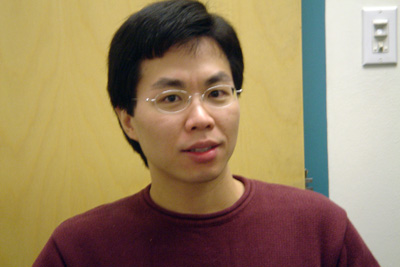 Way to go, Harry. Nobody's ever seen three-dimensional CAs before except on supercomputers or using special hardware, especially not 3D BZ CAs, and our man Fu has these mofos working as a Java applet running Open GL!!!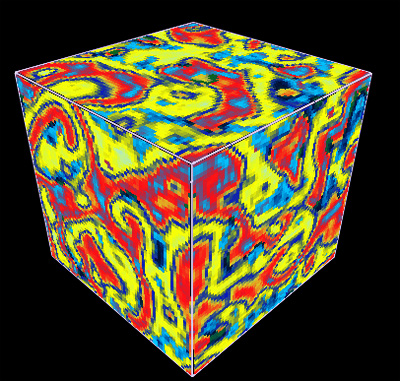 Note the spontaneously forming scrolls. The first 3D BZ CA picture shows a 3D version of the Hodgepodge Rule, and this one is the 3D Winfree Rule.
Gnarly much? Live mushrooms, vortices, jellyfish.
So how can you, too, run Fu's applet? I've updated these links on March 12, 2011. You can go to Fu's Welcome to CA 3D page for an overview.
And then proceed to o Harry Fu's CA3D download page, which walks you throug three steps
(1) Make sure you have the latest and greatest version of Java, this would be version 6 today. Anyway, go and get the JRE (Runtime Environment) for your Mac or Windows system. You don't need the full developer's kit, just the JRE.
(2) Get JOGL (Java bindings for Open GL).
(3) Run Fu's application, ca3D.jar.
Geekin' OUT! And lovin' it. You realize, of course, that your brain is a 3D BZ CA?
********
What else I did yesterday.
After meeting with Fu, I walked over to downtown San Ho and skated on this cute rink beneath the palms right beside the Fairmont.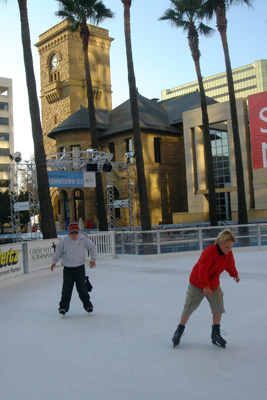 And then I went into the ADMISSION FREE San Jose Art Museum. Frankly, the art there is more interesting to me than anything I saw in Milano. I think spending so much psychic time with Peter Bruegel cured me of feeling like I have to care about religious art at all anymore. But that's another topic.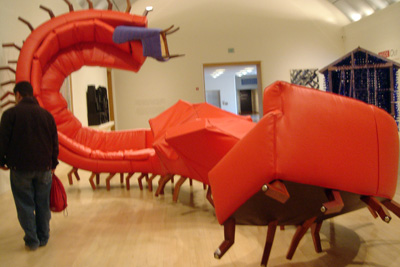 Is this great, or what? It's "Desire for the Other" by Brian Goggin, also the creator of that amazing Defenestration building in San Francisco at Sixth and Howard, with all the furniture jumping out the windows. In this piece we see an airport-lounge-style sofa devouring a wing-back armchair. Note the bulge of its last meal in its gut.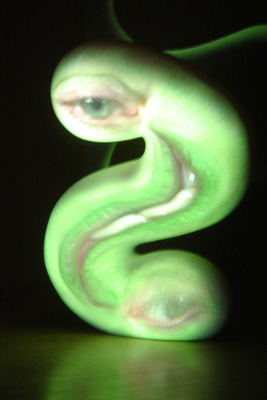 This last picture shows a piece by Tony Oursler, a really slimy looking object, it's a curvy fiberglass shape with a video of eyes and mouth projected onto it, the mouth is babbling. In general I despise art that makes noise in a museum, as IMHO it's unfairly detracting from the many silent works here. But other than being noisy, this is a really cool work.
Of course it would be gnarlier if it used 3D BZ CAs. If they ever make a movie of one my WARE books, I really hope they use 3D BZ CA projections for the bodies of the boppers.