Journey to the East! I'm gonna spend a four nights with Mike Gambone in Nashville. Mike and I taught at Randolph Macon Woman's College, sharing careers as low-grade malcontent academics. After Mike, I'll visit Greg Gibson in Gloucester, my college roommate at Swarthmore, and a fellow writer and eternal Zen mind-assassin. Then on to Providence to stay with Paul Di Filippo, a protean SF writer. We've collaborated on six tales. To wind up the trip, I'll hit good old Manhattan, meeting up with two agents, and my old pals Roger Shatzkin and Eddie Marritz from college and grad school
days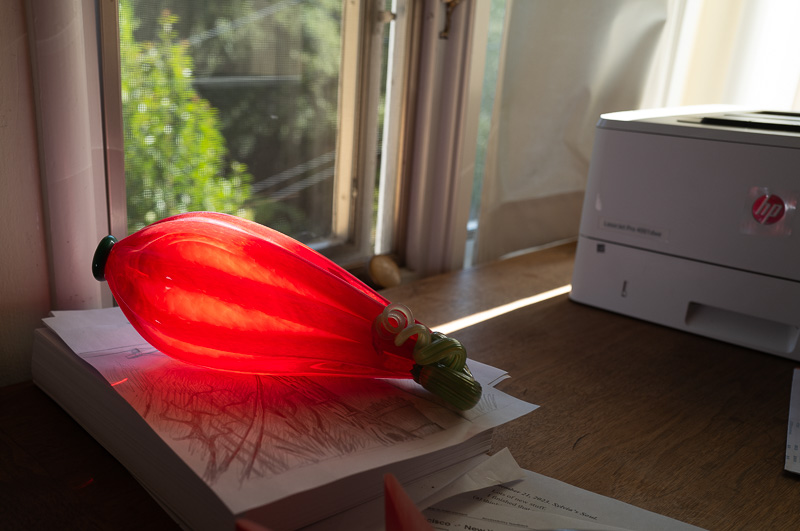 Nashville

Haven't seen Mike in 37 years. He was my best friend in Lynchburg, along with Henry and Diana Vaughan, both deceased. Mike played bass sax in our punk Dead Pigs band.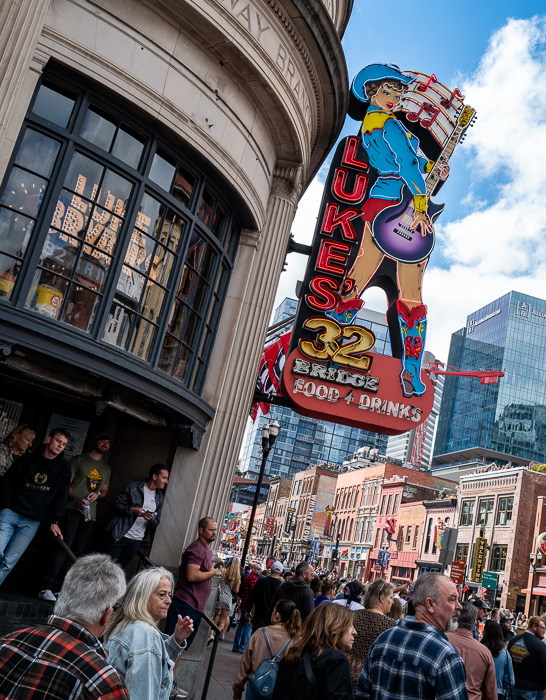 I made it out here, amazing. I was so stressed about packing and arranging. Mike Gambone has been hanging out with Mary Abrams here for the last couple of years. Separate dwellings. Mike was, as I say, about my best friend in Lynchburg, and Mary was a good friend there too, the wife of Dave Abrams. They were in our circle of "townie" friends, friends separate from the Randolph-Macon-professor crew. Not that the circles didn't overlap.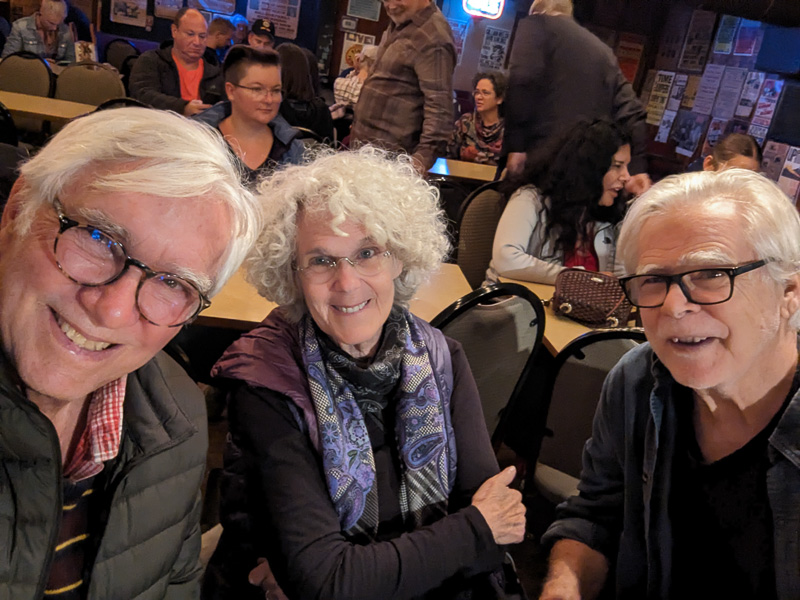 Such a long time since I saw Mike and Mary, so much to catch up on. Bittersweet, to look back on the happy times of yore, with whole lifetimes between then and now, and the "now" so rife with death. All three of us lost our spouse in the past decade.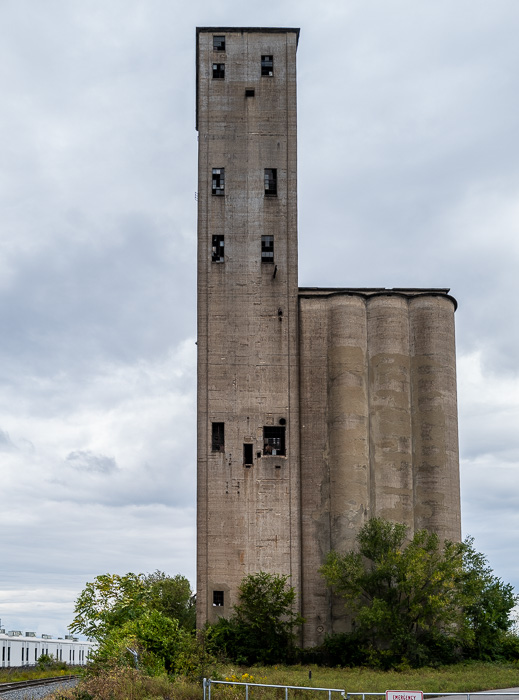 Hard at times to come up with conversation but, if you wait it out, or push a bit, the anecdotes spill forth: the reminiscences and the fill-ins. I'm here for four nights which, on the one hand, seems long, but, on the other hand, is kind of fun. More time for the grass to grow.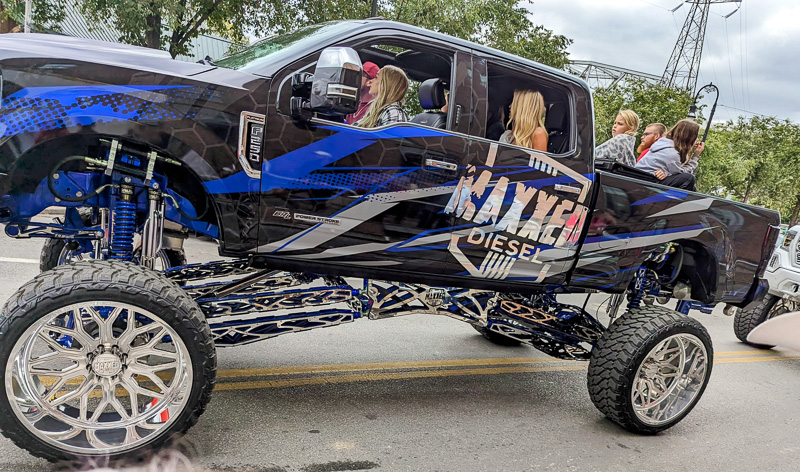 So many nuggets of fresh gossip that I could share with Sylvia. I want to get off by myself and talk aloud to Sylvia's ghost for an hour, filling her in. But, Rudy, the whole point of this trip is to be talking not to a ghost, but to live people. And I can, after all talk, quietly to Sylvia in my bedroom. The mumbling of the mad old man.
The second night we went to a free walk-in bluegrass jam at a small hundred-year-old building called Station Inn. Surrounded now by gleaming 21st C condo buildings and shops. Mary was anxious about getting good seats, and we arrived about an hour and half before doors opened, Mike and I teasing her a little, but not too much. She only wanted the best. To pass some of the time, we hung in a new hotel lobby and at the bar of a chichi new restaurant. Finally some other people showed up at the venue, and we were first in line.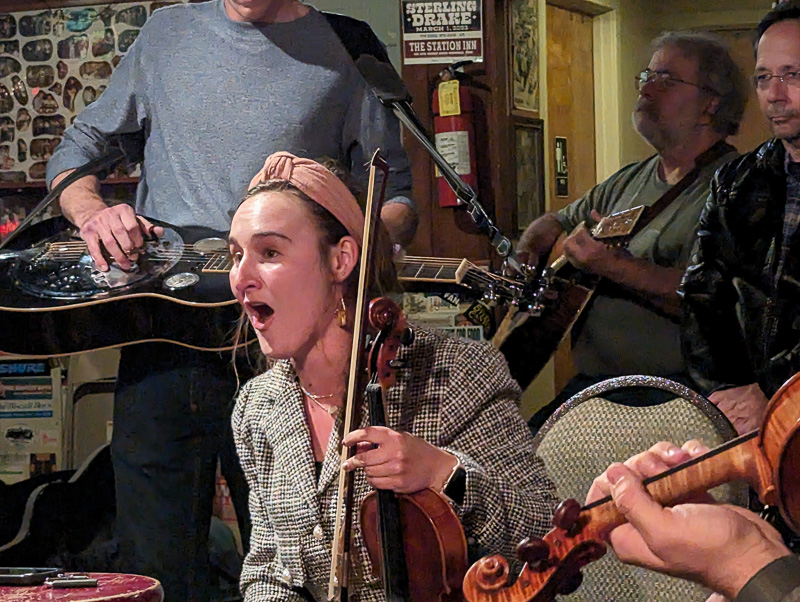 We thee streamed the Altman movie Nashville the day before to gear up, and the jam did at times feel we were embedded in the platonic Nashville of the film's myth. Better, actually. Realer.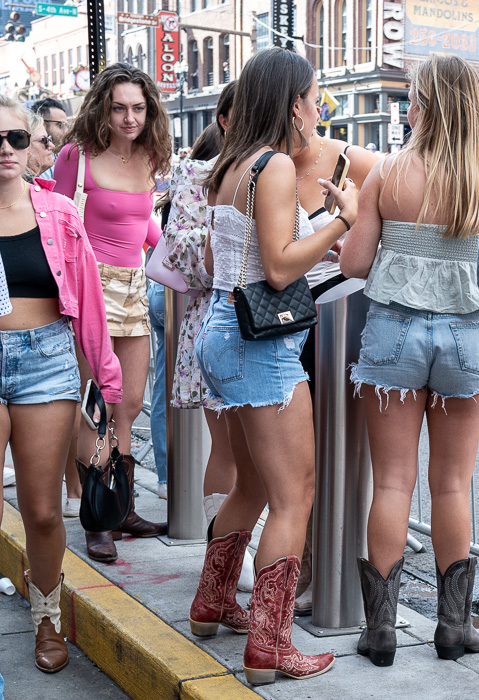 Thirty musicians at the start, and they winnowed down to about eight. Very highly skilled, all of them. Certainly at a higher level than the bluegrass jam players I go to see nearly every week at the Roaster coffee shop in Los Gatos. The vocals were loud, crisp, and authentically accented.
Some of the songs brought tears to my eyes, especially, "Once more / I'd give a fortune / If I could see you / once more. / Forget the past, this hurt can't last / Oh I don't want it to keep us apart."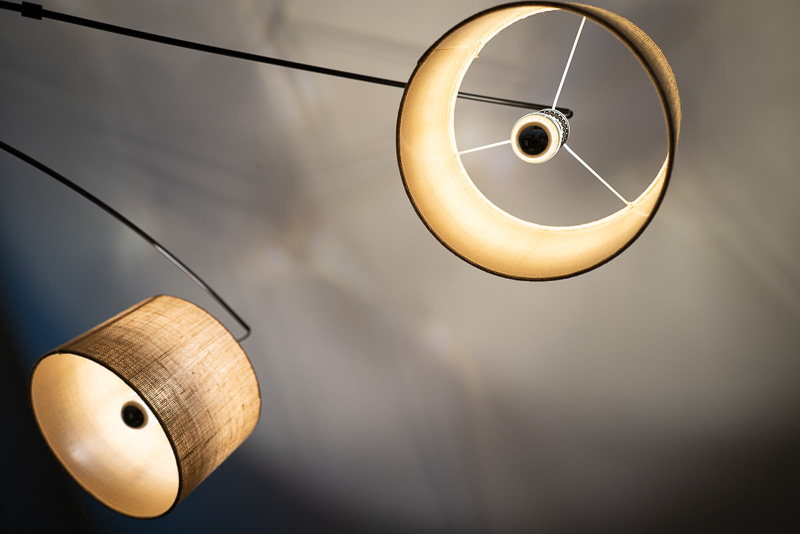 I've always viewed this song as being addressed to a woman who's died…and I still view it that way, thinking of Sylvia. But, upon looking up the lyrics, I see it's more about a broken-up relationship. Well never mind that. Let's say the girl is dead. Death is the big breakup.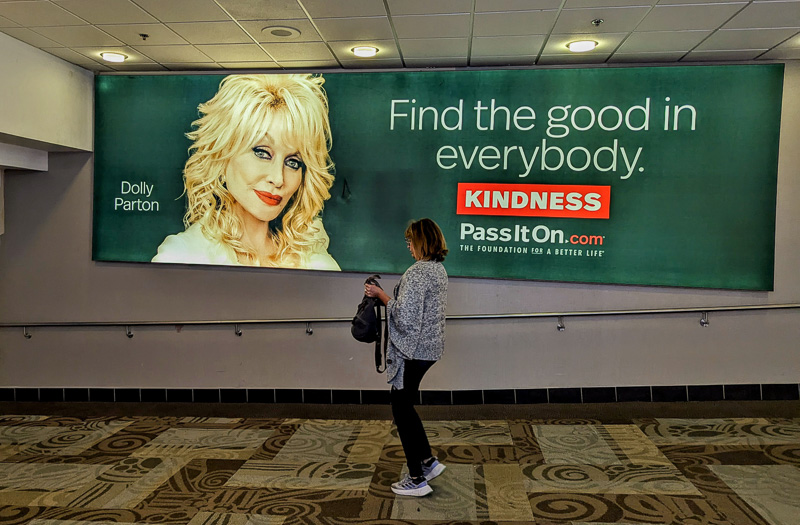 Tuning in on this deeply moving song, I flashed on the plot of a new SF story, where I pay a fortune to see Sylvia again. Like the hero of Robert Sheckley's immortal story, "The World of Heart's Delight," which I read in a Canadian prison cell years ago.
Anyway in my new story, maybe he sees the Sylvia character and at first she pretends it's not her, or maybe it's right away the reborn Sylvia character, authentically her, but she's rushed and flustered, and she tells the Rudy character, "He's gypping you, Ru, he wants to get all your money, don't pay him! Claim you didn't see me. Save the money for the children." And then she's gone.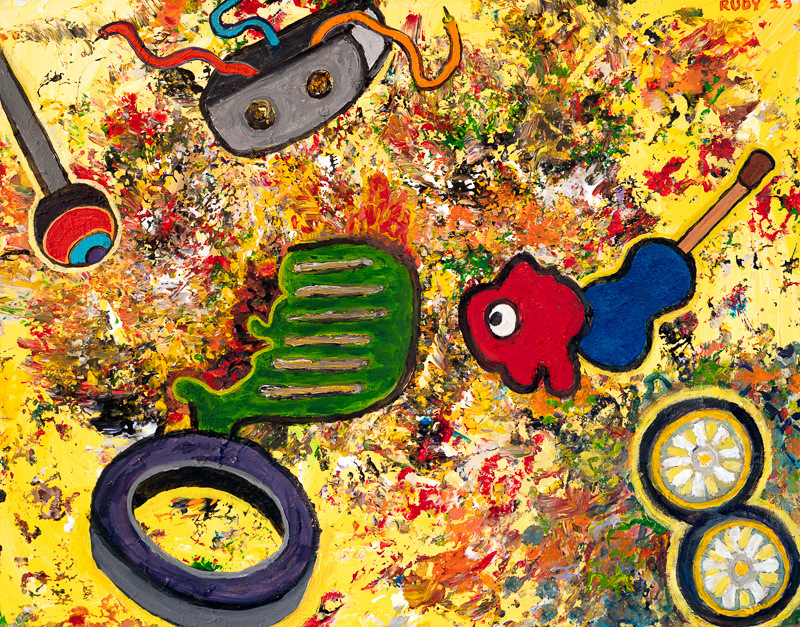 [This painting, by the way, is my illustration of how well e-dating works.]
And then Act II, Rudy manages to welsh on the deal, but now collector hoodlums are after him. And when he's cornered, Sylvia shows up on her own and saves him.
Act III she takes him to the afterworld which is like a lava tunnel-tube in Fiji, only it's right here in the subdimensions.
We heard another great song too, with the haunting chorus. "She's gone, but I don't worry./ I'm sittin on top of the world."
And yet another, "Trouble in Mind," about the guy wanting to lay his head on the track of two-forty-nine, and having it give satisfaction to his mid.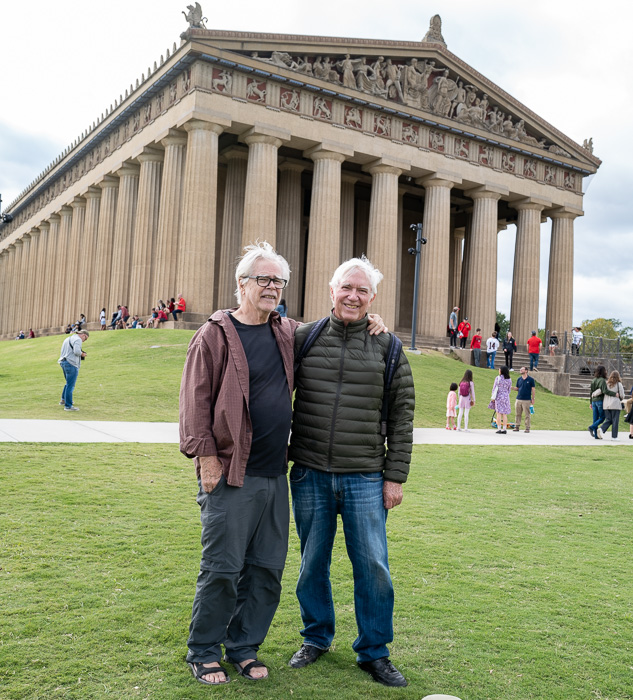 Closer: Mike and Rudy at Nashville's concrete replica of the Parthenon. It appears in Altman's Nashville.
Gloucester.

Up with Greg and Annemarie now. Big family group, their kids Celia and Brooks, also Celia's three-year-old daughter Pepper. So cozy. I almost broke down, talking to Annemarie. I'm so grateful to be with this familiar old family. I'm so lonely for my lost Sylvia.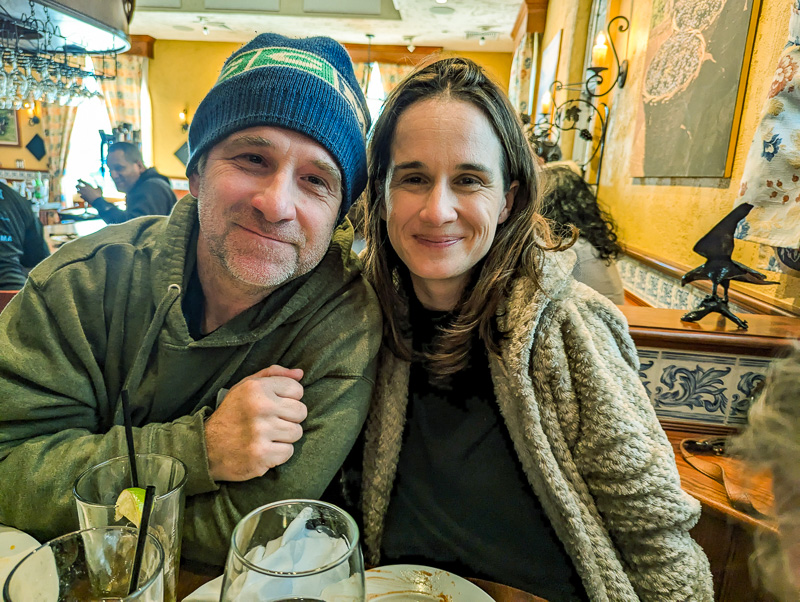 I've been looking at old photos of Sylvia on my phone again. My Flickr "Sylvia's Life" album. She's so solid, so real, so happy, so distant. I stupidly torment myself about our house not being as well fixed-up as Mike's and Greg's houses…all the upgrades I never did. But seeing these photos: how happy she was, so much of the time…it's not all about a new kitchen countertop.
Greg and I right away fall into our old bantering style, so quick, like playing handball, the words whizzing back and forth, with rapid back-references woven in, connecting the parts of the exchange, plus links to episodes of yore. The readiness of the friendly insults, the deep long-term sympathy. Like it never stopped.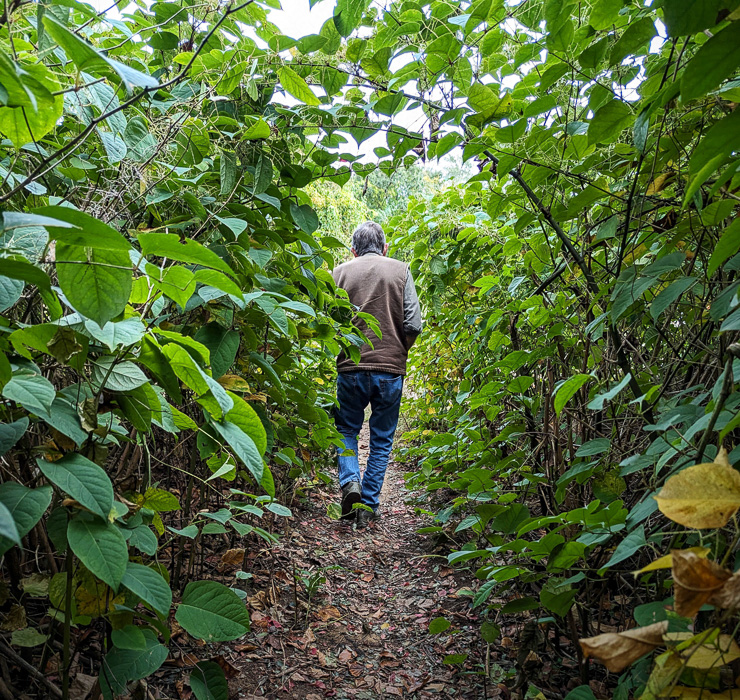 Walking down to the rocks by the ocean with Annemarie and little Pepper, ah. I remember a black-and-white home movie that Sylvia's parents showed us, of three-year-old Sylvia playing on a beach, hair blond, long, and curly. Smiling and walking. The wheel of time. Little Pepper an echo of Sylvia, coming around again. Life forever arising from death. "A commodious vicus of recirculation" as Joyce wrote.
Greg just now back from a 20 mile bike ride. His new thing…he's been doing it for about four years, increasingly long and rigorous training. Lectures me in that know-it-all say of his about how great his physical condition is—some particular number—and how he's going to live forever. Greg's always been like this. In the old days it was about his jogging regimen. I figure my sober lifestyle has got to count for something, health-wise.
The next day Greg and I joked about this. "I'll dance on your coffin," from each side. Also the agreement that it wouldn't be fun either way. That's a nice thing with him; we can say anything.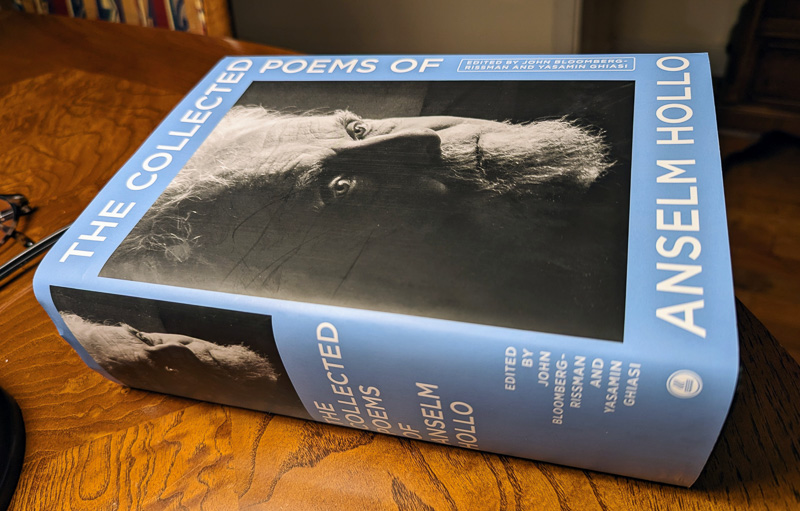 And let me mention in passing that Greg and I are admirers of the wonderful poet Anselm Hollo, whose mammoth Complete Poems recently came out. My first Anselm Hollo book was a pamphlet called Sensation 26 that Greg mailed me during my early years of bitter struggle in Lynchburg.
Also should mention that our Gregory Gibson is a successful dealer in rare maritime books…check his Bookman's Log.
Greg's daughter Celia told me a a cute remark that her little Pepper made when she saw the sun setting over the ocean. "The sun is taking a bath."
Didn't sleep well last night. Woke up about three am and looked at a hundred more photos of Sylvia on the phone.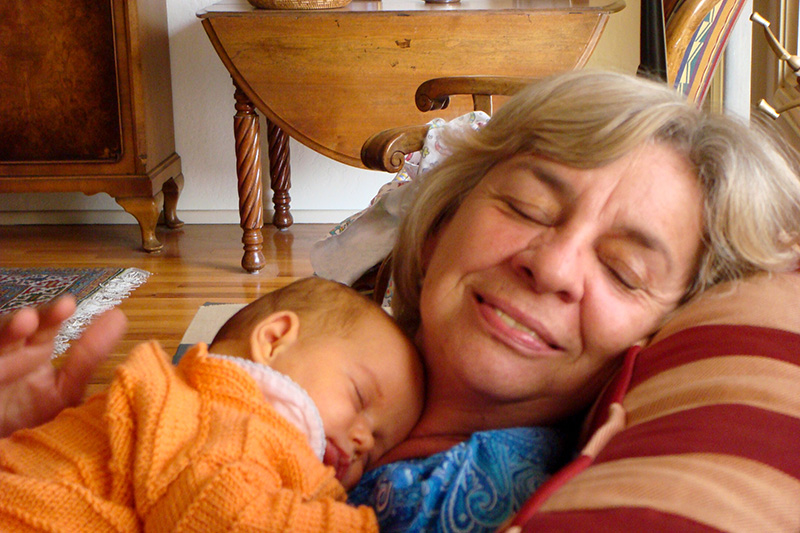 Now it's afternoon and I dropped off for a nap on the extra bed I'm using, in Greg's office. If possible I tend to nap every day. Had a big lunch out with Greg's kids Brooks and Celia, also another bookman. That guy was coughing a lot. After the meal I told Greg his friend was "hideously diseased" and he was outraged/amused by that. Greg said, not inaccurately, that I was dissing his friend because I didn't like to share Greg.
Greg and I stopped and walked on the beach by Salt Island. We walked there at dawn, about forty years ago, he and I had been up all night drinking and smoking pot. The roar of the ocean seemed so timeless, both that time and now. That time I felt like we were in paradise, or in a higher world, I've always remembered it as a magical experience.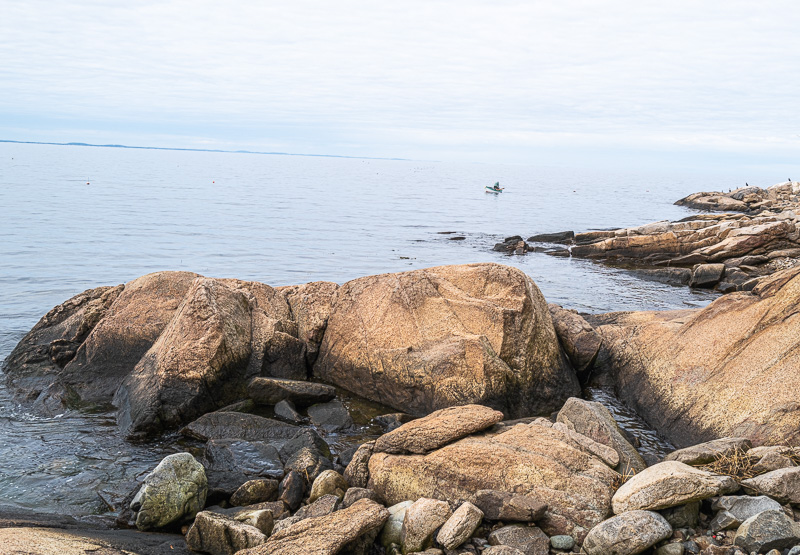 And today I insisted on stopping there, and Greg didn't want to, but I was like, "I'll be gone forever tomorrow, why not do this for me." So he mock-grudgingly gave in.
And it was very nice, in some ways the same as before, that sense of suspended animation, a merging into the cosmic one. Greg and I in heaven, or nearly so, grizzled and old in the Elysian fields.. Perhaps on that earlier walk I was synching with the walk of today. In the higher world, then and now, all is one. I told Greg about this, and he got it. "I can see that you feel this with every fiber of your being." He really is very dear to me.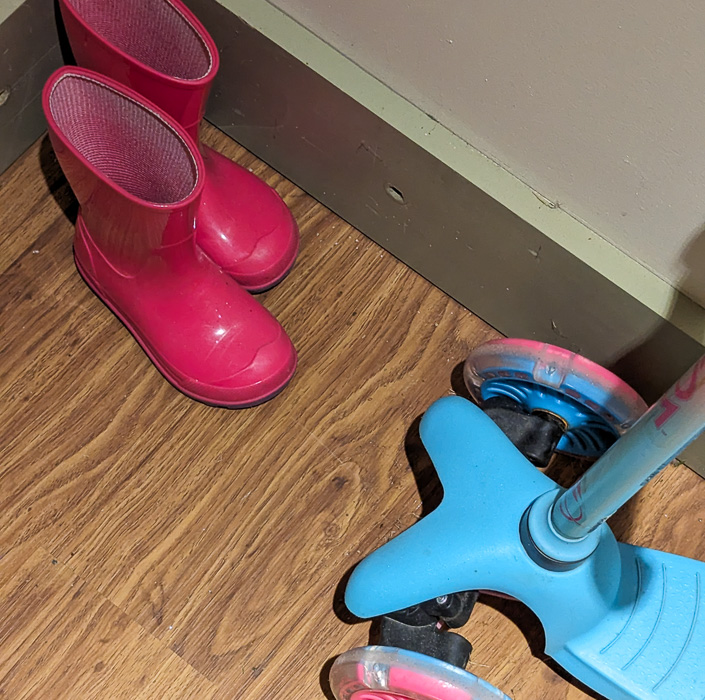 Back home, Greg went for another one of his monster bike rides, and I played pat-a-cake with little Pepper. And then I did "This little pig went to market" with each of her bare feet, and then with each her hands. I love that loud, hoarse final "wheenk, wheenk, wheenk, all the way home."
One more thing about Greg is that his and Annemarie's son Galen was the victim of a school shooting in 1992. Greg published Gone Boy, a chronicle of his search for understanding in the aftermath, and it was something of a best-seller. This year, having published several other books, Greg returned to the fight with what he terms a "calm, demented" novel about school shootings: Mooney's Manifesto. It's hypnotic, strange, and perhps capable of altering the discourse.
Went out for dinner with Greg and Annemarie in nearby Rockport on the last night, and the restaurant crowd was like a white sheet of paper, so New England, so Norman Rockwell. I never feel like I'm that white.
"A symphony in pink," as dear Sylvia once said about me, sitting in bed next to me, propped up, reading, reaching over to pat my head. "There, there, Ru. Don't worry."
Providence

Took the train to Providence RI, today. Had to change in Boston; I was worried about the details, but it all worked out. My affable pal Paul Di Filippo and his kind wife Deb Newton met me at the station, great to see them.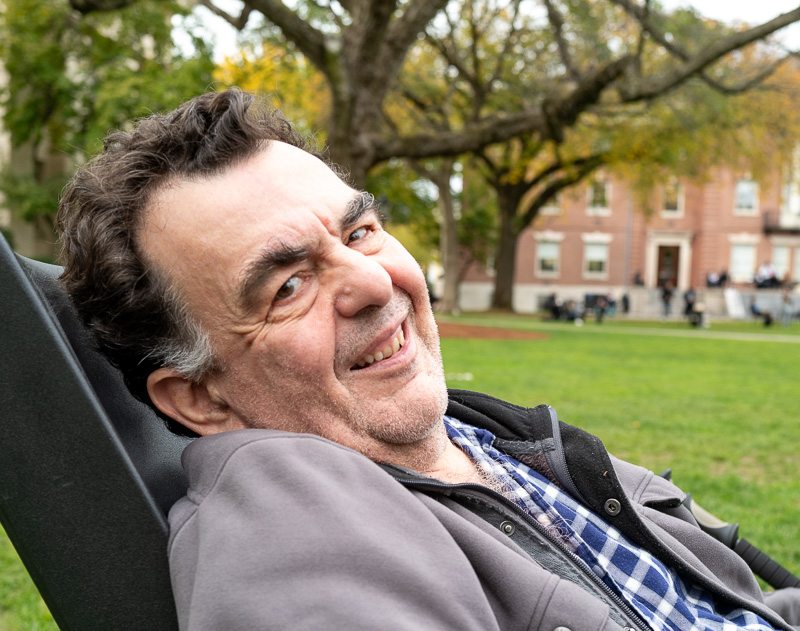 Much talk of our missing Sylvia. I half expected them not to believe that she's dead, or even to deny it, but they accept that the bad news is true. More proof, however indirect, that she's really gone.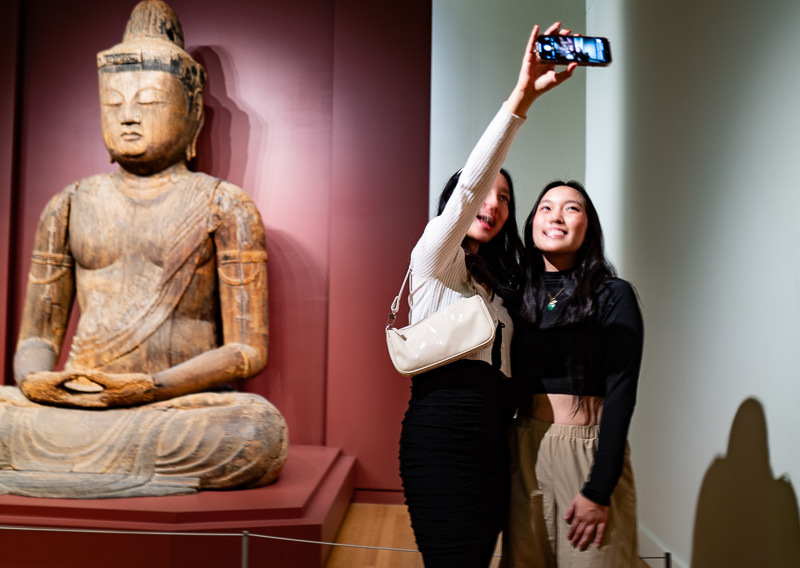 I've been here I think two times, once alone, and once with Sylvia, Great talking about SF with Paul, and about art with Deb. Paul took me to the RISD (Rhode Island School of Design) art museum, quite entertaining. A mummy, a giant wood Buddha, an excellent Matisse, some amusing old masters, and, by way of furniture, a sewing table with a hinged lid that makes it into a sphere.
Paul and I agree that our most recent joint story is our best, the Lovecraftian "In the Lost City of Leng."
Paul has a new multiverse novel Vangie's Ghosts, coming out in February. Vangie is a cross-verse traveler who teeps or merges with multiple selves. This is akin to the classic multiverse "golden thread" that allows thread-to-thread causality, that is, the link is initiated by one particular thread rather than being a cross-verse link akin to two hands reaching out. More on this in anotherr post—lately I've been thinking about the multiverse a lot.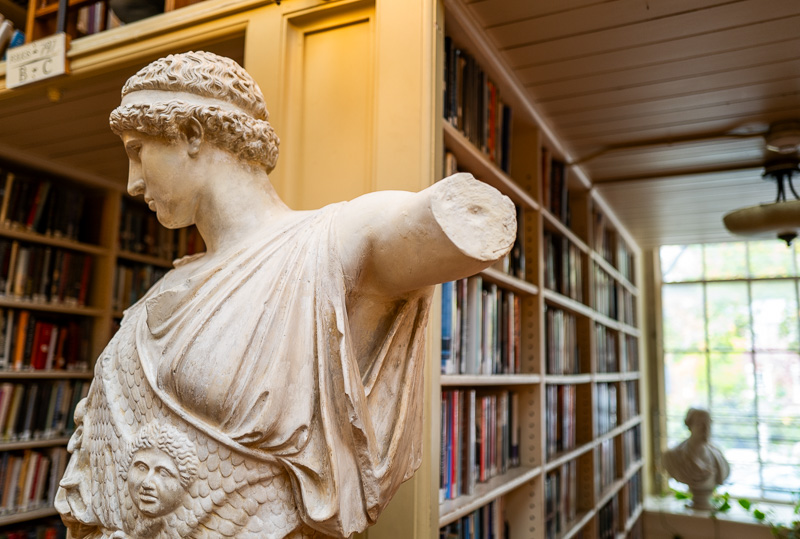 Deb made the best apple pie ever for dessert. The crust includes a small amount of the normally-despised Crisco. From the first James Beard cookbook. I'm going to try and find it.
One day in Providence It was pouring rain all day. Deb said she was sorry I didn't have good weather, but I trustfully assured her that I love it. Haven't seen proper rain since last spring. Torrents, sheets, gut-buckets of rain. And the near-to-overflowing Seekonk River churning along. What a name!
Paul showed me Slater Mill, which was the first automated textile mill in the United States. A guy worked in English mills, and memorized, or wrote down the details, off all the mechanical designs. Coming back to Rhode Island, he replicated them and thus began the industrial revolution in America.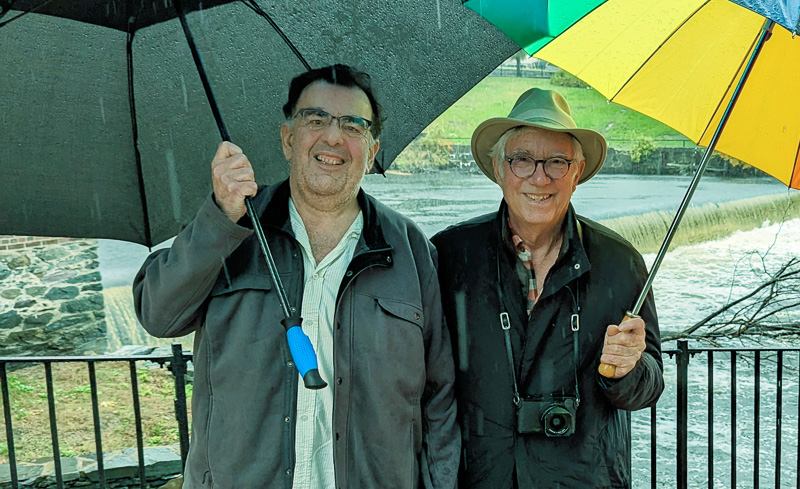 Lots of talk all day about Paul and Deb's friends and relatives. How Sylvia would relish this. By way of holding up our side, I told some stories about our kids when they were little. In the morning, Doing this for Sylvia's sake.
Soon thereafter, Deb started talking to me about what a great artist Sylvia was, admiring Sylvia's quilts as shown on the web page of them that I made.
"The colors are amazing, Rudy, where did she find them? And the designs, none of them is standard, they're all original, and with such interesting shapes, the edges not quite parallel, and lively, wonky gaps between the blocks. Mathematical almost. So utterly creative and fresh. I've never seen quilts like these."
It would be such balm to Sylvia's soul to hear this. And it means a lot, given that Deb is a famous knitwear designer. Let's suppose Sylvia was listening through my ears.
We got together for lunch with their friend Don Dammassa and his wife Sheila. Don is a book-hoarder friend of Paul's who has two large low buddings outside his house, overstuffed with some 60,000 volumes, mostly SF. Paul and Don met via an SF fan group back at Rhode Island College. Inside Don's warehouse, I got him to show me my hardbacks in one of the rows.
Paul himself has about 15,000 books in his house, on broad steel shelves that are filled edge to edge, front to back, with books lying on their sides. 3,000 of them in the spare bedroom with me. All SF. I'm glad they don't have quakes here.
Paul says one million different book titles are published each year.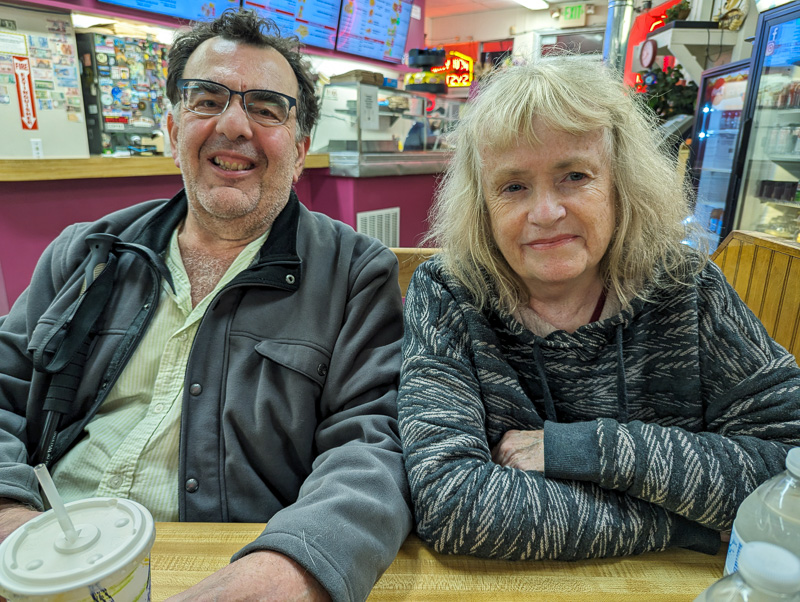 Cozy to be with Paul and Deb. Such a pair, completing each other's sentences, bouncing suggestions back and forth. Two peas in a pod, as the kids used to call Sylvia and me.
New York!
Great to be here. So polyglot…everyone taking a different language. Russian, Hebrew, Chinese, Polish, Spanish, Yiddish, Hindi, Japanese, Italian….
The Library hotel isn't quite what it used to be. Well, mainly Sylvia isn't here, so I'm touchy. Such a strong sense of her presence, her voice, her scent, her happiness to be in NY, her cute outfits, her keen observation of our surroundings.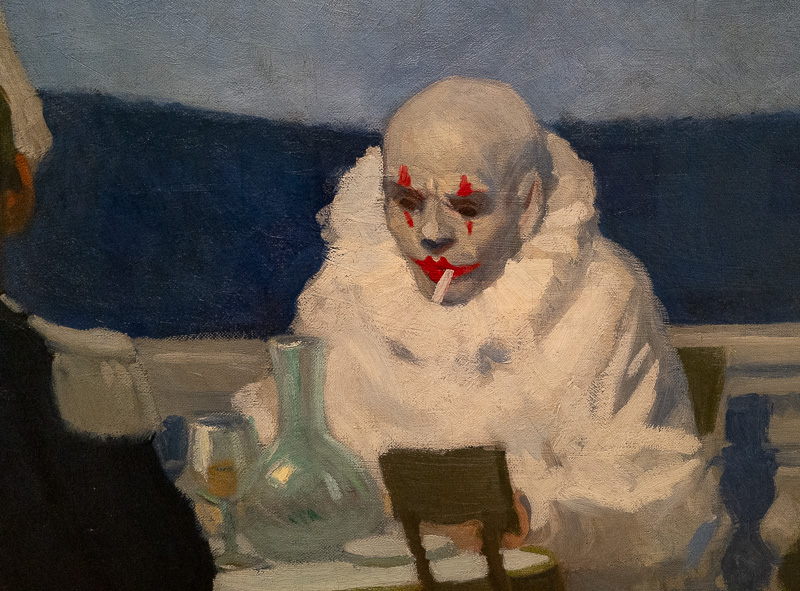 For supper I took the bus down 5th Ave to get to our old fave restaurant, L'Express, at 20th and Park. Walking crosstown, I could feel her walking beside me, felt it so clearly, and saw her extra-big "I'm on a good outing" smile.
Great food at L'Express as always, although I had to work for it. I clamored for a good seat in the back of the room and then then dared to send back my bouillabaisse as, being Sunday, it was old and fishy. Replaced it with a nice little hanger steak which was, however, too raw to cut or chew, so I sent that back for a bit of extra grilling. The waiter didn't mind. I'm guessing he's used to fussy New Yorkers.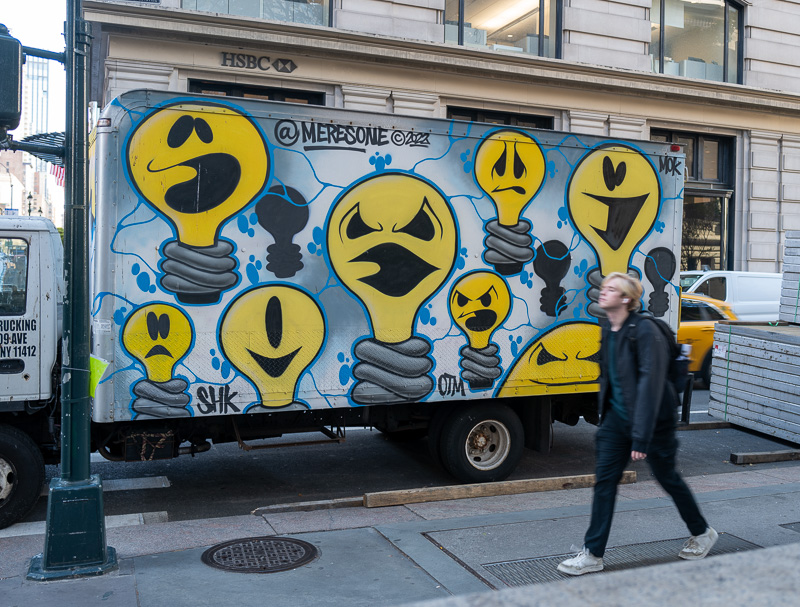 In Bryant park by the library this morning I had a sense of being telepathically aware of many people at once, the New Yorkers, each with their lusts and hopes and worries and plans. Individual neurons in a great hive mind. What if I, as neuron, snap into awareness of the whole mind? SF tale.
At this point we're switch into photojournalism mode. I didn't write many journal notes in NYC, but I took my Leica Q2 or my Pixel Pro 7 with me everywhere, and snagged a bunch of good shots. And I'll fill in a couple of lines about each one.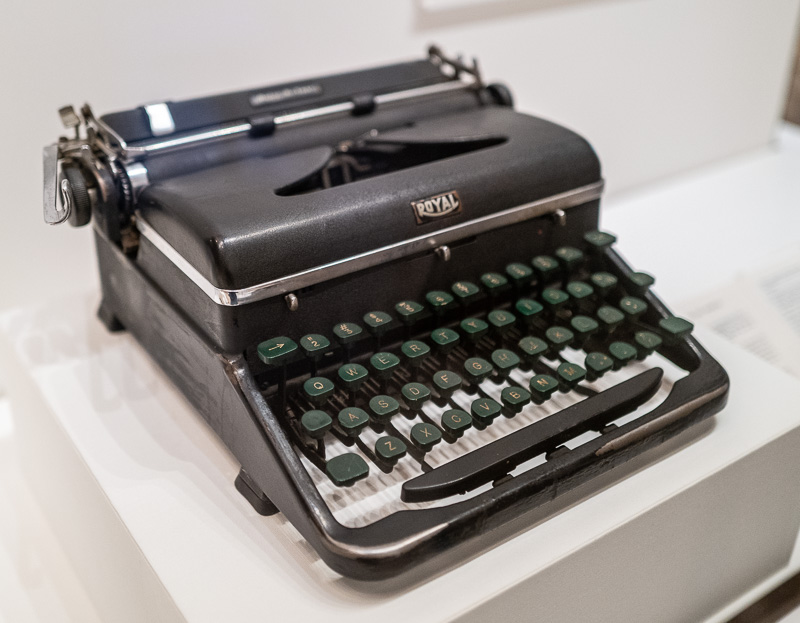 S. J. Perelman is one of my favorite comic writers—and here's his typewriter at the New York Public Library. I still have the pink/red IBM Selectric typewriter I used to write many of my early books. Can visualize it in some future spacetime case.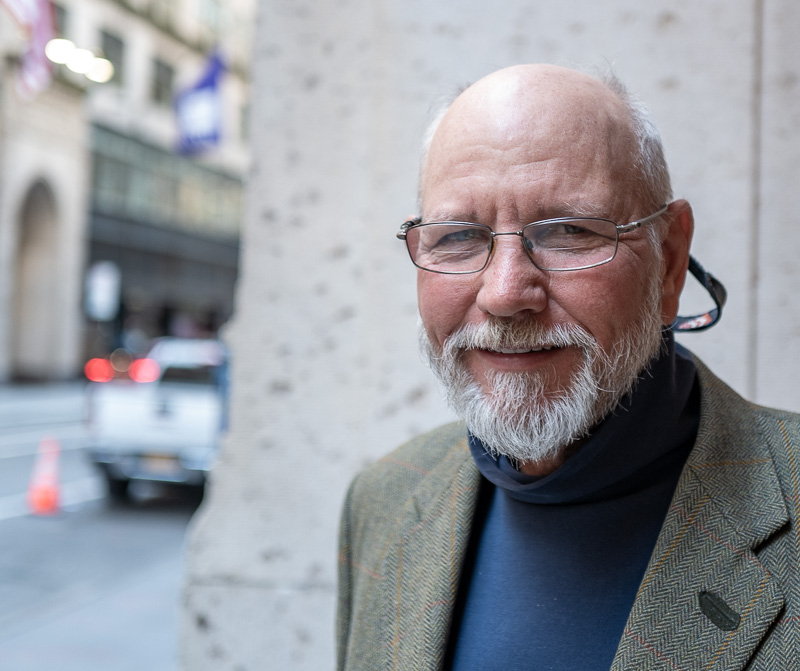 Had lunch at the classy Century Club with my agent John Silbersack. Chatty and engaged, he's an old friend by now. But not much encouragement on the future-publications front. That line I've been hearing from agents since the 80s. "Things have never been worse." And for me in particular, there's the factor of, well, ageism. It's a real thing, and not without justification. The new generations want a chance. I mean, are you going to buy the latest Stones album?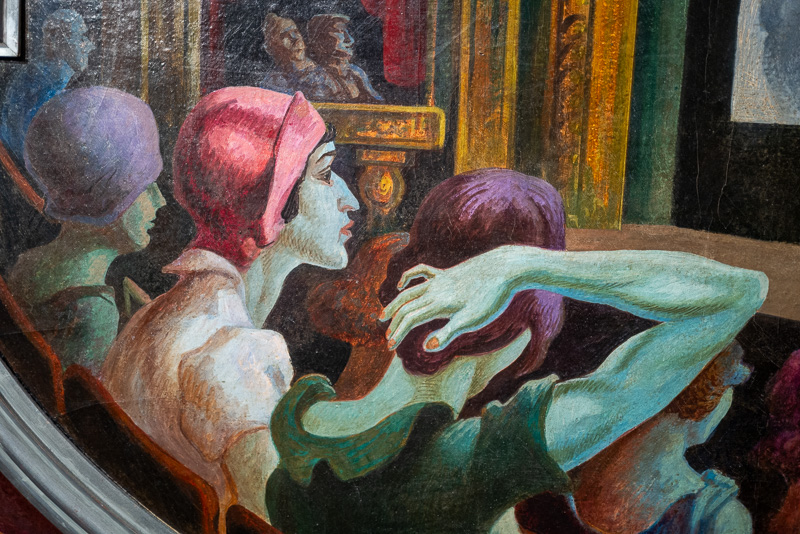 I made a point of going to the good old Met, searching out a section that Sylvia liked: it's their lesser-known modern and contemporary art collection, that is, from 1890 on. It's on the bottom floor, way back and to the left. Sylvia's fave was a room-sized mural by Thomas Hart Benton, "America Today", from 1932.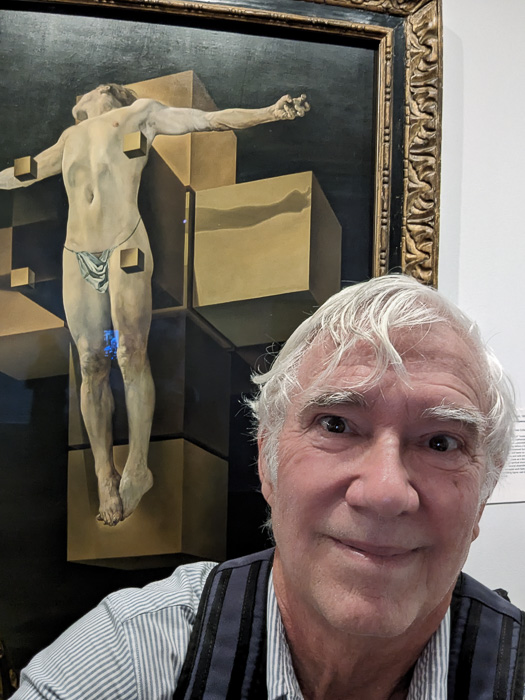 Closing time came sweeping in and, while racing around the Met's really quite large modern collection, and, as you kind of see, literally sweating it, I came across, oh joy, the vintage 4D cube crucifixion, Salvador Dali's Christus Hypercubicus.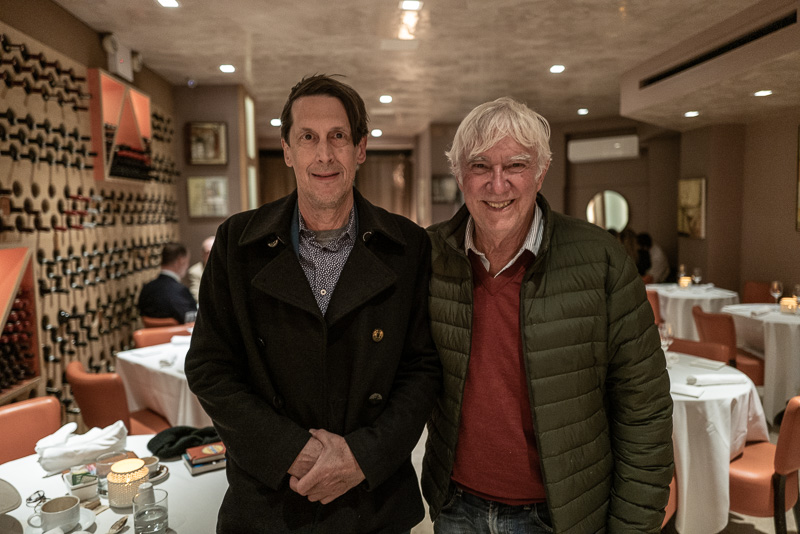 After the Met I had dinner at a chic spot on upper Madison Avenue with Henry Wessells, the man who sold my fairly massive literary archives (sixteen banker boxes) to UC Riverside a couple of years ago. He's an interesting, free-wheeling character with lots of good tales. And by selling the archive he got me the best "book deal" I ever had. See Nery's eclectic blog/webpage The Endless Bookshelf as well. He finds his way down an amazing number of rabbit holes.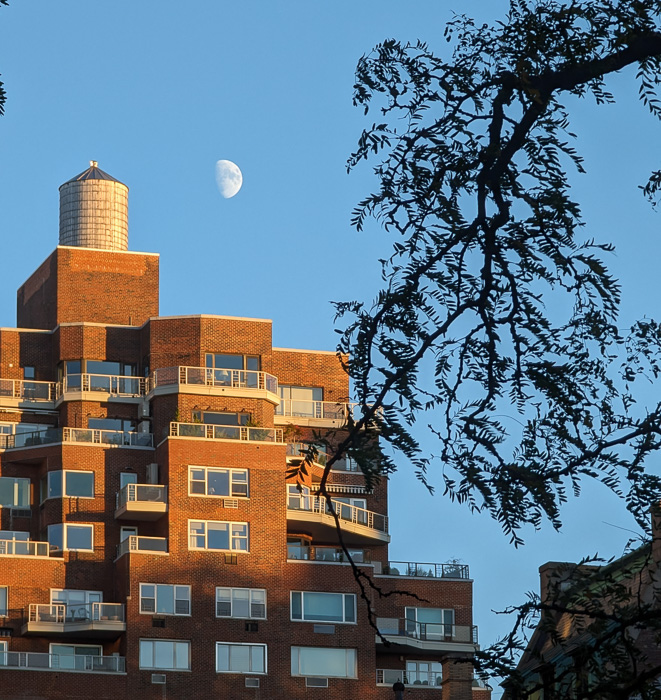 I noticed the nearly full moon above the skyline, nice shot. Every month when the full moon rolls around, my family and I think of Sylvia's death on January 6, 2023, which was very near the date of a full moon. Over a year, the full-moon-day of the month doesn't change all that fast; I'd never realized that.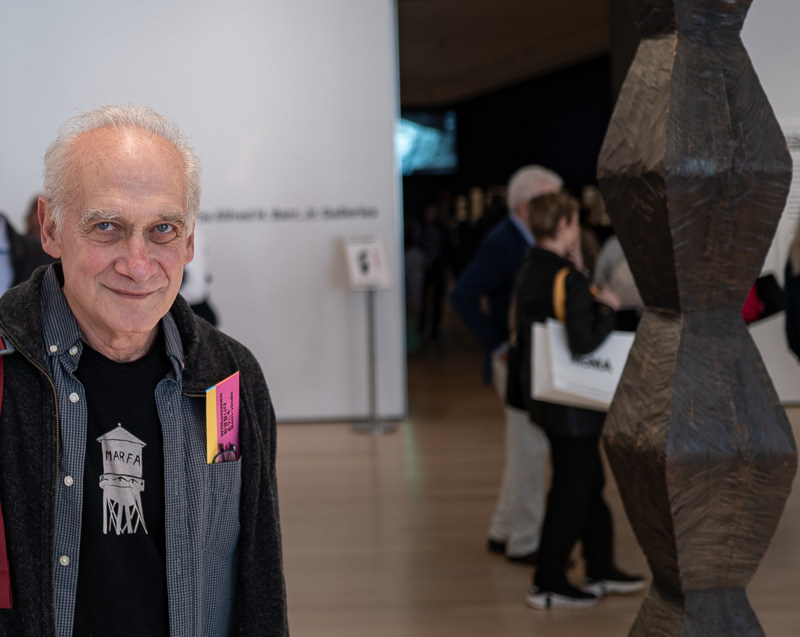 Dear Eddie Marritz turned up and we went to MOMA together. Eddie's a cinematographer, now largely retired, and lives with his wife Hana Machotka upstate. We go back to 1967, with newlywed Sylvia and Rudy attending grad school at Rutgers in New Brunswick, New Jersey. Eddie and I used to smoke pot together a lot. And the same mindless, irrepressible merriment and deep meanings remain.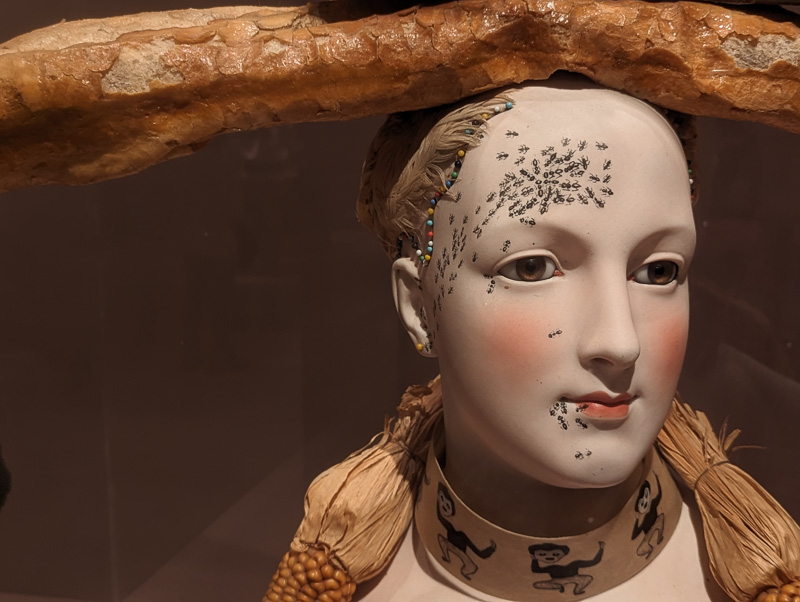 One of the lesser-known Dali ant paintings. Even now the higher critics rag on Salvador, but—hey. Ants, man.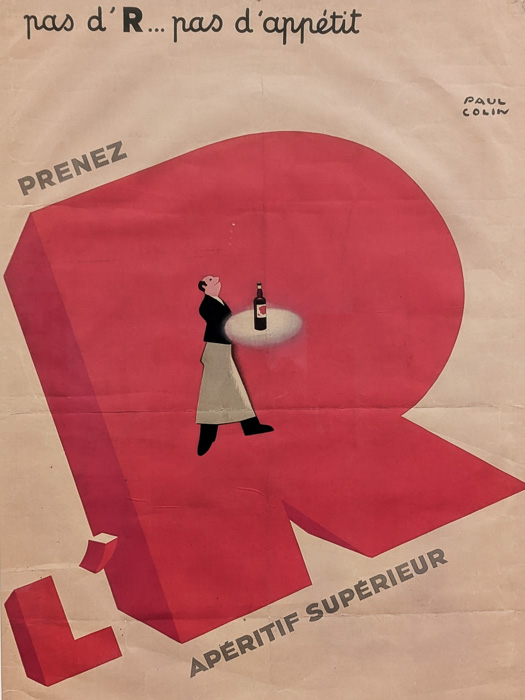 MOMA deco poster for an aperitif called, simply, R. Love it.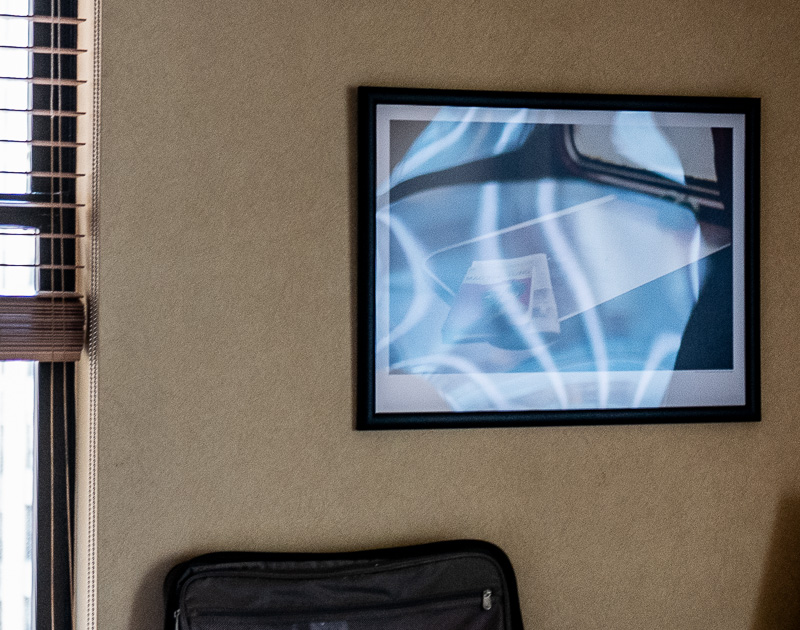 I love these types of lines that mathematicians and physicists call caustic curves. Areas made bright by the physics of the angles in a sheet or in a volume. On a sunny day you see caustic curves on the bottom of a swimming pool. "Caustic" means "burning" and the idea is that the lens-like focus water makes these bright lines that, having more light, are hot. Like the way you can incinerate ants with a pocket lens. And you see something like them on the ripply surface of sheet of plastic used in place of glass on an inexpensive picture frame. Actually I'm not really sure if these curves are called caustics. Very mysterioso in my dim room.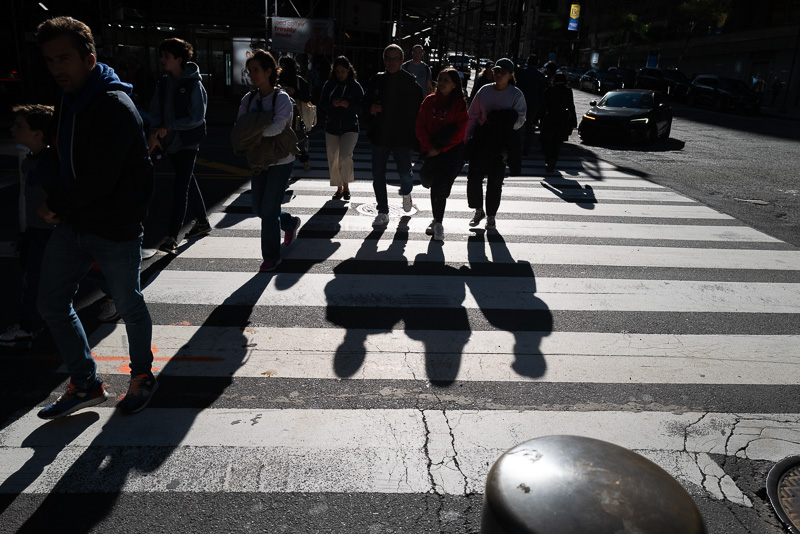 Something Sylvia and I liked to do in NYC was to ride on the ferries that run up and down Manhattan, also touching on Queens and Brooklyn. Only costs about $5 for a ride, and there's not obnox narration like on a Circle Tour. Not so easy to find the launch dock near East 3rd St.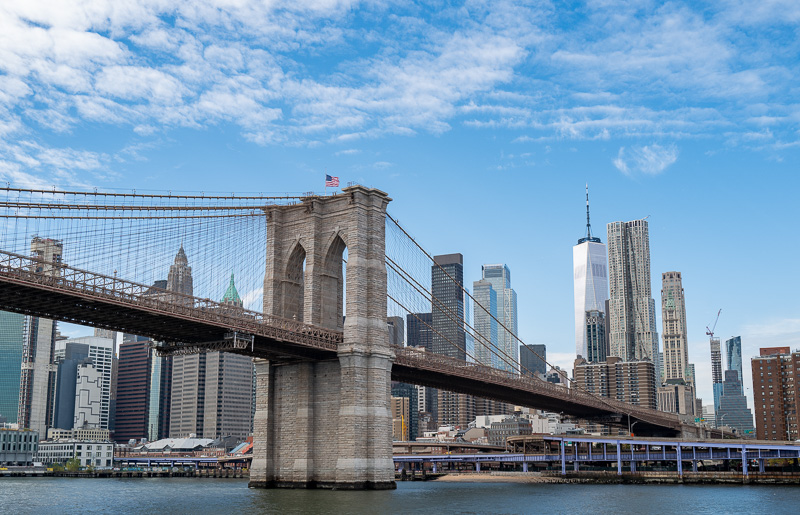 Classic view of lower Manhattan. I once heard a really interesting idea from the scientist Christopher Langton, talking about cellular automata and artificial life simulations. Sometimes we think of cites as scars on the face of Nature, ugly messes made by the wicked human race. But, come on, we're a living species too. And cities are our nests! And wondrously intricate. Standing back like this, I was staggered by the sheer scale of the flows keeping New York going. Food, electricity, communications, fuel, and building supplies coming in…sewage and waste going out. Awesome.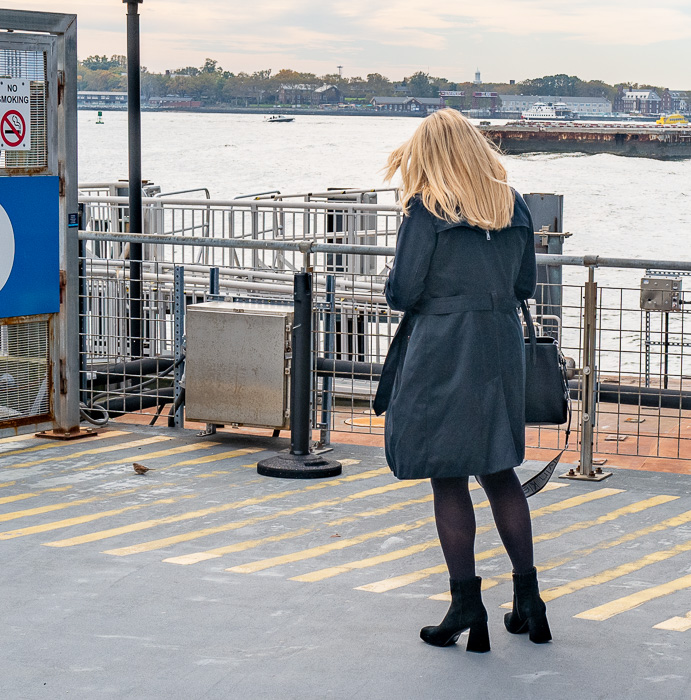 Chic NY lady ready to board. I love how New Yorkers look.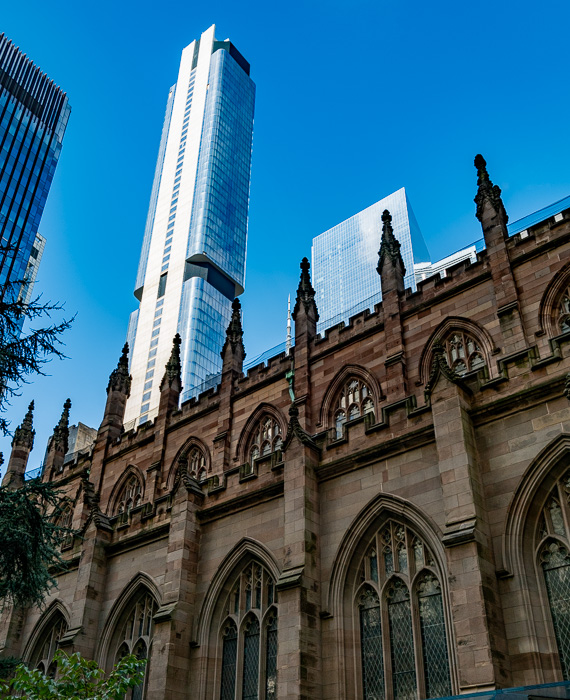 SF-nal conflation of huge 21st C ground zero skyscraper and St. Paul's Chapel from 1766. Nice to chill in the church's old graveyard amid the city's immense throb.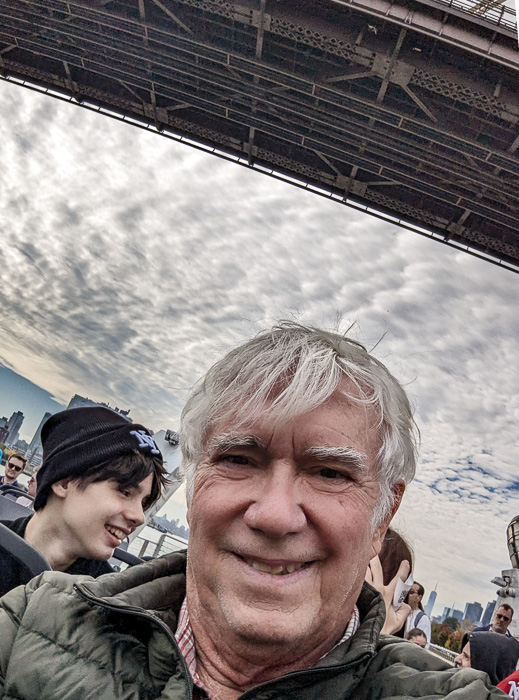 Riding under a bridge, a sky of moving machinery, with tufted clouds to match, plus a cute Italian tourist.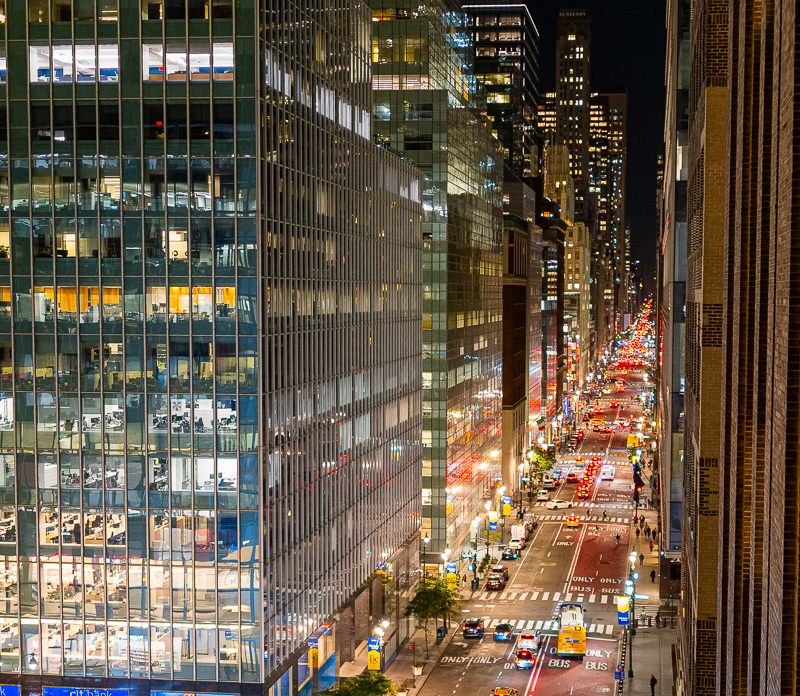 At first I had a less expensive single-bed room, but for the last two nights I had a deluxe suite. Sylvia and I never made it into a suite room and, of course, I regret that we didn't. How she would have loved it. But, again, thanks to that half-feeling of her being present, she was seeing the fancy room through my eyes. And even if I'm kidding myself about that, the treat was a way of celebrating her memory.
On my last night, my Swarthmore classmate Roger Shatzkin showed up from Jersey and he slept on the extra bed in my suite. Wondrous view up Madison Ave with the tail lights converging to an unreachable vanishing point, the street a long isosceles triangle decked with a swarm of red taillights, ever closer together as they verged towards the vanishing point. Roger said it was like a Christmas tree.
So awesome.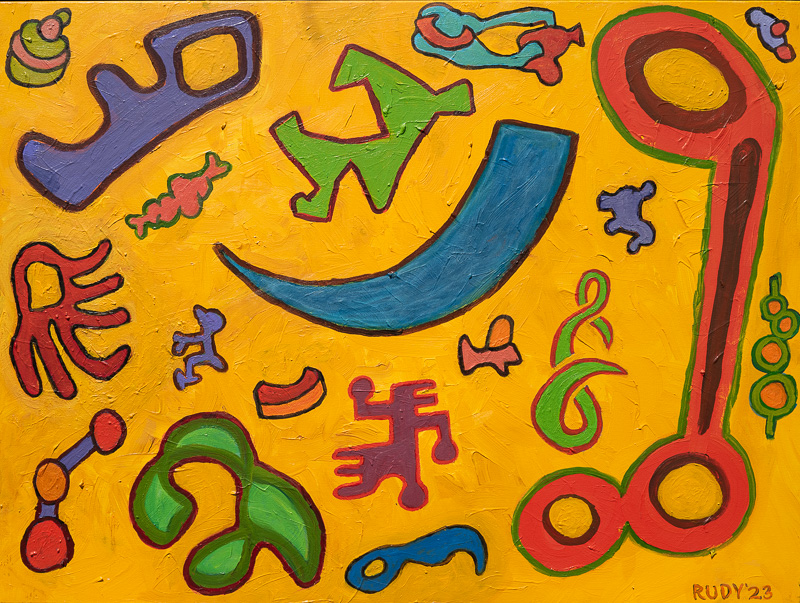 Roger and I went to the Grand Central Station Oyster Bar; I'm glad he came along, I think I would not have enjoyed doing that one alone. The Oyster Bar was a touchstone for Sylvia and me. This time they guy next to us was screaming at the top of his lungs, and so was his date. Screaming like crazy people.
Getting fully into the pushy New Yorker thing I walked to the front desk, and asked to move. The guy goes, "Every table is loud here." I go, "I've been here lots of times. The guy next to us tonight, he's different." The front guy shrugs, and we get the new table. And I got the best oysters I've ever had, big ones from Massachusetts. If not the best ever, he best since the last time I was there, which was on the farewell tour with Sylvia in 2021.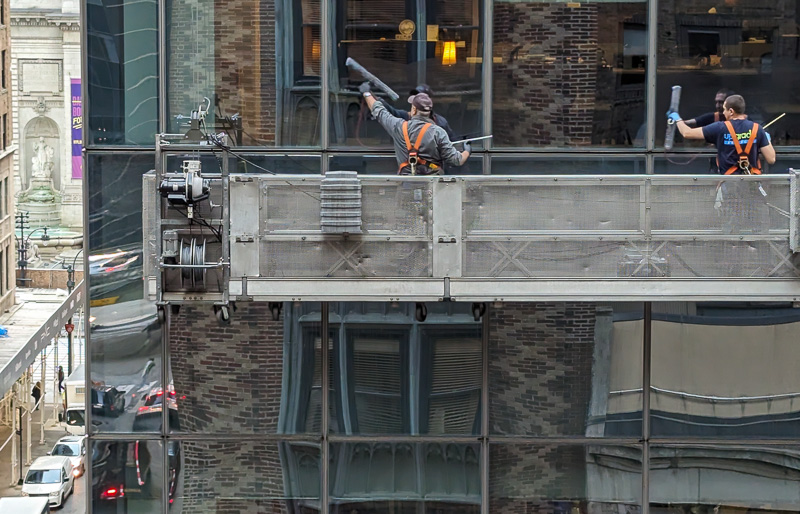 Cute and funny to find Roger in my room in the morning. Harking back to Swarthmore 1963. Looking out our window we see two window-washers on a scaffold lowered down from the roof. Working really fast. If you think about it, they must have to wash a skyscrapers really often, maybe even doin a section every day. Like the lawn of a huge mansion. I mean, clearly the New Yorker occupants of these lofty perches aren't going to settle for dirty windows!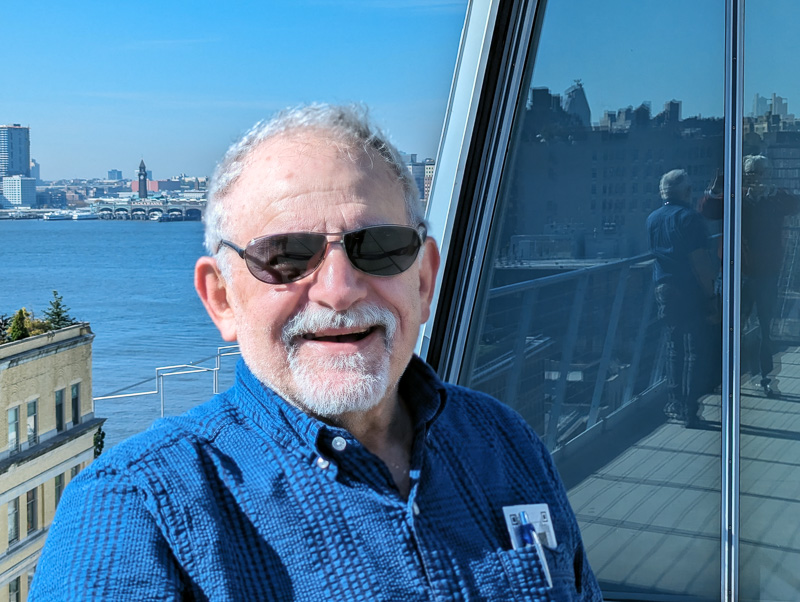 Here's Roger at the Whitney with me; we do that visit together every few years, used to have Sylvia along, of course. I saw one of my fave paintings, Door to the River, by Willem De Kooning, part of their permanent collection.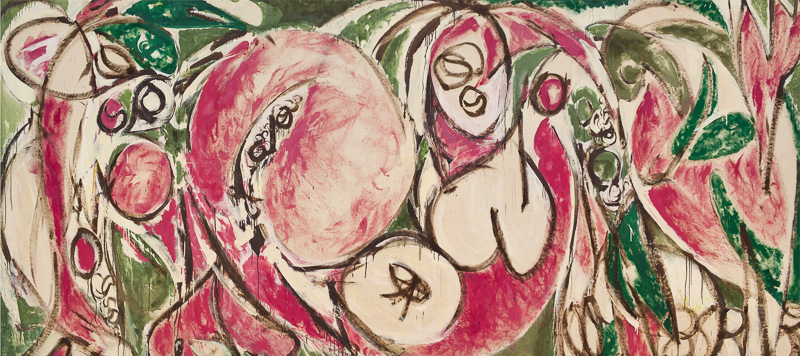 Also a huge, wonderful work by Jackson Pollock's wife Lee Krasner. Her first one after Pollock died in a drunken car accident. She said she'd wondered if she'd paint again and then, "Well, I did."
As it happens, Roger and I had streamed the movie Pollock on my laptop the night before. At the end, Roger remarked, "I have to say I have no iota of sympathy for the guy."
I like the bit in the movie where Pollock is losing it—a guy has been filming him for a month and it drives Pollock up the wall, and he resumes drinking whiskey (which he'd given up) and now he's drunk and he keeps leaning up right next to the ear of film maker and saying over and over, in a tense whisper: "I'm not a phony, you're the phony. I'm not a phony, you're the phony."
As an outrider cyberpunk author I know this feeling very well! I'm so glad I don't drink like Pollock anymore.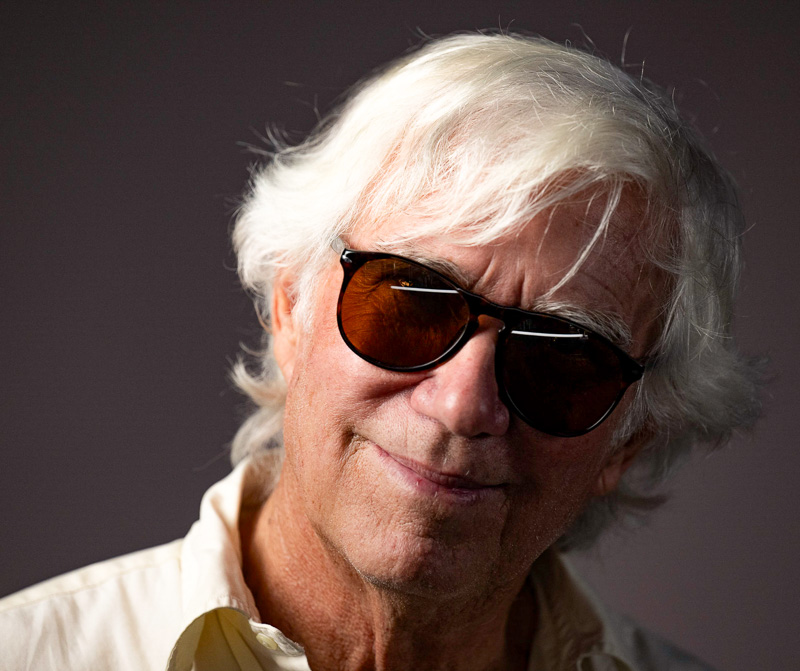 [Portrait photo by Bart Nagel.]
What a long and eventful trip it was. I always worry about the transportation and the transitions, but it's juste one step at a time. Everyone was really nice to me. Mike and Mary, Greg and Annemarie, Paul and Deb, Eddie and Roger. I told the story of Sylvia's death to each of them. Good for me to keep excavating that, airing it out, keeping it real, assimilating it, coming to terms with it.
I've mentioned that I often feel as if Sylvia is still with me—and I don't expect that feeling to go away. But in the most literal sense, she's gone. The trip made that clear.
Even so, we two had a long, wonderful run.