The grief is still quite harsh; it comes and goes. But it's getting better. A couple of weeks ago, alone in the supermarket I was still lost in a haze of regret. All the things I didn't do, or did wrong. Even though, in her last months, Sylvia told me, "I forgive you for anything you ever did. You're being so nice to me now, and I know it's hard. Thank you. I love you."
But I have regrets anyway. Why go there, Rudy? Do you like to suffer? No. Do I feel like I'm fundamentally a bad person? Well, maybe I do. Advice from a grief book: "If you follow the thread to its core, you may find a sense of wrongness that has been with you your whole life."
Thus: cyberpunk. The good boy who thinks he's bad.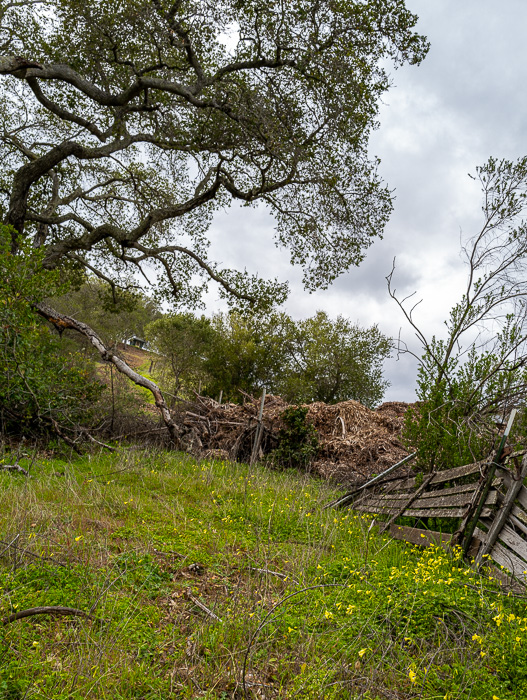 Here's a photo near the spot where Sylvia said that wonderful thing in her last week of life. "The world is beautiful. The world is so beautiful."
That's all that matters.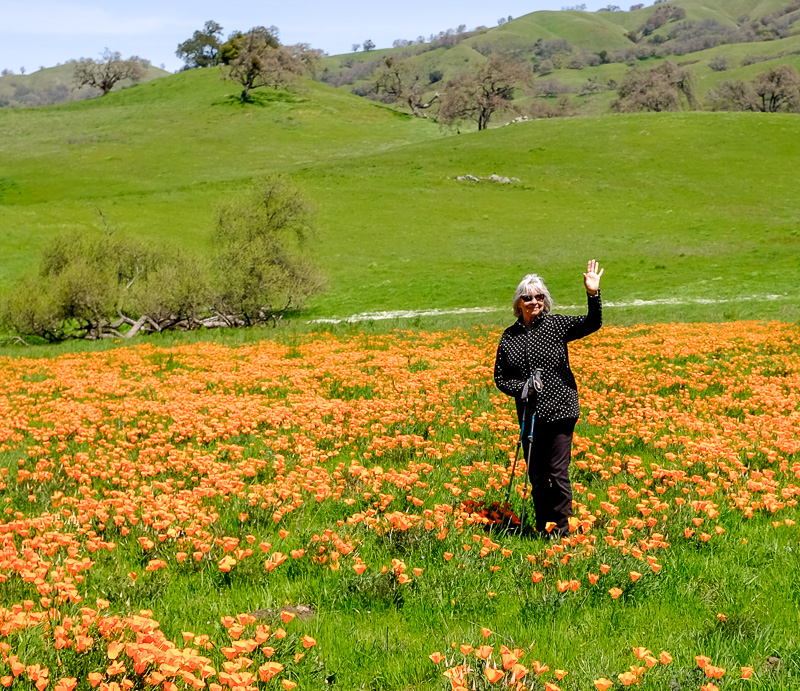 I saw the first California poppies of the year on our hill the other day. Sylvia loved to see the poppies. This photo's from Grant Park, 2019, four years ago, when she was still healthy. When we went there two years ago, early in March  2021 I realized, but not quite consciously, that she was going to die. Something weak and tired and fluttery and dark about her. Doomed. Farewell, Sylvia.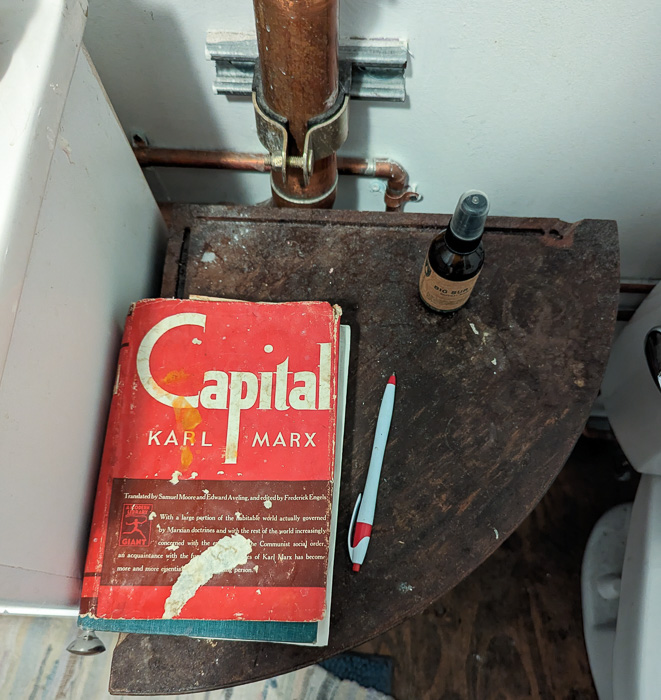 On a more mundane note, a few weeks ago I visited Rudy Jr in SF for lunch at this cool place, the Tartine Manufactory. Our artist friend Kal Thomas lives near there, and we visited him.
A copy of Karl Marx's Das Kapital for bathroom reading. Go fot it, Kal!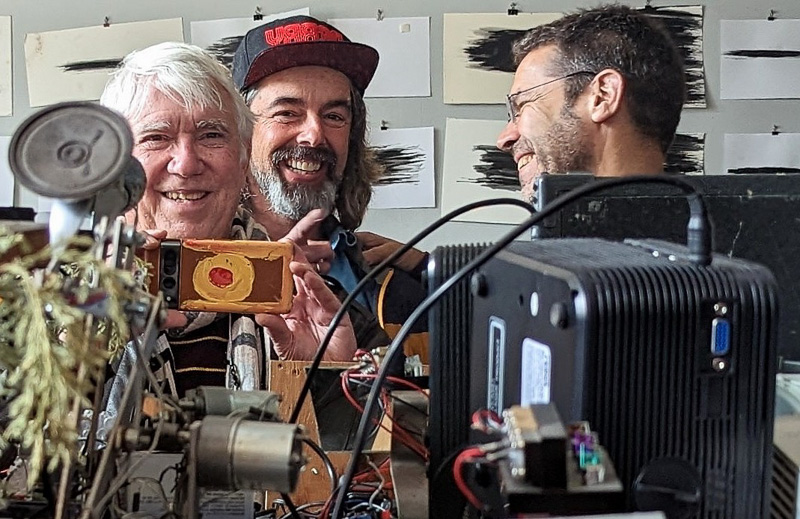 The three of us in Kal's lab/studio.  He makes machine/robot/electric/punk/trash/dynamic art.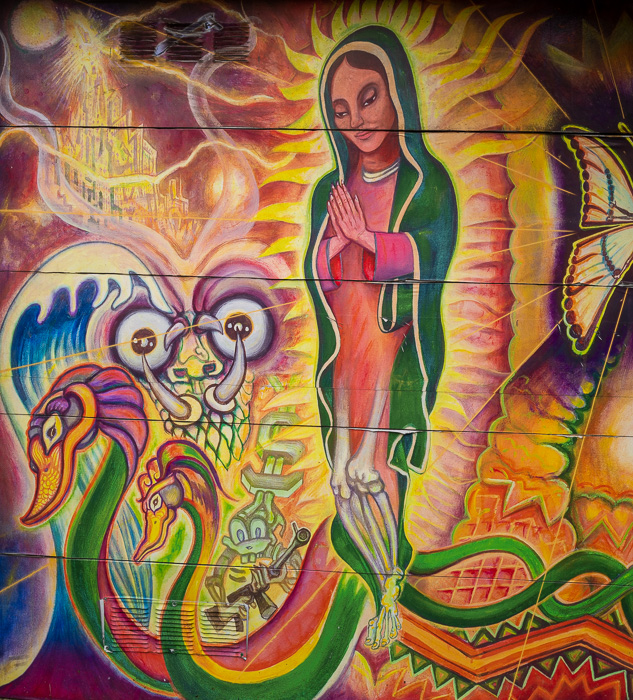 My brother Embry and his second wife Joanie came out here for a read trip with me. I showed them Balmy Alley off 24th Street in the Mission. Really great murals there. The Blessed (but skeletal) Virgin here with eldritch developer critters.
I was  up on our hill reveling in the green,  alone, walking past the big log where Syliva and I liked to sit, up the hill to the hairpin where the creek goes through a culvert under the path. Fluming pretty well. Last night I had to bail  ten gallons off the floor the bedroom closet.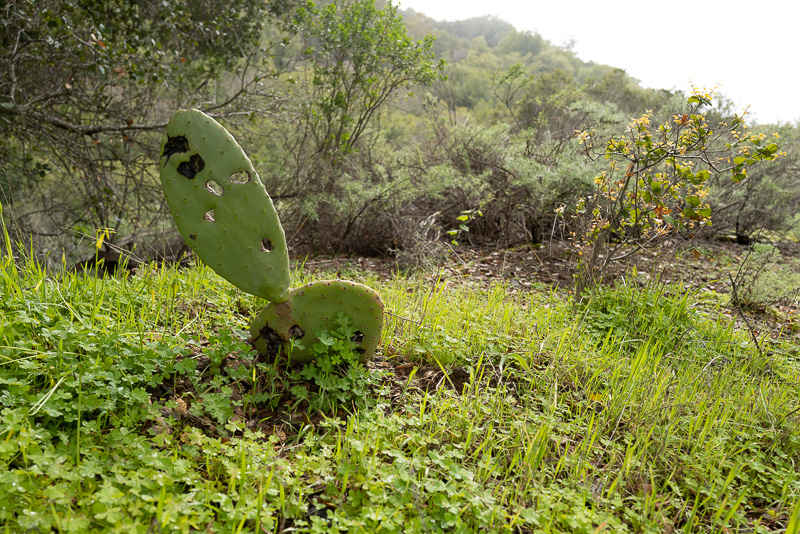 A holy, holey cactus.  I was, like, having a conversation with Sylvia up there on the path, deeply focusing on her dictum, the one I keep mentioning, The world is beautiful. The world is so beautiful.
I was  hitting on every aspect of that. The shapes and colors of the plants and the soil, with the marks of a mudslide, and the branches with the green leaves in their chaos dance. The air wafting against my face, and the temperatures of the air. The roar of the creek and its echo. The cheeps and calls of the birds. The proprioceptive sense of my body, my sore hip, the balance of my arms, my hollow torso, the placement of my feet. The smell of the laurel leaves. The sprinking mist of the fine raindrops. That old verse: "the small rain down can rain." The marbled sky, with the sun brightening and dimming. The architectonic geometry of the scene: trees, path, gully, sky, slope.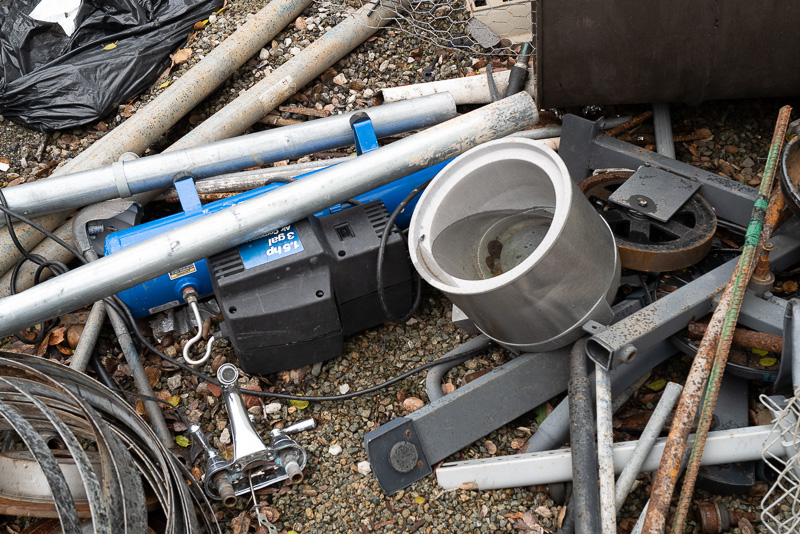 An ever-changing mound of Jesuit scrap metal at the start of the path. A rotating art installation. Imagine it in a gallery, a little different every day. Life is art.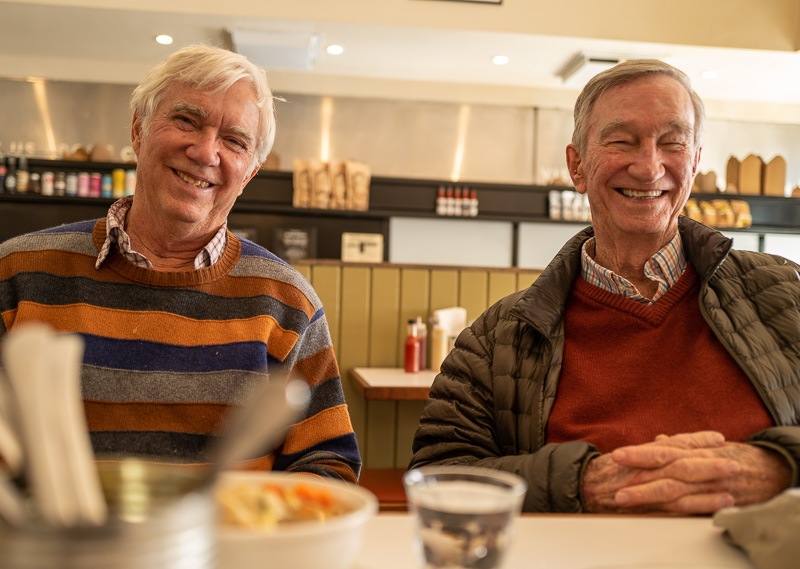 Rudy Jr took Embry and me to Wise Sons Jewish Delicatessen on the otherwise non-Jewish 24th street. Best pastrami sandwich ever, and I mean best.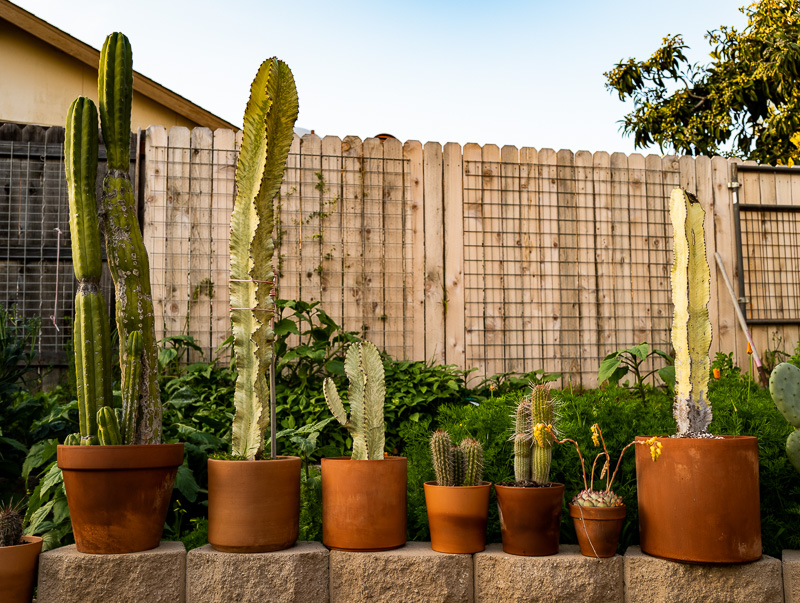 We ended up going on a road trip to visit Embry's son Embry III and his family, down in Encinitas, between LA and San Diego. And Isabel came along.
Emby's wife Leslie is a big gardener. I like this line-up of cactuses. The usual suspects.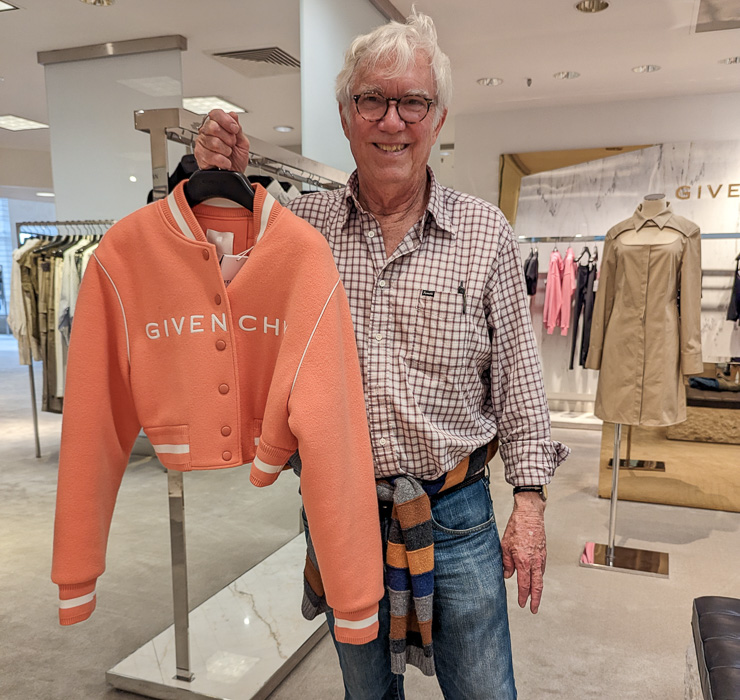 Before we left on the trip, I took Embry and Joanie to the Saks on Union Square, visiting it like an art gallery. I was really impressed by this midriff baring Givenchy varsity jacket at $2000. Kind of wished I could wear one.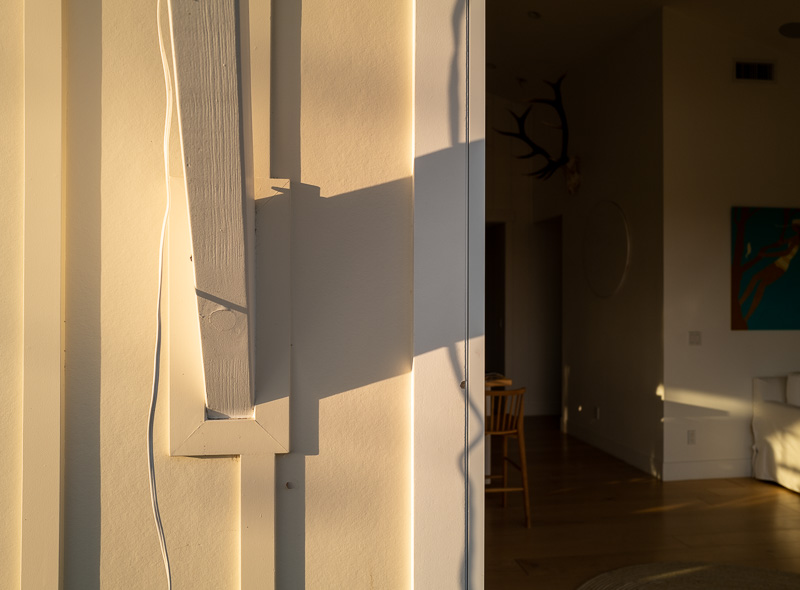 This is a type of composition I have a weakness for. Lines parallel to the frame edges, some slanted shapes, a 3D punctuation, light/dark chiaroscuro.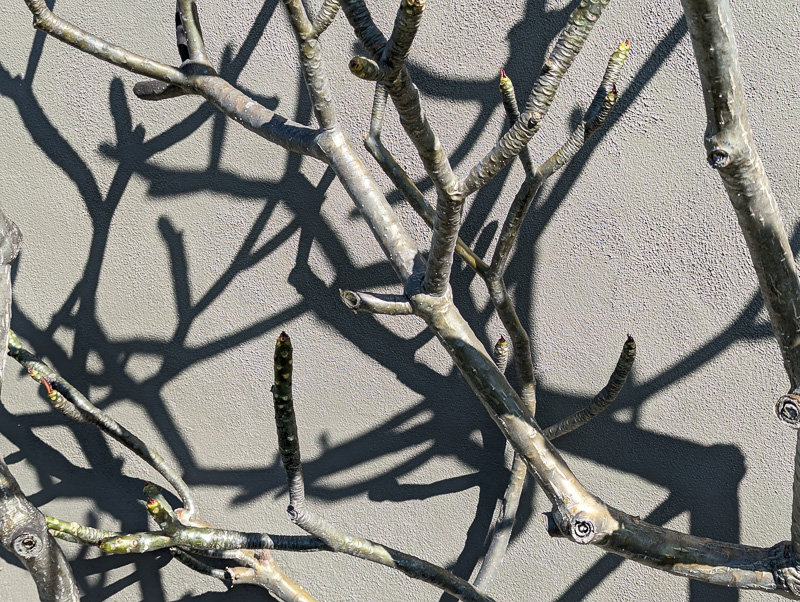 I love all the plants down in the Southland.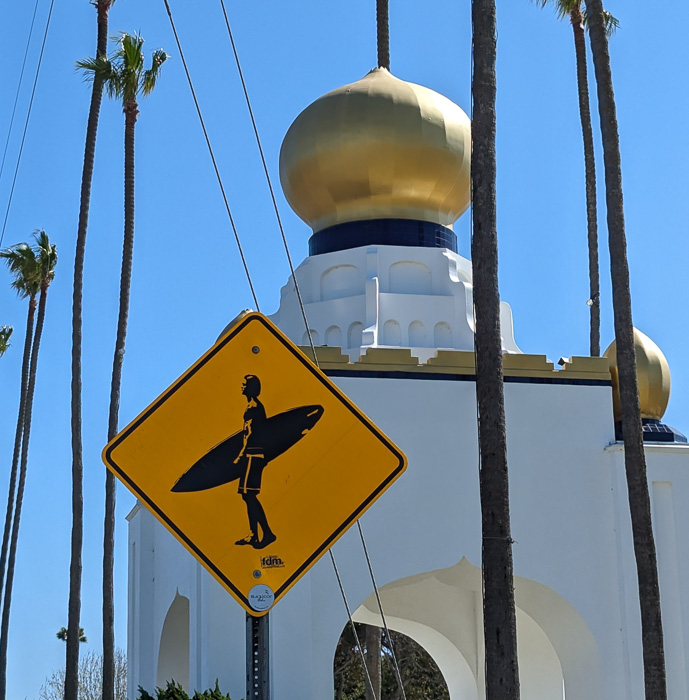 The Maharishi of Beatles fame owns a huge cliff-top compound in Encinitas. According to E III, he never gives anything back, never does anything for the community. The beach below is called Swami's.
Surfer readies hereself for Cosmic Wave at Swami's beach.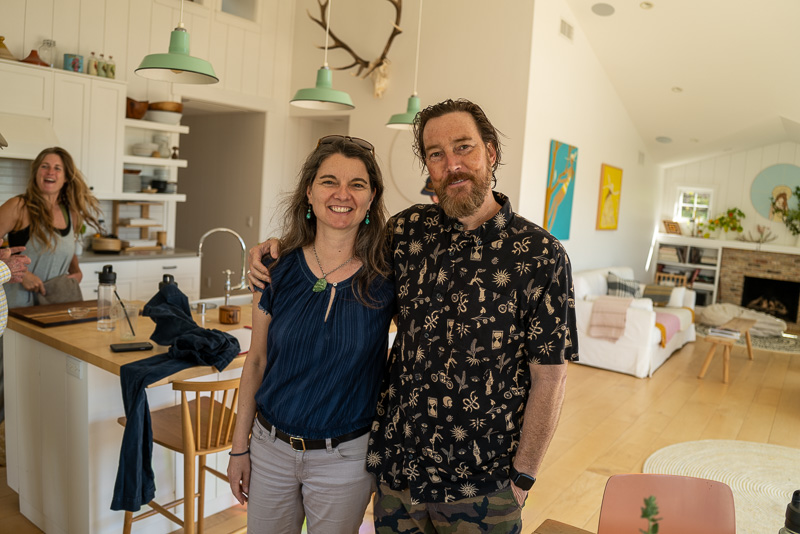 E's wife Leslie in the background, plus Isabel and Embry III in E & L's house. They've got it looking really nice. E is a pro photographer, I like to think I acted as positive influence on the lad, by usually having a high-end camera in my hands when he was a kid. And now, no matter how hard I try, he always has a better camera than me.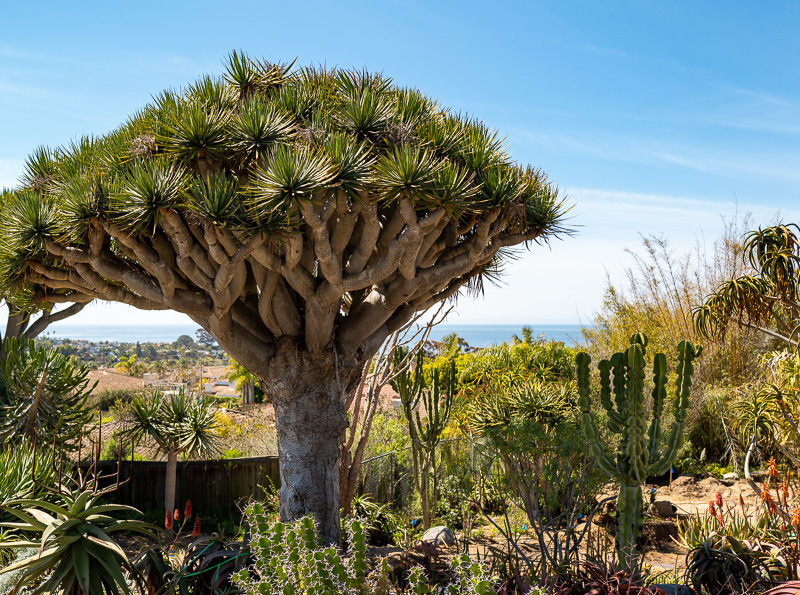 Love this woven umbrella a tree. Dare I say…gnarly?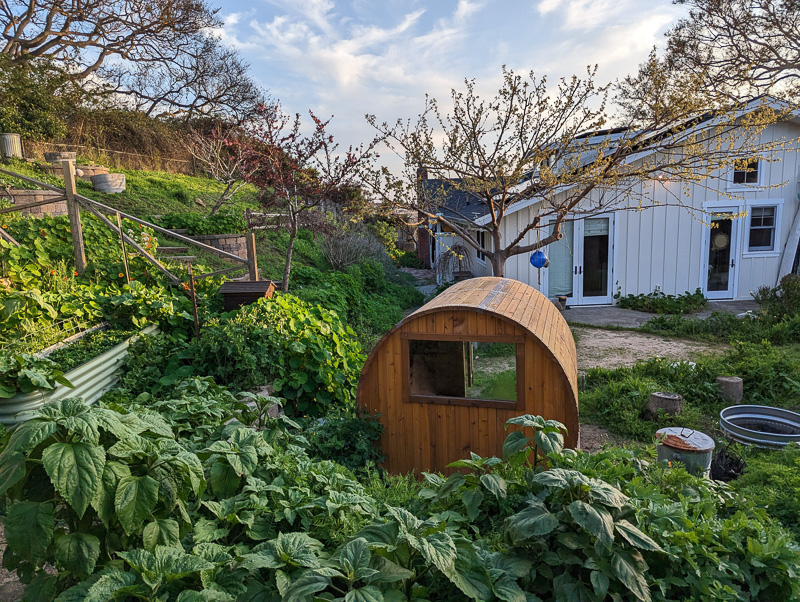 Embry III's wife Leslie is proud of their garden, and she's really done a good job. Dig this "barrel sauna" they got, probably from some LA Finish people. I would have liked to go in there, but didn't get around to it. Embry and Leslie are into fitness. After his sauna, Embry puts some big chunks of ice into a horse trough of water, and gets in—for the shock of the cold. He looks really healthy, so why not?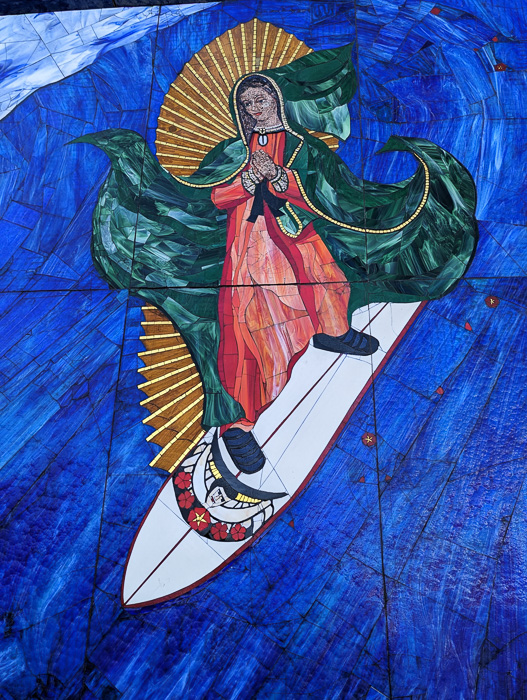 Encinitas is a real surf town. Six foot tall tile art of the Virgin on a board.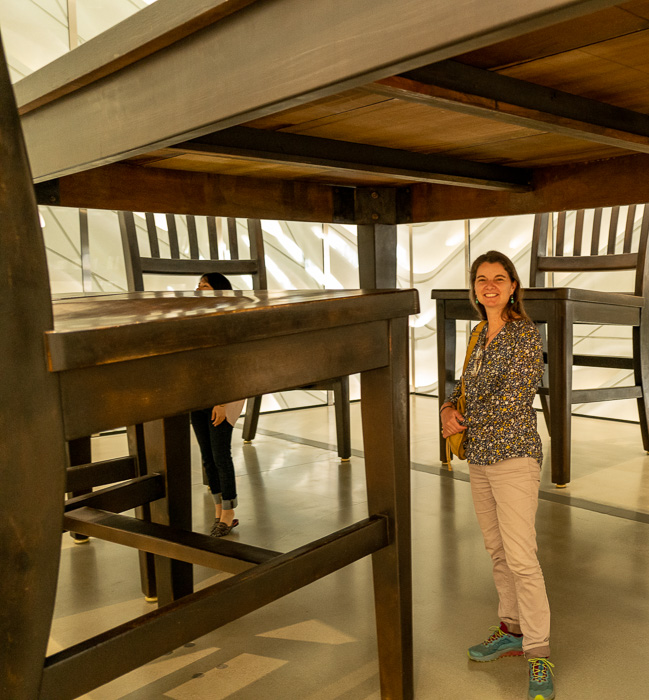 On the was back north, Isabel and I looked around LA before meeting up with my SF friend Marc Laidlaw. We went to a new museum  called the Broad, which was the last name of the donor. Terrific modern stuff. An artist named Robert Therrien has an installation of table with chairs and the table is about 12 feet tall. Wild to go under there, like being a young kid, or a dog.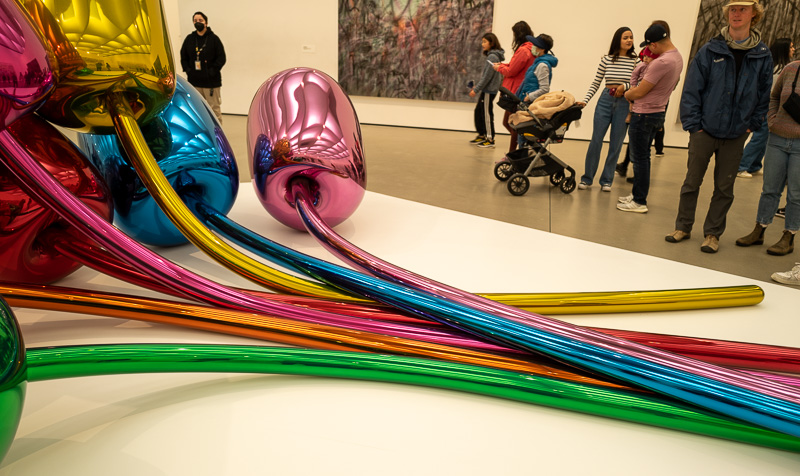 Great tulips by Jeff Koons. Mirror-polished stainless steel with transparent color coating.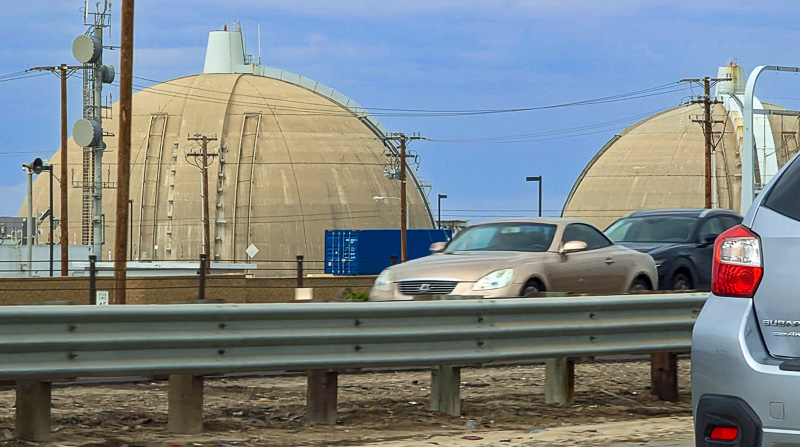 When we were driving from Encinitas to LA, we passed a pair of decomissioned nuclear reactors that the locals call the concrete bra. Marc Laidlaw and I put that reactor into our early surfin' SF story "Probability Pipeline."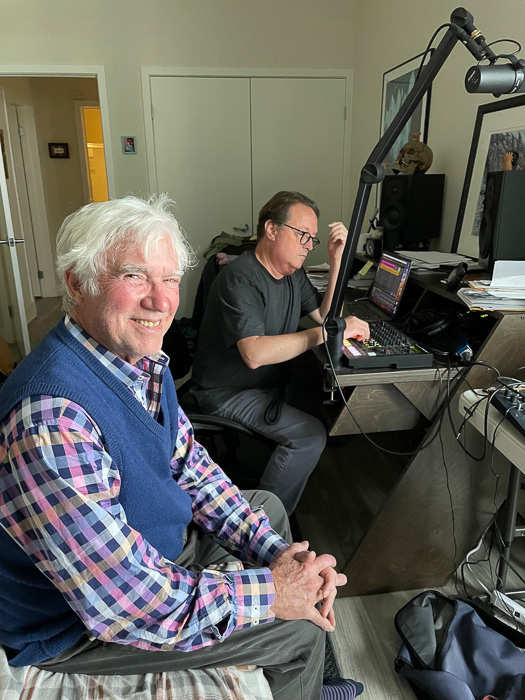 Isabel and I slept in Marc' apartment. He's really gotten into music now—taking classes and lessons, has a lot of equipment, making recordings…you can hear his pieces on Band Camp. He asked to record some words he could sample into a song with electronic background. So naturally my song is about Sylvia. It's collaged from phrases found in my recent blog posts.
So Beautiful
I sat next to her on a bus.
My life never the same.
Cute and quick
No one understood me. She understood me.
Worldly drama.
Sexy, loud, hot.
Tidy reckless,
Greedy generous.
Cozy festive
Chic chic chic.
Where are you? Come back.
What she said:
The world is beautiful.
The world is so beautiful.
Come back.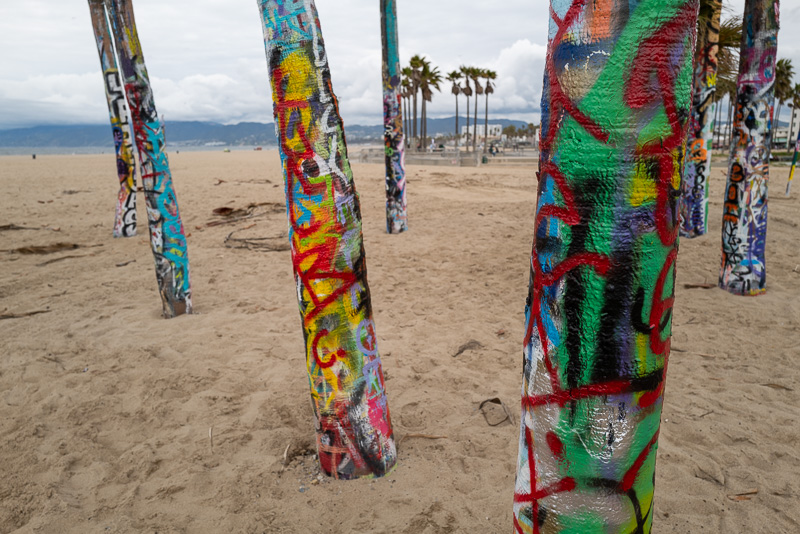 A grove of graffiti-touched palm trees on Venice beach. Marc says that if there's any pattern you like, you need to take a photo, as two days over it'll be covered over by fresh work.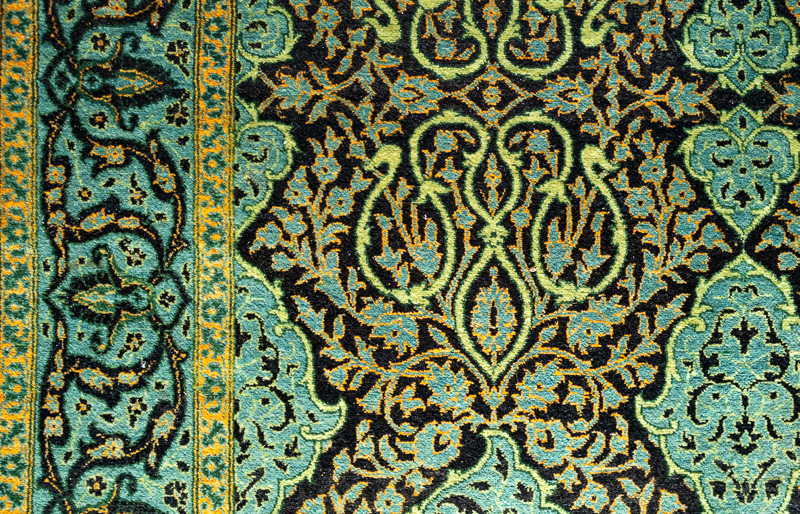 Marc's floor graffiti is a Persian rug.
I have a start for a story called maybe "Sound Off" or "New Glasses." Or—today's flash—the title should be "Guardian Angel." That would be the best title. People love hearing about angels. And I could subtly bring in Syliva's, which is pretty much all I write about these days.
In my story, two high-school girls are putting together an presenation for a contest. The pieces aren't music videos, they're more SF and high-art than that. More like sampling, or like mind recordings. Something like the "Beep" of James Blish. And then waaat?  No frikkin idea.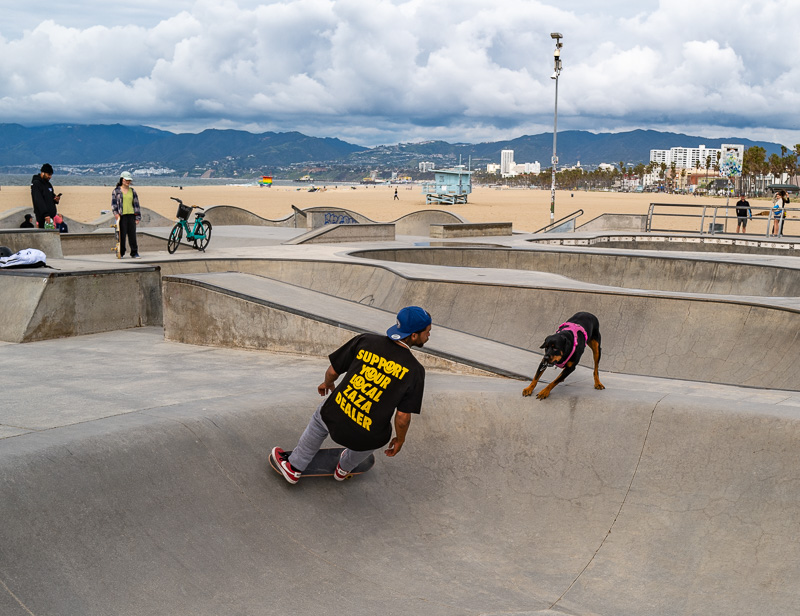 Naturally a skater in the Monday morning Venice skate park has a big dog along, and the dog keeps wanting to "fetch" the skateboard out from under him.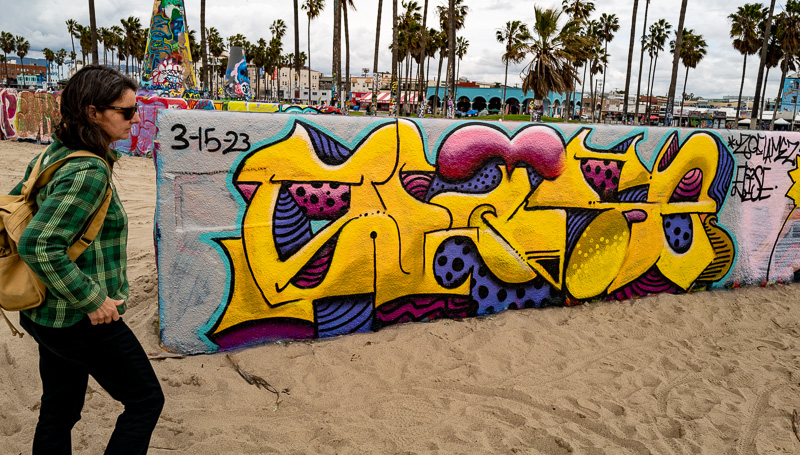 Marc, Isabel and I saw a really great graffito in Venice Beach. We couldn't decide what it said, and I asked online. One guy said it was "check it," which almost made sense, but then someone else pointed out that in the tag to the right of the graffito says Elise, and yeah, that's what it says.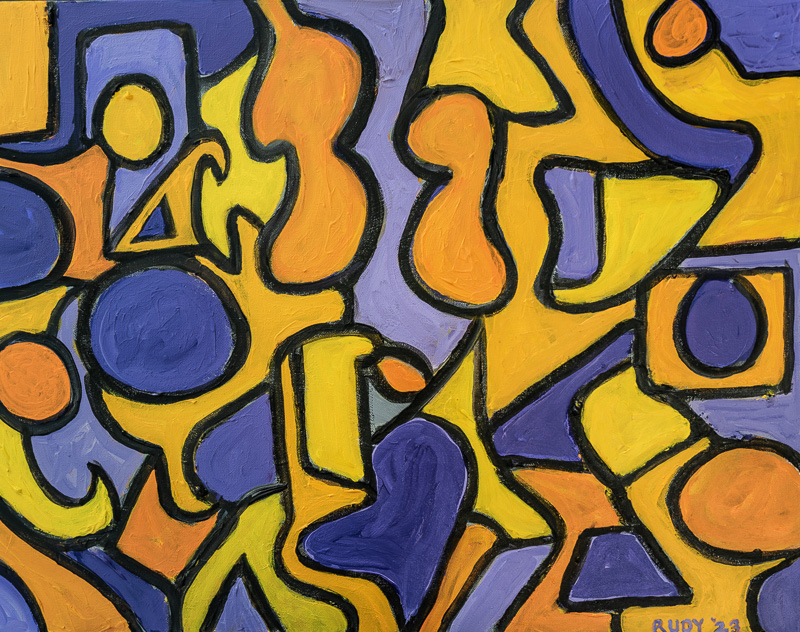 I wanted to paint a copy of it, but acrylic paint is way different from a spray can, also I didn't want (or wasn't able) to make a precise copy, so I got loose with it. What you see in my painting is actually two copies of the graffito turned vertical, and one of them rotated so the puple "lips" at the tops of the copies are face to face. Except I made them orangey-yellow, you can see them in the middle. Right?
If I base an abstract painting on something real that I saw, I get more interesting shapes. Not just things from my head. This is the best painting I've ever done.  (But I tend to say that pretty often.) You can get info on my Paintings page.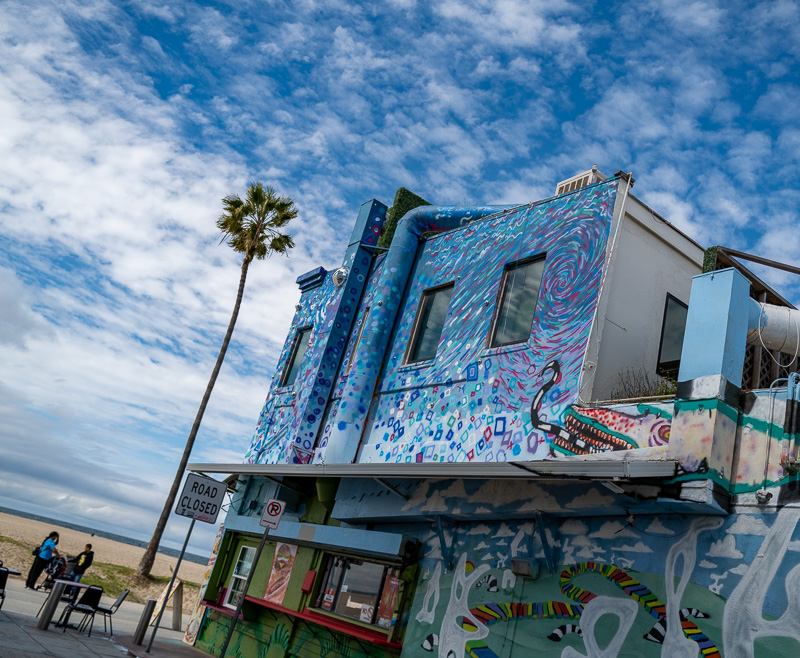 This is another really good Venice scene that I might base a painting on. What's it like inside that upper room, I wonder.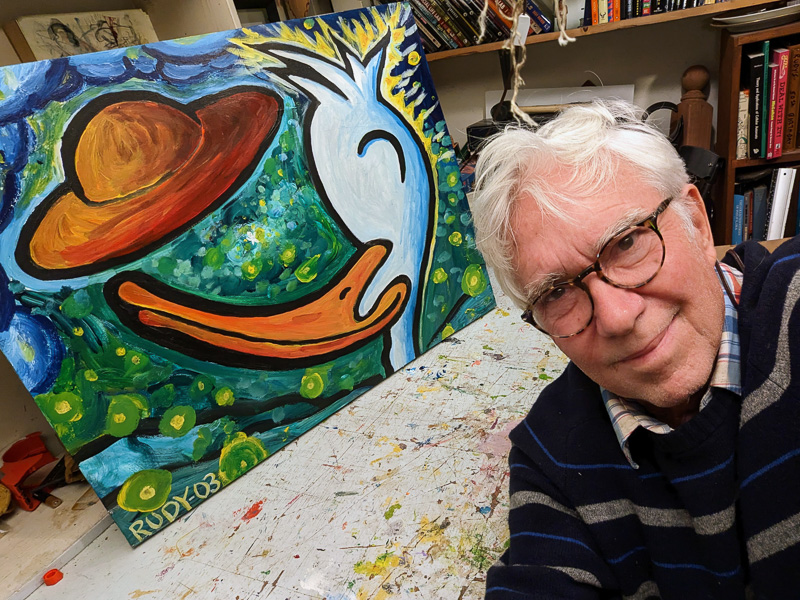 My painting sales are going really well these days. Not capitalism, as I'm actually selling something that I personally make. Here's my good old pal Da Nha Duc, who I finally released on the market. Based on a Karl Barks cartoon panel, and on a character I had in my novel Frek and the Elixir.
With my house so empty, I might turn my writing office into a painting studio, and move my desk into a corner of the living-room. Should I cover the nice parquet floor in my writing office? Maybe. But linoleum and sheet vinyl smell bad. Maybe just put on another layer of polyurethane sealer on the wood. And eventually I can sand the floor if I need to.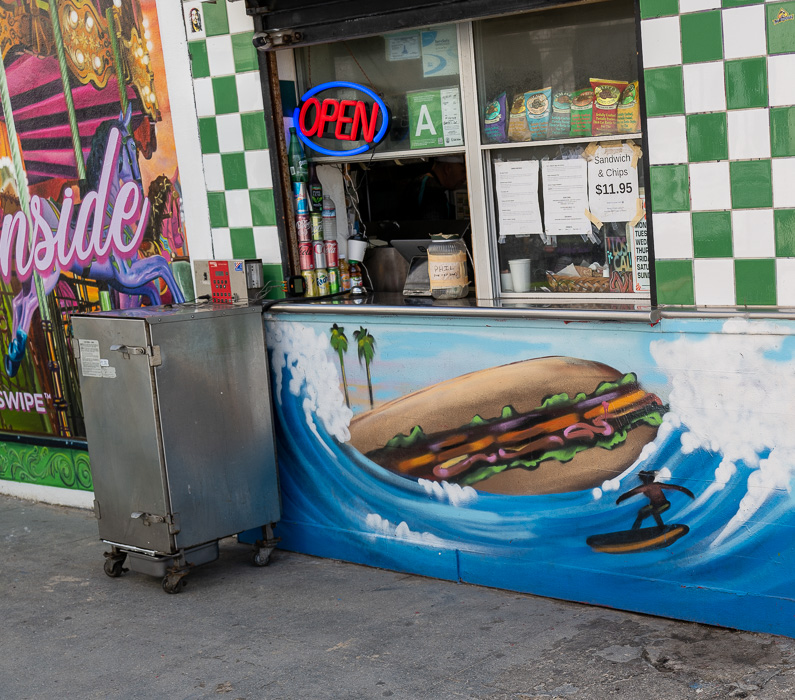 Gotta have the surfin' sub sandwich in VB, right?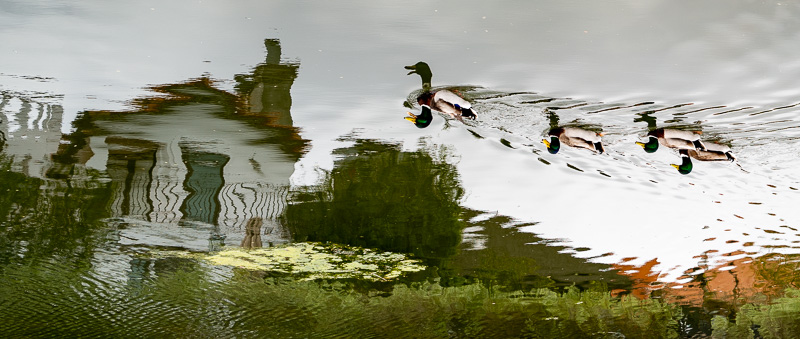 This is a shot of a canal in Venice beach. (Years ago I walked with my mento Robert Sheckley by this very canal.) For this photo, I turned the image upside down, so that the wobbly water house looks like a scary real house. The duck reflections look almost real, and that uncanny touch the image creepier. Welcome to Waaakworld. Let me show you to your jelled room.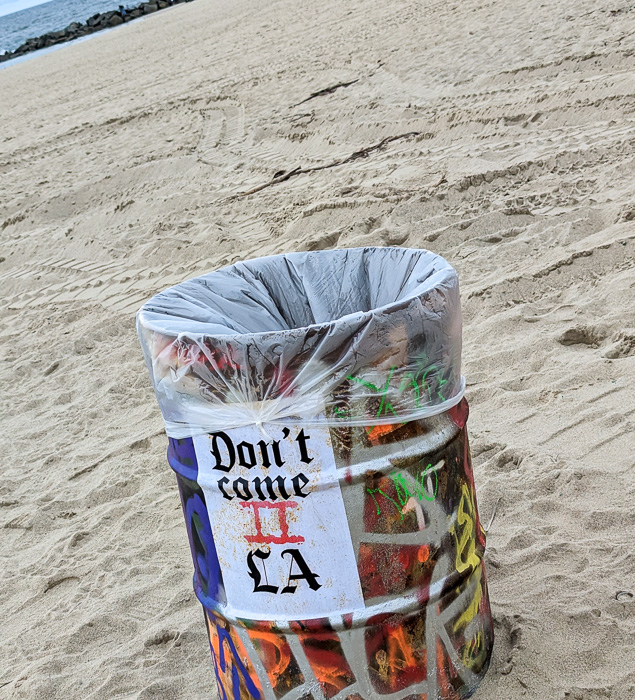 Trashcan in Venice Beach. That "Locals Only" kind of thing. But for a city as big and random as LA, what does local even mean. Like a local cluster of galaxies.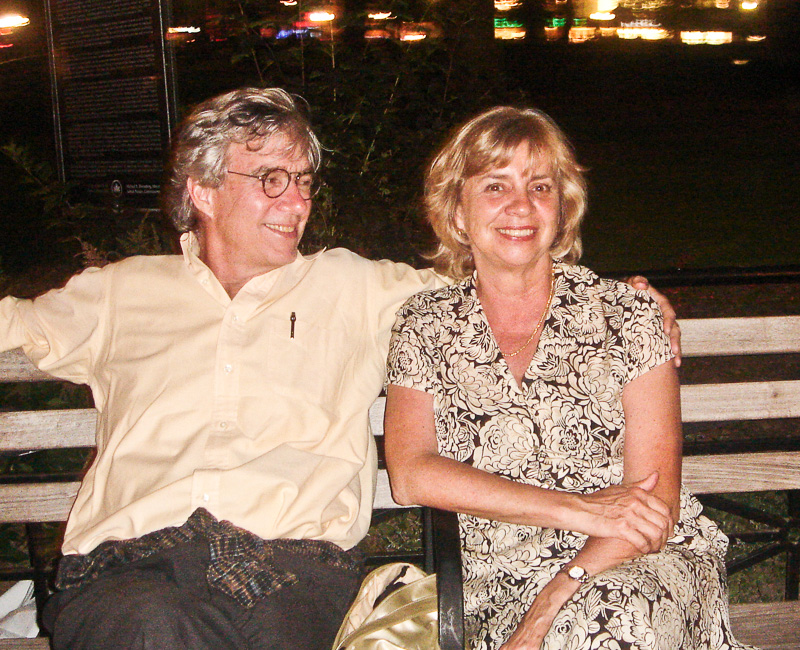 For the last few weeks, I hadn't been looking at my old photos of Sylvia, but then I went back to them. It's different every time. On the one hand, Sylvia now seems a bit more like someone from the past. But on the other, she seems exactly as present as ever. Timeless in the history of our shared lives, always here. Pitiful for being dead. Wonderful for having lived. So vibrant in all those past moments. Heartbreakingly out of reach. My darling, my dear lost darling. How can she be gone? How can that be?