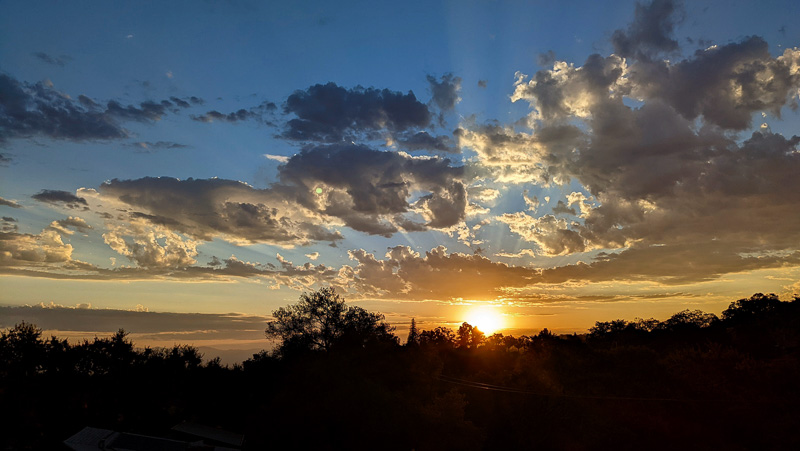 Still flipping out on clouds after Sweden.  One of those full-on "glory" sunrises here in Los Gatos, with those rays…odd looking split in the middle.  Uncool to paint such scenes, I suppose, but might be fun to try.
Can always throw in some UFOs. Once a painting teacher decreed or pleaded with me: "Don't do blue dog art," meaning that genre of work where an artist gets a house-brand logo image that they put into every painting. So now and then I hold back and omit the house-brand flying saucer.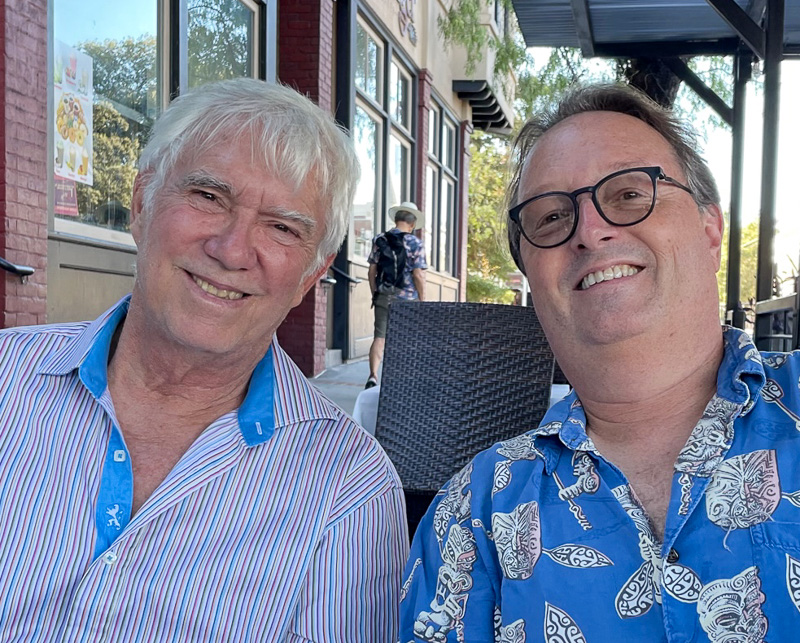 Marc Laidlaw, my partner in wacky gnarl, stopped by. We wrote sevem surfin' Sci Fi stories together over 32 years, that is, over the period 1987  – 2019.  Masterpieces starring, with one exception, our ne'er-do-well transreal stand-ins, Zep and Del. You can see them in my Complete Stories.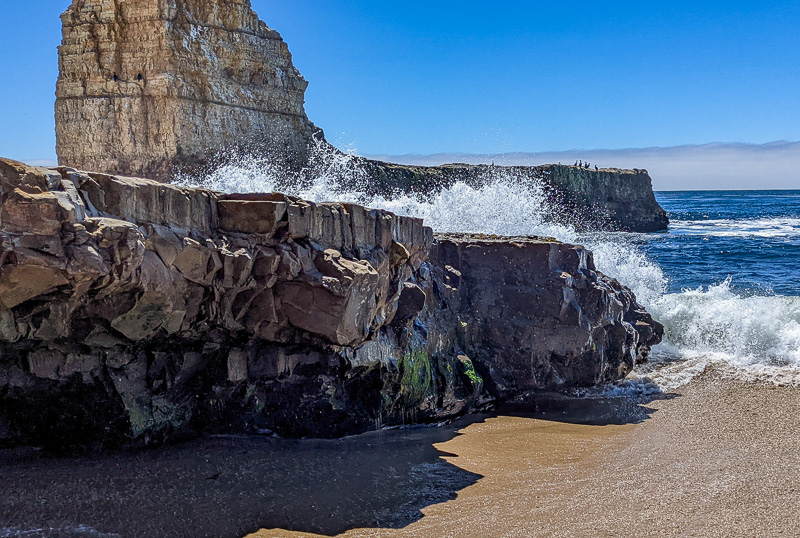 Sylvia, daughter Isabel, and I went out to good old Four Mile Beach north of Santa Cruz.  If you walk south along the beach you get to this rock tower with super surf and lots of birds.  I think of the spot as a shrine, a sacred place. I often go there to, like, say a prayer to the Muse when I'm hoping to get some writing going.  I like to write a slogan into th wet sand, "EADEM MUTATA RESURGO" which means "The same, yet changed, I arise again."
The Swiss mathematician Jakob Bernoulli put this slogan on his headstone in Basel. He was referring to the self-similar logarithmic spiral often seen on growing things like the nautilus shell.  He wanted a picture of this spiral on his stone as well, but unfortunately some pinhead inscribed a dull Archimedean spiral (like an LP record groove) on the stone instead.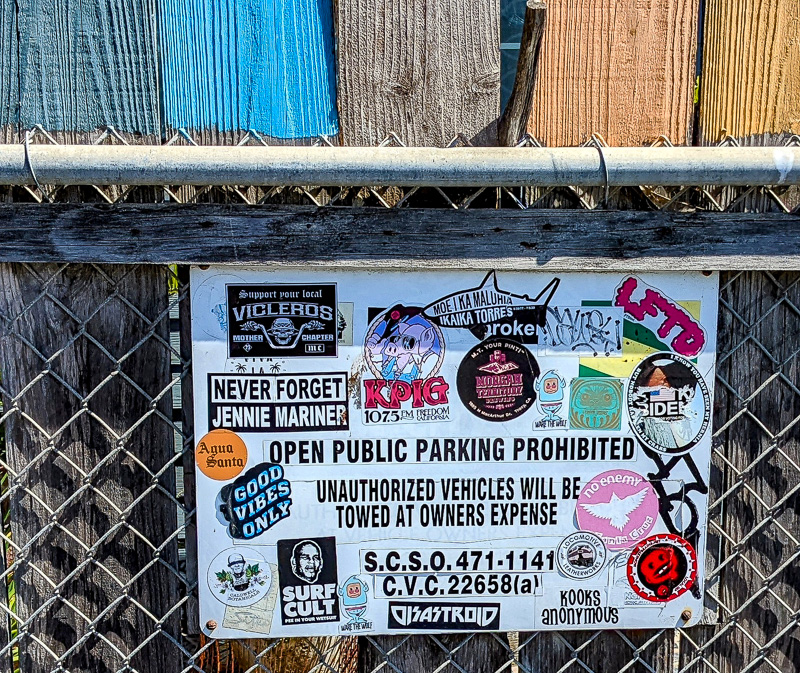 Stopped in at the fabulous Whale City Bakery in Davenport and admired the red Monkeybrains.net sticker at the lower right.  The bar/grill has amazingly good crab cakes, made on site from fresh local crab (rather than being frozen pucks assembled god-knows-where).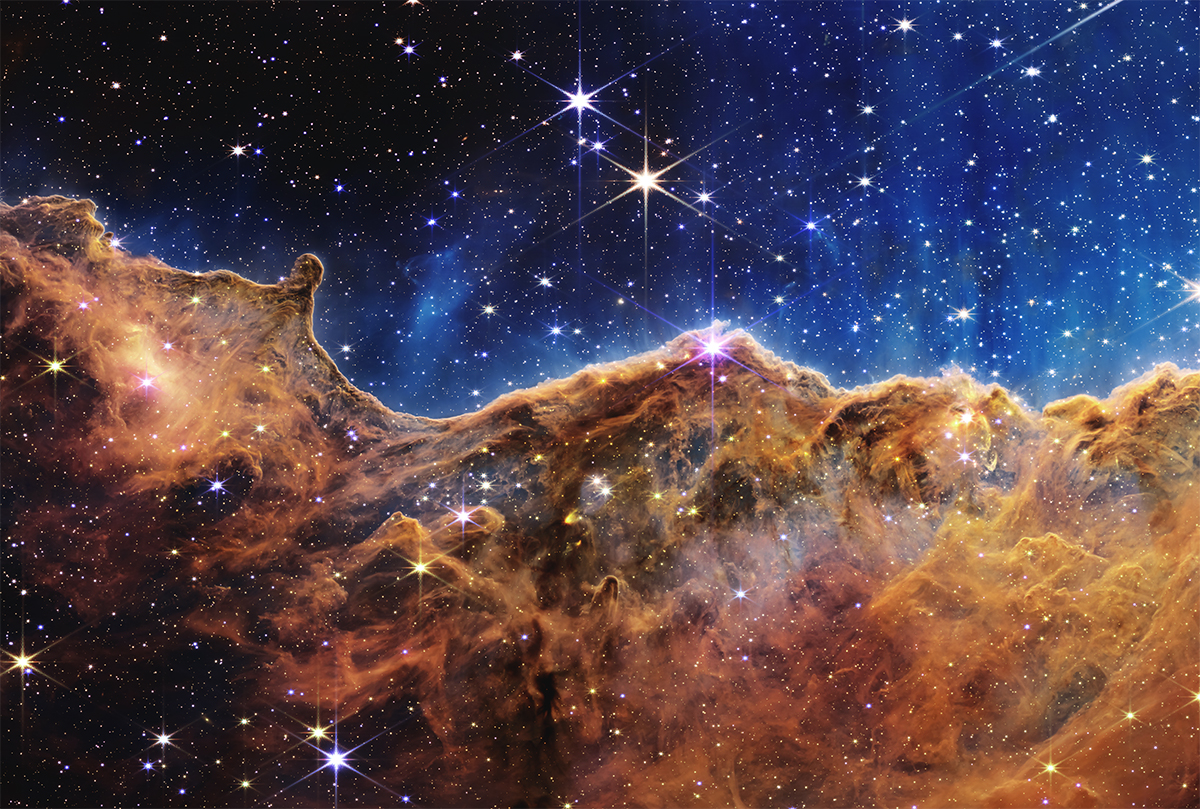 I don't think I've blogged about the Cosmic Cliffs yet. I'm completely obsessed with this image from the new Webb telescope. Our solar system is about the size of one pixel in this image. Nine lightyears high. The hexagonal star points are an artifact caused by the telescope mirror being a hexagon.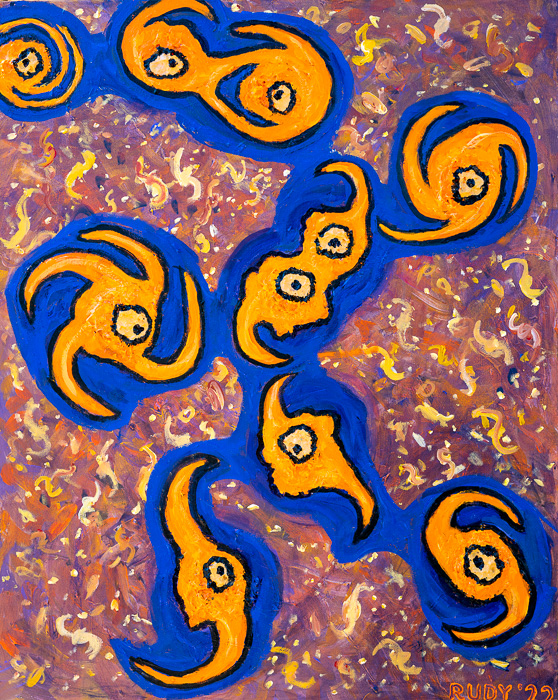 Galaxies. Acrylic, 24″ x 30″, July, 2022. For purchase info see my Paintings page.
The Webb telescope sees via infrared light as well as via regular light. This is based on an image taken before the Cosmic Cliffs; it's a painting of a cluster of galaxies some 300 million lightyears away. I started thinking about these galaxies, each of them with something like a million stars, and surely with hundreds or thousands of habitable planets, and about all the other galaxies scattered hither and yon…and it gave some perspective on the headlines that I see when I fetch the morning newspaper from our driveway. What a strange, improbable world we live in! I painted a cluster of galaxies, giving them odd colors to reflect the notion of seeing via infrared light. I tried to make them look as if they're living beings, interacting with each other. And the black holes at their cores look a little like eyes.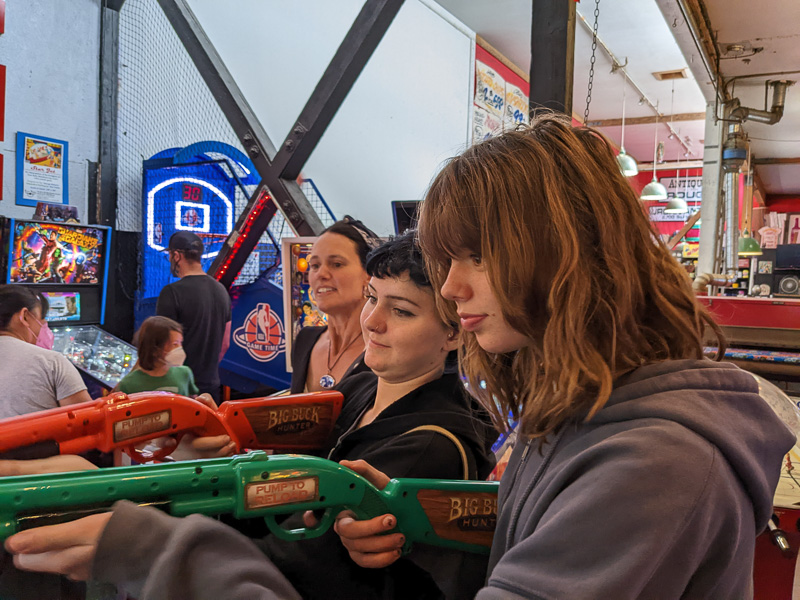 Rudy Jr took us to Free Gold Watch, a pinball parlor one block off Haight Street in SF. So great, although a game now costs $1.00 and you only get 3 balls. Used to be you got 5 balls for a quarter. But there's a lot of action in these games, and if you get the hang of it, one ball can last a long time. Such a funny name for the place, "Free Gold Watch," such a classic thing that a con man might promise you.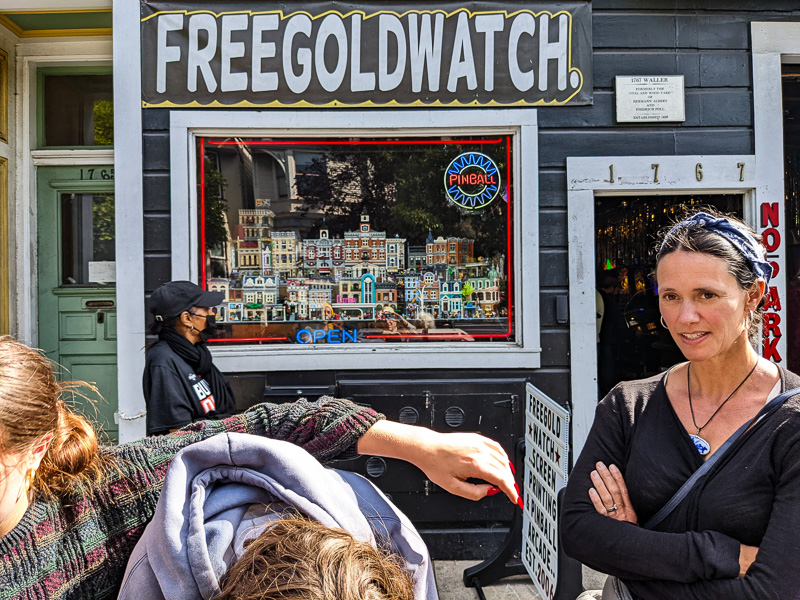 Here's Penny Thomas outside the place. The Haight is quite a respectable neighborhood once you're off the main drag which somehow never sheds it's raffish air. Kind of lovable.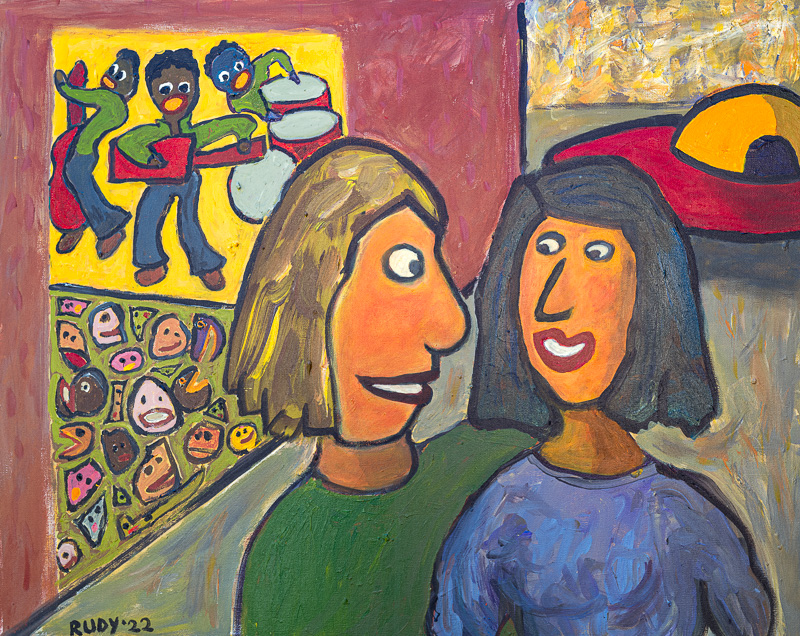 "Outside the Fillmore," Acrylic, 24″ x 30″, August, 2022
Speaking of the Haight, I have a recurring fantasy about being at a convert at the Fillmore West in San Francisco in 1967. I'm standing outside the hall in an alley, with the wonderful rock sounds echoing out. Peaceful, peaceful. A woman parks her flying saucer and walked down the alley to talk to me. We're on the same wavelength, very spaced out, without even being high. And then I notice that, how great, it's Bo Diddley and his band on stage. Well, in reality it's maybe it's Quicksilver Messenger Service playing Bo Diddley songs. But I painted it as Bo Diddley. I figure the woman from the saucer came here from the Cosmic Cliffs.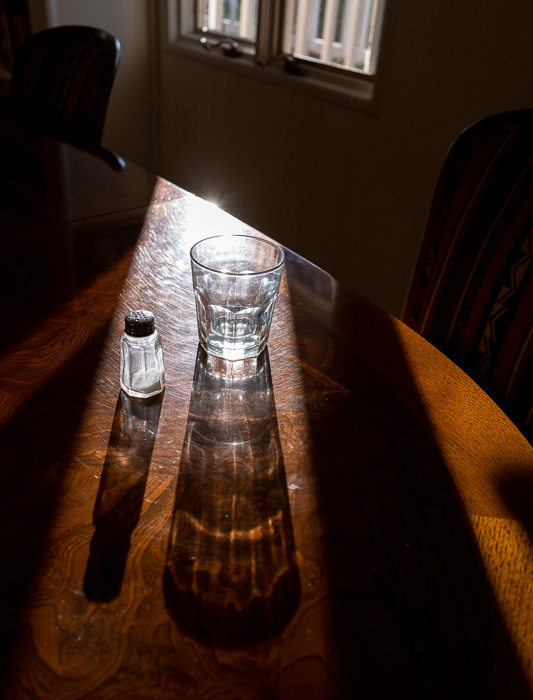 The sun was insanely hot for about a week. Thermonuclear! A beam slants in our window and across the dining-room table.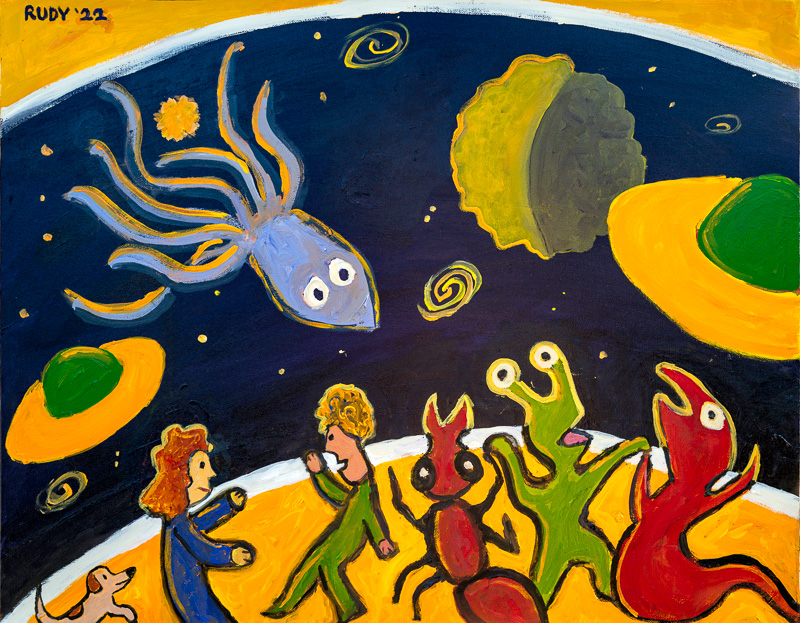 "Saucer Party" Acrylic, 28″ x 22″, September, 2022. And again, for purchase info see my Paintings page.
Following on the heels of Outside the Fillmore, I painted Saucer Party. This is supposed to be the view out the windshield of a saucer. I love the concept of space squid, so we've got one of those. And a threesome of festive aliens, and a dancing couple Perhaps that's my wife Sylvia and me. Or me and the saucer woman, which is kind of the same thing, given my transreal ways of writing. Attended, of course, by our trusty dog Arf.
We went up to Point Reyes and stayed in a cottage a few days. Sitting on a tiny beach on the Tomales Bay…this spot is called Chicken Ranch Beach…a seagull, creamy bright in the sun, staring at me, waiting for me drop a scrap of food. I imagine he's saying, "You talkn' to me?" Tougy guy.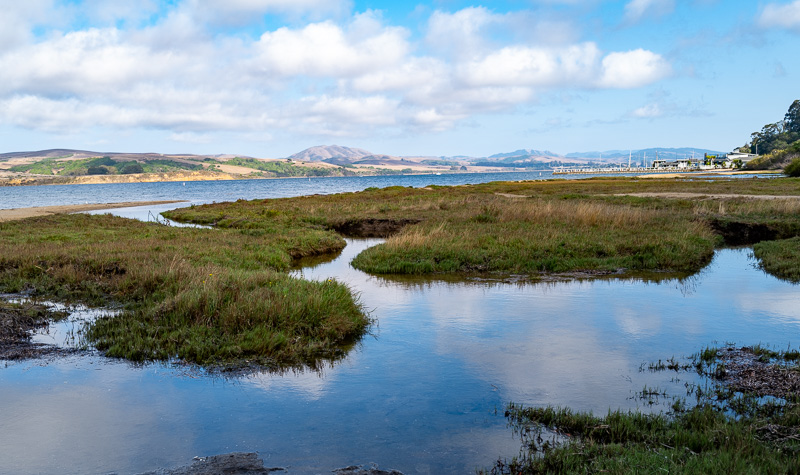 Tomales Bay is the very essence of a wetland, with those curved inlets within inlets, and clumps of saltwater grass.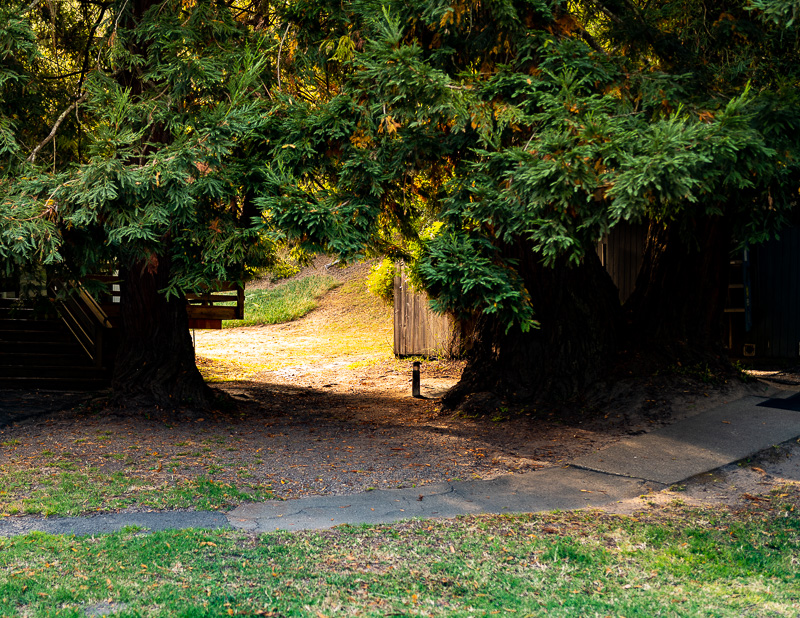 I love magical looking tunnels through trees, with light at the end. The door into summer. The gate to Narnia.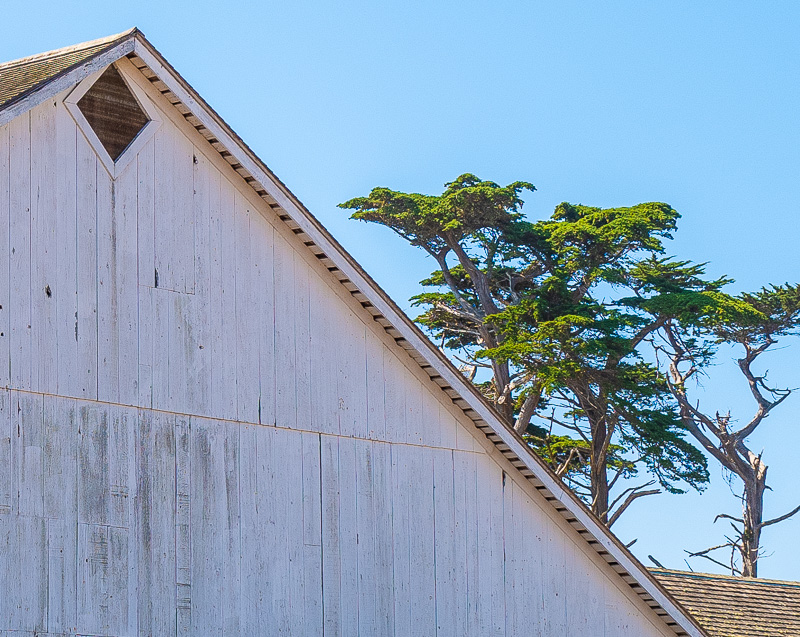 We drove to the north end of Point Reyes. Tapers up to a point with rolling hills and a herd of "tule elk" living there. Lower down is preserved old collection of buildings called Pearce Point Ranch. Very photographable. Like the diamond squre inside the triangle, and the Monderey pine.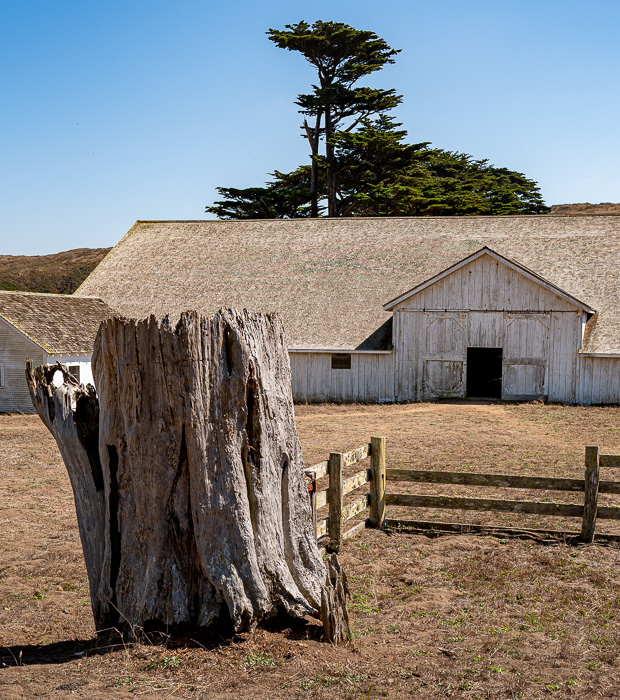 Another classic shot, with nature's gnarly stump, and the striving for order barn. The doughty pioneers. I once wanted to write about space settlers, and call them ioneers, after their ion-jet rocket engines.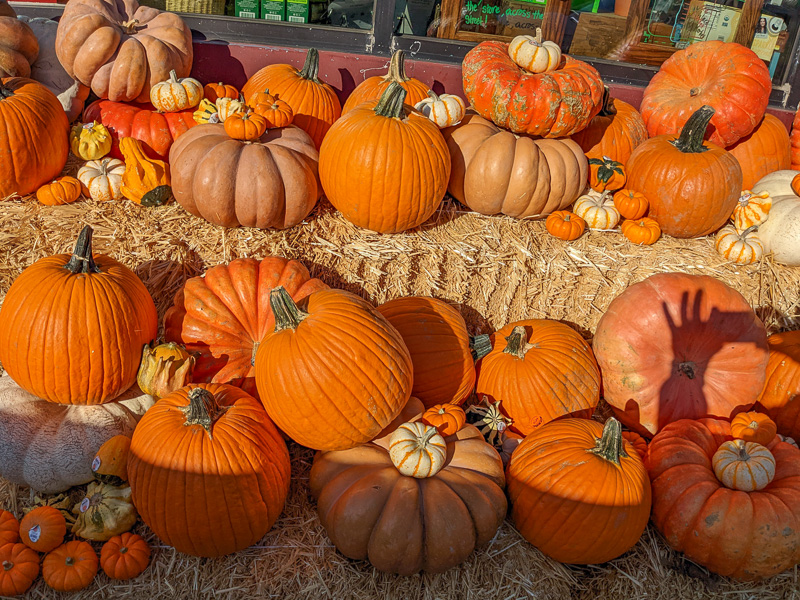 The tiny town of Point Reyes Station's supermarket had a ta-da first display of Haloween punkins I'd seen this year. More variety than there was sixty five ago when i was a boy.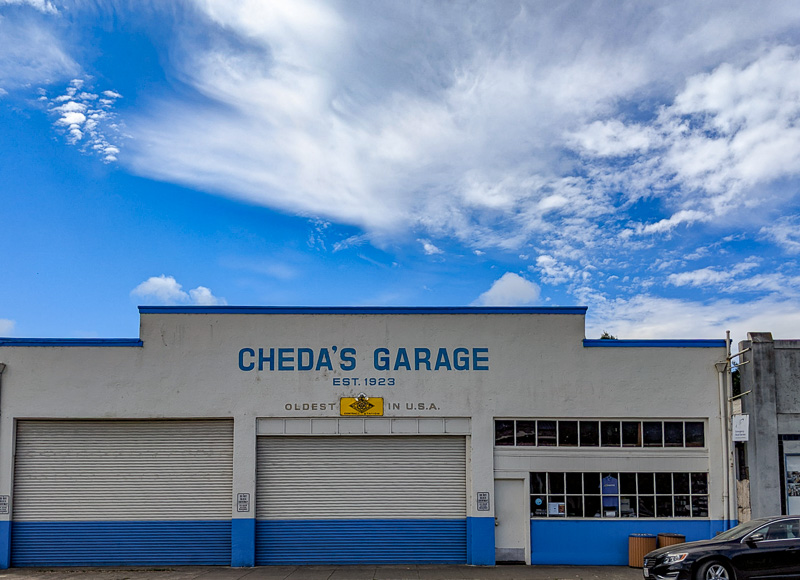 Impressive old Point Reyes Station garage with super-duper clouds.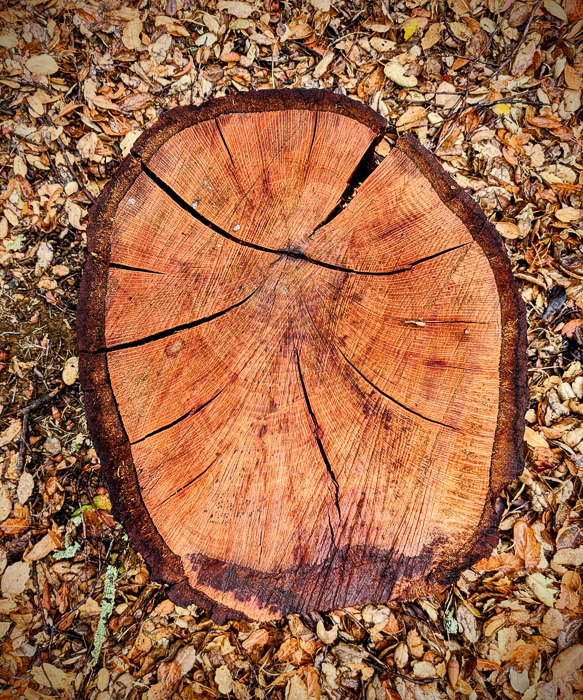 A sawn log on the hills above my home. Wet from a miraculous rainstorm. Hurray. Reminded me of Poincare's image of a hyperbolic plane, where the edge is infinitely far away, and straight lines are circular arcs that hit the edge at right angles. Now scale this up a dimension to showing hyperbolic space inside a sphere. A character's skull. A blockhead. Another short-short story idea. "The Woman who had the Universe Inside her Head."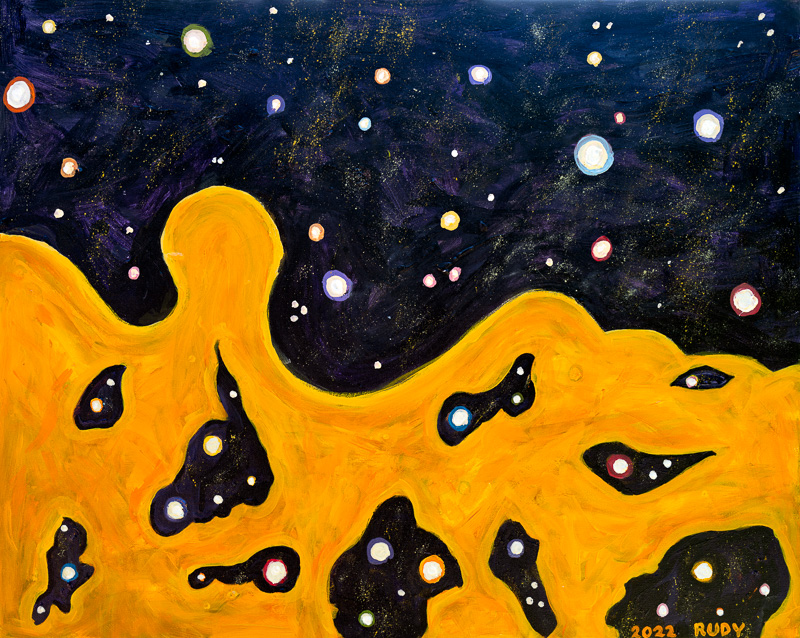 Cosmic Cliffs. Acrylic, September, 2022.
Meanwhile I've finished my painting of the Cosmic Cliff.  I really like this one; and I spent quite a long time on it.
Kind of ludicrous, the gap between my work and the space telescope image with its hundreds or thousands of stars. My work being crude ape-man daubs of colored dirt on a stretched piece of fabric. But I try. Still needs a blue dog saucer? Not this time. Don't drag this comsic vision into the gutter of SF. But…for my next painting, I'll do a bigger Cosmic Cliff with lots of saucers.
And I wrote an SF story based on this latest series of paintings, and it was only, um, a thousand words long. What you call a short-short. Like my writing powers are dwindling. A Zenonian collapse to zero. Maybe I'm morphing into a painter; a new stage splitting out of my literary pupa.
But, nah, I don't really think I'm not done writing yet.