Jumping back to my 75th birthday in March, our three kids and their families gathered in our back yard and decorated it with streamers and helium balloons, including a pair of large ones shaped like the numerals 7 and 5.
And inevitably a certain grandchild let the 5 slip, and she was worried I'd be mad, but I thought it was funny and even, in a way, perfect. And I made a somewhat surreal painting of the event. The 5 Got Away! At a subtext level, the image shows the years themselves flying away from me, leading the way to Heaven. This is a picture that I reworked quite a few times until I was happy with it.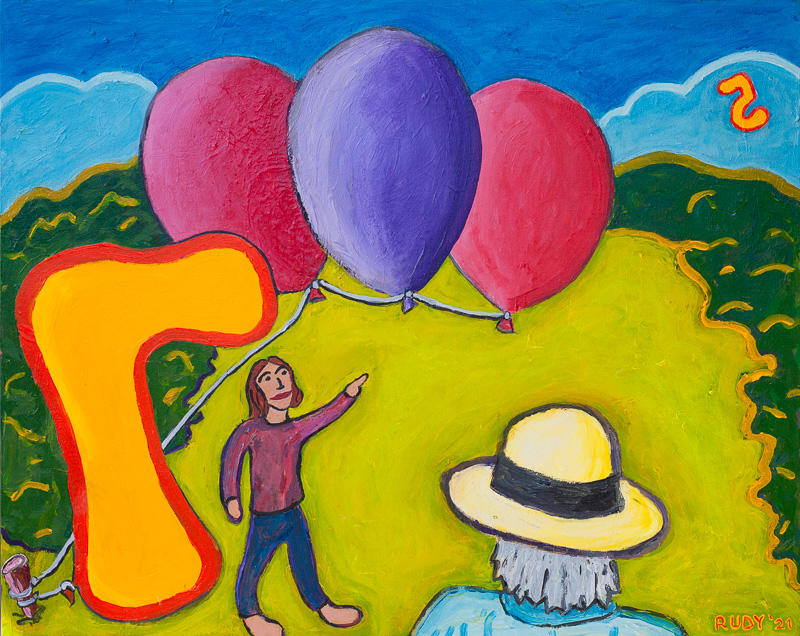 "The 5 Got Away" acrylic on canvas, May, 2021, 30" x 24". Click for a larger version of the painting.
And here's a happy photo of me that week, taken by Georgia.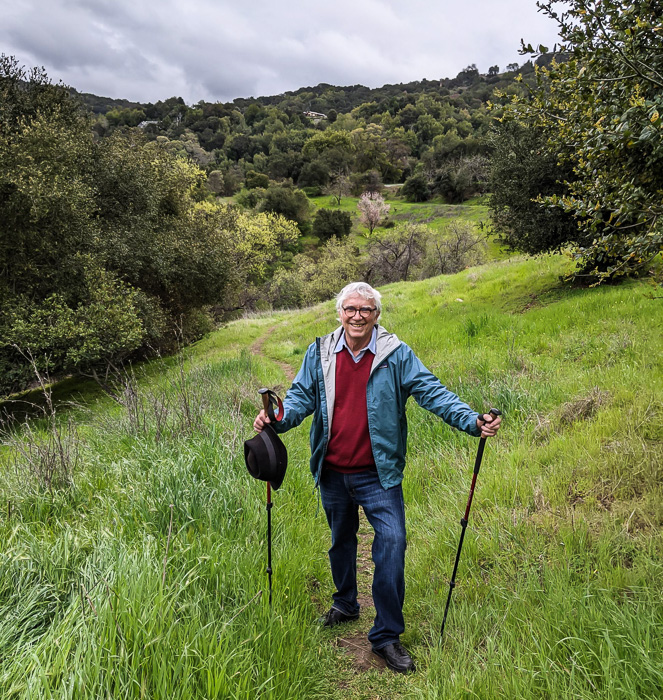 And here's Georgia and me at Four Mile Beach, north of Santa Cruz.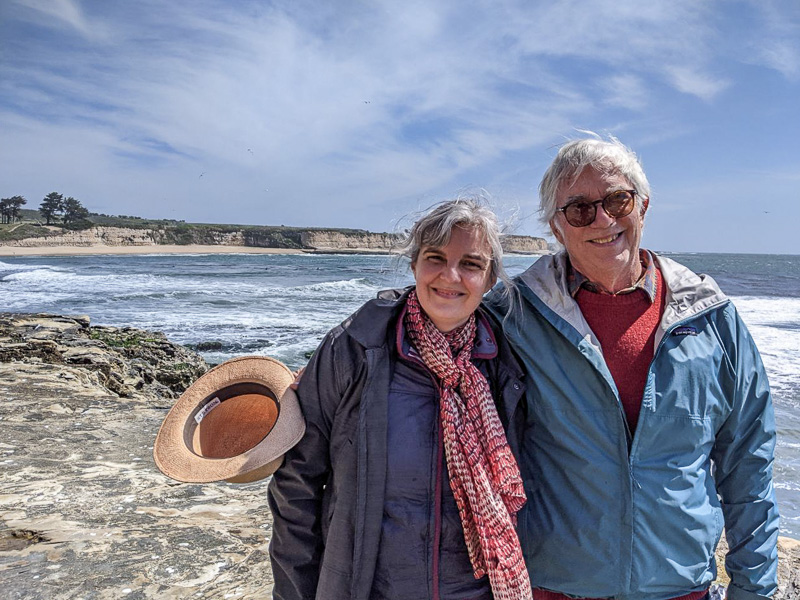 On to newer events! Rudy Jr. chartered a small fishing boat and took me and and his family and a few of his friends out on the San Francisco bay near Treasure Island, to fish for California halibut, who lie on their sides on the bottom like flounders, but who are a bit smaller than the large Pacific halibuts way out at sea and in Alaska.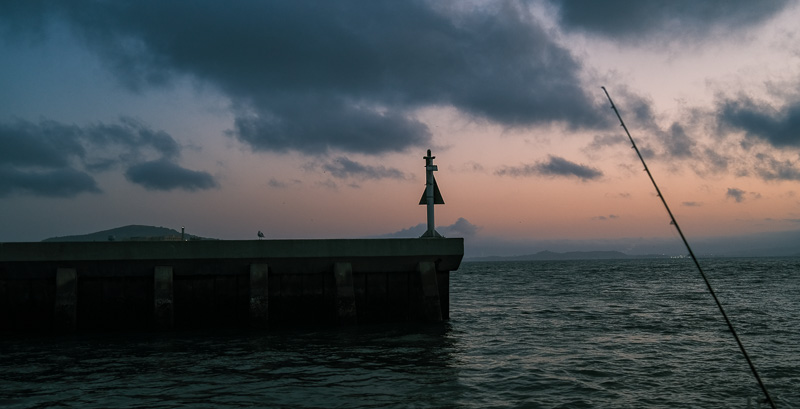 Marvellous feeling to set out to sea at dawn. The world is so beautiful.

The city still asleep.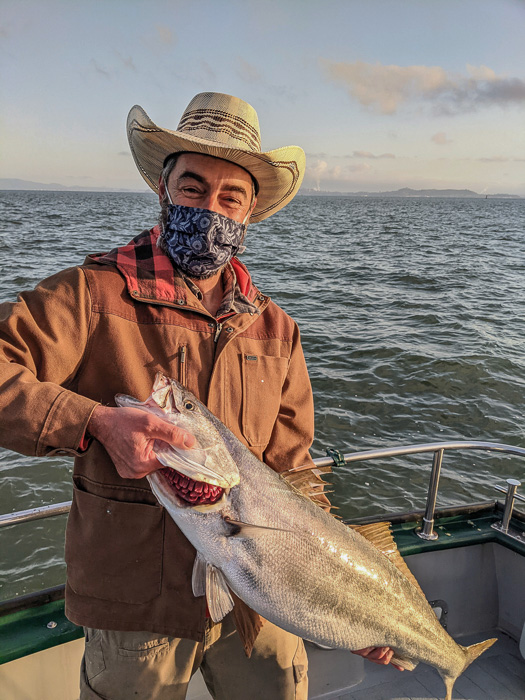 Right away Rudy caught an extremely large sea bass. The captain said that ten years ago they weren't up here, but the incremental warming of only a degree or two has brought them north. A big fish. Rudy could barely hold it up!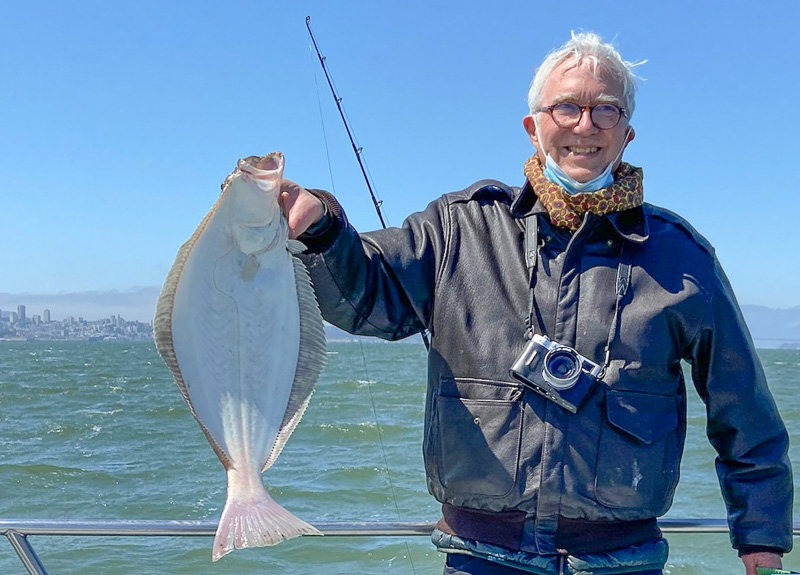 And near the end of the cruise, I caught a good-sized halibut. I felt a little bad about killing it. Like something in a fairy tale. But I took it home and we ate it.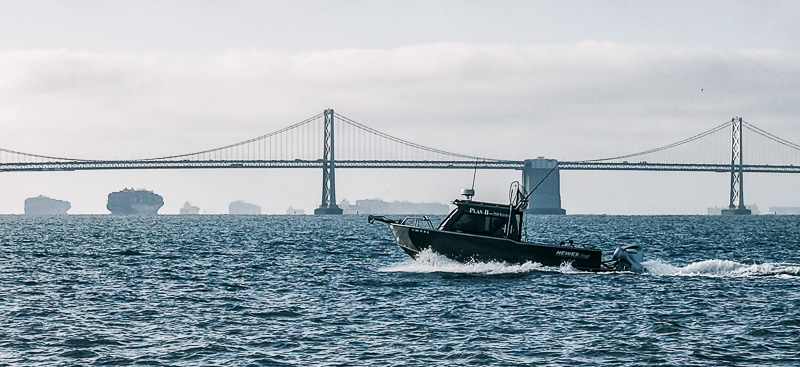 Dig the cool fishing boat against the Bay Bridge. And the huge container ships in the background. Wonderful to be out on the water, all daily concerns gone.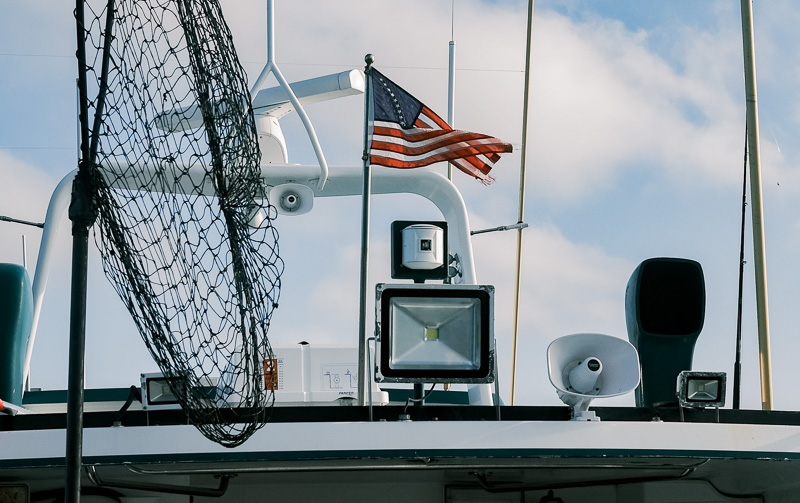 The boat had a bunch of cool antennas on the roof.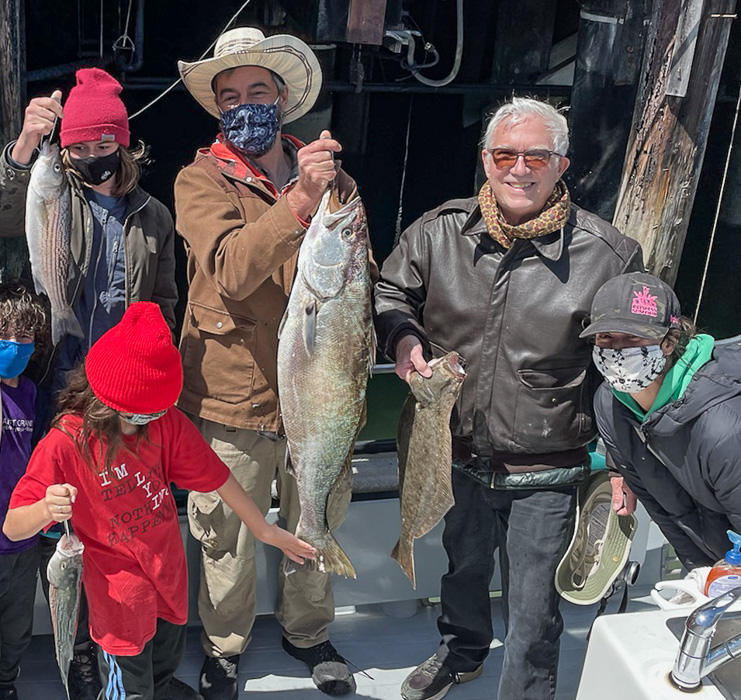 Back in the harbor. Rudy's son and one of his daughters caught fish too!
Busy in the harbor, with locals there to cadge unused fish carcasses that had been filleted by the cruise boats' crews. The carcasses great for soup of course.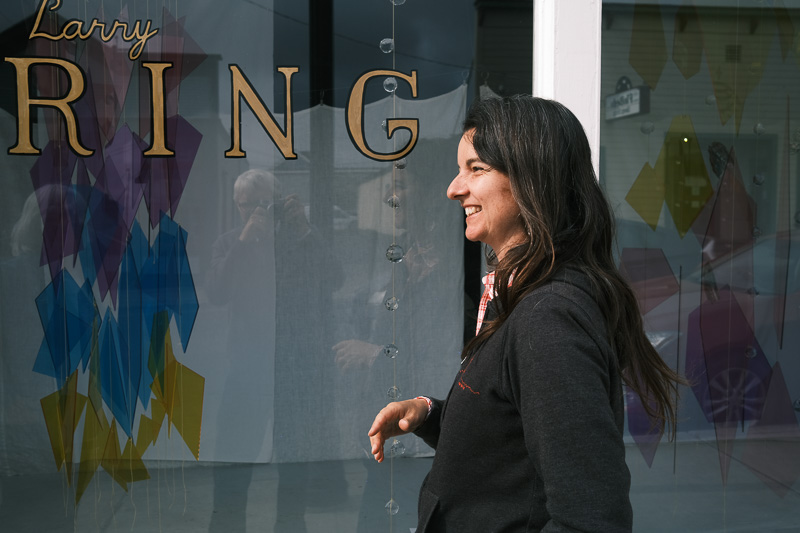 Sylvia and I drove up to Fort Bragg, California, just north of Mendocino. Visiting Isabel, who was showing off an art installation in the window of the Larry Spring Museum in the shaggy, boho artist-infested downtown of Fort Bragg.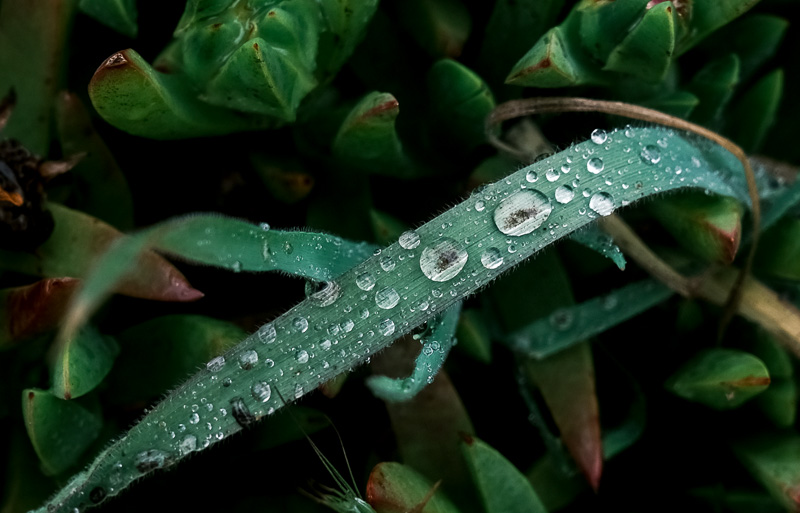 Beautiful morning dew on the long grasses by the sea. We like to stay at this motel called the Beachcomber, right by the ocean. Fairly basic, in a perfect location.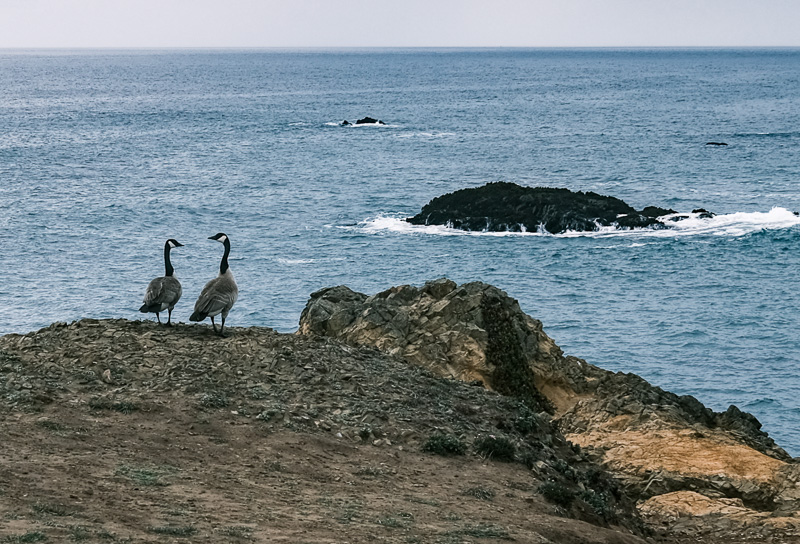 Walking on the cliffs by the motel with Isabel, we spotted a pair of geese who naturally reminded me of Sylvia and me.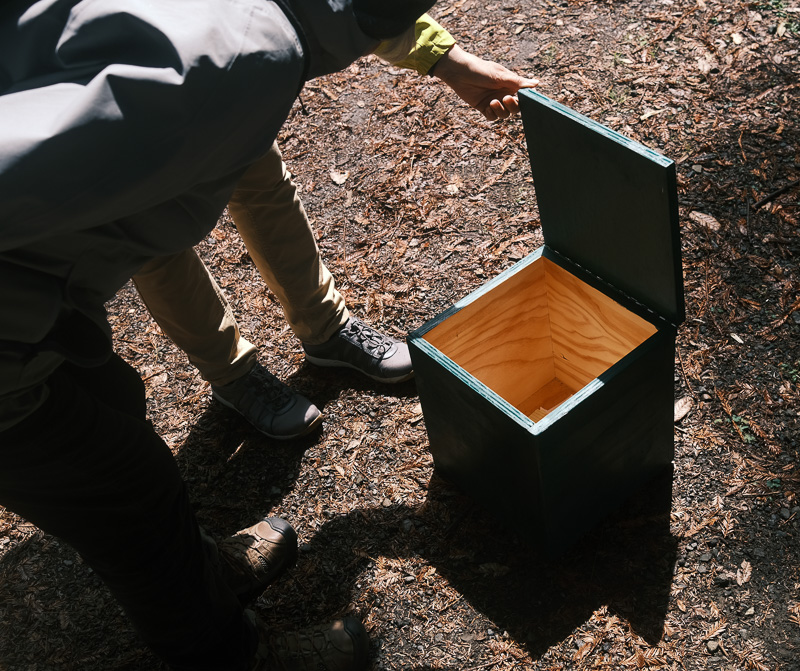 Isabel took us to a tiny redwood rain forest park in a corner of Fort Bragg, and we found a mysterious empty box. Door to the fourth dimension?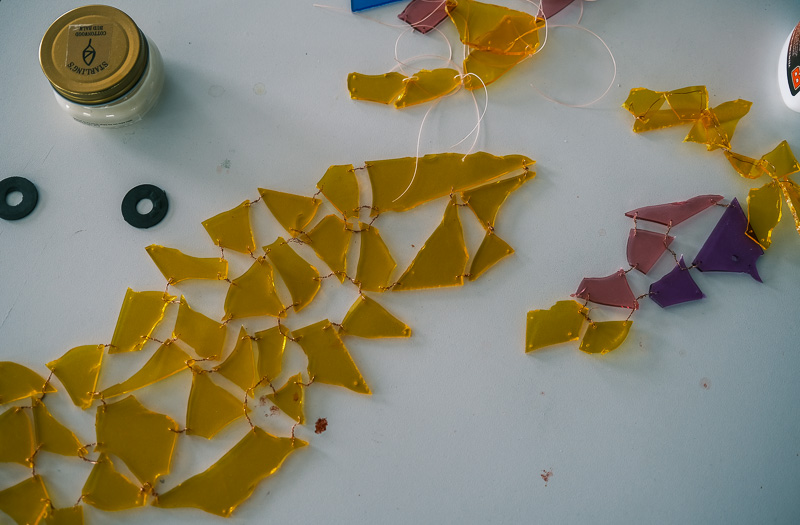 Isabel and her husband rent a large room for their living quarters and for Isabel's studio. She's best known as a jeweler, but she makes various kinds of light refracting assemblages, and she's a painter as well.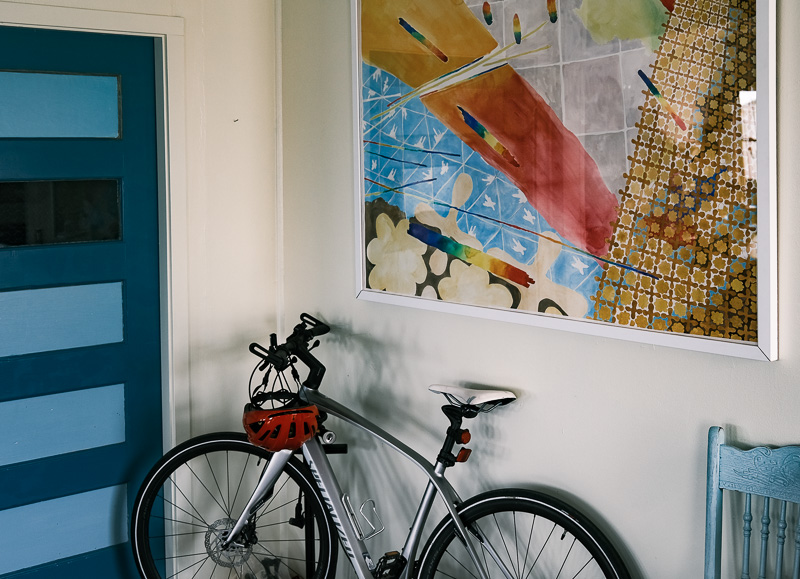 I love this large painting by Isabel, which incorporates a bunch of patterns that she was seeing around her studio when she worked on it. The linoleum, clouds in the sky, splashes of rainbow light from crystals. And her bicycle here as well, kind of a Jasper-Johns-like addition to the painting. But of course she rides the bicycle away.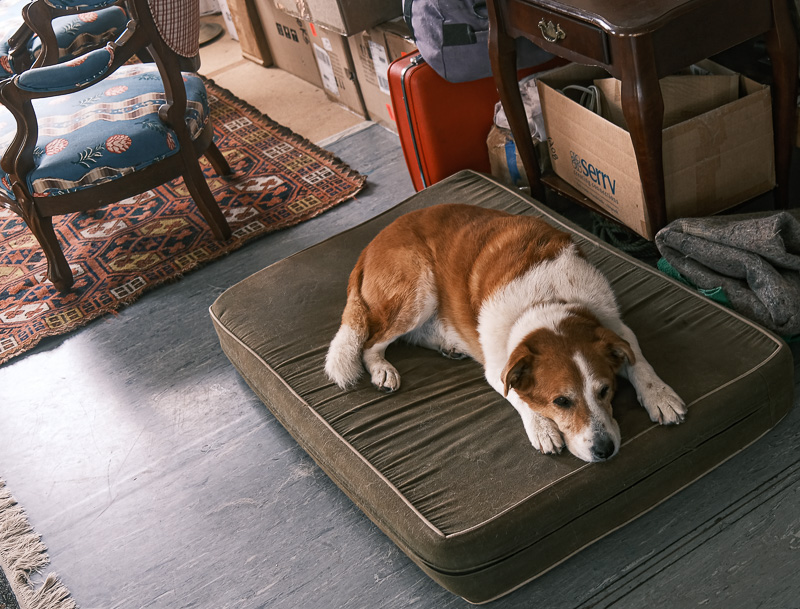 Isabel's famous dog Rivers. A very mellow hound. He looks a lot like a dog named Arf we used to have in the family.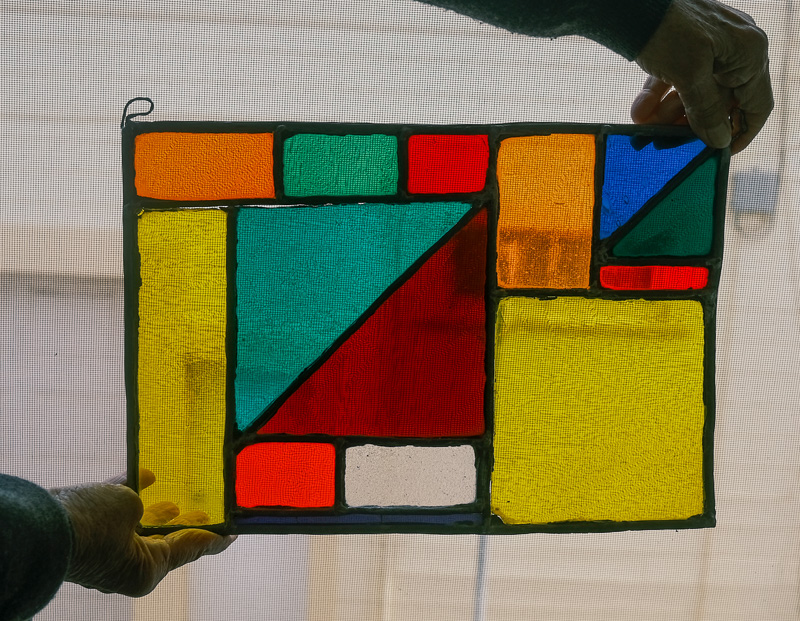 A nice stained glass piece by my mother Marianne von Bitter, no longer with us, but warmly remembered. I'd forgotten about this work, and it was nice to see it at Isabel's. My mother was a painter and a potter as well. Lots of artists in our family.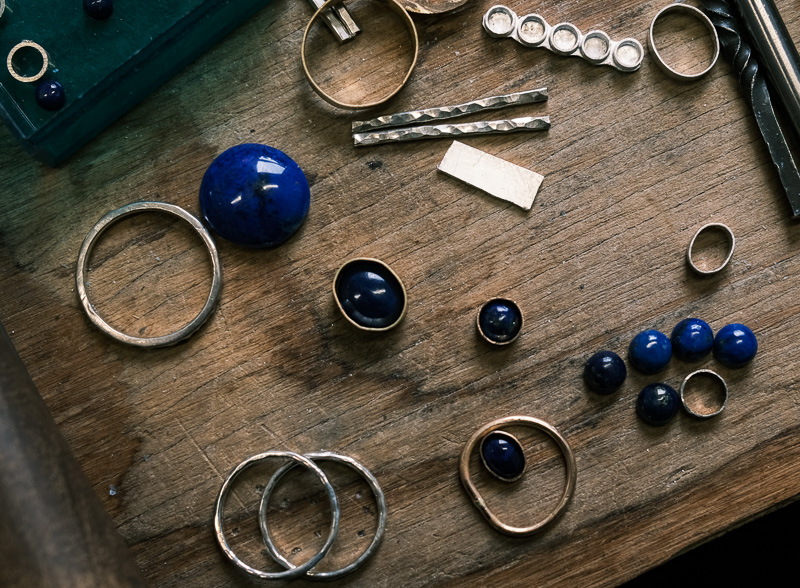 A scene from Isabel's jewelry workbench…a large table with several active zones. The blue stones are lapis. Isabel often works with hammered silver.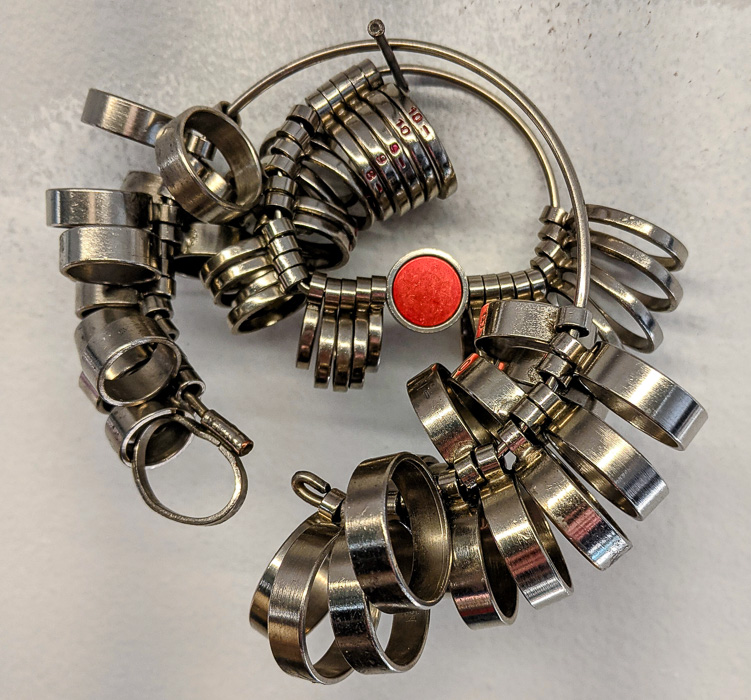 I love the tools of ancient crafts and trades…like jewelry and metal smithing. This curious bangle is a set of ring sizes!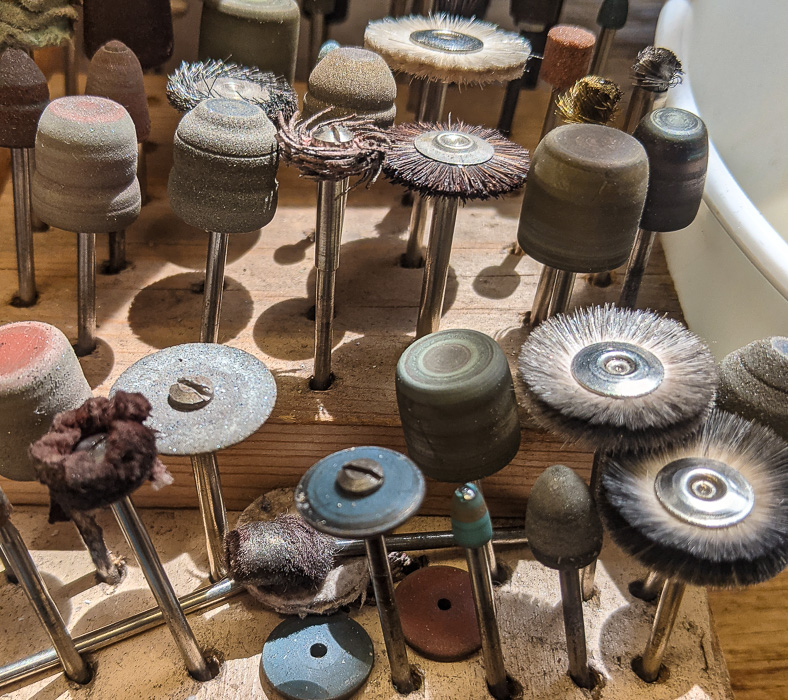 Isabel grinds, buffs, and polishes a lot.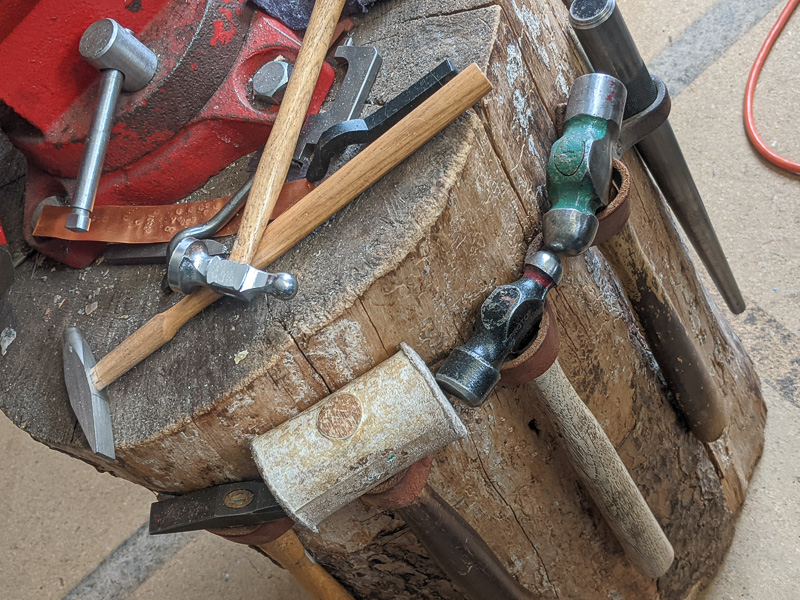 And check out the bouquet of hammers around the anvil / vise on a tree stump, no less. Highly traditional.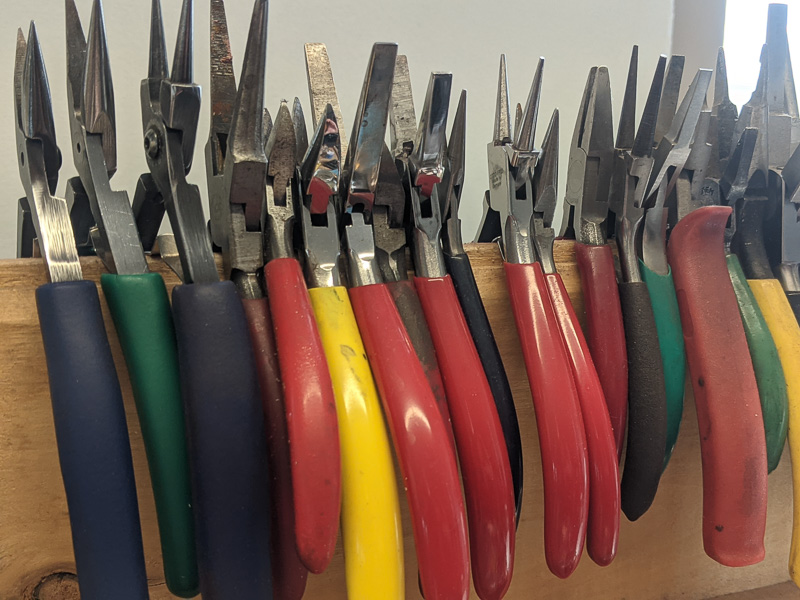 Pliers, pinchers, tweakers, nippers? She's got 'em.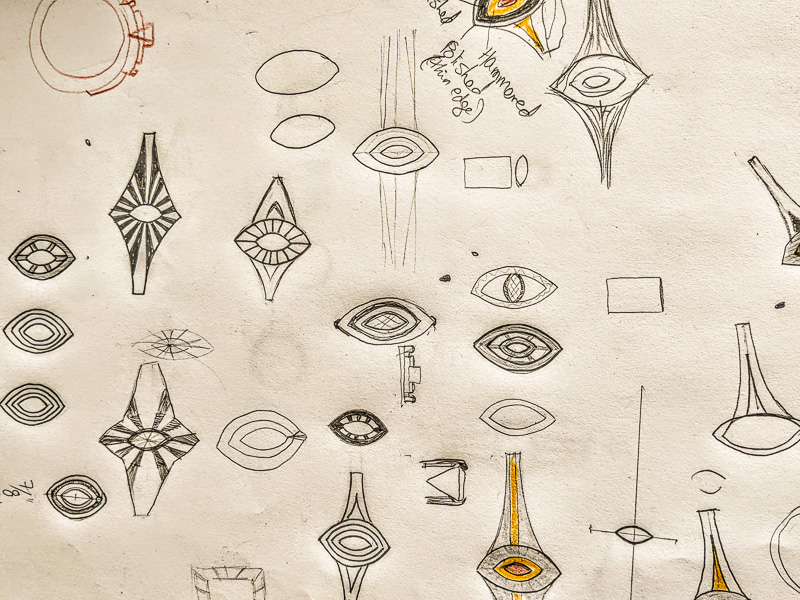 Isabel thinks a lot about her designs in advance, and her notebooks pages have their own artistic qualities.
World headquarters of Isabel Jewelry dot com. Kind of a Hopper quality to this street scene. Fort Bragg is quite peaceful.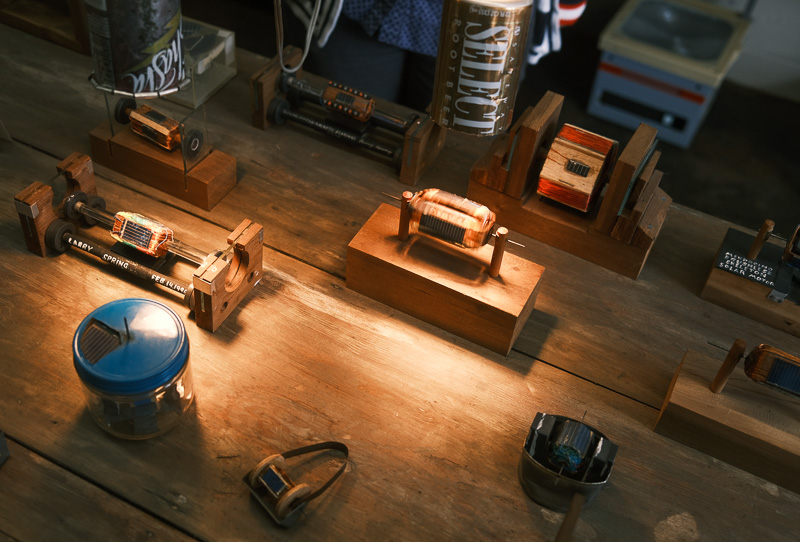 Back to the Larry Spring Museum just down the block. Spring was a local character. An inventor, self-taught philosopher, and a handy man. He left a small estate that maintains his former house and workshop as a museum. He was into all kinds of things, such as these handmade solar powered motors.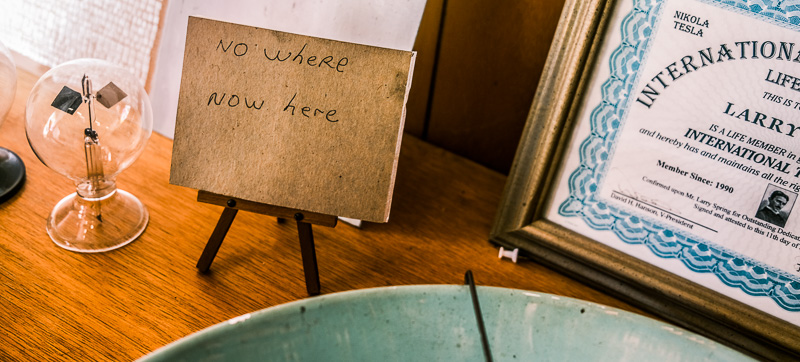 A bit of a word smith as well.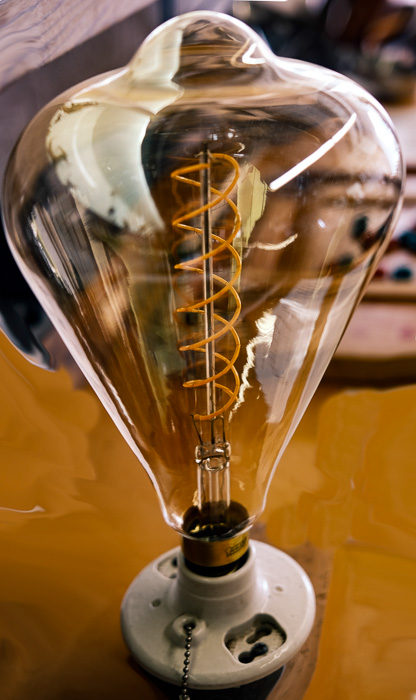 And owner of some imposing electrical tubes. Perhaps this baby can amplify ambient messages from the ancient gods within our Hollow Earth! Who knows.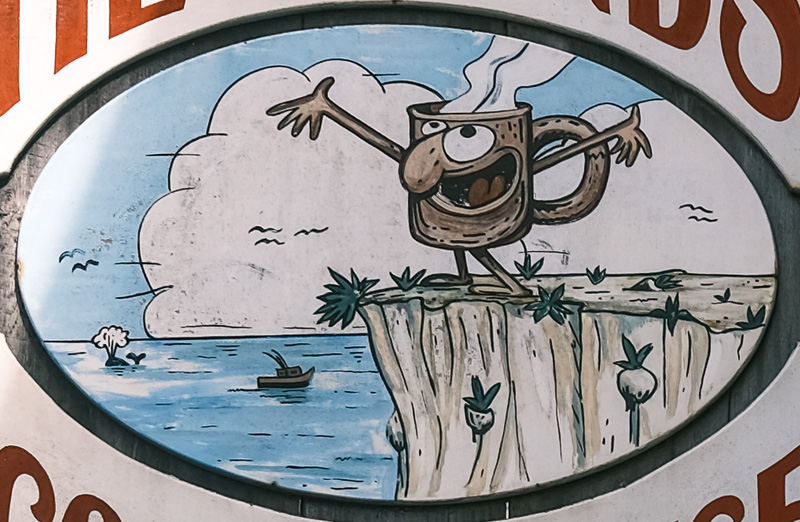 Here's the sign/logo of the Headlands Cafe, also in downtown Fort Bragg. I love this drawing of the chatty, caffeinated coffee-mug, holding forth on schemes, visions, and dreams.
A very fine dolphin skeleton in a window display on the town's main street, which is also Route 1.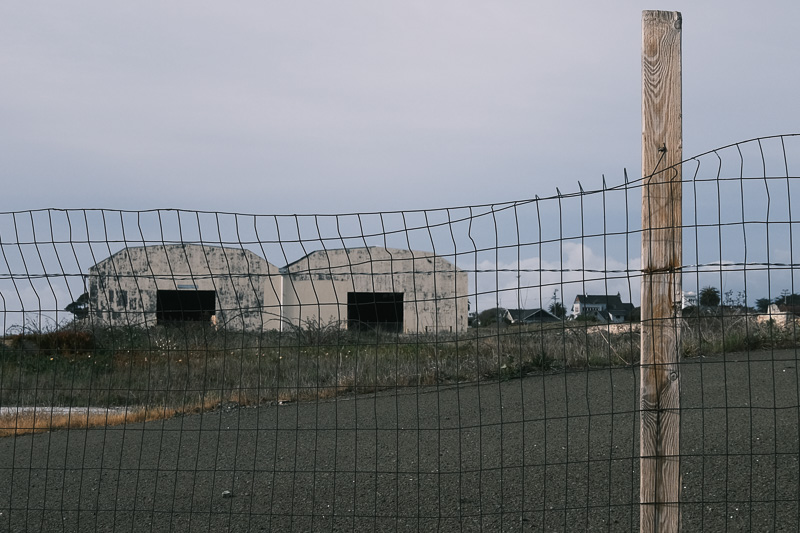 Fort Bragg used to be home of a large sawmill, which decamped not so long ago. The city is still figuring out what to do with the open expanse of cliff side space that's been freed up.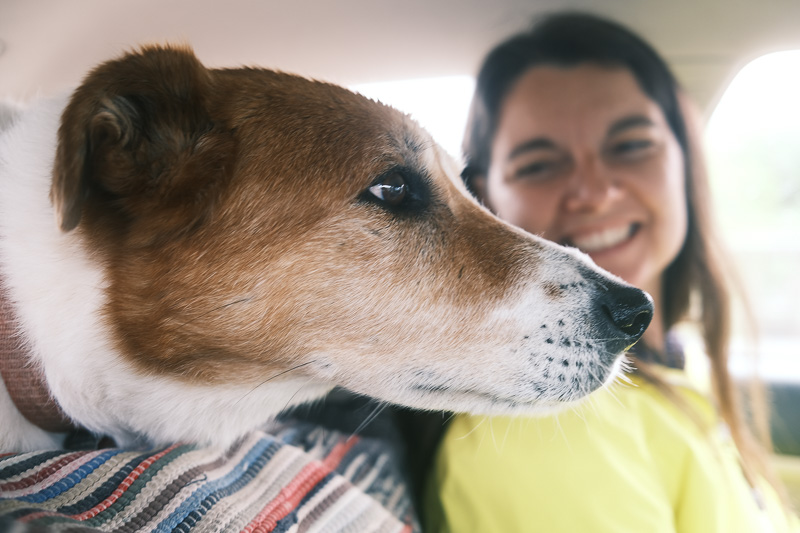 Isabel and Rivers. The dog has a very noble and aquiline nose.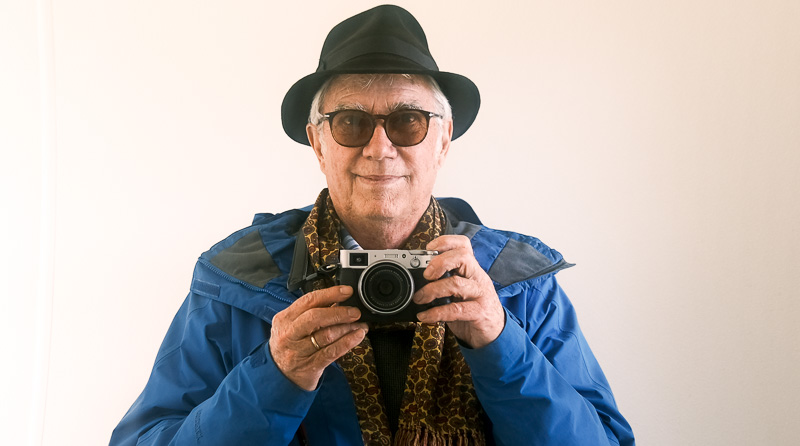 Old man with a camera. I've been shooting with my Fujifilm X100V lately. I'd been defaulting to my cellphone camera and it's sly software tricks for achieving a superficially nice finish. And when I don't use the freaking X100V for a few months, I forget some of the tricks for using it's intricate controls.
But when you come down to it, there's no substitute for more glass in your lens. More glass means more photons means more information coming into your photosensor which means more accurate colors and edges.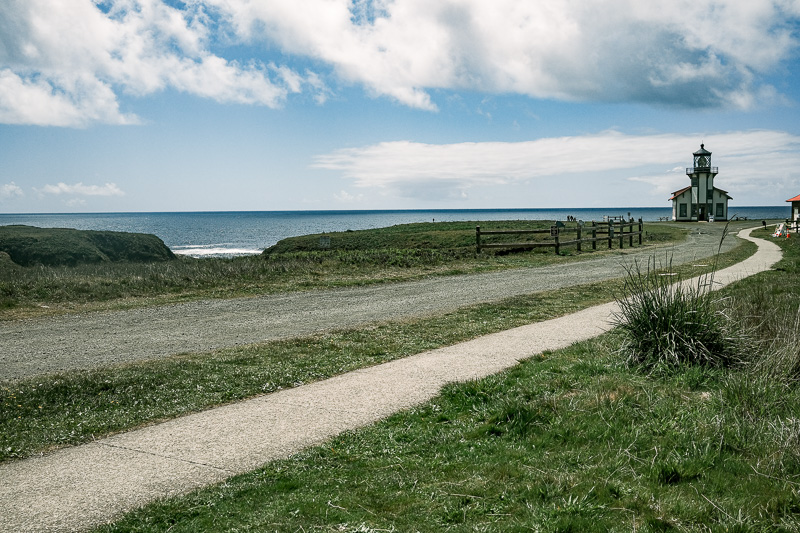 The Point Cabrillo Light Station just south of Fort Bragg. Coming from Silicon Valley, it felt really nice to be in wide open space.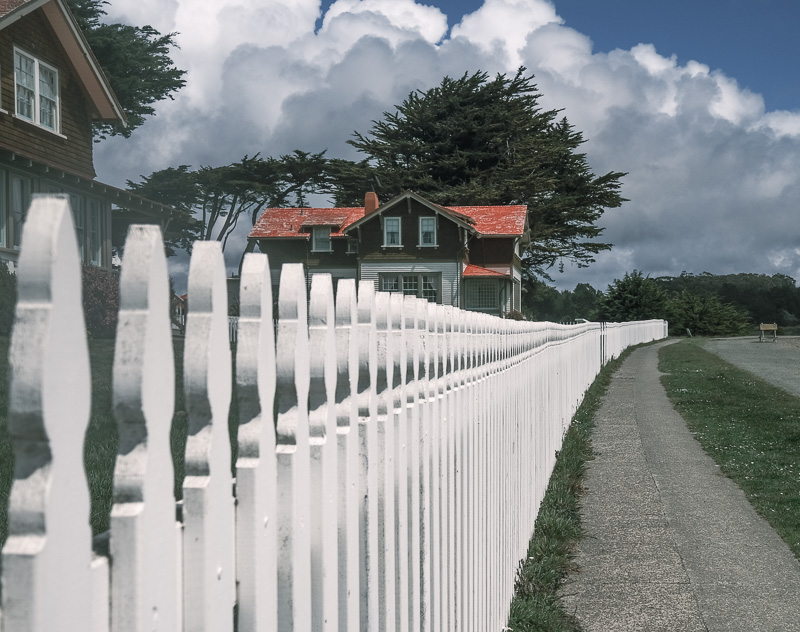 Good old laws of perspective. Nature computes in parallel and on fly.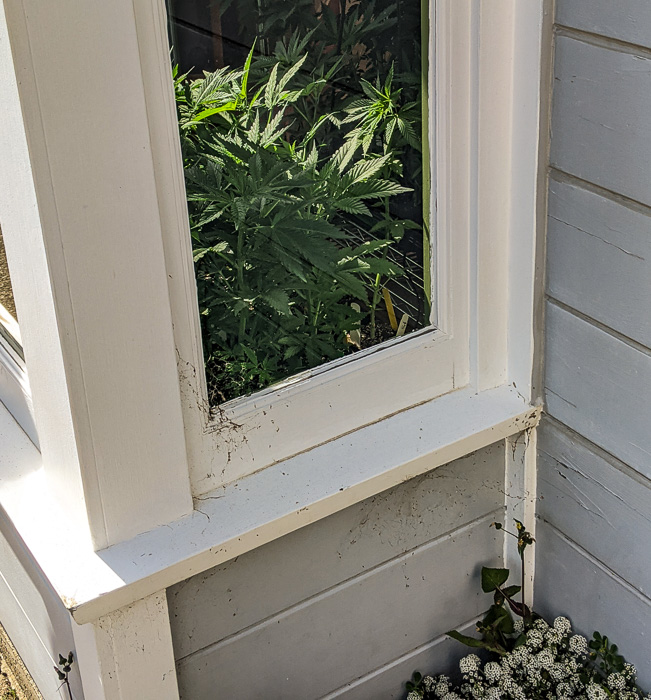 A pot store in upscale Mendocino nearby. Not like the old days of backroom deals.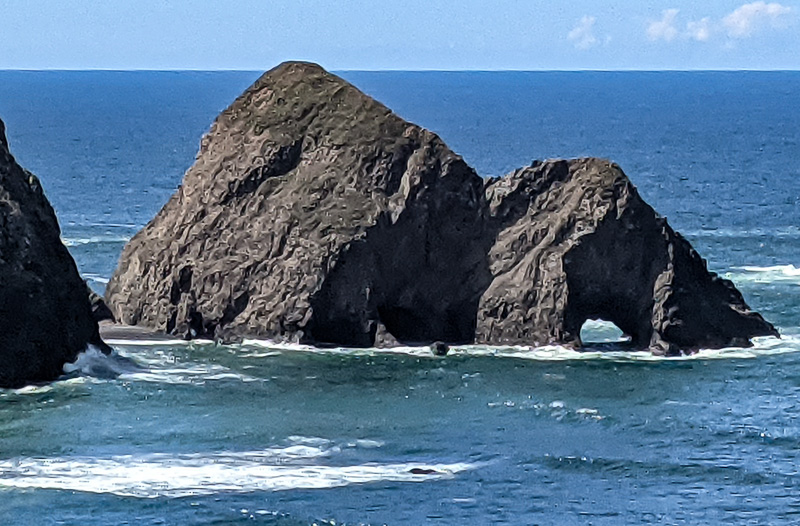 A scenic island or seastack or eructation called Sacred Rock, in Elk, south of Mendocino. Elk and Mendocino both have a bit of a New England look to their buildings. Elk of course is way smaller and more obscure. Sacred Rock is across the street from the Elk country store, which also features good pastry.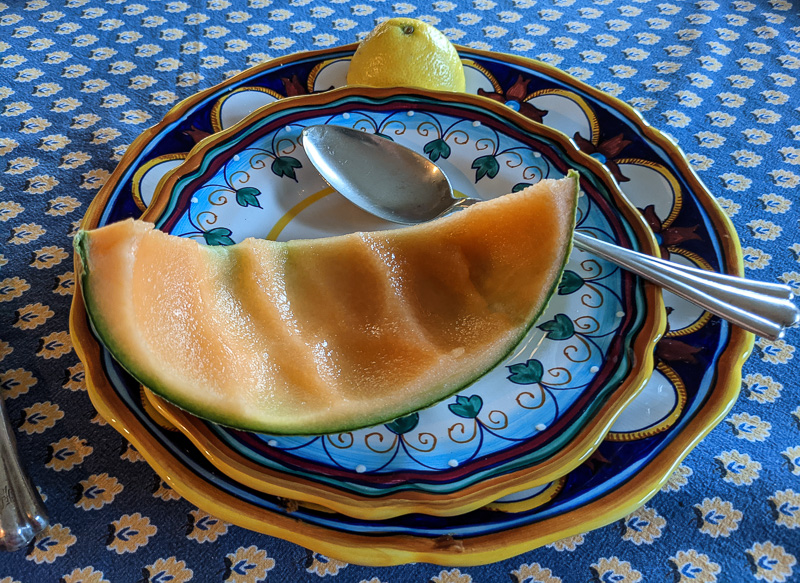 At times I can't handle carrying the Fujifilm camera around and remembering how to use it, and I use my cellphone. Constant tempting advances in the phones. I'm using Google Pixel phones these days…after our trip to Mendocino, I got a new Pixel 5 phone. As I say, there's much less glass, but the sensor is pretty big, and Google has built in a buttload of AI software to make the most of your image data.
Why not use an iPhone 12? For the types of pictures I take, the Pixel 5 images actually look a little better than the iPhone 12. And it's cheaper. And, although Google is annoying, they're annoying a somewhat different way than Apple is.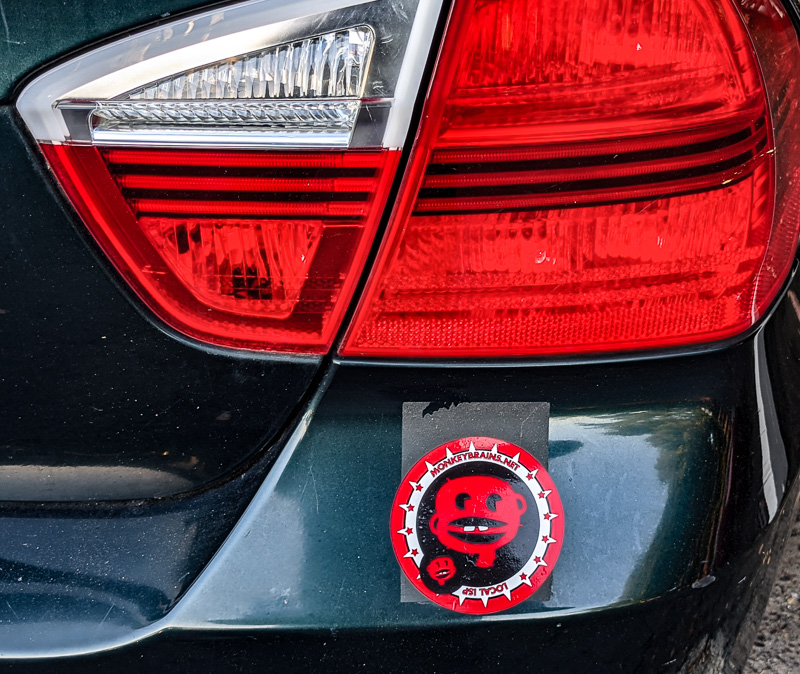 Vintage sticker for the world-famous Monkeybrains.Net ISP, run by son Rudy Jr. and Alex Menendez.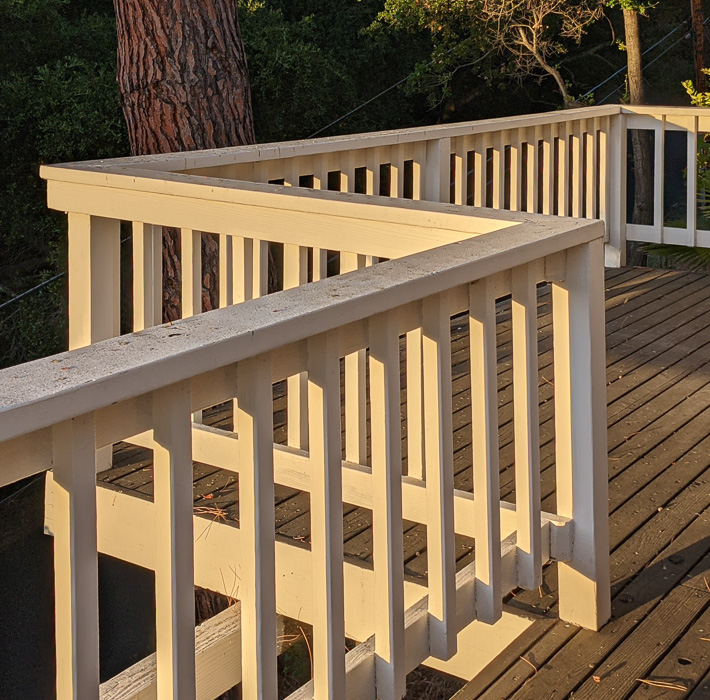 Reallly nice shot a morning-sun railing by the Pixel 5. The images don't require as much Lightroom tweaking as do the images I get out of my Fujifilm X100.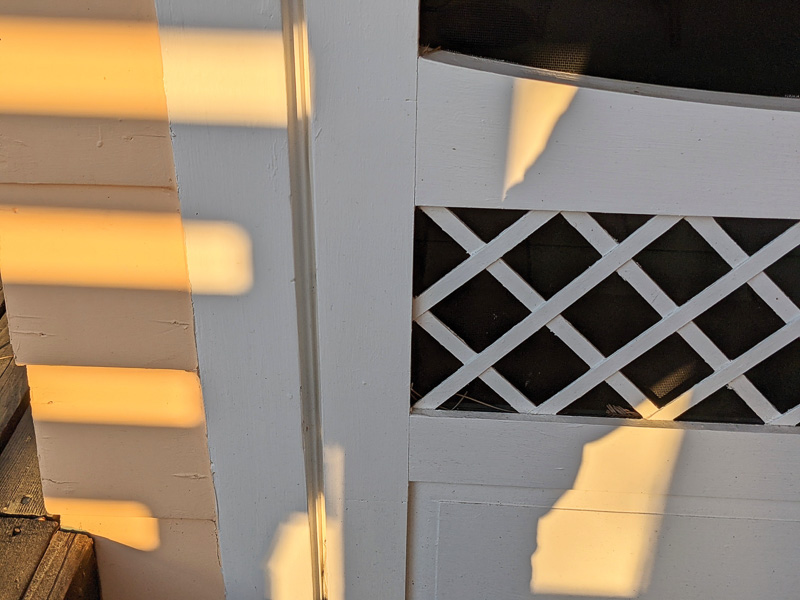 That buttery morning light that makes me feel it's good to be alive. I love she shapes of shadows and light.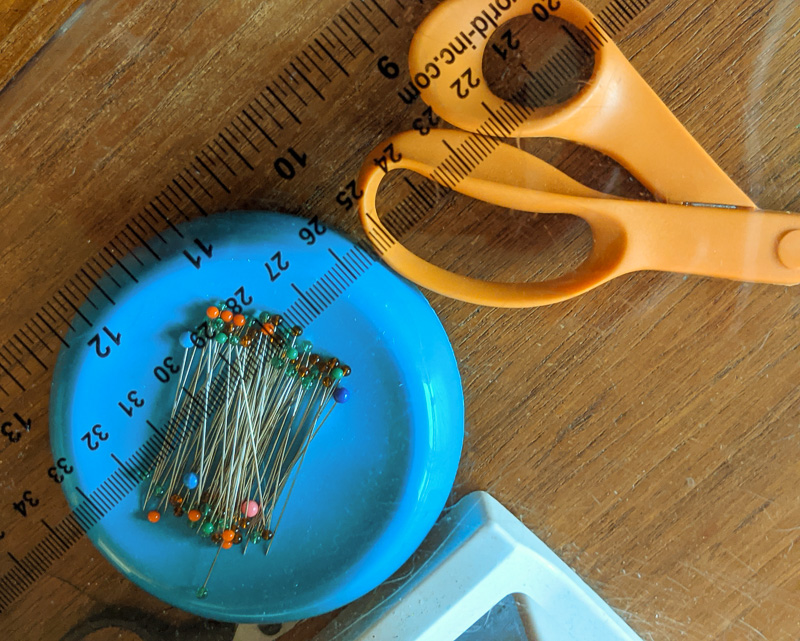 Some of Sylvia's quilting equipment. Like the rest of us, she's an artist too. See her quilt page.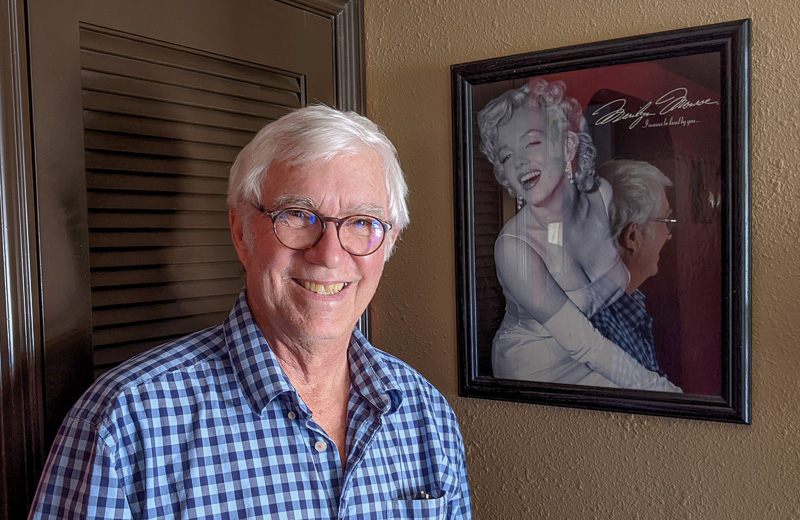 Sylvia's brother came to visit us recently, and he stayed at the Garden Inn in Los Gatos, an old motel known for the possibly true tale that Joe DiMaggio and Marilyn Monroe spend their wedding night there. They've decorated a special Marilyn Monroe room with glamour shots of the goddess.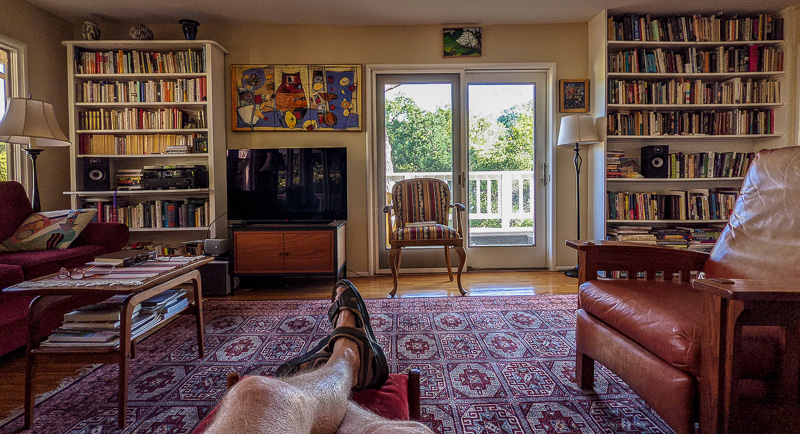 The Pixel 5 has a decent wide-angle lens. Self-portrait of the author at ease in his library.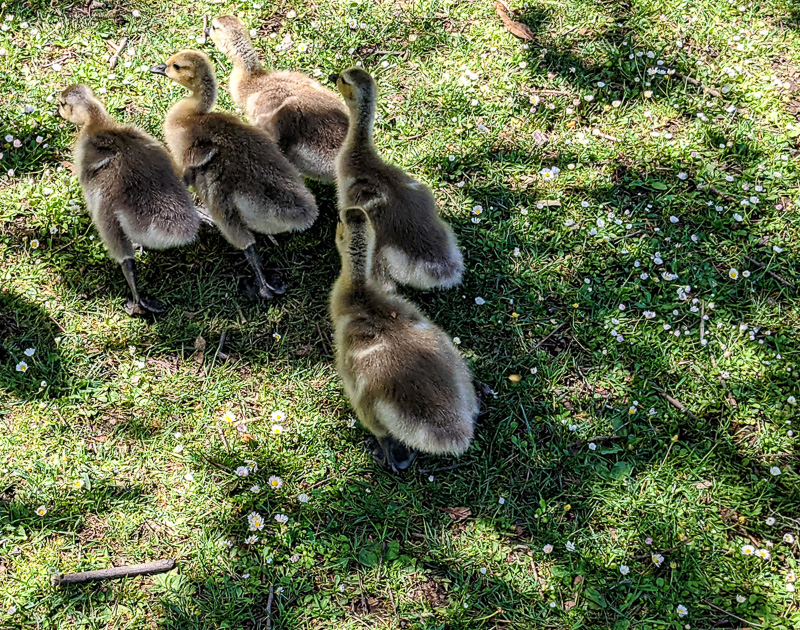 Goslings! Fuzzy. No arms, but even so they get a lot done.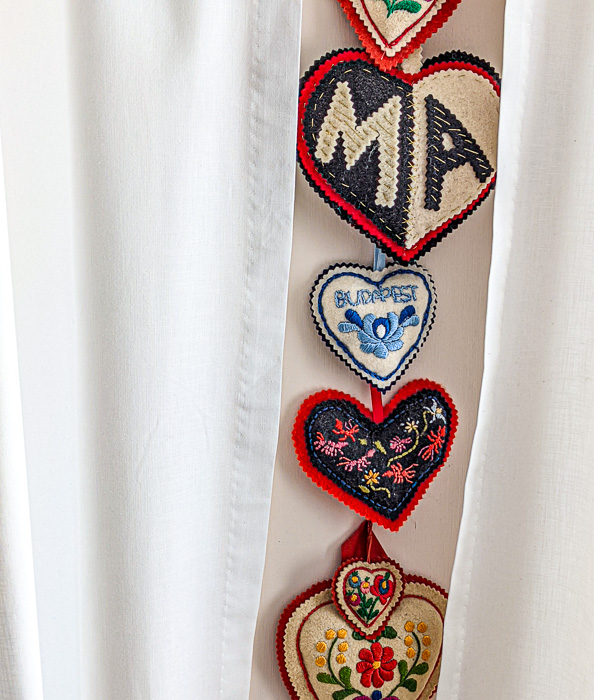 Part of Sylvia's collection of stuffed, felt, pinking-sheared hearts — a Hungarian thing. Thanks to Sylvia, most of my family members are in fact Hungarian. Georgia and Isabel in fact made two of these hearts.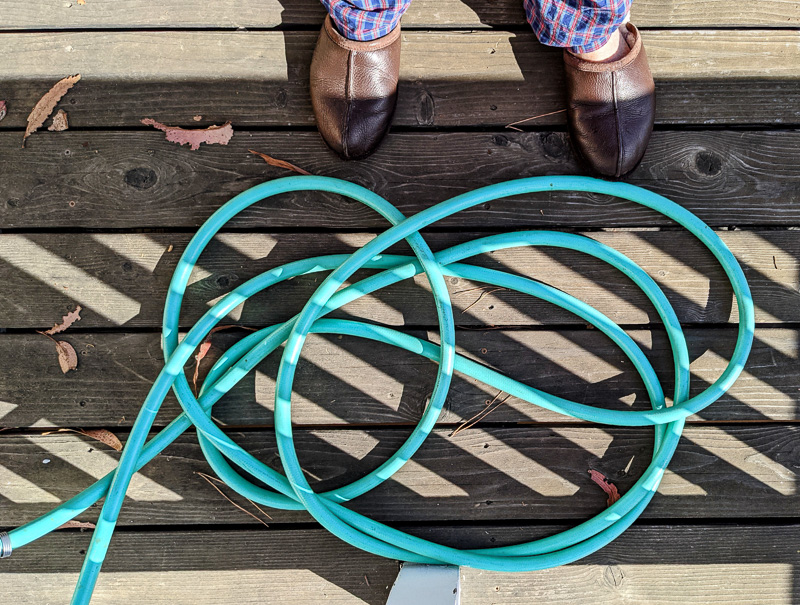 The artist contemplates swirl and slant.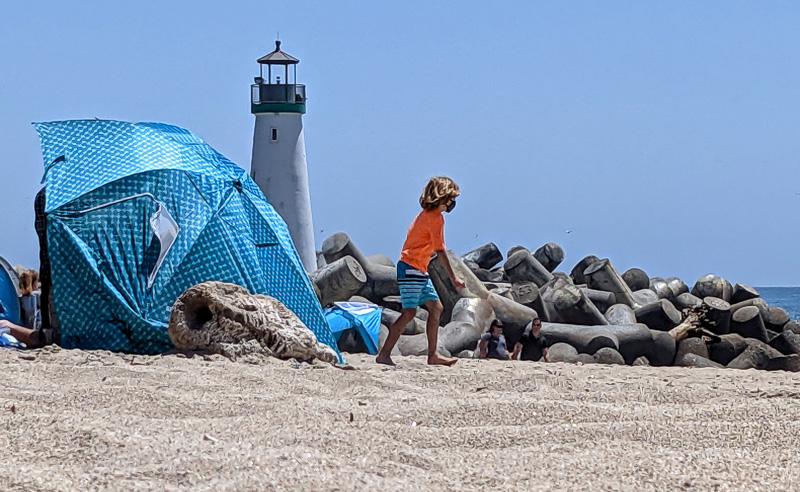 On Seabright Beach in Santa Cruz in the year of Covid.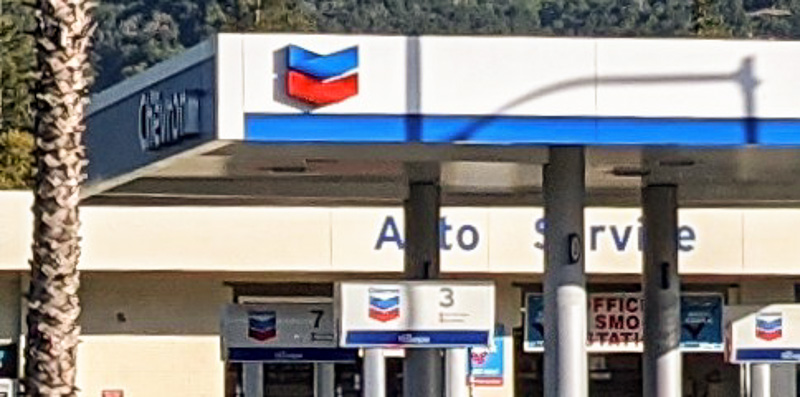 Visual frag grab. For that one split second, I couldn't decipher the meaning of the letters.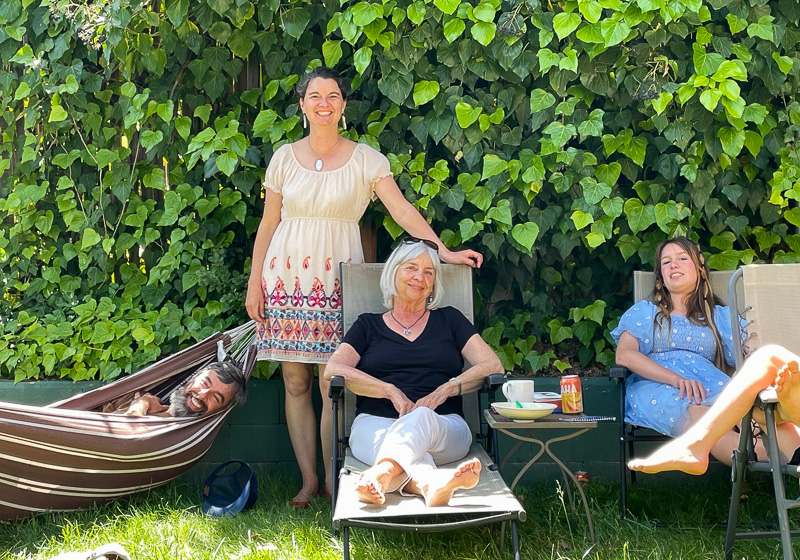 Mother's day with some of our local cast of characters.
"Invaders" acrylic on canvas, May, 2021, 30" x 24". Click for a larger version of the painting.
My most recent painting. I did the background by "stamping" the canvas with the still-wet palette paper I used for The 5 Got Away. It made a nice, mysterious subspace continuum. It needed critters, and I thought of a flock of invaders. Kind of like eyeballs. Or maybe something else. You never know what's coming next.